TIMETABLES
Air Hawaii (Honolulu)(XK) was founded by Michael Hartley on the heels of his failed The Hawaii Express Airlines which was started in 1983, but failed only a year later. In an effort to re-enter the ever lucrative West Coast-Hawaii market, Huntley formed Air Hawaii which was based in Honolulu, Hawaii. Air Hawaii secured the operating certificate of Airwest International in the fall of 1985. Initial routes were to fly from both Los Angeles and San Francisco to Honolulu, Hawaii with possible extension to Japan at a later date. The new airline signed a lease agreement with International Air Leases Incorporated for two Douglas DC-10 aircraft for trans-Pacific service with the first being delivered on November 20, 1985. Scheduled flights started on November 22, 1985, between Los Angeles-LAX and Honolulu with advertising promoting "High Class, Low Fares" along with very competitive roundtrip fares ($298). As an additional promotion, Air Hawaii offered convenient connections in Honolulu with Mid Pacific Airlines and mainland connecting flights from LAX with Pacific Southwest Airlines (PSA). Although the airline had route applications pending to both Tokyo and Nagoya, Japan almost immediately after starting financial difficulties were experienced.
The airlines second Douglas DC-10 was delivered in December 1985 , and a daily San Francisco-Honolulu service was started on December 15, 1985, however the struggling carriers financial condition continued to worsen. A third DC-10 was delivered on January 13, 1986, yet was only in service for a few weeks. Even though Air Hawaii was in the midst of the busy Hawaiian winter tourist season, losses continued and the airline was forced to suspend flights and shut down operations on February 19, 1986, having been in service only three months. Both of the DC-10s were immediately repossessed and the airlines assets liquidated with a formal bankruptcy filing in March 1986. There were plans to restart the airline, but this never materialized and the operating certificate and remaining assets were sold off.
Freshly painted in the Air Hawaii "Bird of Paradise" colors and awaiting final outfitting at the World Airlines maintenance base in Oakland, California in September 1985, is N904WA, a Douglas DC-10-10.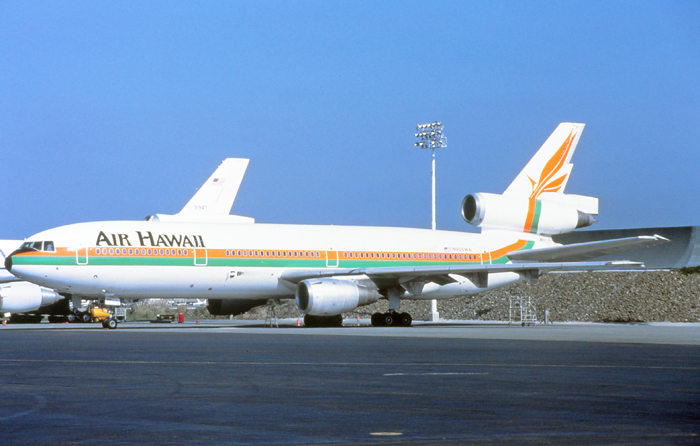 Awaiting delivery at the World Airlines Maintenance base in Oakland, California, is Air Hawaii's second leased aircraft N905WA, a Douglas DC-10-10.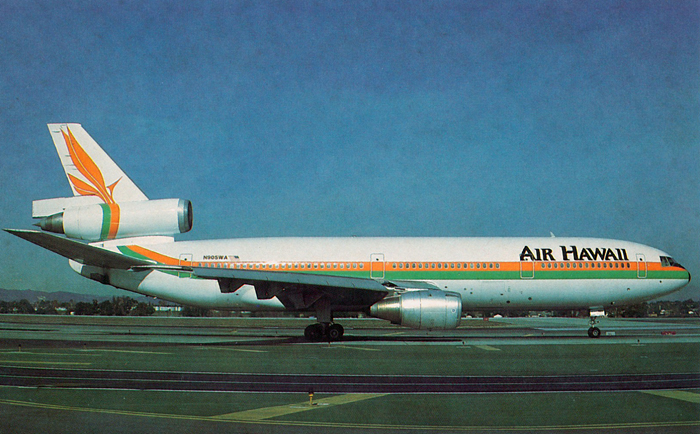 Taxiing toward the active runway 26 Left at Los Angeles for a flight to Honolulu in December 1985, and showing its "unique color scheme which displays the natural beauty of the islands" is N905WA, a Douglas DC-10-10. (Postcard)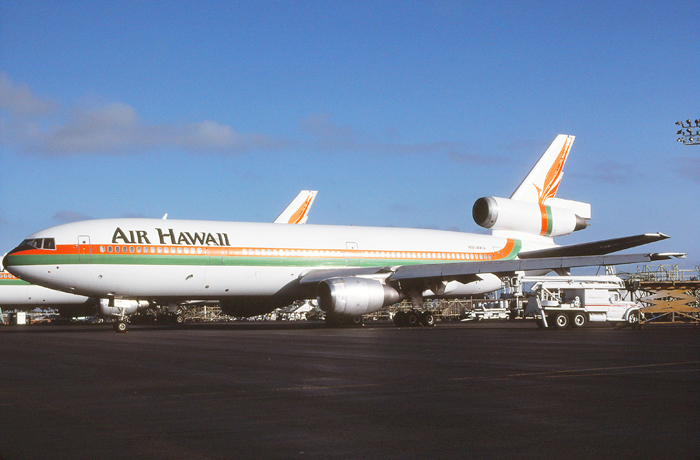 A pair of the Air Hawaii DC-10s parked at the World Airlines Maintenance base in Oakland, California, in May 1986, and awaiting disposition after the airlines bankruptcy a few months earlier includes N904WA, a Douglas DC-10-10.