TIMETABLES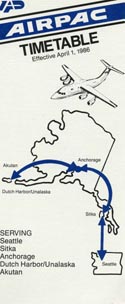 April 1986
AirPac (5P) was established in August 1978, as Air Pacific, a charter airline providing service to Dutch Harbor, within the Aleutian Islands chain in the State of Alaska. Scheduled passenger services were started on February 1, 1982, from Dutch Harbor (Unalaska) to Anchorage, Alaska using a single Swearingen Metro II and a Cessna 414. During 1983, AirPac purchased a Fokker F-27 and extended services from Anchorage to Kodiak, Dillingham and King Salmon. The new Fokker turbo-prop greatly increased cargo capacity for the airline, especially crucial during the Alaskan seafood season. The airline became a code-share partner with Alaska Airlines thereby promoting passenger traffic on its intra-Alaska routes. Realizing the potential benefits for pure jet service into Dutch Harbor, AirPac began to look at aircraft suitable for the rather short (3,950 feet), unimproved, gravel runway that served the Dutch Harbor island community.
After much review, the airline decided to lease a new British Aerospace BAe 146. The aircraft was particularly suited for the service, having adequate range, capacity and Short-Takeoff-and-Landing (STOL) capabilities necessary for the Dutch Harbor route, especially in the fierce winter weather. The new aircraft would be outfitted for both unpaved field and extended over water operations, as well as mixed cargo/passenger configurations as warranted by demand. The new BAe 146 was delivered to the airline on March 3, 1984, and immediately put into service from Anchorage to Dutch Harbor, thus becoming the first "jet" passenger operator into the Dutch Harbor airport. The new non-stop service reduced flight times from the traditional 3 hours to only 1 hour, 55 minutes.
In 1985, additional destinations were added including Cold Bay, Akutan, Nikolski, St. George and Sand Point. BAe 146 services were extended from Dutch Harbor to the secluded community of Adak, some 450 miles west of Dutch Harbor, and providing the only jet service to the remote Naval outpost.
During early 1986, the airline extended service to the "Lower 48" when it started jet flights between Seattle and Sitka, Alaska with continuing service to Anchorage then Dutch Harbor. It was now possible to go from Dutch Harbor to Seattle via "same-plane" service.
Due to rising insurance and aircraft costs, AirPac was forced to file for Chapter 11 bankruptcy protection in May 1986, and suspended all passenger services. Due to lack of lease payments, the sole BAe 146 was repossessed and all other assets were soon liquidated. A few years later, executives of the AirPac operation brought suit against both British Aerospace and Lycoming Engines alleging that the constant aircraft maintenance issues and "teething" problems had resulted in the eventual demise and bankruptcy of the airline.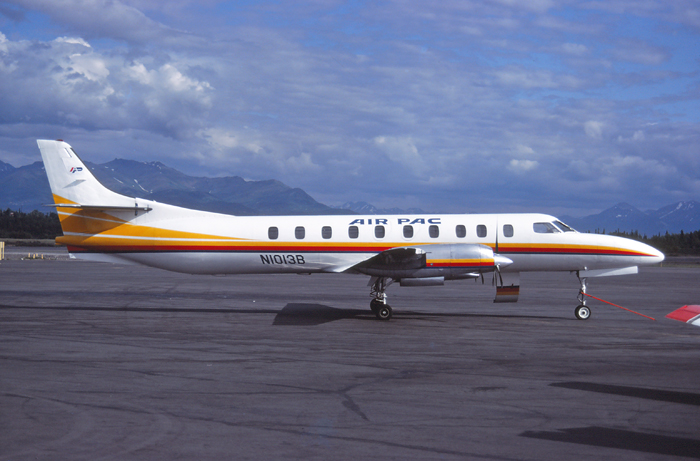 AirPac's first turboprop aircraft was a Metroliner purchased new from the manufacturer and seen parked at Anchorage International Airport in 1982, is N1013B, a Fairchild/Swearingen SA-226TC Metro II.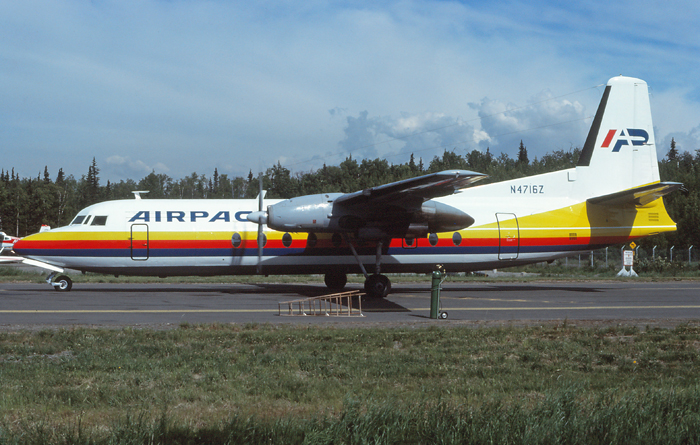 AirPac leased N4716Z, a Fairchild FH-227B in 1984, to supplement both passenger and cargo services to points in the Bristol Bay and Aleutian Island chain.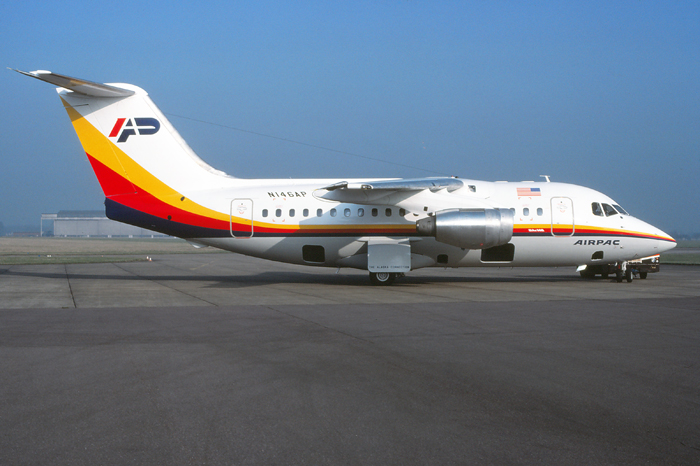 Undergoing its final outfitting in February 1984, at British Aerospace in Hatfield, England, and ready to be delivered to the "Final Frontier," is N146AP, a British Aerospace BAe 146-100.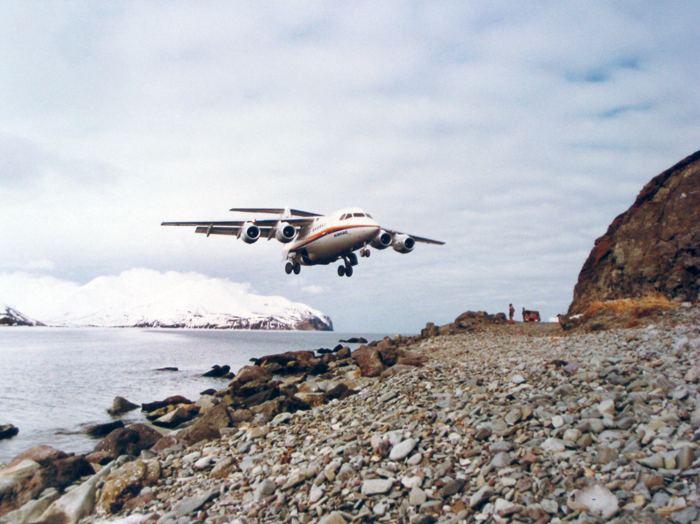 A stunning photo of AirPac's BAe 146, N146AP, undergoing proving runs into Dutch Harbor (Unalaska) Airport in March 1984. Note the man standing under the final approach path to the airport is the owner of AirPac Airlines watching the first jet service into the airport.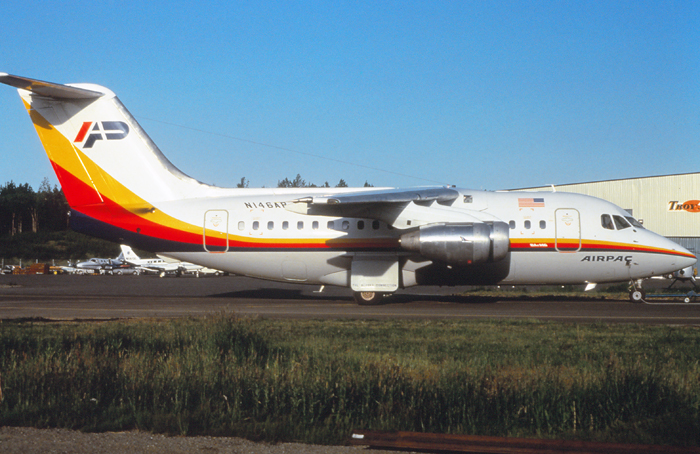 AirPac's sole jet aircraft providing "The Alaska Connection" is N146AP, a British Aerospace BAe 146-100, seen parked at Anchorage International Airport in June 1984.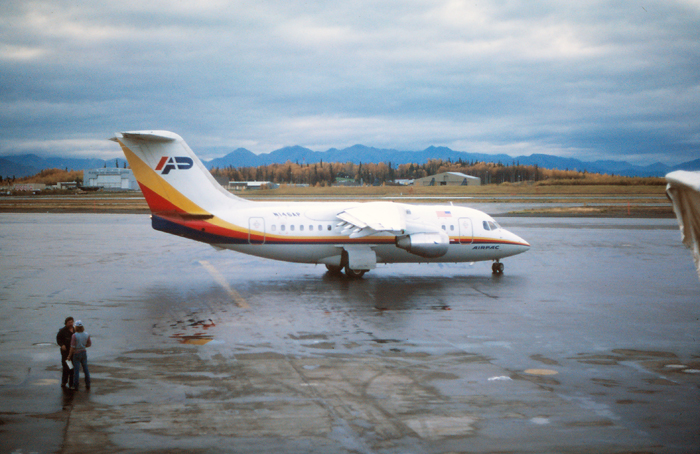 Leaving the gate at Anchorage International Airport for a flight to Dutch Harbor on a soggy October morning in 1984, is N146AP, a British Aerospace BAe 146-100.