TIMETABLES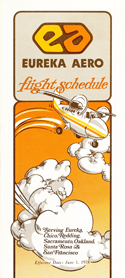 June 1978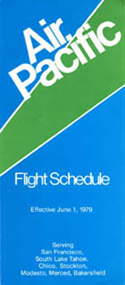 June 1979
Air Pacific (IK) was originally founded as Eureka Aero Industries on June 2, 1967, to provide passenger service from the Northern California coastal city of Eureka, to San Francisco via Redding, Chico and Sacramento using both Beech 18 and Cessna 402 aircraft.
During the 1970s, Eureka Aero Industries changed its title to Eureka Aero Commuter to better reflect its status for passenger services. The airline continued to expand adding the Northern California cities of Red Bluff, Marysville, Santa Rosa and Oakland while maintaining status as a local service carrier. A de Havilland Twin Otter was added to the fleet in the mid-70s to provide increased capacity on popular routes.
After airline deregulation in 1978, four businessmen seeing the potential for the small Northern California airline to fill the void of the larger, regional carriers leaving the smaller cities, purchased Eureka Aero Commuter and renamed it Air Pacific. The new airline used the "hub-and-spoke" concept and relocated operations to San Francisco International Airport and started flights to both Merced and Modesto, located in the Central California valley. Two more Twin Otters were added to the fleet and the new de Havilland Dash 7 aircraft was ordered to increase passenger capacity and open new, longer routes.
Scheduled flights started in the spring of 1979, under the new "name" and with the addition of its first de Havilland Dash 7 aircraft in May 1979, service was started to the mountain resort of Lake Tahoe in June. A second Dash 7 was acquired in October 1979, and new flights were started to both Bakersfield and Los Angeles from San Francisco.
Air Pacific was the first airline in California to put the new Short-Takeoff-and-Landing (STOL) Dash-7 Commuter plane in service. The 50-seat, high-winged aircraft allowed Air Pacific to easily provide passenger services into Lake Tahoe and allowed the use of secondary runways at both Los Angeles and San Francisco thereby minimizing flight delays.
In early 1980, Justin Colin owner of Gem State Airlines in Idaho decided to purchase Air Pacific and merge the two airlines together hoping to expand services across the west. After flying for less then a year, Air Pacific was merged to become the new Golden Gate Airlines on March 1, 1980.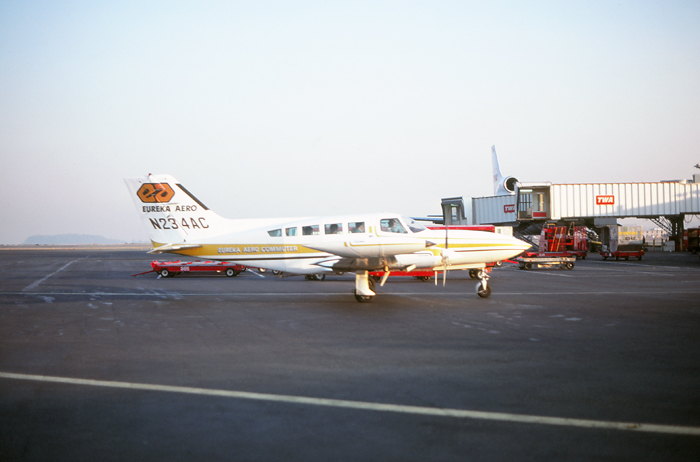 Eureka Aero Commuter established the pioneering service from various points in Northern California to the Bay Area. Seen taxiing inbound to its "gate" at San Francisco International Airport in December 1978, is N234AC, a Cessna 402.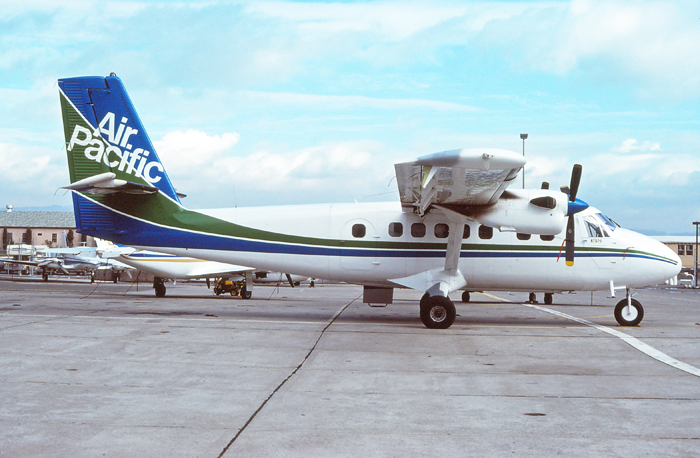 The first turbo-prop aircraft to be used by Air Pacific was the Twin Otter, shown here in January 1979 at Oakland International Airport, is N76PH, a de Havilland DHC-6-300 Twin Otter.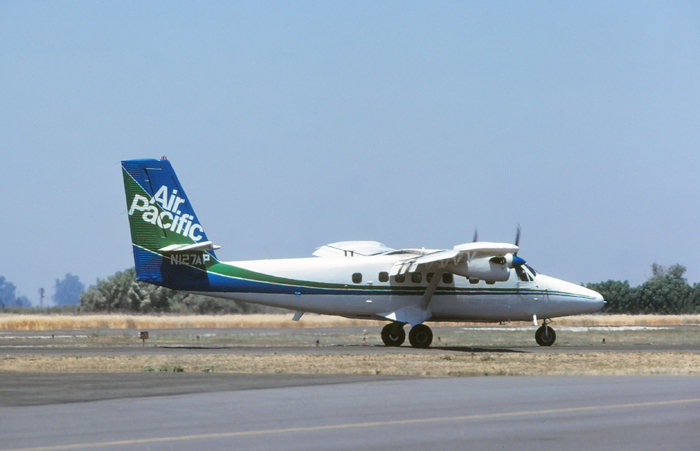 The de Havilland Twin Otter proved to be a formidable aircraft for passenger flights into tertiary airports such as Merced and Stockton. Taxiing off the main runway and heading to the passenger terminal at Modesto Airport in June 1979, is N127AP, a de Havilland DHC-6-300 Twin Otter.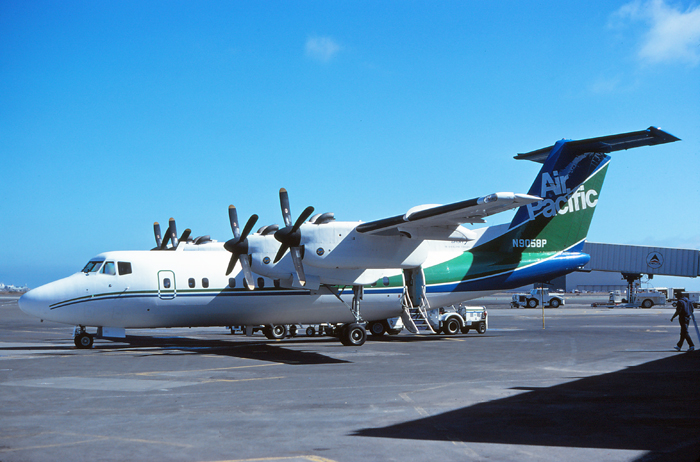 For continued expansion and longer routes, Air Pacific took delivery of two de Havilland DHC-7 "Dash 7" turboprops for initial service to Lake Tahoe, and Bakersfield from San Francisco. Parked on the ramp at San Francisco International Airport in August 1979, is N9058P, a de Havilland DHC-7-102, and the first to be delivered to the airline.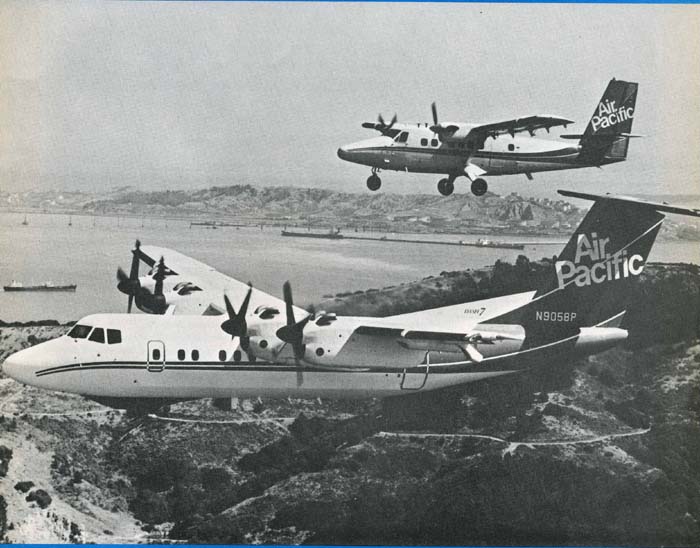 The two aircraft types of the Air Pacific fleet fly in formation over the east San Francisco Bay hills in a promotional photo opportunity in 1979.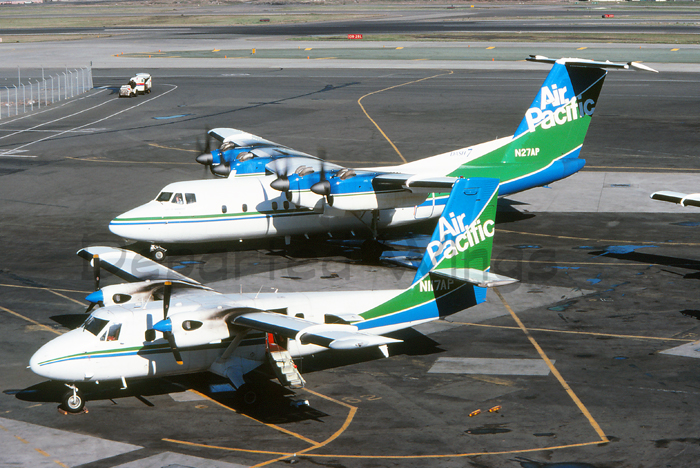 The big and small of the Air Pacific fleet parked on the ramp of the North Terminal at San Francisco International Airport in January 1980, is N117AP, a de Havilland DHC-6-300 and N27AP, a de Havilland DHC-7-102.