TIMETABLES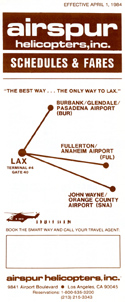 April 1984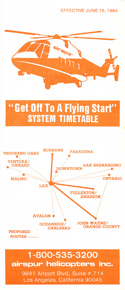 June 1984
AirSpur (OT) was formed by John Gallagher in early 1981, to provide both cargo and passenger service to Southern California and neighboring states. The airline placed an order for ten (10) of the Israeli Aircraft Industries IAI Arava aircraft an unusual selection and one of the first companies in the United States to place an order for the airplane. Starting with a fleet of four new Arava's, operations were commenced on September 1, 1981, with mixed configuration passenger/cargo flights from Los Angeles International (LAX) to San Diego-Montgomery Field (MYF) and cargo specific flights from Los Angeles International(LAX) to Las Vegas-McCarran Airport. The cargo flights called "Spur Express" were operated with contracts from Emery Air Cargo and this constituted the bulk of the airlines initial cargo business. It was proposed to keep the cargo business growing and to add Bakersfield, Ontario, Orange County, and Fresno to the network by 1982.
Although the new upstart airline was building a niche market, the owner decided that helicopter service in the Los Angeles region was a lucrative business prospect with no competing carriers. Los Angeles was one of the few metropolitan regions nationwide that was able to support a helicopter "commuter" service and a few carriers had come and gone since the 1960s. With the plan of introducing scheduled helicopter service, AirSpur discontinued all cargo flights and cancelled the aircraft order for the remaining Arava airplanes and sold its existing five aircraft by December 1982, so that all efforts could be focused on the regional helicopter services.
Once the cargo business was eliminated, AirSpur began to focus activities on a more localized passenger service throughout the Southern California region and placed an unprecedented order for eighteen (18) Westland WG-30 helicopters for use on scheduled services. The first two helicopters with a capacity of sixteen passengers were delivered in November 1982. Helicopter service was started on May 10, 1983, with an initial route connecting Los Angeles International (LAX) to Fullerton Airport in northern Orange County. Plans to add eleven additional cities was considered including flights to Downtown Los Angeles, Anaheim, Malibu, Newport Beach and Pasadena.
By the summer of 1984, helicopter service was extended from Los Angeles International(LAX) to both Burbank Airport and Santa Ana-Orange County Airport, in addition to the Fullerton flights. Expansion was expected to continue, yet on November 7, 1983, an AirSpur helicopter crashed in Long Beach due to the loss of its tail rotor. Although there were no fatalities, six people were injured and the accident resulted in the grounding of all services until 1984. The crash was the result of mechanical tail rotor gearbox failure on a scheduled flight from Los Angeles to Orange County. This crash was eerily reminiscent of the crashes that plagued pioneer helicopter operator Los Angeles Airways in the late 1960s and eventually resulted in the cessation of metropolitan passenger helicopter service in the Los Angeles region.
AirSpur restarted service on January 15, 1984, continuing to fly from Los Angeles (LAX) to Fullerton, Orange County, and Burbank with numerous daily flights. During late 1984, AirSpur was purchased by Evergreen International and was renamed Evergreen AirSpur. Two de Havilland DHC-6 Twin Otters were added to the fleet and new service added to Oxnard, while services were dropped to Fullerton and Burbank.
By late 1985, Evergreen had stopped all passenger services and dissolved the assets of the original AirSpur, bringing a close to another initially successful yet failed metropolitan helicopter operators in the Los Angeles region.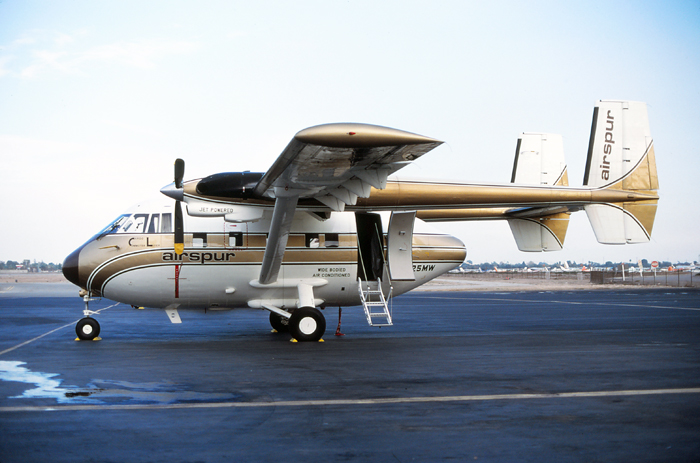 The unique aircraft used by Air Spur for both passenger and cargo flights was the Israeli made Arava turboprop. Parked on the ramp at Long Beach Airport in November 1981, is N525MW, an IAI Arava 101B, the first aircraft delivered to AirSpur on February 23, 1981.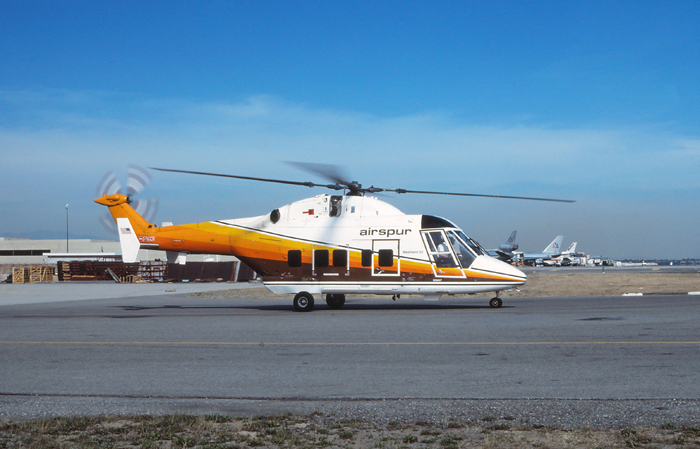 One of AirSpur's Westland Helicopters taxiing away from the Hanger Area at Los Angeles International Airport in March 1984, is N5880T, a Westland WG-30-100.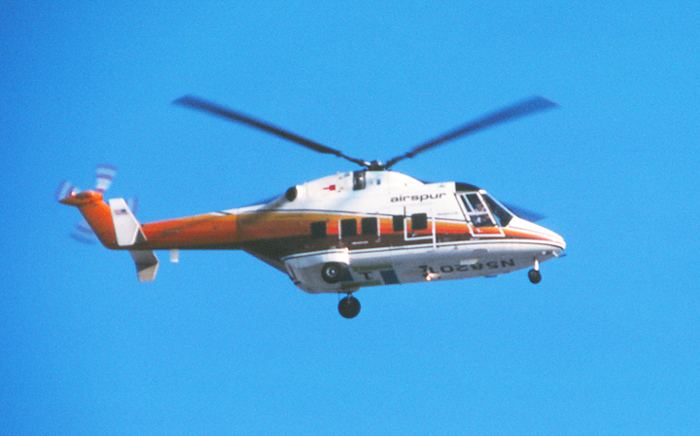 A common sight over the skies of Los Angeles during 1984, was the colorful passenger helicopters of AirSpur. Seen on a regional flight in September 1984, is N5820T, a Westland WG-30-100.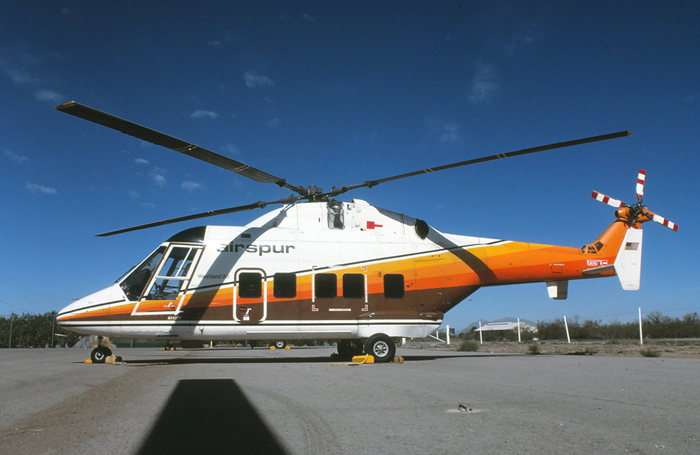 The Westland WG-30 "Super Lynx" was the helicopter of choice used by Air Spur for scheduled passenger service. Caught in storage in April 1985, after the airline stopped helicopter services is N5820T.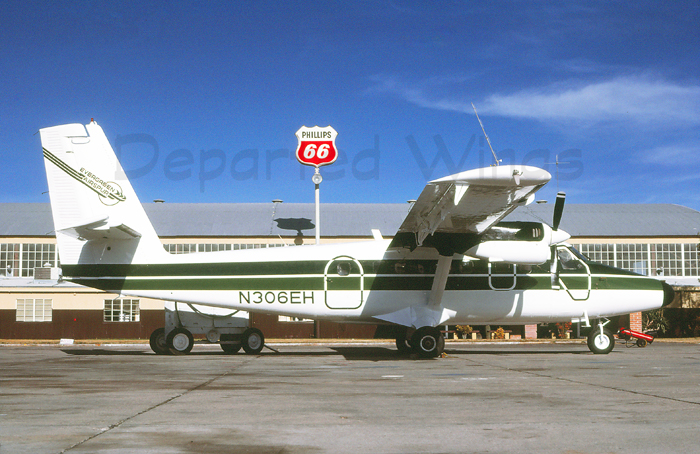 After AirSpur was purchased by Evergreen International, two de Havilland DHC-6 Twin Otters were used to continue to provide local services around the Los Angeles region including N306EH, a de Havilland DHC-6-300, parked at Marana Airport in December 1984. Note the "Evergreen AirSpur" titles on the tail.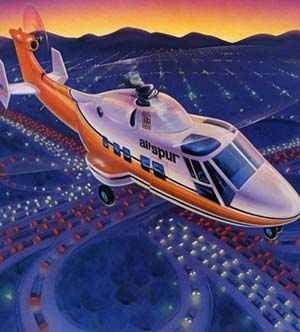 Artists rendering of the Air Spur Helicopters easily flying over the Los Angeles traffic to its next destination.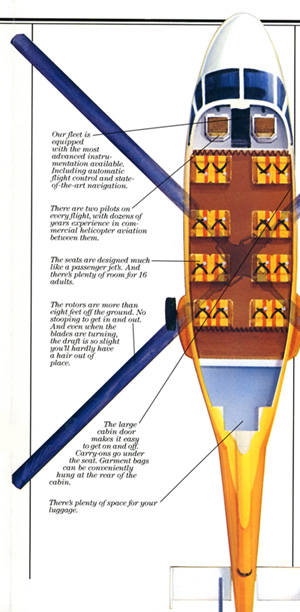 An ad showing the "spacious" passenger layout of AirSpur's Westland Helicopter.