TIMETABLES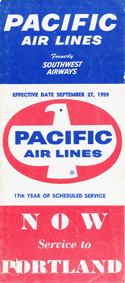 September 1959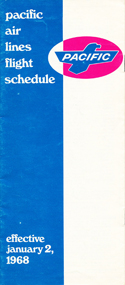 January 1968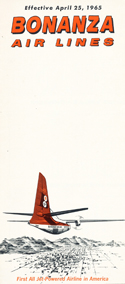 April 1965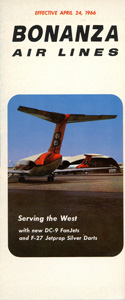 April 1966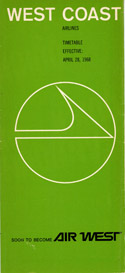 April 1968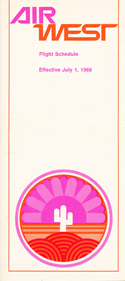 April 1968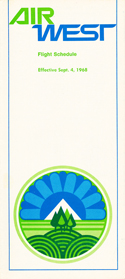 September 1968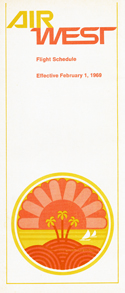 February 1969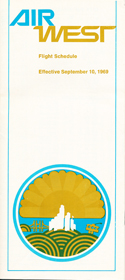 September 1969
AirWest (RW) was the result of a merger between three local service airlines; Bonanza Air Lines, Pacific Air Lines, and West Coast Airlines in 1968.
Bonanza Air Lines: Bonanza started operations in 1945, as a charter operator based in Las Vegas, Nevada. Realizing the potential of air service over the rather rural and desolate route between Las Vegas and Reno, Nevada the airline became certified as a "local service" carrier in 1949. With routes extending into Southern California and Arizona the airline placed the Fairchild F-27 turboprop in service during 1959. Once the F-27s replaced the Douglas DC-3s during late 1960, Bonanza touted itself as an "all turbine" fleet, becoming the first airline in the U.S. to do so. Looking to join the "jet" side of operations, the airline originally placed an order for the British Aerospace BAC-1-11 twin-jet, however this order was blocked by regulatory agencies. Instead Bonanza placed an order of the Douglas DC-9, starting service with the plane in march 1966, and becoming the first "local" airline to place the DC-9 into service. By 1968, Bonanza had become a large regional airline serving twenty-two cities, from Reno, Nevada to the north, Puerto Vallarta, Mexico in the south,, and east to Tucson, Arizona with a fleet of both Fairchild F-27 and Douglas DC-9 aircraft.
Pacific Air Lines: Predecessor Southwest Airlines was formed in 1941, as a flight school in Arizona and evolved to start passenger flights within California in December 1946. By 1950, Southwest was operating a fleet of ten Douglas DC-3s and serving twenty-four towns and cities in both California and Oregon. The airline continued to grow and retitled itself Pacific Air Lines based at San Francisco, California. Like other neighboring "locals", Pacific was looking to increase passenger comfort and speed on routes and ordered six Fairchild F-27 turboprops. The first plane was delivered in 1959, and used on the more heavily traveled routes between Los Angeles and San Francisco. Seeking to add jet service to its routes, the airline ordered six Boeing 737, but instead took delivery of three 727s before the merger resulting in the 737s not taken up.
West Coast Airlines: Tracing its roots back to Zimmerly Airlines in lewiston, Idaho in 1939, becoming one of the largest of the local service airlines in the Pacific Northwest. When West Coast Airlines was established in 1946 (after a name change), it was granted one of the first regional airline certificates by the Civil Aeronautics Board (CAB). During this time a small fleet of war-surplus Douglas C-47 (DC-3) aircraft provided service from a Seattle, Washington base to points in both Oregon and Washington. In 1953, Idaho based Empire Airlines was merged into West Coast adding additional cities and routes to the growing airlines. Faced with the sometimes difficult task of flying along the rugged Cascade Range, the airline sought a more robust and efficient aircraft. The Fairchild F-27 was the answer with it's turboprop engines and high-wing design, West Coast became the first airline world-wide to place the F-27 in passenger service in 1958. The airline continued to grow eventually placing the Douglas DC-9 into service in 1966, and extending services into California. By 1968, the airline was flying to six western states as well as Alberta, Canada with a fleet of Douglas DC-3s, DC-9s and Fairchild F-27s.
With three local service airlines now serving a wide range of the West Coast region of the United States, it was noticed that although each carrier had similar equipment, the various routes each were flying rarely overlapped yet services met at the major airports. Competition from both major carriers as well as intra-state airlines such as Pacific Southwest Airlines (PSA) were starting to effect the locals, on their major city pair routes. Some thoughts of a merger were discussed as early as 1967, as a way to "band" together and stave off emerging competition and make overall operations more economical. After numerous discussions it was determined the only way for the local carriers to survive the future was to merge together to form one airline. On April 17, 1968 the CAB approved the merge of Bonanza Air Lines, Pacific Air Lines, and West Coast Airlines to form a new carrier appropriately called AirWest. The three airlines were officially merged under the AirWest title on July 1, 1968. The new airline would have its corporate offices located in the old Pacific Air Lines facilities at San Francisco, while the major maintenance would be handled at the old Bonanza facilities in Phoenix, Arizona. A new rebranding of the airline took place, including the introduction of a new colors scheme consisting of a bold, two-tone colored tail along with two-toned modern script on a white fuselage. The one benefit of the merger was the fleet commonality the locals had shared which made the transition much easier. The Douglas DC-9s would continue to be used on trunk routes throughout the system while the smaller F-27s were used on lighter, thinner routes to smaller communities. West Coast had been using a few Piper Navajo's and Pacific had the larger 727s which did not fit well into the AirWest plans, so both planes were either disposed of or leased to other carriers (727s).
A few months after the merger AirWest had become a large, regional airline flying to over eighty cities in the west from Calgary, Canada in the north, south to Puerto Vallarta, Mexico and east to Great Falls, Montana. There was even proposals to extended services further east to Albuquerque, New Mexico, Dallas Ft-Worth, Texas and south to Mexico City and Acapulco, Mexico, however the future was looking bleak. The combined operations of the three carriers together as one quickly took a toll on financial resources. It was realized that 1969, wasn't a very good year for airline operations due to a inflation and a downturn in air travel and all airlines were feeling the "pinch."
During the economic woes, legendary aviator and businessman Howard Hughes stepped up as a potential suitor to the struggling carrier. Hughes, was no stranger to the airline industry having once been majority owner of Trans World Airlines (TWA) during the 1940s-1950s. Conflict of interest allegations as well as other financial misgivings resulted in Hughes divesting himself of the airline in 1960. Looking for another opportunity, Hughes, which resided in Las Vegas, Nevada and was familiar with the local carrier proposed a $90 million purchase price for AirWest with the backing of his Summa Corporation in November 1969. The terms of this purchase were based upon the net worth of the airline not dropping below $16 million. Over the following months of operations, the airlines value actually dropped below $8 million, which prompted a issuance of preferred stock to raise the value back up toward $16 million in 1969. With the carrier continuing to loose money, the only option to keep the airline from filing bankruptcy and becoming insolvent was to accept the offer by Howard Hughes.
The AirWest Board of Directors voted and agreed to the sale of the airline to Howard Hughes being renamed Hughes Airwest effective April 1, 1970. Although the combined regional force, know as AirWest was only in operation for twenty-one months, it established a tradition of service and innovation that would provide its new owner with continued success for the next decade.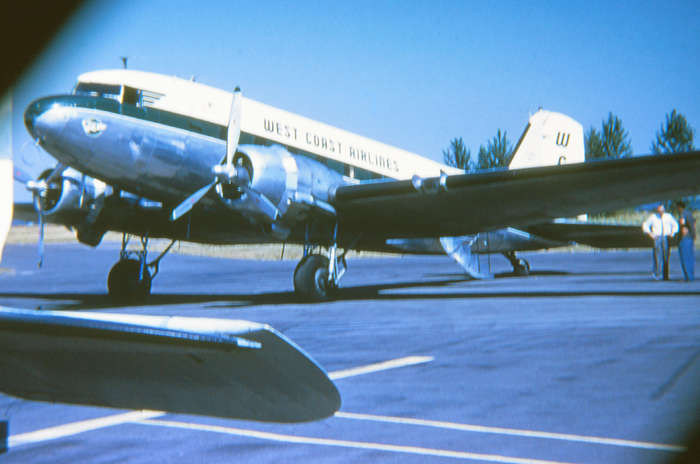 Pioneering local service carrier West Coast Airlines, used a fleet of Douglas DC-3 "ScenicLiners," on its early services throughout the Pacific Northwest.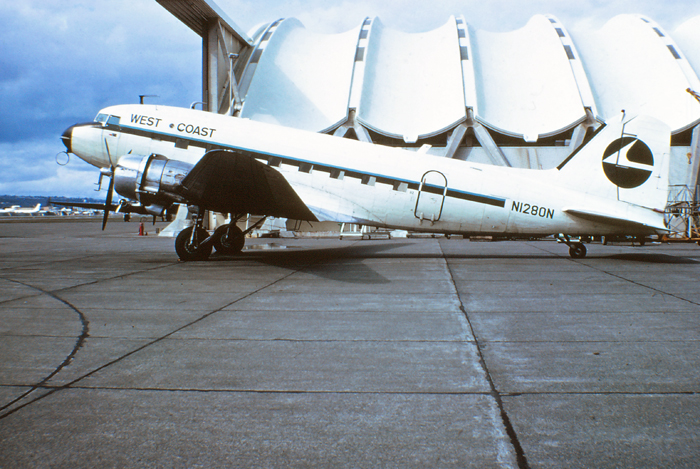 Wearing the final colors of West Coast Airlines, even a few of the Douglas DC-3s were repainted as the venerable planes were still be used on some of the thinner routes to places such as Baker, Oregon and Rupert, Idaho. Parked at Boeing Field in Seattle, Washington in 1967, is N1280N, a Douglas C-47A.
West Coast Airlines had the distinction of being the world's first airline to place the new "jet" powered Fokker/Fairchild F-27 in service during July 1958. The airline ordered five of the high winged turboprop to provide more comfortable service over the rugged Pacific Northwest routes. Parked on the ramp during an afternoon turn-around at San Francisco International Airport in July 1968, is N2701, a Fairchild F-27, the airlines first plane delivered on July 21, 1958.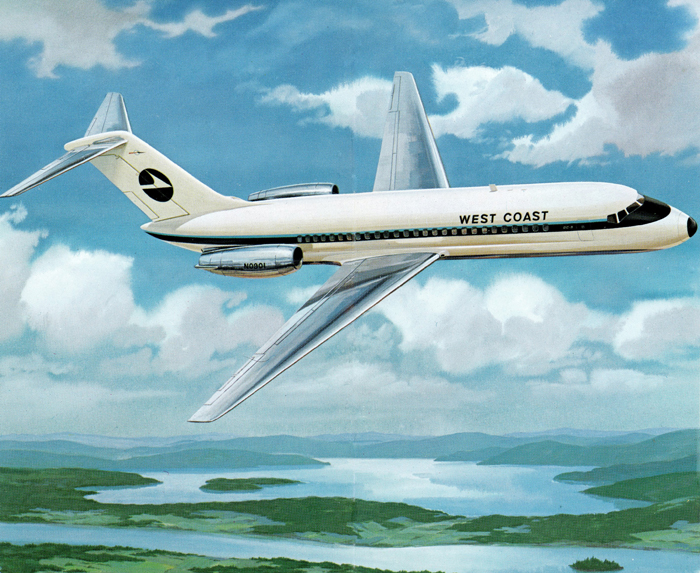 A Douglas artist impression of the new West Coast Douglas DC-9 over the picturesque Pacific Northwest .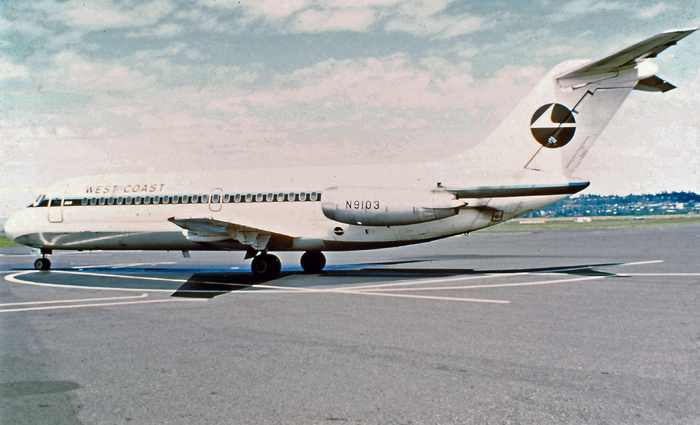 Eager to join the jet "club" amongst the local service airlines, West Coast Airlines received its first all-jet aircraft, the Douglas DC-9 in September 1966. Parked on the ramp at Portland International Airport in October 1967, is N9103, a Douglas DC-9-14, delivered new to West Coast Airlines in December 1966.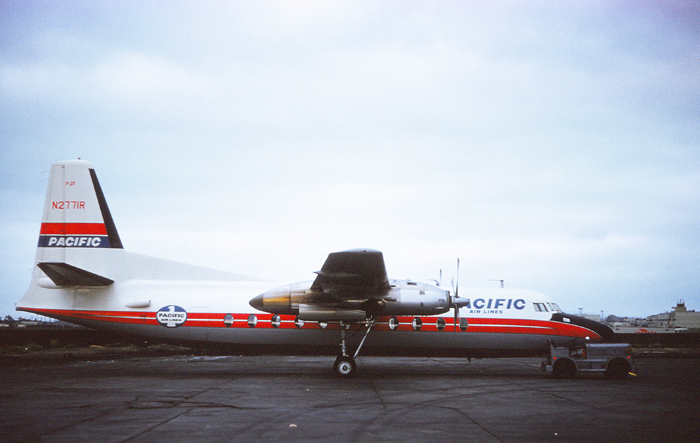 Labeled the "Jet Hawk", Pacific Air Lines introduced the Fokker/Fairchild F-27 turboprop in 1959, on higher density routes from both San Francisco and Los Angeles. Parked on the ramp at Los Angeles International Airport in August 1959, is N2771R, a Fairchild F-27A, delivered new to Pacific on June 11, 1959.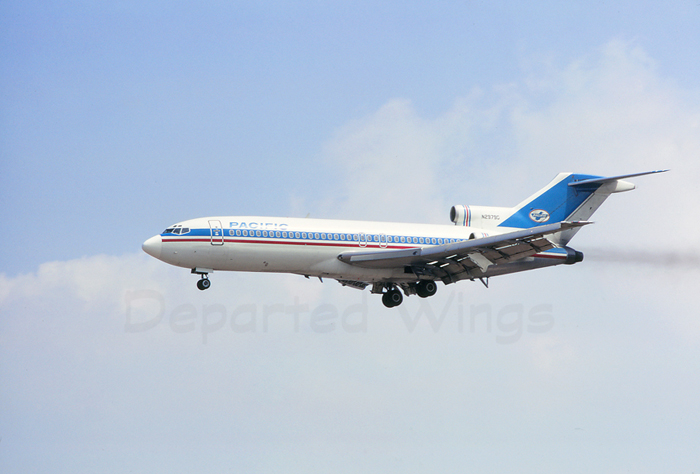 Pacific Air Lines first pure-jet aircraft was the Boeing 727, of which three were ordered for higher-capacity routes along the "California Corridor" segments. On approach to Los Angeles International Airport in October 1966, is N2979G, a Boeing 727-193, delivered new to Pacific Air Lines in August 1966.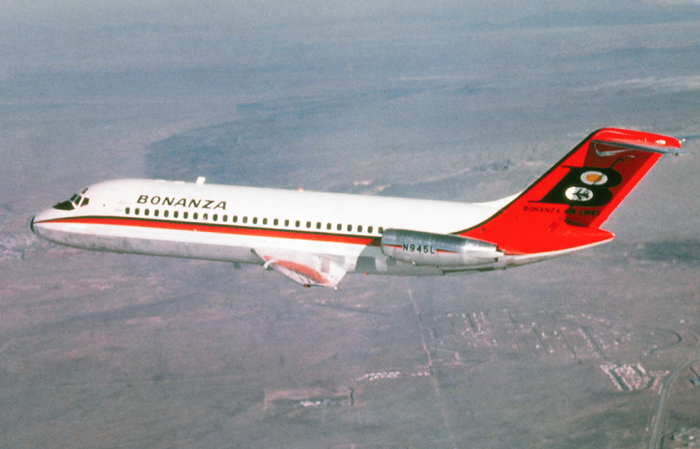 Bonanza Air Lines received its first of three ordered Douglas DC-9 aircraft in December 1965, with passenger flights starting on March, 1, 1965. Seen on a pre-delivery test flight over the eastern Mojave Desert of California in November 1965, is N945L, a Douglas DC-9-11, delivered a few weeks later to Bonanza.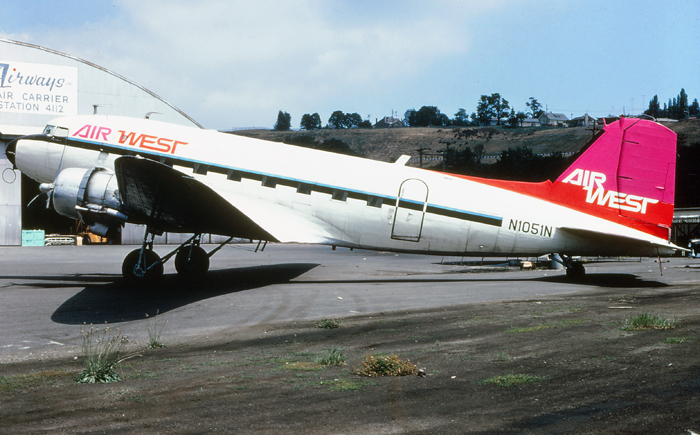 By the late 1960s, the Douglas DC-3 was considered obsolete to even the local carriers, however one of the DC-3s from West Coast Airlines received the new AirWest colors before finally being retired in 1969. Parked at Boeing Field in Seattle, Washington wearing its new owners colors in 1968, is N1051N, a Douglas C-47.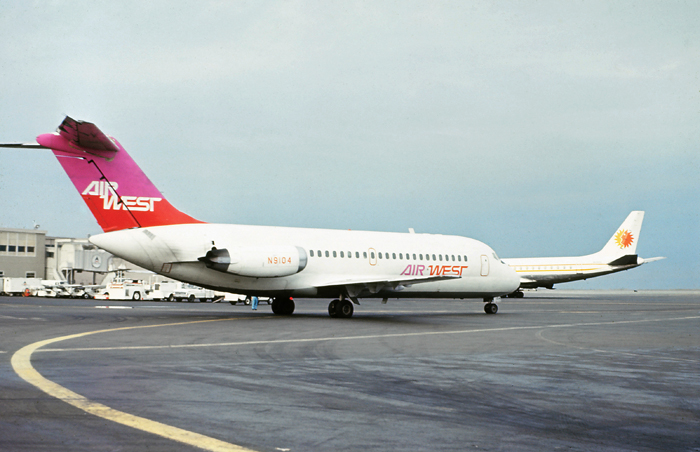 Originally the last Douglas DC-9 delivered to West Coast Airlines in April 1968, N9104, a Douglas DC-9-15, wearing it's new two-tone color scheme taxies away from the gate at San Francisco International Airport in May 1969.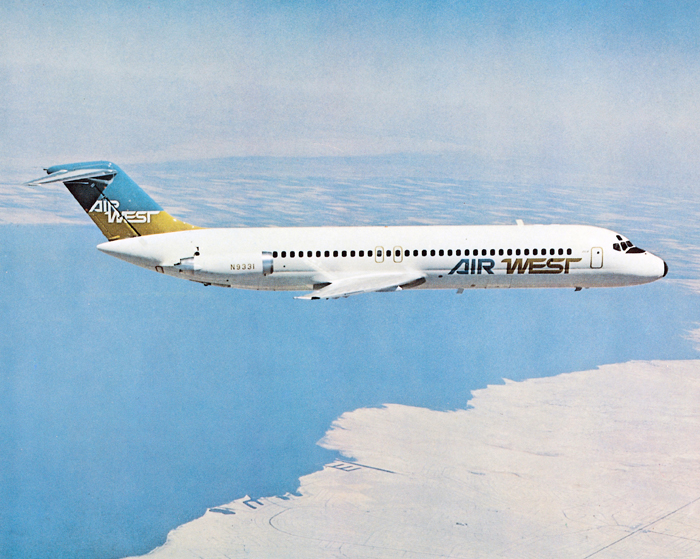 Originally part of the West Coast Airlines order, N9331, a Douglas DC-9-31 was taken up by AirWest instead and is seen on a pre-delivery test flight over the Salton Sea in May 1968.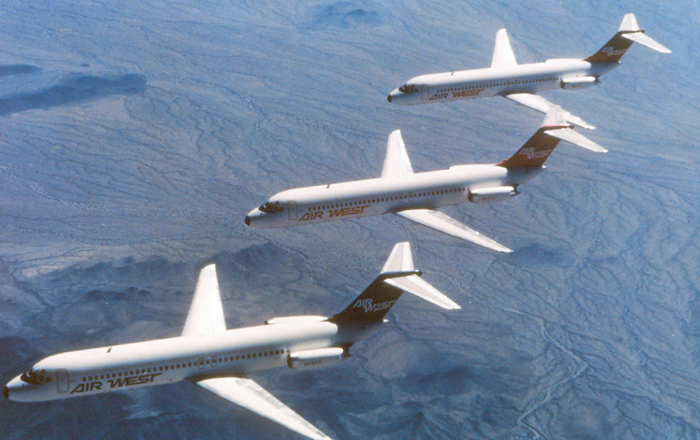 A stunning display of three new AirWest Douglas DC-9s (N9343, N9344 and N9345) on a pre-delivery formation flight over the desert of eastern California in June 1969.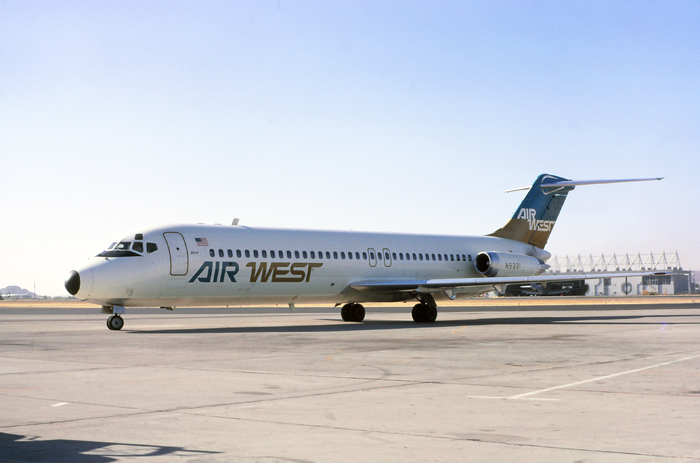 The new AirWest introduced a series of "Fiesta" colors which were bold two-tone colors based upon the airlines varied destinations. Four colors were applied; Sky blue/Orche representing the contrasting colors of the sky and hills of the San Francisco Bay area, Orche/Rust Orange representing the rich colors of the upper Mexican coastal landscape, Fuchsia/Rust Orange representing the striking desert southwest, and Blue/Lime Green representing the environs of the Pacific Northwest. The colors were simple yet dramatic in establishing AirWest's new combined operating profile across the West. Seen freshly painted and taxiing away from the passenger terminal at Tucson International Airport in 1969, is N9331, a Douglas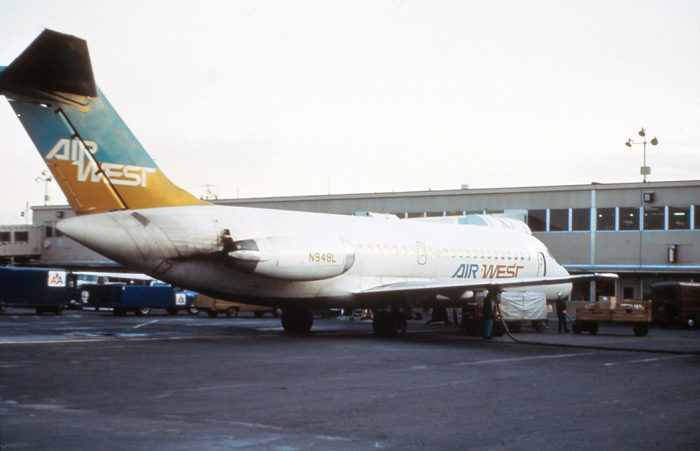 Initially operated by Bonanza Air Lines and parked at the gate at San Francisco International Airport in 1969, is N948L, a Douglas DC-9-14, delivered to Bonanza in June 1967.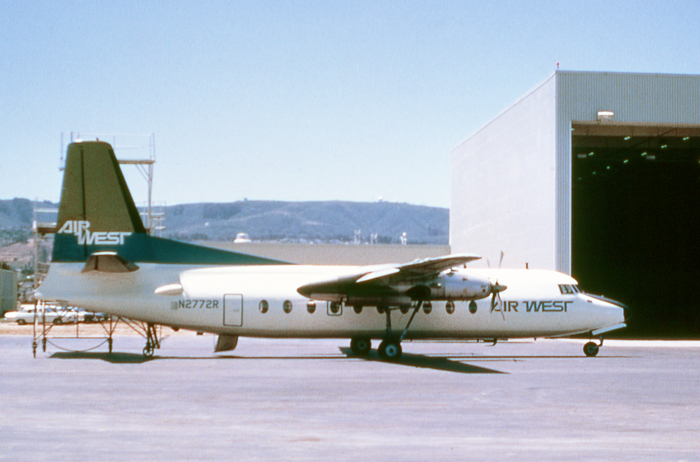 With the formation of AirWest, the new airline to ownership of thirty-five Fairchild F-27 airplanes which had been operated by all three of the previous local carriers. Parked at the AirWest maintenance ramp at San Francisco International Airport in 1969, is N2772R, a Fairchild F-27A, originally delivered to pacific Air Lines in April 1959.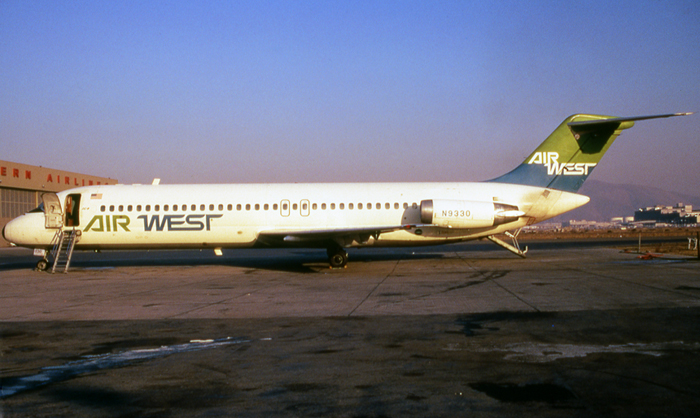 One of the "stretch" Douglas DC-9s undergoing maintenance at San Francisco International Airport in 1969, is N9330, a Douglas DC-9-31, the fifth DC-9 ordered by West Coast Airlines but not taken up and delivered to AirWest on May 27, 1968.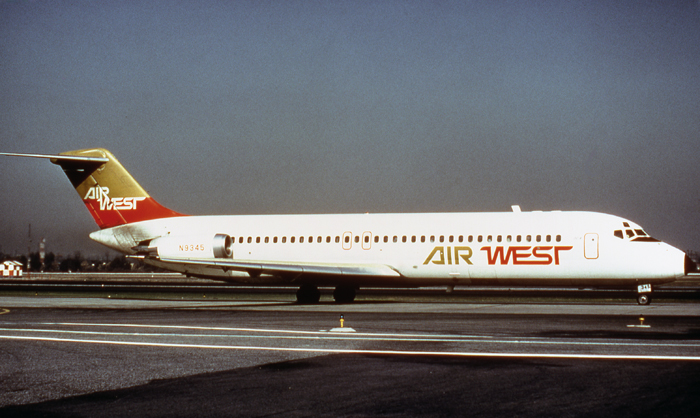 With a fleet of twenty-six Douglas DC-9 aircraft, the twin-engined plane made up the bulk of the AirWest fleet. Taxiing outbound to Runway 24 at Los Angeles International Airport in early 1970, is N9345, a Douglas DC-9-31, originally delivered new to AirWest in June 1969. Tragically this aircraft was involved in a mid-air collision with a military F-4 phantom jet over the San Gabriel Mountains in eastern Los Angeles and crashed on July 1, 1970, while on a flight from Los Angeles to Salt Lake City.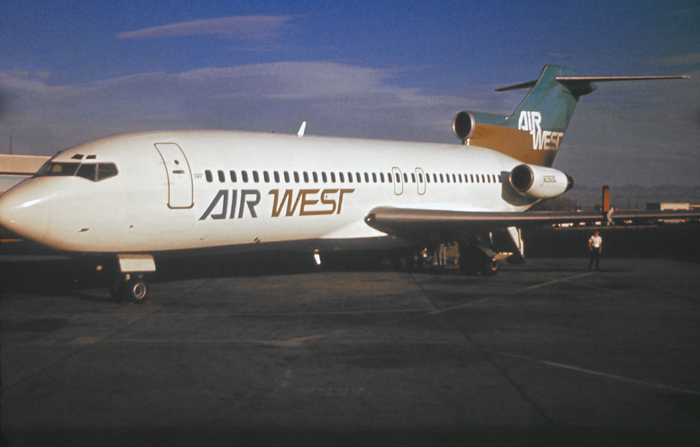 After the merger AirWest acquired three Boeing 727s from Pacific Air Lines. The planes capacity was typically too large for the AirWest system and were subsequently leased out to Braniff Airlines before being returned to AirWest in March 1970. Parked at the terminal at Las Vegas McCarran Airport in April 1970, is N2969G, a Boeing 727-193, delivered new to Pacific Air Lines in July 1966. This aircraft crashed in Juneau, Alaska, while being operated by Alaska Airlines on September 4, 1971.