TIMETABLES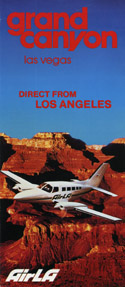 1983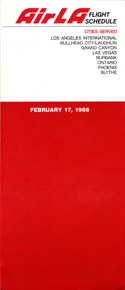 February 1986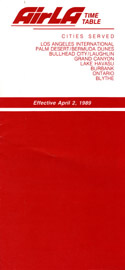 April 1989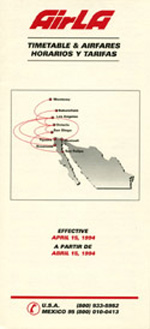 April 1994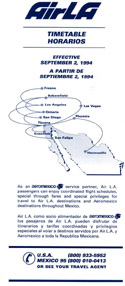 September 1994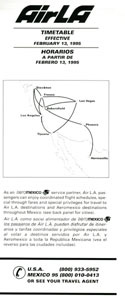 February 1995
AirLA (Los Angeles)(UE) was originally founded in 1979, to provide local, charter services from Burbank Airport with flights starting in 1980. On May 1, 1982, AirLA started scheduled flights from Burbank focusing on the "Air Tour" market with a mixed fleet of leased Cessna 402, Cessna 414 and Piper piston-engined aircraft. Scheduled services were one of two flights originating from Burbank Airport. One tour "package" included a 7.5 hour flight to the Grand Canyon with a guided ground tour then return to Burbank. The second flight option was to the Grand Canyon with a return stop in Las Vegas thence back to Burbank with a time of about 13 hours total.
In February 1986, AirLA received approval to increase scheduled services and added flights between Los Angeles (LAX) and Blythe, Blythe to Ontario, Phoenix and Bullhead City and Bullhead City to Las Vegas. Although flights to Blythe were not considered very exciting, the entry into the lucrative Los Angeles-LAX market, pushed the door open for the airline. Los Angeles flights were served from the Imperial Terminal located at the south boundary of the airport making direct flights easier for passengers. The Grand Canyon flights from Burbank continued as part of the offered air tour package. AirLA became the first scheduled carrier to provide passenger flights to serve the Blythe Airport since the departure of Hughes Airwest in 1980.
As the small airline continued to grow, the existing equipment was insufficient for the demands of the routes. AirLA sought and leased a variety of aircraft to maintain acceptable services and capacities in the summer of 1988 including a Beechcraft B-1900, and a CATPASS 200 (Beech-99) from Mesa Airlines. In October 1988, service was started to Bermuda Dunes Airport south of Palm Springs, one of the first scheduled airlines to fly into this local desert airport. A few weeks later AirLA moved its base of operations from Burbank to Los Angeles and continued to serve its LAX flights from the West Imperial Terminal.
To keep pace with its growing route system, the airline leased two British Aerospace BAe Jetstream aircraft in December 1988. The new turbo-props brought more comfort and speed to passengers flying the longer routes especially the Los Angeles-Grand Canyon, daily 1.5 hour flight. The airline had grown to serve eight cities in California, Nevada and Arizona and had truly become a regional commuter.
In September 1990, AirLA received approval and started international service from LAX with flights to Tijuana, Mexico. Wanting to expand service south of the border, AirLA made a bid to purchase Carlsbad, California based Air Resorts whose operating certificate included charter service to Mexico. Air Resorts was absorbed into AirLA in December 1990. Financial difficulty and the incurred debt as a result of the Air Resorts merger resulted in AirLA suspending all operations in January 1991.
After two years of reorganization, AirLA was resurrected in January 1993, with new management, new aircraft and routes. Utilizing two leased Swearingen Metroliners in a new color scheme, the airline started service from Los Angeles (LAX) to Tijuana, Mexico under a code share with Aeromexico. A month later service was started to Ensenada, Mexico, a fishing town about 60 miles south of Tijuana, and AirLA became the first commercial airline service to the airport. Within a year the airline had leased three additional Metro's and was serving five cities in California (San Diego, Los Angeles, Ontario, Bakersfield and Monterey) and four in Mexico (Tijuana, Ensenada, Mexicali and San Felipe). By September 1994, Air LA had expanded to include service to Las Vegas and Phoenix and Hermosillo, Mexico.
Although many of the routes served were unique and AirLA was the sole provider of passenger service, financial difficulties were abound again. In July 1995, a new President and CEO decided it would be in the airlines best interest to purchase St. Paul based Conquest Airlines for $6 million and move operations to Minneapolis-St. Paul. AirLA completed the purchase, assumed the operations of Conquest Airlines, moved its base of operations to St. Paul and suspended all West Coast services by August 1995.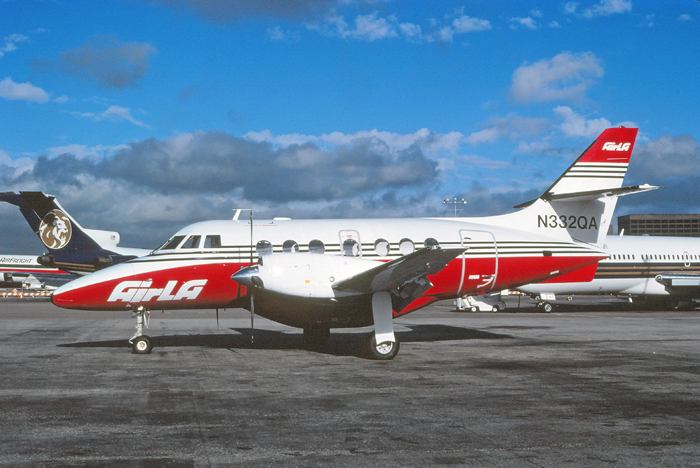 One of two leased British Aerospace Jetstream 31s parked at the Imperial Terminal at LAX in March 1989, is N332QA, a BAe 3201 Jetstream Super 31.
Approaching the Imperial Terminal after a regional flight in August 1989, is N332QC "Desert Starship," a British Aerospace BAe 3201 Jetstream Super 31. (Postcard)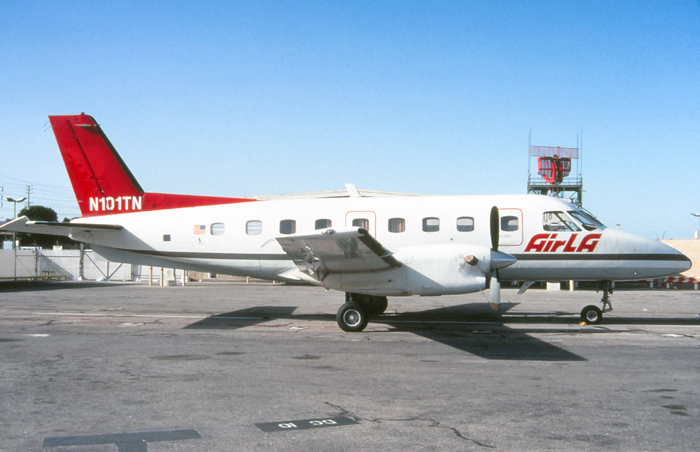 During the time of AirLA's reorganization, the airline leased an Embraer EMB-110 Bandeirante for charter and tour work. Parked at the Imperial Terminal in August 1992, is N101TN, an Embraer EMB-110-P1 still wearing the former operator Midway Express color scheme.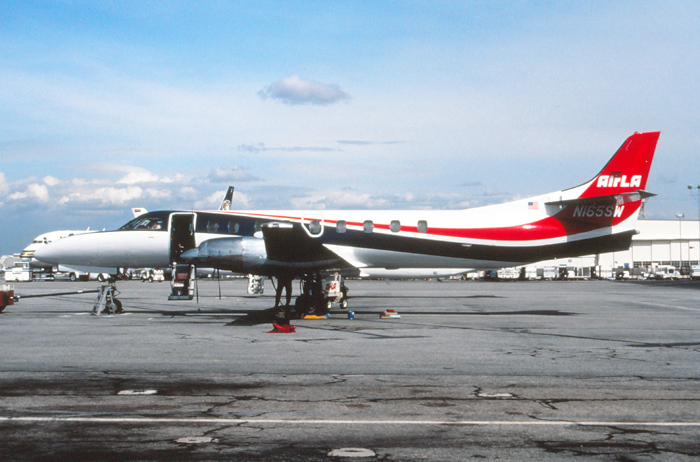 The "second" AirLA leased Swearingen Metroliners for Southern California and Mexico services. Parked awaiting passengers at the Imperial Terminal in April 1993, is N165SW, a Fairchild-Swearingen SA-227AC Metro III.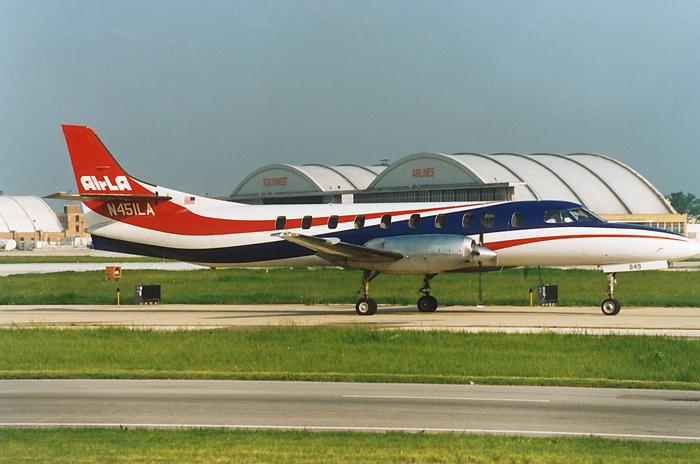 A new Metroliner delivered to AirLA in March 1994, is N451LA, a Fairchild SA-227DC Metro III seen taxiing at Chicago Midway Airport when AirLA purchased Conquest Airlines and moved operations to St. Paul, Minnesota.