TIMETABLES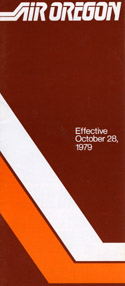 October 1979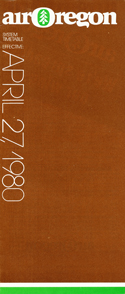 April 1980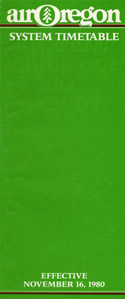 November 1980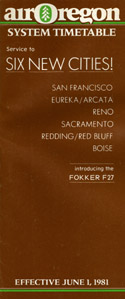 June 1981
Air Oregon (JT) was a regional commuter airline based in Portland, Oregon established originally as part of a charter/flight school called Executive Flight Services in January 1961. During the 1970s as Hughes Airwest withdrew from some of the original, small city Oregon destinations served by pioneer West Coast Airlines, Air Oregon was established to fill the void on March 15, 1977. From a base at Portland, Oregon, early scheduled flights served twenty-two cities in the State of Oregon and Boise, Idaho, using a fleet of Piper PA-31-350 Navajo Chieftain aircraft. As the passenger demand continued, Air Oregon purchased the first of seven Swearingen Metroliners, the first being delivered in September 1978. With the new, pressurized aircraft, routes were re-evaluated based upon economy and demand and a new scheduled structure was developed. In 1979, Air Oregon was flying to fourteen (14) destinations in Oregon including Salem, Corvallis, La Grande, Baker and seasonal service to Sun River. Flights continued to Boise, Idaho and new service started to Reno, Nevada and Seattle, Washington.
Into the early 1980s Air Oregon has established itself as a reputable airline with reasonable fares and convenient connections. The airline continued to grow and acquired a de Havilland DHC-7 aircraft for increased capacity and range in February 1980. Extension was granted to points in Northern California in early 1981, and flights started to Eureka/Arcata, Redding, Sacramento and San Francisco using the DHC-7 and a new leased Fokker F-27 aircraft.
Air Oregon agreed to become a partner in the new Golden Gate Airlines based in California and founded by a New York businessman named Justin Colin, whom had purchased a few smaller commuters and merged them into a large commuter called Golden Gate Airlines. Setting his sights on the Pacific Northwest, Justin Colin eventually purchased Air Oregon in March 1981, yet the airline continued to operate separately from Golden Gate Airlines family. Within only a few months, in September 1981, Golden Gate Airlines was forced to suspend services due to continued financial difficulties, yet because of its separation Air Oregon continued to fly.
During the spring of 1982, with its major partner Golden Gate Airlines now bankrupt, Air Oregon found itself with its own financial difficulties and agreed to be purchased and merged into the Horizon Air system on June 17, 1982.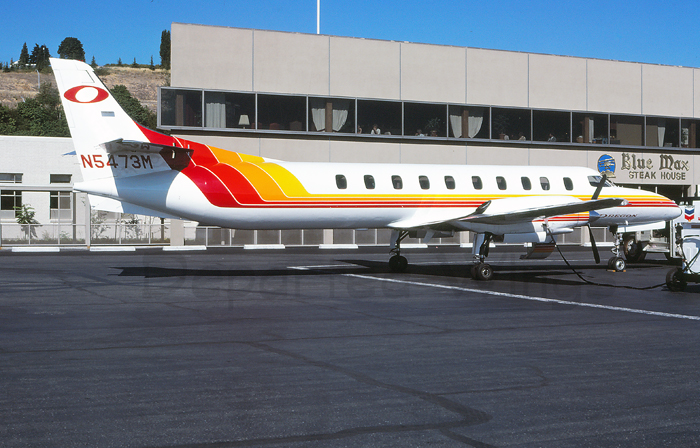 Air Oregon's initial service between Portland and Seattle was with flights to Boeing Field where this example, N5473M, a Swearingen-Fairchild SA-226TC Metro II, is parked at the terminal and awaiting passengers for its next flight in August 1979.
Air Oregon's first de Havilland DHC-7 "Dash 7," N4860J looks smart in the corporate colors while undergoing final checks at the manufacturers facilities at Downsview Airport in Toronto, Canada in January 1980.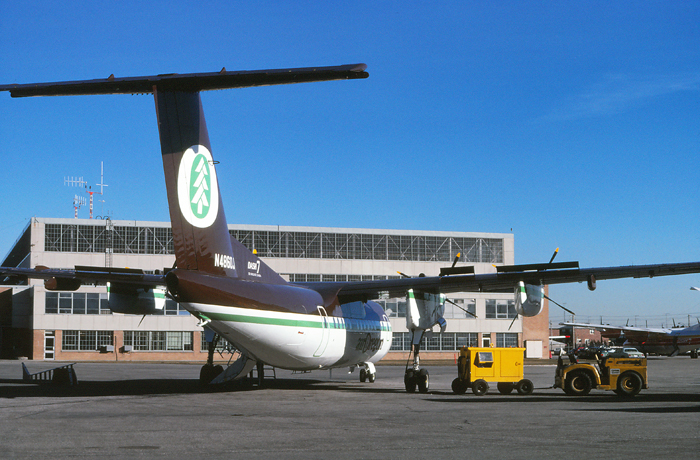 The larger capacity Dash 7 was used to supplement the Metroliners and provide new longer-range routes into California and Nevada. Parked at de Havilland's Downsview Airport facilities at Toronto, Canada and awaiting delivery in February 1980, is N4860J, a de Havilland DHC-7-102.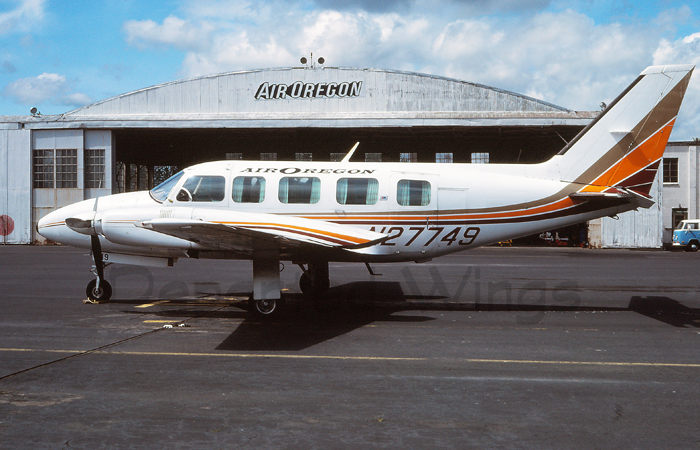 Air Oregon started commuter airline service using the Piper Navajo Chieftain on intrastate flights within Oregon in 1977. Parked at the company hangar at Portland International Airport in May 1981, is N27749, a Piper PA-31-350.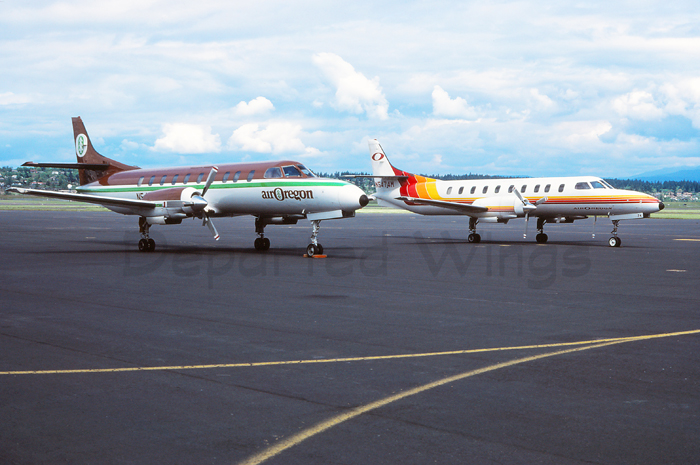 Showing off the old (stripes) and new colors (brown and green) is a pair of Air Oregon Swearingen-Fairchild SA-226TC Metro IIs, N5478M and N5474M parked on the ramp at Portland International Airport in May 1981.
Air Oregon's first turboprop equipment delivered in 1978, was the popular Metroliner with a capacity for seventeen passengers. Preparing to depart for another regional flight in July 1981, is N5476M, a Swearingen-Fairchild SA-226TC Metro II.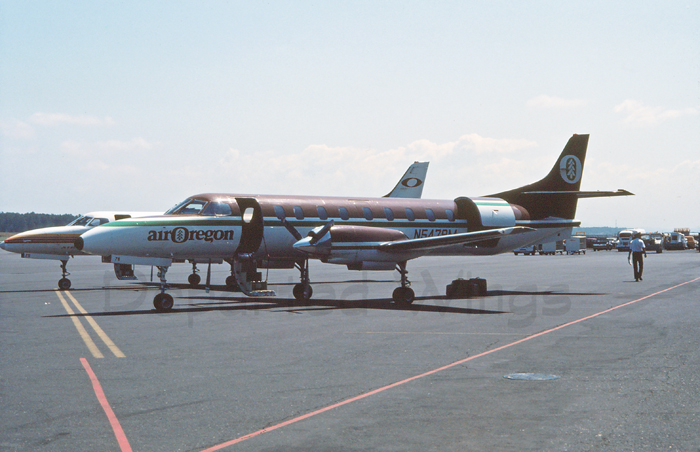 Parked at a busy Portland International Airport ramp in February 1982, is N5478M, a Swearingen-Fairchild SA-226TC Metro II. Behind is sistership N5475M, in the old company colors.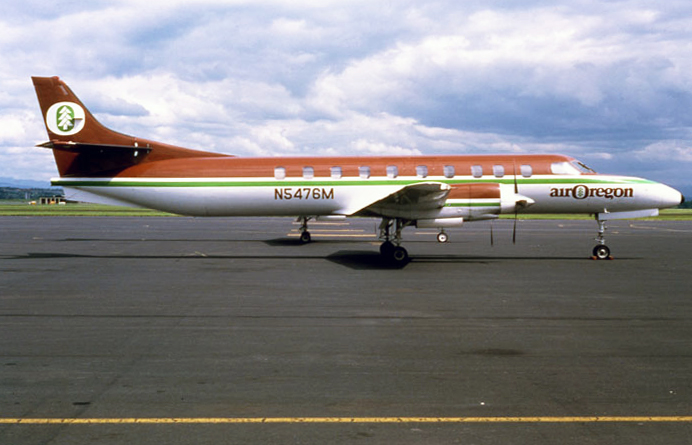 Wearing the attractive "new" color scheme and parked on the ramp at Portland International Airport in March 1982, is N5476M, a Fairchild-Swearingen SA-226TC Metro II.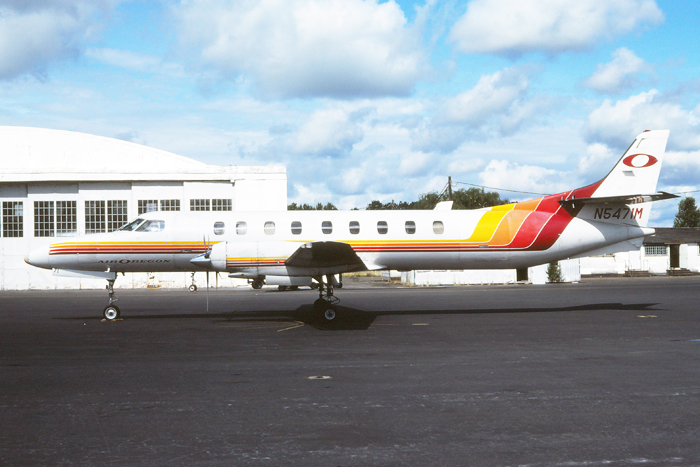 Caught wearing the original Air Oregon color scheme at the company's base at Portland International Airport in July 1982, is N5471M, a Fairchild-Swearingen SA-226TC Metro II, delivered new to the airline on September 30, 1978.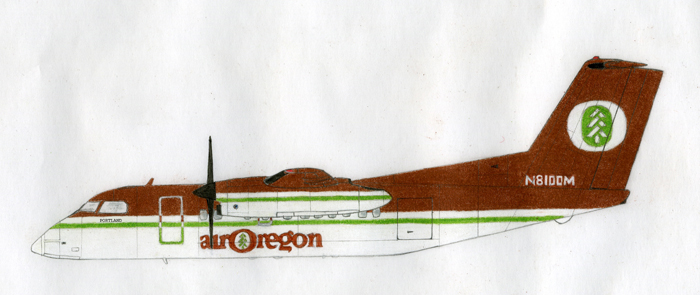 Air Oregon looking into the future of the 1980s, sought to upgrade its fleet of aircraft and placed orders for one of the new de Havilland Canada DHC-8 and two of the Saab/Fairchild 340 Commuters. Air Oregon was purchased before the aircraft were ever delivered. Seen in the Air Oregon colors is the proposed DHC-8 aircraft.