TIMETABLES
Aloha Airlines (AQ). The island state of Hawaii has always been a difficult region to travel both to and from due to its remote nature in the Pacific Ocean. Travel within the eight "major" island was equally difficult with travel between the various island towns and communities relying on boats or ships. The advent of air travel opened Hawaii to a new, faster form of transportation resulting in an increase in tourism, trade, and local business.
Utilizing a single war-surplus Douglas DC-3 (A C-47A originally delivered to the US Air Force), Trans-Pacific Airways (TPA) was formed in 1946 to fly both passengers and cargo between the islands of Oahu, Maui and Hawaii. The first charter services started on July 26, 1946, and the hospitality of the islands was quickly evident with complimentary pineapple juice being served as well as "live" music from a ukulele. TPA was given permission to start scheduled passenger service in February 1949, and won a US Postal mail contract in 1951, the start of scheduled service put the airline in direct competition to pioneering Intra-Island Airways, later to become Hawaiian Airlines.
In 1957, the airlines name was officially changed to Aloha Airlines and in an effort to better compete with Hawaiian Airlines, an order was placed for the Fairchild F-27 turboprop, bringing "Jet-prop" service to the islands. The new F-27s destined for Aloha were almost custom built for the airline having increased keel strength and underbody skin to satisfy the requirements of a possible water ditching. The first F-27 was delivered on April 15, 1959, the same year that Hawaii became a state, as were immediately popular with passengers resulting in Aloha taking a 40% share in the intra-island market.
As Aloha continued to expand, the airline placed into service the four-engine Vickers Viscount in 1963, to replace the Fokker F-27 aircraft, however the British made airplane had limitations in the typically humid Pacific environment. As the "Jet" age had entered the world of aviation, Aloha looked to introduce pure jet service to the islands and placed an order for the new British Aerospace BAC-1-11 Twin-Jet. Three planes were ordered, each with a passenger capacity of sixty-nine seats and the first being delivered to the airlines on April 15, 1966. Flights were started with the BAC-11-1 "AlohaJet" on April 27, 1966 between Honolulu, Hilo, Kauai, Kona and Maui. It was soon realized that the BAC-1-11 suffered the same restrictions as the Viscount and had performance restrictions especially operating from Kona Airport. Facing increased competition from Hawaiian Airlines using the new Douglas DC-9 airplane, Aloha looked to Boeing to solve its "jet" problems and placed an order for two Boeing 737-200 airplanes in 1968. The first plane, dubbed "Funbirds" was delivered in February 1969, and sported a new corporate image of tropical yellow and orange with a colorful tail of shaded abstract flowers. With the introduction of the new 737s, the three BAC-1-11 were withdrawn from service by April 1969. Although the introduction of the new Boeing's helped the image, excess capacity, and service delays from mainland carriers that would boost tourism were not realized and Aloha suffered financially. Both Hawaiian Airlines and Aloha Airlines were suffering and the idea of a merger between the two carriers was courted.
Hawaiian backed out of the merger talks with the thoughts that Aloha would continue to suffer and eventually file bankruptcy yet the airline started off strong in early 1970s. As tourism increased, the airline signed inter-line agreements with major carriers to provide seamless inter-island service to their passengers. Traditionally Aloha had only one competitor in the intra-island market; Hawaiian Airlines, however this changed after deregulation in 1978. New airline, Mid-Pacific Airlines entered the intra-island market with cheap fares and frequent flights which cut into Alohas' market share resulting in another yearly loss to the airline.
Looking to increase capacity and flexibility on intra-island routes and the possibility of extended services into the South Pacific, Aloha placed an order for three of the new Boeing 757 aircraft in 1981. The purchase of the aircraft was contingent on General Electric (GE) and its entry into the 757 engine market. Aloha had placed the 757 order with the option for the GE CF-6-32 engines. GE was hoping to land a large domestic order to help offset the costs of engine development. Initially due to economic and other political factors the GE program was pushed out, and although Aloha had hoped to start 757 service by 1983, they became the first airline to cancel and order for the new narrow-body plane.
Hoping to cash in on the deregulated market and improve operations, Aloha started a division of the company called Aloha Pacific in 1984, which started service on May 28, 1984, to Taipei, Taiwan, via Guam using a leased Douglas DC-10. The service only lasted until January 1985, due to fierce completion with established carrier Continental Airlines in that market. Aloha Airlines placed into service a "Quick-Change" variety of the Boeing 737 utilizing the aircraft at night to promote intra-island only cargo services. In February 1986, Aloha extended its wings beyond its Hawaiian borders and started once-weekly service to Kiritimati (Christmas Island), 1,350 miles to the south. This new service used an ETOPS rated Boeing 737-200, with Aloha being the first airline to utilize the over-water option on the 737.
During 1987, Aloha acquired local commuter airline Princeville Airways, and renamed the carrier Aloha Island Air, which would provide service to smaller communities and locales which the 737 was unprofitable or incapable of operating from. Communities such as Lanai City, Kalaupapa and Hana were initially served by the de Havilland DHC-6 Twin Otter and eventually the de Havilland DHC-8, Dash-8 Twin turboprop aircraft.
Aloha Airlines made world-wide news on April 28, 1988, when one of its Boeing 737s operating a service from Hilo to Honolulu, suffered a failure of the forward section roof, resulting in the death of a flight attendant. After subsequent investigations it was determined that corrosion and fatigue resulted in the failure of the roof section and it set up new inspection requirements for utilization of older aircraft.
Throughout the 1990s, Aloha Airlines realized a rather strong operations focusing on both its intra-island markets as well as it growing cargo services. The airline introduced a new color scheme in 1992, using the bold color of navy blue with the tail adorning a multi-colored Bird-of-Paradise flower (originally used in their logo in the late 1960s) and a "guava" colored script of "Aloha" across the front fuselage.
In an effort to further solidify its position, Aloha took the bold step in 1999, of leasing two, new Boeing 737-700 airplanes with a capacity of 123-passengers and starting mainland service to the United States. The long-range -700 series was ETOPS certified and would allow the island limited airline an opportunity to start service to "secondary" markets along the West Coast. History was made for the airline on February 14, 2000, when non-stop service were started to Oakland from Honolulu, marking the first time in the airlines fifty-four year history of providing mainland services. This was also the first time the Boeing 737-700 airplanes would be used in regular, trans-Pacific service to Hawaii.
Aloha's trans-Pacific mainland services were an instant hit with passengers looking for a change from the major airports. With a further delivery of three additional leased 737-700, the airline increased routes and cities where by September 2003, seven cities in the western U.S. were being served as well as Vancouver, Canada. Non-stop Hawaii flights were now being flown from Oakland, Burbank, and Orange County, all in California with extension of services from Orange County and Burbank, to Sacramento, Reno and Las Vegas, Nevada and Phoenix, Arizona.
Aloha Airlines had made a huge impact in the secondary niche market along the West Coast, however a downturn in tourism, impact of the September 11, 2001 terrorist attacks and rising fuel costs, the airline filed for Chapter 11 bankruptcy protection on December 30, 2004. With a fresh infusion of cash from new investors, a modified labor contract and a new CEO, Aloha was able to emerge from Chapter 11 in February 2006.
Aloha's future however remained bleak as competition from new intra-island airline go! as well as continue high fuel costs resulting in the airline filing Chapter 11 bankruptcy again on March 20, 2008. United Airlines had purchased a minority stake in the airline in May 2007, however the carrier continued losing money and wasn't able to secure additional funding resulting in Aloha Airlines suspended all operations on March 31, 2008.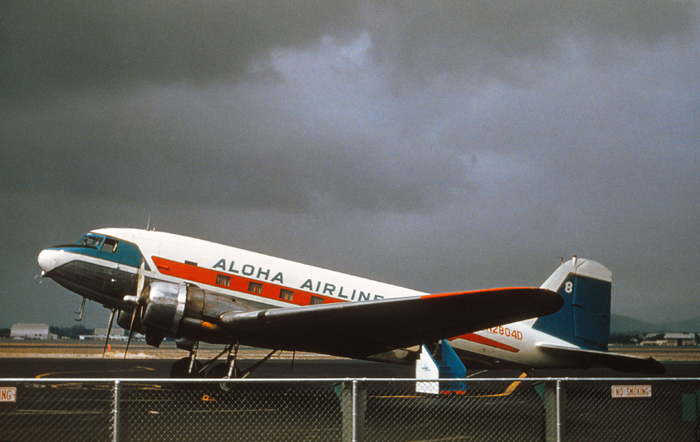 Aloha Airlines started operations as Trans-Pacific Airways (TPA) with a war surplus C-47A to provide passenger charter service within the Hawaiian Islands. Parked at the passenger terminal at Honolulu International Airport in November 1958, is N2804D, a C-47A-DK, originally delivered to the US Air Force in 1944, converted to a Douglas DC-3 and delivered to TPA in July 1956.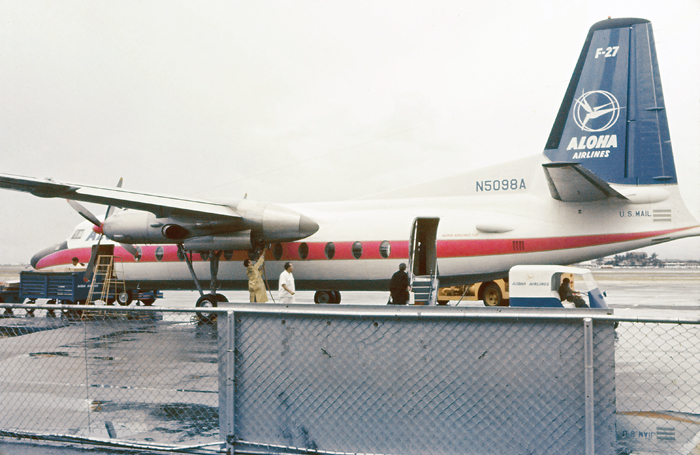 Aloha Airlines' first "jet" aircraft was the Fairchild F-27 Turboprop, which replaced the Douglas DC-3 and brought speed and comfort on intra-island routes. Seen being serviced during a turn-around at Honolulu International Airport in October 1961, is N5098A, a Fairchild F-27, delivered new to Aloha Airlines in May 1960.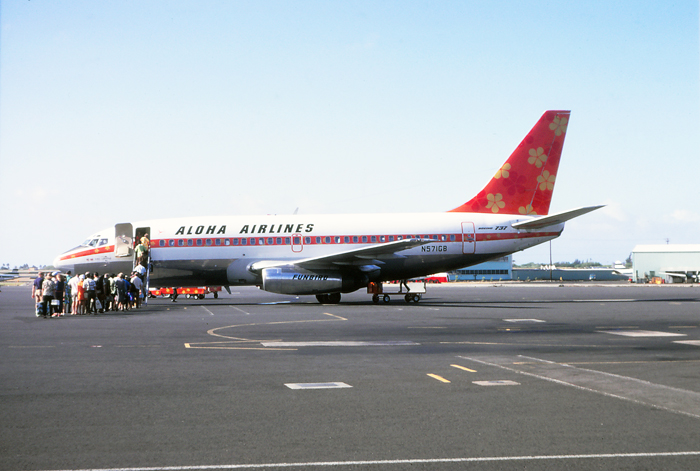 Aloha Airlines first Boeing 737 wearing the "Flower Power" color scheme introduced with the delivery of the new plane. Seen loading passengers at Honolulu International Airport in March 1969, is N571GB "King Lunalilo," a Boeing 737-2C0, delivered new to the airline on February 11, 1969.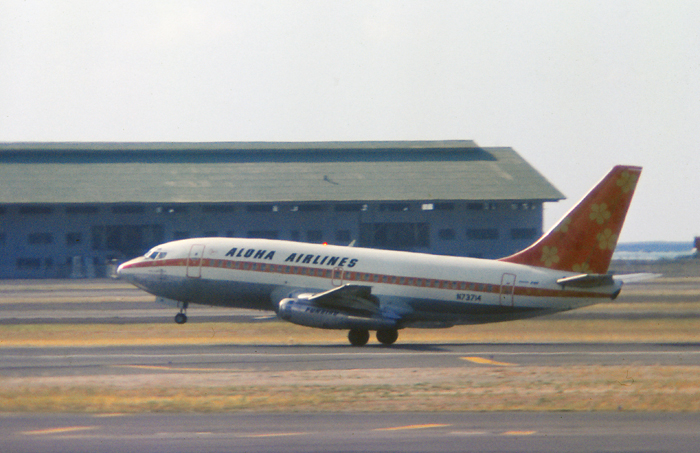 Rotating for takeoff at Honolulu International Airport in 1973, and denoting the "Funbird" titles on the engine nacelle is N73714, a Boeing 737-222, on lease from United Airlines between 1971 and 1975.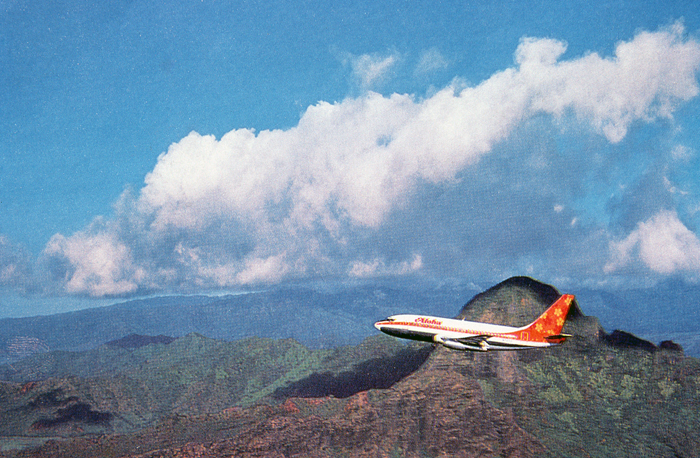 A Boeing 737-200 shows off its "Flower Power" color scheme while flying along the rugged tropical paradise of the Hawaiian Islands in this promotional photo taken in February 1979.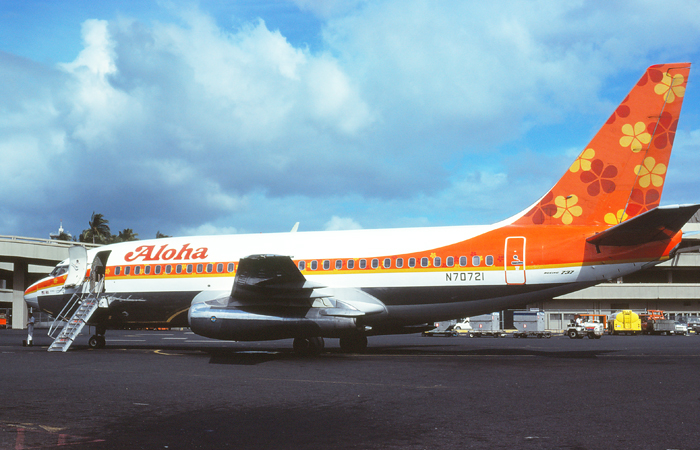 The color scheme that took Aloha Airlines through the 1970s was bright and colorful and represented the warmth of the tropical island state of Hawaii. Parked at the inter-island terminal and awaiting passengers at Honolulu International Airport in September 1980, is N70721 "King Lunalilo," a Boeing 737-284, delivered new to Aloha in September 1977.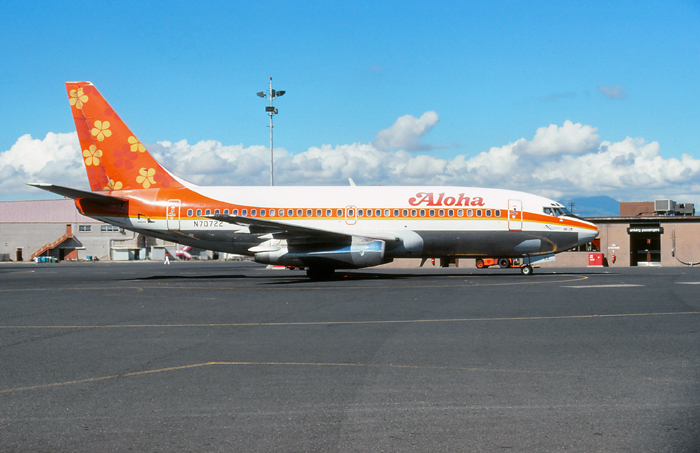 By 1981, Aloha was operating ten Boeing 737-200s for services within Hawaii. Parked at the intra-island terminal at Honolulu International Airport in December 1981, is N70722 "King Kaumualii," a Boeing 737-285 (A), delivered new to Aloha Airlines in August 1977.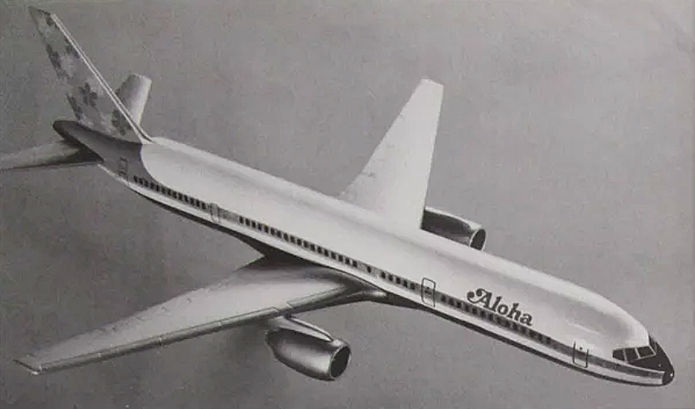 A Boeing mock-up model shows what the Aloha colors would look on the manufactures new Boeing 757. Unfortunately, the airline's orders for three of the planes were cancelled before planned service was to be started in 1983.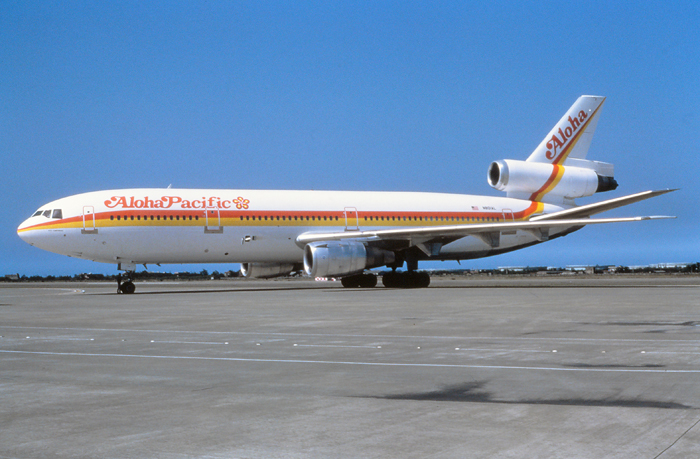 Aloha Airlines attempted to enter the long-range market in 1984, with the introduction of Honolulu-Guam-Taiwan flights under the Aloha Pacific brand using a Douglas DC-10. The venture lasted only eight months citing stiff competition from Continental Airlines. Preparing to depart the ramp at Taipei International Airport in June 1984, is N801AL, a Douglas DC-10-30 leased out from Philippine Airlines in May 1984.
Aloha Airlines introduced a more subtle color scheme in 1984, which came with the change of airline management with Joseph O' Gorman as the new CEO. Having just pulled into its gate assignment at Honolulu International Airport in November 1984, is N73717 "King Kalamikupule," a Boeing 737-2H4, originally delivered to Southwest Airlines in June 1971, and then leased by Aloha in July 1978.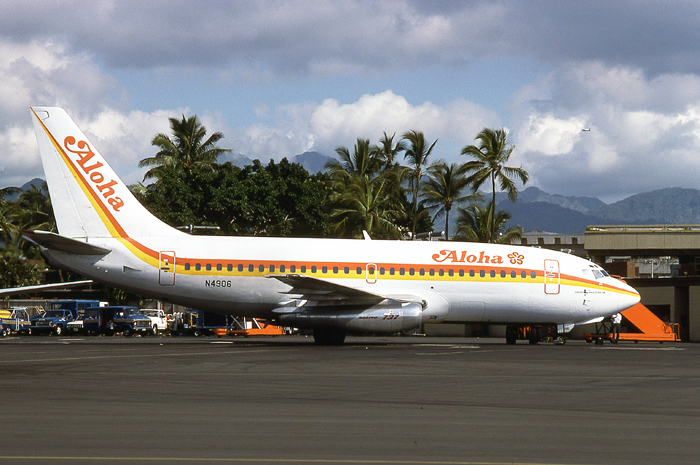 By 1987, Aloha Airlines was flying over fifty daily departures from Honolulu to intra-island destinations. Parked out the Outer Island Terminal at Honolulu International Airport is N4906 "King Kaleleonalani," a Boeing 737-210C, originally delivered to Wien Air Alaska in May 1969, and leased by Aloha between August 1985 and October 1990.
Aloha Island Air was formed after the purchase of local commuter Princeville Airways to provide service to the smaller communities of the various Hawaiian Islands. Parked on the ramp at Kapalua Airport in January 1990, is N703PV, a de Havilland DHC-6-300 Twin Otter, originally delivered to Key Airlines in 1974, and taken up by Aloha Island with the purchase of Princeville Airways in 1987.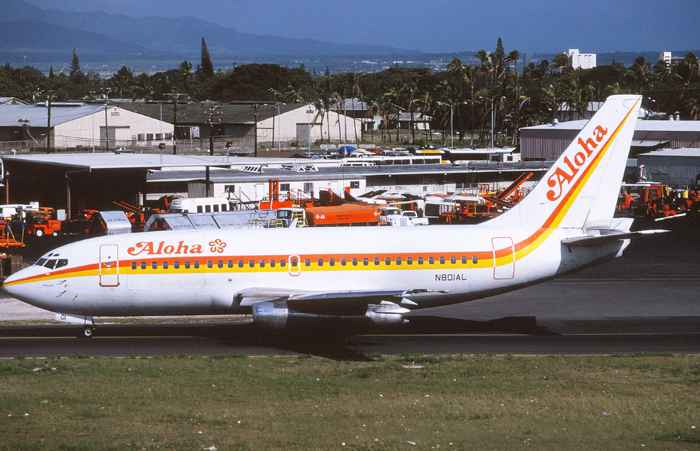 Aloha Airlines purchased many of its 737s on the secondary market allowing the carrier a "deal" on its backbone aircraft. Seen taxing outbound for a departure at Honolulu International Airport in April 1991, is N801AL, a Boeing 737-202C, originally delivered to Wien Consolidated Airlines in 1968, and leased by Aloha in March 1986.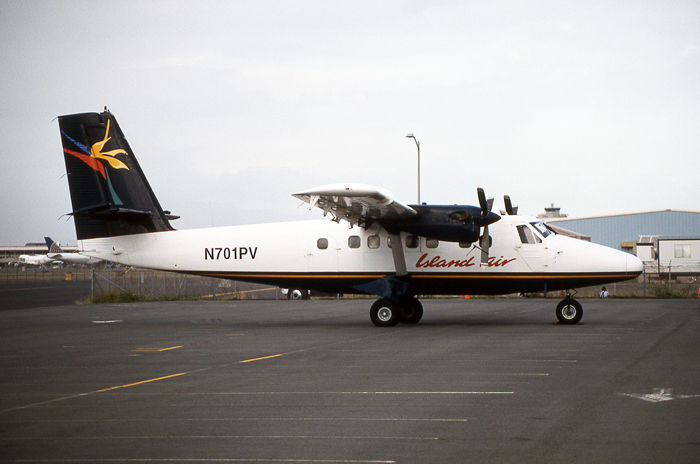 Aloha Island Air was formed after the purchase of local commuter Princeville Airways to provide service to the smaller communities of the various Hawaiian Islands. Parked on the ramp at Honolulu International Airport in January 1996, is N701PV, a de Havilland DHC-6-300 Twin Otter, originally delivered new to Princeville Airways in July 1980.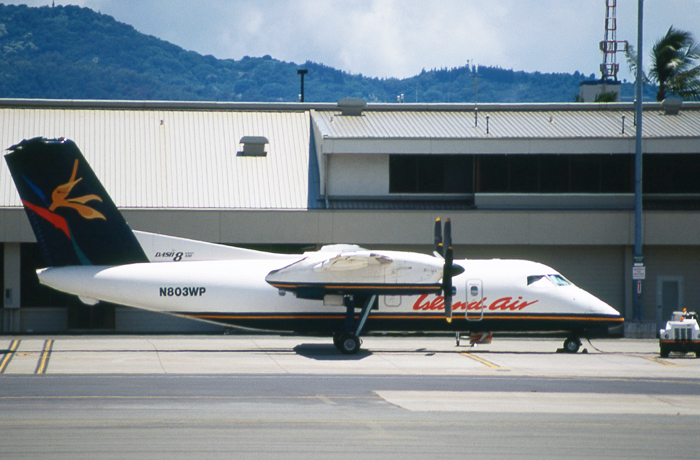 Aloha Island Air took delivery of its first thirty-seven passenger "Dash 8" turboprop in April 1995, to serve the growing commuter market within the smaller island communities. Parked at the intra-island ramp at Honolulu International Airport and awaiting passengers for another flight in September 1997, is N803WP, a de Havilland DHC-8-103 "Dash 8," originally delivered to Air Atlantic in March 1989 and purchased by Aloha in June 1996.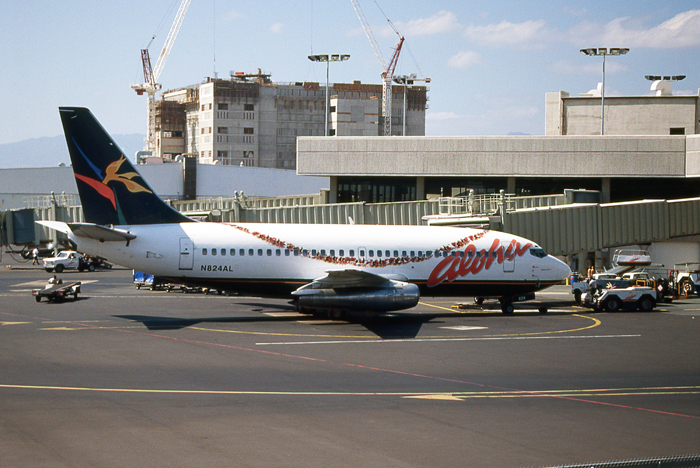 To commemorate the 1999 Aloha Festivals, Aloha Airlines decorated one its aircraft with a flowered lei. Parked at the intra-island terminal in February 2000, is N824AL "Kalaniopu'u," a Boeing 737-282, originally delivered to TAP-Air Portugal and bought by Aloha in March 1998.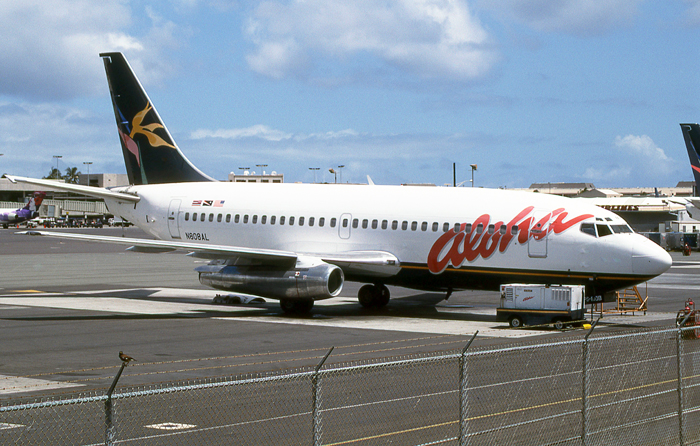 Aloha Airlines was the first airline to get the Boeing 737 certified for Extended Twin Overwater Passenger Service (ETOPS) in 1986, when it started weekly flights to Kiritimati or Christmas Island. Eventually Aloha would provide service to other remote Pacific destinations such as Majuro, Kwajalein, Midway and Pago Pago. Parked at the Aloha maintenance stand at Honolulu International Airport is N808AL "Kaleleonalani," an ETOPS certified Boeing 737-2T4, leased to the airline in June 1994. Note the Republic of the Marshall Islands flag on the rear fuselage next to the US and State of Hawaii Flags.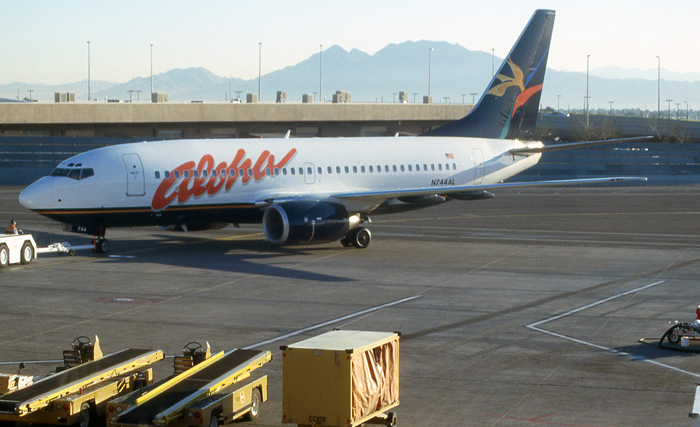 Aloha Airlines received its first ETOPS certified Boeing 737-700 series airplane in January 2000, to provide services to the US Mainland from the Hawaiian Islands. Seen being pushed back from the gate at Phoenix Sky Harbor Airport for the short hop to Orange County-John Wayne Airport in May 2003, is N744AL, a Boeing 737-76N, leased from GECAS in November 2001.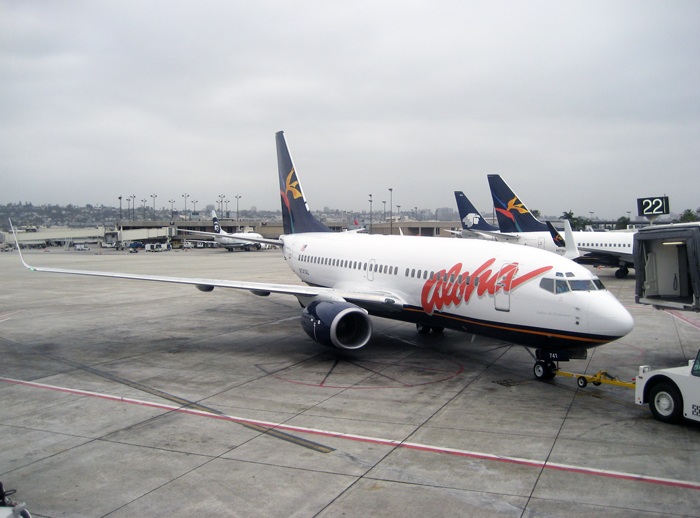 A pair of Aloha 737-700s with blended winglets installed are seen at San Diego Lindbergh Field just days before the airline stopped operations in March 2008. Being pushed back from the gate at the West Terminal for a morning departure to Honolulu is N741AL "Olopana", a Boeing 737-76N, leased to Aloha Airlines in March 2001.