TIMETABLES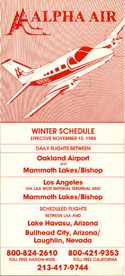 November 1985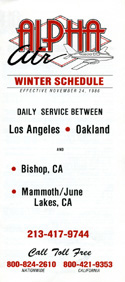 November 1986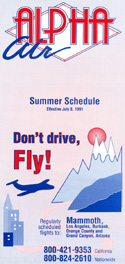 July 1991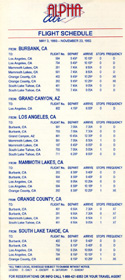 Summer 1993
Alpha Air (7V) was a Southern California commuter carrier that started operations in the summer of 1984, with a base at Van Nuys Airport. The new airline started flights between Van Nuys (just north of LAX) and both Bishop and Mammoth Lakes California using the Cessna 402 airplane. Bishop was the largest community in the Owens Valley on the eastern side of the Sierra Mountains and had no regular airline service. Mammoth Lakes was a popular winter ski destination just north of Bishop and it was hoped that regular "airline" service would cater to the seasonal market.
During 1985, the airline relocated operations to better serve customers from Los Angeles International Airport (LAX) and started flights from Los Angeles to both Mammoth Lakes and Bishop, and introduced additional flights to both Lake Havasu City, Arizona and Laughlin/Bullhead City on the Colorado River. By the winter of 1985, Oakland was added to the network with flights to Mammoth Lakes for that winter season and providing the only direct service from the Bay Area to Mammoth.
The Alpha Air continued to fly this niche market for the next few years and in 1987, was going to purchase the operating certificate of Royal West Airlines which had just gone bankrupt. The buyout didn't take place and Alpha Air considered purchasing new aircraft to extend routes and increase passenger comfort. During late 1987, both San Jose and Inyokern were added to the network.
During the spring of 1988, another "tourist" destination was added to the schedule when service was started from Los Angeles to Grand Canyon. The airline was starting negotiations to add another aircraft and decided on leasing two Beechcraft 1900C turboprops with a capacity of nineteen passengers. The first plane was delivered in February 1989, and with the delivery of the second in March 1990, all flights from Los Angeles were utilizing the Beechcraft airplanes and additional "local" routes to Catalina Island and Big Bear were added using the Cessna 402s.
During the spring of 1991, an interesting partnership was forged between Alpha Air and luxury carrier MGM Grand Air. Alpha Air using a leased de Havilland Twin Otter stared service on April 1, 1991 between Los Angeles and Orange County to provide "Grand Connection" service to MGM Grand Air in an effort to attract the business clientele in the Orange County area. The Twin Otter was painted in full MGM Grand colors and was only operated for a short time with service lasting for only about a year.
The airline continued to grow slightly, adding service to Burbank, Orange County and South Lake Tahoe and by early 1993, was flying fifteen flights daily. In December of 1993, after months of negotiations, Alpha Air became a Trans World Express carrier to service TWA "commuter" services at Los Angeles. Alpha Air painted its Beechcraft 1900, in full TWExpress colors and took the airlines flight numbers for services throughout its California and Arizona route network.
Alpha Air continued to provide services under TWA from Burbank, Los Angeles, and Orange County to both Mammoth Lakes and South Lake Tahoe. A single daily flight also was flown between Los Angeles and Grand Canyon. Alpha Air was able to struggle through TWA's first bankruptcy filling in 1992, and provided a much needed feeder service from Southern California. When TWA filed for Bankruptcy protection again in February 1995, the burden was too great financially and Alpha Air itself claimed bankruptcy in September 1995, had their Beechcraft 1900s repossessed and eventually dissolved all assets by the end of the year.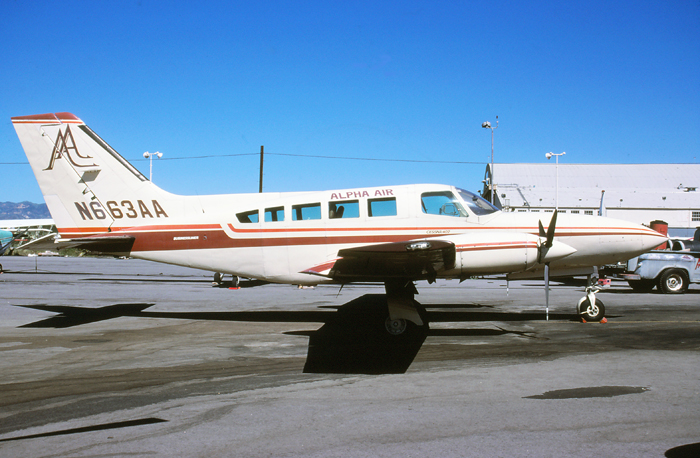 Alpha Air started operations using a single Cessna 402 airplane. Parked at its home base of Van Nuys in March 1988, is N663AA, a Cessna 402C "Businessliner."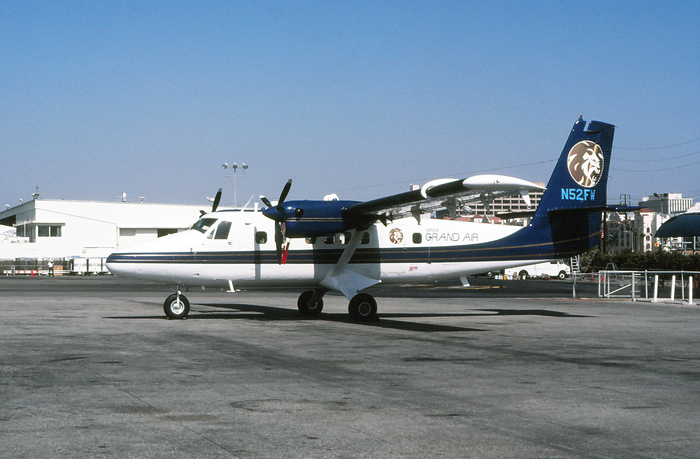 The short-lived "Grand Connection" service operated by Alpha Air on behalf of MGM Grand Air which shuttled high paying passengers from Orange County to connect with their MGM aircraft at Los Angeles. Caught parked at the Imperial Terminal in July 1991, is N52FW, a de Havilland Twin Otter, DHC-6-100.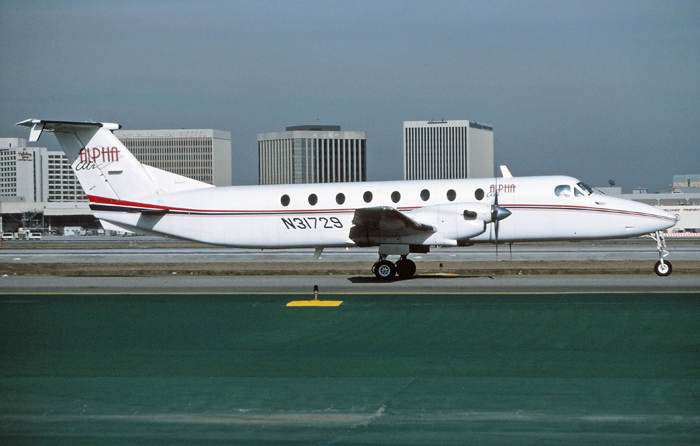 Alpha Air's first Beechcraft 1900 was delivered in February of 1989, to increase passenger carrying capabilities as well as comfort and range. Taxiing toward Runway 25 Left at Los Angeles International Airport in January 1992, is N1562C, a Beechcraft 1900C-1.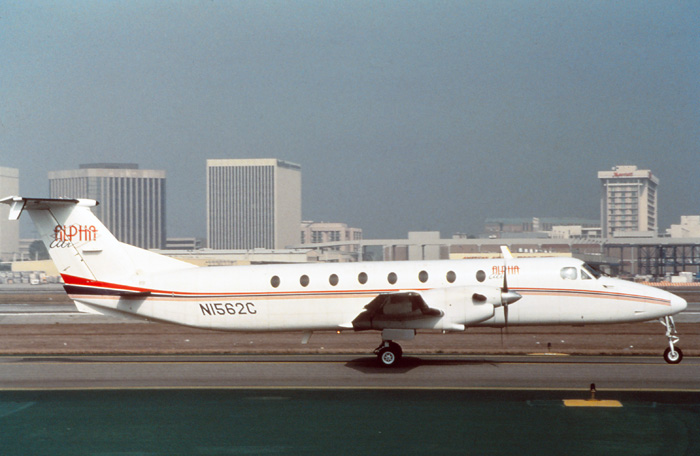 As Alpha Air continued to expand, a third Beechcraft 1900 was delivered to the airline in 1993. Taxiing out from the Imperial Terminal toward the south runways for a morning departure in October 1994, is N1562C, a Beechcraft 1900C-1.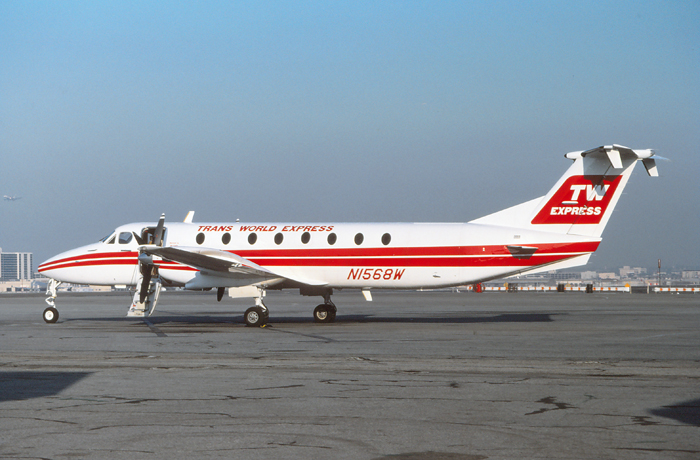 Having secured the Trans World Express contract feeding TWA flights from Los Angeles International Airport (LAX), Alpha Air quickly painted their aircraft to symbolize the agreement. Parked at the Imperial Terminal and waiting passengers on a November 1993 evening is N1568W, a Beechcraft 1900C-1.