TIMETABLES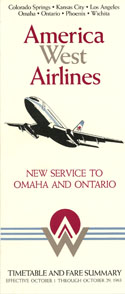 October 1983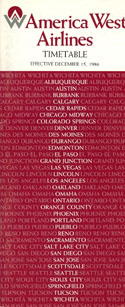 December 1986
America West Airlines(HP) once considered a "Darling of Deregulation" was the brainchild of infamous airline executive Edward Beauvais, once with Las Vegas based Bonanza Airlines. Taking advantage of the deregulation legislation signed three years earlier, Beauvais and a group of past airline executives proposed a hub-and-spoke type airline, with low fares and frequent service. Original plans called for an airline based at Phoenix, Arizona, itself an airport having historically been dominated by American Airlines and Trans World Airlines (TWA), yet losing a major share of its services as newly formed Republic Airlines cut flights. As its name suggested, the new America West Airlines would focus on cities in the West, flying from a Phoenix hub using either Douglas DC-9s or Boeing 737s.
The new airline was formed on September 4, 1981 with aspirations to begin flying to eight new cities including Tucson, San Diego and Burbank by May 1, 1982. Unfortunately financial support of the airline was still forthcoming and in the economic environment of the early 1980s airline investments were seen as rather risky. By 1983, things had changed, and a public offering of stock was issued which raised $18.75 million, this allowed the airline to lease seven 122-passenger Boeing 737-200 from Guiness Peat Aviation to start services. With its sights on the future America West also placed an order with Boeing for two of the newer Boeing 737 -300 series aircraft with deliveries in 1985.
With approvals secured, aircraft ready, and a new staff of 277 employees, America West Airlines started operations from Phoenix-Sky Harbor Airport on August 1, 1983 to Kansas City, Colorado Springs, Wichita, and Los Angeles. Three more cities were started in October, including the future hub of Las Vegas, Nevada. By the end of the year, the airline had grown to serve twelve cities from Phoenix. During 1984, the airline saw steady growth and expansion as services were started fourteen different cities as well as its first international services to both Calgary and Edmonton, Canada. The fleet was further expanded with additional leases bringing the total Boeing 737s in operation at twenty aircraft and by July 1984, America West had the most daily departures from Phoenix than any other airline. During December 1984, the airline received an unsolicited offer to purchase by an unnamed airline, with Southwest Airlines being the most likely candidate, however the offer was declined.
Expansion slowed a bit in 1985, yet the airline received its first of two ordered Boeing 737-300s with the first being delivered in February 1985. Phoenix-Sky Harbor Airport was feeling the pinch of the expanding airline and lack of terminal capacity constructed a new concourse to serve the airline. Things were looking bright for America West Airlines as 1985, was the first year the airline turned a profit. Over the next year expansion continued as nine new cities were added to the network covering the western U.S. region as far east as Chicago Midway and north to Seattle, Calgary, and Edmonton. In a parallel fashion flights and destinations continued to be added to the Las Vegas market and by 1986, the airline had declared it a "Super Hub" from an operating perspective.
A shift in operating philosophies took place in 1987, when the airline started both long and short haul services from its Phoenix hub. Hoping to attract secondary market passengers and not having a code-sharing commuter partner, the airline ordered three de Havilland DHC-8 "Dash 8" turboprops to start service in March between Phoenix and Yuma, Flagstaff, and Grand Canyon. On the heels of the commuter purchase, the airline realized an opportunity after the purchase of Republic Airlines by Northwest Airlines, the formers Boeing 757 fleet did not commonality with the existing Northwest 757s (engines) and were put up for a bargain price. America West purchased the six Boeing 757s from Northwest Airlines and placed the aircraft in service on July 1, 1987 on new routes to New York-JFK and Baltimore. A further eleven cities were added in 1987, including Chicago-O'Hare and the airline was now operating a fleet of thirty-one Boeing 737-200s, as well as four newer Boeing 737-300s. The rapid growth over 1987 reversed the profitable trend of the airline and put it back into a loss of $46 million for the year. With a fear of possible bankruptcy, an investment by Australia's Ansett Worldwide infused more cash into the airline.
During 1988, a new Terminal 4 was opened and dedicated to the airline at Phoenix-Sky Harbor Airport having twenty-eight gates, as well as commuter space. As the airline refocused its efforts on checked-growth and cash flow, even after a failed bud to purchase the defunct Eastern Shuttle, it was announced that America West was heading into the Pacific market. An application for Phoenix to Sydney, Australia service was presented with a stop in Honolulu, was denied, however Honolulu service was granted. The airline purchased two Boeing 747 aircraft and started "Bird of Paradise" service from both Phoenix and Las Vegas to Honolulu on November 15, 1989. Having favorable results of the initial Boeing 747 trans-Pacific services, America West placed an order for two, newer Boeing 747-400s.
By 1990, America West Airlines had grown to be classified as a "major" U.S. carrier, and in an effort to modernize its fleet signed an agreement with Airbus to purchase up to 118 of the manufacture's new Airbus A-320 fly-by-wire airliner, a deal with over $5 billion. Hoping to be granted additional routes in the Pacific, the airline purchased two additional 747s, however with delay in approval the "Jumbo Jets" were placed on service to New York-JFK from both Phoenix and Las Vegas. Finally in February 1991, the airline started service between Honolulu and Nagoya, Japan, however with the start of the Gulf War, as well as extremely poor load factors to Japan (there was only one passenger on the inaugural flight), America West fell into financial straits. Higher fuel costs and a economic downturn due to the Middle East crisis forced America West to file for Chapter 11 bankruptcy protection on June 27, 1991.
The airline trimmed routes, sold its Pacific rights, reduced aircraft and accepted financing from Phoenix based investors whom restricted the operations. Also hoping to bolster its presence the airline opened a third hub at Columbus, Ohio with sights on attracting business clientele in December 1991. Commuter services were suspended and given to a new code-share agreement with Mesa Airlines under the operating name "America West Express." Cut-backs continued and executive changes were abound and with refreshed investors and financing, the airline exited bankruptcy on August 25, 1994. Emerging from the three-year bankruptcy and uncertainty, America West Airlines had changed as a company and with its employee's culture. In an effort to re-establish its image as a Phoenix based "native" the airline pained one of its Boeing 757 in an eye-catching purple and orange Phoenix Suns basketball team livery. A few months later another Boeing 757 sported a "Teamwork" theme designed by the daughter of a pilot, and celebrating the "teamwork" that kept the airline alive.
By early 1996, America West was on track to sustainability, and new cities were added to the network as well as increased flight frequencies to established routes. With the vision toward a brighter future, the airline unveiled plans to rebrand its image and introduced new standardized aircraft interiors as well as a bold, colorful livery bringing the "Southwestern" spirit to the airline with the desert orange and turquoise colors. Many of the shorter-range or thinner routes were contracted out to Mesa Airlines which was now flying the Canadair Regional Jets on many of its routes.
Although the airline turned a profit in 1997, America West was facing operational issues created with maintenance concerns and contractual issues with "express" carrier Mesa Airlines as well as employee unions. The airline was able to forge through the waning '90s with renewed union contracts and delivery of its first Airbus A-319 aircraft in October 1998. At the end of 1999, America West was flying hundreds of daily flights to fifty-seven cities in the U.S., Canada, and Mexico with a fleet of 113 aircraft.
In 2000, the airline again suffered from operational and maintenance issues that impact the reputation. In an effort to achieve Stage III noise compliance, the airline retired all its "classic" Boeing 737 with the Airbus A-320/A-319 family and brining the fleet into more commonality. With an operating loss recorded for the year, America West was hoping 2001 would be a more illustrious year, but after the events of September 11, all airlines were to suffer that fateful day.
America West was the first major airline to resume service just a few days later on September 13, however with the economic downturn and reduced passenger traffic the airline was granted a government loan to support its financial impacts. Lower fares and more efficient schedules helped the airline recover and rebuild its image. The economic woes continued for the nation, and the airlines would suffer. America West would lay-off employees, close its Columbus hub, and eliminate food service in 2003, all in an effort to reduce operating costs. The plan worked and America West was able to turn a profit by the end of 2003.
With America West in better financial status the most of the airlines, there was a plan in 2004 for potential merger with recently bankrupt American Trans Air (ATA) and that carrier's route system from Chicago-Midway however the deal fell through. Only a year later, did struggling US Airways solicit offers of purchase, after having its second bankruptcy in less than three years. America West saw an opportunity to expand into the Eastern U.S. market as it had always wanted to do. With other groups of investors as part of the merger deal, the "new" airline would keep the U.S. Airways name yet be operated by America West management. The merger was approved on September 27, 2005, and America West was fully merged into U.S. Airways and continuing to operate under the latter name.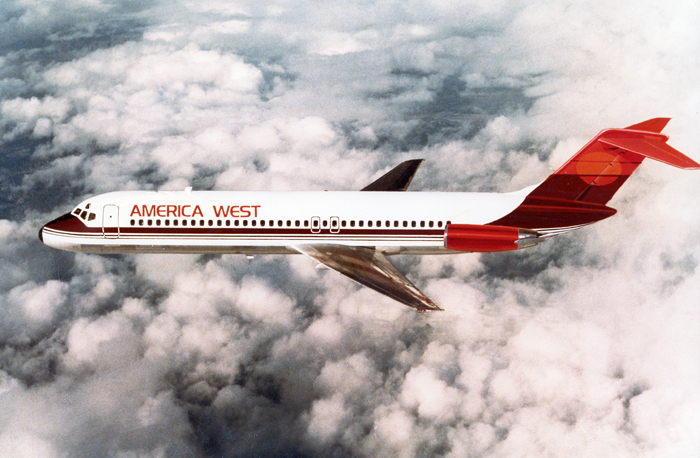 The initial plan for America West Airlines called for the use of Douglas DC-9 aircraft and a different livery as seen in this early artist proposal.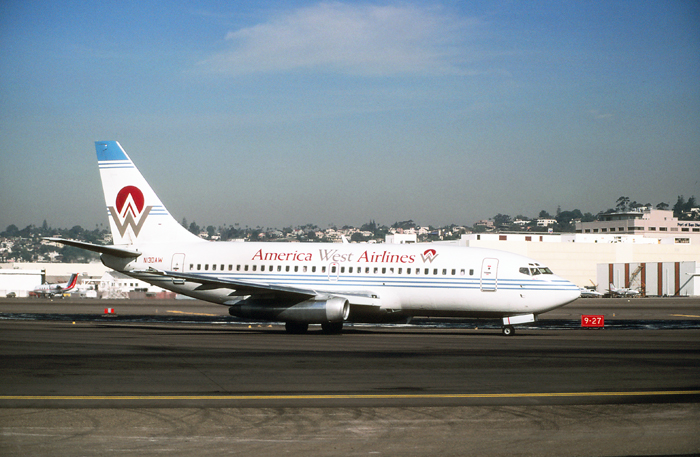 America West Airlines started operations with three leased Boeing 737-200 aircraft, one of the first seen taxiing toward Runway 27 for a morning departure at San Diego-Lindbergh Field in December 1983, is N130AW, a Boeing 737-212(A) leased from GPA.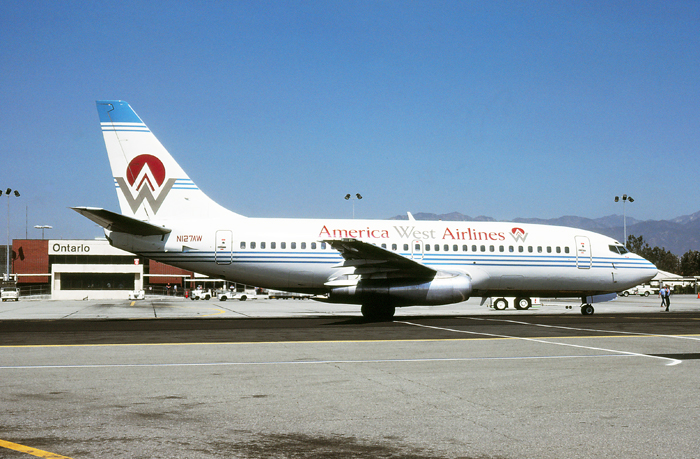 Ontario was the second city in Southern California to welcome the new airline America West to the airport on October 1, 1983. Having just been pushed back from the gate at Ontario International Airport for a Phoenix bound flight in April 1984, is N127AW, a Boeing 737-275.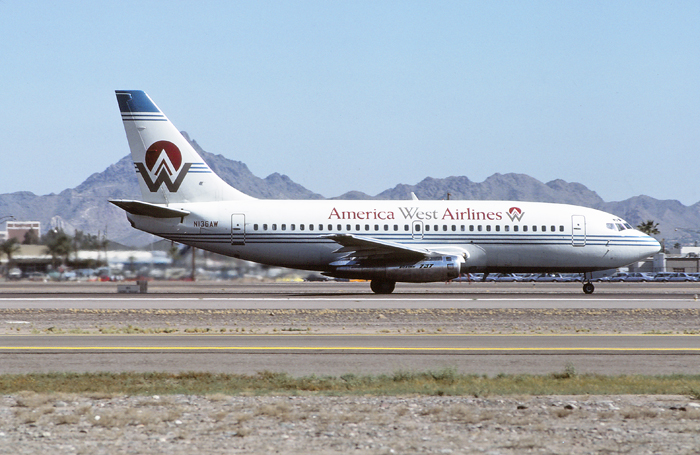 Wearing the short lived split color titles and holding in position on Runway 8 Left at Phoenix-Sky Harbor International Airport is N136AW, a Boeing 737-244.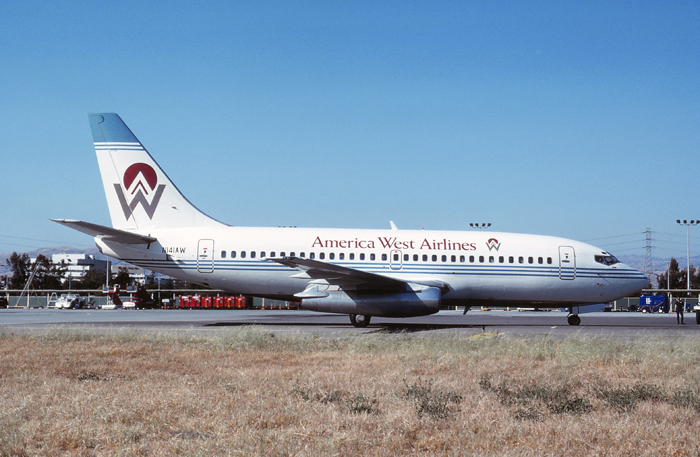 San Jose was America West Airlines first destination to be served in the "Bay Area" when flights were started in June 1984. Having just been pushed back from the terminal for an afternoon flight at San Jose Municipal Airport in July 1984, is N141AW, a Boeing 737-2M8(A) originally delivered to Trans European Airways (TEA) in April 1980.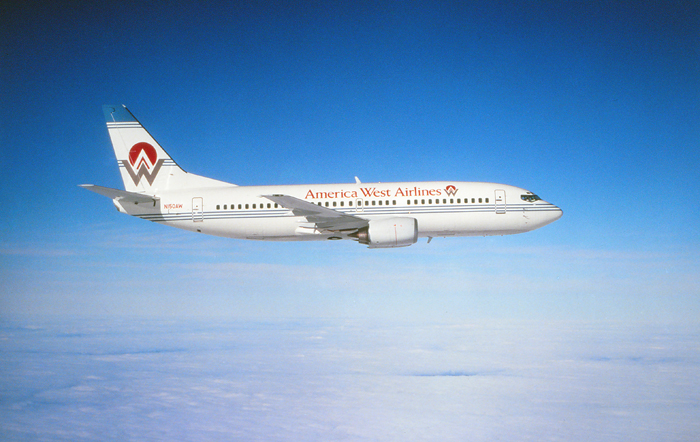 America West Airlines had placed an initial order for two Boeing 737-300 series in 1983 and received their first example on February 20, 1985. Seen on a pre-delivery test flight is N150AW, a Boeing 737-3G7, and the first -300 for the airline.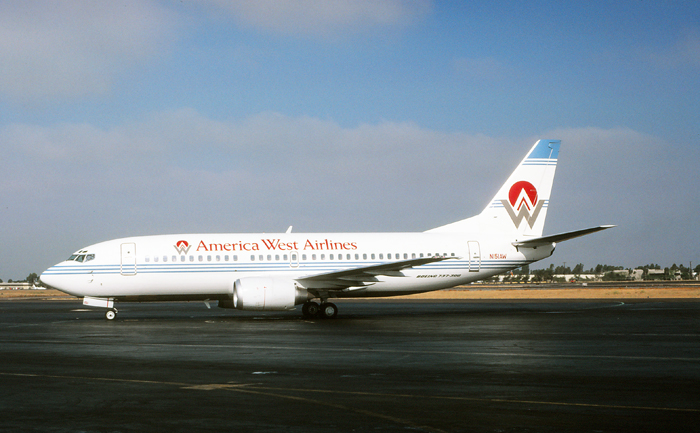 One of the first cities to see the newer, quieter 737-300 was noise sensitive Orange County-John Wayne Airport. Awaiting taxi clearance for a morning flight at Orange County-John Wayne Airport in July 1985, is N151AW, a Boeing 737-3G7 and the second -300 to be delivered to the airline.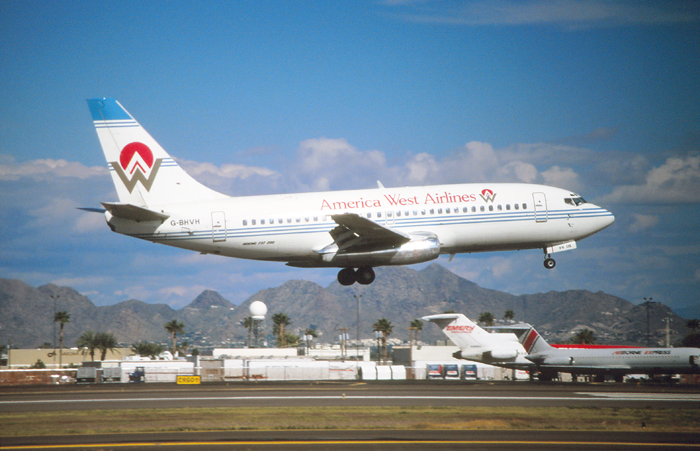 During the first few years of America West, the airline saw rapid growth and expansion which resulted in numerous aircraft being leased to provide capacity. This example over-the-numbers for landing on Runway 8 Right at Phoenix-Sky Harbor Airport in February 1986, is G-BHVH, a Boeing 737-2T5 leased to America West from Orion Airways for the 1986 winter season.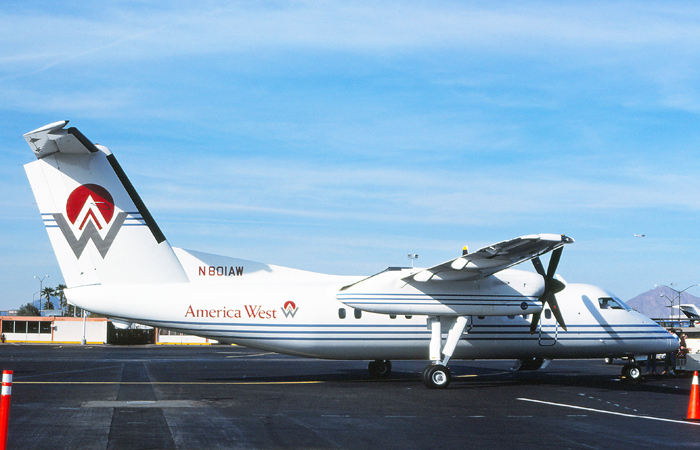 America West Airlines introduced commuter service in March 1987, to feed passengers from smaller communities such as Yuma and Flagstaff, Arizona into connecting flights at Phoenix-Sky Harbor Airport. Parked on the ramp during a turn-around in March 1987, is N801AW, a de Havilland DHC-8-102, delivered new to the airline on February 26, 1987.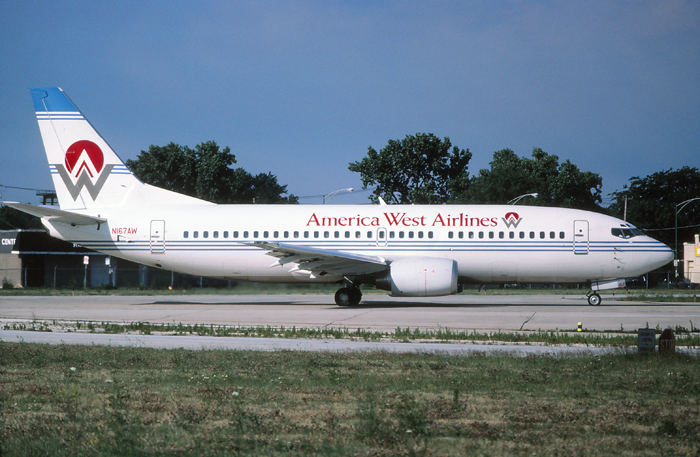 As America West continued to expand across the U.S., Chicago-Midway International Airport was added to the network in July 1986, making it the furthest destination east for the airline. Seen taxiing to the terminal after having landed at Chicago-Midway Airport in June 1987, is N167AW, a Boeing 737-33A.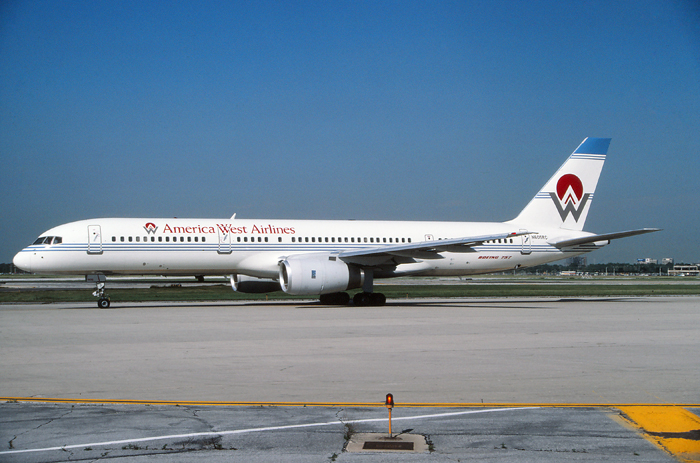 Taking advantage of a deal with Northwest Airlines selling their ex-Republic Boeing 757s, America West wasted no time introducing the new aircraft on new service such as Chicago-O'Hare which was added in May 1987, and where this example is seen taxiing that same month. Still wearing the previous revision of N605RC, is a Boeing 757-2S7 delivered on May 11, 1987.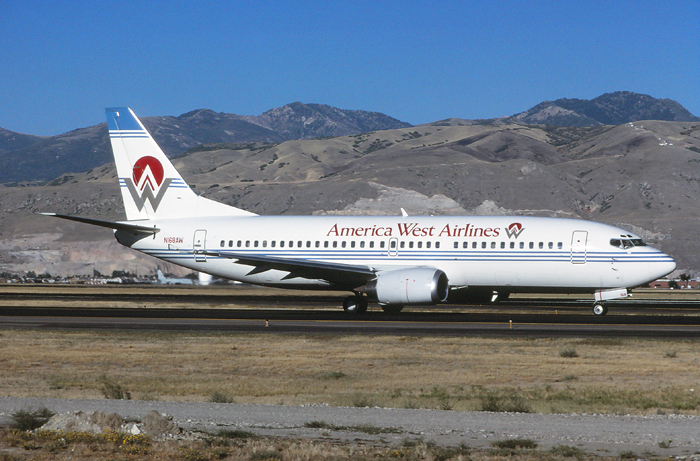 Salt Lake City welcomed America West Airlines to the airport in November 1984, with flights to Phoenix. Seen taxiing outbound to Runway 34 for an afternoon departure at Salt Lake City International Airport in September 1987, is N168AW, a Boeing 737-33A.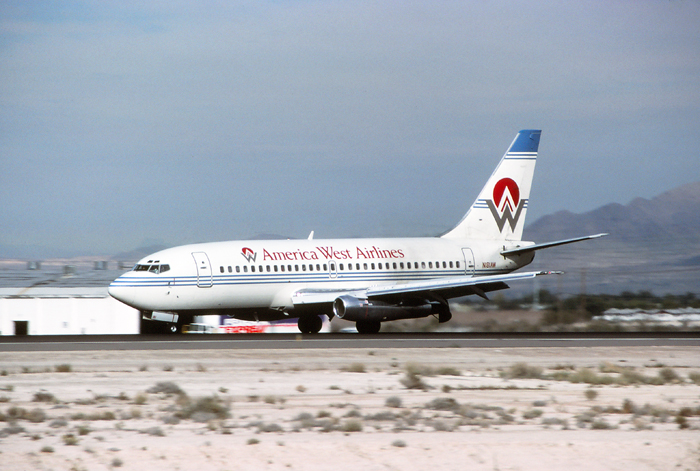 Destined to be the second hub for the growing carrier, Las Vegas was added to America West Airlines route map in October 1983. Seen rolling out on Runway 25 after having landed at Las Vegas-McCarran International Airport in November 1987, is N181AW, a Boeing 737-277.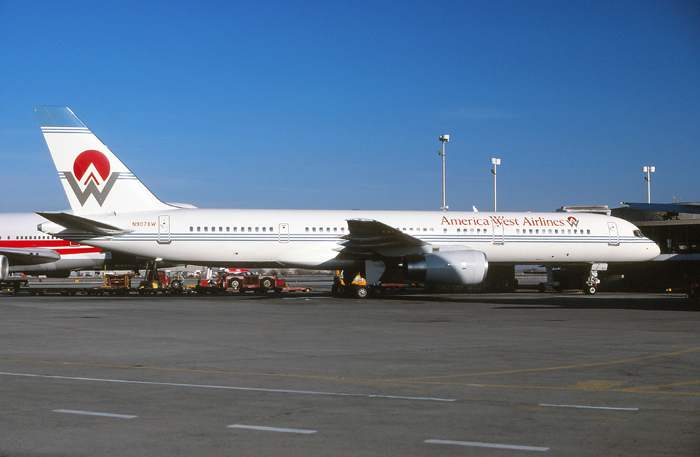 America West Airlines truly became a trans-continental carrier when services were started to both Baltimore and New York-JFK on July 1, 1987. Parked at the gate at the TWA Domestic Terminal, at New York-JFK International Airport in January 1988, is N907AW, a Boeing 757-225.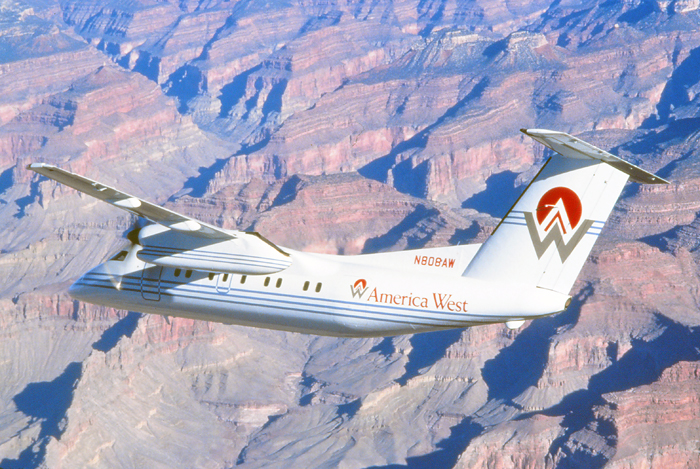 Seen banking over the rugged Grand Canyon in a stunning air-to-air shot taken just after its delivery to America West in September 1989, is N808AW a de Havilland DHC-8-102 "Dash 8."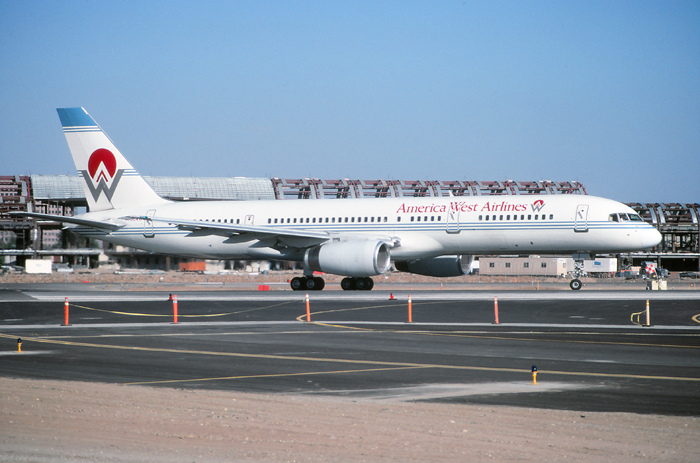 Hoping to attract business clientele, America West was the first airline to inaugurate non-stop service between capacity restricted Orange County-John Wayne Airport and New York-JFK using the Boeing 757 during 1991. Seen taxiing into position on Runway 19 Right at Orange County-John Wayne Airport in May 1989, is N906AW, a Boeing 757-2S7 and the last aircraft purchased from Northwest Airlines.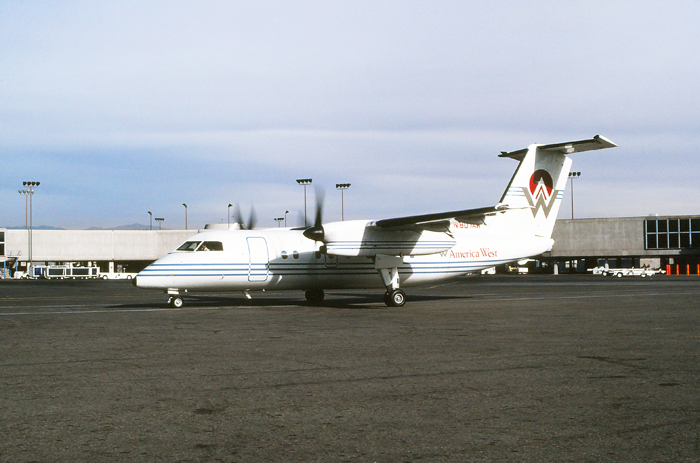 America West introduced "Dash 8" service to its Las Vegas hub in 1988, initially with flights to Grand Canyon Airport. Within a year flights were extended to Fresno, Palmdale, Palm Springs, and Long Beach. Taxiing in toward the terminal at Las Vegas-McCarran international Airport in January 1990 is N807AW, a de Havilland DHC-8-102.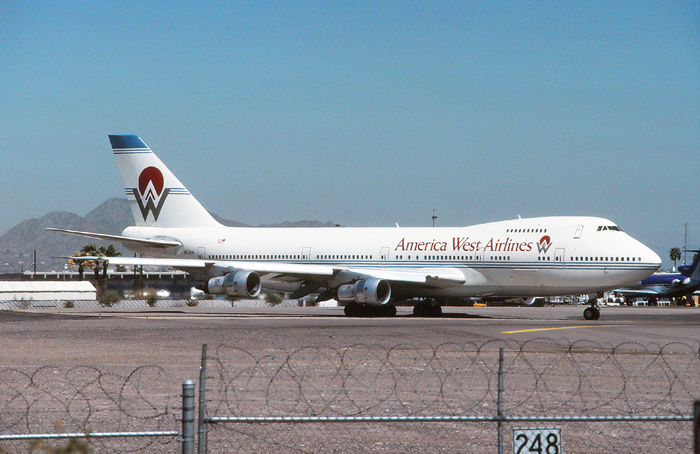 America West introduced "Bird of Paradise" service to Honolulu, Hawaii from Phoenix and Las Vegas using the Boeing 747 on November 15, 1989. Turning onto Runway 8 Right at Phoenix-Sky Harbor Airport in March 1990, is N531AW, a Boeing 747-206B.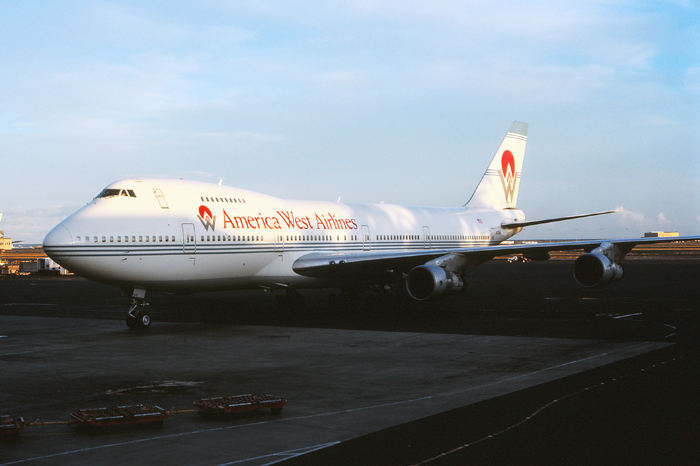 Caught pulling into the gate after a trans-Pacifc flight at Honolulu International Airport in May 1990, is N533AW, a Boeing 747-206B, purchased from KLM Airlines in October 1989.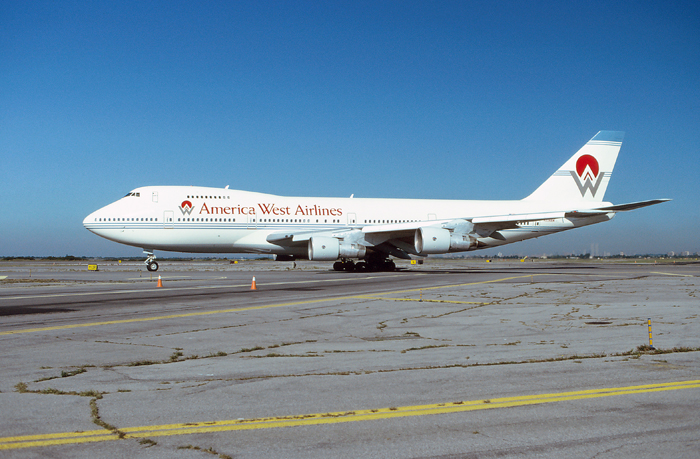 In anticipation of additional service to both Australia and Japan, America West purchased two additional 747s, however the route awards had not been received and the aircraft were placed on services between New York and both Phoenix and Las Vegas. Seen taxiing at New York-JFK International Airport in September 1990, is N534AW, a Boeing 747-206B.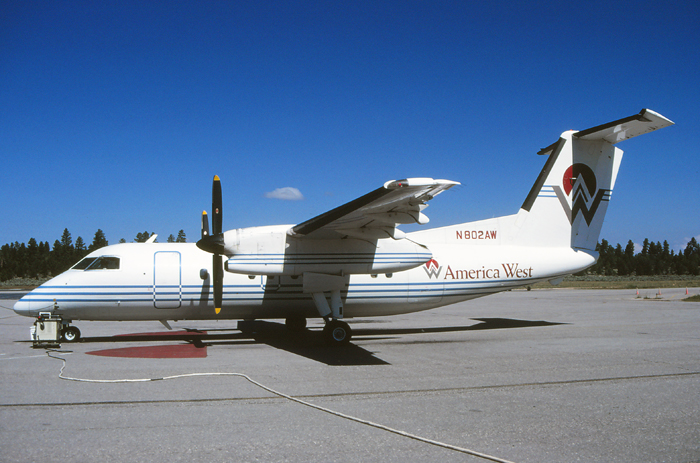 As one of the first airports to be served by America West using the "Dash 8" turboprops, Grand Canyon continued to be a popular destination from both Phoenix and Las Vegas. Parked at Grand Canyon Airport in September 1990, is N802AW, a de Havilland DHC-8-102.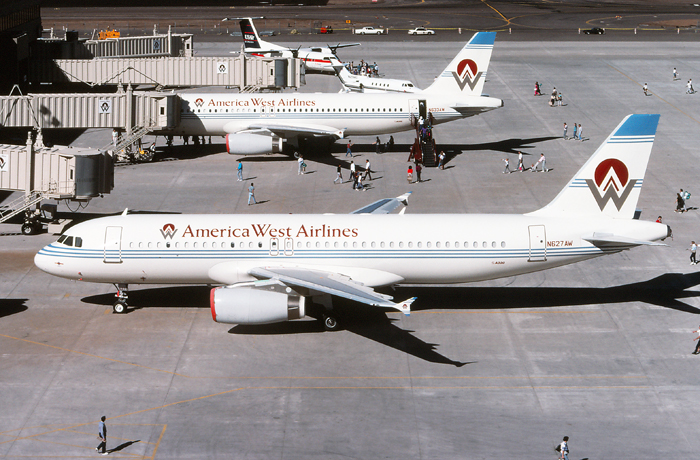 America West received a deal on seventeen Airbus A-320 aircraft destined for the bankrupt Braniff Airlines (II). The new planes would be sued to replace the Boeing 737-200 as well as increase route expansion. On display and parked on the ramp at the new Terminal 4 "open-house" on November 10, 1990 is N627AW and N633AW, both Airbus A-320-231s.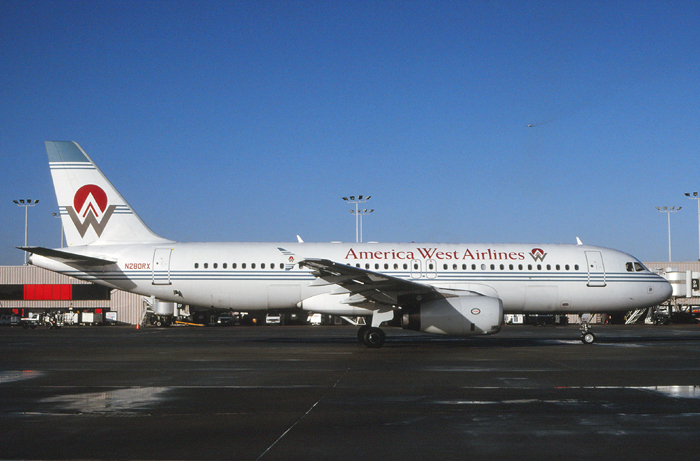 The first five Airbus A-320 aircraft were received on September 21, 1990 and laced on longer service routes throughout the network including new cities Atlanta and St. Louis. Having just been pushed back from the gate at Atlanta-Hartsfield International Airport in February 1993, is N280RX, an Airbus A-320-231.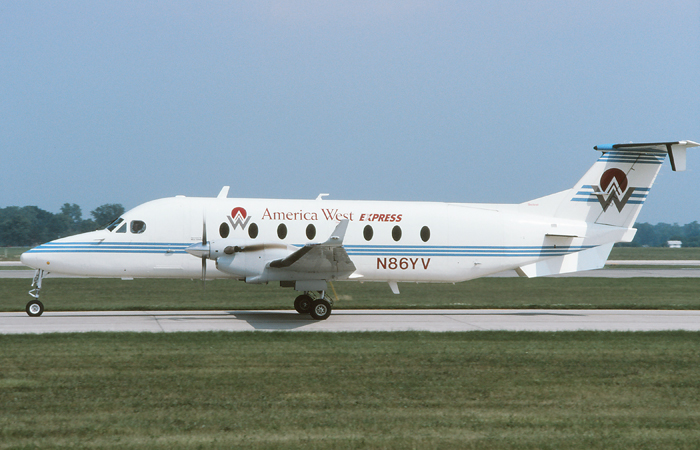 After America West established a new hub at Columbus, Ohio on 1991, an agreement was forged a few years later in December 1993 with Mesa Airlines to provide commuter flights under the America West "Express" banner from Columbus to thirteen cities including Rockford, Toledo, and Rochester. Seen taxiing out for take off at Milwaukee-Mitchell International Airport in August 1994, is N86YV, a Beech B-1900D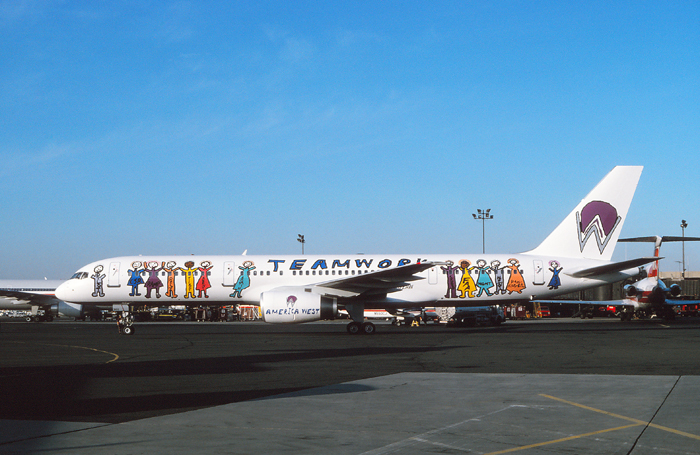 After America West Airlines emergence from bankruptcy in August 1994 could not have happened without the assistance of all the airlines employees. To commemorate the event, a contest to design a special color scheme was had, and won by the daughter of a company pilot. The "Teamwork" scheme was rolled out on August 29, 1994. Seen on the ramp at Newark International Airport in September 1994, is N902AW, a Boeing 757-2S7.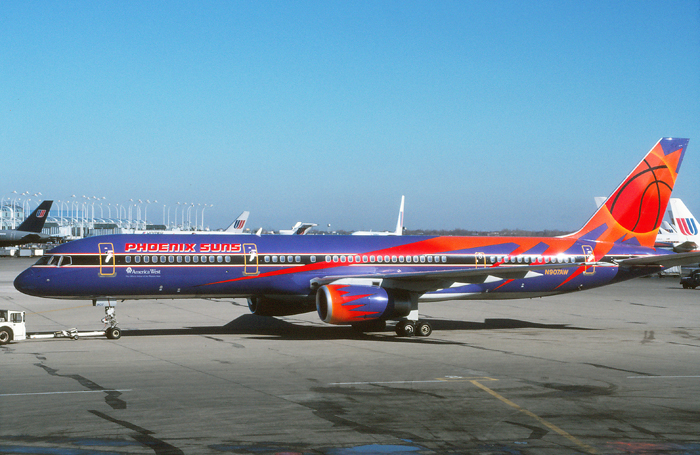 America West had sponsorship with the Phoenix Suns professional NBA basketball team from 1989, including the naming of the new America West Arena built in 1992. The airline painted a Boeing 757 to commemorate its support for the team and unveiled it on May 16, 1994. Pictured at Chicago-O'Hare International Airport in April 1995, is N907AW, a Boeing 757-225 and the first plane to wear a special scheme.
Continuing on the special color scheme application, to celebrate the hub at Columbus, Ohio, a Boeing 757 was pained in the abstract patriotic flag colors of the state in. Parked on the ramp at Columbus International Airport in November 1995, is N905AW, a Boeing 757-2S7.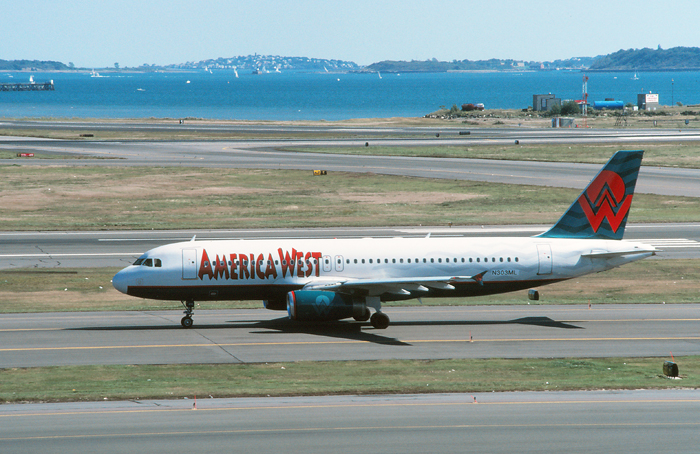 By After recovering from bankruptcy and unveiling a new growth plan, America West also unveiled a new colors scheme and image in January 1996. The new livery used colors of pearl white, orange, and turquoise to align with it's "Southwest" heritage. Seen taxiing at Boston-Logan International Airport in September 1996, is N303ML, an Airbus A-320-321.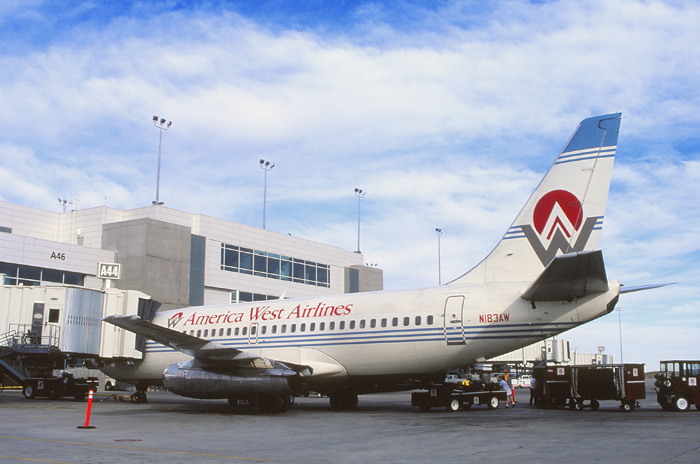 America West Airlines started service into the Denver area in November 1986 from both Phoenix and Las Vegas using Stapleton Airport. parked at gate A44 at the new Denver International Airport is N183AW, a Boeing 737-277.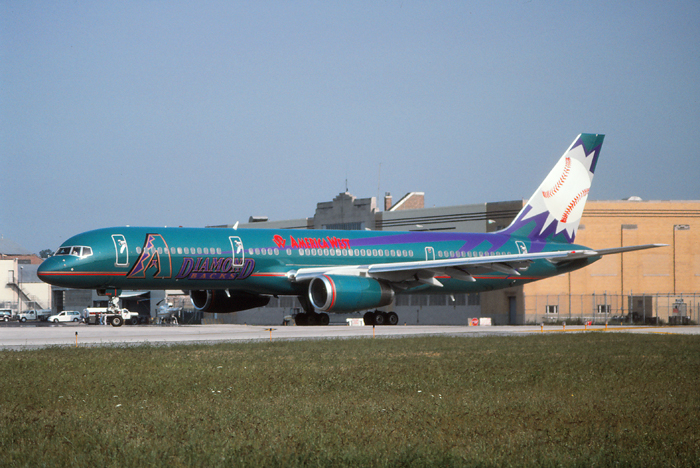 By 1987, America West signed an agreement with the new Major League Baseball team, the Arizona Diamondbacks in 1996 and became the teams "official" carrier. In keeping with the themed plane series, America West painted a Boeing 757 in striking team colors. Seen at Chicago-Midway International Airport in October 1996, is N904AW, a Boeing 757-2S7.
Showing off its new color scheme, N271RX, an Airbus A-320-231, taxis away from Terminal 1 for an evening departure at Los Angeles International Airport in May 1997.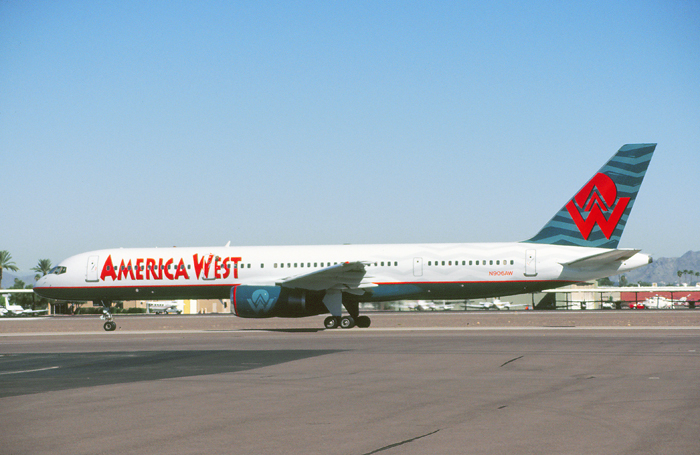 Although the Boeing 757 fleet was over ten years old, they as well received the updated livery and was looking sharp on N906AW, a Boeing 757-2S7, as it taxied out for takeoff at Phoenix-Sky Harbor International Airport in October 1997.