TIMETABLES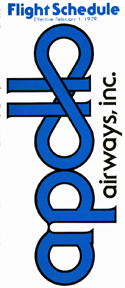 February 1979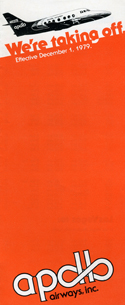 December 1979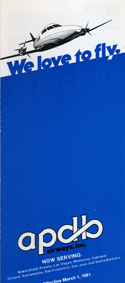 March 1981
Apollo Airlines (ID) was formed in May 1969, as a small taxi operator based in Santa Barbara, California, flying both cargo and passenger charters with a mixed fleet of Beechcraft and Piper aircraft. During May 1975, Apollo airlines purchased a Handley-Page Jetstream to increase capacity and provide commuter airline service. In October 1975, the airline applied and received authority to start scheduled commuter service from Santa Barbara Airport to San Jose (California). A few months later Sacramento, Bakersfield, and Santa Maria were added to the route map.
Over the next five years Apollo Airlines continued to grow and by 1980, had acquired an additional four Jetstream turboprop and added Monterey, San Francisco, Oakland and Las Vegas, Nevada to its route network. Over thirty daily flights were being flown, many from its base of Santa Barbara. A proposed merger between the new Golden Gate Airlines and Apollo Airlines was discussed in early 1980. The merger between Golden Gate did not proceed and Apollo continued to operate as its own carrier.
During 1981, an additional five Jetstreams were added, increasing the number of Jetstream aircraft operated by Apollo Airlines to ten and allowing for an increase in flights and the addition of both Fresno and Oxnard to the route schedule. Although the airline had become a rather large regional commuter in California, financial problems started to develop which ultimately pushed the airline to file bankruptcy in September 1981.
As part of the Chapter 11, bankruptcy reorganization Apollo Airlines, changed its name and was re-branded as emerged as Pacific Coast Airlines on March 1, 1982.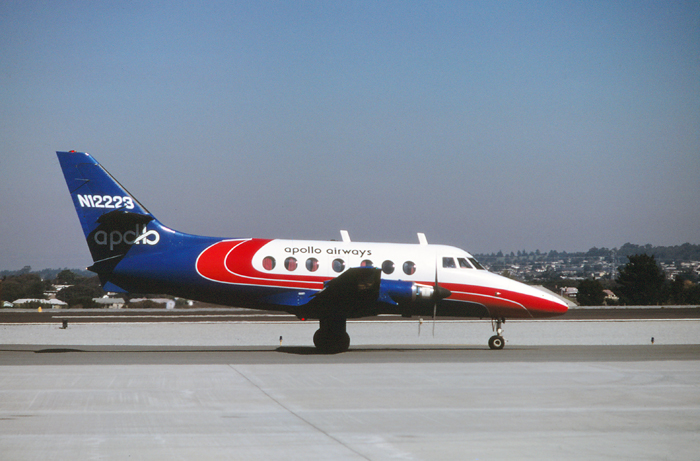 The 16-passenger Handley-Page Jetstream provided the appropriate capacity and range for Apollo Airways regional flights. Taxiing outbound for takeoff at Monterey Regional Airport in October 1981, is N12223, a Handley-Page HP.137 Jetstream Mk I.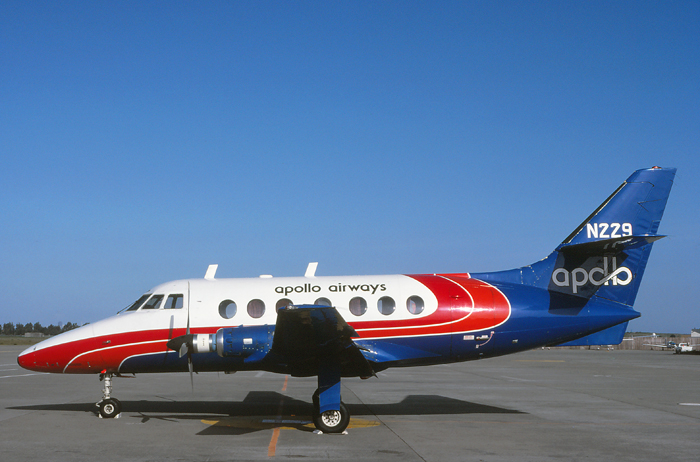 Still wearing the Apollo titles and colors is N229, a Handley-Page HP.137 Jetstream Mk I, awaiting transition to its new owner Pacific Coast Airlines at Sacramento Metropolitan Airport in May 1983.