TIMETABLES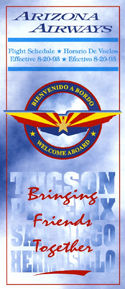 August 1993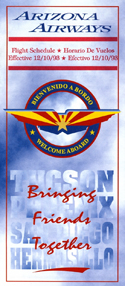 December 1993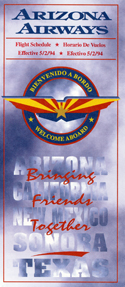 May 1994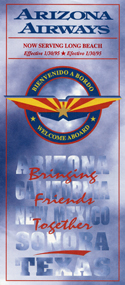 January 1995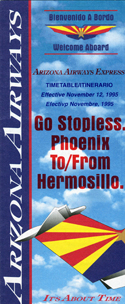 November 1995
Arizona Airways (VZ) was a local, Arizona based commuter airline established to provide services throughout the Southwest US and Mexico after the departure of Stateswest Airlines. Initial development of the airline started in 1991, and the new carrier was suggesting it would create hundreds of jobs and inject over $70 million into the local economy. Early plans focused on using a 737 aircraft, then a SAAB 340 turboprop before the airline decided on using a CATPASS 200, modification of the Beechcraft King Air (Also known as the Beech 1300). Having settled on using Tucson, Arizona as a base of operations, due to the City of Tucson extending low interest loans, tax rebates and job training, Arizona Airways received FAA approval for operation in March 1992. Service was proposed to start in June 1992, between Tucson-Phoenix and Tucson-Hermosillo, however financing, route structure and airport gate uncertainties held the start date for months. Finally with two CATPASS200 turboprops purchased from Mesa Airlines and confirmed routes between Tucson and Phoenix and Hermosillo, Mexico, Arizona Airways started scheduled operations on April 18, 1993. Over the next few months Arizona Airways expanded operations adding Tucson-San Diego service in August, followed by Tucson-Albuquerque service in November and Bullhead City-Laughlin flights in December.
The carrier continued to grow adding Tucson-El Paso service in March 1994, and realizing the continued growth ordered two Beechcraft 1900C airplanes. Orange County was proposed to start in June 1995, however route authority was not received and the airline instead added Ontario, California and two other Mexican destinations both; Guymas and Cuidad Obregon. By the summer of 1995, Arizona Airways had grown to become the airline with the most flights from Tucson International Airport.
During February 1995, Chihuahua was added as another Mexican destination, and service to Long Beach, California was started from Bullhead City. During the summer of 1995, Arizona Airways was starting to suffer financially. Although the airline had decent load factors, rapid expansion had resulted in the inability to pay landing fees. In an effort to continue flying, Arizona Airways management formed an agreement with Great Lakes Aviation to provide additional revenue and oversight. On July 1, 1995, a code share agreement started with Great Lakes and within a month, the code share became an alliance and by August, Arizona Airways was rebranded Arizona Airways Express. The company flew under this title until January 15, 1996, when operations was fully merged into Great Lakes Airlines and the Arizona Airways brand ceased to exist.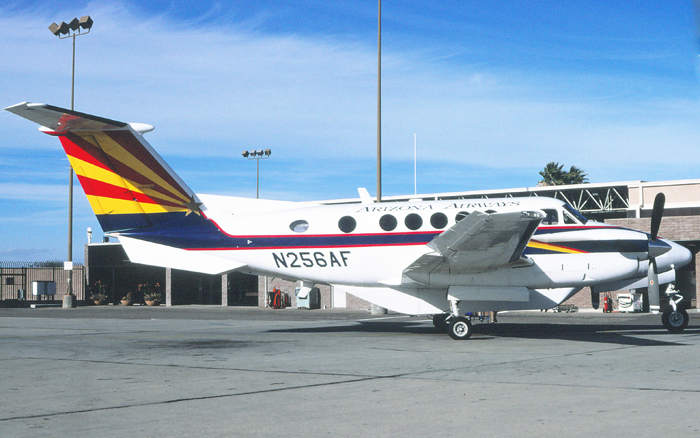 Arizona Airways started operations with a Beechcraft B200 Super King Air turboprop (B-1300) also known as the CATPASS 200 conversion. Parked on the ramp at Tucson International Airport in February 1994, is N256AF, a Beechcraft B-1300.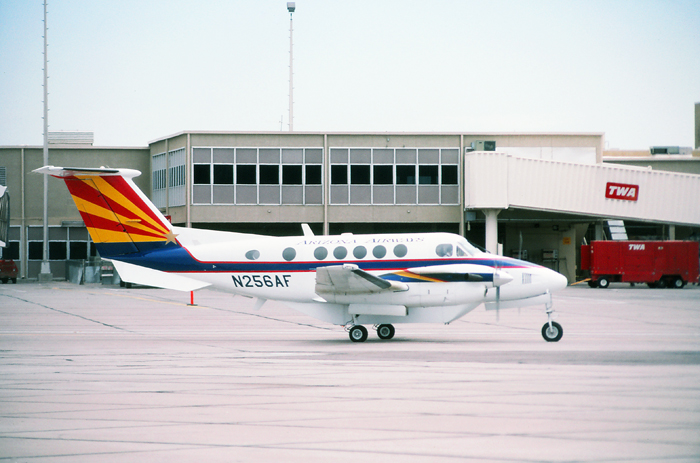 One of the first destinations flown by Arizona Airways was to Phoenix, Arizona with daily flights from Tucson. Seen taxiing outbound for takeoff at Phoenix-Sky Harbor International Airport in June 1994, is N256AF, a Beechcraft B-1300.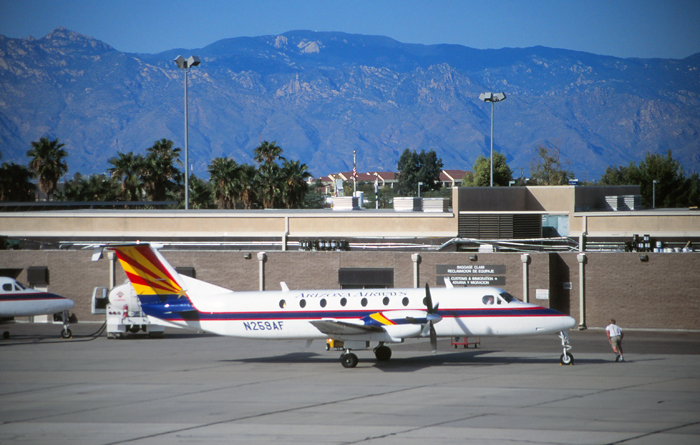 By the fall of 1994, Arizona Airways was operating three Beechcraft 1900 turboprop airliners on services from Arizona to California, Texas, New Mexico and Mexico. Seen starting up for another regional flight at Tucson International Airport in October 1994, is N259AF, a Beechcraft 1900C, originally delivered to Mesa Air in 1986, and purchased by Arizona Airways in March 1994.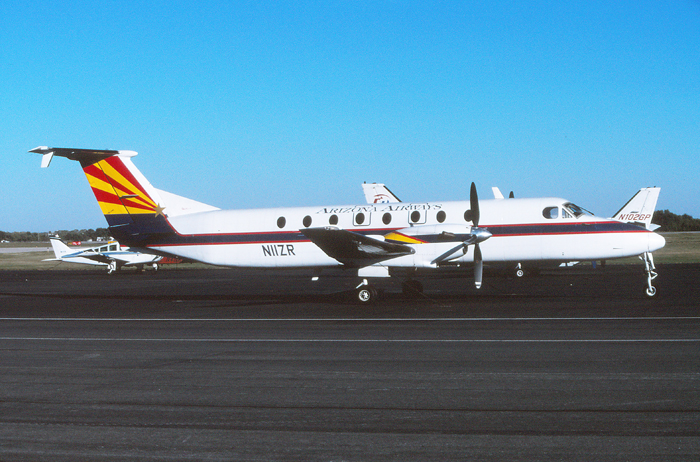 The Beechcraft 1900C, was the last plane to be used by Arizona Airways until its purchase Great Lakes Airlines 1995. Seen parked at Wichita Mid-Continent Airport in May 1996 and awaiting repainting by its new oweners, is N11ZR, a Beechcraft 1900C, originally delivered to Bar Harbor Airlines in 1984, and bought by Arizona Airways in April 1994.