TIMETABLES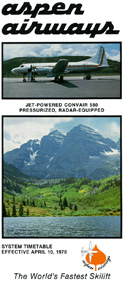 April 1978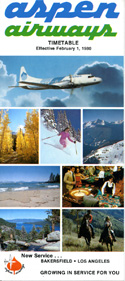 FEBRUARY 1980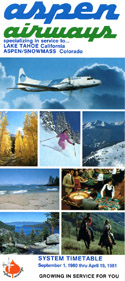 SEPTEMBER 1980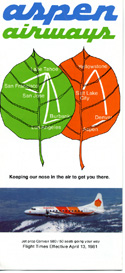 FEBRUARY 1981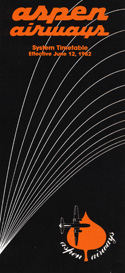 JUNE 1982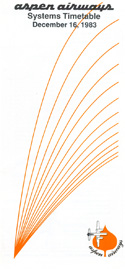 December 1983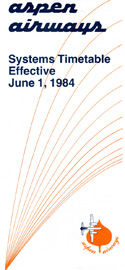 June 1984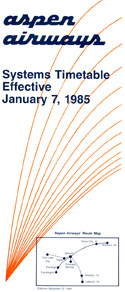 JANUARY 1985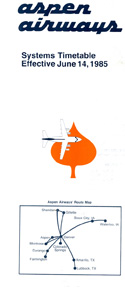 JUNE 1985

APRIL 1986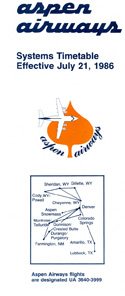 JULY 1986
Aspen Airways (AP) was formed in 1952, by Walter Paepckeas an air-taxi operator associated with the Aspen Institute. The Aspen Institute was a political think-tank established in Aspen to provide guidance on international policy, leadership, and opinion. A flight department was started at the institute to shuttle employees and visitors from Denver into Aspen using a surplus Douglas DC-3. The name Aspen Airways was chosen to commemorate the native Aspen trees surrounding the institute and not in reference to the town of Aspen. Realizing an opportunity to provide actual schedule passenger services between the Aspen and Denver, the airline applied for intrastate authority and was granted an operating certificate as a scheduled air carrier on March 9, 1967. The introduction of a scheduled Aspen-Denver air route was a godsend to the community as the new flights cut down the traditional driving time to Denver to only 40-minutes by air. Although Aspen acquired a Fokker F-27 turboprop in 1968, the airline decided on the Convair 240 as the choice of aircraft for flying the rugged mountainous terrain of the Rockies. The first Convair 240 was delivered in September 1968 on lease from Alaska Airlines, while the other was delivered a year later. One of the Convair 240s was lost in a landing accident in January 1970, in a gear up landing at Aspen Airport. Eventually the airline went on the market to seek used Convair 340 and 440 aircraft which had an extended wingspan and more powerful engines. Aspen partnered a deal with Delta Airlines who was looking to get rid of their Convair's and hence found a willing buyer. As the popularity of the Denver-Aspen service continued to grow, Aspen Airways sought more powerful equipment and found the turboprop conversion of the existing Convair 340/440 airframe into the Convair 580 the perfect solution. The Convair 580 was the conversion of the piston engine 340/440, with four-bladed Allison turboprop engines, along with airframe modifications. Aspen received its first two Convair 580s in June 1973, and the plane proved successful, in the rugged sometime turbulent Rocky Mountain region and was soon dubbed the "Mountain Master" by the airline. Additional Convair 580s were purchased and by 1977, Aspen was operating seven of the turboprops and had added daily service between Denver, Montrose, and Gunnison and seasonal services to Grand Junction, all in Colorado. With the occasional excess capacity, Aspen filed for charter authority and received permission to provide charter services United States, Canada, and Mexico. In early 1979, the airline expanded into New Mexico, extended services to Durango, Farmington and Albuquerque.
Having established itself in a niche market, Aspen sought other opportunities for expansion and set its sights west, toward California. Similar to Aspen, Colorado, was the mountain resort of Lake Tahoe located in the Sierra Nevada Mountains. Situated amongst the towering mountains and at an altitude of 6,000 feet, the South Lake Tahoe Airport which had a ban on jet aircraft at the time, was seen as a market for Aspen to provide turboprop service to. Although the route had traditionally been served by both intrastate carriers, Pacific Southwest Airlines (PSA) and Air California, both airlines were pulling out of the market. Approval was received and flights were started on November 9, 1979, from Burbank, San Jose, and San Francisco to South Lake Tahoe, just in time for the winter ski season.
During the early 1980s, the airline continued to operate within two diverse geographical locations, both Colorado and California. By 1983, with increased competition on the Lake Tahoe services from Golden West and new entrant Air Cal, Aspen deiced to re-evaluate its business model. With a fleet of ten Convair 580 aircraft, Aspen dropped services in California in mid-1983, and refocused its efforts from its Denver base. Experiencing increased competition from commuter airline Rocky Mountain Airways, Aspen forged a deal with United Airlines to provide feeder services from Denver in 1984. Although the Convair's were great aircraft, the airline was looking for a potential replacement for longer range services and true "jet" operations. With a list of stringent requirements, especially for services into the challenging Aspen Airport, the airline decided on the British Aerospace BAe-146 to fulfill its needs. An order was placed for two of the four-engine, high-wing plane with the first being delivered on December 6, 1984 and placed into service on December 26, just in time for the winter ski season. With the delivery of the second plane in June 1985, Aspen extended jet services to Iowa and Texas with the 146 and started seasonal Apsen service to Chicago, Houston, Los Angeles, and San Francisco. Although an additional two more planes were ordered, Aspen Airways officially became a United Express carrier on September 1, 1986, and the popular two-toned livery with characteristic Aspen leaf on tail, was replaced by the familiar United Airlines tri-colors.
Although now a United Express carrier, the airline would continue to do business as, Aspen Airways until 1989, when the airline was put up for sale. Although various suitors were discussed, the airline operation was dissolved with Mesa Airlines assuming the Denver hub and United Express operations, while Air Wisconsin took over the aircraft and Denver-Aspen route, operating the airline separate until 1991, when the Aspen operation was completely absorbed by Air Wisconsin.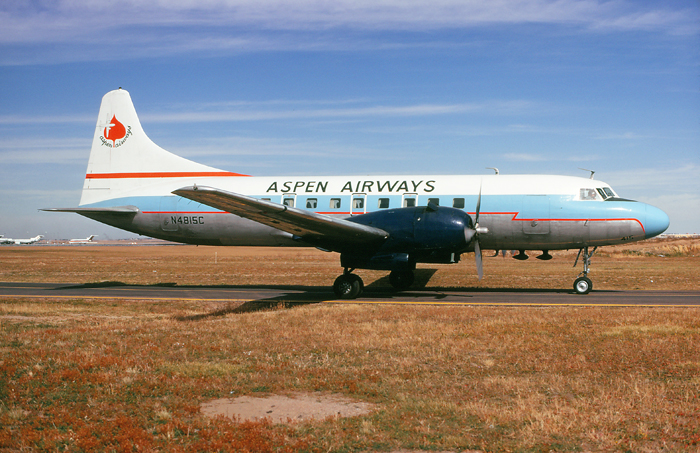 Prior to conversio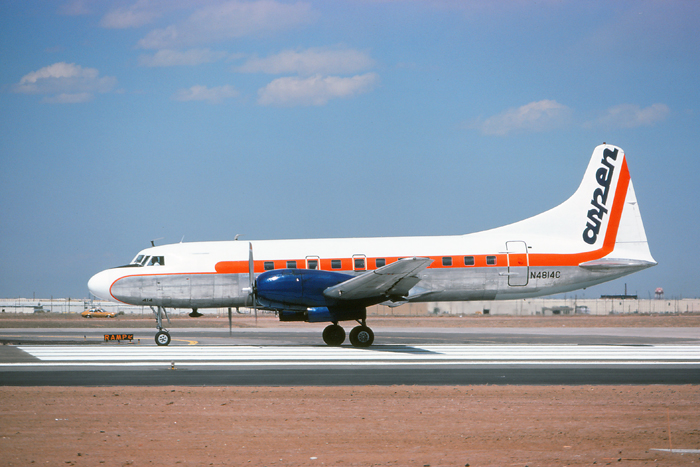 Prior to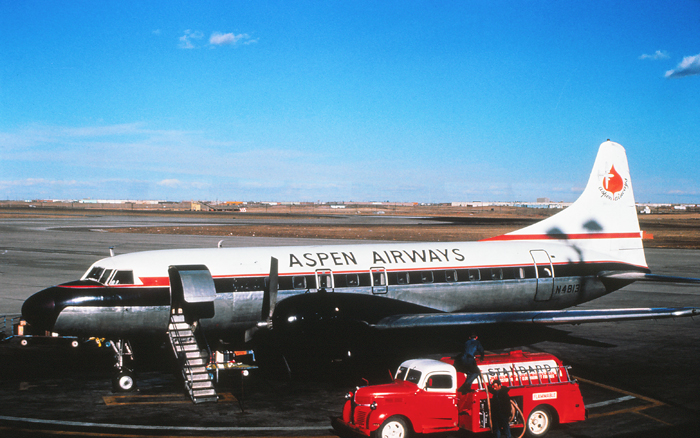 Prior to conversion to the turboprop 580 designation, Aspen operated a variety of second hand Convair 340 and 440 aircraft. Seen parked at Denver Stapleton International Airport in February 1978, and wearing a special color scheme promoting the Denver Broncos Football Team Super Bowl Playoff in 1978, is N4813C, a Convair 440. (Postcard)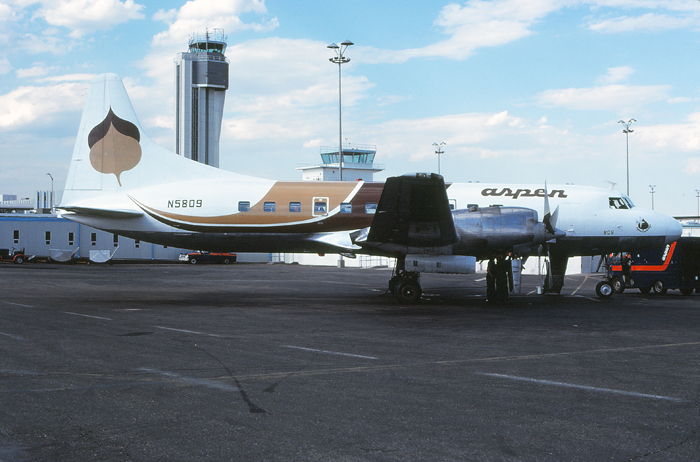 Aspen introduced a two-toned color scheme with the trademark Aspen leaf on the tail in 1979. Four colors were eventually applied to the Convair 580 fleet including brown-tan, light green-dark green, light blue-dark blue, and orange-dark orange. Parked on the ramp at Denver-Stapleton International Airport and wearing its new colors in July 1979, is N5809, a Convair 580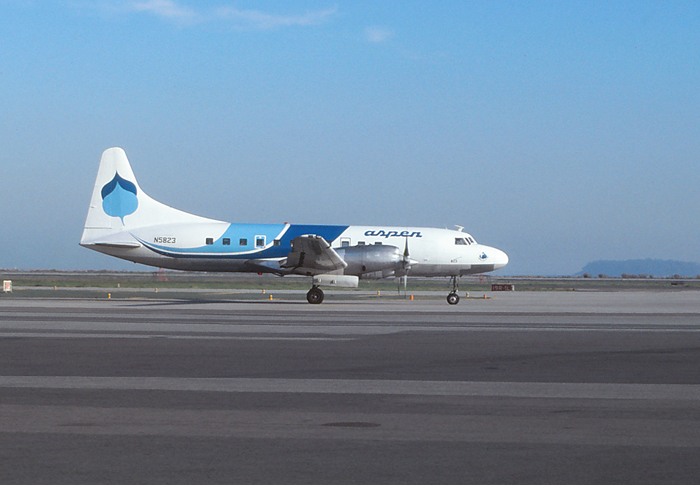 Service into the California market started in November 1979, with flights from three cities to South Lake Tahoe. Seen taxiing outbound for takeoff at San Francisco International Airport in January 1980, is N5823, a Convair 580.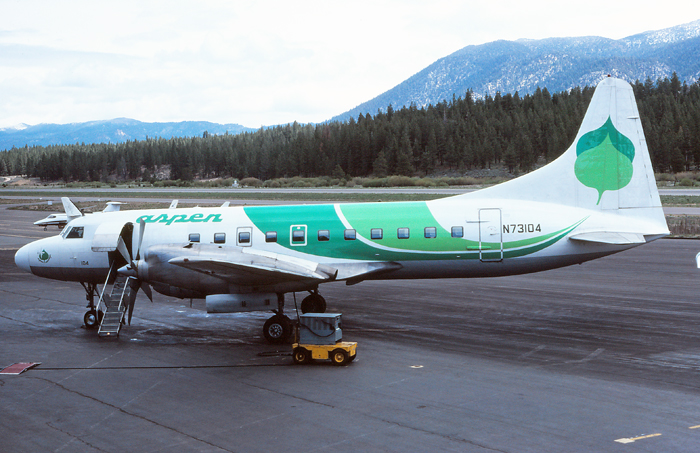 The Convair 580s were "at home" on the various routes within California to mountain resort Lake Tahoe. Parked on the ramp at South Lake Tahoe Airport in May 1981, is N73104, a Convair 580.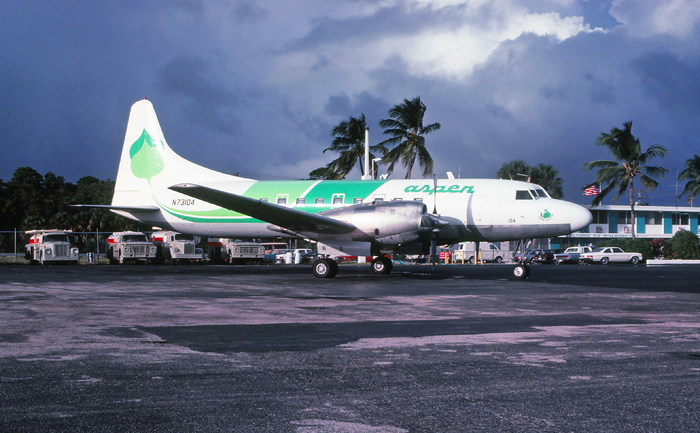 Aspen Airways provided extensive charter services throughout the United States, Mexico and Canada. Parked on the ramp during a charter flight at Walkers Cay Airport, located in the Bahamas in November 1981, is N73104, a Convair 580.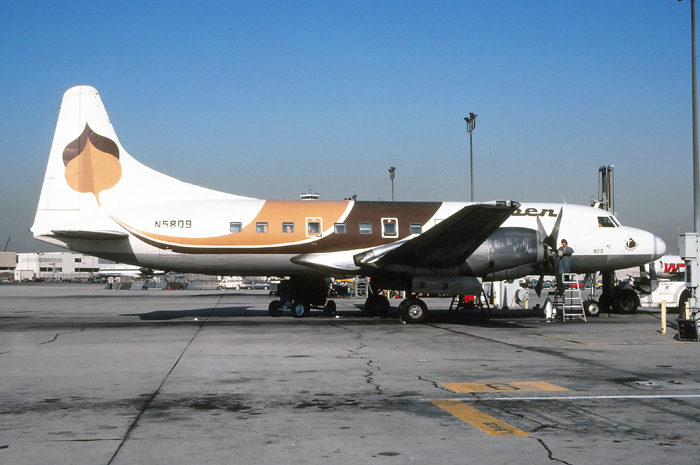 Parked on the maintenance stand and undergoing a light check at Los Angeles International Airport in December 1982, is N5809, a Convair 580.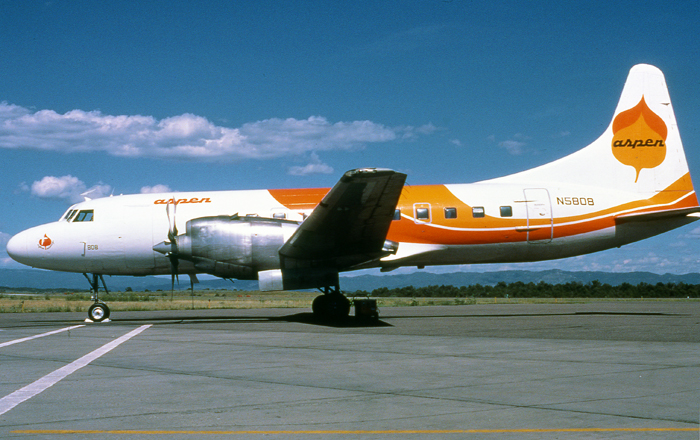 Although Aspen remained focused on the popular Denver-Aspen route, in 1979, additional routes were added in both Colorado and Wyoming that brought recognition to the growing carrier. Parked on the ramp at Durango-La Plata County Airport in August 1985, is N5808, a Convair 580.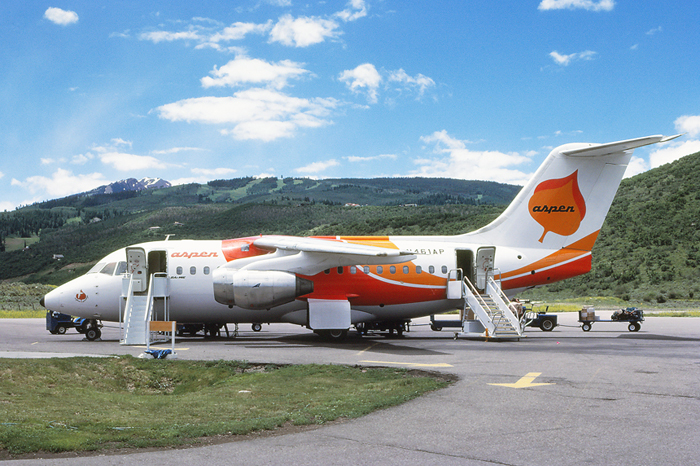 Aspen Air had the distinction of providing the first scheduled "jet" service into Aspen Airport with the delivery of their new BAe 146 airplane in December 1984. Parked on the ramp at the airlines namesake Aspen-Pitkin County Airport in July 1985, is N461AP, a British Aerospace BAe-146-100A.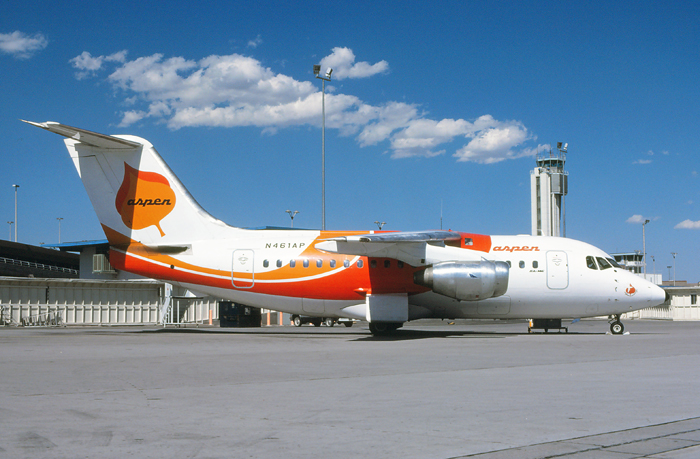 Aspen's first "jet" aircraft was delivered to the airline in December 1984. Parked on the ramp at Denver Stapleton International Airport in September 1985, is N461AP, a British Aerospace BAe-146-100A and the first example delivered to the airline.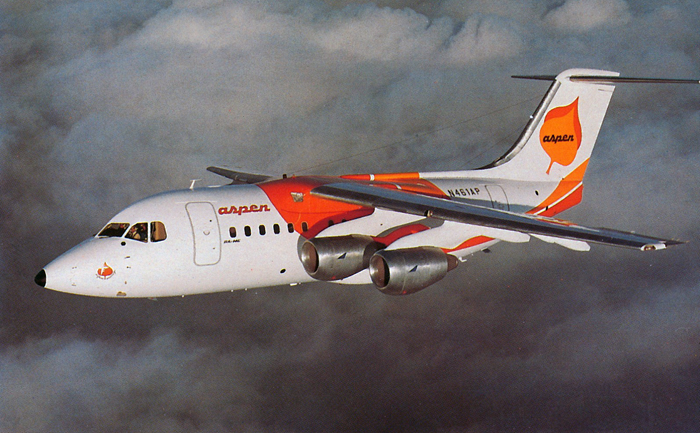 Aspen's "Good Neighbor Jet" helped the airline expand beyond its familiar Colorado borders and provide service to both Texas and Iowa. Caught during a pre-delivery test flights is N461AP, a British Aerospace BAe-146-100A. (Postcard)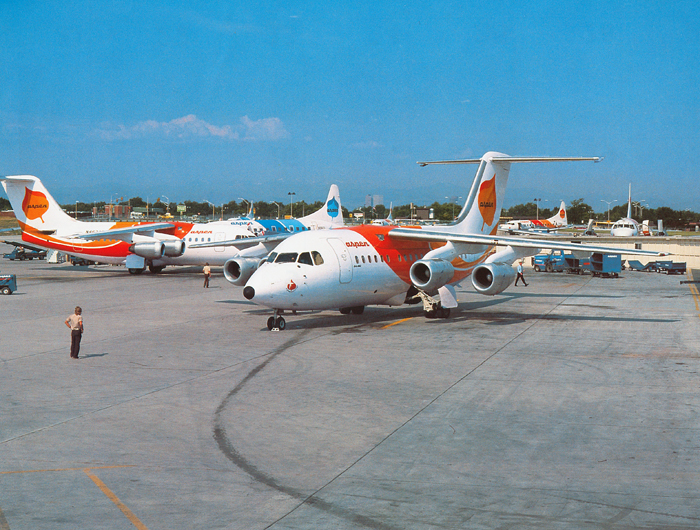 A busy yet colorful ramp at Denver Stapleton International Airport in 1985, shows Aspen's two BAe-146s and five Convair 580s in various stages of turnaround and flight preparation.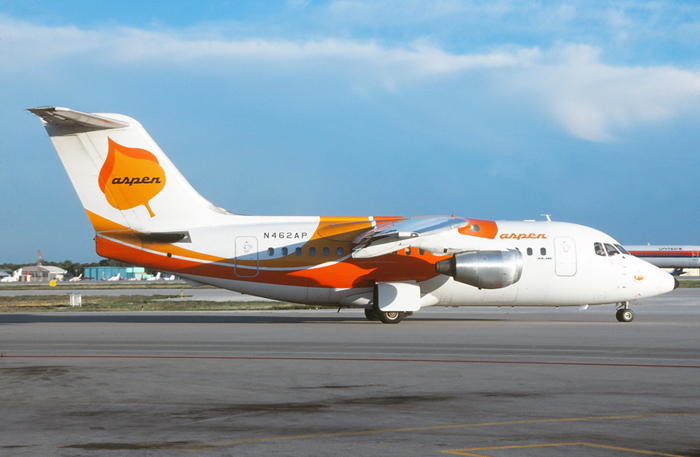 Wearing the trademark Aspen logo, N462AP, a British Aerospace BAe-146-100A taxis toward Runway 8 right for an evening departure at Denver Stapleton International Airport in September 1985.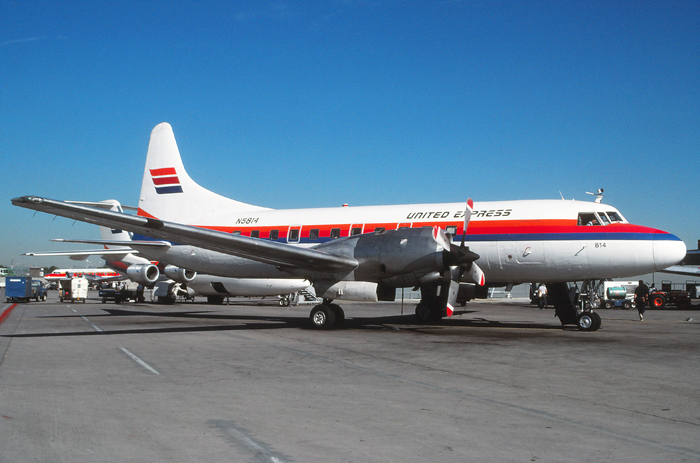 When Aspen Airways became a United Express carrier in 1986, the fleet was repainted in it's parent airline, United's familiar colors. Parked on the ramp during a quick turnaround at Denver Stapleton International Airport in July 1988, is N5814, a Convair 580.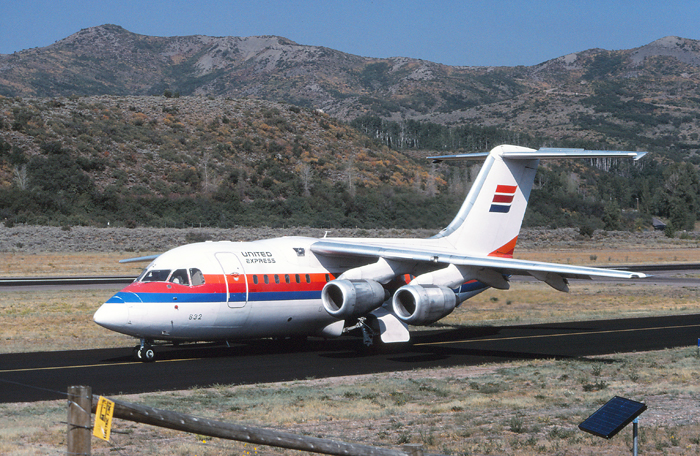 The British regional jet continued to provide a vital service into the Aspen area well past Aspen Airways existence on the route the airline had originally established. Taxiing outbound for takeoff at Aspen-Pitkin County Airport in 1993, is N463AP, a British Aerospace BAe-146-100A.