TIMETABLES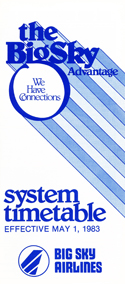 May 1983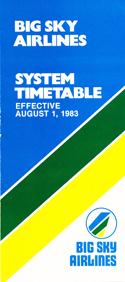 August 1983
Big Sky Airlines (GQ) was a commuter airline that was established in Montana during June 1978, to fill the void left by Frontier Airlines when many of the smaller routes were dropped due to deregulation. Flights started in September 1978, from a Billings, Montana base to Helena and Kalispell, Montana using a Cessna 402. Taking advantage of the Essential Air Service (EAS) subsidy, Big Sky leased a Swearing Metroliner and continued to expand in 1979, by adding Boise, Idaho and Casper, Wyoming to its route map. The airline proved quite popular, as it provided a vital service to cities in the northwest that had seen the traditional airlines disappear. The airline leased three Handley-Page Jetstream turboprops in 1978, and extended services into North Dakota with flights as far east as Minneapolis-St. Paul. In December 1983, the first international service was started with flights between Kalispell, Montana and Calgary, Canada.
During 1987, Big Sky Airlines became a Northwest Airlink partner on behalf of Northwest Airlines from its Billings hub helping boost passenger numbers. For the next ten years, Big Sky operated in a very niche market, it being one of the only established passenger carriers in the region. During 1998, the airline took over operation of the routes of defunct carrier Lone Star Airlines/Aspen Mountain Airís routes in Texas. The airline continued to add and drop EAS routes throughout the west and central portions of the United States, eventually having a route map that covered Seattle to the west, Bismarck to the east, and down as far south as Brownwood, Texas and El Dorado, Arkansas. With such a large territory it covered, as well as loss of various subsidies, Big Sky began to suffer financially. A short stint as a Delta Connection carrier couldnít help the airline and with the USDOT giving Great Lakes Airlines the approval to fly EAS routes from Billings, Montana, Big Sky Airlines had to file bankruptcy in December 2007, with the last service flown on March 8, 2008.
Parked at its home base of Billings, Montana in May 1980, is N17RJ, a Handley-Page HP.137 Jetstream Mk I leased out from Sierra Pacific Airlines in August 1978.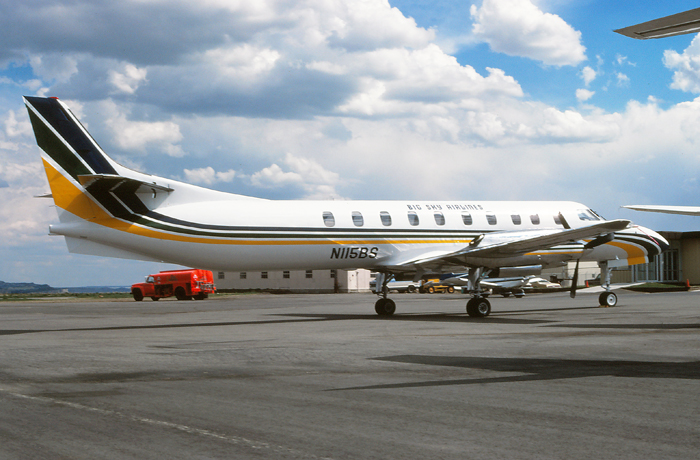 The Metroliner became the aircraft of choice for Big Sky Airlines replacing the HP Jetstreams in 1980. Parked at the airlines base of operations at Billings International Airport in May 1980, is N115BS, a Swearingen SA-226TC Metro II delivered new to the airline in April 1980.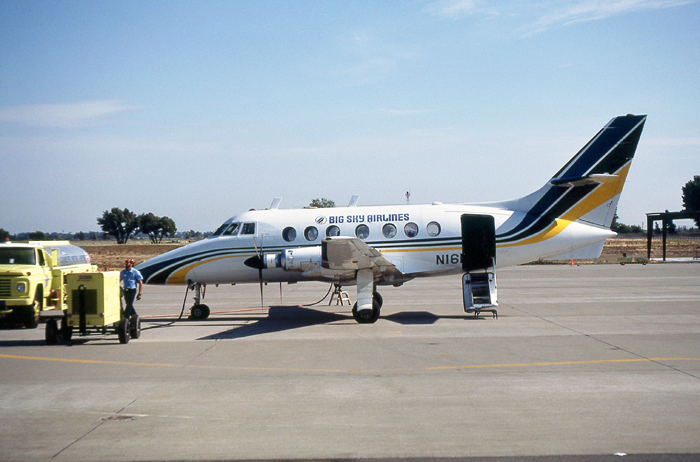 Having replaced its Jetstream fleet with Metroliners, the existing leases were terminated and the planes relocated to other carriers. This specific aircraft N16RJ, a Handley-Page HP.137 Jetstream Mk I is seen at Sacramento International Airport in June 1982, on its way to new lessor Pacific Coast Airlines.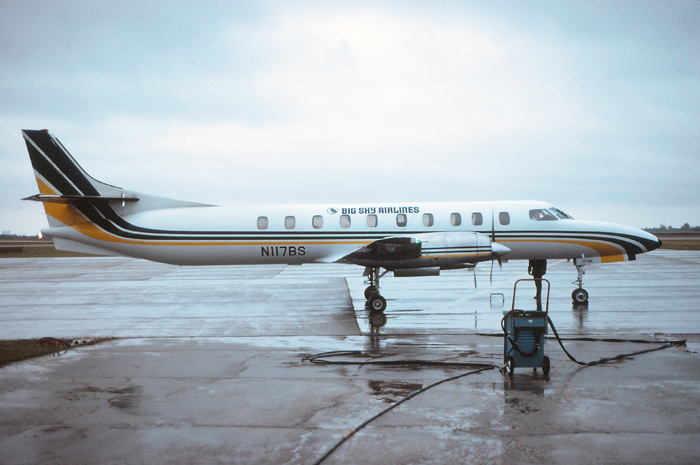 The Metroliners allowed Big Sky Airlines to expand across four states and serve smaller EAS airports. Caught on a soggy ramp before engine start at Jamestown Airport in North Dakota in November 1983, is N117BS, a Swearingen SA-226TC Metro II, delivered new to the airline in September 1980.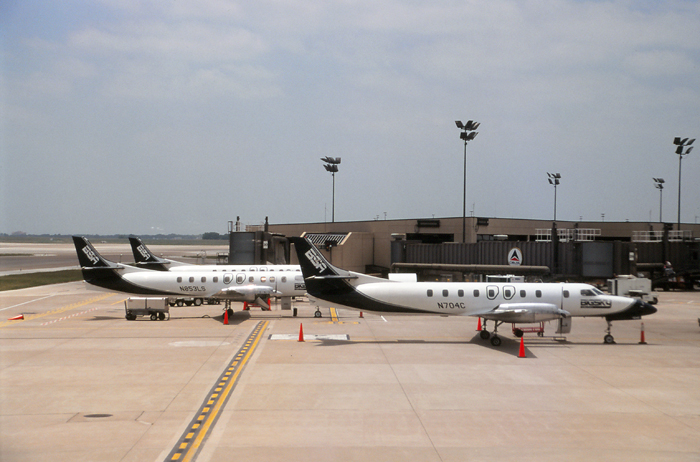 During 1998, Big Sky Airlines established a large presence from Dallas with the takeover of Lone Star Airlines. Parked on the ramp at Dallas-Ft. Worth International Airport in May 1999, is a trio of Metros including N704C, a Swearingen SA-227AC Metro III, leased out in March 1999.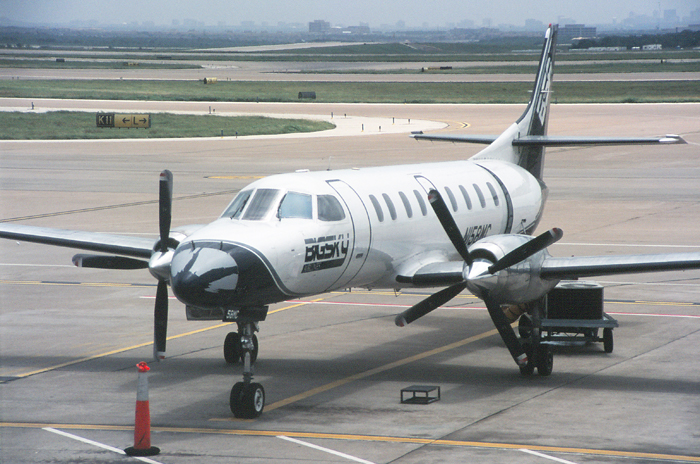 The Metroliner was the aircraft of choice for Big Sky flying EAS flights to locations such as El Dorado, Arkansas and Ponca City, Oklahoma from its Dallas hub. Parked on the commuter ramp at Dallas-Ft. Worth International Airport in may 1998, is N158MC, a Swearingen SA-227AC Metro III leased out in September 1997.