TIMETABLES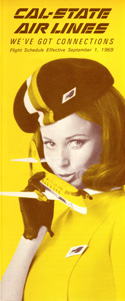 September 1969
Cal-State Air Lines (CC) was a commuter airline that was created in 1968, to provide airline service between Southern and Northern California. With a base at Long Beach Airport and a pair of Beechcraft B-99 turboprops, Cal-State started service on November 11, 1968, from Long Beach to Los Angeles and to seven cities along the central coast of California as far north to Oakland and east to Las Vegas. Over the next year the airline had its sights on continued growth and started looking for an aircraft to fulfill its needs. Although the commuter aircraft market was still in its infancy, a new entrant specifically for commuter operations was British aircraft manufacture Handley-Page.
The new "Jetstream" would be a fully pressurized, turboprop carrying 18-passengers and perfect for the route segments flown by Cal-State. In 1969, Cal-State made an unprecedented order for ten of the Jetstream turboprops for delivery beginning in 1970. Planned to be the first airline to fly the new Jetstreams, Cal-State Air Lines was soon disappointed as escalating developmental costs as well as continued problems with the turbine engine proved disastrous to the commuter. Although the first Jetstream was finally delivered in October 1969, the aircraft was parked and stored in Reno, Nevada, pending business changes with a weakening revenue and lower passenger numbers.
Six Jetstreams were eventually delivered however the planes were placed in storage as operating costs became too great. By May 1970, Cal-State could no longer financially survive being in operation an ceased operation in later that month. The six, Jetstreams never flew revenue passenger service for Cal-State however found use with other commuter carriers.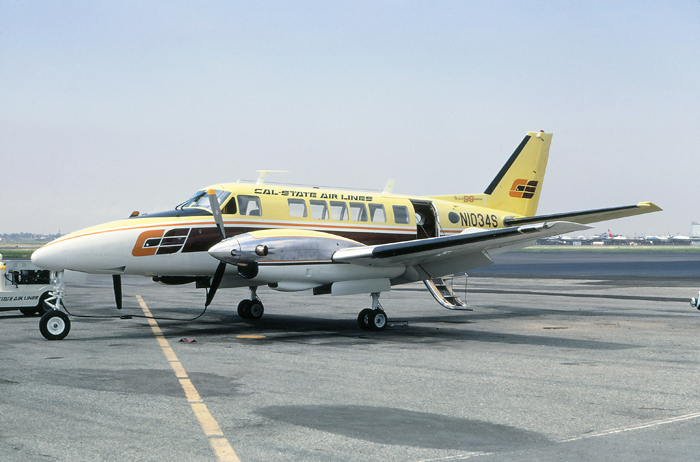 Cal-State Air Lines started operations with a pair of Beech 99 Turboprops for service throughout California. Parked at Long Beach Airport and awaiting passengers for another regional flight in April 1969, is N1034S, a Beechcraft B-99, delivered new to Cal-State in February 1969.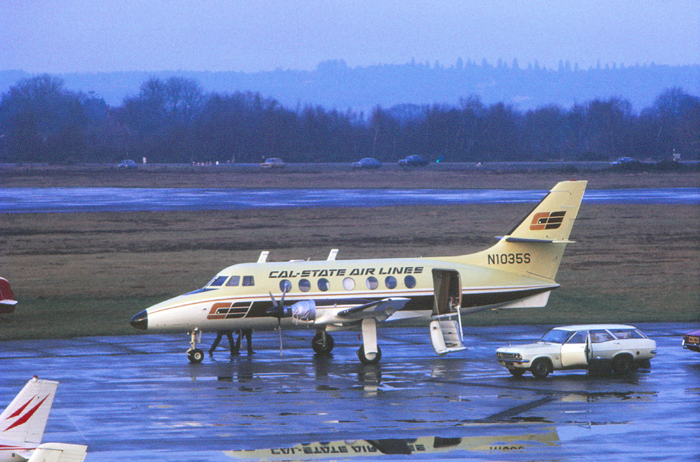 Parked on a soggy ramp at the Handley-Page factory at Radlett Aerodrome in Hertfordshire, England, in October 1969, is N1035S, a Handley-Page HP.137 Jetstream MK I, that was painted but not taken up by Cal-State Air Lines.
One of Cal-States Beech 99 turboprops in the process of being stored at San Francisco International Airport in May 1970, after the carriers demise is N1034S, a Beechcraft B-99.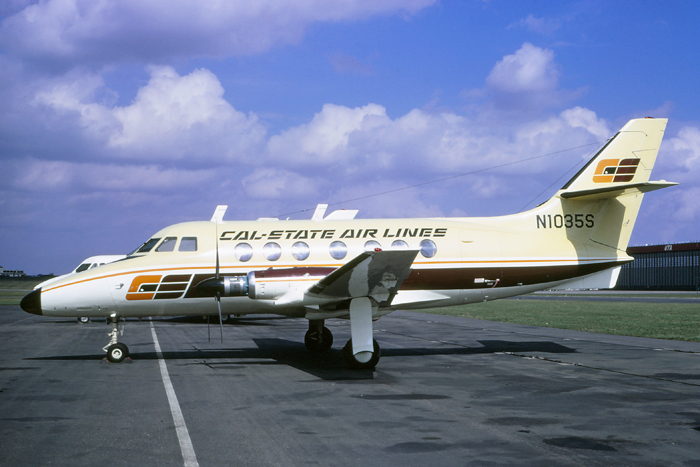 Still wearing its intended owners color scheme yet awaiting delivery to a new airline in April 1971, is N1035S, a Handley-Page HP.137 Jetstream Mk I.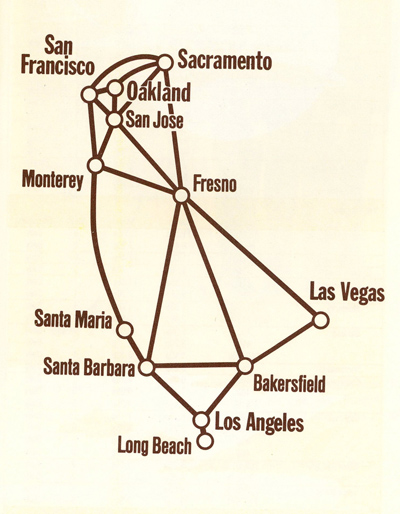 Within just a few months Cal-State Air Lines had established a rather extensive route structure across California and Nevada as seen by this route map from September 1969.