TIMETABLES
July 1979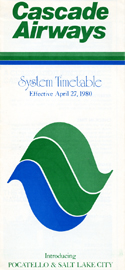 April 1980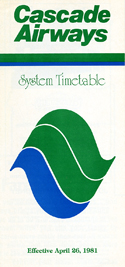 April 1981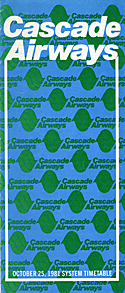 October 1981
September 1982
June 1983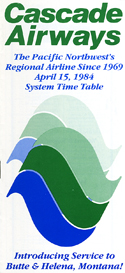 April 1984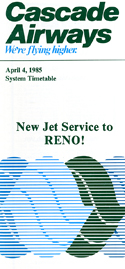 April 1985
Cascade Airlines (CZ) was the brainchild of Mark Chestnutt a local Spokane, Washington businessman who realized an opportunity to provide scheduled passenger services from the eastern part of Washington State and into the Seattle area. Spokane would be the initial base of operations and the new airline would be called Cascade Airways with reference to the region it would be flying. The airline was incorporated in March 1969, and two 15-passenger, Beechcraft 99 airplanes were purchased to provide services. Initially scheduled passenger flights started on June 9, 1969, between Seattle-Boeing Field and Spokane. Within weeks after starting service, Cascade lost a Beech 99 during a training flight on June 20, 1969, at Spokane, Washington killing both pilots, one of whom was the Vice President of the company. After the crash another Beech 99 was acquired and charter and freight services were started between Spokane, Seattle (Boeing Field), Portland, and Pasco.
An agreement with a new airline based out of Seattle-Boeing Field, called Air Pacific had the new airline utilizing the Cascade Beech 99s on local services. This partnership lasted only nine months with Cascade re-establishing itself back from a Spokane base. During 1970, the airline focused mainly on the lucrative Spokane-Seattle-Boeing Field route, yet got a tremendous boost in growth when strikes at both Northwest Orient Airlines and Hughes Airwest resulted in passengers looking for another connection to Seattle. Over the next few years, Cascade acquired four more Beech 99s and added Yakima, Pullman, and Wenatchee to its route map. In May 1974, Cascade moved its Seattle operations from Boeing Field to Seattle-Tacoma International Airport helping with passenger connections and convenience. During the same time, Hughes Airwest pulled out of the smaller stations in eastern Washington, such as Walla Walla which Cascade assumed services thus at some becoming the only carrier providing scheduled flights. By the end of 1974, Cascade was providing service to seven cities within the state of Washington using a fleet of five Beech 99s.
The airline experienced check growth during the mid-1970s, yet after airline deregulation in 1978, expanded its services greatly including routes east to Boise, Idaho and new services to Portland, Oregon. The airline had added additional Beech 99 turboprop bringing the total operating to ten and serving thirteen cities across the Pacific Northwest. When Cascade assumed operation of the failed Columbia Pacific Airlines in 1978, the two leased Swearingen Metroliners were taken over by Cascade to be used on the new Boise, Idaho services. Although the Metroliners flew further faster and had more passenger capacity then the Beech 99s, Cascade was looking for a more permanent solution for growth and looked toward South America for their answer. Brazil based Embraer Corporation, courted its EMB-110 "Bandeirante" turboprop with a passenger capacity of eighteen, to the airline which ordered three of the planes for delivery in December 1979, with services starting in January 1980. The airline continued to grow calling itself "Northwest's largest commuter" and considered larger aircraft to sustain its projected growth. In a bold move, the airline ordered five British Aerospace HS-748 turboprops with a capacity of forty-eight passengers. The new planes were pressurized which meant a more comfortable ride across the Cascade Range and would have a flight attendant, a first for the airline. The first HS-748 wearing the Cascade colors was delivered in October 1981. Realizing the fleet of the Beech 99s were getting older, Cascade went back and placed an order for additional Metroliners to cover the thinner routes and replace the faithful Beech 99.
By 1983, Cascade had grown to serve fifteen airports in four states with hundreds of weekly flights using a fleet of Metroliners, BAe 748s and Beech 99s. The airline had a new adversary in the form of similar commuter operator, Horizon Air. Horizon Air which started operations in 1981, from Seattle-Tacoma airport on many overlapping Cascade routes. Over the preceding two years, Horizon Air had become a formidable carrier and had expanded with the purchase of Air Oregon. With the rapid expansion and overlapping route structure, Horizon Air proposed a buy-out plan for Cascade. Cascade was suffering some financially set-backs due to operating three different types of aircraft as well as other operating expenses and a purchased merger with Horizon seemed the only way to continue operations. Due to various politics and disagreements amongst top management, Horizon Air backed out of the deal leaving Cascade to survive on its own.
After the failed takeover, Cascade Airways went through a re-organization to streamline operations and try to achieve profitability. One of the first things the airline did was minimize its aircraft and placed an order for eight Beechcraft 1900-C turboprops, which would replace the EMB-110s, remaining Beech 99s and Metroliners. The Beech 1900 had a capacity of nineteen passengers and was pressurized which kept the routes of the Cascades comfortable. The first 1900 was delivered in March 1984, and was placed into the schedule flying routes out of Portland and Seattle. Keeping an eye on the competition, Cascade decided to enter the jet-age after it realized Horizon Air had leased a Douglas DC-9 for its Seattle-Portland route. Not wanting to be left behind and following a trend many larger regional airlines were starting, Cascade leased five, seventy-nine passenger British Aerospace BAC-1-11 Twinjets in August 1984, for service on its more popular routes. The airline had grown extending services into Utah, Nevada, and Canada however was losing a tremendous amount of money on its unchecked operations. Although still privately held, Cascade Airways was losing money rapidly resulting in services being halted at some locations and workers being laid off in August 1985. Many of the service cuts were in direct competition with Horizon Air and it was hoped that the cuts would help stem the financial woes. A few weeks later with continuing financial issues Cascade filed for Chapter 11 bankruptcy protecting in late August 1985. The airline continued to operate however and was looking for a potential buyer, including the proposed sale to Aerospace Leasing Company based in Florida, however the sale fell through, and the airline eventually ceased operations on March 7, 1986.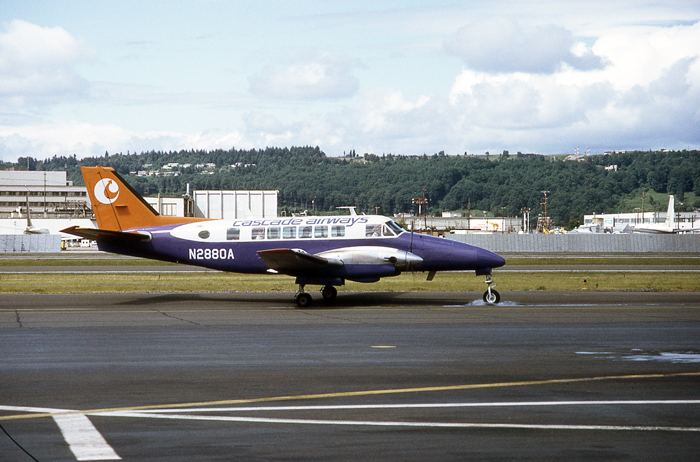 Cascade Airways started service in 1969, using a pair of two, purchased Beechcraft 99 turboprops. Taxiing inbound to the terminal at Seattle-Boeing Field wearing the airlines early colors in June 1971, is N2880A, a Beechcraft B-99 received in July 1969.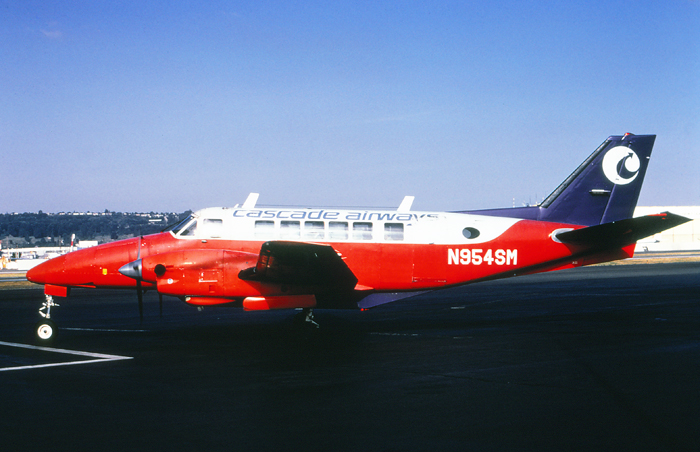 Cascade Airways early color scheme was the result of a failed business venture with local start-up Air Pacific. When the airline failed, Cascade maintained the color scheme on it planes. Parked at Seattle-Boeing Field in June 1974, is N954SM, a Beech 99 originally delivered to Skymark Airlines and leased to Cascade in 1972.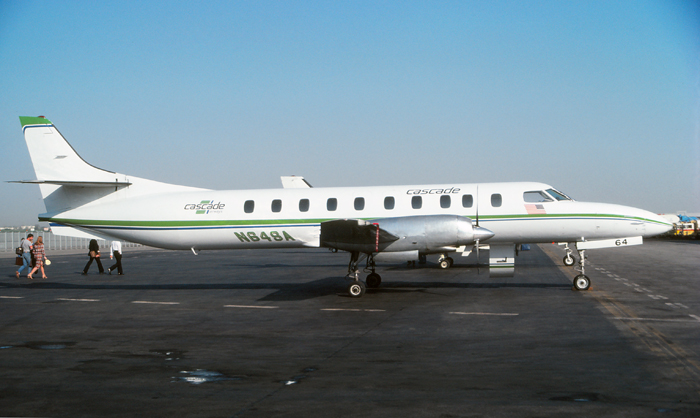 Cascade Airways introduced the Swearingen Metroliner after the acquisition of Columbia Pacific Airlines in 1978. The Metros were initially short-lived, however found their way back to the airline in the 1980s. Parked on the ramp at Spokane International Airport in March 1979, is N64SA, a Swearingen SA-226TC Metro II, originally delivered to Scenic Airlines in 1977.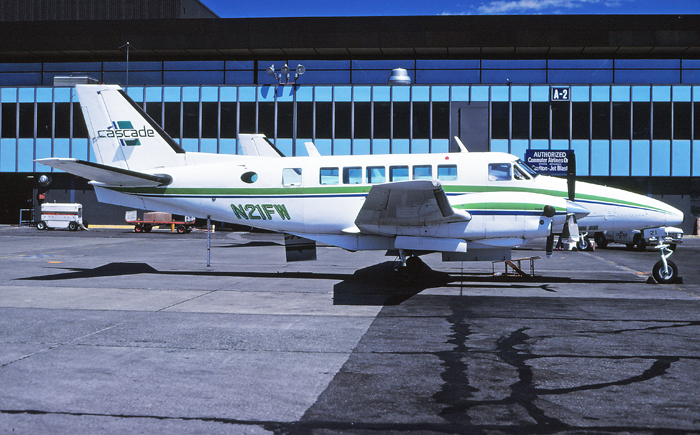 Wearing an updated color scheme reflective of the evergreen region for which it flew, N21FW, a Beechcraft 99A leased to the airline in June 1973, sits on the ramp at Seattle-Tacoma International Airport in June 1979.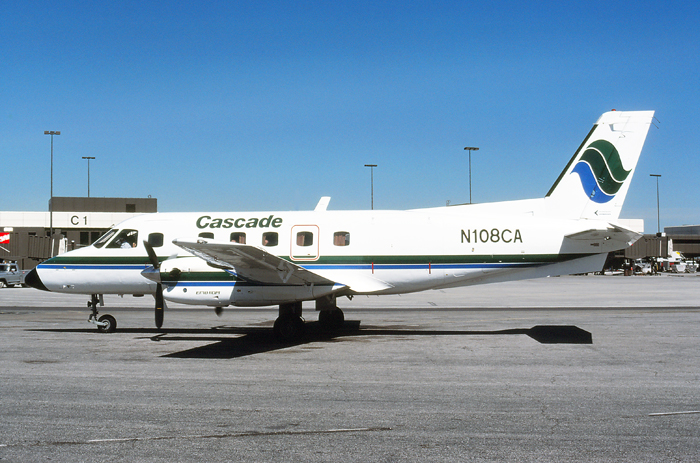 With new Embraer turboprop equipment delivered in 1979, Cascade Airways expanded beyond its Washington borders, to neighboring Oregon, Idaho and Utah in 1980. Seen starting its engines at Salt Lake City International Airport for a flight north to Pocatello, Idaho in July 1980, is N108CA, an Embraer EMB-110 P1, delivered new to the airline in December 1979.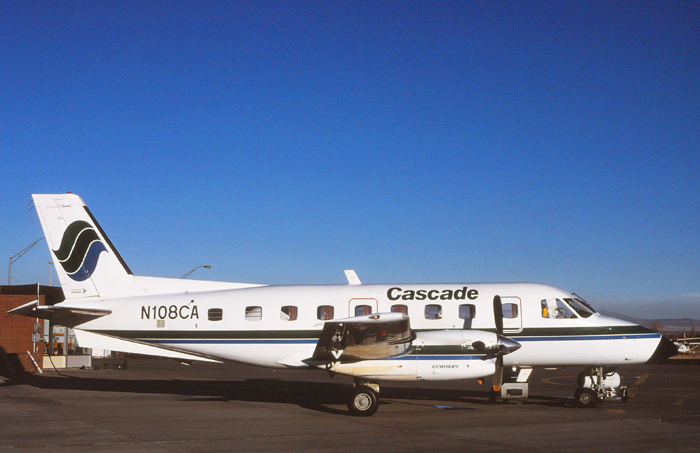 By 1981, the Embraer EMB-110 parked during an early evening turn-round at Yakima Municiple Airport in November 1981, is N108CA an Embraer EMB-110 P1.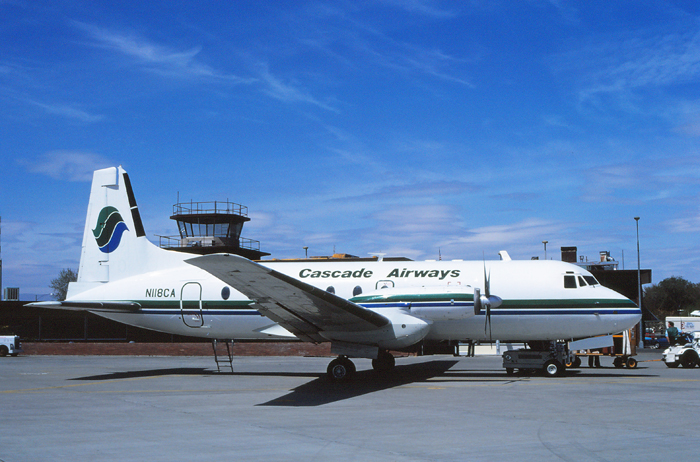 Cascade Airways placed an order for five of the "heavy" Hawker-Siddeley HS-748 Turboprop airplane. With a passenger capacity of forty-eight and pressurized operations the plane would be used on the more dense Cascade services. Parked at the terminal at Yakima Municipal Airport during a turn-around in May 1982, is N118CA, a Hawker-Siddeley HS-748-2B, delivered new to the airline in December 1981.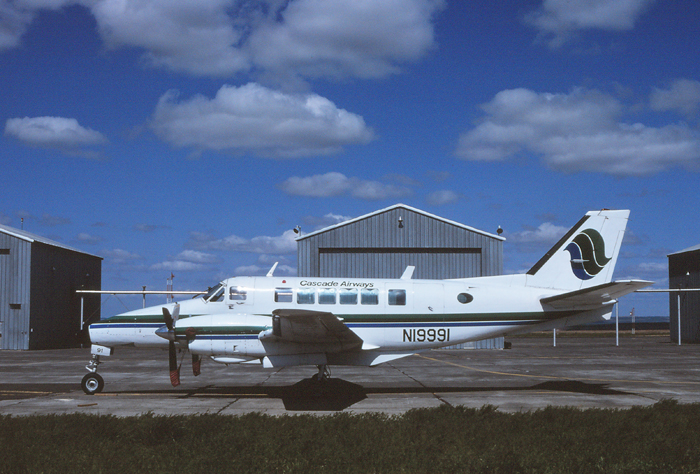 The Beech 99s continued to be the bulk of the Cascade fleet into the early 1980s. This specific example was rebuilt by Cascade Airways maintenance staff, after a gear-up landing in August 1977 at Poughkeepsie, New York while operating a flight for Command Airways. Parked at Walla Walla Regional Airport in May 1982, and wearing the updated Cascade colors is N19991, a Beech 99 purchased by Cascade in October 1978.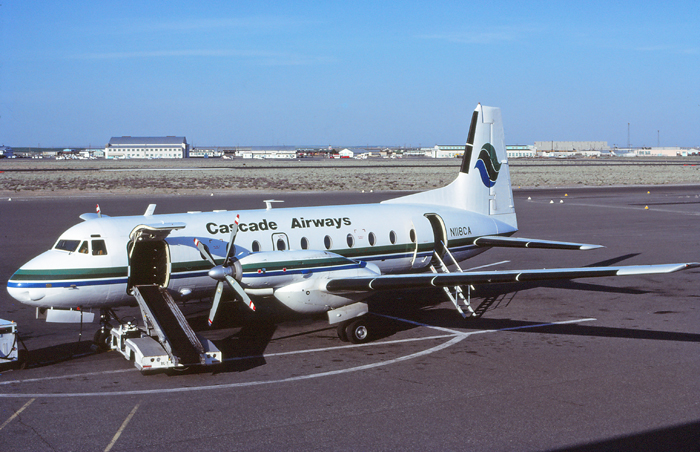 Although spacious and pressurized, the HS-748, proved to be too large for Cascade's operations and the airline only accepted two of its original order. Parked on the ramp at Tri-Cities Airport in July 1982 and awaiting passengers is N118CA, a Hawker-Siddeley HS-748-2B turboprop.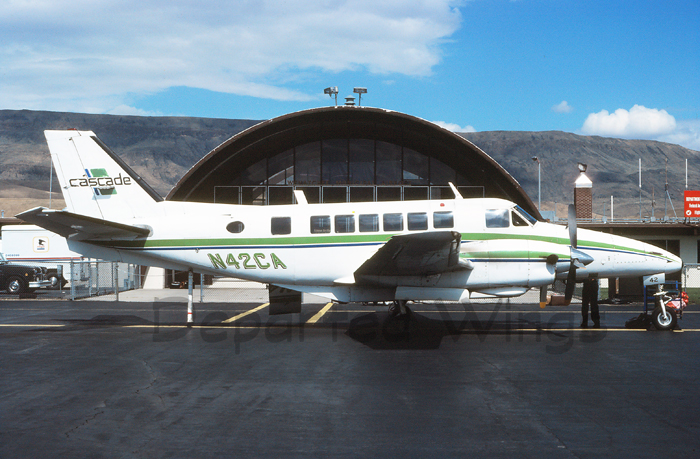 Still wearing the original Cascade Airways colors and awaiting passengers at Wenatchee-Pangborn Airport in August 1982, is N42CA, a Beechcraft B-99.
During the early 1980s, Cascade Airways made the decision to use the Swearingen Metroliners to replace the Embraer 110s and the aging Beech 99 fleet. Parked on the ramp at Spokane International Airport in September 1983, is N3046L, Fairchild-Swearingen SA-227AC Metro III, leased to the airline a month earlier in August 1983.
During the early 1980s, Cascade was flying four different aircraft types which was financially draining to the carrier. In an effort to provide fleet commonality, Cascade Airways placed an order for eight of the new Beechcraft 1900-C Turboprops. Parked on the ramp at Portland International Airport in August 1984, and being turned around for another regional flight is N122CZ, a Beech 1900-C, delivered new to Cascade in April 1984.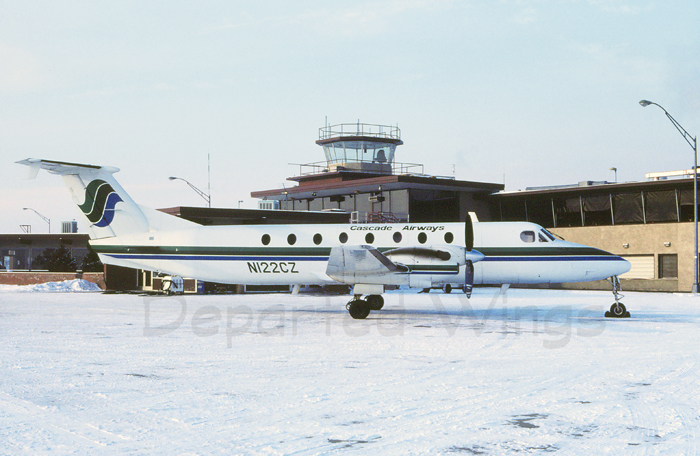 Parked on a cold ramp at Yakima Municipal Airport in December 1984, and awaiting its next departure is N122CZ, a Beechcraft B-1900-C.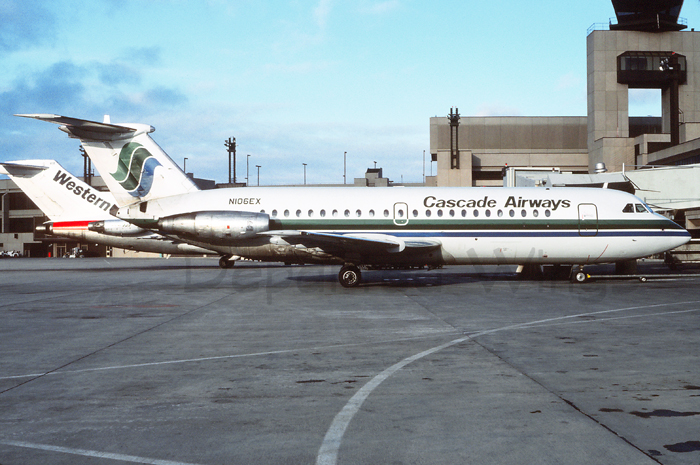 Cascade Airways only international service was to Calgary, Canada from Spokane which was introduced in June 1983. Initially flown with Hawker-Siddeley HS-748, BAC-1-11 "jets" were placed on the important Canadian route when they were delivered in August 1984. Seen parked at the gate at Calgary International Airport in March 1985, is N106EX, a British Aerospace BAC-1-11-201AC.
Hoping to compete with similar regional carrier Horizon Air, Cascade Airways introduced the British Aerospace BAC-1-11 Twin-Jet on longer routes such as Portland to Boise and Boise to Reno services. Taxiing outbound for takeoff at Portland International Airport in April 1985, is N106EX, a British Aerospace BAC-1-11-201AC, originally delivered to British United Airways and 1965, and eventually purchased by Cascade in September 1984.