TIMETABLES
Casino Express Airlines (XP) was the result of providing a specific, quasi-schedule gambling airline service for a specific casino property. Gambling charter and "junket" flights had been around since the 1970s were tour services or casinos provided charter flights for patrons to visit their properties or purchase packages with airfare included. Many of the flights focused on the gambling destinations of Las Vegas and Reno, Nevada and flights were typically chartered using main-line airlines aircraft. In 1982, a businessman named Tod McClaskey had an idea to build a hotel and casino in northern Nevada, along Interstate 80 which connects Reno, Nevada with Salt Lake City, Utah. McClaskey franchised a Red Lion Inn and opened his hotel and casino in Elko, Nevada. One of the problems that occurred during the first few years of operations, was gamblers were stopping at the towns on the Nevada or Utah border, or just continuing on to Reno. McClaskey had an idea to fly gamblers in and host hotel packages for guests, using the strategy that Elko, was away from the hustle and glitz of Reno and Vegas. During December 1986, charter flights using both Great American Airways and Royal West provided aircraft flew patrons across the West into Elko, Nevada. It was soon realized that its "own" airline would be best to manage operating costs and aircraft availability. McClaskey went out and leased a Boeing 737-200 from Midway Airlines and commenced operations in June 1987, as Casino Express Airlines. The idea was to advertise two, or three-day hotel and gambling packages at the Red Lion Inn and Casino. Customers were offered a reasonable rate for rooms and well as included airfare from numerous destinations. Early requirements had customers have to show $350 in gambling money prior to boarding the aircraft, in an attempt to ensure the trip was specific to gambling, however within a few years this requirement was waived. Although the airline was considered a "charter," a set schedule was in place to keep the plane flying from various locations across the US.
By 1990, the gambling charters were considered a success and had earned the Red Lion Hotel and Casino over $15 million in revenue. In an effort to attract more customers and proudly display it purpose the 737 was painted in a striking, "King of Diamonds" color scheme and used to promote services. With demand continuing to increase, Casino Express purchased a second 737, which was painted in a "Queen of Hearts" colors, and effectively doubled passenger numbers and revenue. Over the next ten years, Casino Express had carved a successful, niche market for gambling charters, adding an additional 737 and transporting approximately 40,000 people per year into the Elko area. The colorful planes could be seen across many parts of the United States, from large cities such as Los Angeles, Phoenix, Seattle, and Minneapolis, to some of the smaller, more obscure, destinations including Abilene, Texas, Butte, Montana, Eau Claire, Wisconsin, Liberal, Kansas, and Santa Maria, California. Schedules were set on a quarterly basis and advertised via mailers and travel agents. During the first quarter of 2000, Casino Express was serving no less then seventy-five cities across the West and Midwest areas of the US.
One interesting thing to note about the airline, was it operated out of the Elko Regional Airport which is just over 5,000 feet in elevation. To provide the necessary margin of safety for its 737 operations and reduce potential weight penalties, passengers were not allowed to check in baggage. Everything had to be carried on (short term stay anyway). Also the airline carried no freight. As its name suggest they truly were an "express" shuttle to the Elko Red Lion Hotel and Casino.
During 1999, the airline leased out one of its Boeing 737s to start-up airline Tahoe Air, to help get the airline flying. The unique lease arrangement allowed Tahoe Air to receive its DOT certificate, and start flights into South Lake Tahoe, however after only four months the airline had ceased operations. After this experiment and by 2001, Casino Express sought to provide more charter type operations as operating costs started to increase the gambling charter popularity was waning. Of the four aircraft that Casino Express had purchased only one was retained for Elko gambling charters and painted in a more subtle Red Lion themed color scheme. The other three aircraft were charted out for various public and private charters.
After almost twenty years of service, the Casino Express was sold and rebranded Xtra Airways in December 2005, and suspended the Red Lion Casino charter program on February 1, 2006. Xtra Airways would continue operations as a sole charter operator based in Florida.
.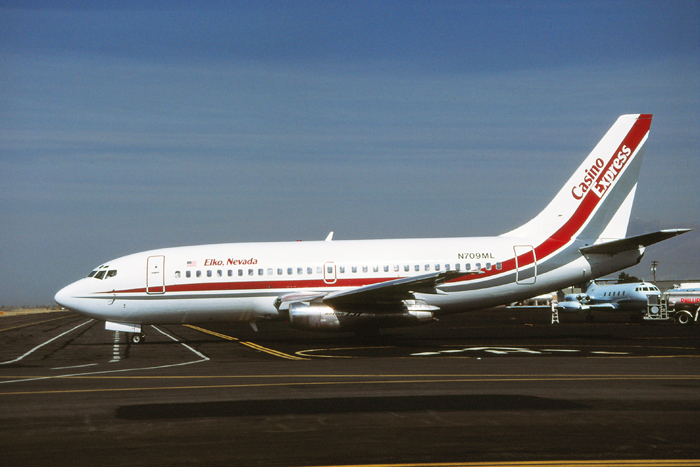 Casino Express Airlines started operations in 1987, using a single Boeing 737 purchased in September 1987 from Midway Airlines. Wearing the original color scheme and taxiing toward the runway at Salt Lake City International Airport for quick "hop" to Elko in October 1987, is N709ML, a Boeing 737-2H4, still wearing the registration of its former operator.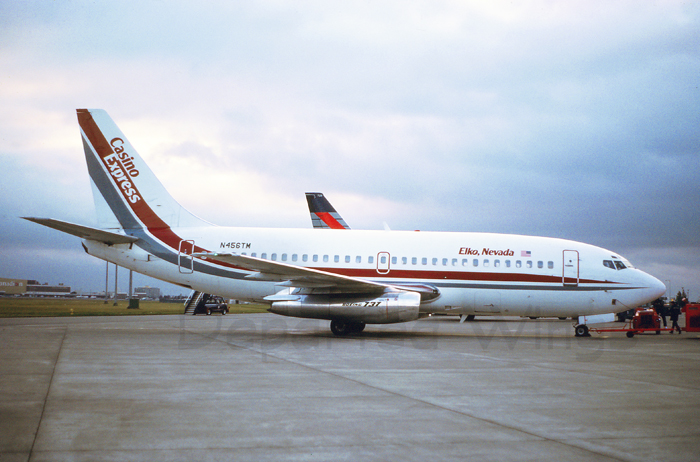 Canada even saw the Casino Express gambling charter flights, such as this example, N456TM, a Boeing 737-2H4, parked on the ramp at Vancouver International Airport in February 1988, and awaiting to depart toward Elko.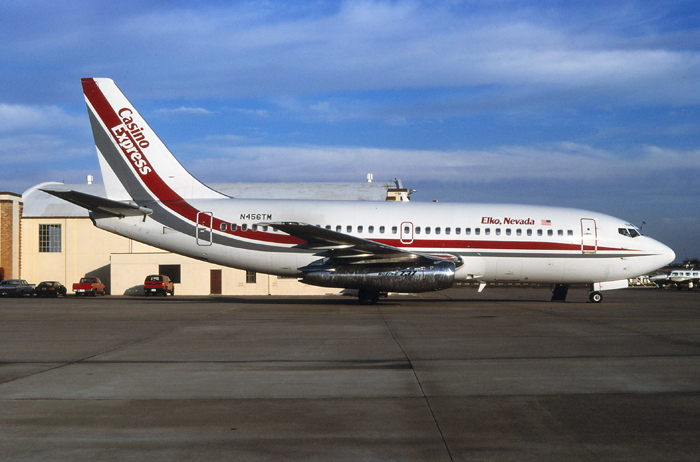 Within a year, Casino Express Airlines had become a popular option for those seeking gambling adventures outside the traditional cities in Nevada . Parked and awaiting another flight at Oklahoma City-Will Rogers World Airport in November 1988, and having been re-registered is N456TM, a Boeing 737-2H4, originally destined for Air California but taken up by Southwest in June 1971.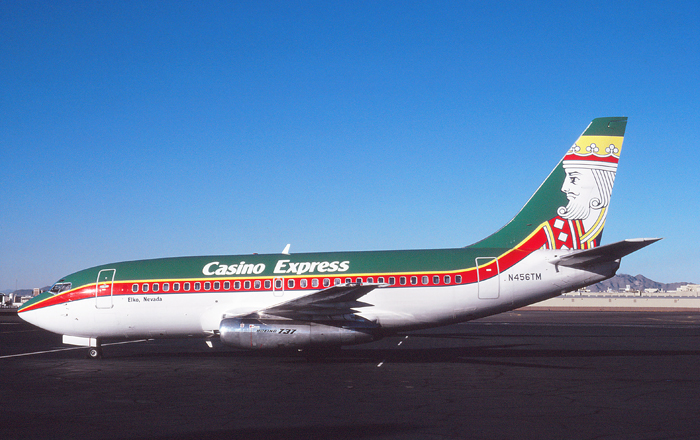 During 1990, Casino Express replaced its modest color scheme with a striking, colorful "King of Diamonds" scheme which complimented the role of the airline well. Parked on the ramp at Phoenix-Sky Harbor International Airport during a gambling charter in December 1990, is N456TM, a Boeing 737-2H4, purchased from Midway Airlines in September 1987.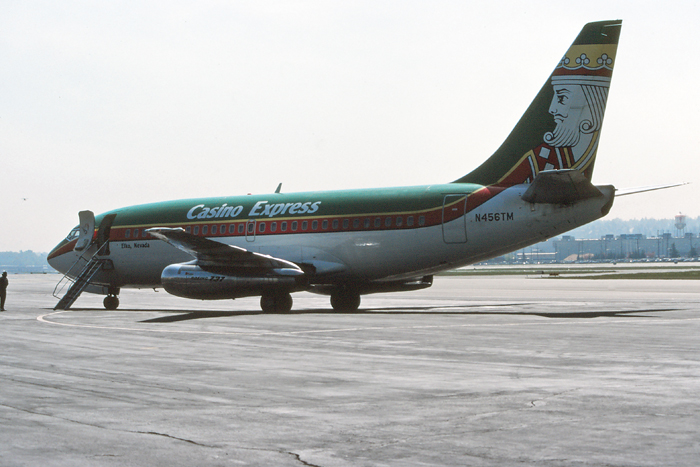 During the early operations of Casino Express, the airlines sole Boeing 737 could be seen at many different airports across the West and Midwest on gambling charter flights. Parked on the ramp at Seattle-Boeing Field during a charter flight in April 1991, is N456TM, a Boeing 737-2H4.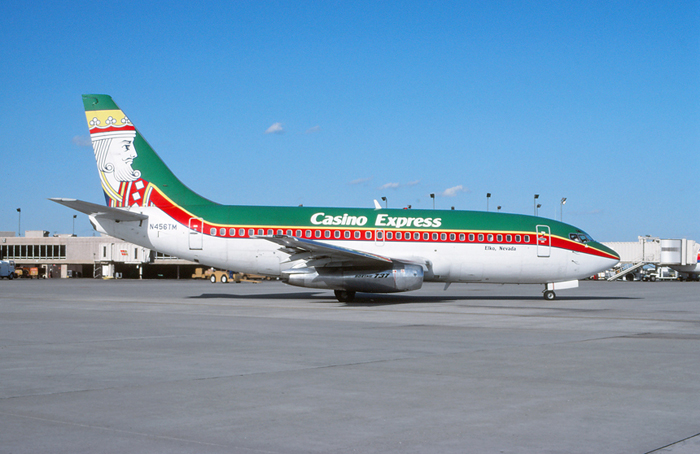 Taxiing away from the terminal ramp at Oklahoma City-Will Rogers World Airport on a gambling charter service to Elko in August 1991, is N456TM, a Boeing 737-2H4.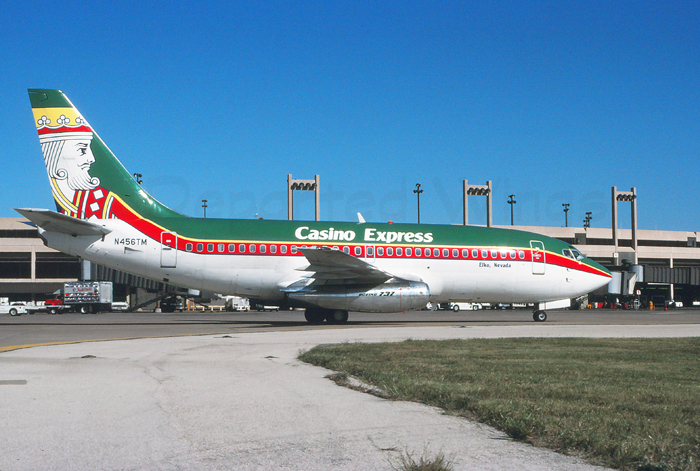 Awaiting taxi clearance and preparing to depart away from the terminal complex at Dallas-Ft. Worth International Airport in October 1991, is N456TM, a Boeing 737-2H4.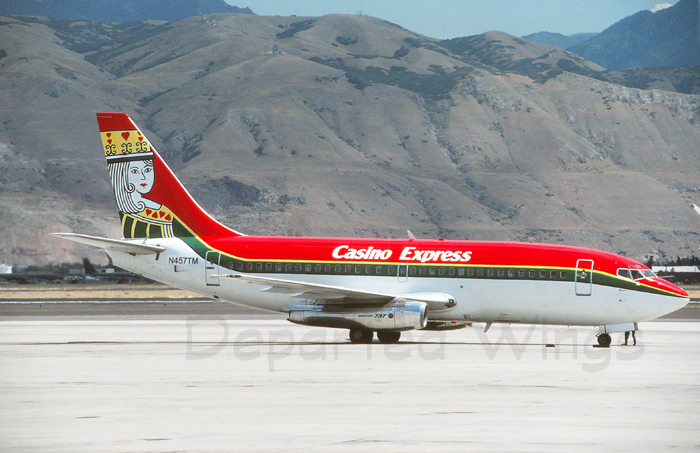 Due to the popularity and success of the Elko gambling charters, Casino Express leased another Boeing 737-200 in 1992, and painted it in the "Queen of Hearts" color scheme. Seen preparing to depart the ramp area at Salt Lake City International Airport in September 1992, is N457TM, a Boeing 737-214.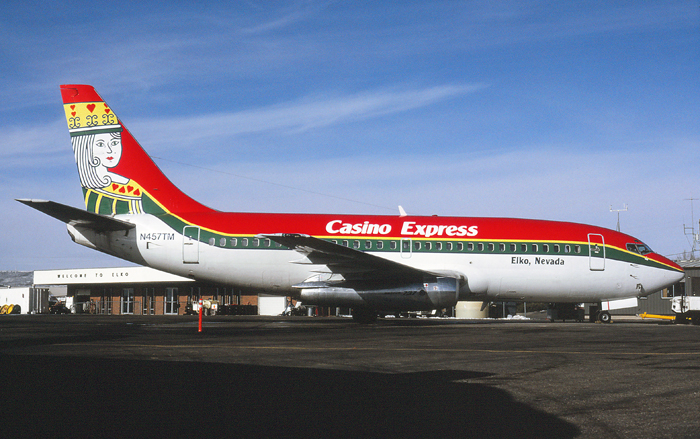 Parked at its home base of Elko, Nevada in December 1992,and wearing the eye-catching "Queen of Hearts" colors is N457TM, a Boeing 737-214, originally delivered to Pacific Southwest Airlines PSA in June 1969.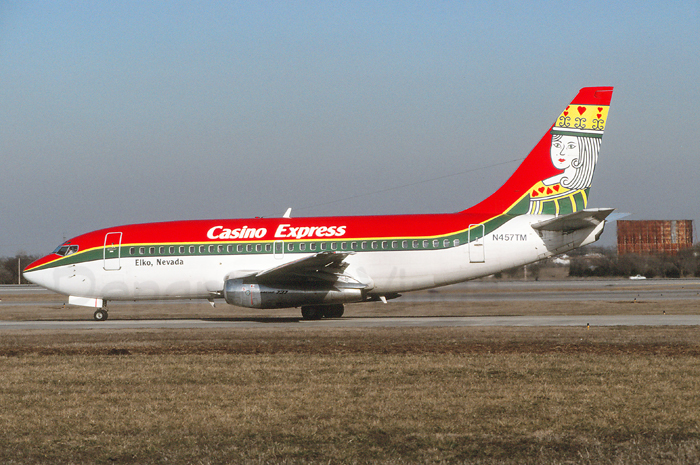 Staying busy on gambling charter flights across the nation, N457TM, a Boeing 737-214, holds in position for takeoff at Oklahoma City-Will Rogers World Airport in March 1993, enroute to Elko, Nevada.
A third Boeing 737 was leased by Casino Express for both its own gambling charters as well as contract charter work. Wearing a more subtle "Ace of Clubs" color scheme at Oklahoma City-Will Rogers World Airport in June 1994, is EI-CJW, a Boeing 737-2P6, originally delivered to Gulf Air in June 1977.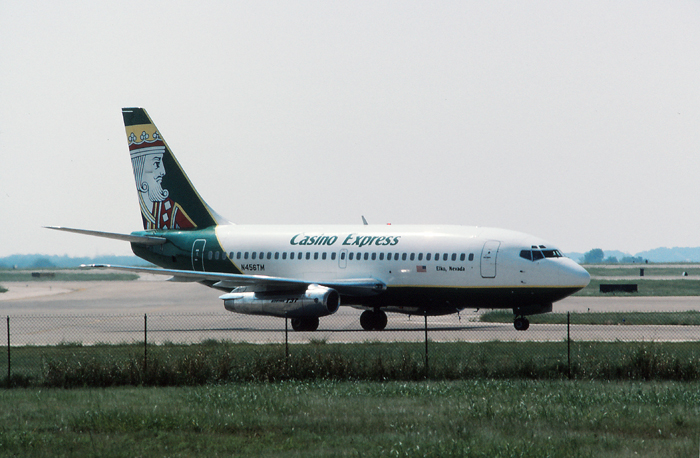 Wearing an updated color scheme and taxiing at Dallas-Ft. Worth International Airport in September 1994, is N456TM, a Boeing 737-2H4.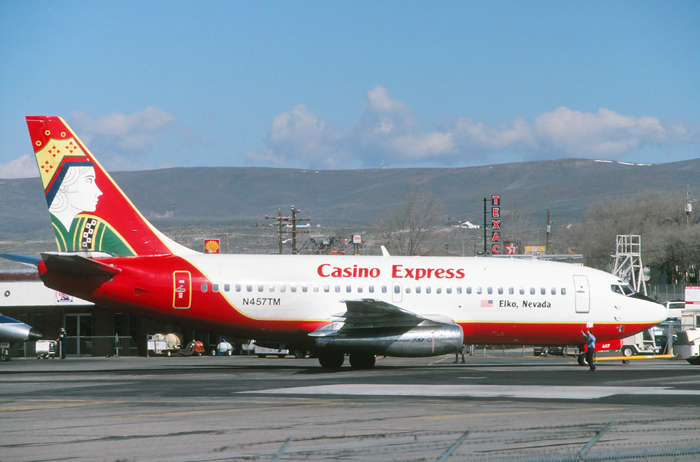 The "Queen of Hearts" seen wearing an updated color scheme and getting ready to push back at Elko Regional Airport taking a load of gambling passengers back home in May 1995, is N457TM, a Boeing 737-214, purchased by Casino Express in May 1992.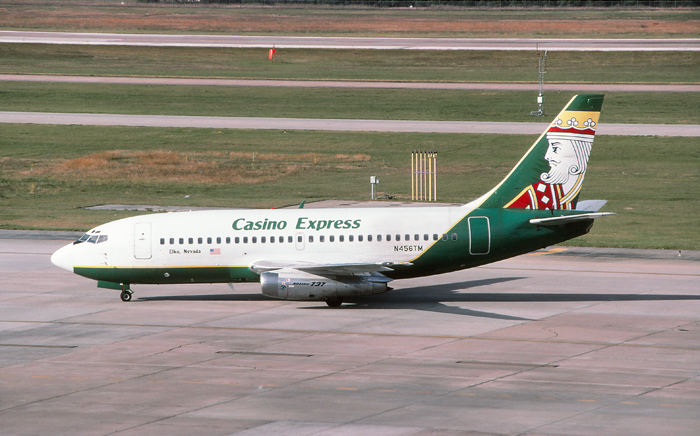 Taxiing into the terminal area at Houston-Intercontinental Airport after a charter flight from Elko, Nevada in December 1998 is N456TM a Boeing 737-2H4.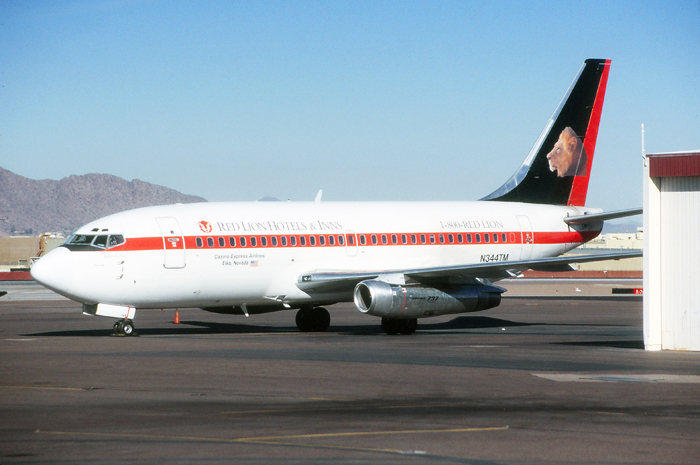 The final colors worn by Casino Express Airlines was a Red Lion Hotels & Inn specific branding. Caught on the ramp at Phoenix Sky Harbor International Airport in February 2003, is N344TM, a Boeing 737-282, originally with Air Portugal and leased by Casino Express in March 2000.