TIMETABLES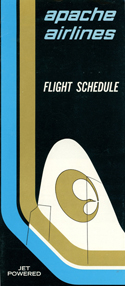 July 1969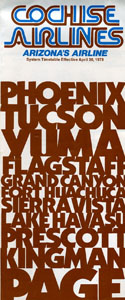 April 1978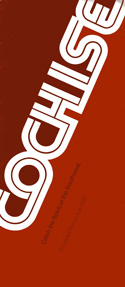 April 1980
Cochise Airlines (DP) was started to continue flying the intra-state routes of Apache Airlines which had ceased operations in July 1971, due to a fatal plane crash.
Apache Airlines started as Fixed Base Operator (FBO) at Tucson Airport in 1946, providing flight instruction and charter passenger service. Realizing an opportunity to provide air-service between Tucson and Phoenix, as well as other local airports, Apache received service authority in 1957. For the next ten years, Apache Airlines using de Havilland Dove and Heron aircraft provided service within the State of Arizona, especially its popular Tucson-Phoenix route. By 1970, Apache Airlines had grown to serve nine cities within Arizona and Las Vegas, Nevada but with a downturn in economy and load factors the airline started to suffer financially. The final blow to Apache came on May 6, 1971, when a turboprop conversion de Havilland Dove, "Jetliner 600" crashed enroute to Phoenix from Tucson. The resultant crash and financial aftermath resulting in Apache Airlines stopping operations and filing for bankruptcy.
Hoping to fill a void left by Apache Airlines, Cochise Airlines started operations in September 1971, using Cessna 402 aircraft from a Tucson, Arizona base. Early flights continued the existing Apache route structure with service to six Arizona communities from both Phoenix and Tucson including Kingman, Fort Huachuca, Lake Havasu, Prescott, and Douglas, with most of these routes covered by Essential Air Service (EAS) contracts. One of the more lucrative routes was a service to Grand Canyon Airport with weekend flights from Phoenix which was popular with tourists. Over the next few years Cochise added additional Arizona cities to its schedule such as Winslow and Page, and leased two de Havilland DHC-6 Twin Otters from Key Airlines for expansion. By 1977, Cochise Airlines was flying scheduled passenger services to eleven cities and communities in Arizona using two Cessna 402 and one DHC-6 Twin Otter aircraft. Considering its operations and extensive route map, the Civil Aeronautics Board (CAB) recommended that Cochise be issued a Commuter Airline Certificate, which was granted in 1978, and thus becoming one of the first "commuter" airlines to receive the certificate. With the advent of airline deregulation, Cochise sought to expand past its Arizona borders and looked to serve the West Coast, as well as placing an order for three Swearingen Metroliners to replace the Cessna 402 equipment. Authority was granted for the airline to start service to Los Angeles via El Centro-Imperial and Yuma. This effectively put Cochise on the "map," however the "desert" route between Yuma and Los Angeles was also served by entrenched, regional carrier Hughes Airwest. Service was started to Los Angeles International Airport (LAX) in April 1979, using the newly delivered Swearingen Metroliners. An additional route was added from Yuma to Blythe, California located along the Colorado River. Realizing the need for additional capacity in the West Coast market, the airline purchased two Convair 440 Metropolitans which would add twice the capacity of the Metroliners. The existing fleet of Cessna 402 aircraft was kept, and Cochise marketed charters and Arizona focused tour packages. During 1981, the airline placed an order for three SAAB 340 turboprops to eventually replace the Convairs and started new service to San Diego in July 1981. The non-stop San Diego-Tucson service used both the Convair and Metroliners and when flights started became the only airline to serve this market. Although many of the cities Cochise flew to were subsidized by the EAS contracts and interline agreements were in place at both Phoenix and Tucson, the airline started to suffer financially due to competition and expansion costs. On June 2, 1982 scheduled passenger operations were halted and both the Convair and Metroliners were grounded. The airline continued to provide charter and tour packages with the Cessna 402 fleet, however by the end of 1982, the airline filed for bankruptcy and the assets were dissolved.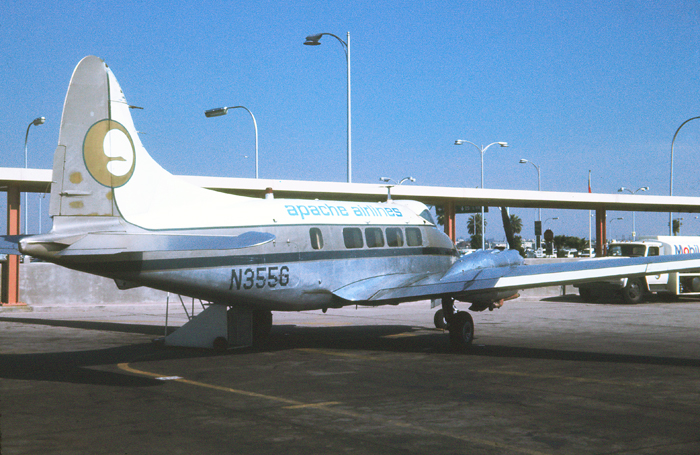 Tucson based Apache Airlines utilized both the de Havilland Dove and Heron, as well as the Dove conversion to turboprop by Carstedt, known as the "Jetliner 600" on services throughout Arizona. Parked at the passenger terminal at Phoenix Sky Harbor Airport in June 1970, is N355G, a de Havilland DH-104 Dove 5A.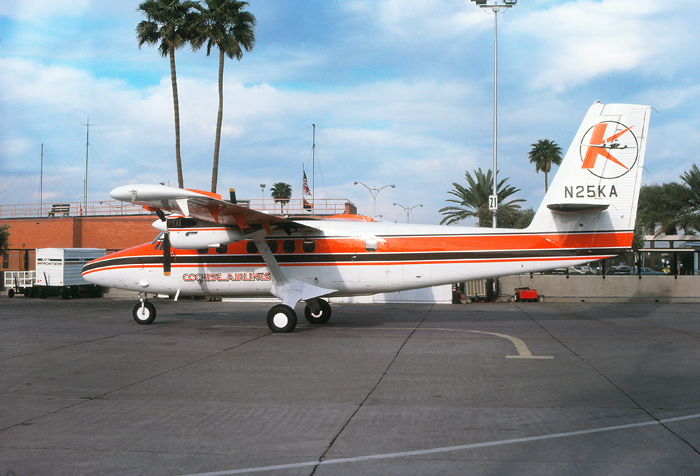 Early passenger service by Cochise used two leased Key Air Twin Otters bringing turboprop service to the airline. Parked at the West Terminal and wearing a hybrid color scheme at Phoenix Sky Harbor International Airport in March 1976, is N25KA, a de Havilland DHC-6-300 Twin Otter.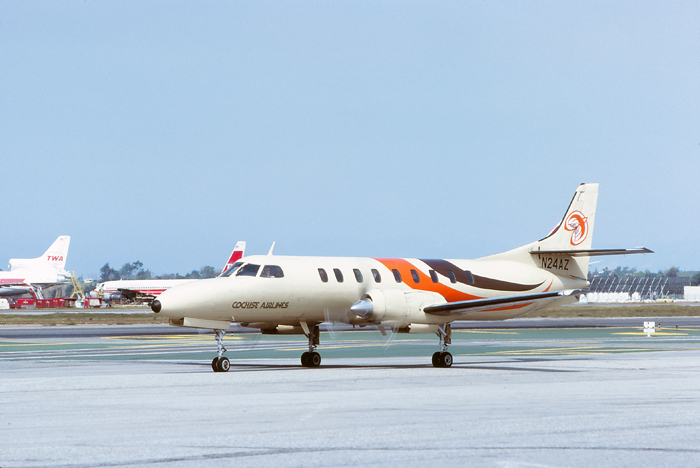 With the introduction of Metroliner Turboprop equipment in 1978, Cochise Airlines was able to extend its wings past its Arizona borders and start service into California and the lucrative Los Angeles market. Taxiing toward the commuter ramp at Los Angeles International Airport in April 1979, is N24AZ, a Swearingen SA-226TC Metro II, delivered new to Cochise in October 1978.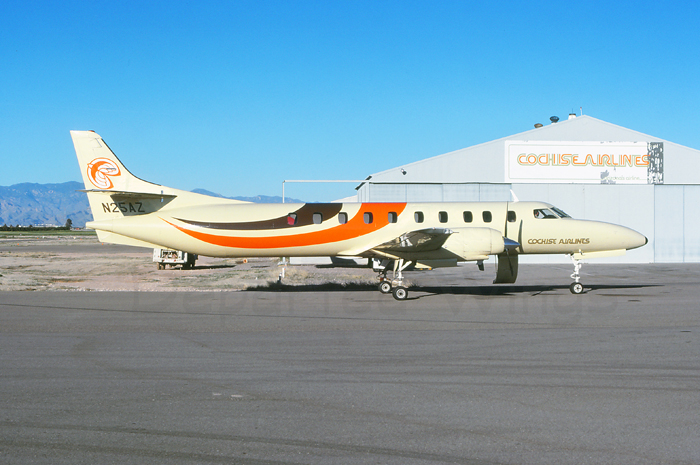 Parked at the airlines maintenance hangar at Tucson International Airport in March 1979, is N25AZ, a Swearingen SA-226TC Metro II, delivered new to Cochise in October 1978.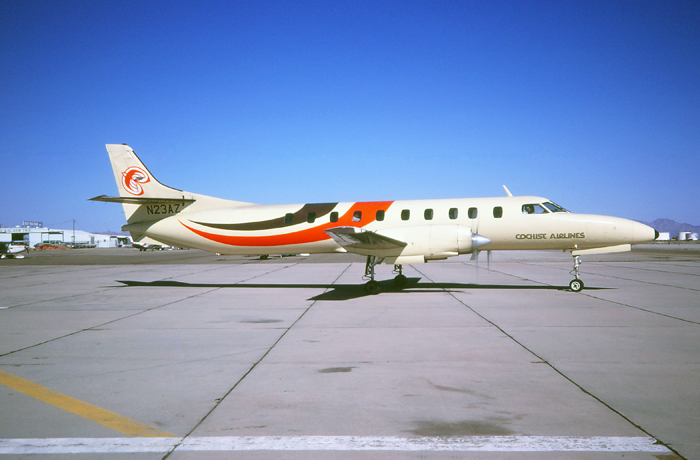 The Metroliners proved popular with passengers for speed and comfort on flights from Arizona to new destinations in California including Los Angeles and San Diego. Getting ready to depart the ramp for another flight at Yuma International Airport in September 1980, is N23AZ, a Swearingen SA-226TC Metro II, appropriately named "City of Yuma."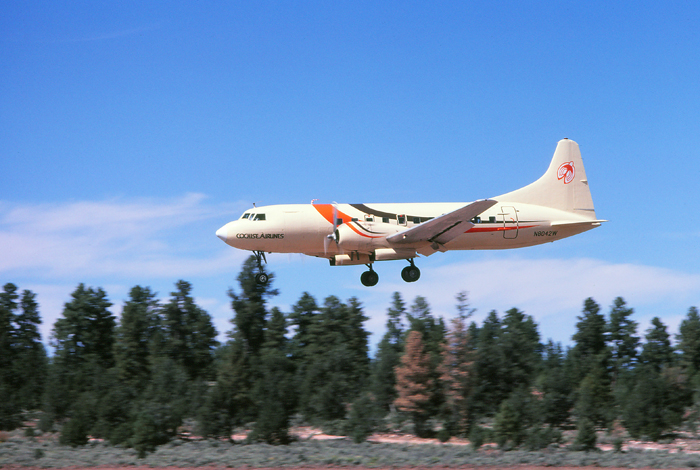 One of the first airports to be served by Cochise Airlines was Grand Canyon Airport which catered to tourists on flights from Kingman, Phoenix, and Flagstaff into the National Park. On approach to Runway 21 at Grand Canyon National Park Airport in November 1980, is N8042W, a Convair CV-440-75, originally delivered to SAS Scandinavian in 1958, and purchased by Cochise in 1979.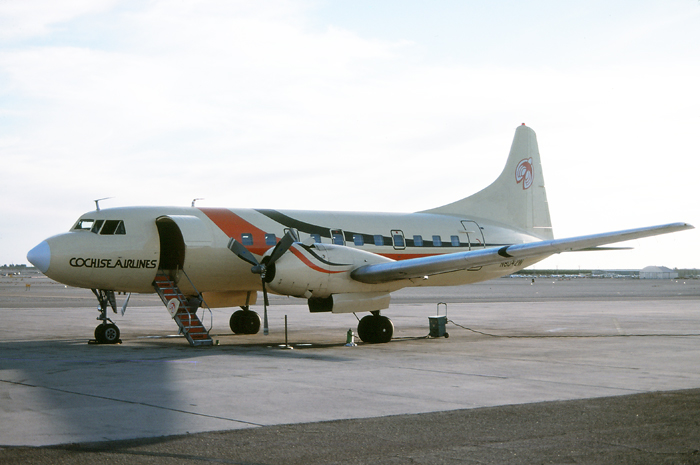 Cochise acquired the Convair 440 Metropolitan to initially open services to the West Coast. The larger planes were seen on the Tucson-Yuma-Los Angeles flights and eventually on non-stop Tucson-San Diego services. Parked on the ramp at Yuma International Airport and awaiting passengers during a turn-around in March 1981, is N8042W, a Convair CV-440-75.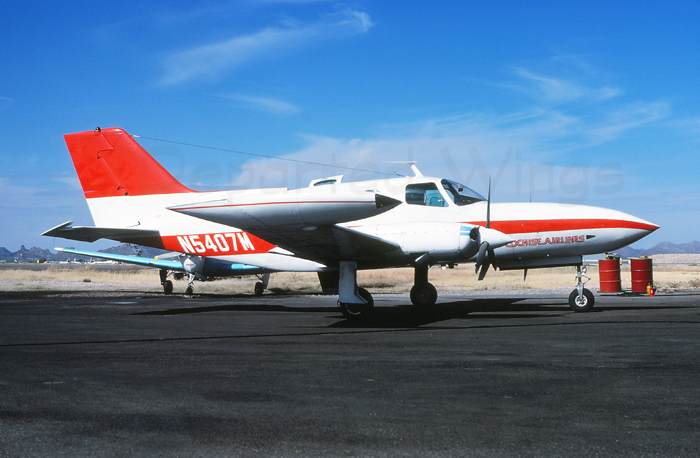 Cochise Airlines started operations with a Cessna 402 in 1971, and although replaced with the Convair 440 and Swearingen Metroliners, the small Cessna was still occasionally used for passenger operations trough 1982. Parked at the company's base at Tucson International Airport in November 1981, is N5407M, a Cessna 402B.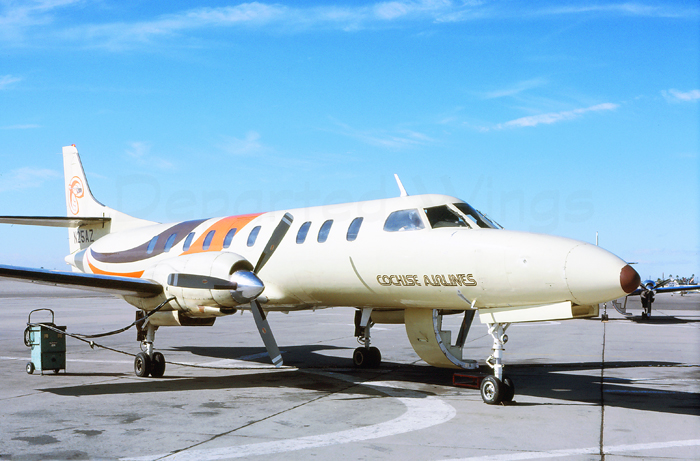 Cochise Airlines was the largest operator from Yuma in the early 1980s with no less then twenty flights daily to Blythe, El Centro, Phoenix, and Tucson. Parked on the ramp and awaiting another load of passengers at Yuma International Airport in November 1981, is N25AZ, a Swearingen SA-226TC Metro II.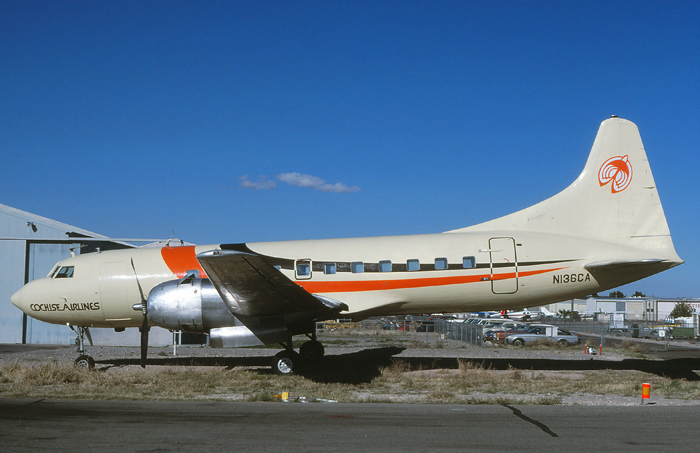 Although the Convairs had longer range and passenger capacity then the Metroliners, higher operating costs resulted in the planes being parked by 1982. Seen in storage and parked at the airlines maintenance hangar at Tucson international Airport in April 1982, is N136CA, a Convair CV-440-40 Metropolitan.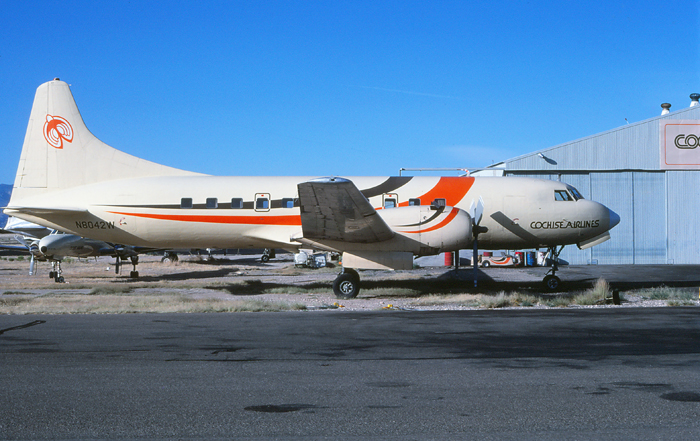 Due to increased operating costs and lower then forecasted passenger numbers the two Convair 440s were parked by the summer of 1982 and awaited disposition to other buyers. Caught being stored at the airlines maintenance hangar at Tucson International Airport in June 1982, is N8042W, a Convair CV-440-75 Metropolitan.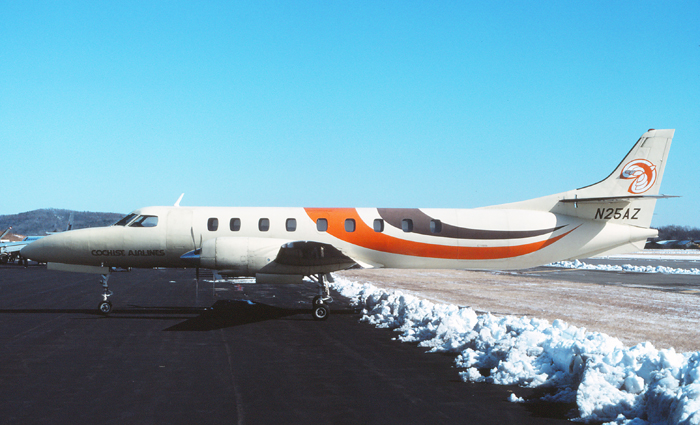 After the carrier was shut-down and dissolved in the summer of 1982, the Metroliners were stored pending a buyer, of which Air Virginia purchased all three planes in 1984. Parked on a rather cold ramp at the Air Virginia base in Lynchburg, Virginia and awaiting repainting in April 1984, is N25AZ, a Swearingen SA-226TC Metro II.