TIMETABLES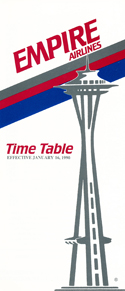 January 1990
Empire Airways (EM) Empire Airways was the brainchild of two local Idahoans; Nick Chenoweth and Vic Walters, who started Clearwater Flying Service in Orofino, Idaho as a Fixed Base Operator (FBO). Much of the early business was centered on flight instruction, charters, fire service, and air ambulance work using a small fleet of piston engine aircraft. Realizing an opportunity to provide scheduled passenger flights, Empire started "commuter" service on January 3, 1984, between Boise and Coeur d'Alene, Idaho using a Cessna 441 Conquest airplane. Passenger demand continued to rise and the airline leased a Swearingen Metroliner in January 1986, and started additional services to Lewiston, Idaho. In January 1988, Empire purchased Pacific Alaska Airlines acquiring that carriers two Fairchild F-27 aircraft and using the larger aircraft on both contract passenger and cargo flights. Regional commuter services continued to be provided and by 1990, flights had expanded to Seattle, Washington with the airline calling itself "Idaho's Airline." During 1992, Empire acquired its first pure jet aircraft, leasing two British Aerospace BAe 146 airplanes for contract charter work. The first charters were by Silverwing Holidays, and flights were provided from Bellingham and Spokane, Washington to Reno, Los Angeles, Phoenix and Palm Springs. During 1992, Empire was also used to help start-up airline Mahalo Air based in Honolulu, Hawaii, by providing its own Fairchild F-27 aircraft until the airline was able to received its newer ATR-42 airplanes. Empire Airways BAe 146 charters lasted for a few years until 1994, when the charter contracts ended and the planes returned to their lessors. Passenger commuter service provided by Empire was terminated in 1995, when the airline decided to focus its efforts on the growing contract cargo business it had started in 1988 as a Fedex Feeder carrier.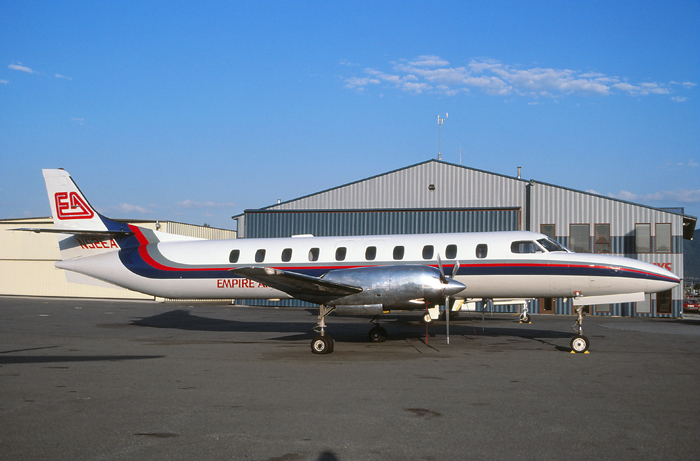 Empire Airways first turboprop aircraft for passenger service was the popular 19-seat Metroliner. Seen parked at the airline's base at Coeur d'Alene Airport in August 1986, is N52EA, a Swearingen-Fairchild SA-226TC Metro II leased to the airline in February 1986.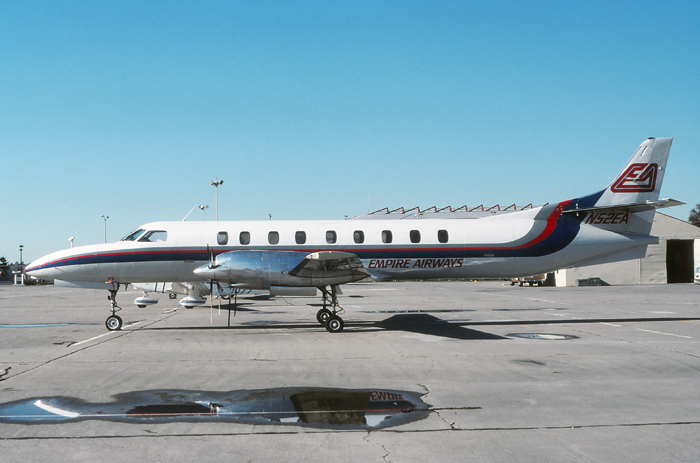 Seen in December 1987, N52EA, a Swearingen-Fairchild SA-226TC Metro II "Metroliner" was key in providing scheduled commuter service for Empire Airways between Boise, Coeur d'Alene, and Lewiston, Idaho.
Starting in 1981, Empire Airlines leased de Havilland DHC-6 Twin otters for U.S. Forest Service smoke jumpers contract flights. Parked at Raton Municipal Airport in May 1989, and being leased for the summer fire season is N331CC, a de Havilland DHC-6-300.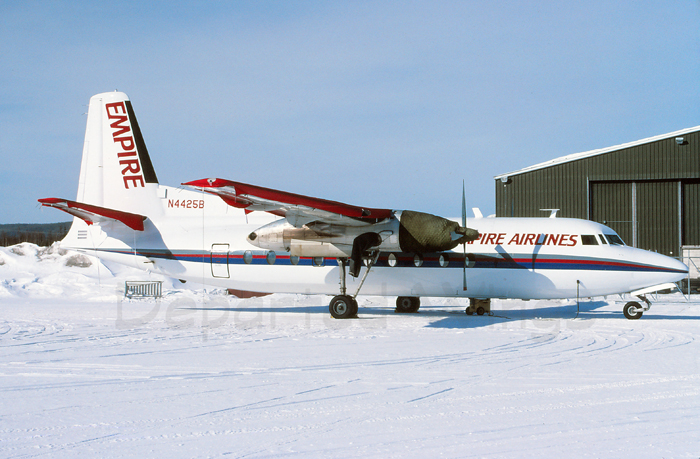 With the purchase of Pacific Alaska Airlines in 1988, Empire Airlines acquired two Fairchild F-27 aircraft which were used extensively for contract operations on Alaska's North Slope. Parked in front of the DEW Line hangar at Fairbanks International Airport in March 1990, is N4425B, a Fairchild F-27F.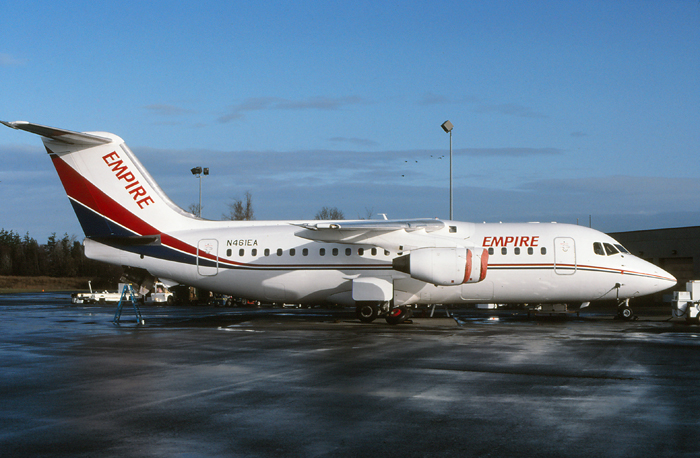 In 1992, Empire leased two British Aerospace BAe 146 aircraft to provide contract charter flights. Undergoing light maintenance at Bellingham International Airport in December 1992, is N461EA, a British Aerospace BAE-146-200 delivered to Empire in September 1992.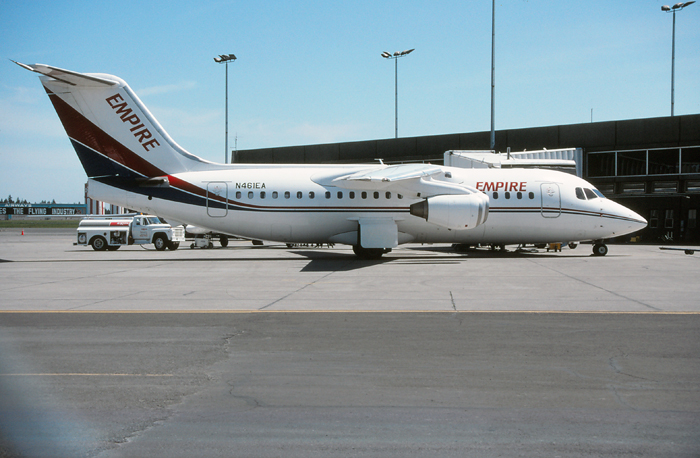 Two British Aerospace BAe 146 airplanes provided charter service from both Spokane and Bellingham Airports to points in California, Arizona, and Nevada. Parked at the gate and awaiting another load of passengers at Spokane International Airport in June 1993, is N461EA, a British Aerospace BAe 146-200.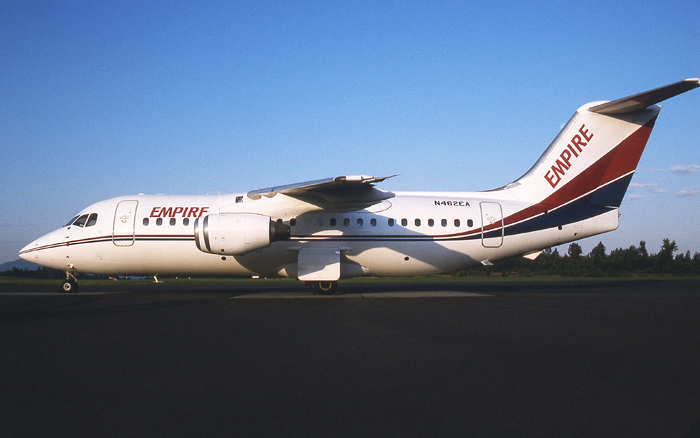 Empire Airways "jet" charter service lasted for approximately two years before the aircraft were returned to their lessors and the airline directed focus on charter cargo service. Parked on the ramp at Bellingham International Airport in August 1993, is N462EA, a British Aerospace BAe 146-200.