TIMETABLES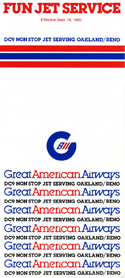 September 1980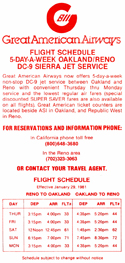 January 1981
Great American Airways (GRA)found its niche market initially providing charter flights for casinos in the "Gambling Junket" business and started operations based in Reno, Nevada during September 1979. The airline acquired an ex-Trans World Airlines (TWA), Douglas DC-9-15 with a capacity of ninety passengers. On September 26, 1979, contract flights were started on behalf of Carson City Nugget Casino on flights between Reno, Nevada and Seattle, Washington. During its first three months of operation, the airline closed the year with having flown 36,000 passengers.
During early 1980, the airline received authority to operate both international and domestic charters and became an "official" supplemental carrier. Great American Airways inaugurated scheduled passenger services during the week between Reno and Oakland, California using its sole Douglas DC-9 on September 19, 1980. The flights were never really popular, and mounting operating losses forced the airline to suspend scheduled services on April 20, 1981, focusing instead on charter operations. It is interesting to note that in 1983, Great American purchased the ex-Boeing 720, operated by the Major League Baseball team, the Los Angeles Dodgers, known as "Kay O' II" however the aircraft was never operated by the new owners. The airline continued to operate its single Douglas DC-9 for over ten years on general charter and casino charter flights across the Western and Midwest United States. The economic situation for the airline fluctuated throughout the 1980s and was driven by the availability of passengers to fund charters to vacation and gambling destinations. The airline had planned to acquire an ex-Alaska Airline Boeing 727-200, and additional DC-9s however this did not take place. With a change in management, the airline acquired another Douglas DC-9, increasing passenger bookings and allowing the airline to make a profit in 1992.
A year later in 1993, a third Douglas DC-9 aircraft was acquired as well as a McDonnell Douglas MD-87 from ZAS Airline of Egypt. The addition of the MD-87 increased capacity and range on charter and contract flights. Great American took the opportunity to expand its charter operations as well as starting scheduled service between Salt Lake City and Wendover, Utah for gambling flights. During 1995, the airline purchased an additional two MD-87s and started providing flights for SunTrips on services to Mexico as well as summer service to Myrtle Beach, South Carolina under the name "Myrtle Beach Jet Express."
A year later in 1996, two McDonnell Douglas MD-80s were added to provide charter service for Air Jamaica mainly on flights between Chicago and Jamaica. In the wake of scrutiny of secondary or low-budget carriers after the ValuJet crash on May 11, 1996, Great American Airways came under heavy investigation by the FAA which found numerous discrepancies and falsifications of aircraft maintenance records, training records, and load manifest documents. In an emergency action the FAA revoked the airlines operating certificate, resulting in the airline filing for bankruptcy the next day, April 14, 1997, and halting all flights. The cost to restart the airline, and the impact of the negative public image, resulted in Great America Airways never restarting services.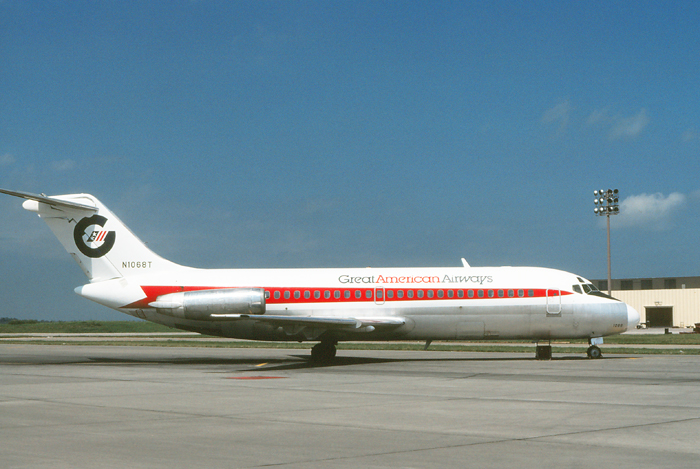 Great American Airways purchased a single, ex Trans World Airlines TWA Douglas DC-9 to start charter service in August 1979. Seen parked on the ramp at Chicago O'Hare International Airport in October 1979, is N1068T, a Douglas DC-9-15.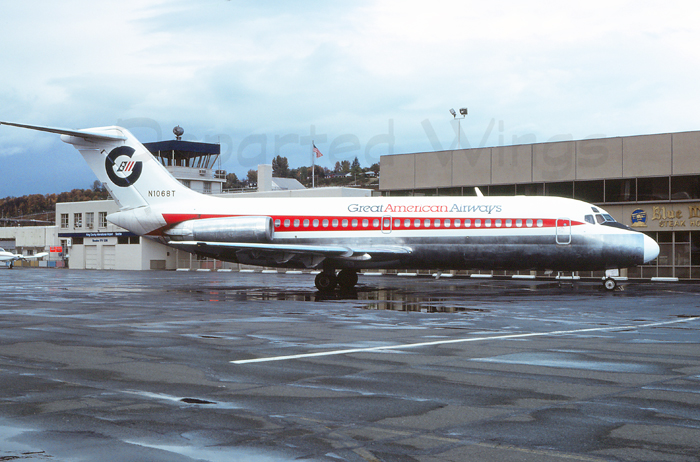 Great American Airways first large contract was with Carson City Nugget Casino, and provided flights between Reno, Nevada and Seattle, Washington in 1979. Parked at the terminal during a "gambling junket" flight at Seattle-Boeing Field in November 1979, is N1068T, a Douglas DC-9-15.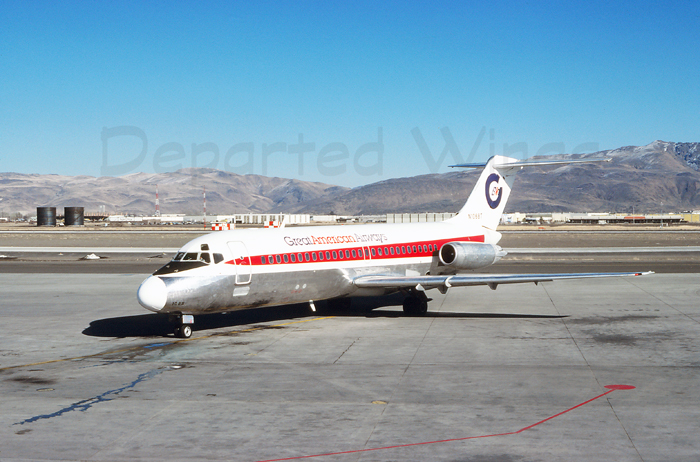 During the 1980s, Great American Airways single Douglas DC-9 could be seen across the national on both contract and gambling charter services. Seen pulling up to the gate at Reno-Cannon International Airport in February 1982, is N1068T, a Douglas DC-9-15.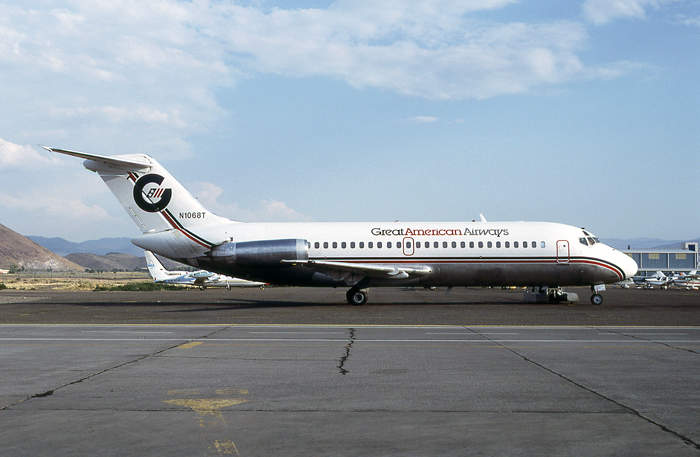 In 1985, Great American Airways upgraded is livery on its sole Douglas DC-9 and replaced the red TWA stripe with two patriotic stripes of red and blue running the length of the fuselage. Parked on the ramp at Reno-Cannon International Airport in June 1985, is N1068T, a Douglas DC-9-15.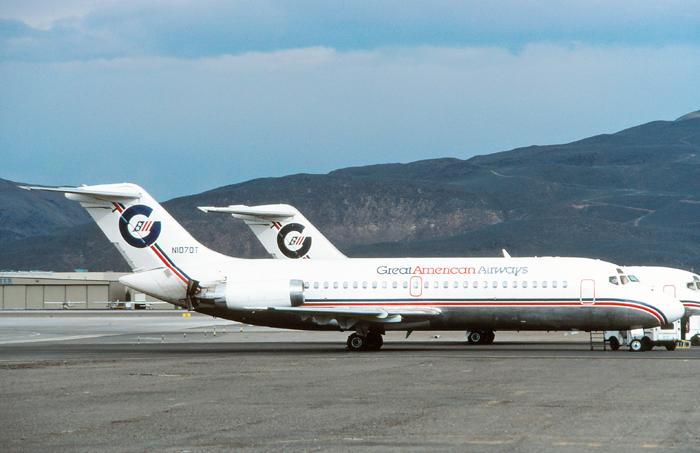 With the charter business continuing to grow, Great American purchased two additional Douglas DC-9 aircraft into 1993. Seen parked on the ramp at Reno-Cannon International Airport in April 1993, is a a pair of Douglas Dc-9-15s, N1070T and N1068T, both airframes originally delivered to Trans World Airlines TWA in 1967.