TIMETABLES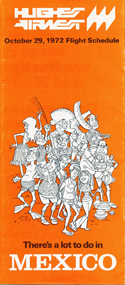 October 1972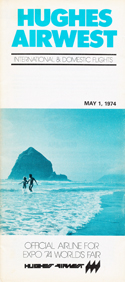 May 1974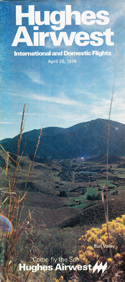 April 1976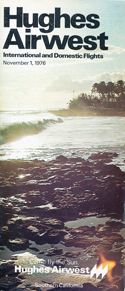 November 1976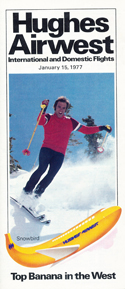 January 1977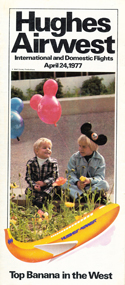 April 1977
October 1978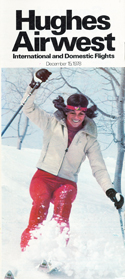 December 1978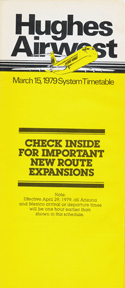 March 1979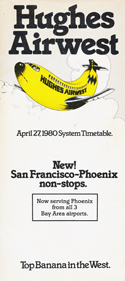 April 1980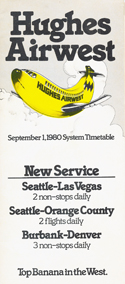 September 1980
Hughes Air West (RW) would become the new name of AirWest after the sale of regional airline to Howard Hughes's Hughes Tool Company (Hughes Tool was renamed Summa Corporation in 1972) on April 1, 1970, Hughes Tool would own 78% while Howard Hughes himself would own the remaining 22% of the new Hughes Air Corporation. Howard Hughes quickly realizing the financial despair his new airline was in, immediately brought on board one of his business managers, Irving Tague, to "turn things around." The result was a streamline of operations, including disposing of the Boeing 727s, re-evaluation of the route network, and management changes that slowly resulted in the reduction of loses. The airline headquarters would remain at San Francisco while maintenance was concentrated at the Phoenix hub. The new management team at Hughes wanted to focus the airline on interstate and international services, versus the rather unprofitable intrastate routes acquired from the original thee local service carriers. New "jet" services were introduced to cities such as Eureka-Arcata, Idaho Falls, and Grand Canyon. Within a year Hughes AirWest was granted approval to start flights to San Jose del Cabo and Guadalajara both in Mexico.
On June 6, 1971, tragedy struck the new airline when a Douglas DC-9 was involved in a mid-air collision with a U.S. Marine Douglas F-4B Phantom over Duarte, California (east of Los Angeles). Flight 706 had just departed Los Angeles International Airport (LAX) enroute to Salt Lake City when it was struck at approximately 15,000 feet resulting in the deaths of all forty-nine aboard the aircraft. After the investigation, for which the Marine pilot was found at fault, it was considered that one of the contributing factors to the crash was the all-white fuselage of the existing AirWest color scheme. The company which was hired to re-brand the new Hughes AirWest, Mario Armond Zamparelli, designed a bold and eye-catching livery that became famous throughout the 1970s (and was hoped to prevent another mid-air disaster). The entire fuselages of the planes were bathed in "Sundance Yellow" while airline script and tail design (stylized Howard Hughes abbreviation on tail) were in "Universal Blue." The newly painted aircraft were quickly dubbed the "Flying Bananas" and helped to promote the airline in advertisements and commercials using the slogan "Top Banana in the West." By the end of 1971, Hughes Air West (The older AirWest title was now separated) had reduced many multi-stop flights to help improve performance and efficiencies was operating a fleet of nineteen Douglas DC-9s and twenty-five Fokker/Fairchild F-27 turboprops.
Just two months after the famed D.B. Cooper hijacking of a Northwest Orient Boeing 727 in the Pacific Northwest, Hughes Air West became the center of a copycat hijacking attempt on January 20, 1972. Flight 800 was scheduled to depart Las Vegas-McCarran enroute to Reno, when just before takeoff a 23-year old man, Richard Charles Lapoint, claimed he had a bomb and demanded $50,000 in cash, two parachutes and a helmet. His demands were met and the man, released the fifty-one passengers and two flight attendants and had the pilots takeoff and fly east toward Denver. As the plane flew east, it was trailed by two US Air Force General Dynamics F-111 fighter aircraft. Unbeknownst to the hijacker was the parachutes were packed as high-visibility fabric and had locator beacons within. he requested the airplane slow, the rear air-stairs be deployed and bailed out at 12,000 feet over the wheat covered northeastern Colorado plains. He was found a few hours later, near Akron, Colorado, alive with minor injuries and hypothermia and subsequently arrested. The Douglas DC-9 continued on and landed at Denver where the plane was remotely parked and searched. No bomb was found nor did the man have any weapons or bomb on him when found. The man, was facing a potential death penalty sentence for air piracy, however was sentenced to forty year, eventually served only eight and was released in 1979.
By 1974, the airline was prospering and had made the decision to halt service to many smaller, unprofitable stations on its system such as Palmdale and Santa Rosa, California, Prescott, Arizona and Walla Walla and Ephrata, Washington, as these smaller stations were discontinued the F-27 fleet was slowly reduced and removed from service. International services continued to be a focus of the airline with new flights to Edmonton, Canada and Guaymas, Mexico starting in early 1974. Hughes Air West became the "official" carrier of Expo '74 World's Fair located in Spokane, Washington and provided passengers convenient flights from multiple locations across the West. With sights set on more distant destinations such as San Antonio, Houston, and El Paso, Texas, Hughes Air West placed an order for fifteen Boeing 727-200 series aircraft in 1975 for use on the longer-range routes and denser city pairs. Hughes Air West looked at other options to the Douglas DC-9, including interest in the French made Dassault Mercure twin-engined airliner, even though the pricing was right, it became increasingly more difficult to seek recommendation and approval from Hughes himself.
Howard Hughes who had been instrumental in the formative years of his airline, had slipped away into obscurity leaving the Summa Corporation to become more involved in the management of the day-to-day airline business. Howard Hughes passed away on February 16, 1976 and the management and operation of the airline fell back on his Summa Corporation. Summa wasn't too keen on the larger Boeing 727 and wanted to cancel the order, however the first aircraft was delivered in August 1976, and four more were to soon follow. The airline continued to add the larger Douglas DC-9 series 30 through the second hand market, as the plane had fit just right with it's regional airline concept. By 1976, the airline flew over four million passengers, to forty-six cities across the West, Canada, and Mexico and was actually making a profit. The airline continued to expand adding Denver, Des Moines, and Milwaukee to its route map, however the Summa Corporation was not interested in continuing to run and airline, especially after Howard Hughes was no longer in the picture. Summa stopped investing any more funds into the airline and after deregulation in 1978, sought a buyer to purchase the carrier.
In 1979, the year after deregulation, unchecked growth, the more expansive Boeing 727s and increased competition drove Hughes AirWest to post a loss of $22 million for the year, the first time it had operated in a deficit since 1972. A strike by reservations and office personnel in September 1979, lasted two months the effect was an almost 20% reduction in passenger boarding's resulting in an additional negative mark for a carrier that was already struggling financially.
By 1980, Hughes Air West was flying hundreds of daily flights across twelve states, Canada, and Mexico with a fleet of forty-five Douglas DC-9s and six Boeing 727s. Newly formed carrier Republic Airlines, formed with the merger of North Central Airlines and Southern Airways in July 1979, had foothold on two-thirds of the country, and truly wanted to become a "Coast-to-Coast" airline. With Summa eager to dispose of Howard Hughes's "hobby," it was noted Republic Airlines had a similar fleet (Douglas DC-9s), computer systems, and regional network that Hughes Air West could add to their business model. On October 1, 1980 Republic Airlines purchased Hughes Air West for $38.5 million which effectively made Republic a "national" carrier and the airline serving the most cities in the United Sates at the time. Over the next few months, the characteristic yellow and blue colored airplanes were slowly repainted in the familiar two-tone blue colors of Republic Airlines, however the final integration of both airlines didn't take place until January 1983, and until then the airline was operated as Republic West.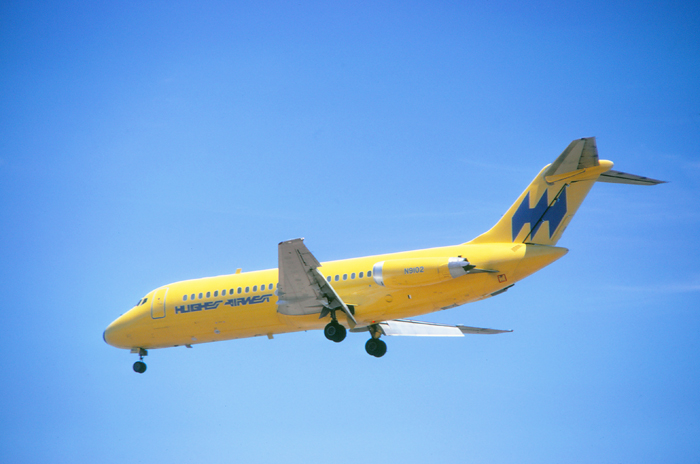 Freshly painted in "Sundance Yellow" and "Universal Blue" by its new owner N9102, a Douglas DC-9-14 is in configuration for final approach in July 1972.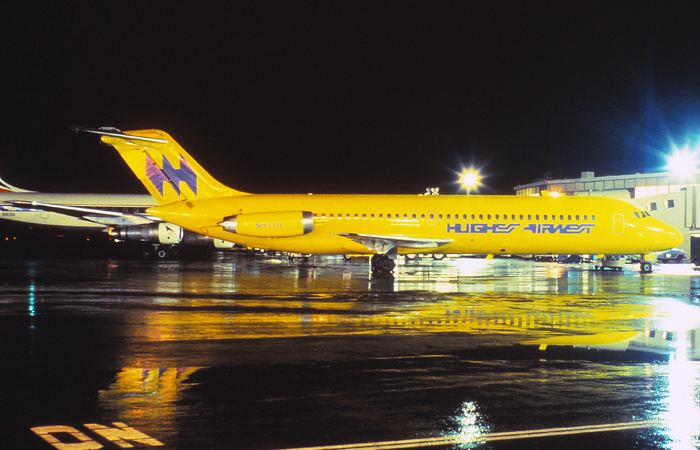 When the first Hughes AirWest aircraft started to be repainted in the new owners eye-catching color scheme, a silver Mylar coating was applied to the passenger windows to reduce interior glare against the bright yellow fuselage. It was soon discovered the coating was expensive to apply and maintain, so was removed and not applied to additional aircraft. Parked at "Pier D" of the Central Terminal at San Francisco International Airport during a wet evening in January 1973, is N9330, a Douglas DC-9-31.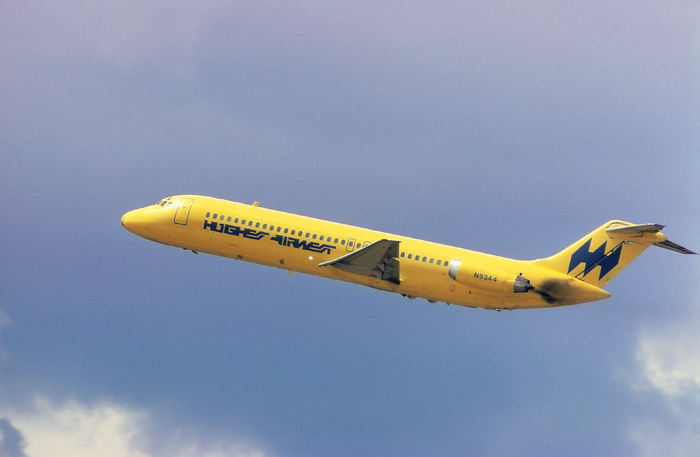 Having been home to West Coast Airlines since the 1940s, Seattle-Boeing Field lost its last scheduled jet airline when Hughes Air West relocated to Seattle-Tacoma International Airport on April 25, 1971. Climbing out into an azure sky after departure from Seattle-Tacoma International Airport in June 1973, is N9344, a Douglas DC-9-31.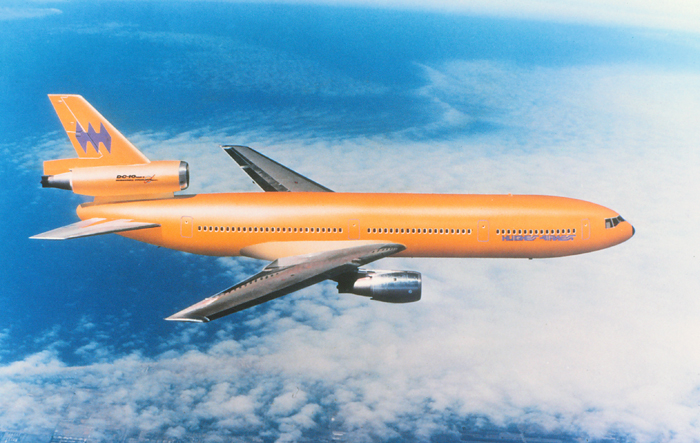 Although never an option, Douglas was always looking for additional customers for its new Douglas DC-10 airplane and presented an artist rendering of one in the Hughes Air West colors to the company. Even though Hughes Air West was looking for longer routes, the Douglas DC-10 was too large for the regional airline.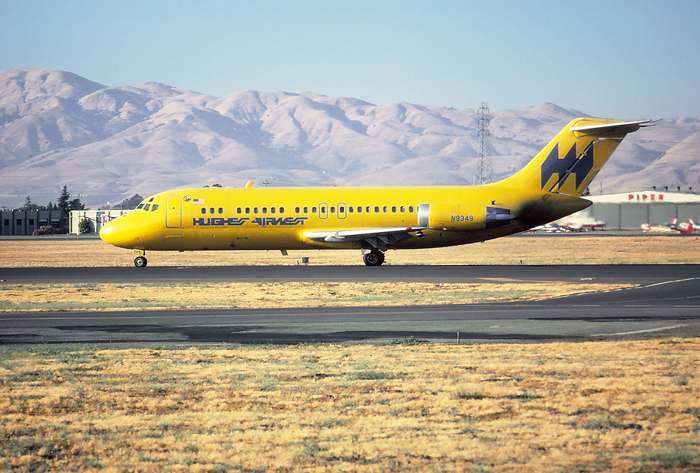 Hughes Air West became the official carrier for the "Expo '74" World's Fair held in Spokane, Washington. Some of the airlines aircraft wore the logo to the right of the main passenger door to promote the event. Taking Runway 30 Left at San Jose Municipal Airport for in evening departure in June 1974, is N9349, a Douglas DC-9-15RC (Rapid Change) inherited from Continental Air Lines in 1973.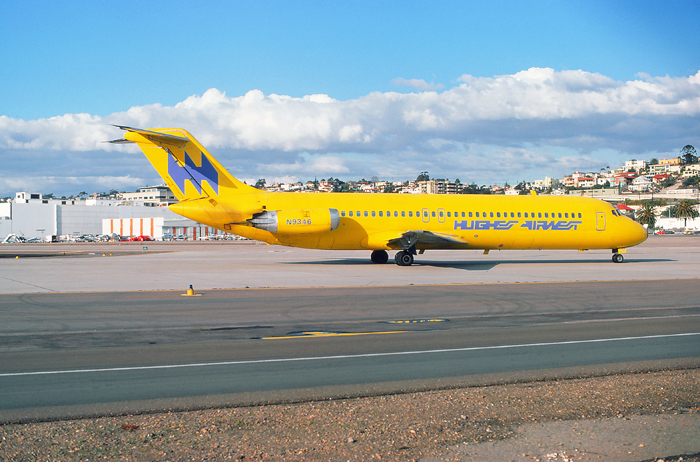 San Diego, with its home based Pacific Southwest Airlines (PSA) was a tough destination for Hughes Air West to compete with. During the early 1970s, only two flights were scheduled; one to Los Angeles and one Las Vegas. Awaiting takeoff clearance for an early evening departure at San Diego-Lindbergh Field in December 1974, is N9346, a Douglas DC-9-32.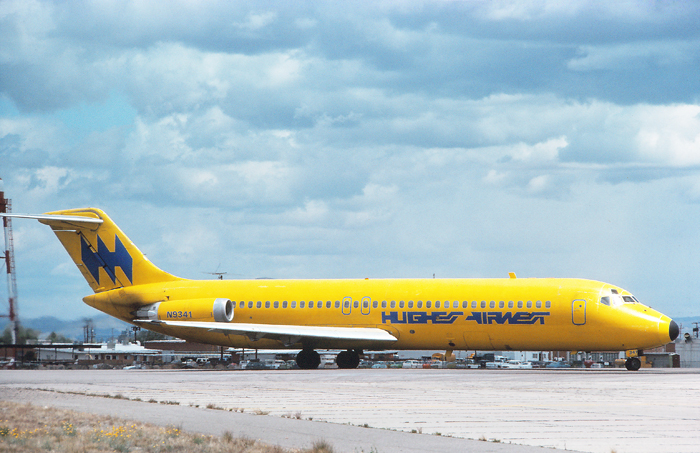 Tucson was an important link for Hughes Air West's "Fiesta" service to both Guymas and Mazatlan, Mexico. Seen taxiing toward the terminal at Tucson International Airport after having landed in April 1975, is N9341, a Douglas DC-9-31.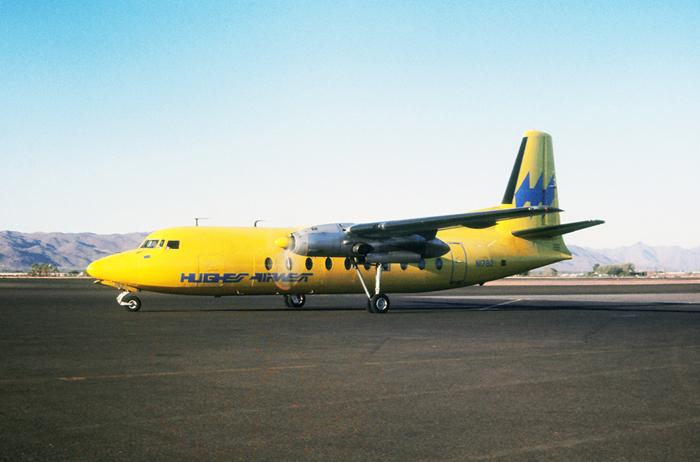 During the early 1970s Hughes Air West reduced the number of stations that utilized the Fairchild F-27 turboprop. In 1975, Phoenix continued to use the F-27 on "feeder" flights to Blythe, Kingman, and Yuma along with a weekly Sunday flight to the Grand Canyon. Taxiing away from the terminal at Phoenix-Sky Harbor International Airport in August 1975, is N1782, a Fairchild F-27A.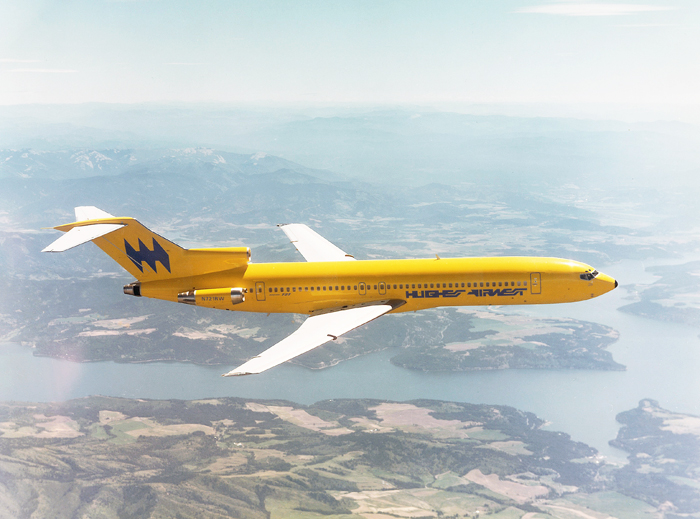 The first few Boeing 727s delivered new to Hughes Air West were named after owner Howard Hughes's flying aircraft. Seen on a pre-delivery test flight in July 1978, is N721RW, "Spirit of The Gamma," named after Hughes's modified Northrop Gamma 2G which posted a transcontinental speed record in 1935.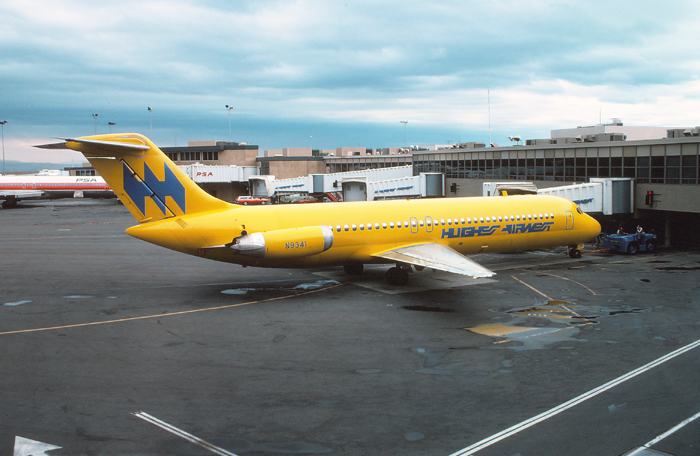 Hughes Air West had three gates as part of "Pier D" at San Francisco where it operated over twenty daily departures to destinations across California and Oregon. Being prepared to push back from the gate for another flight during a dreary day at San Francisco International Airport in October 1976, is N9341, a Douglas DC-9-31.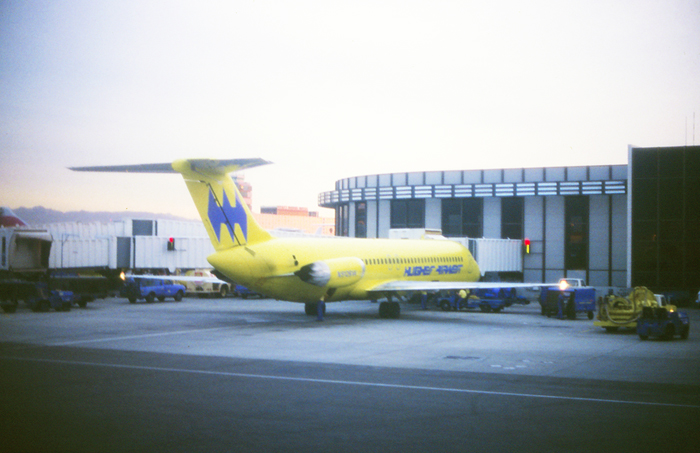 Los Angeles continued to be served by Hughes Air West providing flights to destinations initially started with AirWest's predecessor airlines including Monterey, El Centro, and San Diego. Parked at Terminal 6 and being prepared for an early morning departure at Los Angeles International Airport in January 1977, is N912RW, a Douglas DC-9-31, delivered new to Hughes Air West in March 1976.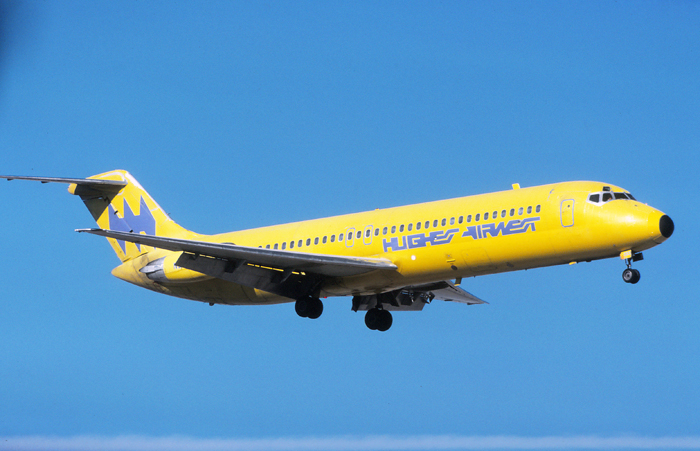 By 1978 the Douglas DC-9 was the workhorse of the Hughes Air West fleet. With a total of thirty-seven Douglas DC-9s, the airline was providing hundreds of daily flights to fifty-five destinations. Seen on approach for landing in May 1978, is N9333, a Douglas DC-9-31.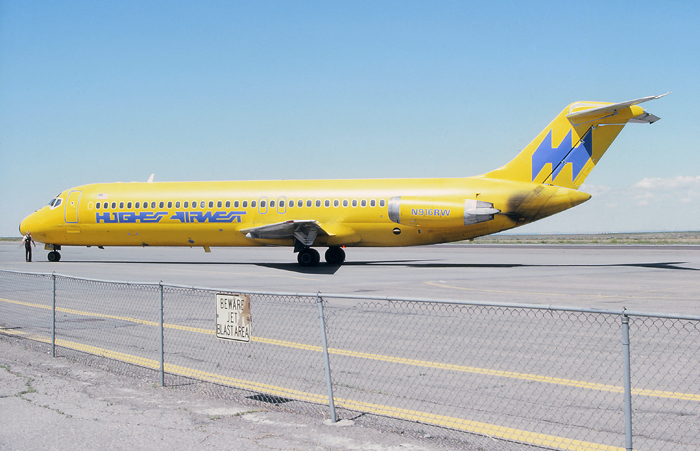 Hughes Air West continued the legacy predecessor carrier AirWest had with serving smaller airports using "jet" aircraft. Even in the late 1970s, Douglas DC-9 jets were serving destinations such as Eureka-Arcata, California, Pasco, Washington, and Klamath Falls, Oregon. See awaiting a wave-off at the Pocatello Regional Airport in September 1978, is N916RW, a Douglas DC-9-31.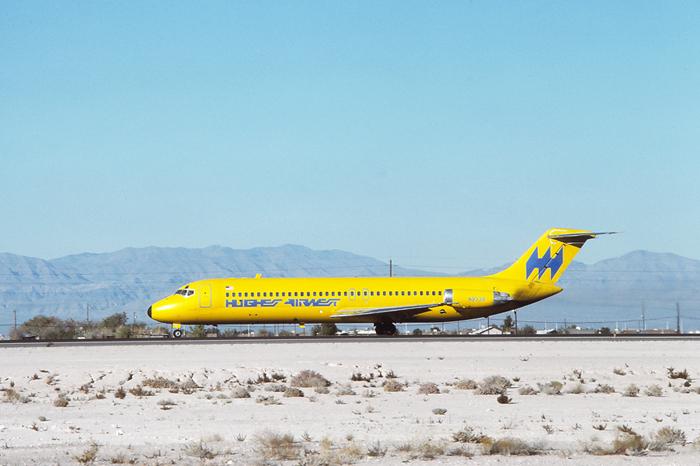 Behind Phoenix, Las Vegas was the second largest hub for Hughes Air West with service to sixteen cities and thirty-three daily departures by 1978. Seen holding in position on Runway 25 for an afternoon departure is N9339, a Douglas DC-9-31.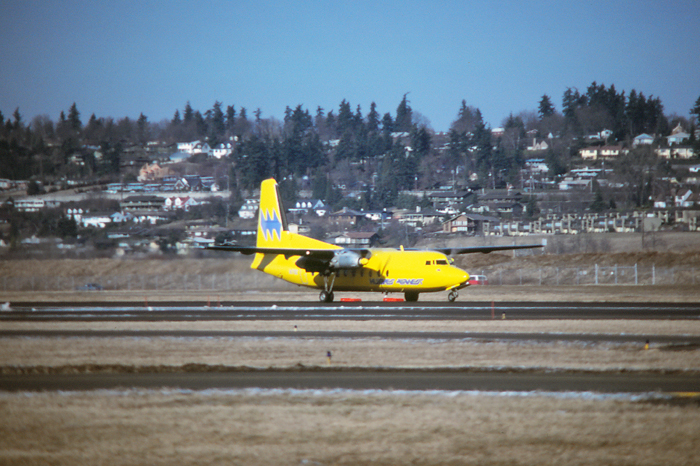 By 1979, only one route was left on the Hughes Air West network that utilized the Fairchild F-27 aircraft. The Essential Air Service (EAS) "coastal" Portland-North Bend-Crescent City-Eureka/Arcata-San Francisco route continued to host the turboprop. Seen rolling for takeoff on Runway 10 Left at Portland International Airport in March 1979, is N1782, a Fairchild F-27A.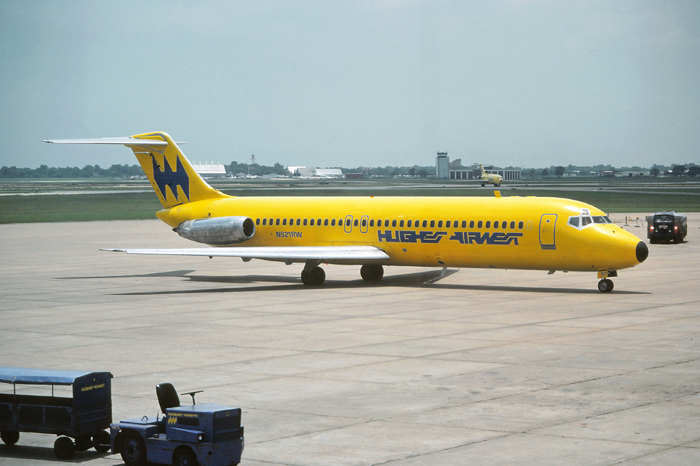 Hughes Air West extended it wings to Texas in December 1978, when flights were started to Houston-Hobby Airport from Tucson. Within a year, Houston was being served with six daily flights from Tucson, Phoenix, and Las Vegas. Seen taxiing inbound toward its gate at Houston-Hobby International Airport in July 1979, is N921RW, a Douglas DC-9-31.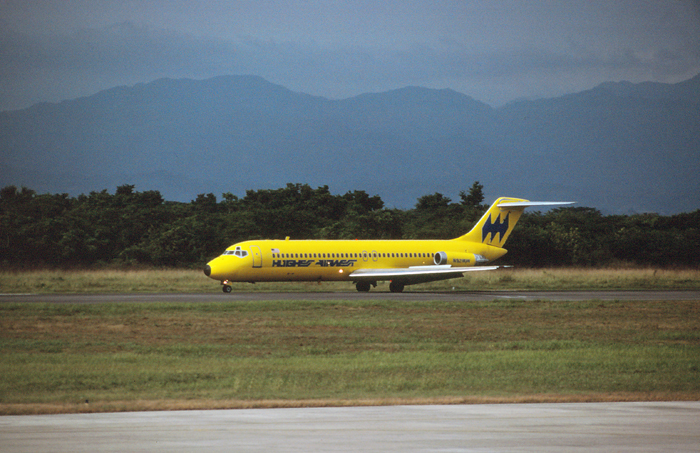 Hughes Air West became a popular carrier to Mexico flying to resort cities from a Phoenix and Tucson "gateway." In 1979, the airline was flying to La Paz, San Jose del Cabo, Puerto Vallarta, Mazatlan, and Manzanillo, Mexico. Seen rolling out after just having landed at Lic. Gustavo Diaz Ordaz-Puerto Vallarta International Airport in September 1979, is N921RW, a Douglas DC-9-31.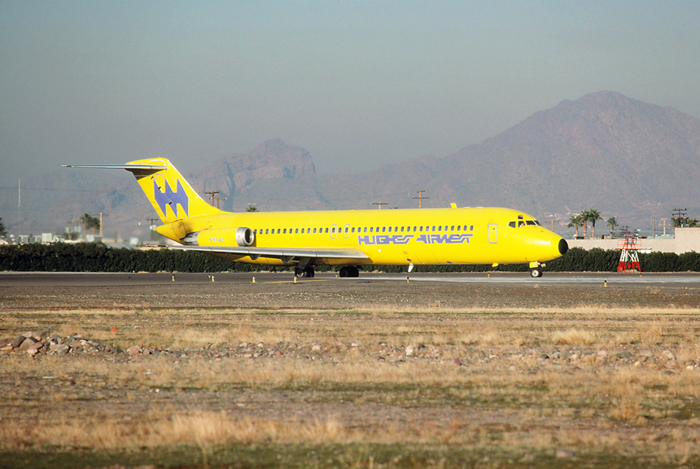 In 1979, Hughes Air West was the largest carrier at Phoenix with over forty daily flights flying to sixteen cities using both the Douglas DC-9 and Boeing 727. Seen holding in position for takeoff on Runway 8 Right for a morning departure at Phoenix-Sky Harbor International Airport in January 1979, is N9342, a Douglas DC-9-31.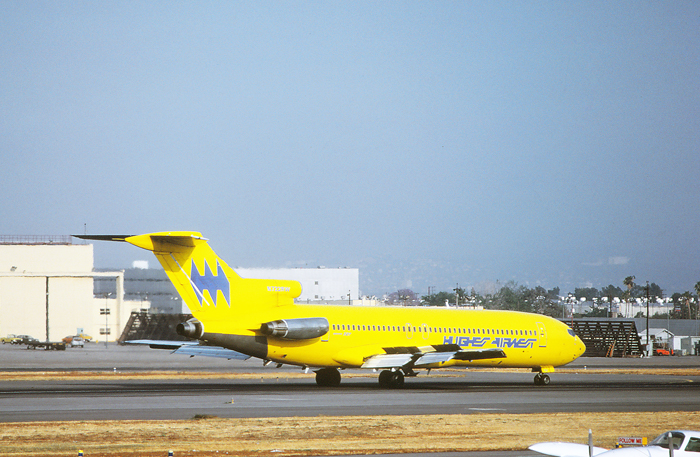 Seen rolling out on Runway 15 at Burbank-Glendale-Pasadena Airport after having just arrived from Las Vegas on a sunny afternoon in September 1979, is N722RW "Spirit of the Racer," a Boeing 727-2M7 (A).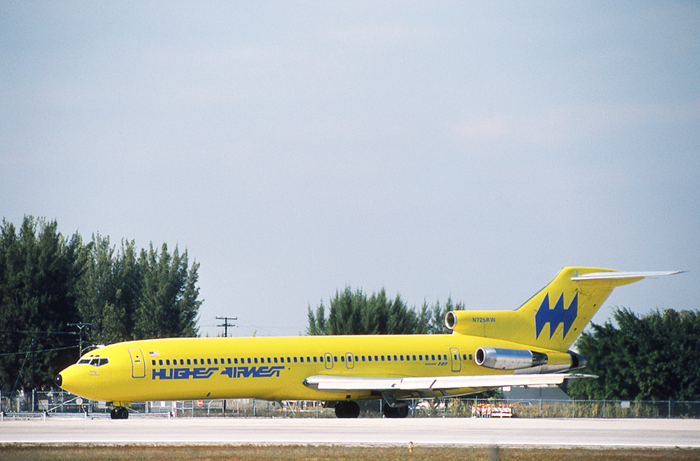 When Hughes Air West's first Boeing 727 was delivered in August 1976, it was to be used on longer routes applied for by the airline but yet approved. The larger capacity aircraft were put on denser routes throughout the system, but also spent a lot of time providing charter flights across the U.S., such as this example N725RW "Spirit of Patriotism," a Boeing 727-2M7(A) seen at Miami International Airport in February 1979.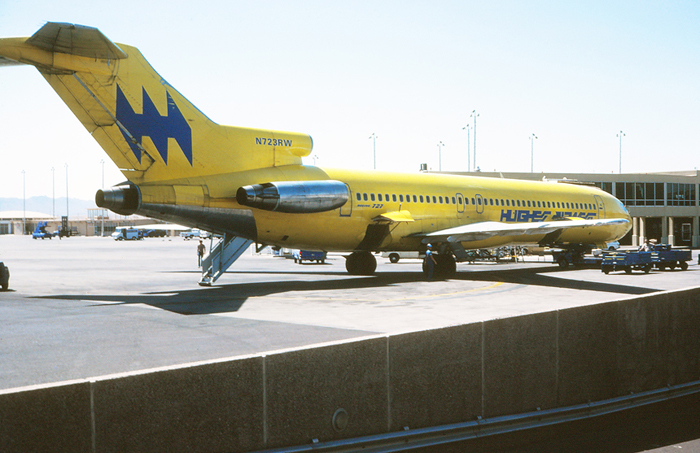 The higher capacity Boeing 727 was used on services from Phoenix to Las Vegas, Oakland, Reno, San Jose, and Tucson. Seen parked at the East Terminal and being readied for another flight at Phoenix-Sky Harbor Airport in October 1980, is N723RW "Spirit of Hughes Flying Boat," a Boeing 727-2M7(A).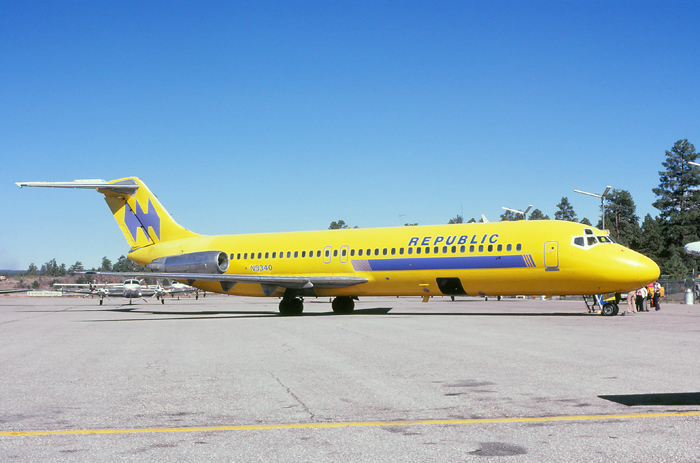 Seen just a month after the purchase by Republic Airlines, the new owner was quick to apply their name to the yellow fuselage prior to a full repaint, as seen by this Douglas DC-9-31, at Grand Canyon Airport in October 1980.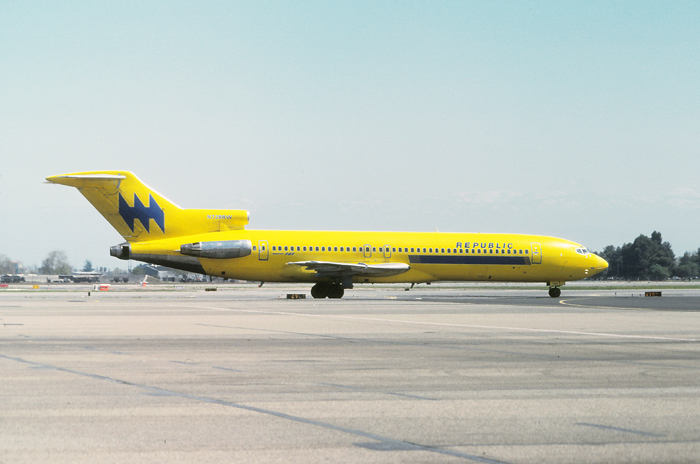 After the Republic Airlines purchase in September 1980, the airline was operated as Republic Airlines West until January 1983 when finial integration of the airline occurred. Eventually the acquired aircraft were repainted overtime, however a quick solution was covering the old titles and new titles applied, such as the Boeing 727-2M7(A), N728RW, seen taxiing out for takeoff at Fresno Air Terminal in April 1981.