THE AIRPORTS
SOUTHERN CALIFORNIA
BURBANK-GLENDALE-PASADENA AIRPORT
BUR
What can be considered one of the first true commercial airports in the Los Angeles region, United Airport was opened in 1930, within the City of Burbank. As its name suggests, the airport was sited and developed by both Boeing Aircraft and United Airlines as a means to develop passenger service in Southern California. Over the next decade, ownership changes prompted the airport to be renamed Union Air Terminal, then Lockheed Air Terminal in 1940, when Lockheed purchased the airport. When Lockheed purchased the airport in 1940, three airlines were providing passenger services; United Airlines, Western Airlines and TWA. American Airlines was still providing flights to neighboring Glendale Airport (Grand Central Airport) a few miles to the southeast. During 1947, the majority of airline flights left Burbank (and Glendale) and moved to the Los Angeles International Airport, however commercial service remained at Burbank at reduced levels. Over the next twenty years, Burbank remained the one of largest "satellite" airports in the Los Angeles region and was being served by Pacific Airlines, Pacific Southwest Airlines (PSA), Western Airlines, and United Airlines. In 1967, the airport changed its name again to Hollywood-Burbank and during the late 1970s and early 1980s saw its biggest expansion yet, with national carriers continuing service along with new regional airlines. In 1978, to better reflect the cities surrounding the airport, another name change arrived which titled the field, Burbank-Glendale-Pasadena Airport. By the mid-1980s, the airport was being served by nine airlines with non-stop flights being provided as far as Chicago, Denver, and Seattle.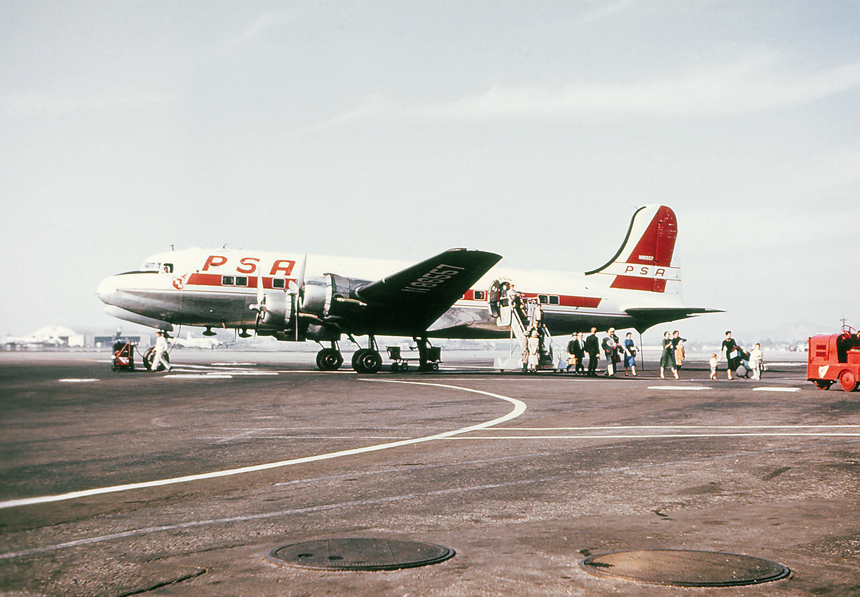 July 1957
Burbank Airport, then known as Lockheed Air Terminal, was one of the first cities intra-state start-up Pacific Southwest Airlines (PSA) served on its May 6, 1949 inauguration. Early Fights between San Diego-Burbank-Oakland used a war-surplus Douglas DC-3. The airline eventually added Douglas DC-4 equipment and expanded services to San Francisco. By 1957, PSA had forty-eight weekly departures from the Lockheed Air Terminal on flights to both San Francisco and San Diego. Caught deplaning passengers on a warm summer morning is N86577, a Douglas C-54 purchased by PSA in 1955.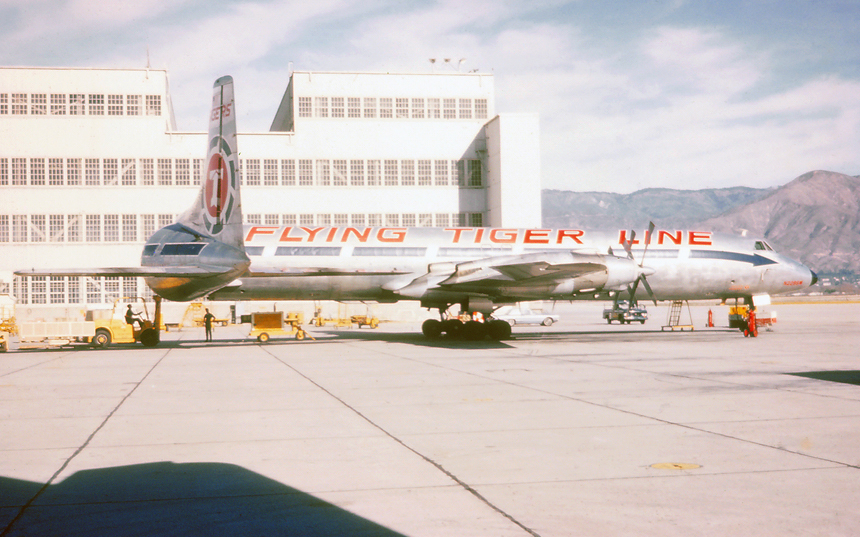 September 1965
The contract freight carrier Flying Tiger Line was one of the few operators of the unique swing-tail Canadair CL-44 four-engined cargo turboprop. The swing-tail allowed bulk, palletized cargo to be easily loaded for shipment and the aircraft was regularly seen serving Burbank aircraft manufacture Lockheed Aircraft Company who's facilities were located at the airport. Seen taking on cargo, during a contract cargo flight is N228SW, a Canadair CL-44D4-1 on lease from Seaboard World Airlines. Sadly this aircraft was lost on December 24, 1966, when it crashed at Da Nang Airport, Vietnam during a foggy approach to land.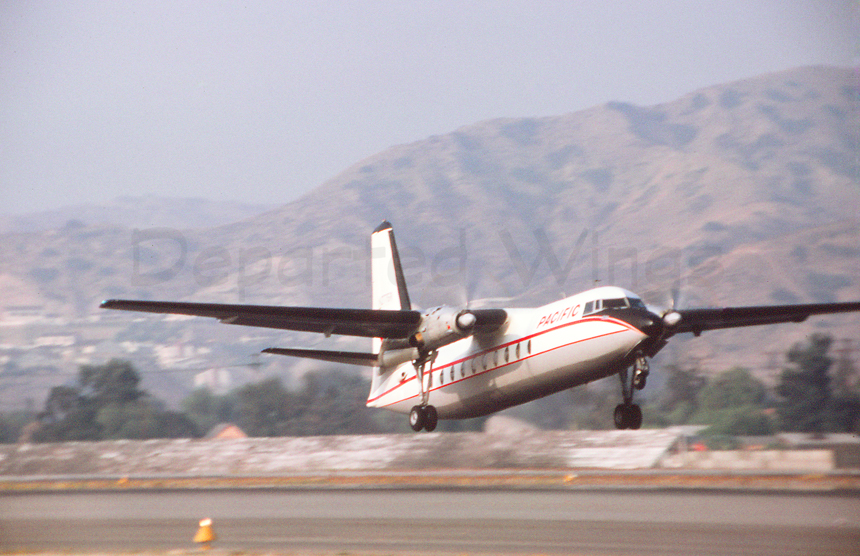 October 1965
Pacific Air Lines predecessor Southwest Airways first started service into Burbank (Lockheed Air Terminal) in 1955, with flights to Santa Barbara, Inyokern, and Los Angeles using the Douglas DC-3. Pacific continued to serve Burbank after the name change and placed Fokker F-27 "Jet Hawk" service to San Jose and Los Angeles. By 1967, Pacific introduced Boing 727 between Burbank, San Francisco, and Las Vegas and continued to utilize the Fokker F-27s on regional services to Palmdale and Los Angeles. Seen taking to the skies after rotating off Runway 15 is N2775R, a Fairchild F-27A.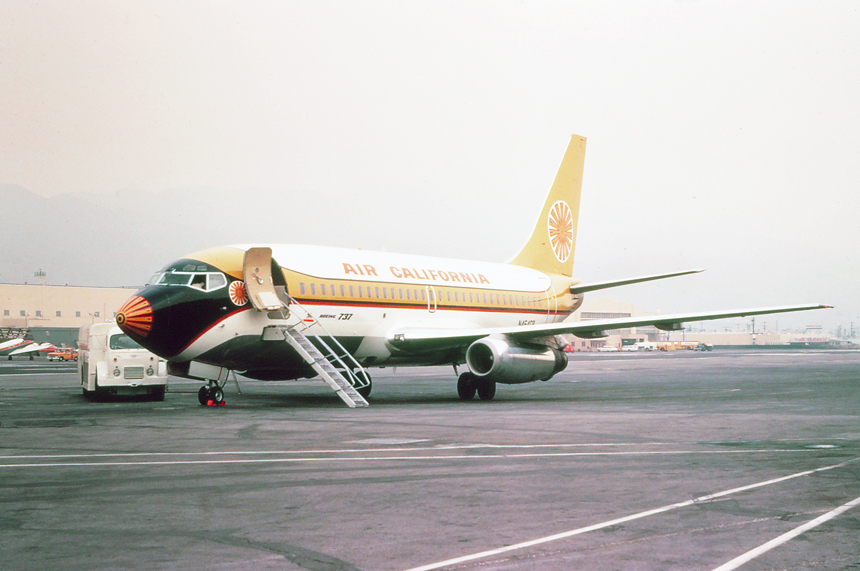 October 1969
Orange County-Santa Ana based intra-state carrier Air California, started operations to Hollywood-Burbank Airport in December 1968 with flights to both Oakland and San Jose. Realizing substantial competition with Pacific Southwest Airlines (PSA) on Bay Area routes, and need to refocus efforts on other city pairs, the airline stopped service just a year later in December 1969. The airline would eventually serve Burbank again but over a decade later. Parked on the ramp with the integral air-stairs deployed is N464GB, a Boeing 737-293.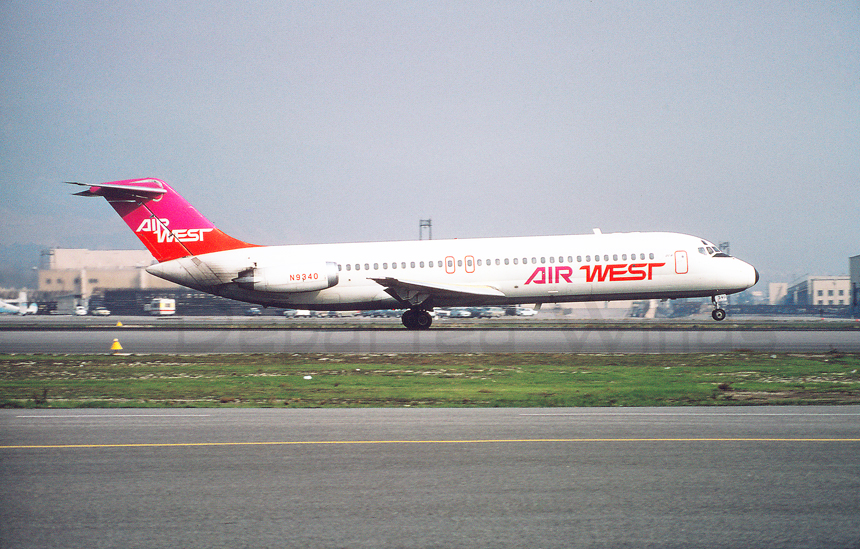 February 1971
After the merger of Pacific Air Lines, Bonanza Air Lines, and West Coast Airlines into AirWest in April 1968, flights to Burbank continued initially with service to both San Diego and Las Vegas using the Douglas DC-9. By 1971, after the purchase by Howard Hughes, the airline served just two routes from Burbank; Las Vegas and Ontario with six daily departures with the Douglas DC-9. See just rotating for a late afternoon takeoff from Runway 15 is N9340, a Douglas DC-9-31, delivered new to AirWest in April 1969.
April 1975
By the early 1970s Pacific Southwest Airlines (PSA) had become the dominate carrier operating from Hollywood-Burbank Airport. The intra-state carrier had no less then twenty flights as day from Burbank to Oakland, Sacramento, San Diego, San Francisco and San Jose. So much was PSA a presence at the airport that in 1975, the airline constructed its own terminal complete with ticketing, baggage and waiting areas. To celebrate the opening of the new terminal in April 1975, a postcard was produced and used by both the City of Burbank and PSA to promote service at the airport. The card showed two views of PSA's Boeing 727s parked on the tarmac around a bustling ramp atmosphere on a bright spring day. (Postcard)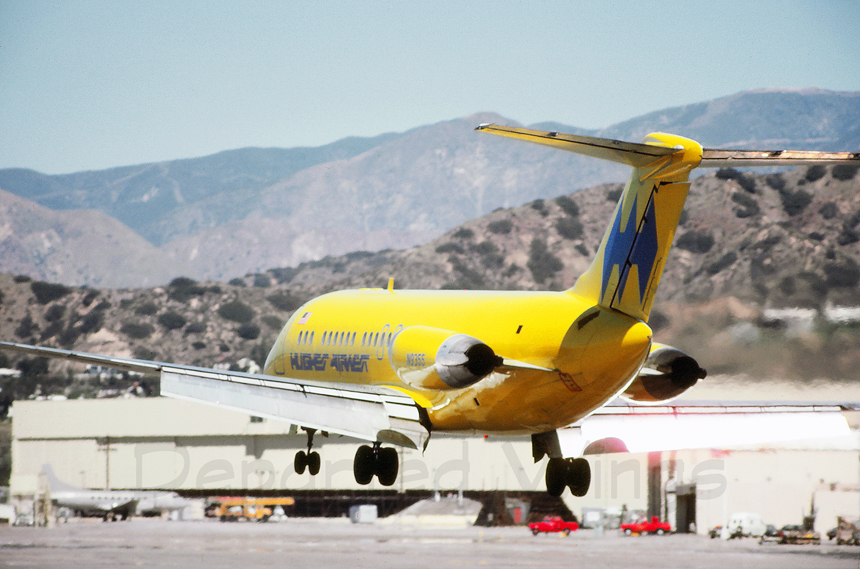 March 1977
During the late fall and winter months, Southern California will experience offshore winds popularly known as the "Santa Ana" winds which blow from the northeast and east across the region toward the ocean. Particularly strong events cause the traditional east to west aircraft landing configurations to change across the Los Angeles area. Burbank on the rare occasion, if the winds are strong from the north-northeast, will utilize Runway 33 for landing, where aircraft turn base over North Hollywood and line up for landing toward the north. Caught over the numbers landing on Runway 33 during a Santa Ana condition, is the "business" end of N9355, a Hughes Airwest Douglas DC-9-15RC.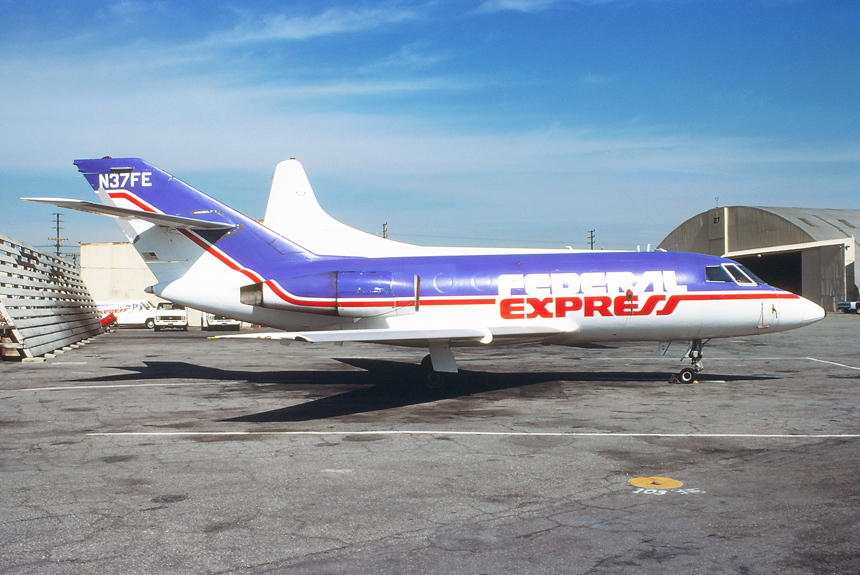 July 1977
Federal Express, had established itself as a reliable overnight package express carrier and had deployed its fleet of converted Dassault Falcon jets to destinations across the United States and Canada. Burbank was a satellite airport to the Los Angeles area for the carrier and especially important overnight freight market due to the movie and television industry in the area. Parked on the cargo ramp and awaiting a flight that evening to the carriers Memphis hub is N37FE, a Dassault Falcon-20EW delivered to the airline in April 1973.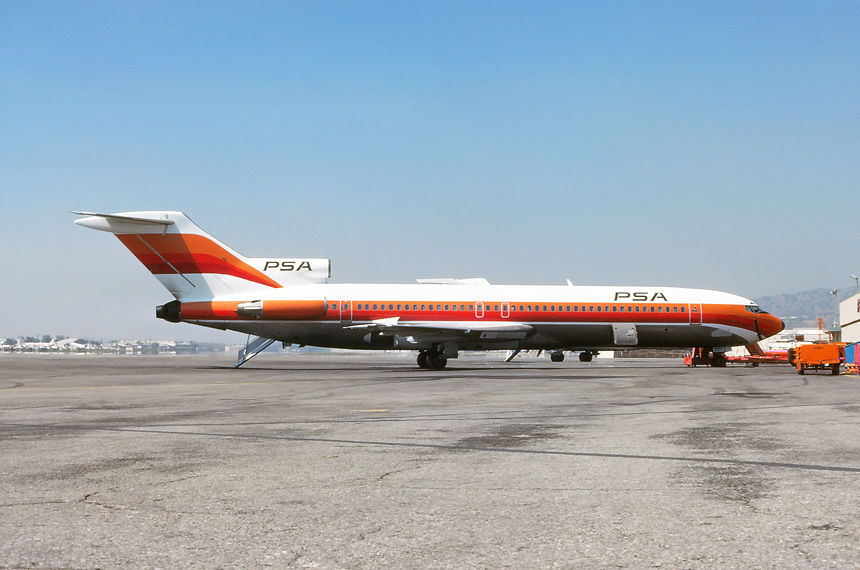 September 1977


Pacific Southwest Airlines (PSA) continued to be the dominant carrier from the now named Burbank-Glendale-Pasadena Airport. With over twenty-five daily flights to seven California destinations using Boeing 727 aircraft, the airline had a firm foothold in the Burbank market. Parked at the PSA terminal and being turned around for another regional flight is N536PS, a Boeing 727-254, delivered new to the airline on April 9, 1970

.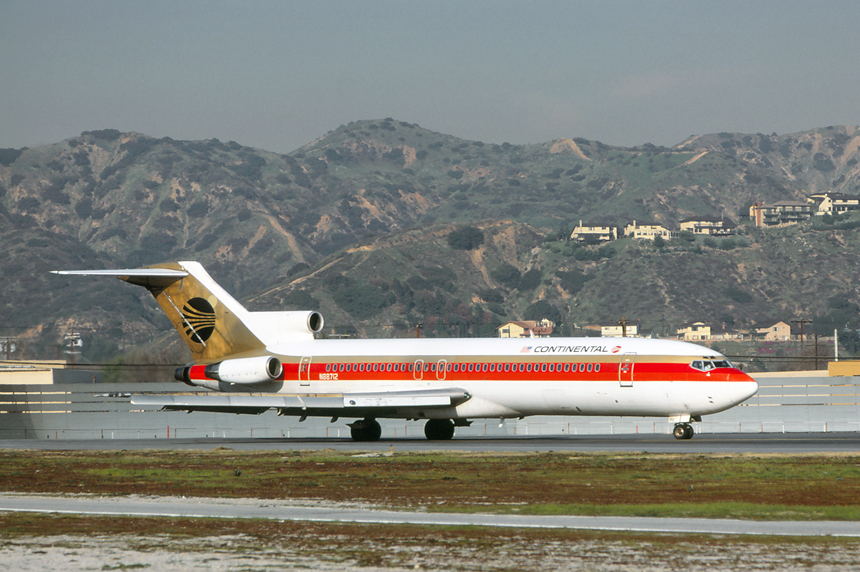 February 1979
Continental Airlines was awarded routes between the Pacific Northwest and Southern California by the Civil Aeronautics Board (CAB) in 1970. Flights were started between Burbank and both San Jose and Ontario, California and Portland, Oregon, using the Boeing 720B airplane. With the delivery of the Boeing 727s in the early 1970s, Continental placed the Boeing tri-jet on the Burbank-San Jose, Burbank-Portland, and Burbank-Ontario services. Continental Airlines remained at Burbank into the 1980s eventually starting non-stop service to Denver before stopping all service in June 1988. Holding in position on Runway 15 for an early afternoon departure to Portland, Oregon, is N88712, a Boeing 727-224.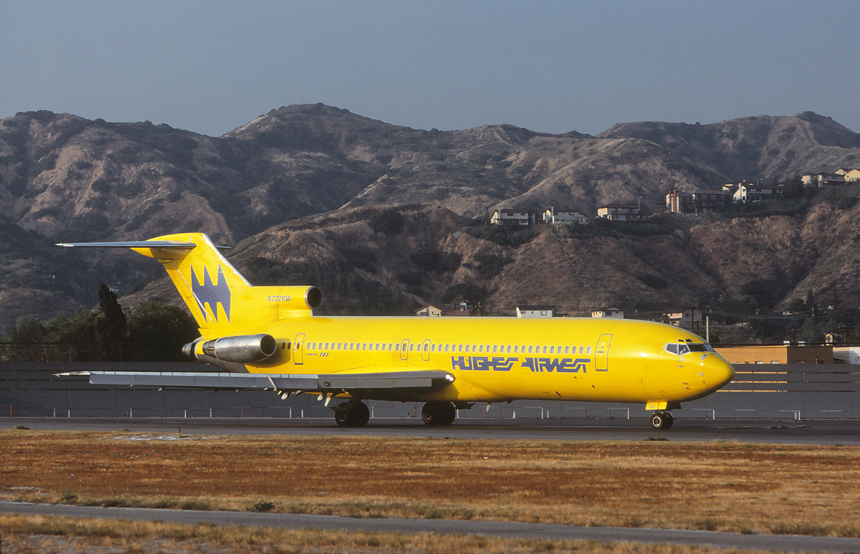 June 1979
To serve longer routes, Hughes Airwest placed an order for fifteen Boeing 727s in 1975, however Howard Hughes passed away In February 1976, and this led the Summa Board to cancel the orders of an aircraft deemed unfit for the fleet. Five 727 series-200 were already financed and the airline would take delivery of the planes. The first Boeing 727 was delivered in April 1976, and in memory of its past owner the first three planes were named after aircraft flown by Howard Hughes. The 727s were placed on more popular routes within the West such as Los Angeles-San Francisco and San Jose-Phoenix, as well as being used for charter service and longer distance flights to locations such as Calgary, Canada. Hughes Airwest would eventually operate seven of the 727 aircraft before its purchase by Republic Airlines in September 1980. Lining up on Runway 15 for an evening departure is N722RW "Spirit of the Racer," a Boeing 727-2M7, delivered new to Hughes Airwest on November 1, 1976.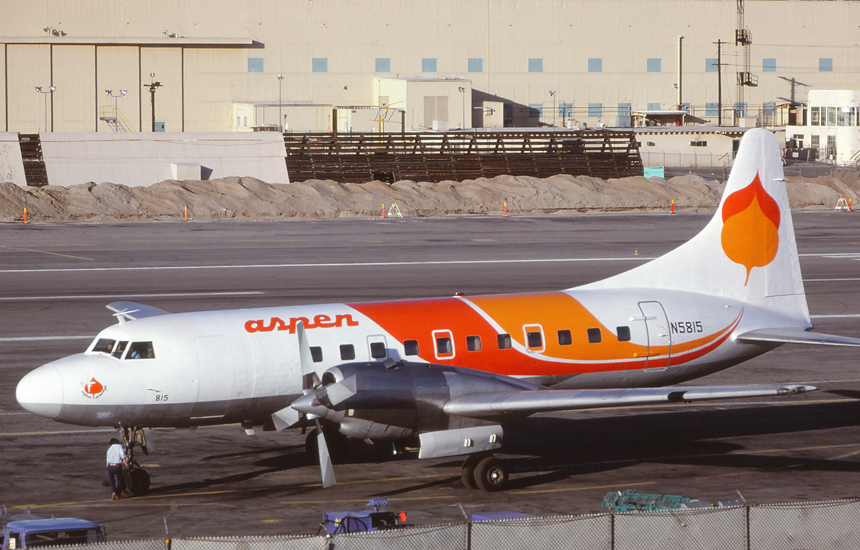 November 1979
Aspen Airways was founded in Aspen, Colorado 1952, to provide airline service between Denver and Aspen. During the 1970s the airline acquired Convair 580 turbo-prop equipment and extended it wings across Colorado and neighboring states focusing it's efforts from a Denver hub. During 1979, Aspen sought to tap the market to the California mountain resort location of Lake Tahoe (similar to Aspen during the winter ski season). Flights were started in November 1979, from Burbank, San Jose, and San Francisco to Lake Tahoe. By 1981, flights between Burbank and Los Angeles were added, feeding travelers into the busy LAX airport, and with a block time of only 20 minutes, the 19-mile flight was one of the shortest scheduled at the time. Within a few years it was found that trying to manage two different flights schedules (Denver based and California), Aspen decided to stop services in California and left the market in September 1983. Parked at the passenger terminal just weeks after having stated service is N5815, a Convair 580, purchased by the airline in June 1978 from Allegheny Airlines.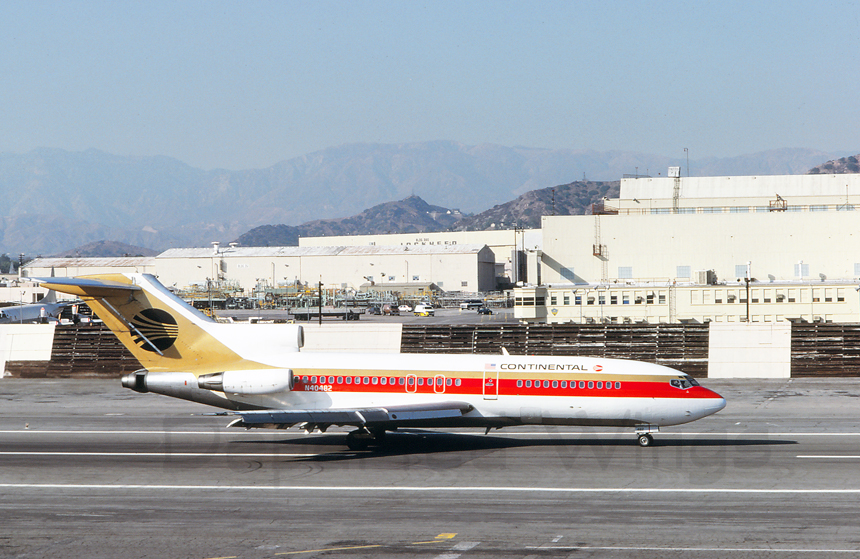 December 1979
By late 1979, Continental Airlines had trimmed its operations to six daily flights from Burbank; three to Ontario, just 45 miles to the east and three to Portland, Oregon and was the only carrier providing non-stop service from Burbank to the Pacific Northwest. Seen rolling out after having landed on Runway 8 is N40482, a Boeing 727-22, purchased by Continental in July 1978.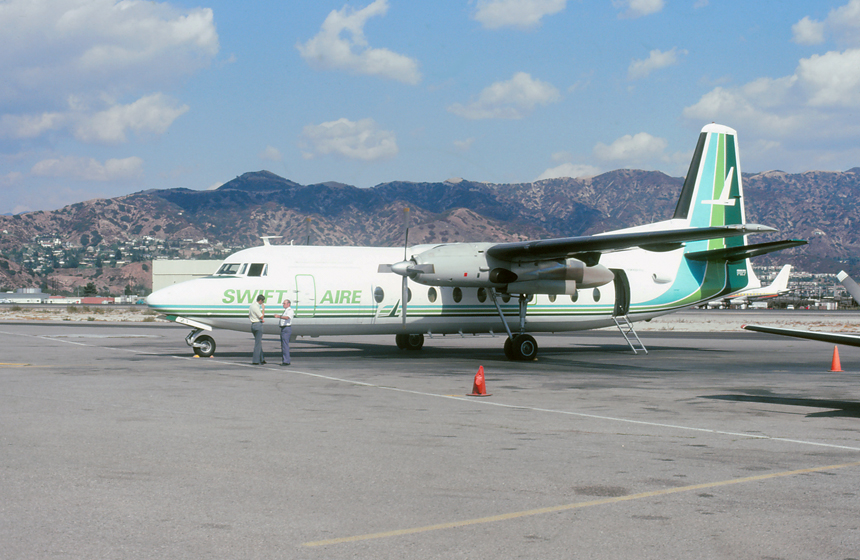 October 1980
San Luis Obispo based Swift Aire was an early California commuter airline being established in 1969. Hoping to fill the void left by Southwest Airlines when their new Martin 4-0-4 planes had to relocate to neighboring Paso Robles Airport due to runway restrictions at San Luis Obispo. With a varied and growing fleet of planes Swift Aire connected the central California city to Los Angeles and San Francisco. With the introduction of Fokker F-27 turboprops in 1980, Swift Aire was serving seven cities throughout California. The airline was then purchased by new commuter conglomerate Golden Gate Airlines in 1981. Although Burbank wasn't a regular scheduled airport for Swift Aire, the F-27s were occasional visitors for pilot training and minor maintenance. Parked at the general aviation ramp is N421SA, a Fokker F-27-600 Friendship.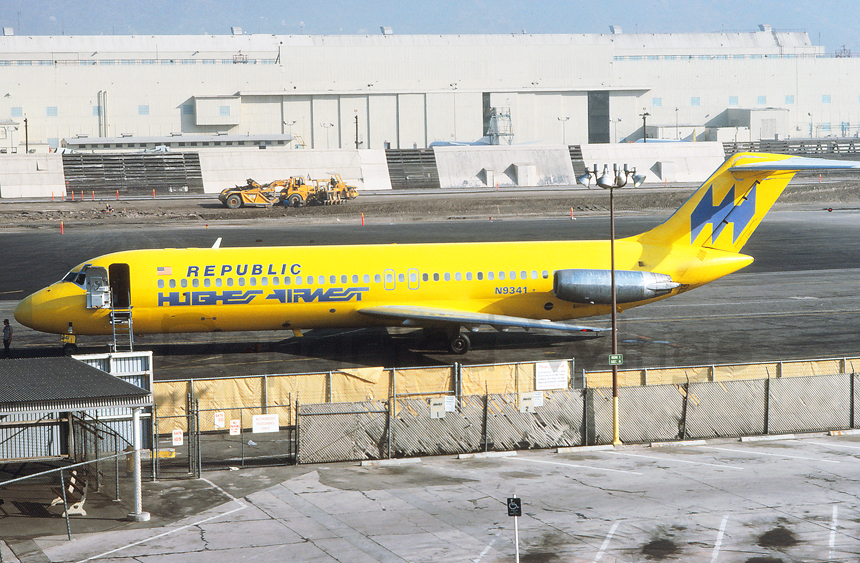 December 1980
When Republic Airlines purchased Hughes Airwest in October 1980, the new owner wasted no time applying their titles to let passengers know what airlines they we really flying until the aircraft could go through the eventual re-painting process. One example, is this Douglas DC-9-31, N9341 showing the Republic titles as the aircraft awaits another load of passengers at the gate area..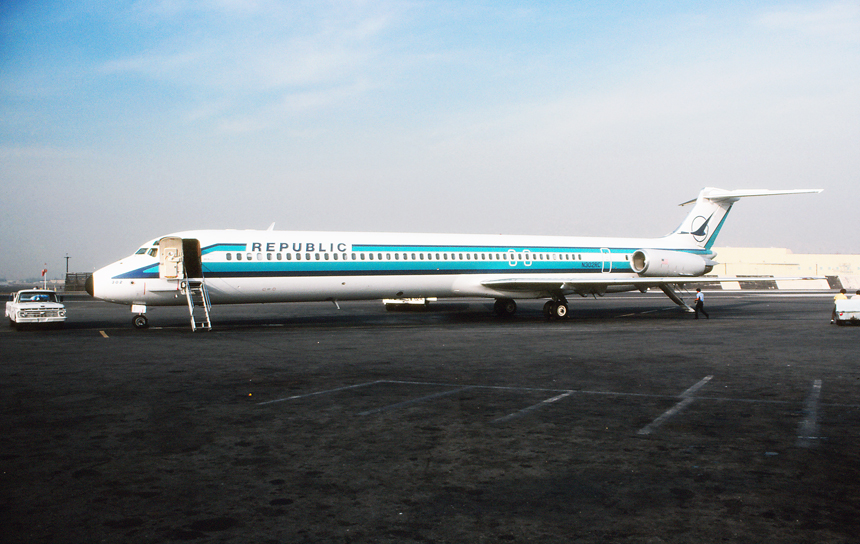 November 1981

After the purchase of Hughes Airwest by Republic Airlines in October 1980, the new national carrier would continue to serve Burbank as the second busiest carrier from the airport behind Pacific Southwest Airlines (PSA). During the merger Hughes Airwest provided flights to five cities, including the longer distance serves to Houston-Hobby and Salt Lake City. Parked on the ramp and awaiting passengers during a morning turnaround is N302RC, a McDonnell Douglas DC-9-82 (MD-82), delivered new to Republic just a few months earlier on September 5, 1981.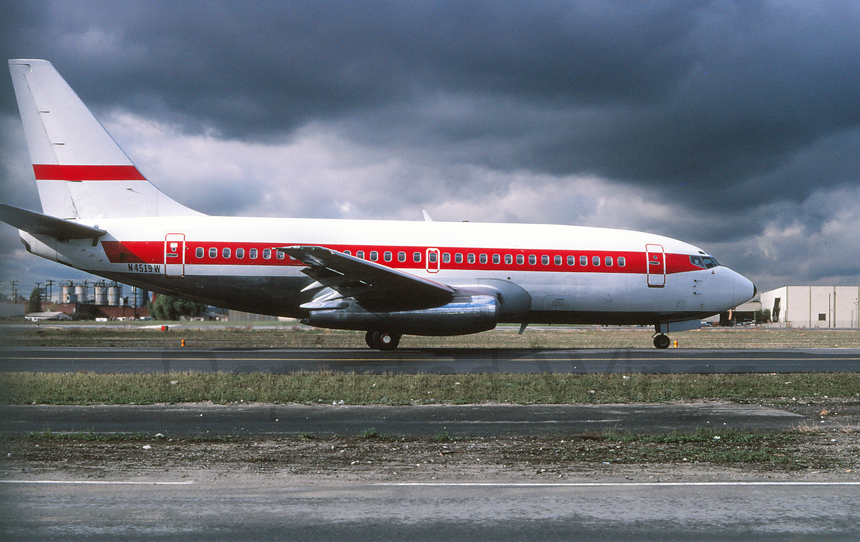 January 1982
The rather secretive "Janet" flights operated by a contract company for the United States Air Force have been around since 1972 when a Douglas DC-6 was used to ferry workers between "secret" testing sites across California and Nevada. The Douglas DC-6 was replaced by second-hand Boeing 737-200s in the early 1980s. The non-descript aircraft could be seen occasionally at Burbank, home to Lockheed, and their famous "Skunk Works" design group. In the early 1980s, the 737s were mainly shuttling various workers and engineers to testing sites in Nevada, notably the Tonopah Test range and "Area 51" to work on projects including the F-117 Stealth Fighter. Seen taxiing out toward Runway 15 for departure on a gloomy winter morning is N4518W, a Boeing 737-247, originally delivered to Western Airlines in January 1969.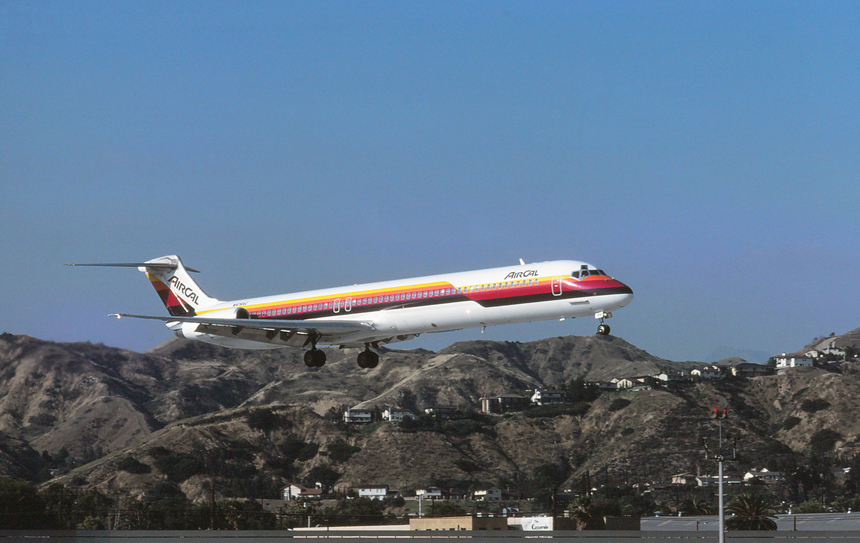 June 1982

Air California proposed service to Burbank in 1969, but was denied the request due to similar intra-state carrier Pacific Southwest Airlines (PSA) already having been awarded service into the airport. It would be over ten years until service was sought at Burbank by newly rebranded AirCal. Although now in direct competition with PSA's historical strong-hold at Burbank, AirCal would introduce the "quiet" McDonnell Douglas MD-80s which had just been delivered to the airline and opened up landing slots for the carrier. Non-stop flights commenced in June 1982, from Burbank to Oakland, Sacramento and San Jose. AirCal would continue to serve Burbank until its purchase by American Airlines in 1987. Over-the-numbers for landing on Runway 15 is N475AC, a McDonnell Douglas DC-9-81 (MD-81), delivered new to AirCal in May 1981.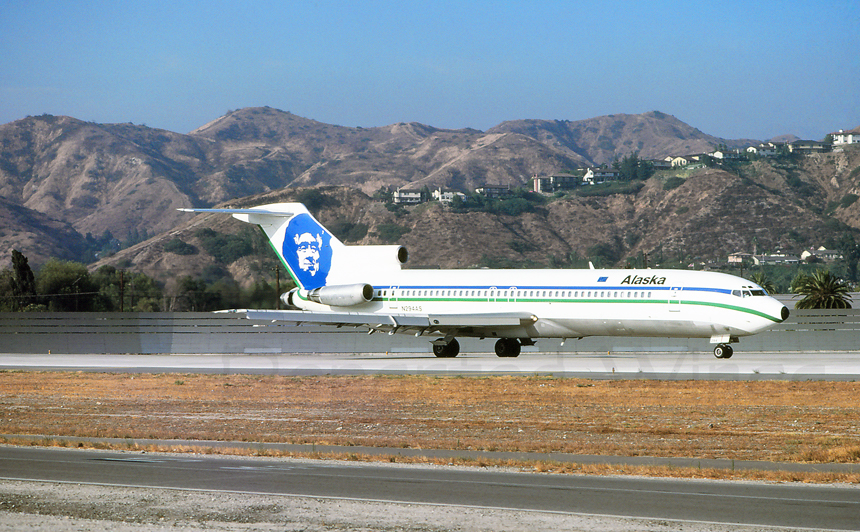 August 1982
On the heels of deregulation, Alaska Airlines took an aggressive but calculated program of expansion and sought service to cities along the US West Coast. Prior to deregulation, Alaska Airlines was an Alaska specific carrier extending its reach only to Seattle, Washington in the "Lower 48." Flights into Southern California started in March 1981, using both Ontario and Burbank as initial gateways for the introduction of "Gold Coast Service." Burbank was provided with non-stop flights to Ontario, California, Portland, Oregon and Seattle, Washington using the Boeing 727. Seen lining up for takeoff on Runway 15 is N294AS, a Boeing 727-290, delivered new to the airline on May 30, 1980.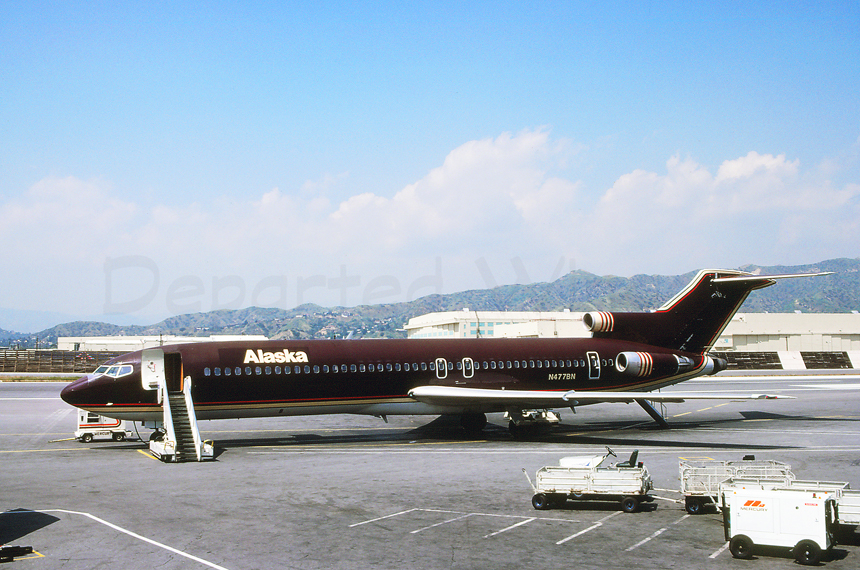 May 1983
After the well publicized bankruptcy and eventual demise of Braniff International Airways in May 1982, the remaining aircraft were available for quick purchase at a discounted rate. Seeing continued growth Alaska Airlines, purchased three of the Boeing 727s in 1983 and pressed them into service before they had time to repaint and re-register the aircraft. A quick application of the new name on the forward fuselage was sufficient to let passengers know they were flying Alaska Airlines. Seen parked on at the terminal and awaiting passengers just weeks after having been delivered to Alaska Airlines on April 22, 1983, is N477BN, a Boeing 727-227, originally delivered to Braniff International in February 1980.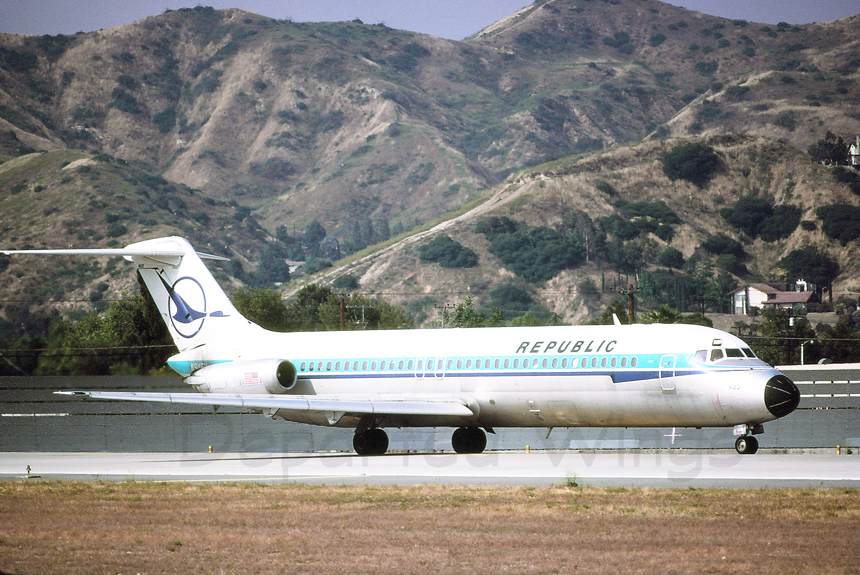 May 1983
By 1983, Republic Airlines had reduced operations at Burbank to only providing service to its to focus cities of Phoenix and Las Vegas. Although in direct competition with Pacific Southwest Airlines (PSA), Republic had no less then ten daily departures from Burbank to both Phoenix and Las Vegas. Seen taking Runway 15 for an afternoon departure and still wearing the old North Central Airlines cheat lines is N945N, a Douglas DC-9-32.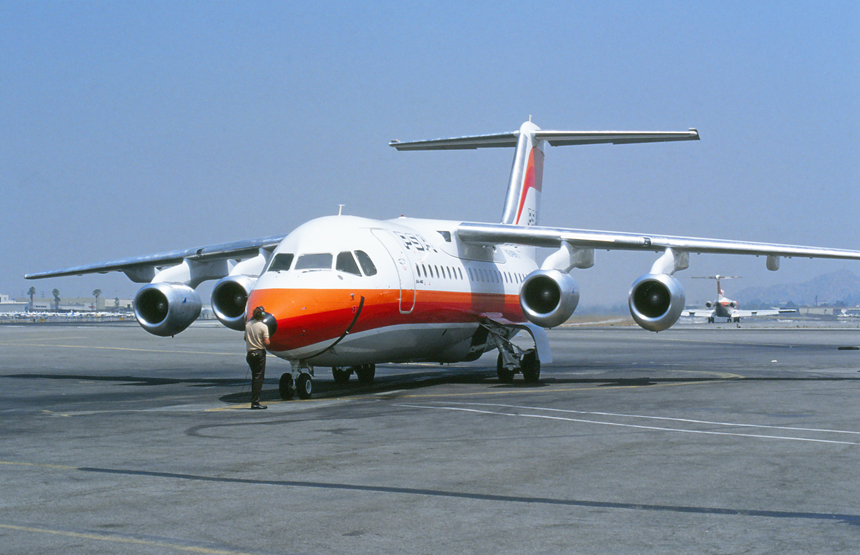 July 1984

Pacific Southwest Airlines (PSA) had established a firm foot-hold in the Burbank market and in an effort to gain more landing slots, introduced the super quiet British Aerospace BAe 146 to the airport. The low noise footprint allowed PSA to increase flights into the airport and remain the dominant carrier. PSA's first BAe 146 was delivered on June 13, 1984, and placed on services between Burbank and Oakland on June 20, 1984. Eventually the 146 "Smiliner" would fly the majority of flights from Burbank to Las Vegas, Phoenix, Oakland and San Francisco. Awaiting taxi clearance from ground control under the noon-day sun is N346PS, a British Aerospace BAe 146-200, the first of the British aircraft to be delivered to PSA. Note the company 727 taxiing out to the active runway in the back.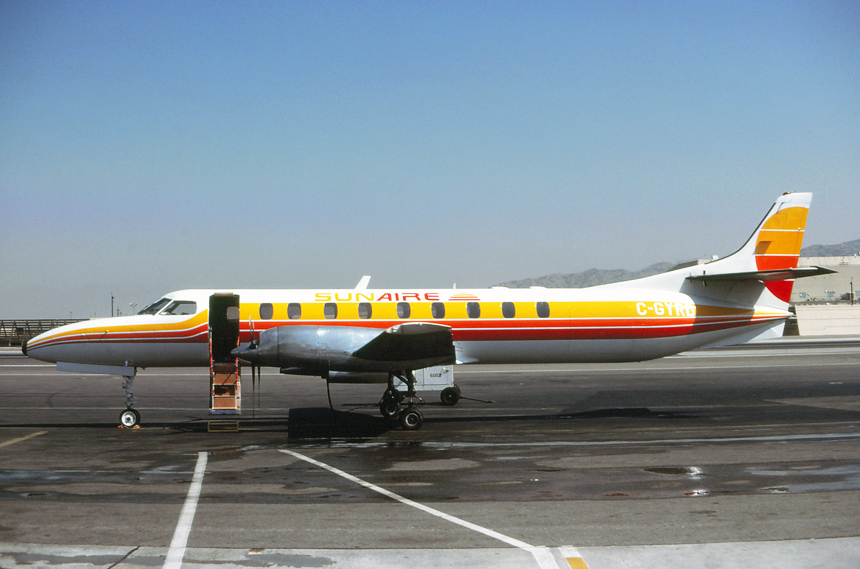 October 1984

In April 1984, Sun Aire started service into Burbank as an additional airport in the Los Angeles area added as part of the small, regional commuters expansion plan. Early service had non-stop flights to San Diego, yet within a year, additional flights were started to Los Angeles, Ontario, and Palm Springs. The Burbank to Los Angeles flight covered a distance of only 18 miles and had a block time of 15-minutes, however was popular with passengers as a convenient connection to the variety of both domestic and international carriers at LAX. Sun Aire served Burbank until its purchase by Skywest Airlines in 1985. Parked on the terminal ramp and awaiting passengers is C-GYRD, a Swearingen SA-226TC Metro II, on lease to Sun Aire by Canadian airline Perimeter Airlines.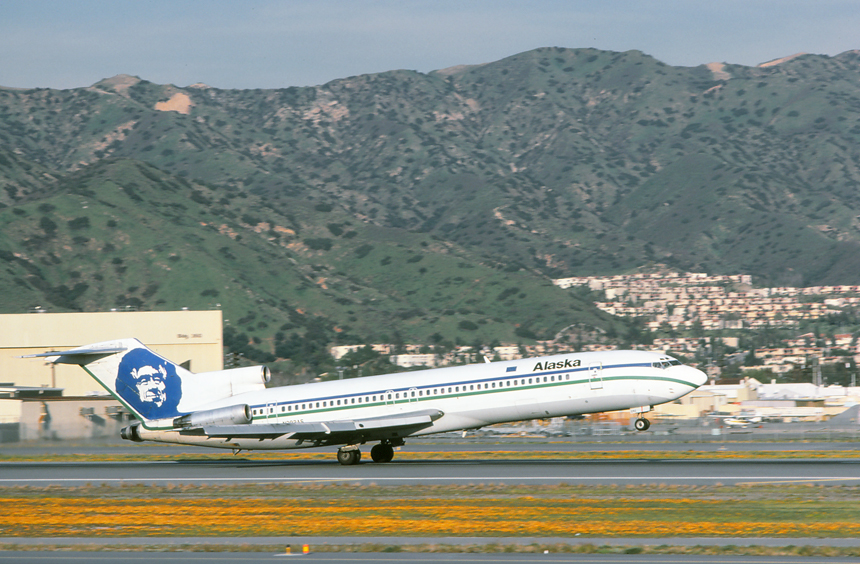 February 1985

By 1985, Alaska Airlines was the only airline providing non-stop service from Burbank to the Pacific Northwest including flights to both Portland and Seattle. Continental Airlines having started the route to Portland in 1970, dropped the service in late 1980 to focus on new flights to it's hub of Denver, Colorado from Burbank. The "smiling" Eskimo would continue to serve Burbank throughout the 1980s and into the 1990s. Rotating for takeoff on Runway 15 for an afternoon departure is N292AS, a Boeing 727-212.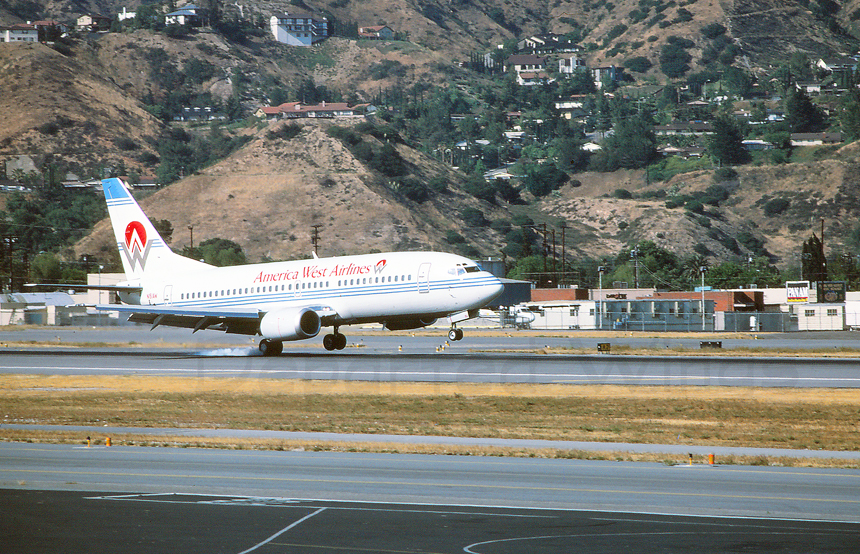 May 1985

Phoenix based start-up America West Airlines started service to Burbank in September 1984 with non-stop flights to Phoenix using the Boeing 737-200. When the airline received its first Boeing 737-300 in early 1985, the new "quiet" Stage III aircraft was soon placed on Burbank flights making it a welcome addition to surrounding neighbors. Seen just having touched down on Runway 15 during a late afternoon arrival is N151AW, a Boeing 737-3G7, delivered new to the airline a few months earlier on March 13, 1985.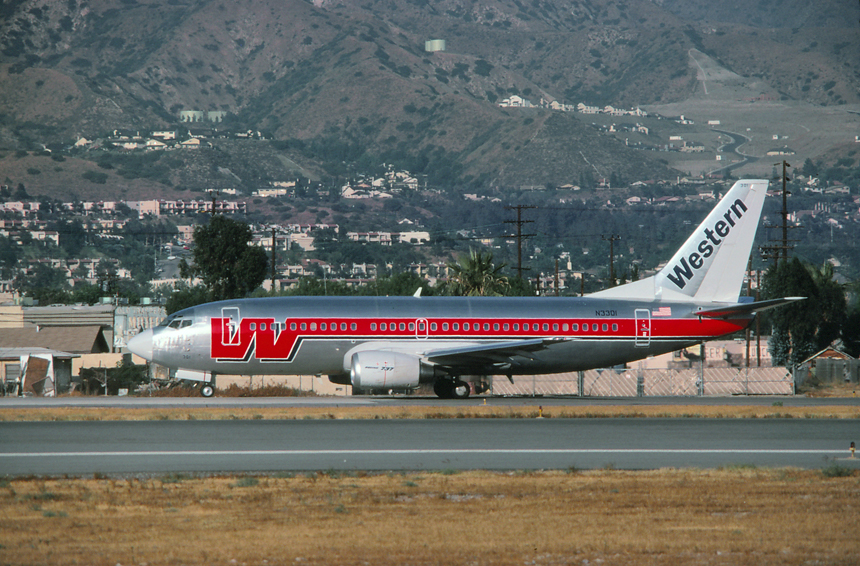 July 1985
Although Western Airlines was one of the first carriers to start passenger service into the original Burbank Airport in the 1930s, the airline pulled out of Burbank in 1963. It wasn't until twenty-one years later, in July 1984, that Western would reintroduce service due to the growing popularity of the airport and terminal extension which made more landing slots available. Two daily, non-stop flights to Salt Lake City using the Boeing 737-200 were started, proving popular due to the airlines numerous connections at it's Salt Lake City hub. When the airline received it's first Boeing 737-300, Burbank was one of the first airports to host the new "space" age plane due to its Stage III sound profile, which was appreciated by surrounding neighbors. Taxiing outbound toward Runway 15 for an afternoon departure is N3301, a Boeing 737-347 and the first series-300 delivered to Western on March 7, 1985.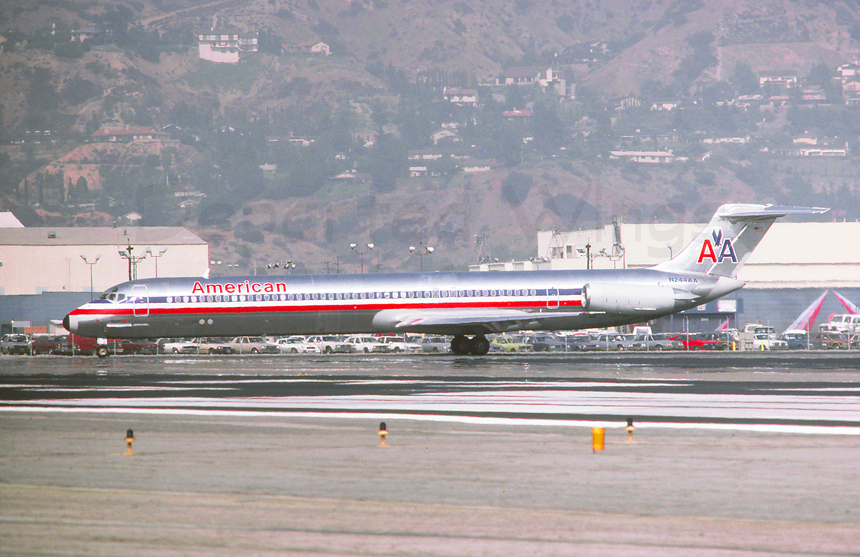 October 1985
American Airlines became the third national carrier to service Burbank, after Continental Airlines and Republic Airlines. Non-stop service to Dallas-Ft. Worth was started by American in the summer of 1983, and would provide service with their new McDonnell Douglas MD-80 aircraft which had both the range and Stage III noise profile to operate at capacity from Burbank. Seen taxiing outbound toward Runway 15 for an afternoon departure is N244AA, a McDonnell Douglas MD-82, delivered new to the airline in September 1984.
January 1987

As one of the satellite airports in the Los Angeles metropolitan region and location closer to the business and entertainment centers of the city, Burbank was host to numerous corporate aircraft throughout the 1980s. The Boeing 727 became a viable "VIP" aircraft after having seen mainline service. With many of these aircraft available for a bargain, the interiors were modified to luxurious standards and some were used for sports team, entertainment and executive charters. Parked on the general aviation ramp during a visit and being used specifically for Pia Zadora, an actress and singer on a US concert tour is, N888VT, a Boeing 727-76, originally delivered to Trans Australian Airlines (TAA) in 1970, and purchased by View Top Corporation in April 1984, for charter use.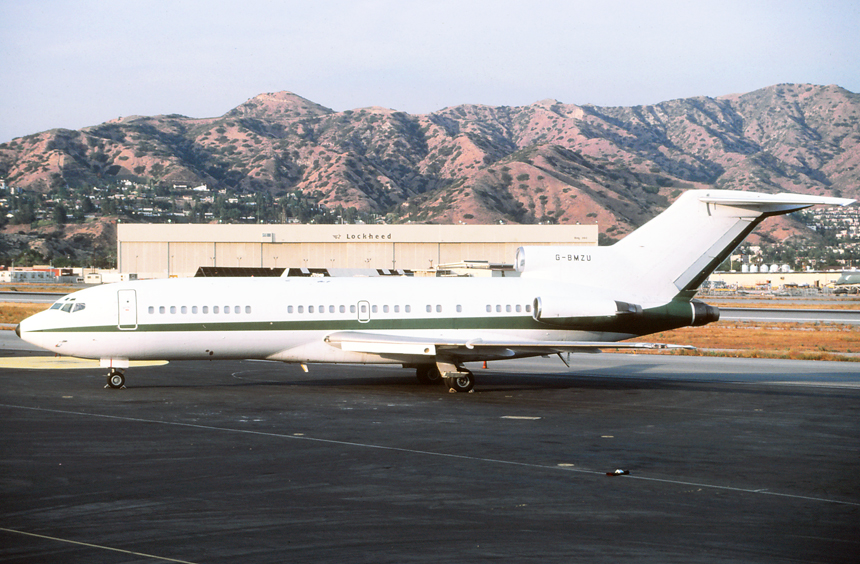 April 1987

Another occasional VIP Boeing 727 visitor to the Burbank Airport was the private jets operated by Saudi royalty. Parked at the south general parking area and operated by Eastship Ltd. out of Great Britain is G-BMZU, a Boeing 727-30, originally delivered to Lufthansa in 1964, then subsequently purchased by Prince Talud bin Abdul al Saud and converted to a VIP configuration in 1975, then operated by Dan Air Corporation for Eastship Ltd. between November 1986 to October 1987.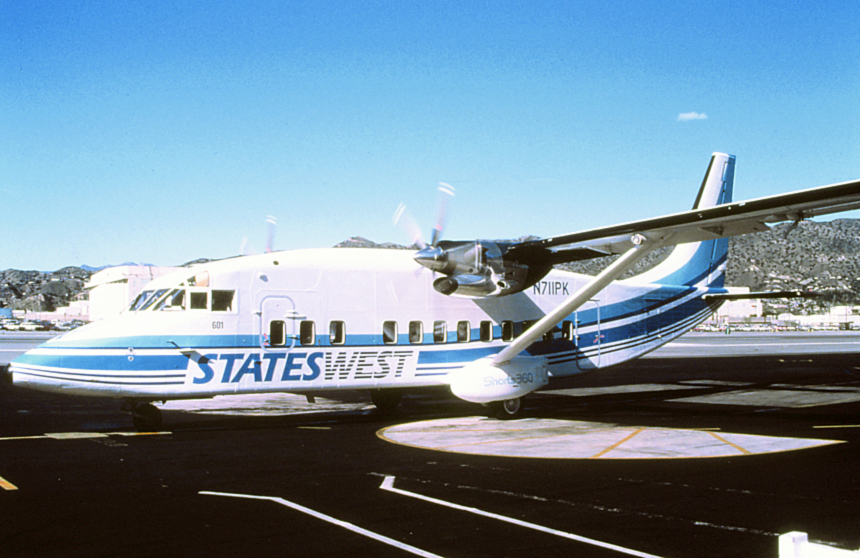 September 1987

Stateswest Airlines was a regional commuter started in 1986, to provide services to Laughlin-Bullhead City located along the Colorado River in Arizona. With its base in Phoenix, the airline operated the Shorts 360 turboprop from various cities in Southern California to the riverside resort destination. Burbank was an early city to be served by the commuter with flights directly to Laughlin-Bullhead City and later to both Orange County and Ontario. Stateswest served Burbank until 1991, when the carrier became a USAir Express partner and halted services to the airport. Awaiting taxi clearance and preparing to depart the terminal ramp is N711PK, a Shorts 360-200, delivered new to Stateswest in July 1986.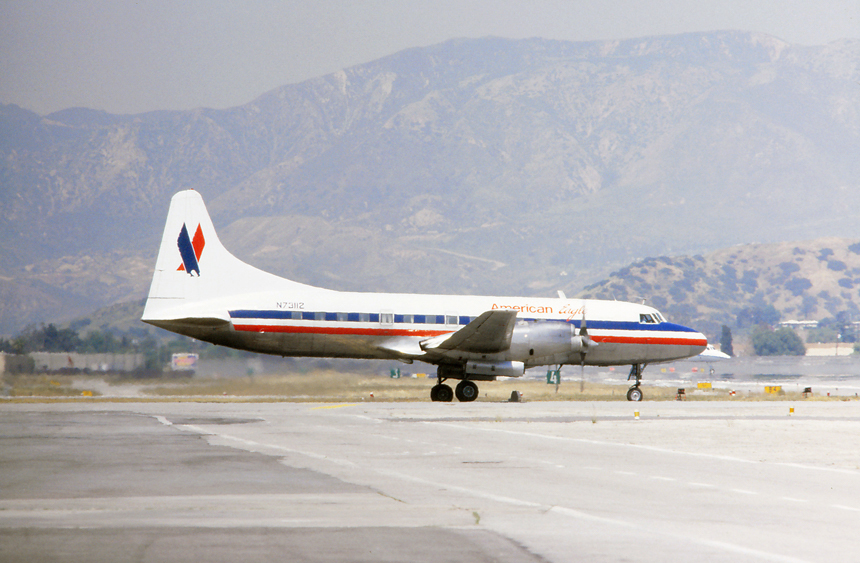 April 1988
San Luis Obispo based commuter Wings West Airlines became an American Eagle commuter affiliate in 1986. When American Airlines purchased AirCal in 1987, American made the carriers San Jose operations the site of its West Coast hub. Wings West, under the American Eagle banner started to provide feeder flights for its parent carrier from San Jose to various destinations within California. Prior to the American Eagle venture, Wings West had placed in order for the new British Aerospace BAe ATP turborprop for longer and higher-capacity services. While waiting for their deliveries, Wing West placed into service the Convair 580 on higher density services such as between Burbank and San Jose. Seen rolling out after landing on Runway 7 is N73112, a Convair 580 originally converted by Frontier Airlines in 1965, and leased by Wings West Airlines in October 1987.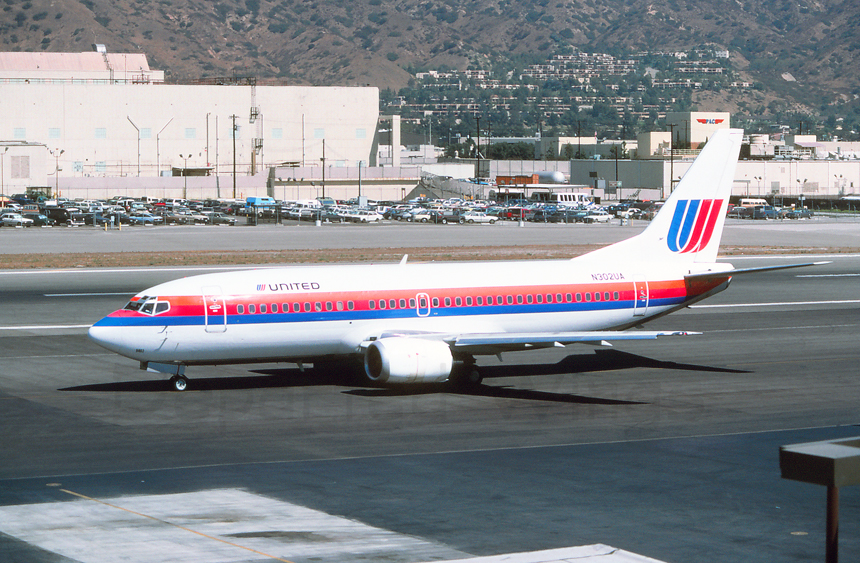 September 1988
United Airlines started service into Burbank in May 1986, initially utilizing the Boeing 767 on non-stop services to Chicago. The Boeing 767 was the largest passenger aircraft to operate from Burbank at the time, and the "heavy" 767 would only be operated for about a year until it was replaced by the Boeing 737-300. United would serve Chicago for only about a year before dropping that service and replacing it with a Burbank-Denver route. Seen having been just pushed back from the terminal and awaiting taxi clearance is N302UA, a Boeing 737-322.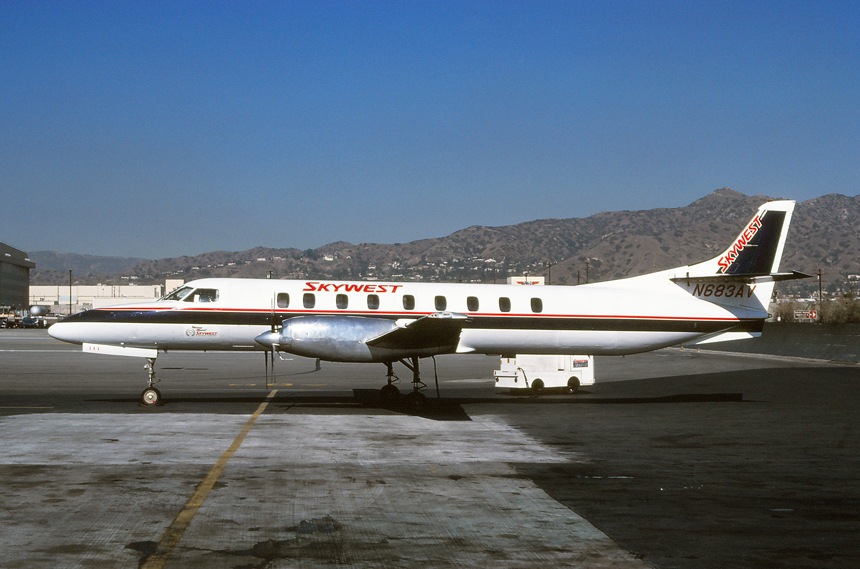 November 1988

SkyWest Airlines assumed operation of the Sun Aire routes, when the Salt Lake City based commuter purchased the airline in September 1984. At the time of purchase, Burbank had fifteen daily flights to four cities in Southern California, for which SkyWest continued service and four years later, expanded service under the "Delta Connection" banner. SkyWest would provide a vital regional link to the airport throughout the late 1980s and into the 1990s. Parked on the terminal ramp and preparing for engine start is N683AV, a Fairchild SA-227AC Metro III, leased from PI Corporation in June 1987. Unfortunately this aircraft was involved in a fatal accident on February 1, 1991, at Los Angeles International Airport when a runway incursion event lead to a USAir Boeing 737-300 landing on same runway as the Metroliner had been given permission to taxi into takeoff position and hold. During landing the 737-300 crushed the Metroliner resulting in the fatalities of all aboard.
Back to: The Airports