THE AIRPORTS
ROCKY MOUNTAIN REGION
DENVER INTERNATIONAL AIRPORT
DEN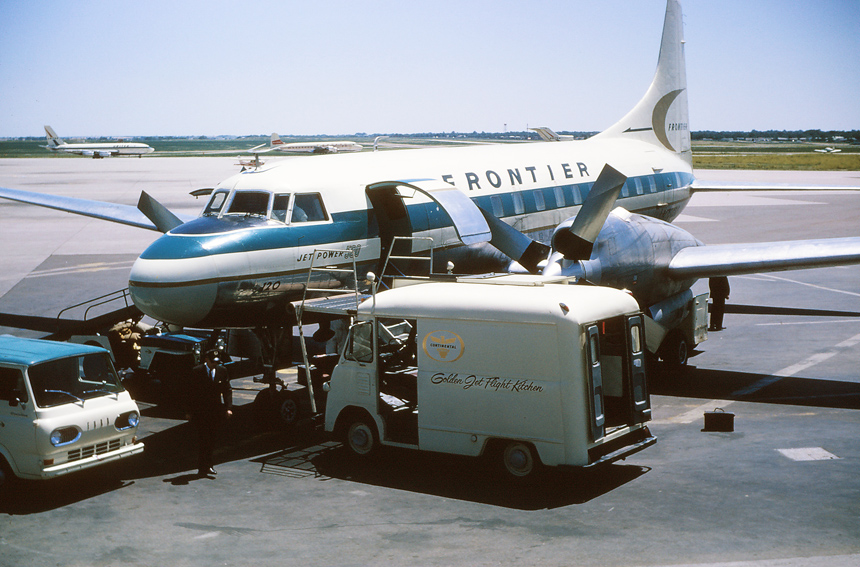 June 1965

*
Formed in 1950 with the merger of three local airlines, Frontier Airlines called Denver home and was the airlines base of operations. The airline was the first to operate the Allison turboprop conversion of the Convair CV-340/440 airframe known as the Convair 580 which was introduced in 1964. Parked on the ramp and being serviced for another regional flight is N73120, a Convair 580 converted by Frontier from an ex-United Airlines Convair CV-340-31.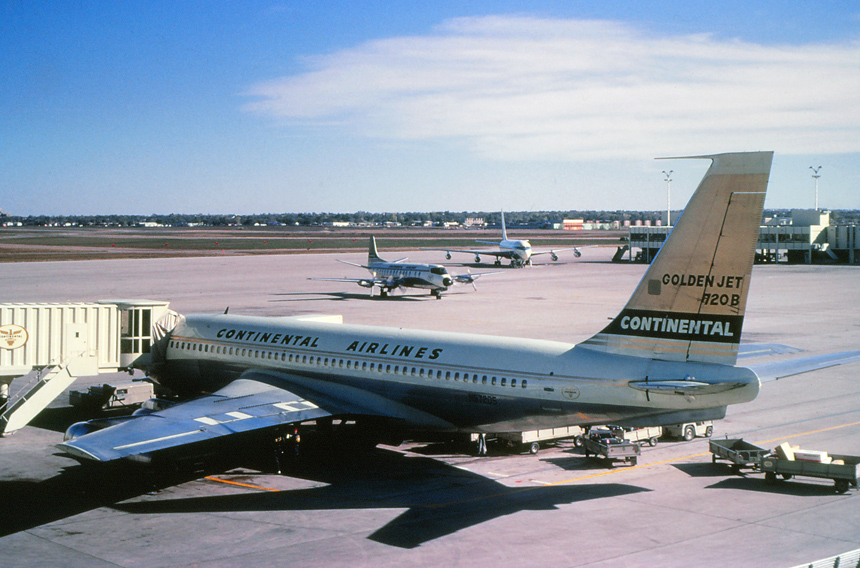 October 1965

*
Continental Airlines placed the lighter, medium-ranged Boeing 720 in service during May 1962, to supplement its existing Boeing 707 operations. Early service with the 720 "Golden Jet" was between California and Chicago and Dallas, with eventual services between cities in the Southwest including Denver, Phoenix, and Tucson. Parked at the gate and awaiting passengers is N57205, a Boeing 720-024B, delivered new to the airline in May 1963.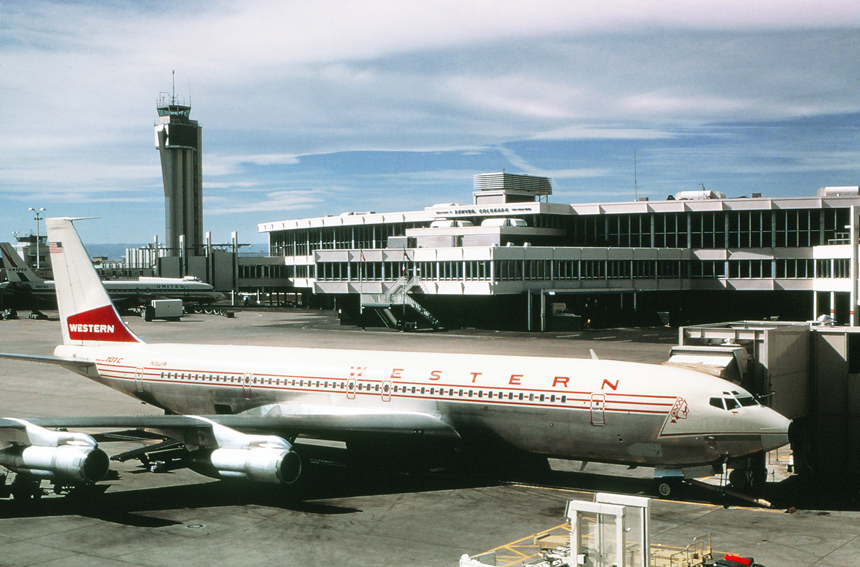 July 1968

*
Delta Western Airlines had a long relationship with the Denver region, as predecessor Western Air Express was one of the first airlines to serve the city in the 1920s. Through the 1950s, Western flew to only two cities from Denver; Cheyenne, Wyoming and Minneapolis-St. Paul, Minnesota. With the introduction of jet service in 1960, Western continued to expand at Denver, and by 1968 had flights to Phoenix, San Francisco, Salt Lake City, Rapid City, and Sioux Falls. Parked at the gate at Concourse C is N1501W, a Boeing 707-347C delivered new to the airline in June 1968.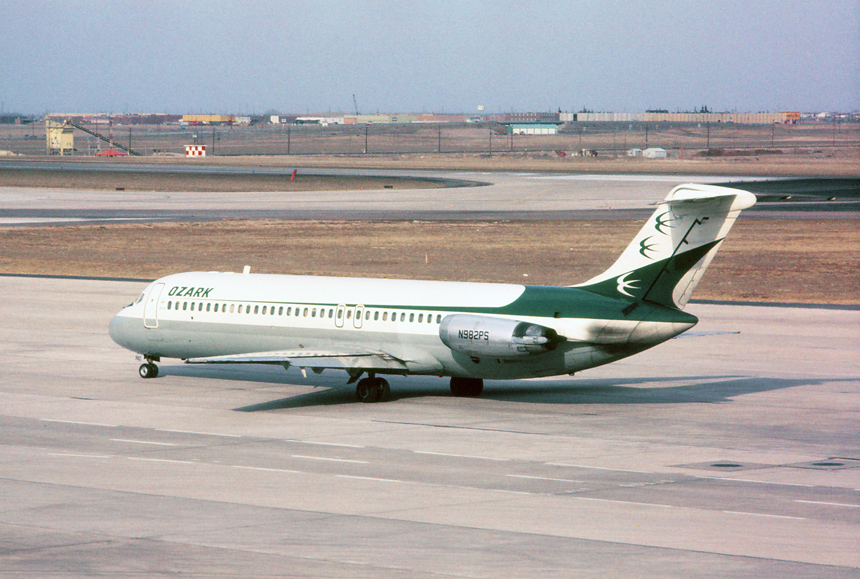 February 1970

*
St. Louis based regional airline Ozark Airlines had operations centered around the upper Mississippi Valley and flew to many secondary cities in Illinois, Missouri and Iowa. The airline received permission to start service to Denver in 1966, which would be the furthest western airport the airline would fly to. Ozark's new Douglas DC-9 was placed on a Chicago-Sioux City-Denver routing which gave travelers another option of service. Taxiing away from the terminal complex form an eastbound flight is N982PS, a Douglas DC-9-31, originally delivered to Pacific Southwest Airlines (PSA) in 1968, and acquired by Ozark Airlines a year late.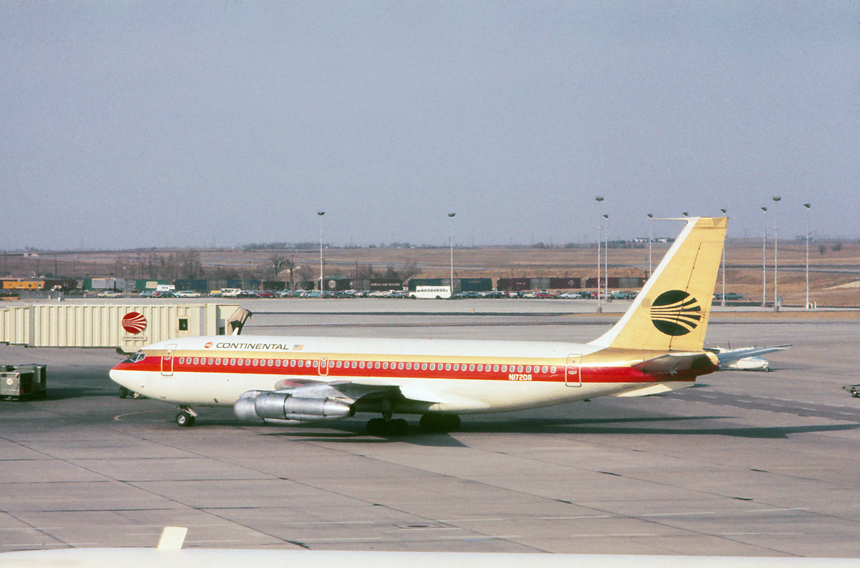 February 1970

*
Continental Airlines introduced a new "brand" in 1968 using designer Saul Bass to create a corporate image introducing the airline to the "Jet Age." A new stylized oval representing a jet aircraft in flight; "Jetstream" would adorn everything from timetables and stationary to the golden tails of Continental's aircraft for which the airline was known. Pulling into the gate at Concourse C is N17208, a Boeing 720-024B.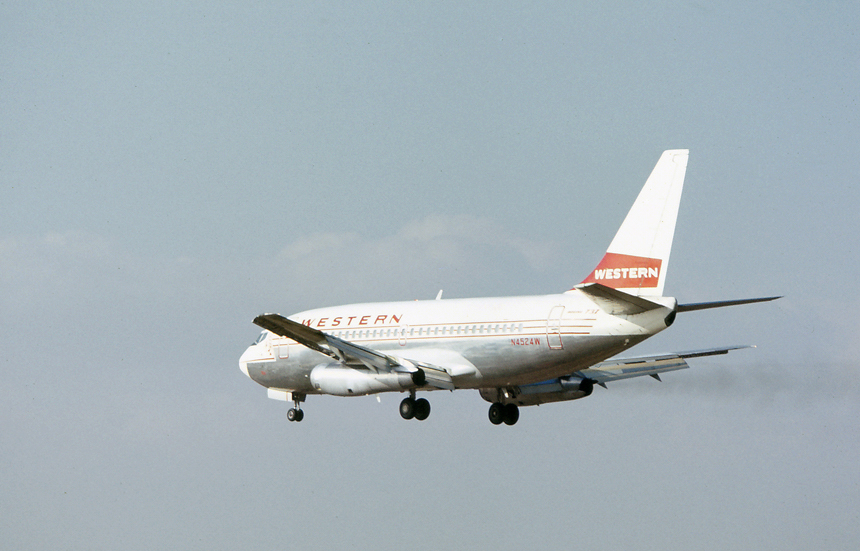 November 1970

*
Western Airlines received its first Boeing 737 in 1968 and would use the plane on short haul routes between major cities and secondary destinations. Denver saw the Boeing 737 initially used on routes to Rapid City, Sioux Falls, Cheyenne, and Salt Lake City. Seen high over the numbers for landing on Runway 26 Left is N4524W, a Boeing 737-247, delivered new to the airline in March 1969.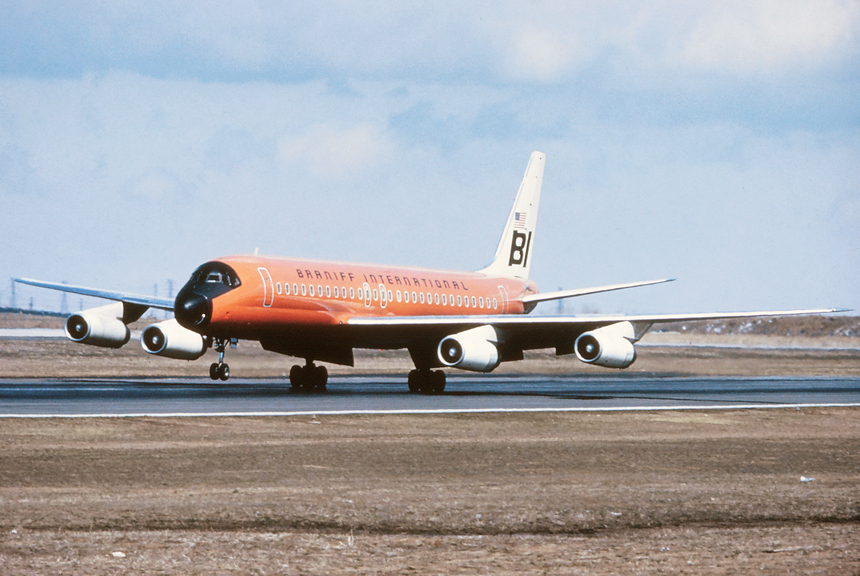 April 1971

*
Braniff International Airways had a long history with Denver since its first flights were established in 1943. Braniff became the first U.S. airline to receive the Douglas DC-8 "62-series" when service was started in September 1967. The DC-8 was typically used on schedules to South America however were occasionally used on domestic flights such as between Denver and both Dallas and Houston. Seen just touching down on runway 26 Left is N1809E, a Douglas DC-8-62, delivered new to the airline in November 1969.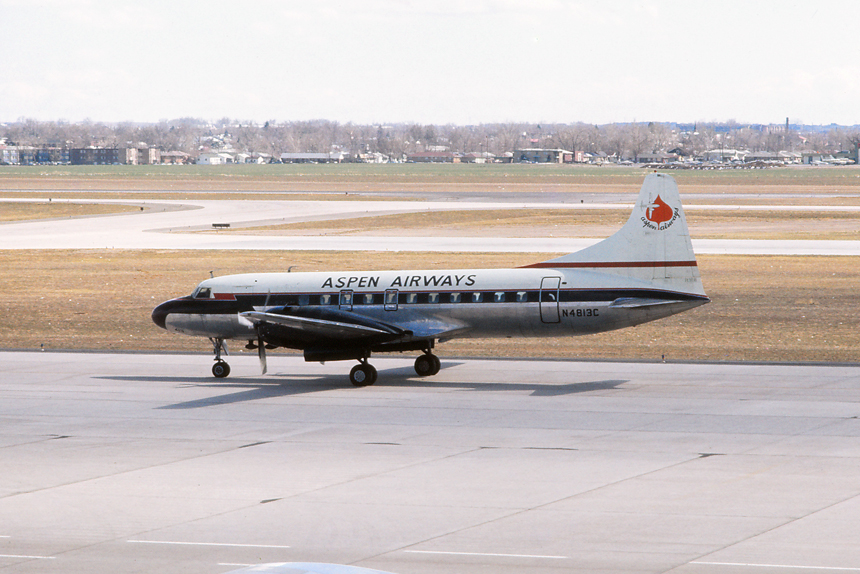 April 1971

*



Local "commuter" airline Aspen Airways was established in 1952 to provide "air-shuttle" service between the mountain community of Aspen and Denver. Initially using Douglas DC-3, the airline eventually utilized second-hand Convair piston-engined aircraft for the daily Denver services. Seen taxiing outbound to Runway 35 Left for an afternoon departure in N4813C, Convair 340-38, originally with Delta Airlines and purchased by Aspen in March 1970.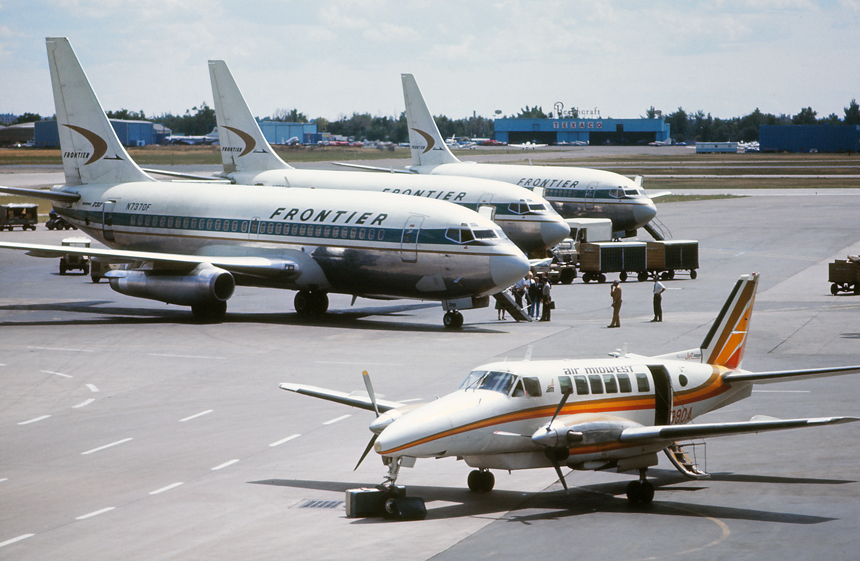 August 1971

*
Although Denver was home to Frontier Airlines, many other airlines included commuter airlines had services to the mile-high city. Wichita based Air Midwest, had "commuter" service from Denver east to Garden City and Colby, Kansas using the Beech 99 turboprop. Seen on a busy ramp with a trio of Frontier Airlines Boeing 737s is N3990A, a Beechcraft B-99**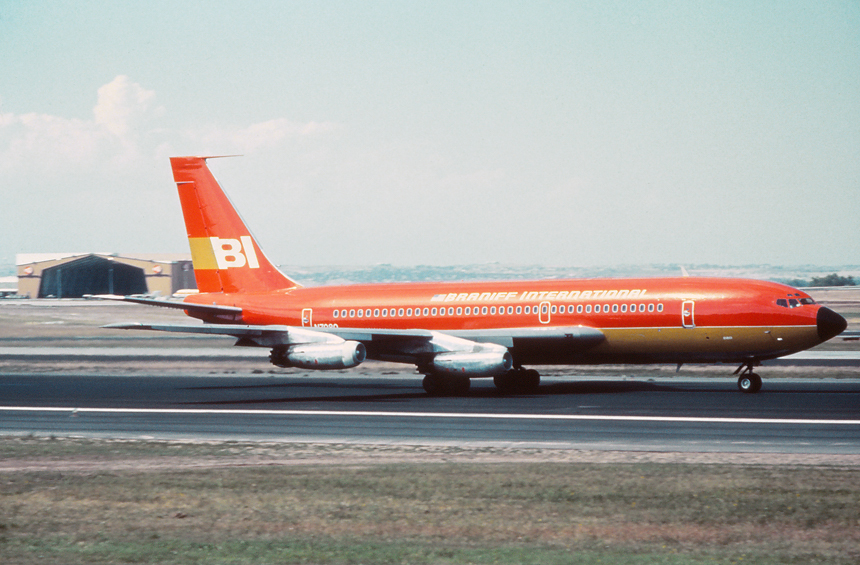 August 1971

*
Braniff International Airlines entered the "Jet Age" with the delivery of their first Boeing 707 in 1959. Early jet flights connected Dallas, Chicago, and New York. Braniff ordered both the Boeing 707 and 720 to serve both long-range and medium range routings throughout its network. Denver saw the Boeing 707/720 introduced on flights to Dallas in 1963, and continued seeing the four-engined Boeing into the 1970s. Seen about to rotate for takeoff on Runway 8 Right is N7080, a Boeing 720-027 delivered new to the airline in August 1963.
Back to: The Airports