THE AIRPORTS
FLORIDA
FORT LAUDERDALE-HOLLYWOOD INTERNATIONAL AIRPORT
FLL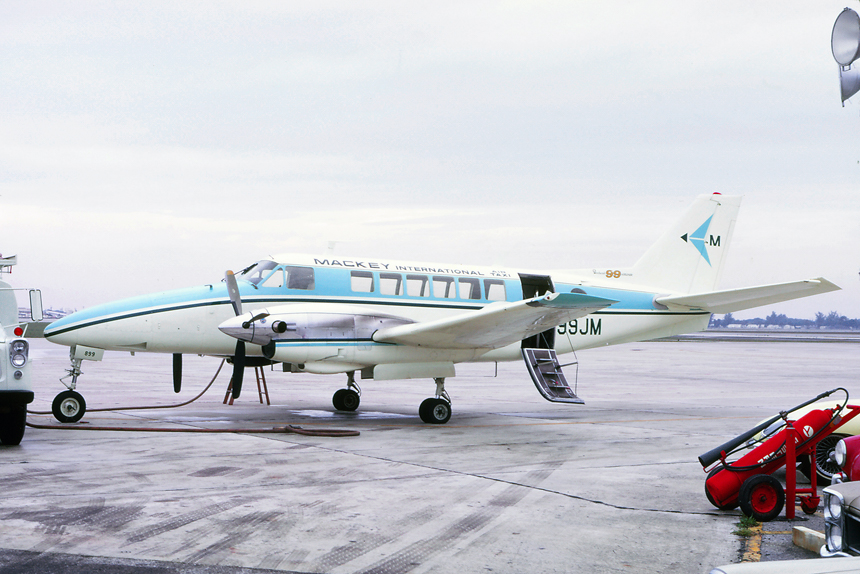 March 1969
The first scheduled "international" carrier to start service from Fort Lauderdale, was Mackey Airlines which was formed in 1946, by ex Air Force Colonel Joseph Mackey to provide flights to Nassau, Bahamas. In 1967, Eastern Air Lines purchased Mackey Airlines for the Bahamas routes, yet two years later Colonel Mackey, started Mackey International Airlines focusing on commuter service across the Bahamas and Cuba. Initially in 1969 using three Beech 99s, Mackey International Airlines started flights from Fort Lauderdale to Fort Meyers as well as numerous islands within the Bahamas. Seen parked on the ramp and being serviced before another flight is N699JM, a Beech B-99A.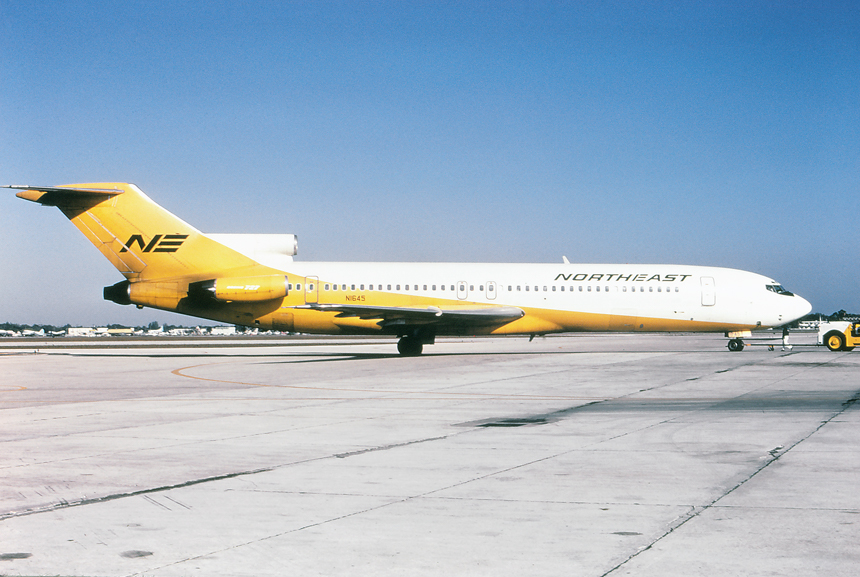 May 1970
Boston based Northeast Airlines saw opportunity to utilize Broward County International Airport (to be renamed Fort Lauderdale International Airport in 1959) as an additional airport serving the Miami-South Florida region. Flights were started on December 13, 1958 to New York-Idyllwild using a Douglas DC-6 "Sunliner Aircoach" becoming the first "airline" to start service into the airport. Eventually Northeast would introduce "Jet Yellowbird" service and add non-stop flights to Boston. Seen being pushed back from the gate for a morning departure is N1645, a Boeing 727-295, delivered new to the airline in October 1968.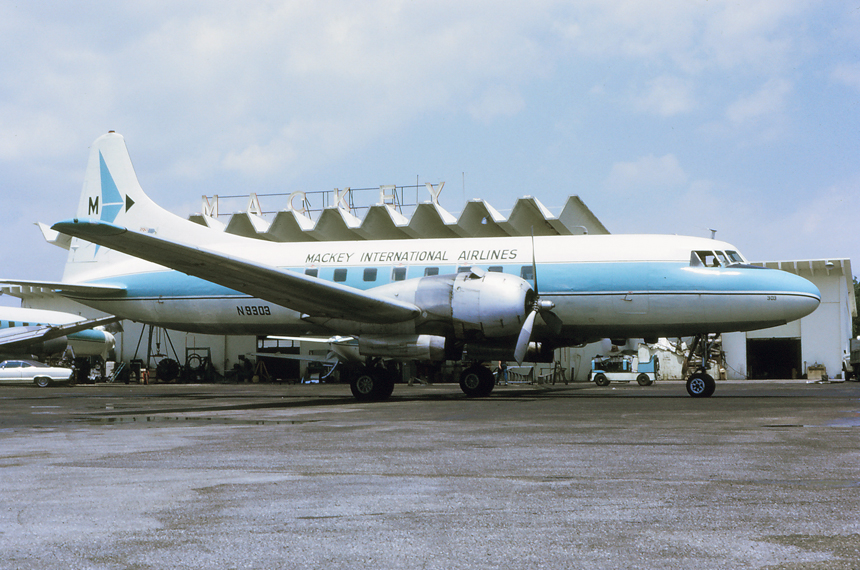 April 1972
The new Mackey International Airlines after Eastern Air Lines purchased predecessor Mackey Airlines in 1967, started operations again from a Fort Lauderdale base to points in Florida and the Bahamas. The airline used a variety of piston engined aircraft to provide services including the Douglas DC-6, Convair 340, Convair 440, and turboprop service using both the Beech 99 and de Havilland Twin Otter. By 1975, Mackey International was providing passengers service to seventeen destinations, fourteen being within the Bahamas and British West Indies. Parked on the Mackey ramp is N9303, a Convair CV-440-86, originally with Eastern Air Lines.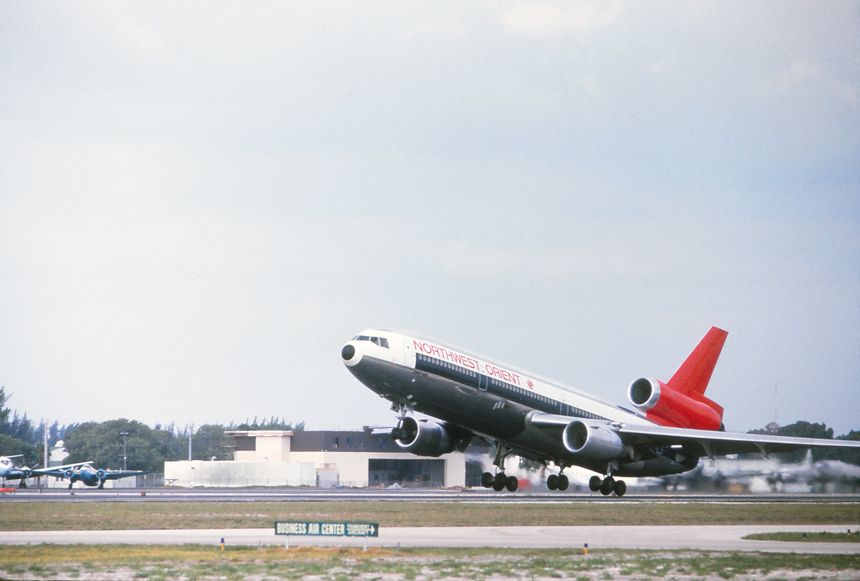 May 1974
Northwest Orient Airlines received authorization to start flights to Fort Lauderdale on January 1, 1960. Early routes utilized Fort Lauderdale as a stop between Miami and St. Petersburg as well as a non-stop route to Atlanta using the Lockheed L-188 Electra "Prop-Jet." Northwest added non-stop service to Chicago a few years later and introduced Boeing 720 service on the routes. When Northwest received its first Douglas DC-10 in 1972, the wide-body aircraft was initially placed on Asian routes, however due to ordered configuration it soon became unsuitable for the flights. The DC-10 was then placed on busier trunk routes including the popular service to Fort Lauderdale from Chicago. Seen rotating for takeoff from Runway 27 Right is N153US, a Douglas DC-10-40.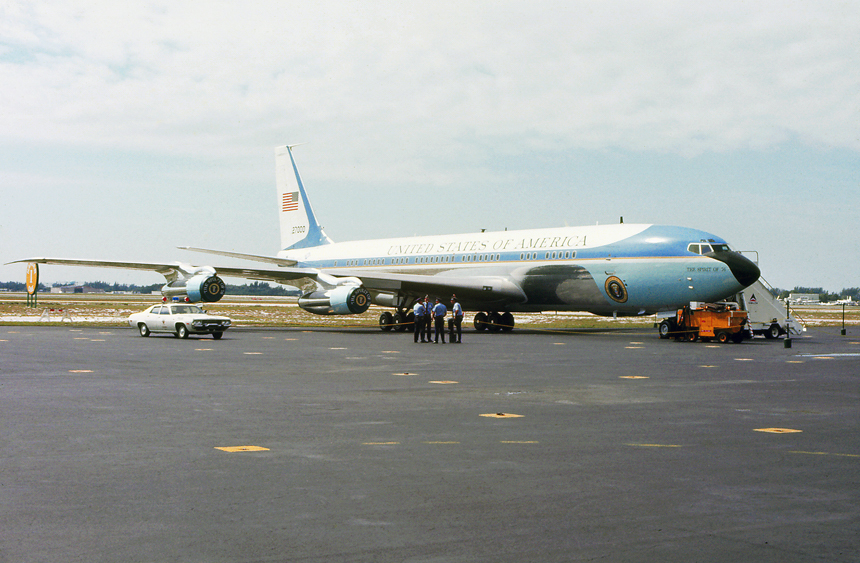 February 1975
One of the more infamous "airliners" in service is that of the President of the United States Air Force One aircraft. Two heavily modified Boeing 707 "Special Air Mission" SAM aircraft were designated Boeing VC-137C. The two VC-137Cs entered service in July 1972 and were used to transport the President and his detail throughout the United States and world on official diplomatic flights. On February 25, 1975, Gerald Ford then President of the United States travelled from Andrews Air Force Base to Fort Lauderdale to attend a economic conference then play golf in the Jackie Gleason Inverrary Classic Celebrity Golf Tournament which took place at Lauderhill. Parked on the ramp under tight security and awaiting its VIP return is SAM27000, a Boeing VC-137C (Boeing 707-353B).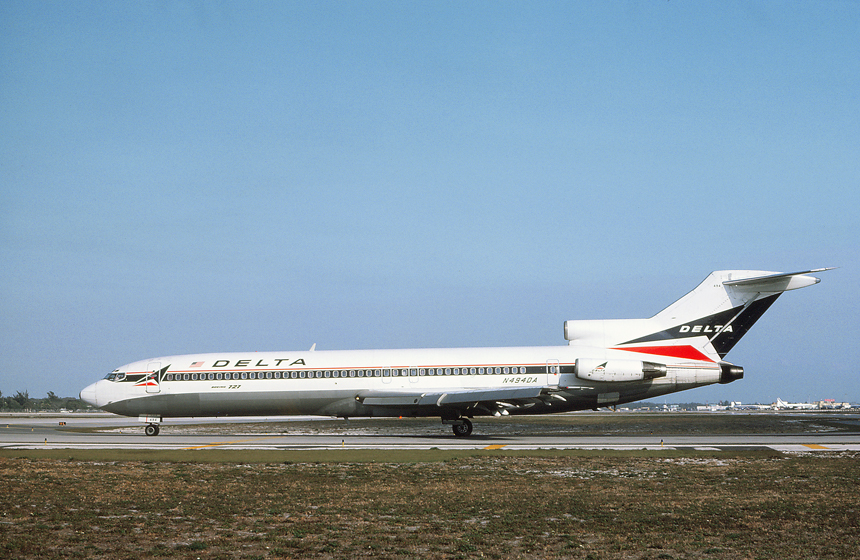 February 1977
Atlanta based Delta Air Lines, started service into Fort Lauderdale in 1961 with two daily flights to both West Palm Beach and Miami using the Douglas DC-7. After the purchase of Northeast Airlines in August 1972, Delta expanded at Fort Lauderdale adding service to Atlanta, Chicago, Detroit, and Baltimore. By 1977, Delta was the largest carrier flying from Fort Lauderdale with service to sixteen cities across the U.S. using a mixed fleet of Boeing 727, Lockheed L-1011, Douglas DC-8, and Douglas DC-9 equipment. Seen taxiing up to Runway 9 Left for an afternoon departure is N494DA, a Boeing 727-232(A), delivered new to the airline in June 1975.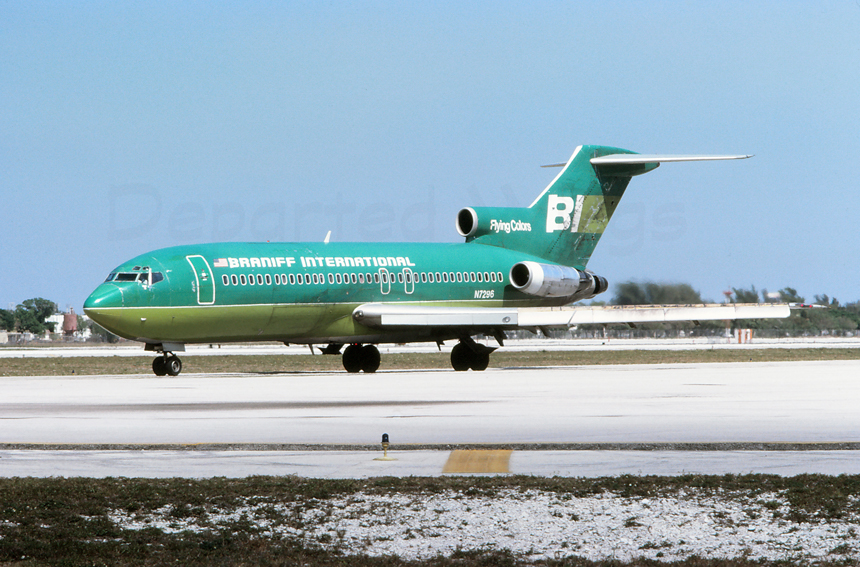 February 1979
Although Braniff International Airways had a large presence in Miami, Florida, the airline didn't start service to Fort Lauderdale until 1974 when flights commenced to Tampa using the Boeing 727. Flights were added to Dallas-Ft. Worth in 1975, but halted a year later with the sole Tampa service remaining until 1980 when flights to Dallas-Ft. Worth resumed and new service started to Miami. Seen taxiing toward Runway 9 Left for a morning departure is N7296, a Boeing 727-27C.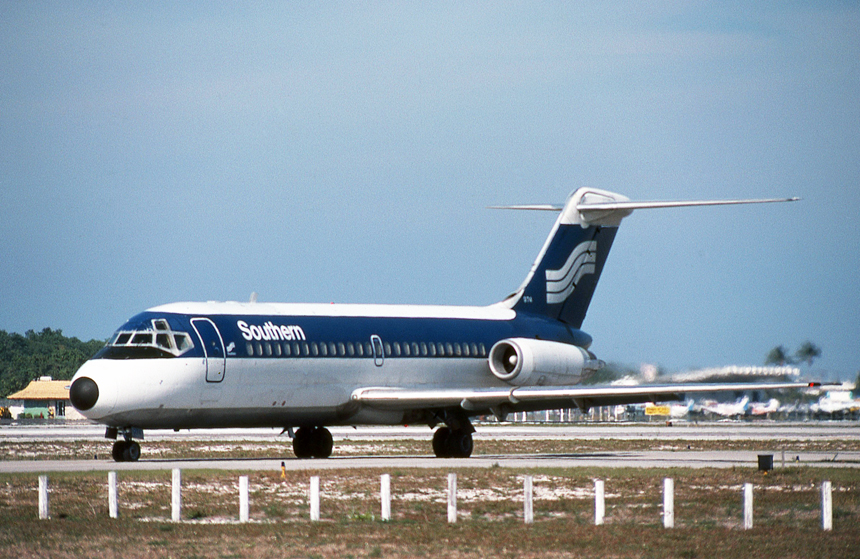 April 1978
Regional airline, Southern Airways started service into Fort Lauderdale in 1975 with service to Orlando continuing on to Atlanta. Southern would add it's only international service in 1977 with flights from both Miami and Fort Lauderdale to Grand Cayman Island in the British West Indies. Only two routes, Orlando and Grand Cayman would be flown from Fort Lauderdale by Southern until its merger into Republic Airlines on July 1, 1979. Seen taxiing outbound for takeoff is N3306L, a Douglas DC-9-14, originally delivered to Delta Air Lines in 1965, and purchased by Southern in May 1973.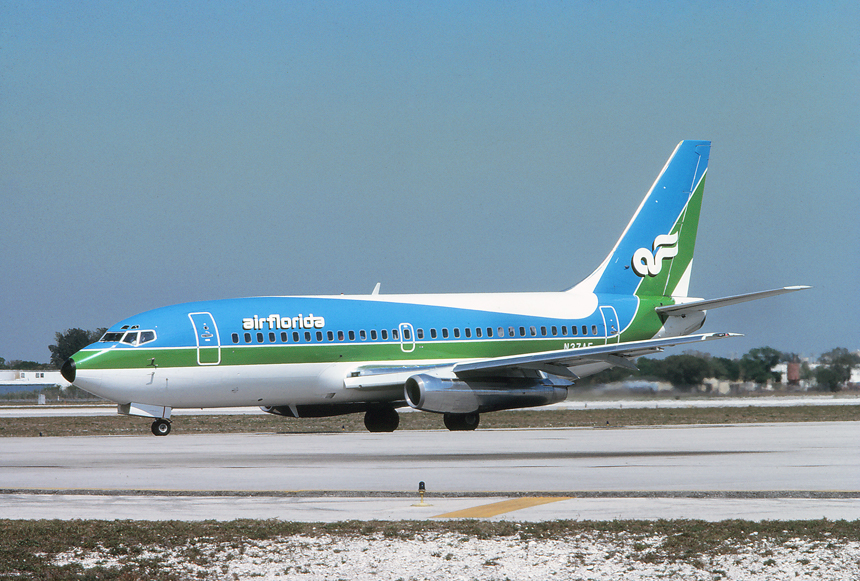 November 1979
Florida's own "state" airline, Air Florida started operations in 1972 on flights between St. Petersburg and Miami using a Boeing 707. Operations to Fort Lauderdale started in 1978 with flights to West Palm Beach, Tampa, Orlando, and Jacksonville. After deregulation in October 1978, Air Florida extended past is state borders with service to the Northeast including a flight from Fort Lauderdale to Washington-National. Seen taxiing toward Runway 9 Left for a morning departure is N37AF, a Boeing 737-2Q9.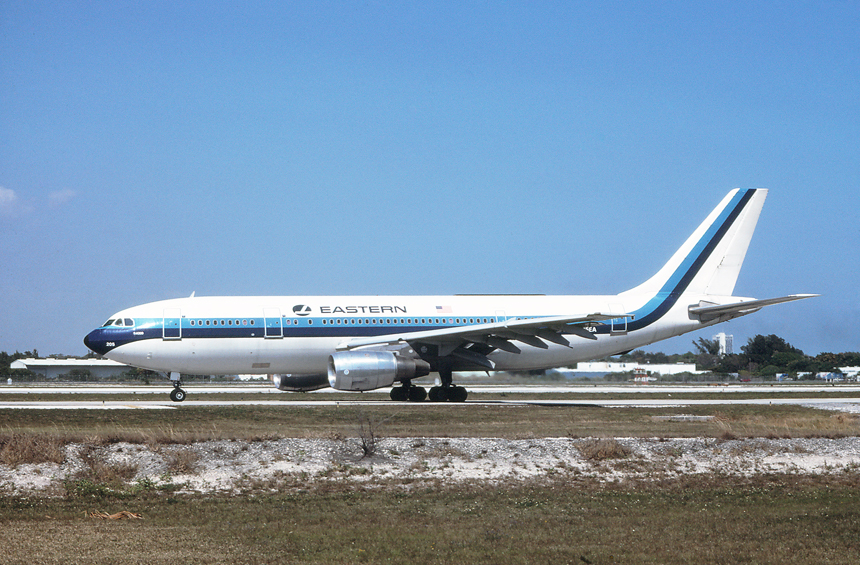 March 1980
Seeking an eventual replacement for their Boeing 727 and Douglas DC-9 fleet, Eastern Air Lines through some trepidation looked to the European Airbus A-300 as a possible solution. Although larger, the A-300 was advertised as fuel efficient and cost effective. Airbus eager for a North American customer and agreed to let Eastern "try" the Airbus for a six month period using four aircraft with flights starting in December 1977. It wasn't long before Eastern was pleased with the performance and ordered an additional nineteen aircraft to be used on busier routes throughout the network including early flights from Fort Lauderdale to New York-La Guardia. Seen taxiing outbound toward the runway for a morning departure is N205EA, an Airbus A-300B4-2C.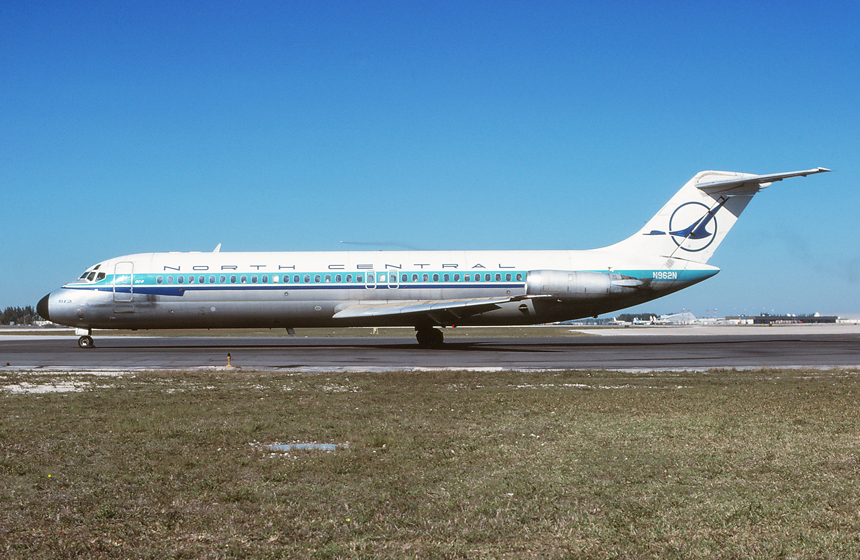 March 1980
Following deregulation, Minneapolis based regional airline North Central Airlines, was able to expanded services and added Fort Lauderdale in March 1979 with non-stop service to Detroit. It was just a few months later in July when North Central Airlines and Southern Airways was merged to form Republic Airlines. Still wearing it's old color scheme and holding short of Runway 9 Left for an afternoon departure is N962N, a Douglas DC-9-31, delivered new to North Central in May 1969.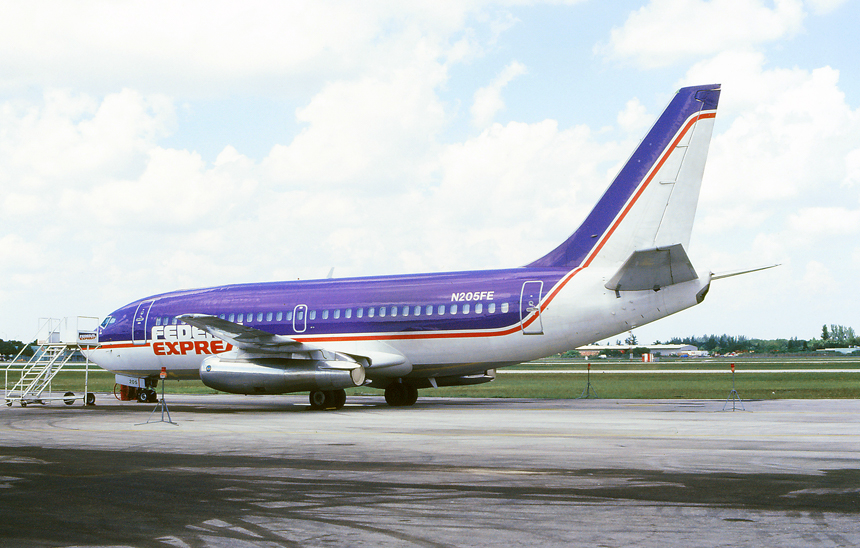 October 1980
Federal Express having championed the Air Cargo Deregulation Act 1977, sought to take advantage of the Airline Deregulation Act, signed a year later. The cargo airline ordered four Boeing 737-200 in the Combi configuration in October 1978, with the hope of utilizing the Boeing 737 during the day for passenger services from Chicago-Midway Airport and then reconfiguring the aircraft for cargo operations at night. These plans never materialized and the airline ended up selling the planes after only fifteen months, having settled on the Boeing 727 for initial cargo fleet build-up. Seen parked on the cargo ramp and awaiting for its evening departure is N205FE, a Boeing 737-2S2C.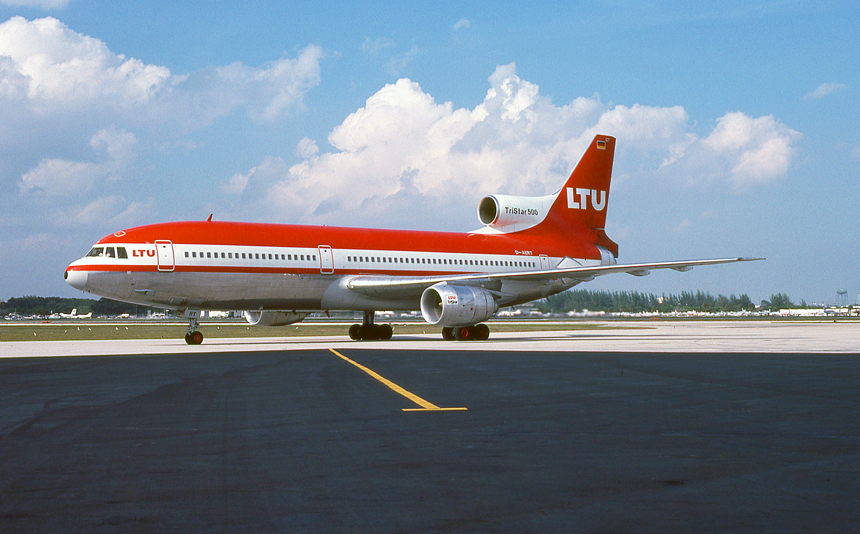 December 1980
Germany's third largest charter airline, Lufttransport-Unternehmen GmbH or LTU International Airways was formed in 1955 at Frankfurt/Main to provide tour and group charters to European holiday destinations. In 1960, the airline relocated to Dusseldorf and expanded flights eventually adding jet operations and flying to over fifty "sunny" destinations by 1971. Realizing the need for capacity and range, LTU introduced the Lockheed L-1011 in 1974, followed by three additional models a few years later. The new "Trijet" allowed LTU to expanded charter flights to North America, Asia and the Bahamas. Fort Lauderdale was added as a charter destination in December 1980 with non-stop service from Dusseldorf with Germans seeking the warmth and sun of south Florida. Seen having just been pushed back and preparing to depart the terminal ramp is D-AERY, a Lockheed L-1011-1.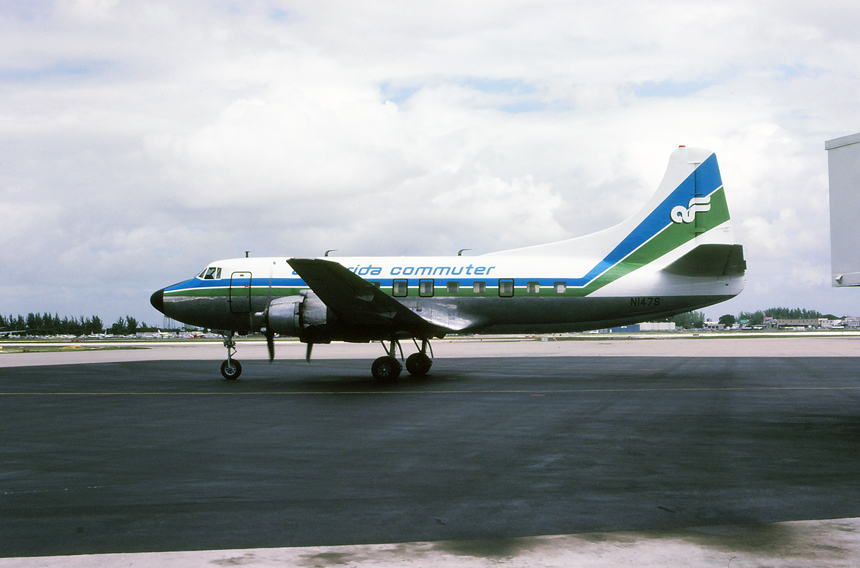 November 1981
Air Florida continued to grow post-deregulation, the airline set up an agreement with multiple third-level carriers across Florida to provide feeder services under the Air Florida Commuter banner including colors and logo. Air Miami was the first airline to sign the code-share agreement in December 1980, followed a few months later by Florida Airlines which used Martin 404 aircraft on services such as Fort Lauderdale to Sarasota, Fort Meyers, and West Palm Beach. Seen taxiing away from the terminal for a commuter flight is N147S, a Martin 404.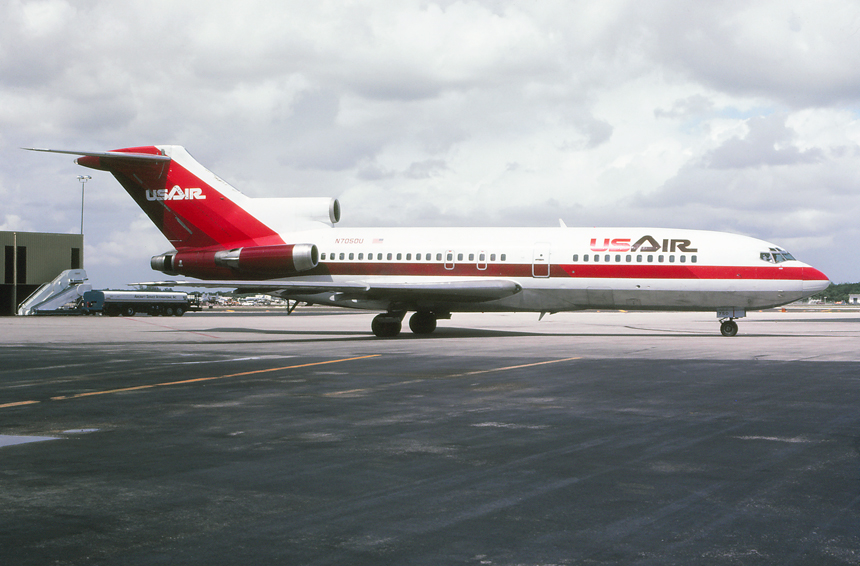 November 1981
When Allegheny Airlines was rebranded USAir in August 1979, the airline sought to embrace deregulation and expand its routes past it's traditional Northeast market. Although Allegheny had previously served Florida it wasn't until September 1981, that USAir started non-stop service between Pittsburgh and Fort Lauderdale, just in time for the winter season. Seen awaiting taxi clearance for a mid-morning departure is N7050U, a Boeing 727-22, originally with United Air Lines and delivered to Allegheny Airlines in November 1978.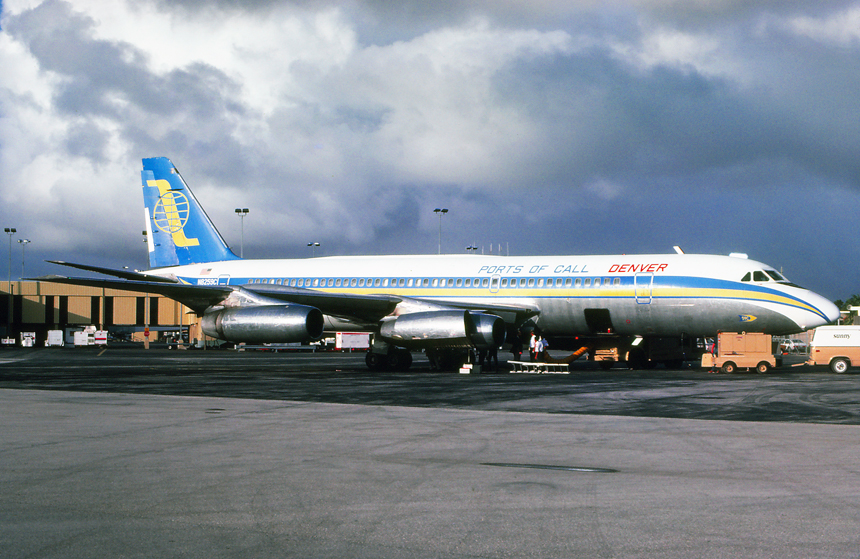 November 1981
Denver, Colorado based travel club, Ports of Call had become the largest paid travel club in the United States with a membership of over 66,000 people. With a fleet of Boeing 707, Boeing 727, and Convair 990 jet aircraft, the club's planes were seen across the world on tour group and member based trips. One of the popular routes, especially during the winter months, was weekly flights to Florida including to Fort Lauderdale from Denver. Seen being unloaded on the ramp and having an inboard engine inspected during a charter flight is N8259C, a Convair CV-990-30A-8.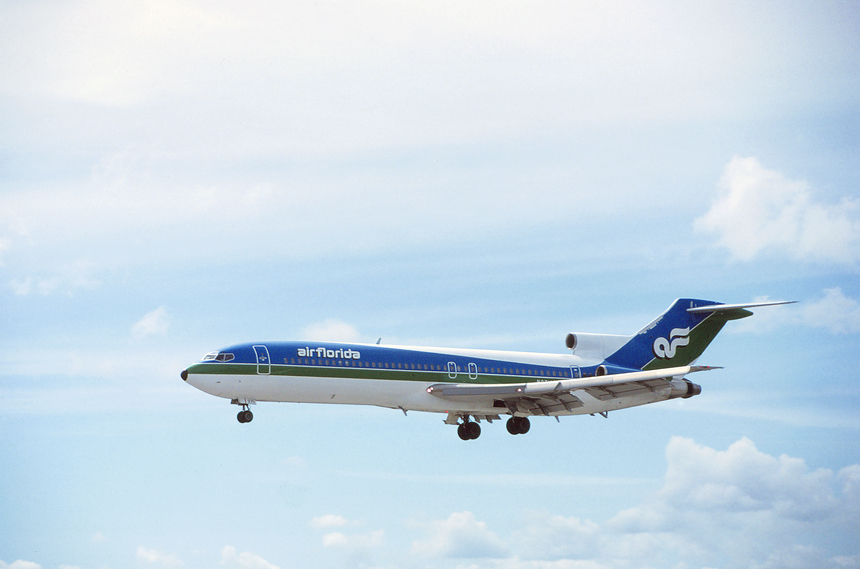 November 1981
Air Florida hoping to take advantage of Pan Am's National Airline purchase in 1980, and the assumption Pan Am would abandon National's Northeast to Florida routes purchased five Boeing 727s for the presumed expansion. The Boeing 727s were brand-new having not been taken up by Braniff International allowing Air Florida a quick purchase with the first being delivered in September 1981. Seen on final approach for landing is N271AF, a Boeing 727-227, delivered new to the airline on September 10, 1981.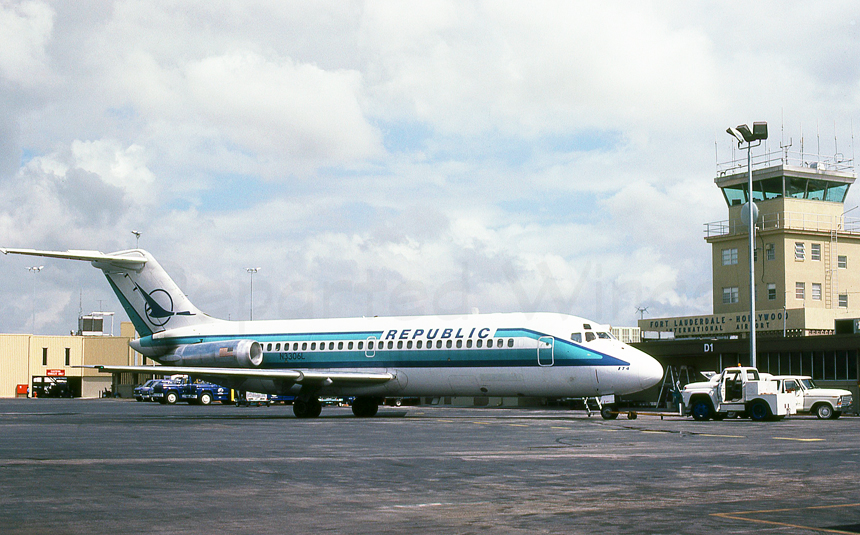 November 1981
With the merger of Southern Airways and North Central Airlines to become Republic Airlines on July 1, 1979, the new airline continued services into Fort Lauderdale with flights to Detroit, Orlando, and Grand Cayman. Within a year services were dropped to Grand Cayman, yet the other two city pairs continued to be served by the Douglas DC-9. Parked on the ramp and awaiting passengers for another flight is N3306L, a Douglas DC-9-14.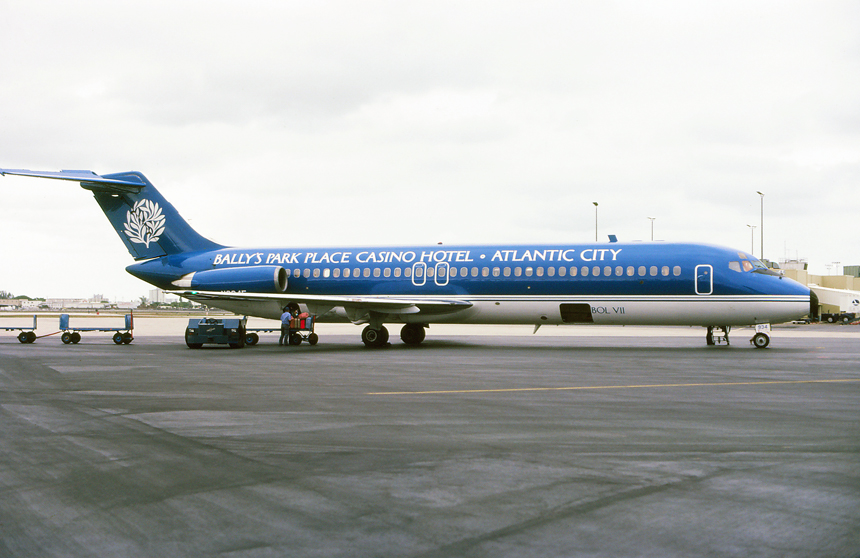 February 1982
Bally's Park Place was a new hotel and casino built in Atlantic City, New Jersey in December 1979, the largest at the time with a 39-story hotel tower and 75,000 square foot casino. In an effort to attract more distant patrons, Bally's contracted with American International Airways to use one of their Douglas DC-9s to provide gambling junket flights into Atlantic City. A single Douglas DC-9 was painted in Bally's Park Place colors and was seen along the Eastern Seaboard including Fort Lauderdale during the early 1980s providing casino sponsored charter operations. Parked on the ramp and being loaded for another charter flight is N934F, a Douglas DC-9-34.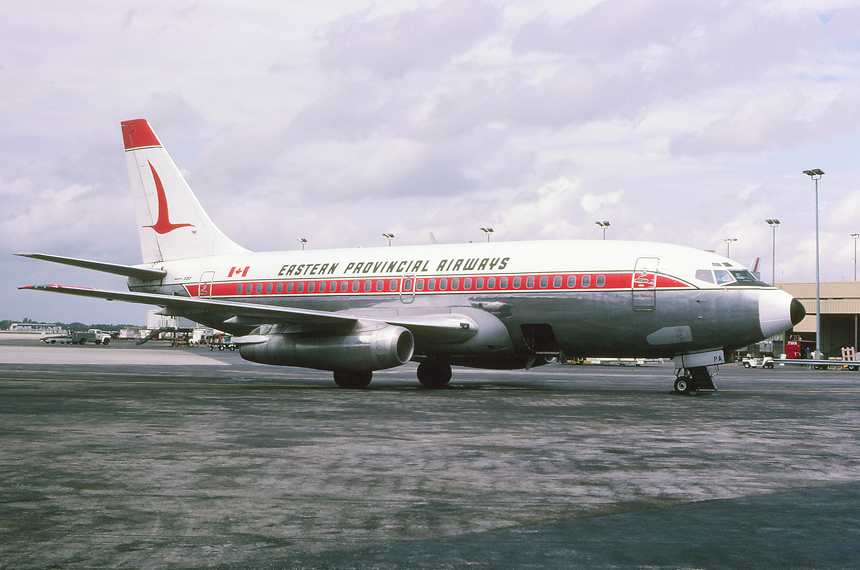 March 1982
During the early 1980s Fort Lauderdale became a popular additional destination for the south Florida region, especially for charter operators during the winter months. Eastern Provincial Airways a Canadian airline that was formed in 1963 through the merger of two other carriers to provide service to Quebec and Newfoundland, started charter operations to Fort Lauderdale in 1981 with flights from Halifax and St. Johns. Parked on a cloudy ramp during a winter charter operation is C-GEPA, a Boeing 737-2E1 Advanced.
Back to: The Airports