THE AIRPORTS
SOUTHWEST
HOUSTON INTERCONTINENTAL AIRPORT
IAH
As one of the fastest growing cities in the United States, Houston had relied on its city close, Houston International Airport (later renamed William P. Hobby Airport) for airline service since 1938. Realizing that the existing airport had limited room for expansion and lengthening of runways, a group of businessman purchased 3,100 acres north of the the city center in 1957 for a future airport. With the need for a larger airport looming, the City of Houston purchased the property as well as additional acreage to start construction of a new "intercontinental" airport. Construction started in 1965, however cost overruns, and construction woes pushed the opening of the airport into 1969. With a final cost of $110 million, Houston Intercontinental Airport (IAH) started operations on June2, 1969. All airlines that had been using the existing downtown Houston Hobby airport moved their operations to the new spacious and expanded facility. The new airlines moved to IAH included; American Airlines Braniff International Airways, Continental Airlines, Delta Airlines, Eastern Airlines, National Airlines, Pan American Airlines, Trans-Texas Airways, KLM Royal Dutch Airlines, and Aeronaves de Mexico. With intercontinental airport now open, Houston Hobby lost all of its scheduled airline service for a few years. With modern terminal facilities and room for expansion, Houston Intercontinental Airport continued to grow and especially after deregulation in 1978, saw airlines from both domestic and international carriers start service to the Houston region.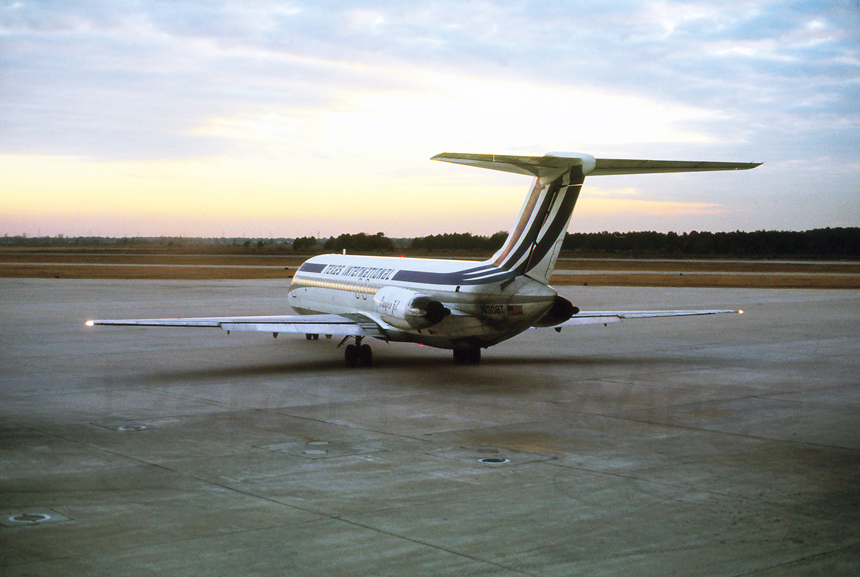 November 1970

*
Houston's own based "local service" airline Trans Texas Airways, had renamed itself Texas International in April 1969 to better define its expanded services and flights to Mexico. When the airline moved operations from Houston Hobby to Houston Intercontinental Airport in 1969, it would be the carrier with the most flights served from the new airport. Seen taxiing away from the terminal building for an evening departure is N1308T, a Douglas DC-9-31, delivered new to the airline in January 1969.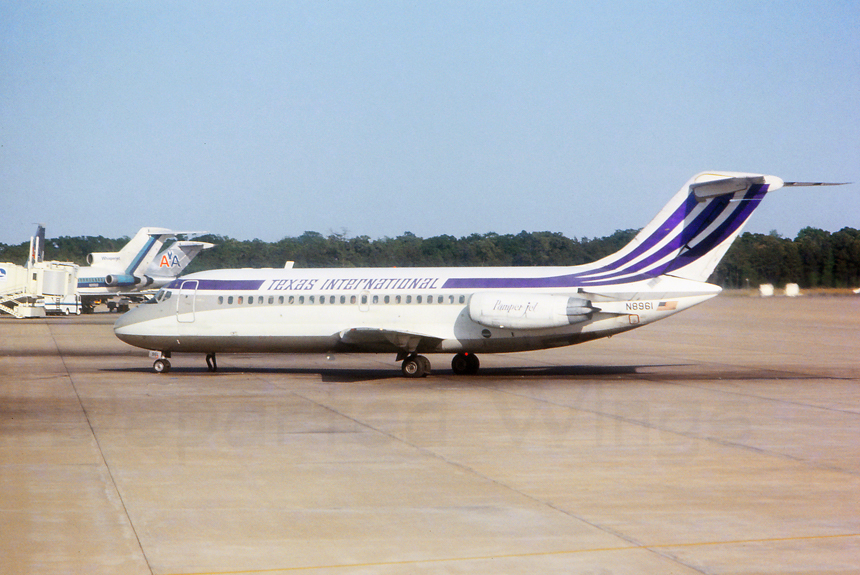 April 1971

*
Trans Texas Airways introduced the Douglas DC-9 in October 1966 and introducing true "jet" service to many secondary cities across Texas. Affectionate known as "Pamper Jet's," Houston saw the twin-engine DC-9s in 1971, placed on "trunk" routes to Austin, Dallas-Fort Worth, New Orleans, and Baton Rouge, as well as on regional routes to Beaumont/Port Arthur and Corpus Christi. Seen having just been pushed back from "Terminal A" for an afternoon flight is N8961, a Douglas DC-9-14, originally delivered to Continental Air Lines in March 1966, and purchased by Texas International in May 1969.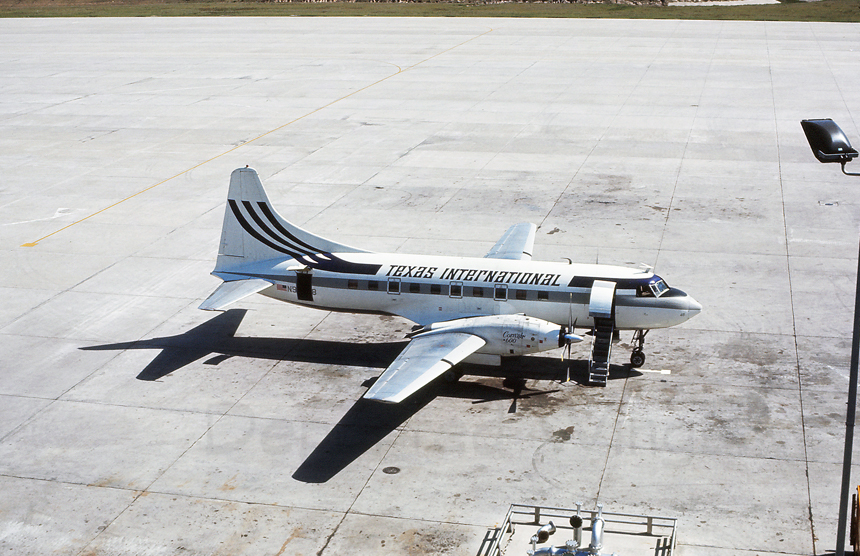 April 1971

*
Trans Texas Airways decided to modernize its fleet of Convair 240 aircraft to "turboprop" power to effectively service smaller cities and communities in the route system. The first conversion to Convair 600 standards using a Rolls-Royce Dart turboprop engine was completed in 1965. The airline had eight Convair 600s, and used the aircraft on routes from Houston to Galveston and Beaumont/Port Arthur, Texas and Lake Charles and Lafayette, Louisiana. Seen parked on the tarmac and awaiting passengers for another flight is N94248, a Convair CV-600, originally delivered to Trans Texas Airways as a Convair 240-240-0, purchased from American Airlines.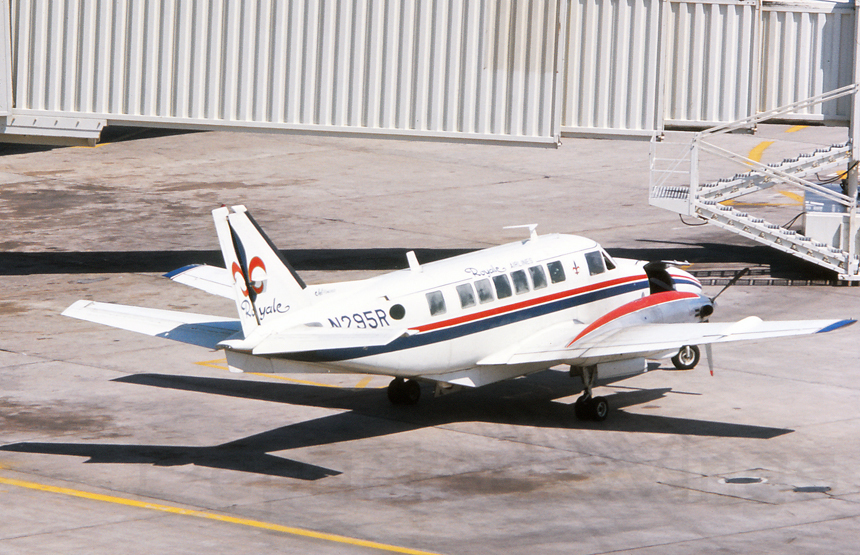 May 1973

*
Based in Shreveport, Louisiana, Royale Airlines was started in 1968 to provide charter flights across the Gulf States and Texas with scheduled passenger flights starting on April 21, 1970. Using the Beechcraft B-99 turboprop flights were started to Houston Intercontienital in 1971 on services to Lake Charles, Louisiana. Parked at the terminal and awaiting its next load of passengers is N295R, a Beechcraft B-99A.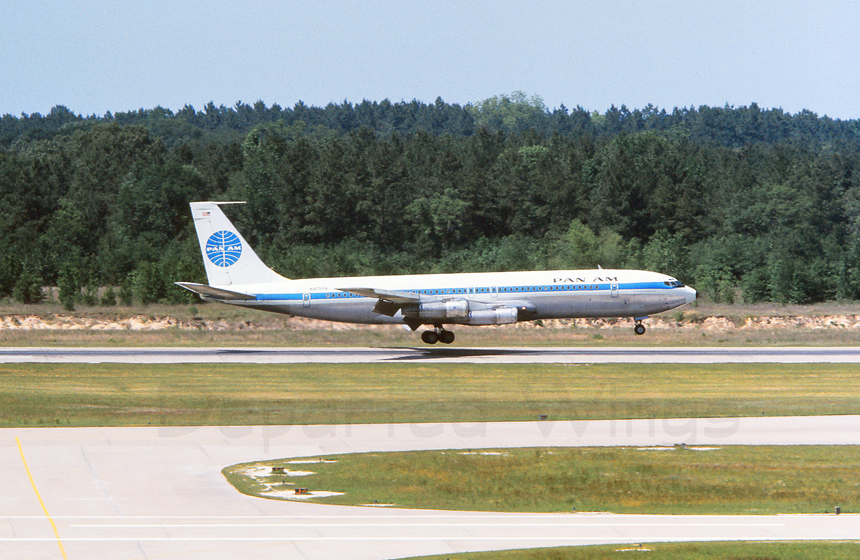 May 1973

*
Pan American World Airways started service into Houston in 1947 with flights to Merida, Mexico and Corpus Christi, Texas. In 1949, non-stop service was started between Houston and Mexico City using a Douglas DC-4 and in 1961, Pan Am introduced Boeing 707 service on the route. By 1973, Pan Am's only flights to Houston was daily service to Mexico City using the Boeing 707. Seen just about to touch down on Runway 8 during an arrival from Mexico City is N415PA "Clipper Monsoon," a Boeing 707-321B, delivered new to Pan American on February 15, 1966.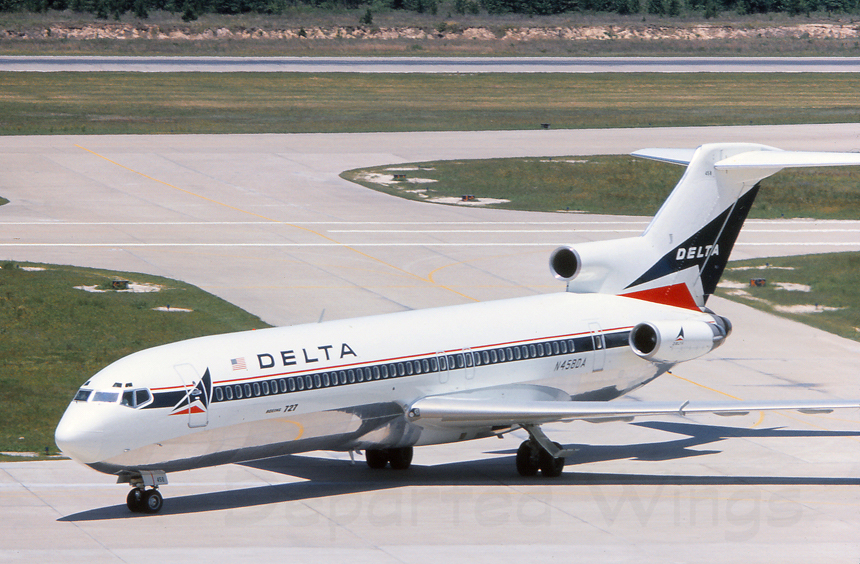 May 1973

*
After Delta Airlines entered the Houston market in 1953, after the airline purchased Chicago & Southern Air Lines which had flights to New Orleans, Memphis, Beaumont/Port Arthur and Havana, Cuba. Delta eventually added non-stop flights to New York and introduced jet service in the early 1960s. By 1973, Delta had expanded considerable at Houston serving nine cities with twenty daily departures including flights to Atlanta, New York-JFK, and Shreveport. Seen taxiing toward the terminal complex after having landed is N458DA, a Boeing 727-232, having been delivered a week earlier to the airline on May 2, 1973.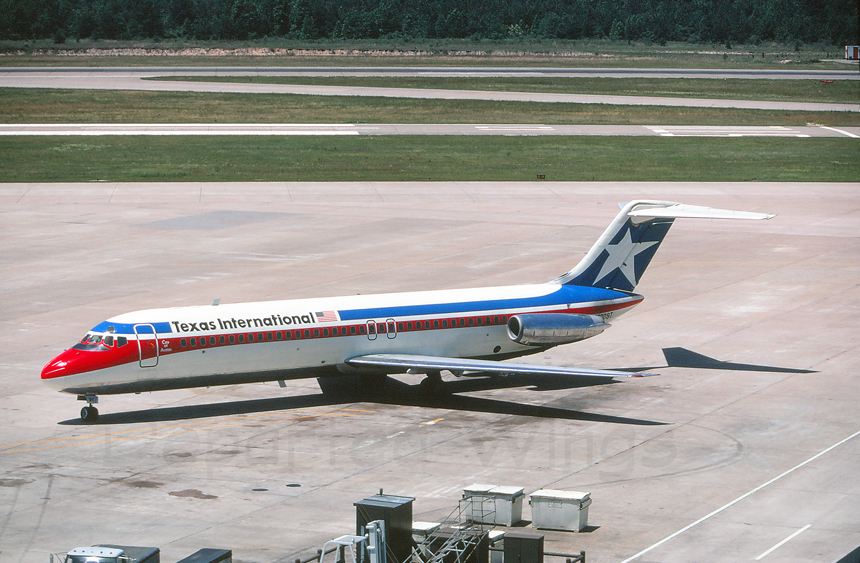 May 1973

*
In 1972, Texas International Airlines was purchased by a new holding company, Jet Capital Corproation and introduced a new color scheme which was more "Texas" in nature. The airline continued to be the largest operator out of Houston Intercontinental, its home base with over twenty-five daily departures to nine destinations including; Baton Rouge, Dallas-Fort Worth, Denver, McAllen, and New Orleans. Having just received taxi clearance and pulling away from the terminal for an afternoon flight is N1309T "City of Austin," a Douglas DC-9-31, delivered new to the airline in January 1969.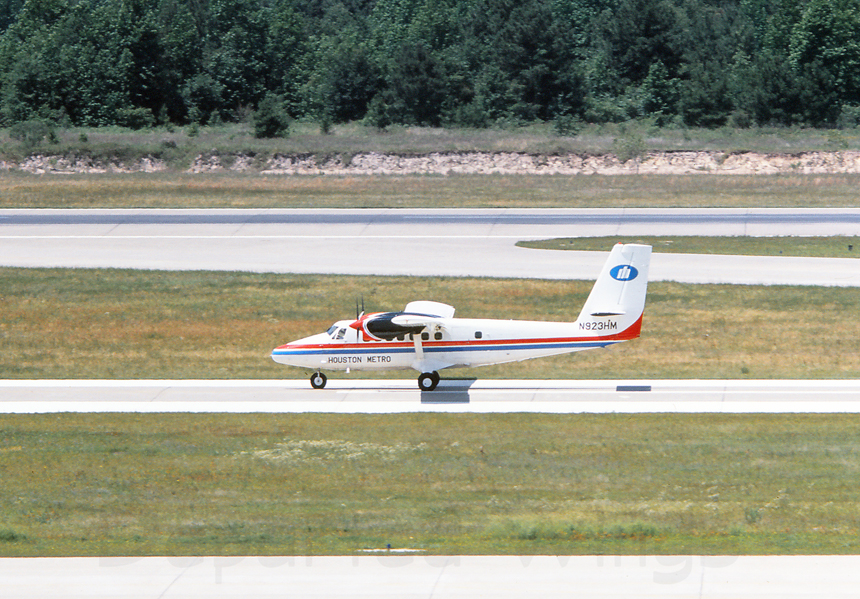 May 1973

*
Houston Metro Airlines was a unique carrier that started operations in 1969 to provide service to NASA Johnson Space Center by constructing their own STOLport (Short Takeoff Or Landing) at Clear Lake City just adjacent to the the space center. Using a fleet of de Havilland DHC-6 Twin Otters, no less then twenty-five flights were scheduled round-trip between Houston Intercontinental and Clear Lake during the weekdays. A year later the airline started "cross-town" service to Houston Hobby from Intercontinental connecting the airports with a true "air-shuttle" service with fourteen daily flights. It is interesting to note, that one of the taxiways at Houston Intercontinental was designated a "STOL Runway" and was used by Houston Metro Airlines to reduce overall taxi and operational times. Seen rolling for takeoff on the STOL Runway is N923HM, a deHavilland DHC-6-200, delivered new to the airline on November 29, 1968.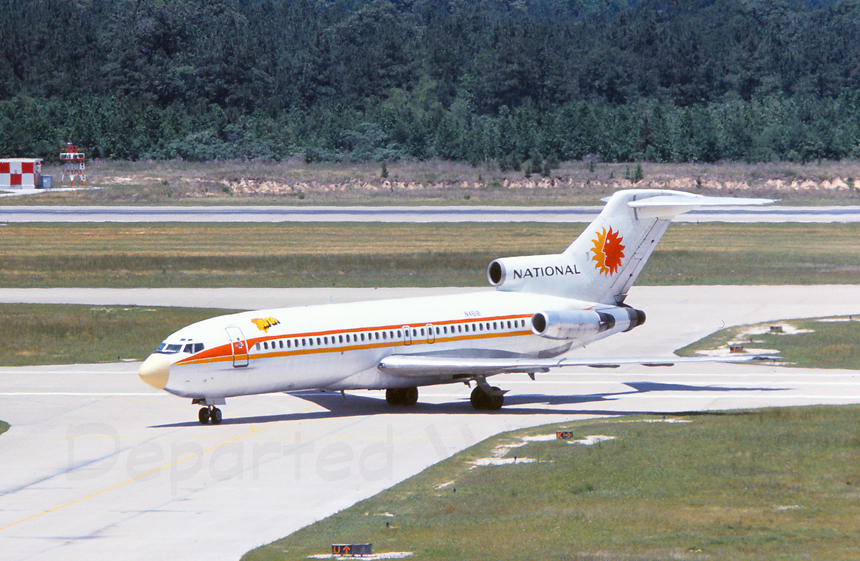 May 1973

*
National Airlines started flights into Houston in 1956 with service to New Orleans, Tampa, and Miami using the Convair 340 or Douglas DC-7. At that time, Houston was the farthest stop west served by the airline. Eventually Houston became a hub for the airline especially on flights connecting to the West Coast. Seen taxiing toward the terminal after having landed is N4618 "Ruth," a Boeing 727-35, delivered new to the airline on September 24, 1965.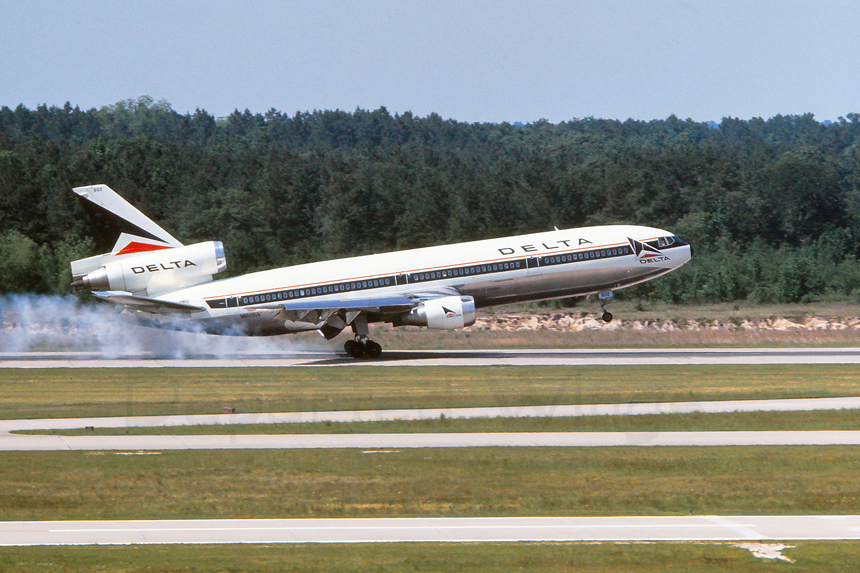 May 1973

*
As many airlines looked to fill the void of the narrow-body and larger Boeing 747 gap, for trans-continental services, Delta settled on the Lockheed L-1011 by placing an order for the Tri-Jet in 1968. Concerned with potential setback with the L-1011 program and Rolls Royce engine woes, Delta ordered five Douglas DC-10 aircraft as a stopgap ensure and to remain competitive in the market. With a configuration of 250-passnegres, Delta's first Douglas DC-10 was put into service on December 15, 1972. Considered a larger market, Houston saw the DC-10s placed on the trunk Houston-Atlanta route. Seen "smokin' the tires" while landing on Runway 8 after a flight from Atlanta is N602DA, a Douglas DC-10-10, delivered new to the airline in November 1972.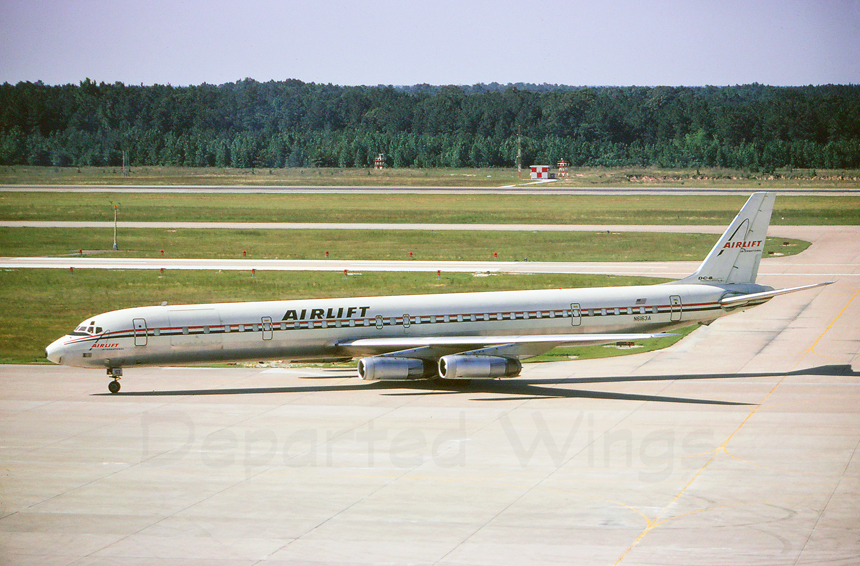 May 1973

*
Airlift International Airlines was a Miami, Florida based cargo and freight airline that provided bulk cargo scheduled services across the United States and Puerto Rico. Cargo only jet service was provided with Boeing 707s, 727s, and Douglas DC-8s. With a large cargo market in oil drilling and astro-space related freight, Airlift had daily flights to Houston from Atlanta, Dallas-Fort Worth, and Los Angeles using both the Boeing 727 and Douglas DC-8 freighters. Seen taxiing toward the cargo ramp after having landed on a bright spring afternoon is N6163A, a Douglas DC-8-63CF.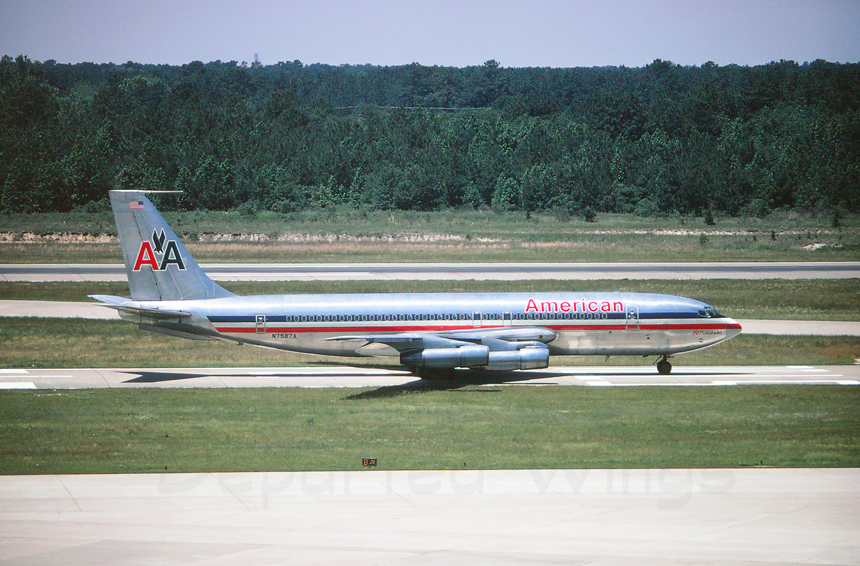 May 1973

*
American Airlines started service into Houston in 1957 with a single daily flight to Nashville, Tennessee using a Douglas DC-7. With the move to Houston Intercontinental, American expanded its operations, adding flights to San Francisco, and St Louis. By 1973, Pittsburgh and Cleveland were also added to the Houston timetable using both the Boeing 707 and Boeing 727 on the various flights. Seen taxiing outbound for takeoff is N7587A, a Boeing 707-123B, delivered new to the airlines on July 7, 1967.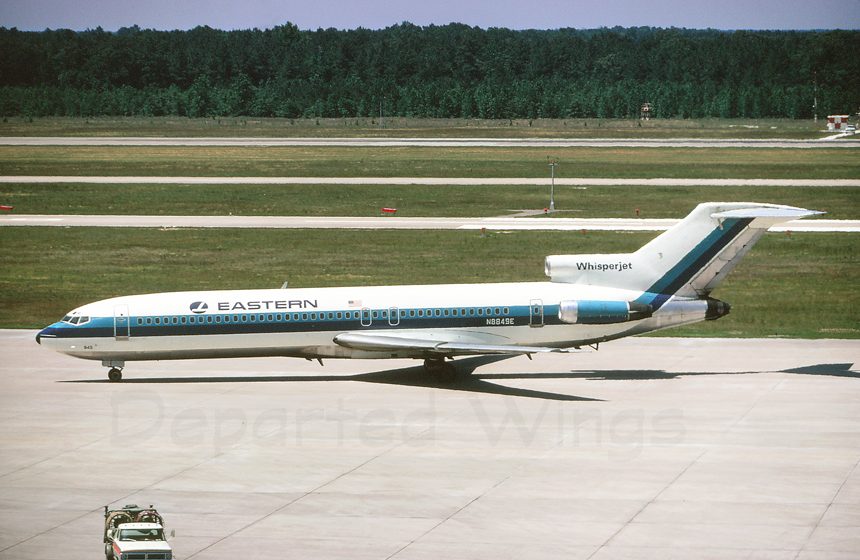 May 1973

*
Eastern Air Lines was an early operator to Houston when services were started in 1937 to New Orleans via Beaumont/Port Arthur and Baton Rouge, using a Douglas DC-3. During the 1950s Eastern would expanded at Houston adding regional flights to both San Antonio and Corpus Christi as well as non-stop services to Washington D.C. With the move to the larger Intercontinental Airport, Eastern Airlines made Houston a focus city and added flights to Atlanta, New York-La Guardia, and Newark. Seen taxiing toward its gate at Terminal A, Flight Station 4 after having landed, is N8849E, a Boeing 727-225, delivered new to the airline on November 17, 1970.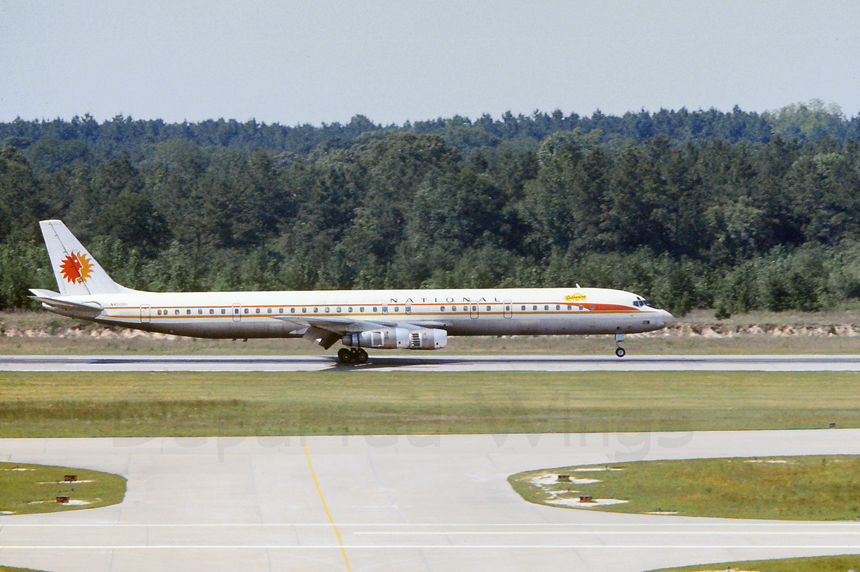 May 1973

*
In 1961, National Airlines was awarded the Southern Transcontinental route case buy the Civil Aeronautics Board (CAB). The routes included the lucrative destinations along the West Coast including both San Francisco and Los Angeles. Houston would be one of the key cities providing non-stop flights to San Diego, Los Angeles, Las Vegas, and San Francisco initially with the Lockheed Electra. Eventually Douglas DC-8s replaced the Electra flights and after the move to Houston Intercontinental, National Airlines Douglas DC-8s were still being used on flights to Las Vegas and San Francisco, as well as on services to New Orleans. Seen touching down on Runway 8 is N45090 "Catherine," a Douglas DC-8-61.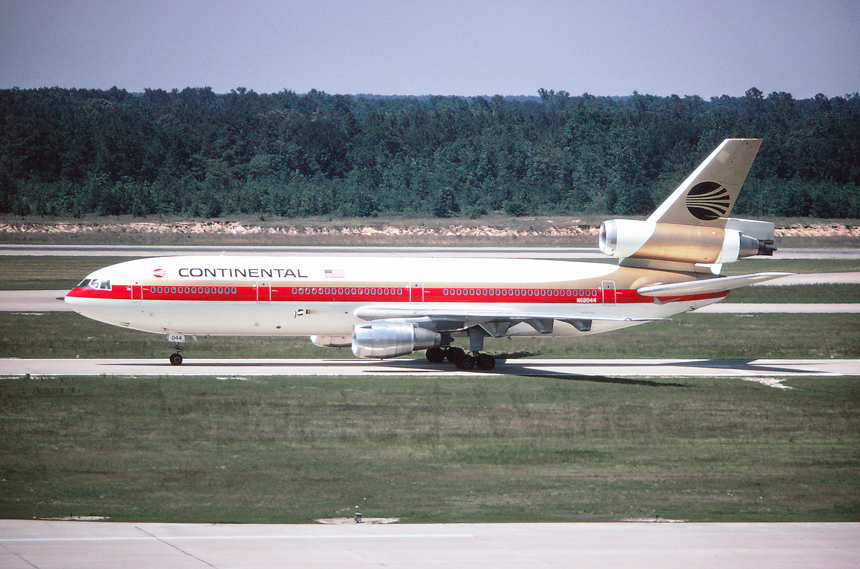 May 1973

*
Continental Air Lines started operations at Houston in August 1951 on a single route to San Antonio using a Douglas DC-6. During the early 1960s, Continental added service to Austin, as well as non-stop "Golden Jet" services to Los Angeles using the Boeing 707. With the opening of Houston Intercontinental, Continental Airlines had room to expanded and by 1973 was serving nine destinations from Houston, including using its "Heavy 10s" on trunk routes to Denver and Los Angeles. Seen taxiing toward the the gate at Terminal A after having landed is N68044, a Douglas DC-10-10, delivered new to the airline on June 6, 1972.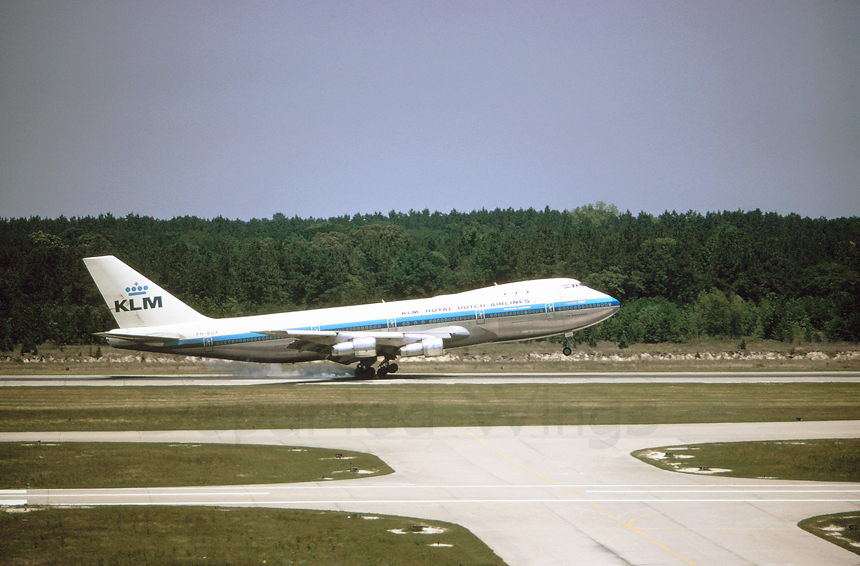 May 1973

*
KLM Royal Dutch Airlines was the first international airline to start service to Houston when flights were started in 1957 to Amsterdam via Montreal using a Douglas DC-7C then continuing onto Mexico City. Douglas DC-8 jets replaced the piston driven Douglas DC-7 in the early 1960s. With the opening of the larger Houston Intercontinental and longer runways, KLM was able to start services to Houston using their new Boeing 747s in September 1971. Seen just touching down on Runway 8 during an arrival from Mexico City is PH-BUA "Mississippi," a Boeing 747-206B however the shorter runways at Houston Hobby imposed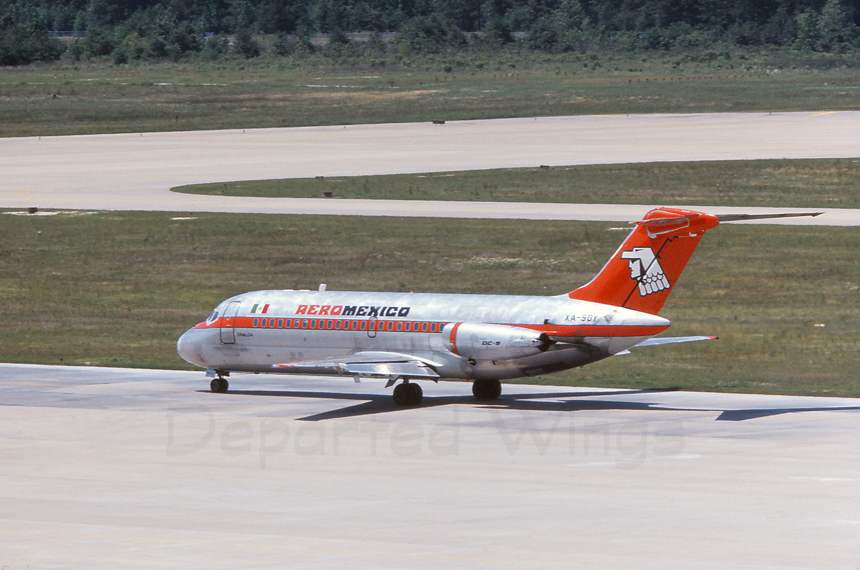 May 1973

*
The second international airline to start service to Houston was Aeronaves de Mexico, later Aeromexico when flights were inaugurated in 1967 to Monterrey, Mexico, using the Douglas DC-9. With the move to Houston Intercontinental in 1969, additional service to Guadalajara was added. By 1973, Aeromexico had daily departures to Guadalajara, Merida, and Monterrey using the Douglas DC-9. Seen taxiing away from the terminal ramp for an afternoon departure is XA-SOY "Sinaloa," a Douglas DC-9-15.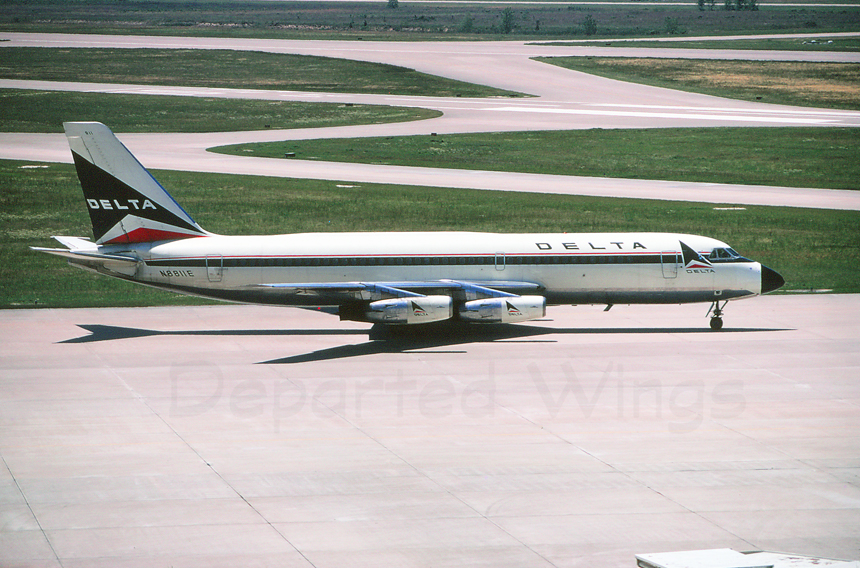 May 1973

*
Delta Air Lines was the first airline to start jet service into Houston when Douglas DC-8s were introduced on the Houston-New York flights on December 1, 1959. When Delta Air Lines took delivery of its first Covair CV-880 "Hot-Rod," the airline used Houston to inaugurate the world's first Convair 880 schedule passenger flight to New York-Idlewild Airport on May 15, 1960. Eventually the Convair 880 would provide services from Houston to Chicago and St. Louis in addition to its New York flights. By 1973, although still being used from Houston to New Orleans and Atlanta before being retired from service a year later in 1974. Seen taxiing outbound for takeoff is N8811E, a Convair CV-880-22-2, delivered new to the airline in August 1961.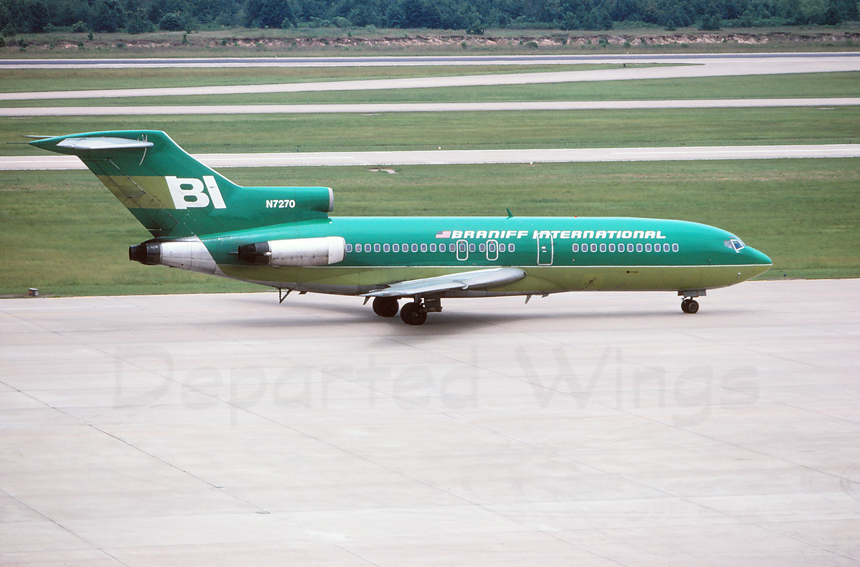 July 1975

*
Braniff Airways was one of the first airlines to start passenger service into Houston when flights commenced to Dallas via Fort Worth, Waco and continuing on to Galveston in 1935 using a Lockheed Vega aircraft. Braniff International Airways then became the first airline to start international service from Houston in June 1948, when flights were started to Havana, Cuba, continuing to Panama thence to South America. Braniff Boeing 707 were introduced in April 1960 on flights to Dallas-Love Field. With the move to Houston Intercontinental, Braniff was serving six domestic destinations as well as international flights to Panama City, Panama all with Boeing 727 aircraft. Seen wearing the green "Flying Colors" and taxiing out for takeoff on a balmy summer afternoon is N7270, a Boeing 727-27C.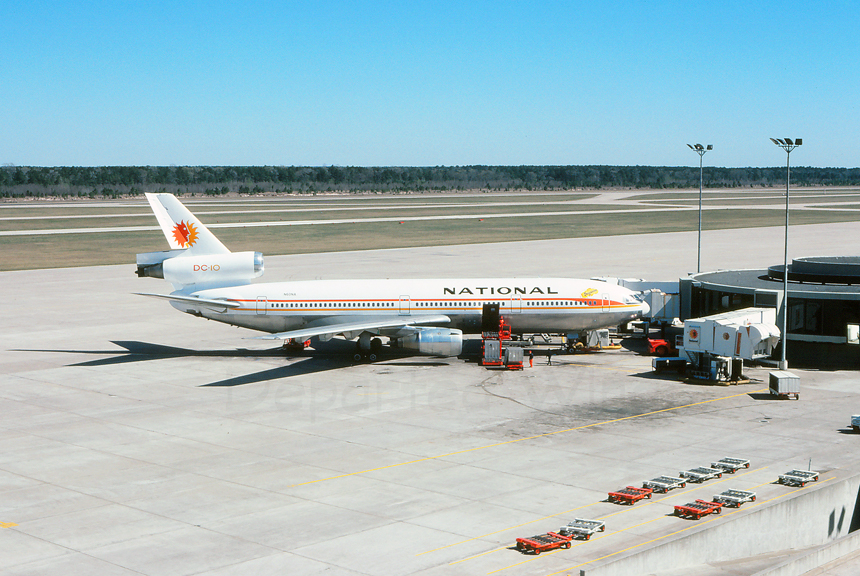 February 1976

*
National Airlines ordered nine Douglas DC-10 aircraft in 1969, with a capacity of 256-passengers. The new-wide body Douglas tri-jets would be used to phase out the Douglas DC-8 and provide both transcontinental and high-density flights along the popular New York-Florida corridor. National's first DC-10 scheduled service started in January 1972, initially between Florida and New York, and then soon on other trunk routes in the system. National used their Douglas DC-10s extensively from Houston during the 1970s on flights to Los Angeles, Miami, New Orleans, and Tampa. Seen parked at the gate at Flight Station 1, Terminal A, is N60NA "Suzanne," a Douglas DC-10-10, delivered new to the airline on November 1, 1971. .
Back to: The Airports