THE AIRPORTS
SOUTHWEST
LAS VEGAS-McCARRAN INTERNATIONAL AIRPORT
LAS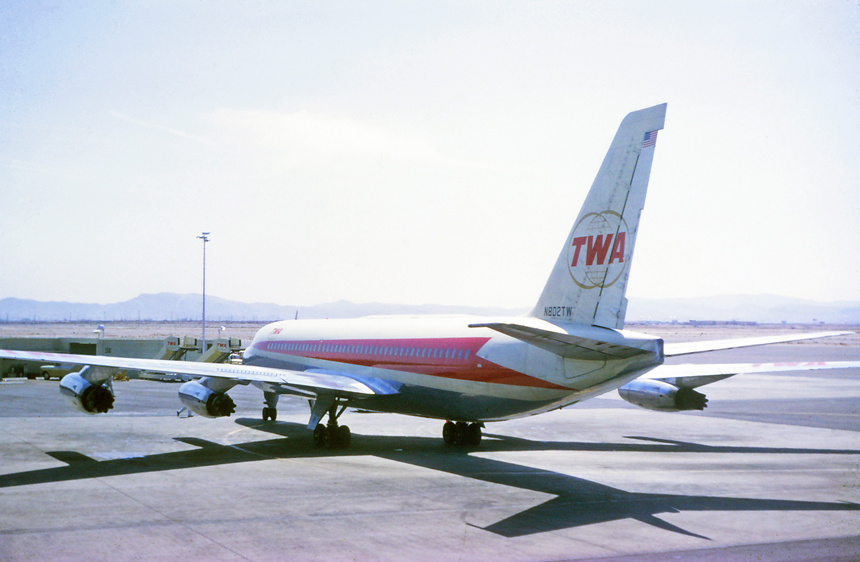 April 1966

*
Trans World Airlines (TWA) was an early operator into Las Vegas when Civil Aeronautics Board (CAB) approval was given to the airline in 1937, to serve the airport as a stop on its Los Angeles-Newark, New Jersey route. Eventually jet service was introduced and by the mid-1960s TWA was flying from Las Vegas to Los Angeles, San Francisco, Phoenix, Albuquerque, and Chicago.

When TWA introduced the sleek new Convair 880 in January 1961, Las Vegas was one of the first airports to host the new airliner, thanks in part to majority TWA shareholder Howard Hughes calling the desert city home. Seen preparing to depart the ramp area for another flight is N802TW, a Convair 880-22-1, delivered new to TWA on March 18, 1961.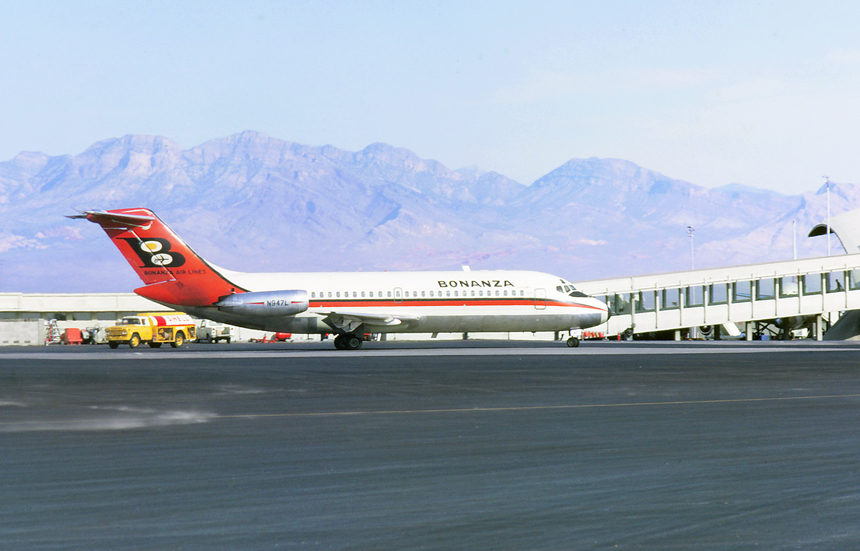 July 1967

*
Bonanza Air Lines was Las Vegas's first local service carrier starting operations in December 1949, on a multi-stop route between Reno, Nevada and Phoenix, Arizona. Early serviced used war surplus Douglas DC-3 and this was followed by Fairchild F-27 "Jet-Prop" flights on January 1, 1958. Douglas DC-9 services were started. In June 1966, and the new "Fun Jet" was used on the airlines popular flights between Las Vegas and Reno, and Las Vegas and Phoenix. Seen pulling away from the terminal area for another regional flight is N947L, a Douglas DC-9-11, delivered new to Bonanza Air Lines in January 1966.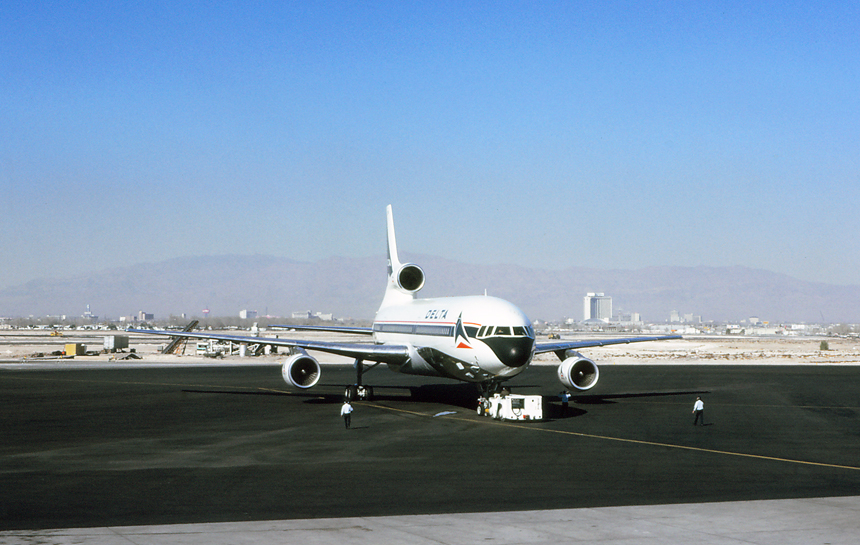 January 1974

*
Delta Airlines was one of the first operators and eventual largest operator of the technology advanced Lockheed L-1011 wide-body. When the type was introduced for service on December 13, 1973, the 250-passenger plane was initially used on routes from Atlanta to New York (JFK), Miami, New Orleans, and Houston. Realizing an opportunity to bring passengers from the frigid east to the balmy winter weather of the desert, only a month later did occasional flights between Atlanta and Los Angeles use the new "Tristar." Being pushed back away from the gate for an eastbound flight is N704DA, a Lockheed L-1011-1 Tristar, delivered new to Delta Airlines on December 22, 1973.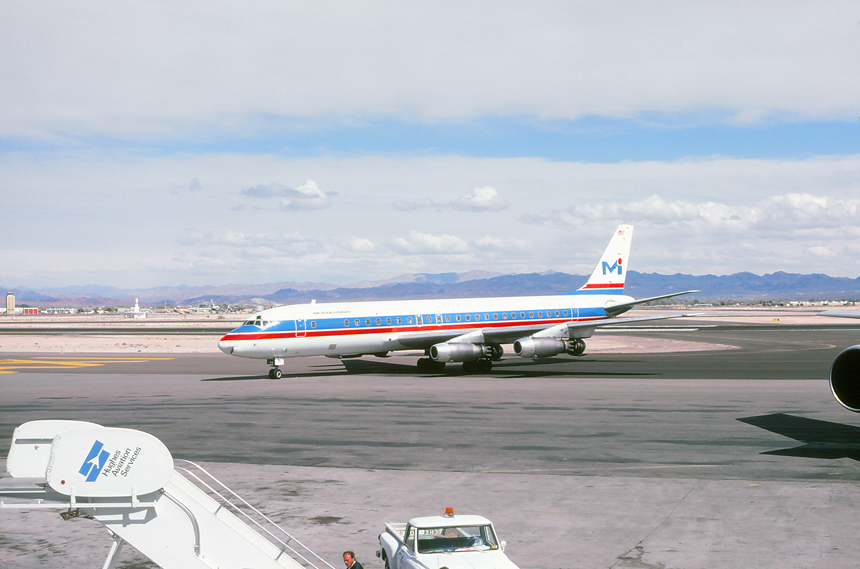 April 1975

*
McCulloch International Airlines was a supplemental carrier that started operations initially as Vance International Airways in 1962. During 1970, Vance was purchased by McCulloch Oil Company to provide potential land buyers transport to the company's various new real-estate developments including Lake Havasu City in Arizona. Using a small fleet of Lockheed Electra's, a Boeing 720 and Douglas DC-8, thousands of passengers were ferried to the new desert oasis as well as other properties in Colorado and Nevada in hope of securing land for building homes. The airline eventually filed for bankruptcy in 1977 after the owner of McCulloch Oil passed away. Caught taxiing into the ramp area at the Charter Terminal is N711LF, a Douglas DC-8-30 leased from United Air Leasing in March 1975.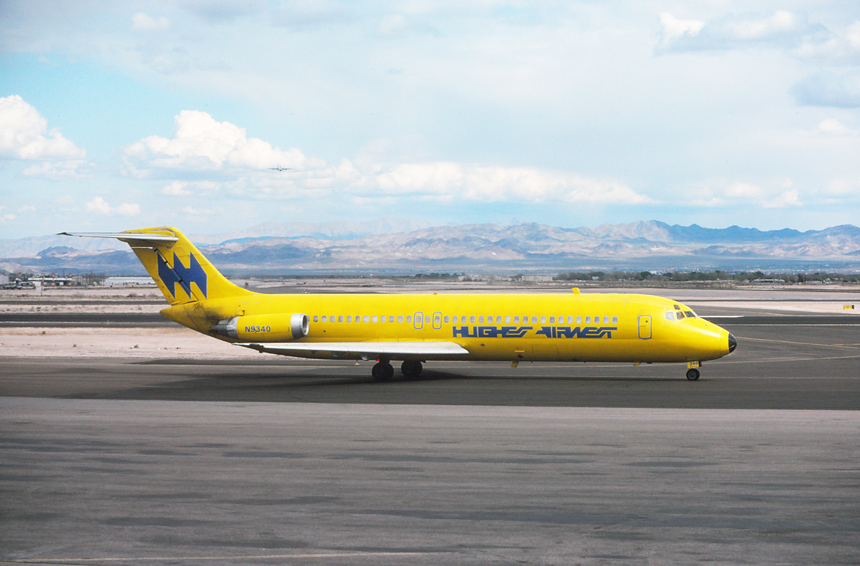 April 1975

*
After the merger of the three local service carriers, Bonanza Air Lines, Pacific Air Lines, and West Coast Airlines into AirWest, only a few years later would infamous Howard Hughes purchase the airline adding his namesake to the title. Las Vegas was considered a hub, and the airline had no less then forty daily flights to twelve cities throughout the West. Seen taxiing outbound for an afternoon departure is N9340, a Douglas DC-9-31, delivered new to AirWest in April 1969.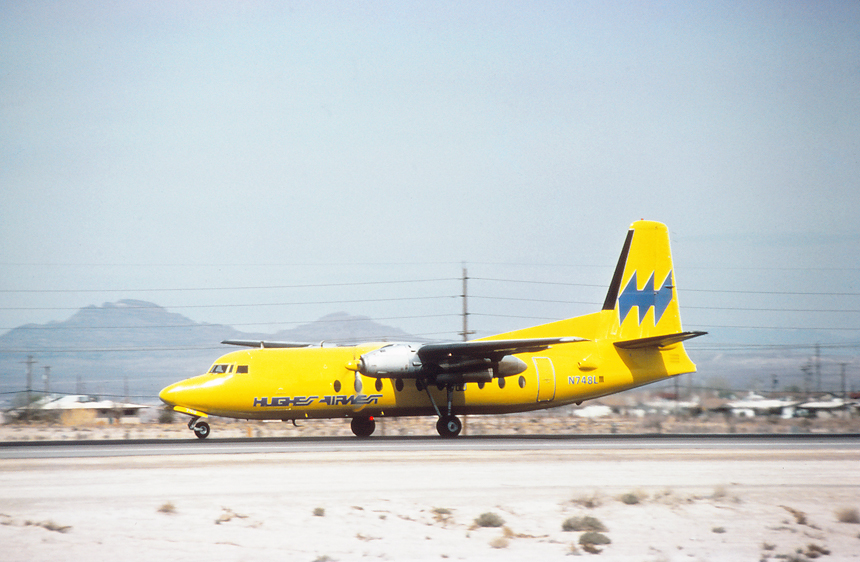 June 1976

*
Western When Hughes Airwest purchased AirWest, the new owner took possession of twenty-six Fairchild F-27 airplanes which were used on many of the AirWest regional services. Flights using the high-winged turboprop continued as the airplane was suited for the smaller stations, and shorter routes served by the airline. Las Vegas saw the F-27 used on feeder flights to the Grand Canyon Canyon Airport which catered to the large tourist presence. Rolling for takeoff on Runway 25 is N748L, a Fairchild F-27A, originally delivered to Bonanza Airlines.
Back to: The Airports