THE AIRPORTS
SOUTHERN CALIFORNIA
LOS ANGELES
LAX
1950s-1960s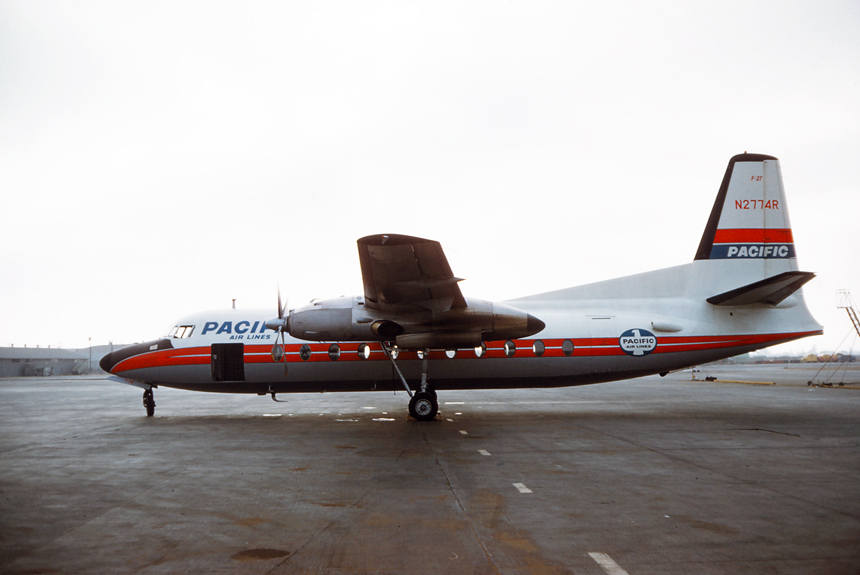 August 1959
One of the pioneering local airlines on the West Coast, Southwest Airlines, started operations in 1941, as a flight school in Arizona. Realizing the need for passenger service, schedule operations began in December 1946, within California, using war-surplus Douglas DC-3s. By 1950, Southwest was operating a fleet of ten DC-3s and serving twenty-four towns and cities in both California and Oregon. As the airline continued to grow, it rebranded itself "Pacific Air Lines" in 1958, to better reflect the territory served. With the name change came continued growth and the airline looked at the new Fokker/Fairchild turboprop to increase capacity and distance on popular routes. Six new F-27 "Jet Hawks" were delivered to Pacific Air Lines in 1959, and were placed on high density routes such as San Francisco-Monterey and Los Angeles-Fresno. Pacific Airlines would eventually operate thirteen of the Fokker aircraft before the company was merged with Bonanza Air Lines and West Coast Airlines to form AirWest in 1968. Caught on the ramp at Los Angeles International Airport and wearing the trademark Pacific Air Lines final color scheme is N27774R, a Fairchild F-27A, delivered new to the airline on June 11, 1959.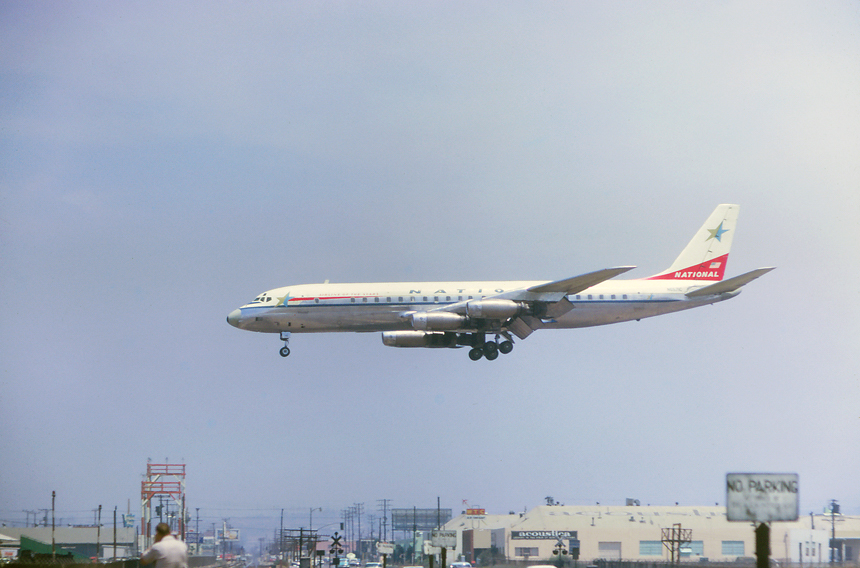 July 1962
United When National Airlines was awarded routes to California in March 1961, the airline placed its new Douglas DC-8 airplanes on the flights between Los Angeles and Tampa, Houston, and San Diego. Seen over Aviation Boulevard for landing on Runway 25 Left is N6571C, a Douglas DC-8-21, delivered new to National Airlines on February 7, 1960.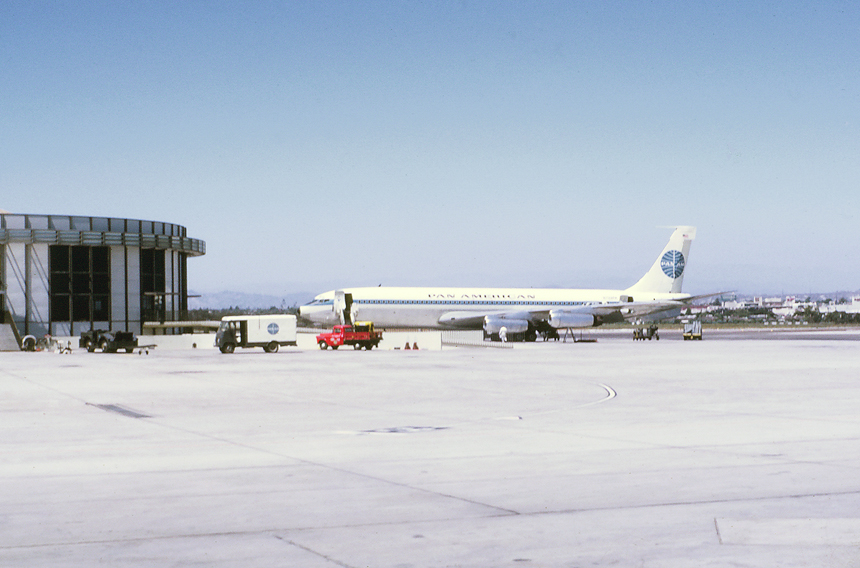 August 1962
Pan American Airlines (Pan Am) first started service into the Los Angeles area in 1939, when China Clipper service was started between San Pedro Harbor and Honolulu, Hawaii. In 1950, operations were moved to Los Angeles International Airport (Mines Field) and the China Clipper was replaced with Boeing 377 Stratocruiser service to Hawaii. New non-stop service to Guatemala and Mexico City was later introduced in the early 1950s with Lockheed Constellations. Pan American received its first jet aircraft, the Boeing 707 in 1958, and in 1960, the new Boeing was introduced on the Los Angeles-Honolulu route. By 1962, Pan American had opened non-stop service from Los Angeles to London with the Boeing 707. Seen parked at the Satellite Terminal 2 building is N706PA
"Jet Clipper Courier,"
a Boeing 707-331, originally delivered to the airline on June 6, 1960.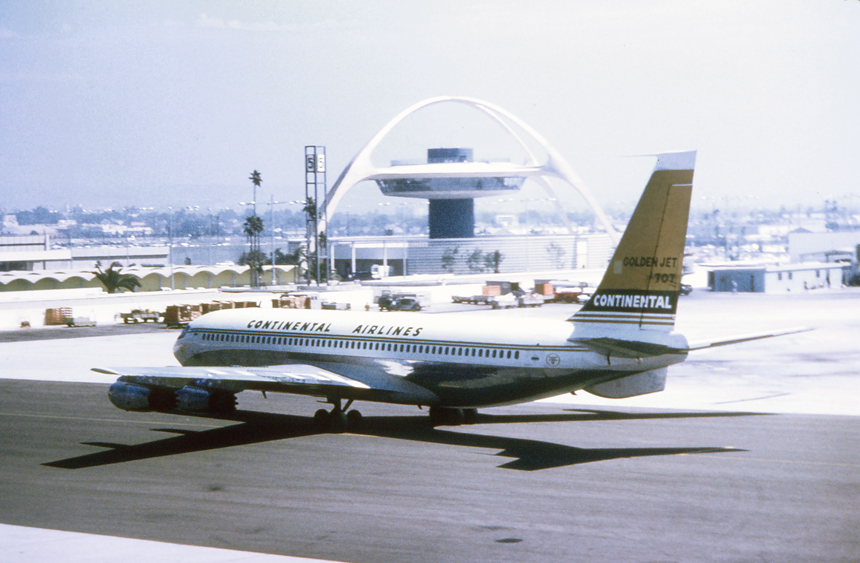 December 1962
As with all of the major carrier at the time, Continental Airlines was introduced to the Jet Age in 1959, when the airline placed into service the Boeing 707. Continental introduced the "Golden Jet" 707 on Los Angeles to Chicago service on June 8, 1959 Within a year, additional 707 flights were added from Los Angeles to Denver and Kansas City. Taxiing inbound toward the gate at Satellite 6 after a flight a N70773, a Boeing 707-124. This aircraft was damaged beyond repair during a landing accident at Kansas City Downtown Municipal Airport on July 1, 1965.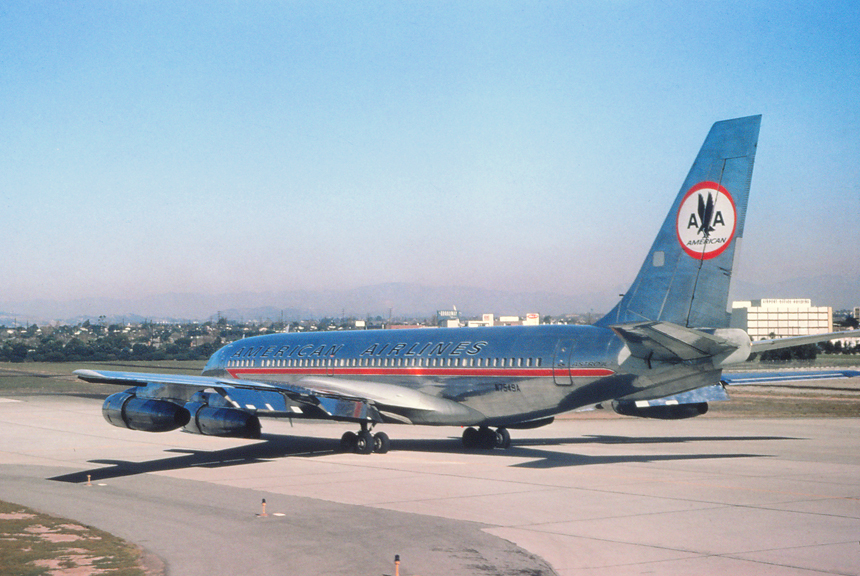 May 1966
American Airlines introduced Boeing 707 "Astrojet" service to the nation on January 25, 1959, when the first transcontinental flight took place using Boeing new jetliner. The plane, "Flagship California" departed Los Angeles at 0845 and headed eastbound to New York-Idlewild Airport. After a flight time of only 4 hours and 3 minutes, the plane landed amongst great fanfare, and entered into the history books the start of the "Jet-Age." Seen taxiing up to Runway 24 for an afternoon departure is N7549A, a Boeing 707-123, delivered new to American Airlines in October 1959.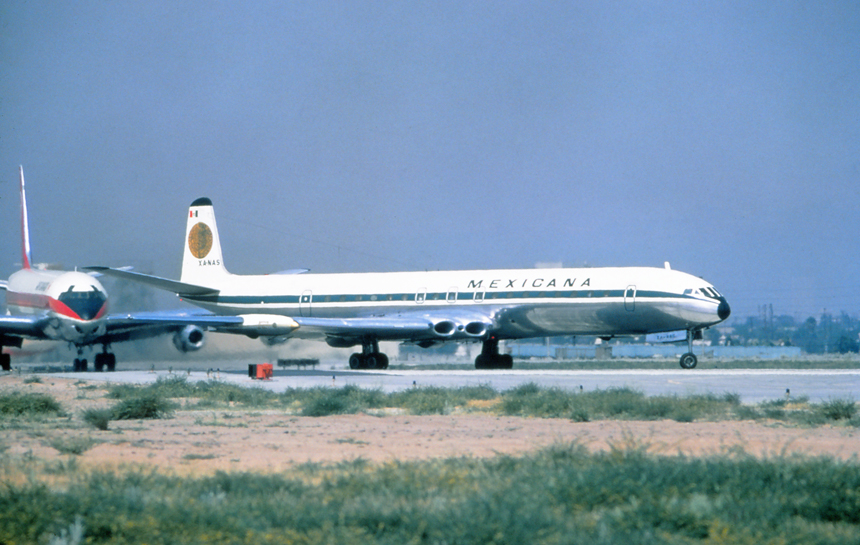 April 1968
Mexicana was one of the few carriers that ordered the world's first, British made passenger jetliner, which opened the next chapter in commercial aviation history. The de Havilland Comet revolutionized speed and comfort, using four-jet engines and a pressurized passenger cabin. After some initial failures, the Comet was redesigned and rebranded for which Mexicana Airlines ordered four of the type for international services in 1959, however only three were delivered. The airline received its first Comet in January 1960, and placed the new jet on it's "Golden Aztec" service between Los Angeles-Mexico City on July, 4, 1960. The airline operated the Comets until 1970 when they were replaced by new Boeing 727s. Turning onto Runway 24 for a morning departure is XA-NAS, a de Havilland Comet-4C. Note the Air Canada Douglas DC-8 second for departure behind the Mexicana.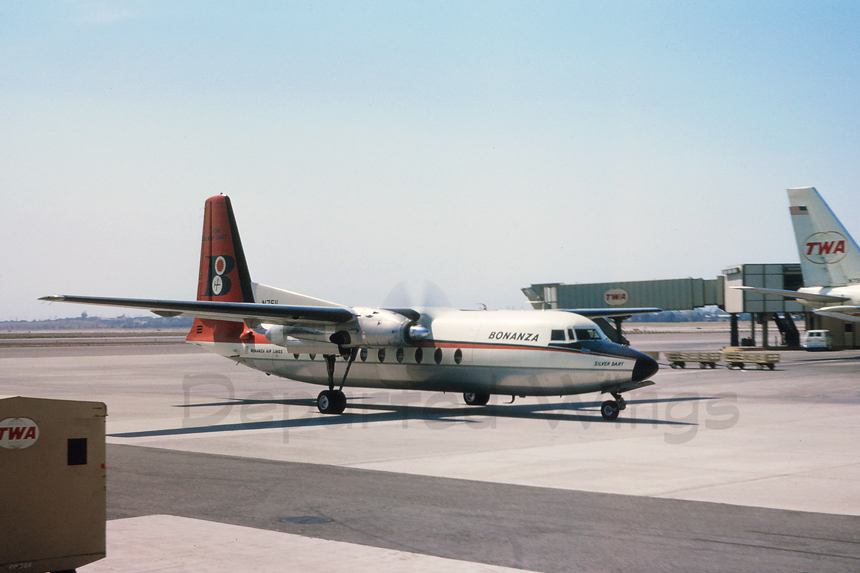 July 1968
Bonanza Airlines was started in 1945, as local service carrier based in Las Vegas, Nevada. The airlines earliest route connected Phoenix, Arizona to Reno, Nevada on a multi-stop service using Douglas DC-3s. In July 1952, Bonanza started service from Phoenix to Los Angeles via seven enroute stops using the venerable DC-3. During 1959, Bonanza placed the 40-passenger Fairchild F-27 turboprop in service eventually replacing the Douglas DC-3. Los Angeles became a focus city for the airline and by 1968, the Fairchild F-27 was flying to five regional cities fro LAX including Santa Ana, Riverside, Ontario, El Centro-Imperial, and Palm Springs. Taxiing inbound the the gate a Satellite 3 is N751L, a Fairchild F-27A.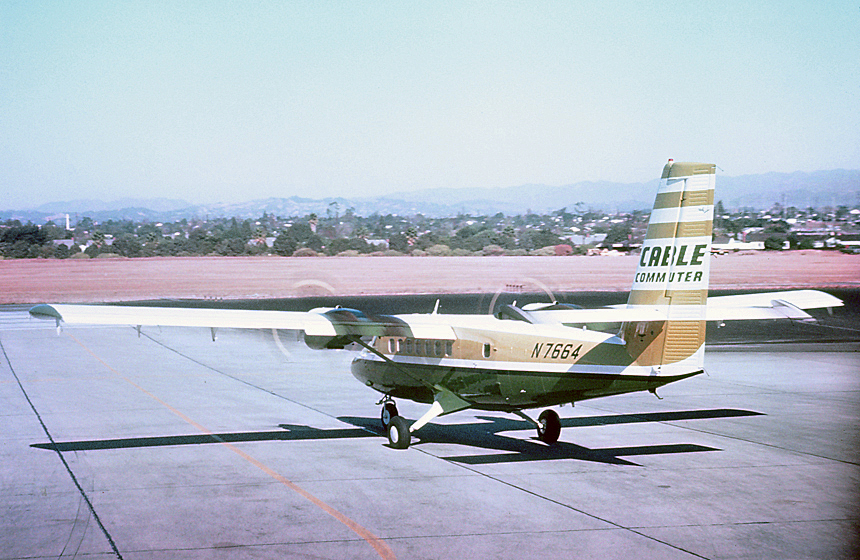 August 1968
Established in January 1967, by a local businessman, Roger Cable, whom had a vision to connect the Inland Empire region of Southern California with air service to LAX. Based at Ontario airport the airline started with small twin-engined aircraft before purchasing twelve of the new de Havilland DHC-6 Twin Otter aircraft. Commuter services were introduced to Los Angeles in November 1967, with flights to Ontario, Palmdale, Inyokern/China Lake and Orange County. Cable Commuter would be a regular operator into Los Angeles for just over a year until their consolidation into the new Golden West Airlines in 1969. Approaching Runway 24 for an afternoon departure is N7664, a de Havilland DHC-6-200 Twin Otter.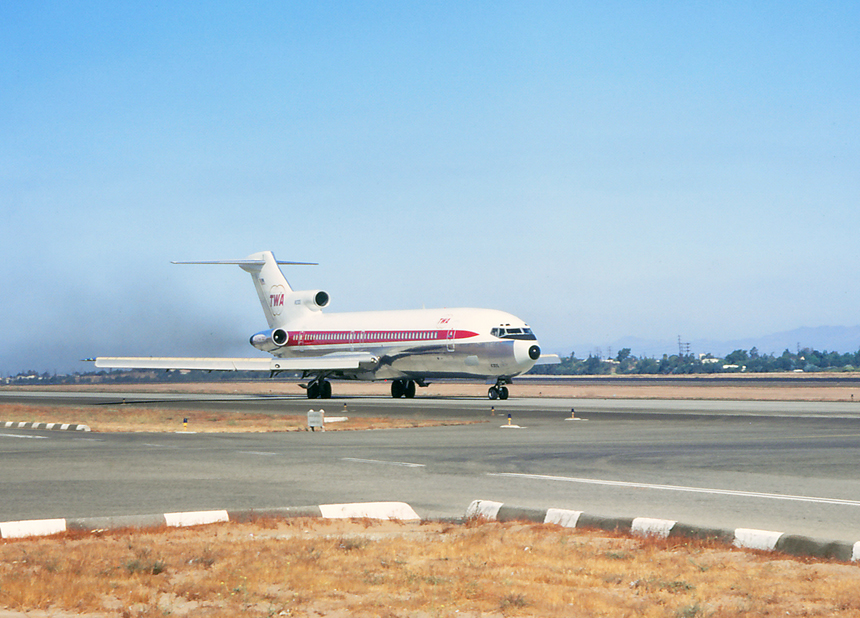 August 1968
Trans World Airlines (TWA) in an effort to introduce jet service on its short-haul domestic market, placed an initial order for ten Boeing 727-100s in March 1962. The first plane was delivered on April 29, 1964 and placed into service between New York-JFK and Indianapolis. Los Angeles soon saw the TWA 727s on services to Albuquerque, Las Vegas, and Phoenix. Seen taxiing back to the terminal after having landed on Runway 24 is N12305, a Boeing 727-231, delivered just a few months earlier in May 1968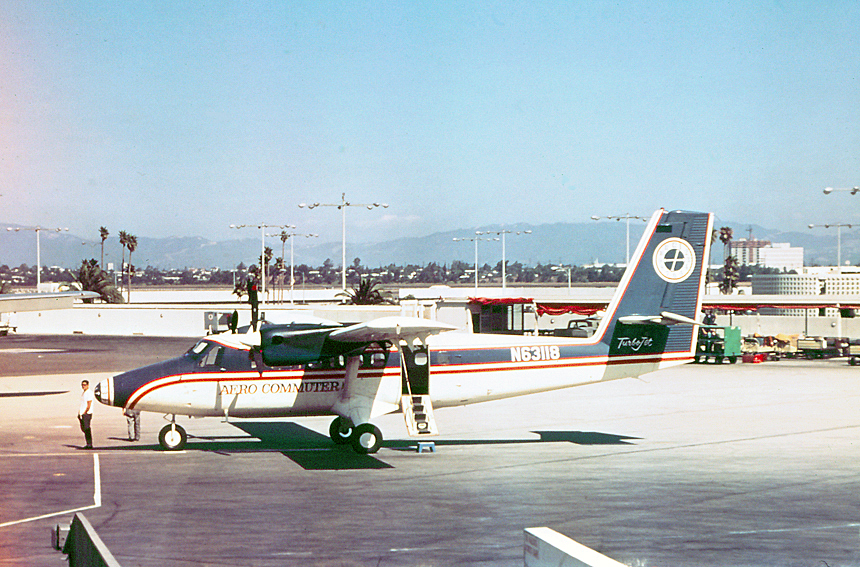 1968
Aero Commuter was another local airline established in December 1967, to provide "commuter" connections from smaller, regional Southern California airports into LAX. Based at Long Beach, Aero Commuter had its roots in providing flights to Catalina Island located just off the coast. With the addition of the de Havilland DHC-6 Twin Otters the airline increased flights throughout the region. Los Angeles had daily flights to El Monte, Burbank, Fullerton, Long Beach, Palm Springs, and Catalina Island. A year later in 1969, the airline would purchase two other local carriers (Cable Commuter and Skymark Airlines) and purchase the assets of defunct Golden West to become the "new" Golden West Airlines. Parked at the original commuter ramp on the west side of the terminal area is N63118, a de Havilland DHC-6-200 Twin Otter.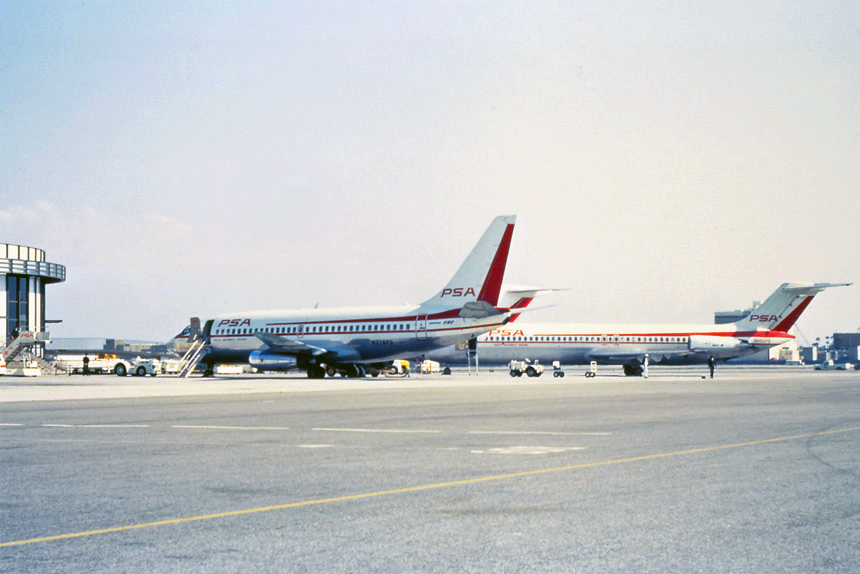 Fall 1968
Pacific Southwest Airlines (PSA) started flights into Los Angeles in 1958 and established a stronghold that would take the intra-state airline well into the 1980s. PSA ordered two Douglas DC-9 aircraft in 1967, to provide for pilot training, but these aircraft were instead put into passenger service to better compete on the popular Los Angeles-San Francisco corridor flights. The DC-9s were only in service for a few years until 1969 when they were replaced by both the 727 and 737. Ironically during 1983, PSA purchased additional DC-9-30s for route expansion and used where the larger capacity MD-80s were not economical. A trio of PSA aircraft (737, DC-9 and 727) are seen parked at the Satellite Terminal 6, including newly delivered N378PS, a Boeing 737-214 and N982PS, a Douglas DC-9-32.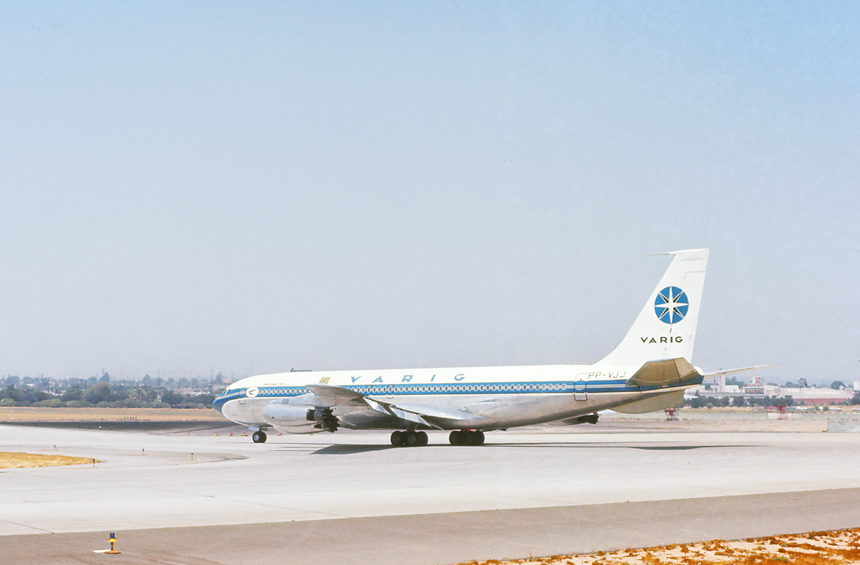 December 1968
VARIG Brasil took over the route of Redes Estaduais Aereas Ltda (REAL) Brasil which had started a multi-stop service to Los Angeles from Rio de Jeneiro in 1959. Flights were eventually extended to Tokyo, Japan and VARIG introduced jet service on the route with the introduction of the Boeing 707 in 1967. Seen holding short of Runway 24 is PP-VJJ, a Boeing 707-441, delivered new to the airline in November 1963.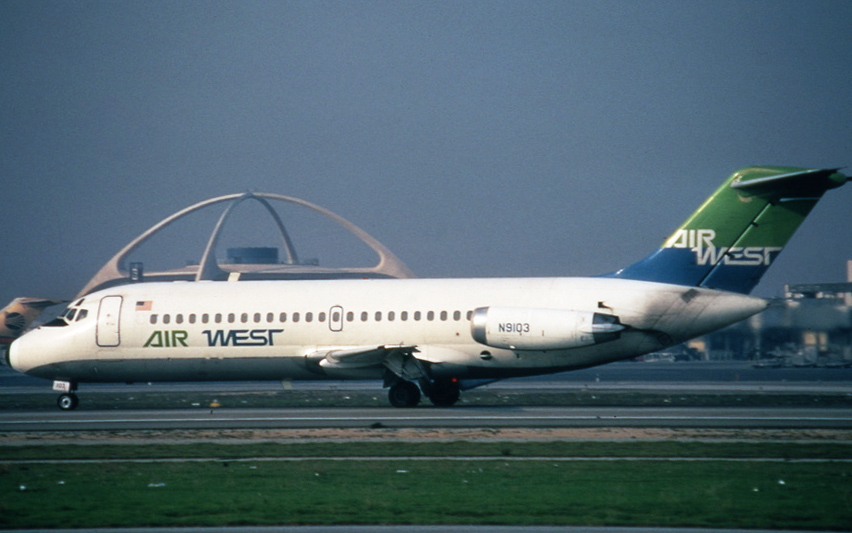 1969
When Bonanza Air Lines, Pacific Air Lines and West Coast Airlines merged in July 1968 to form AirWest, the new airline assumed the operation of ten (10) Douglas DC-9s that had originally been operated by both West Coast (4) and Bonanza Airlines (6). Los Angeles continued to be served with the DC-9s under the AirWest brand until its purchase by Hughes Corporation in 1970. Departing on Runway 25 Right is N9103, a Douglas DC-9-14, originally delivered to West Coast Airlines in December 1966.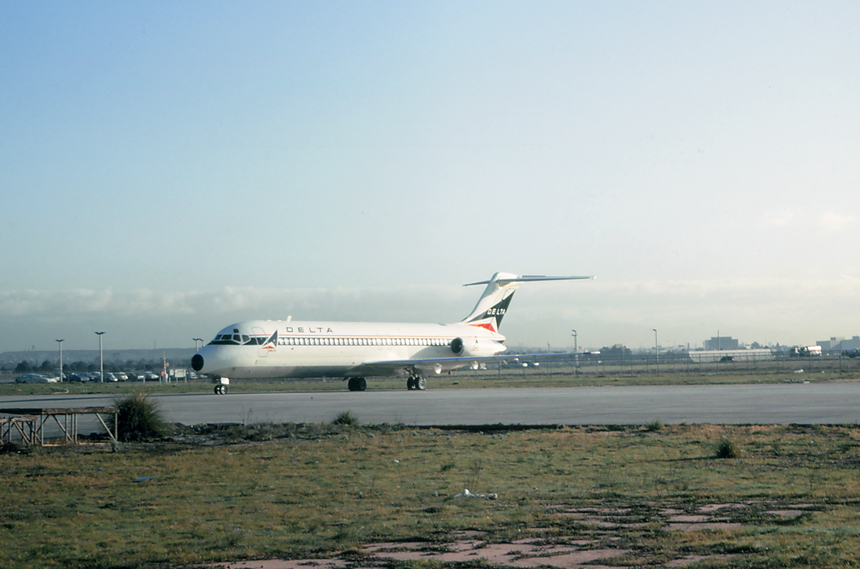 March 1969
Although at the time, Delta Airlines was not a scheduled carrier at the airport, Delta aircraft were occasionally seen "passing" through after having been delivered by Douglas Aircraft just south in Long Beach. This brand new Douglas DC-9 was delivered new to the airline the day before and stopped by LAX, before being flown to the carriers home base of Atlanta, Georgia. Parked at the remote parking ramp at the west end of the airport in "mint" condition is N1273L, a Douglas DC-9-32.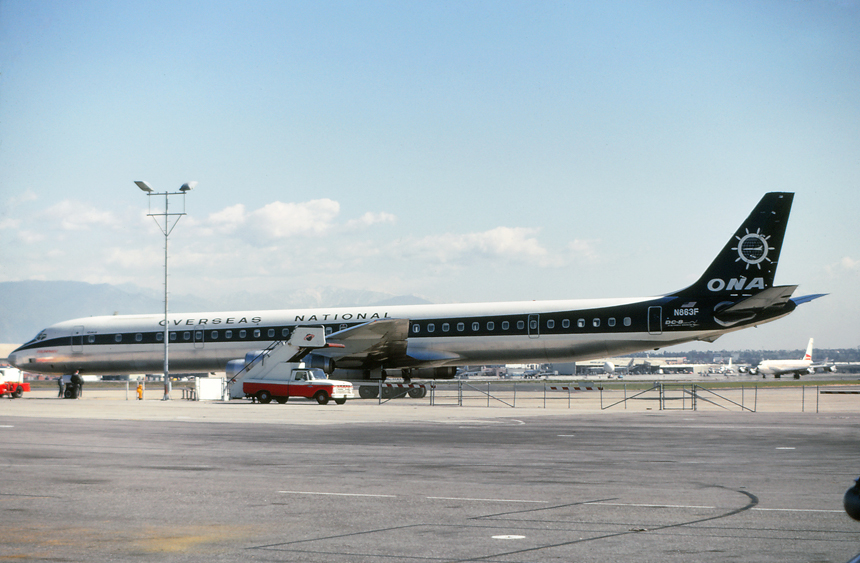 March 1969
Overseas National Airways (ONA) was a supplemental air carrier that was founded in 1950 and based at New York Idlewild Airport. ONA focused its efforts on both passenger and freight charters, with a majority of flights for carrying US military personnel between the US East Coast and Europe. The airline operated a variety of aircraft including the Douglas DC-7, Douglas DC-8, and Douglas DC-10

. Parked at the Imperial Terminal during a charter flight is N863F, a Douglas DC-8-63CF, delivered new to the airline in September 1968.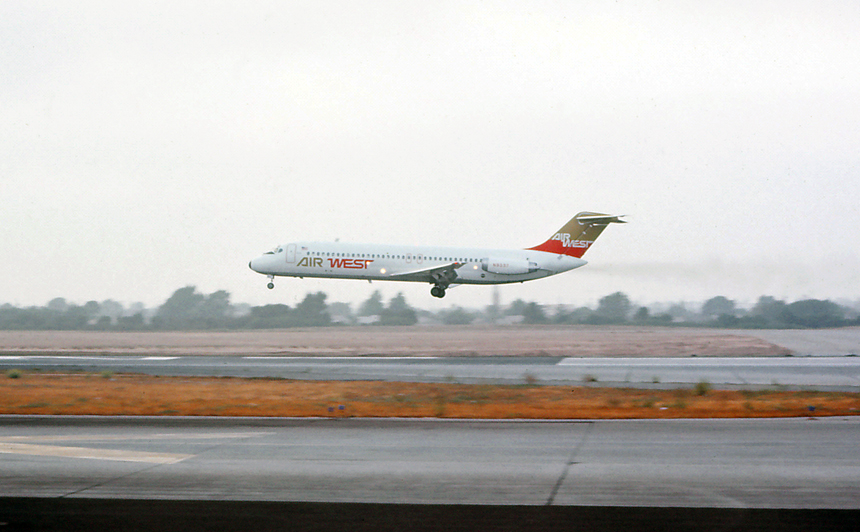 July 1969
New regional airline AirWest utilized its fleet of Douglas DC-9 "jets" on its major trunk routes throughout the system including regional flights from Los Angeles to Las Vegas, Tucson, and San Diego. Caught "over-the-numbers" for landing on Runway 24 (the north runway had not been constructed yet) is N9337, a Douglas DC-9-30, delivered new to AirWest in march 1969.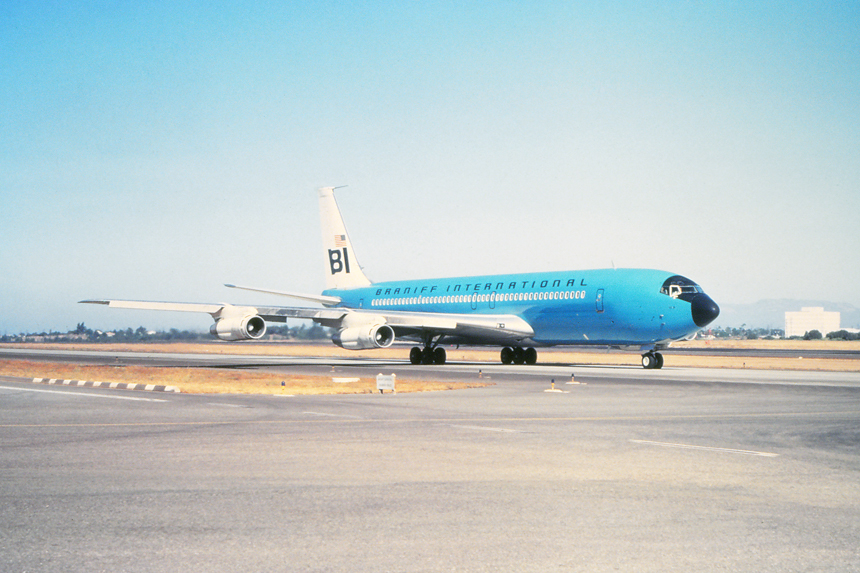 March 1969
After the purchase of Panagra Airlines in 1967, Braniff International Airlines assumed the routes between Los Angeles, Bogata, Columbia and Lima, Peru. Although Panagra was operating Douglas DC-8s on the international service, Braniff started operating Boeing 707s on the routes to supplement the DC-8s. Caught taxiing back to the terminal after having landed and wearing the new blue "Jelly Bean" colors is N7103, a Boeing 707-327C, delivered new to Braniff in October 1967.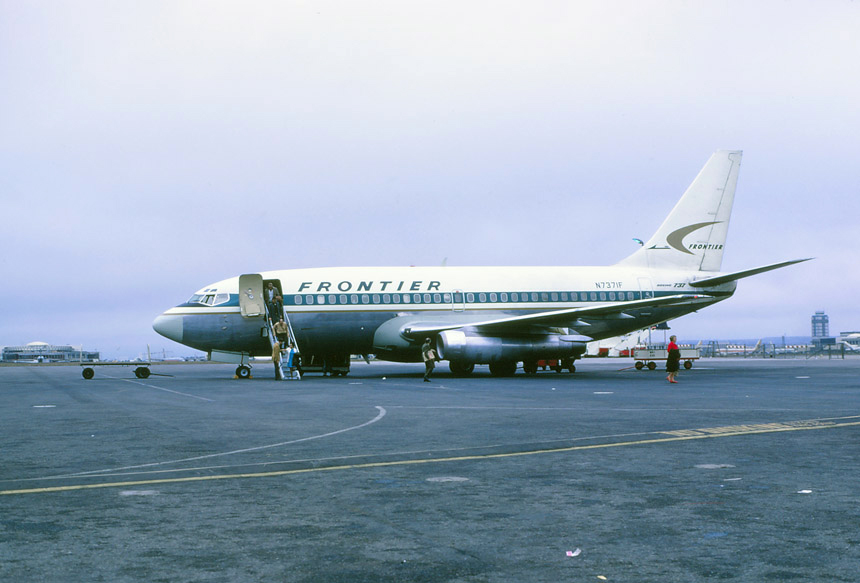 December 1969
Frontier Airlines was formed in 1950 as the result of the merger of three local service airlines; Monarch Airlines, Challenger Airlines and Arizona Airways. The new airline, Frontier was based in Denver, Colorado and focused its initial flights in the Mid-West and Rocky Mountain region. Boeing 737's were ordered in the late 1960s to replace the Boeing 727 that were too large for the regional airline's route structure. The Boeing 737 would become the primary aircraft for Frontier until the airlines purchase by People's Express in 1985. Los Angeles was not a regular destination for Frontier until 1980, however the airline would occasionally fly charters into the airport previous to starting scheduled passenger services. Caught parked at the Imperial Terminal and unloading passengers during a winter charter flight is N7371F, a Boeing 737-2CO, the first example to be delivered to Frontier in May 1969.
Continue with: Los Angeles-1970s
Back to: Los Angeles-Index or The Airports