THE AIRPORTS
SOUTHERN CALIFORNIA
LOS ANGELES
LAX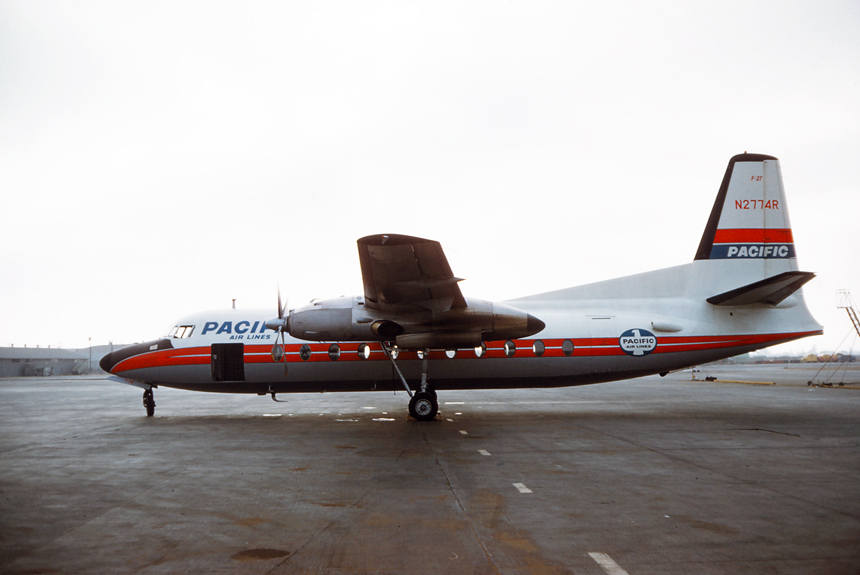 August 1959
One of the pioneering local airlines on the West Coast, Southwest Airlines, started operations in 1941, as a flight school in Arizona. Realizing the need for passenger service, schedule operations began in December 1946, within California, using war-surplus Douglas DC-3s. By 1950, Southwest was operating a fleet of ten DC-3s and serving twenty-four towns and cities in both California and Oregon. As the airline continued to grow, it rebranded itself "Pacific Air Lines" in 1958, to better reflect the territory served. With the name change came continued growth and the airline looked at the new Fokker/Fairchild turboprop to increase capacity and distance on popular routes. Six new F-27 "Jet Hawks" were delivered to Pacific Air Lines in 1959, and were placed on high density routes such as San Francisco-Monterey and Los Angeles-Fresno. Pacific Airlines would eventually operate thirteen of the Fokker aircraft before the company was merged with Bonanza Air Lines and West Coast Airlines to form AirWest in 1968. Caught on the ramp at Los Angeles International Airport and wearing the trademark Pacific Air Lines final color scheme is N27774R, a Fairchild F-27A, delivered new to the airline on June 11, 1959.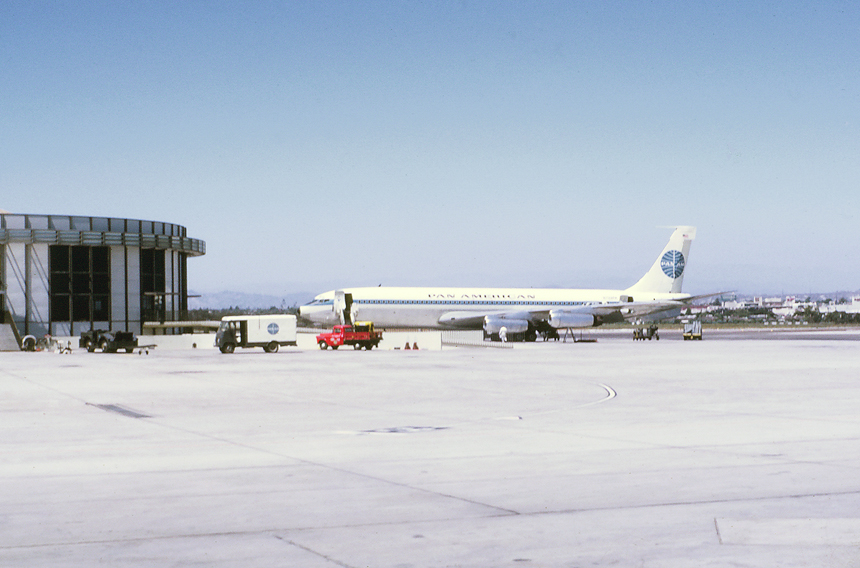 August 1962
Pan American Airlines (Pan Am) first started service into the Los Angeles area in 1939, when China Clipper service was started between San Pedro Harbor and Honolulu, Hawaii. In 1950, operations were moved to Los Angeles International Airport (Mines Field) and the China Clipper was replaced with Boeing 377 Stratocruiser service to Hawaii. New non-stop service to Guatemala and Mexico City was later introduced in the early 1950s with Lockheed Constellations. Pan American received its first jet aircraft, the Boeing 707 in 1958, and in 1960, the new Boeing was introduced on the Los Angeles-Honolulu route. By 1962, Pan American had opened non-stop service from Los Angeles to London with the Boeing 707. Seen parked at the Satellite Terminal 2 building is N706PA
"Jet Clipper Courier,"
a Boeing 707-331, originally delivered to the airline on June 6, 1960.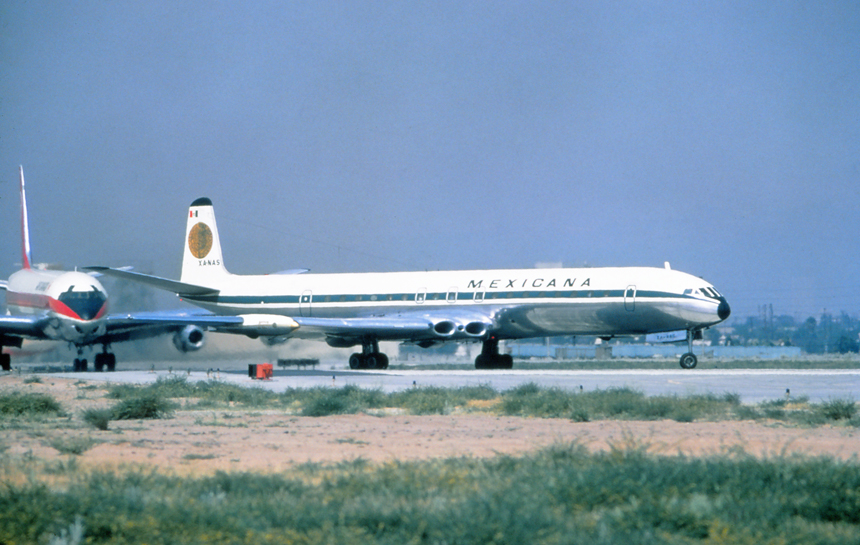 1968
Mexicana was one of the few carriers that ordered the world's first, British made passenger jetliner, which opened the next chapter in commercial aviation history. The de Havilland Comet revolutionized speed and comfort, using four-jet engines and a pressurized passenger cabin. After some initial failures, the Comet was redesigned and rebranded for which Mexicana Airlines ordered four of the type for international services in 1959, however only three were delivered. The airline received its first Comet in January 1960, and placed the new jet on it's "Golden Aztec" service between Los Angeles-Mexico City on July, 4, 1960. The airline operated the Comets until 1970 when they were replaced by new Boeing 727s. Turning onto Runway 24 for a morning departure is XA-NAS, a de Havilland Comet-4C. Note the Air Canada Douglas DC-8 second for departure behind the Mexicana.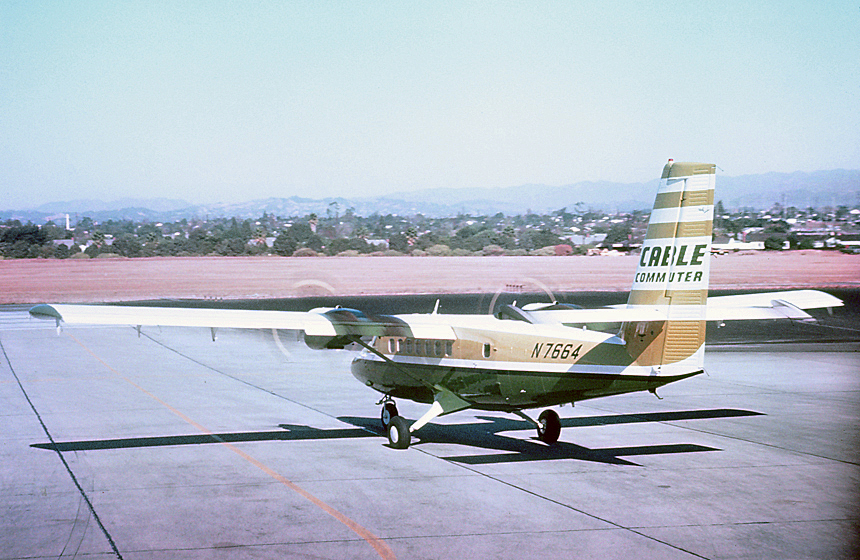 August 1968
Established in January 1967, by a local businessman, Roger Cable, whom had a vision to connect the Inland Empire region of Southern California with air service to LAX. Based at Ontario airport the airline started with small twin-engined aircraft before purchasing twelve of the new de Havilland DHC-6 Twin Otter aircraft. Commuter services were introduced to Los Angeles in November 1967, with flights to Ontario, Palmdale, Inyokern/China Lake and Orange County. Cable Commuter would be a regular operator into Los Angeles for just over a year until their consolidation into the new Golden West Airlines in 1969. Approaching Runway 24 for an afternoon departure is N7664, a de Havilland DHC-6-200 Twin Otter.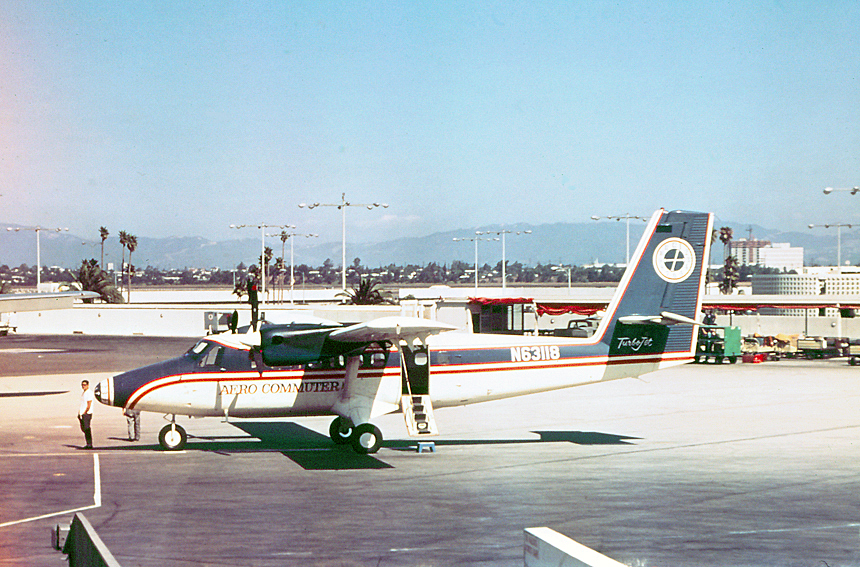 1968
Aero Commuter was another local airline established in December 1967, to provide "commuter" connections from smaller, regional Southern California airports into LAX. Based at Long Beach, Aero Commuter had its roots in providing flights to Catalina Island located just off the coast. With the addition of the de Havilland DHC-6 Twin Otters the airline increased flights throughout the region. Los Angeles had daily flights to El Monte, Burbank, Fullerton, Long Beach, Palm Springs, and Catalina Island. A year later in 1969, the airline would purchase two other local carriers (Cable Commuter and Skymark Airlines) and purchase the assets of defunct Golden West to become the "new" Golden West Airlines. Parked at the original commuter ramp on the west side of the terminal area is N63118, a de Havilland DHC-6-200 Twin Otter.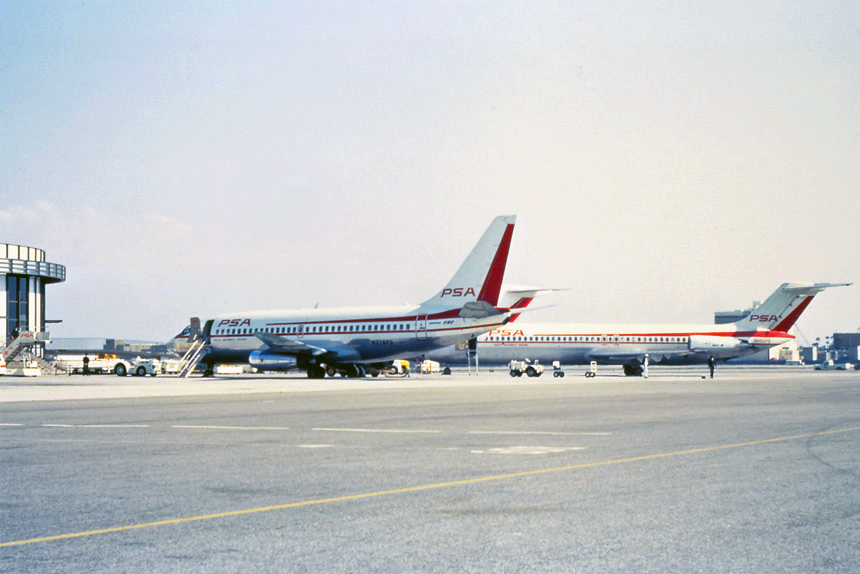 Fall 1968
Pacific Southwest Airlines (PSA) started flights into Los Angeles in 1958 and established a stronghold that would take the intra-state airline well into the 1980s. PSA ordered two Douglas DC-9 aircraft in 1967, to provide for pilot training, but these aircraft were instead put into passenger service to better compete on the popular Los Angeles-San Francisco corridor flights. The DC-9s were only in service for a few years until 1969 when they were replaced by both the 727 and 737. Ironically during 1983, PSA purchased additional DC-9-30s for route expansion and used where the larger capacity MD-80's were not economical. A trio of PSA aircraft (737, DC-9 and 727) are seen parked at the Satellite Terminal 6, including newly delivered N378PS, a Boeing 737-214 and N982PS, a Douglas DC-9-32.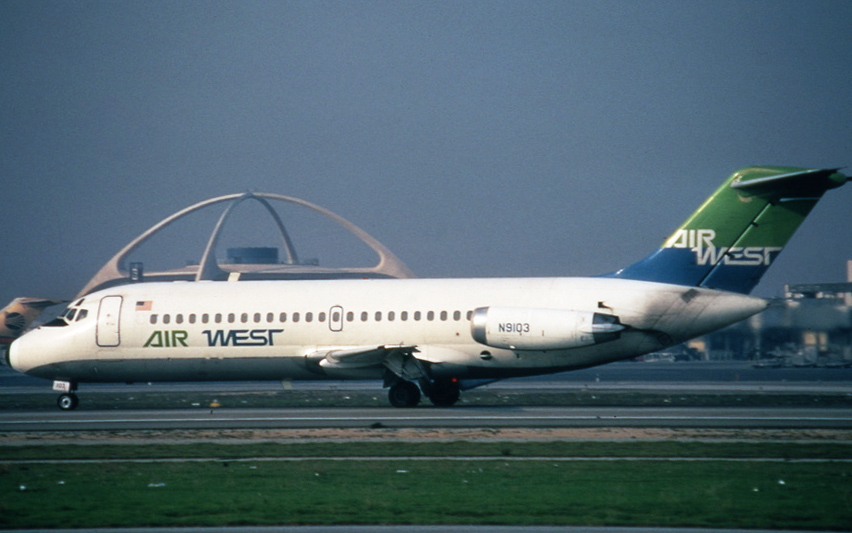 1969
When Bonanza Air Lines, Pacific Air Lines and West Coast Airlines merged in July 1968 to form AirWest, the new airline assumed the operation of ten (10) Douglas DC-9s that had originally been operated by both West Coast (4) and Bonanza Airlines (6). Los Angeles continued to be served with the DC-9s under the AirWest brand until its purchase by Hughes Corporation in 1970. Departing on Runway 25 Right is N9103, a Douglas DC-9-14, originally delivered to West Coast Airlines in December 1966.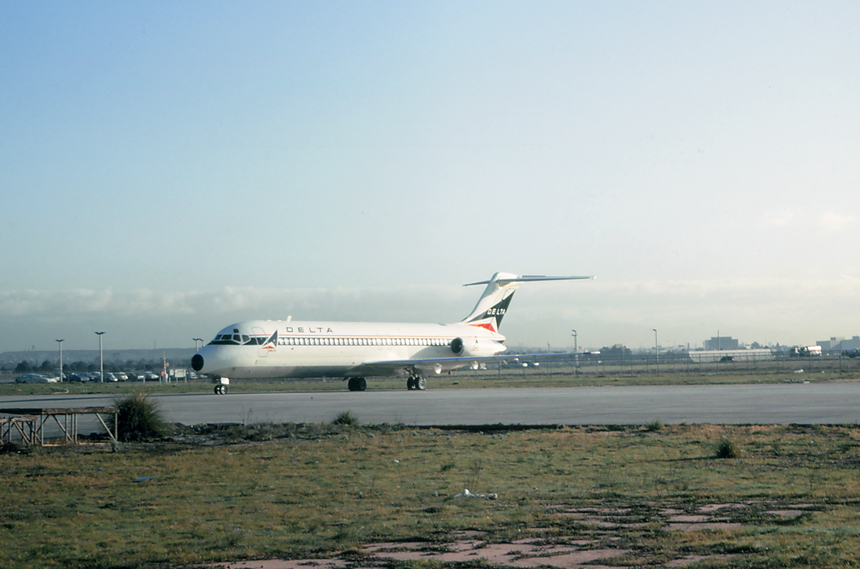 March 1969
Although at the time, Delta Airlines was not a scheduled carrier at the airport, Delta aircraft were occasionally seen "passing" through after having been delivered by Douglas Aircraft just south in Long Beach. This brand new Douglas DC-9 was delivered new to the airline the day before and stopped by LAX, before being flown to the carriers home base of Atlanta, Georgia. Parked at the remote parking ramp at the west end of the airport in "mint" condition is N1273L, a Douglas DC-9-32.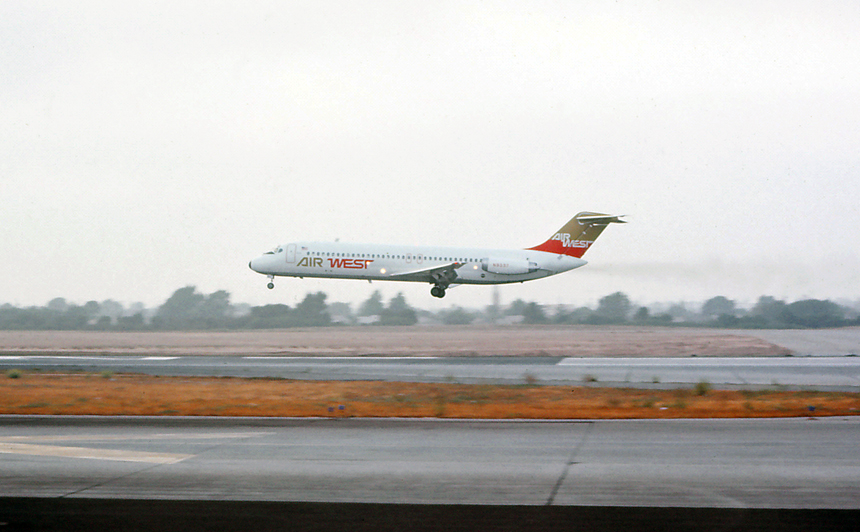 July 1969
New regional airline AirWest utilized its fleet of Douglas DC-9 "jets" on its major trunk routes throughout the system including regional flights from Los Angeles to Las Vegas, Tucson, and San Diego. Caught "over-the-numbers" for landing on Runway 24 (the north runway had not been constructed yet) is N9337, a Douglas DC-9-30, delivered new to AirWest in march 1969.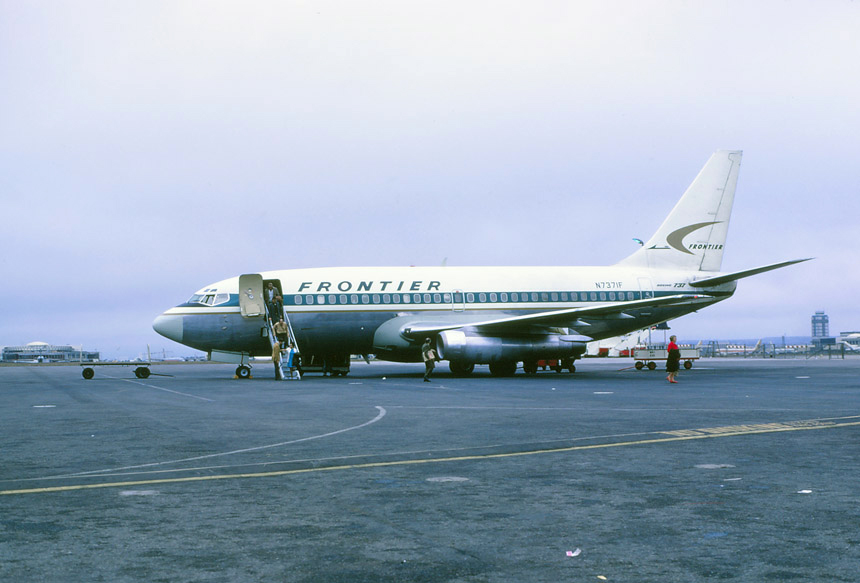 December 1969
Frontier Airlines was formed in 1950 as the result of the merger of three local service airlines; Monarch Airlines, Challenger Airlines and Arizona Airways. The new airline, Frontier was based in Denver, Colorado and focused its initial flights in the Mid-West and Rocky Mountain region. Boeing 737's were ordered in the late 1960s to replace the Boeing 727 that were too large for the regional airline's route structure. The Boeing 737 would become the primary aircraft for Frontier until the airlines purchase by People's Express in 1985. Los Angeles was not a regular destination for Frontier until 1980, however the airline would occasionally fly charters into the airport previous to starting scheduled passenger services. Caught parked at the Imperial Terminal and unloading passengers during a winter charter flight is N7371F, a Boeing 737-2CO, the first example to be delivered to Frontier in May 1969.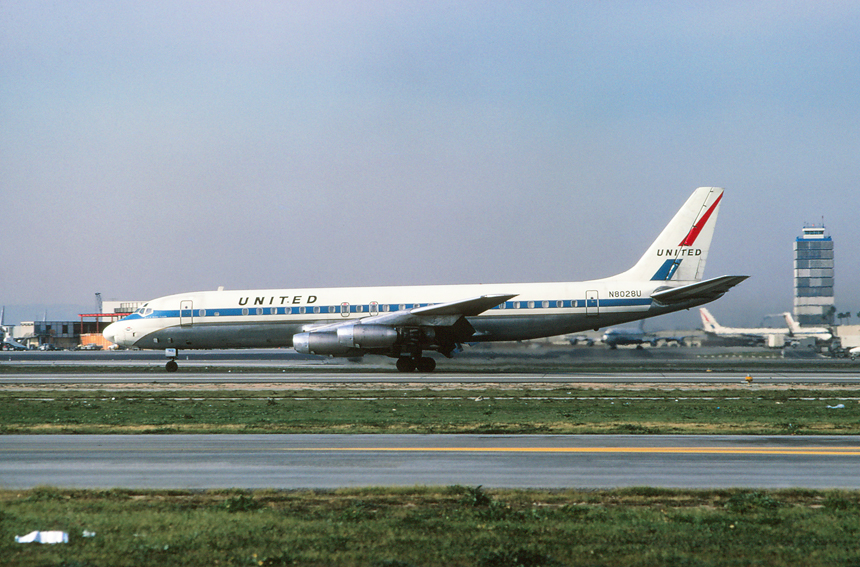 March 1970
United Airlines was one of the launch customers of the Douglas DC-8, the first jet-powered aircraft to be designed and developed by the Long Beach based manufacturer. United placed an order in October 1955, for a staggering thirty aircraft at a total cost of $175 million, which was the largest single order for a civilian aircraft at the time. United's first aircraft was delivered in June 1959 and was initially used for training purposes. Passenger "Mainliner" services started on September 18, 1959, on a flight between San Francisco and New York-Idlewild Airport. The DC-8 would become the backbone of the United medium, to long range fleet well into the 1970s. Seen on its takeoff roll for an evening departure from Runway 25 Left is N8028U "Mainliner Waipahu," a Douglas DC-8-21, delivered new to United Airlines on June 8, 1960.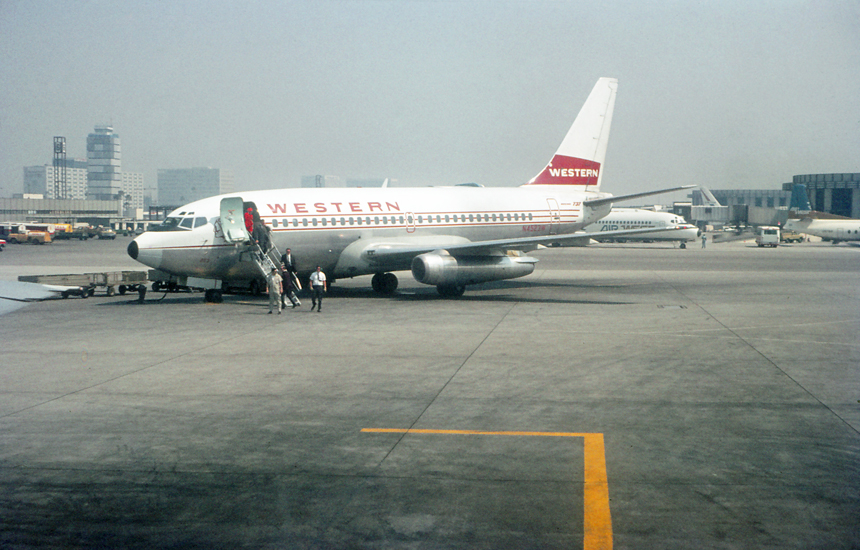 March 1970
Western Airlines truly had its roots planted in Los Angeles from the beginning, when an air-mail contract was awarded to Los Angeles based Western Air Express in 1926. The awarded route was a Los Angeles to Salt Lake City section via a stop in Las Vegas, Nevada. The flight started on April 17, 1926, from Vail Field in Los Angeles eastbound using a Douglas M-2 Mail plane. Passenger services started a month later in May over the same pioneering desert route. Over the next twenty years, Western Air Express grew to be a formidable carrier along the West Coast and had extended its wings as far east as Minneapolis, south to San Diego and north to Seattle and Edmonton, Canada. With a name change to Western Airlines in April 1941, the growing airline set a pace to continue to conquer the west. Los Angeles remained a focal point to the airline's operations, as well as the corporate headquarters being located at the airport. With the dawn of the "jet-age", Los Angeles played host to numerous Western Airlines firsts, including the introduction of Boeing 707 service on the Los Angeles-San Francisco-Portland-Seattle route. When the Boeing 737 was placed into service in June 1968, Los Angeles saw the "baby-Boeing" placed on regional routes including flights to Las Vegas, Oakland, Reno, Sacramento, and San Diego. Unloading passengers on the ramp at Satellite Terminal 5 at Los Angeles International Airport in March 1970, is N4523W, a Boeing 737-247, delivered new to Western Airlines in March 1969.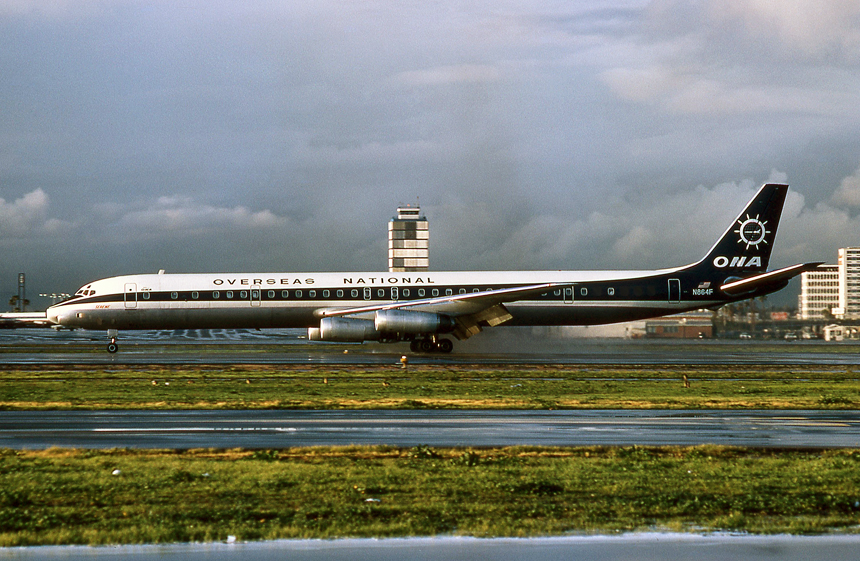 February 1970
Overseas National Airways (ONA) was a supplemental air carrier that was founded in 1950 and based at New York Idlewild Airport. ONA focused its efforts on both passenger and freight charters, with a majority of flights for carrying US military personnel between the US East Coast and Europe. The airline operated a variety of aircraft including the Douglas DC-7, Douglas DC-8, and Douglas DC-10. Due to the pending competition with the deregulation legislation passed in 1978, ONA was dissolved by its Board of Directors in October 1978. Rolling out on Runway 25 Left during a early evening rain shower is N864F, a Douglas DC-8-63CF, delivered new to ONA in April 1969.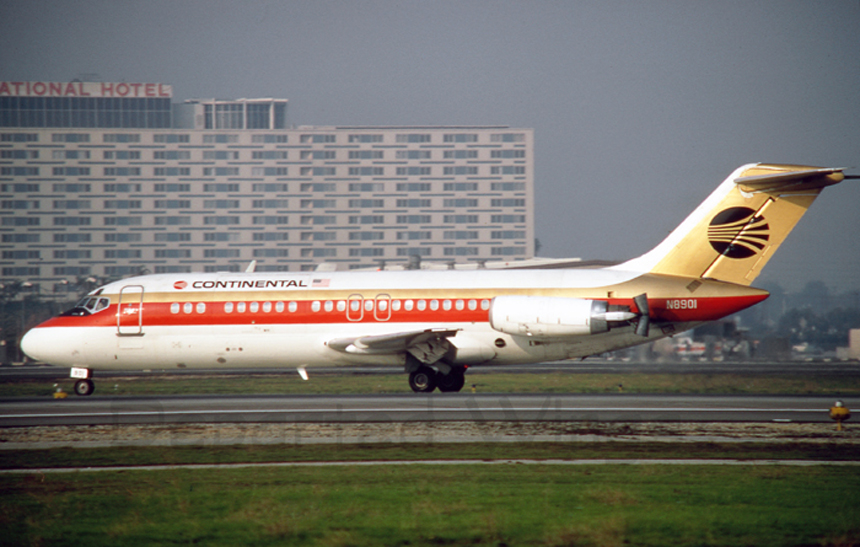 April 1970
During 1965, Continental Airlines launched the "Rapid Change(RC)" version of the Douglas DC-9 and placed an order for twelve aircraft. Continental President at the time, Robert "Bob" Six saw a potential air freight market utilizing the new short-range jet aircraft and theorized that passenger and cargo could be changed rapidly depending on the demand. The "RC" model had a large main deck cargo door on the left side of the aircraft, removal cabin dividers and a palletized floor allowing carriage of pure cargo, mixed configuration or full passenger configuration. Although the rapid change concept was visionary, Continental rarely operated a main-deck cargo flight with the planes. The first RC was delivered to Continental in 1967 and used on various short to medium range distances. Los Angeles saw the Douglas DC-9 used on flights to El Paso, before the Boeing 727 replaced them on the mainline services. Seen rolling out on Runway 25 Left with thrust reversers deployed is N8901, a Douglas DC-9-15RC and the first to be delivered to the airline.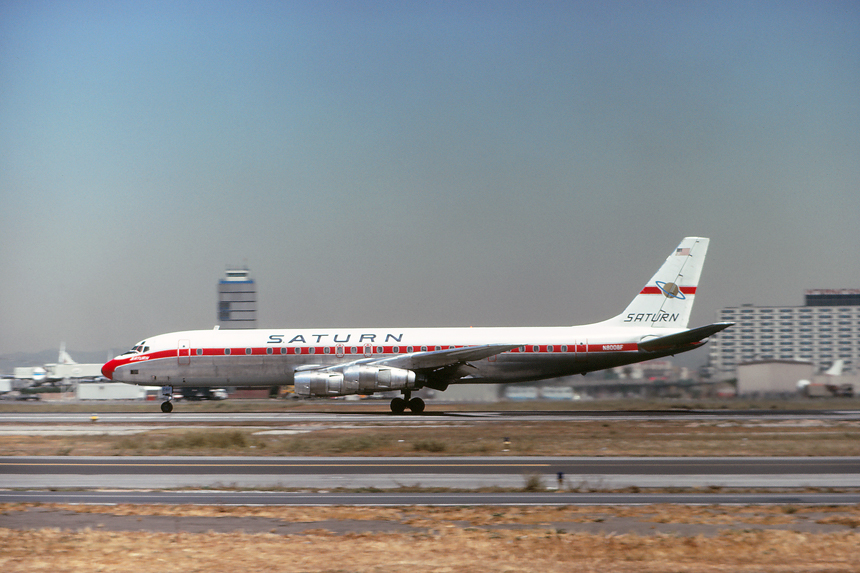 May 1970
Saturn Airways was started 1948, as a "supplemental" carrier providing cargo and passenger charters from a base at Oakland, California. The airline transitioned from piston engine aircraft, to its first jet aircraft the Douglas DC-8-61CF (Convertible Freighter) in December 1967. The airline eventually operated five DC-8s, including the smaller series -55 on world-wide charter service including many flights to support military efforts in Vietnam. Saturn Airways was merged into competitor Trans International Airways in December 1976. Caught during its takeoff roll on Runway 25 Left is N8008F, a Douglas DC-8-54CF, originally delivered to Trans International Airways in April 1963, then leased to Saturn in October 1968.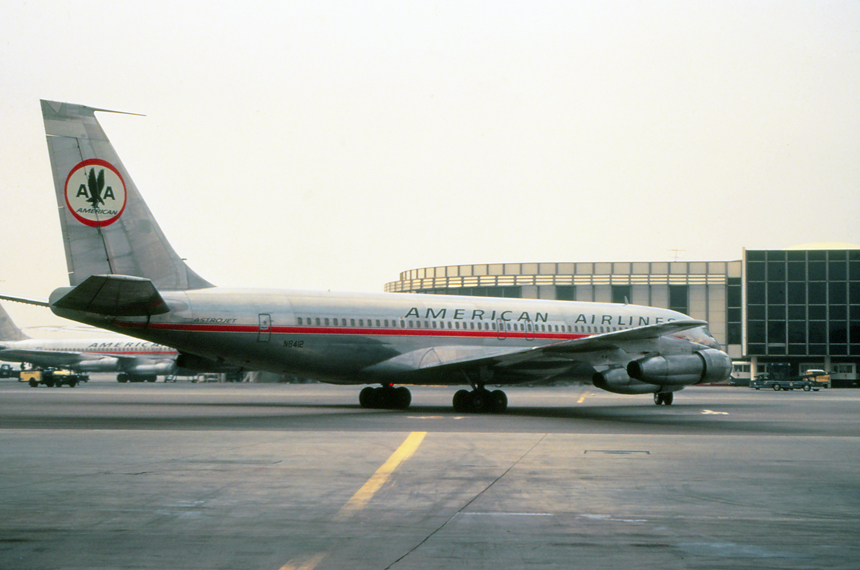 July 1970
American Airlines entered the Jet Age with the venerable Boeing 707. Realizing the opportunity for the next chapter in aviation history, American placed an order for twenty-five of the Boeing 707s in 1955, and become the first US "domestic" airline to order the new plane. American's new "707 Jet Flagship", would accommodate 112-passngeres in a two configuration cabin, along with a first class "lounge" in the forward section. The first plane was delivered in October 1958, and scheduled service was inaugurated on the ever popular Los Angeles to New York route on January 25, 1959. American became the first airline to place the Boeing 707 on domestic, coast-to-coast services. Eventually as the Boeing 707 evolved into the Model 720 and the -300 series with "fan jet" engines and intercontinental ranges, American would operate these variants, with the Boeing 707 becoming the foundation of the medium and long range fleet. By the 1970s, Los Angeles saw the 707 used on flights to no less then eleven cities flown by the carrier from the airport. Turning in toward the gate at Satellite Terminal Building 4 during an overcast morning is N8412, a Boeing 707-323C, delivered new to American Airlines on June 4, 1968.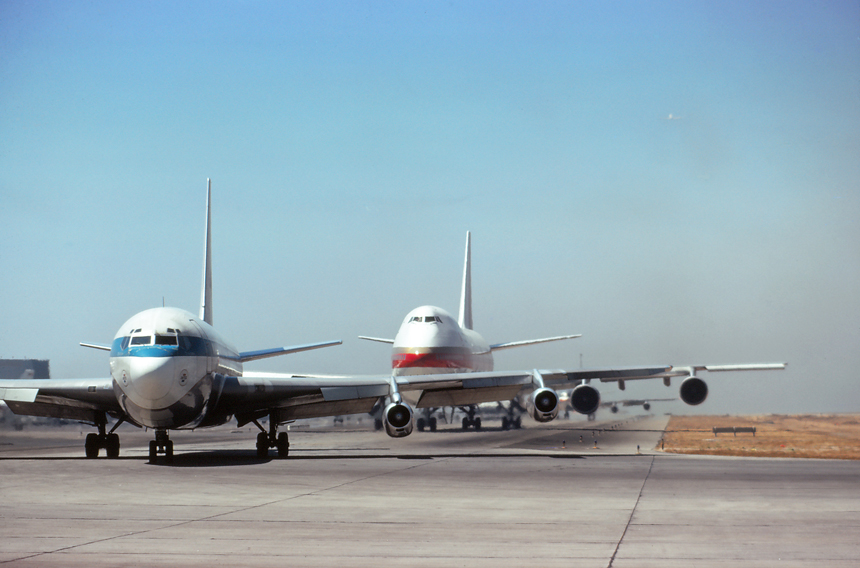 August 1970

One of the busiest times at Los Angeles International Airport was the morning "rush" as airlines sought space for their departures eastbound. It was not unusual to see a line of aircraft sometimes ten long awaiting their turn for takeoff. A typical summer morning shows a United Airlines Boeing 720, followed by a Continental Airlines Boeing 747 then an American Airlines Boeing 707 awaiting takeoff on Runway 24.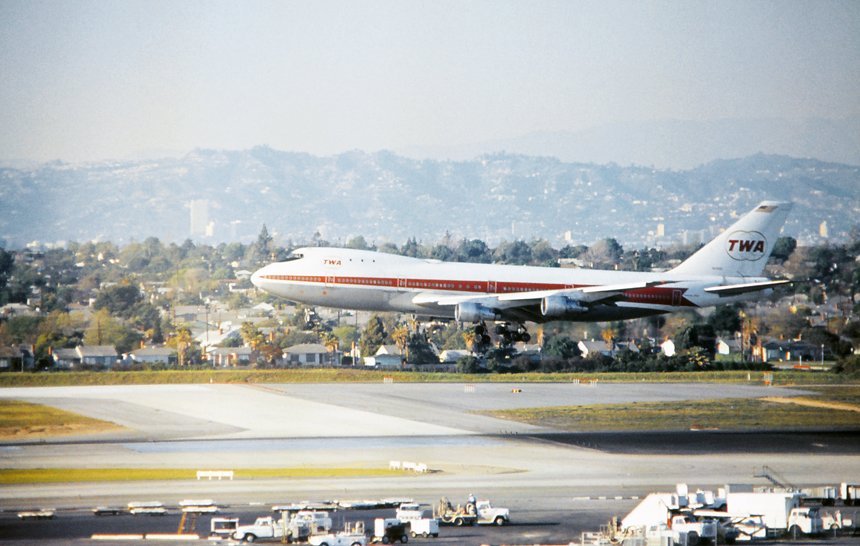 September 1970
During a time when Bigger was Better, Trans World Airlines (TWA) placed an order for the Boeing 747 "Jumbo Jet" with deliveries of the new plane scheduled for 1969. The new 747 with a capacity of 342-passengers was to be used on heavy domestic and the popular transcontinental routings. Los Angeles was host to the first passenger TWA Boeing 747 service on February 25, 1970, with flights to New York-JFK Airport. TWA would eventually operate thirty-seven of the Boeing "Jumbos" including the Special Performance "SP." Starting to flare for landing during an early evening arrival on Runway 24 Left is N93109, a Boeing 747-XXX.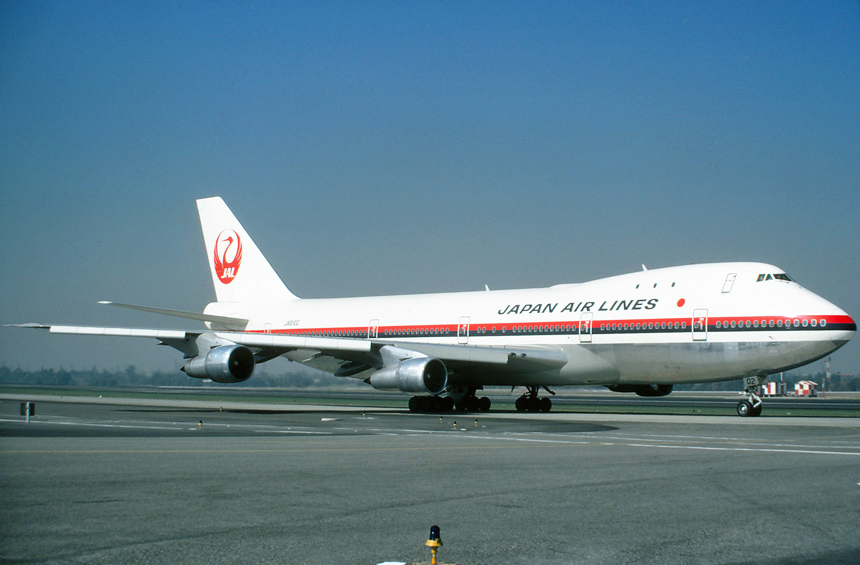 February 1971


Japan Airlines (JAL) was an early international operator into Los Angeles when service was started to Tokyo in 1959 using a Douglas DC-7C via Honolulu, Hawaii. The piston-engine equipment was replaced in the early 1960s with Douglas DC-8 jet aircraft. JAL ordered the Boeing 747 "Jumbo Jet" in 1968 to provide greater comfort, range and capacity on its Pacific routes. The airline received its first 747 in May 1970 and the plane inaugurated service in July of that year on a Tokyo-Honolulu-Los Angeles routing. Los Angeles would continue to host both the passenger and later freighter version of the Boeing 747 well into the late 1990s. Taxiing along Taxiway Uniform en-route for departure on Runway 24 Left is JA8102, a Boeing 747-143 and the second example to be delivered to JAL in May 1970.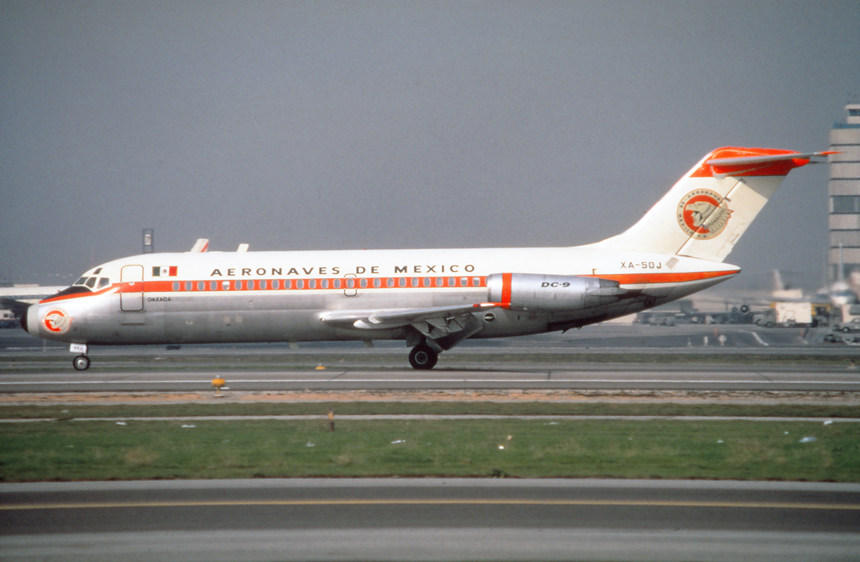 February 1971
Aeronaves de Mexico was formed in 1934, by Antonio Diaz Lombardo flying a route between Mexico City and Acapulco. Over the next thirty years the airline grew steadily adding international routes and becoming the flag carrier of Mexico. Anticipating more international routes and the airline entered the jet age by ordering the Douglas DC-8 and thus also beginning a long, positive relationship with the manufacturer. With the Douglas DC-8 being used on both international and high-density routes within Mexico, the airline sought a smaller jet airplane for domestic services. As expected the airline placed an order for the Douglas DC-9 Twinjet, the first being delivered in 1967, and being placed on the multi-stop Los Angeles-Mexico City route. Rolling for takeoff on Runway 25 Left is XA-SOJ "Oaxaca" a Douglas DC-9-15, originally delivered to Swissair in 1966, and purchased by Aeronaves in August 1970.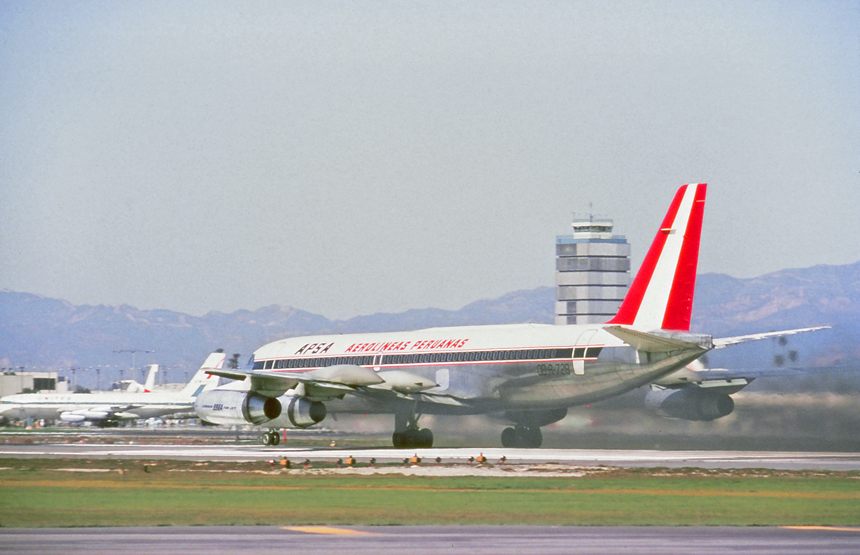 March 1971
Established in September 1956, Aerolinas Peruanas SA (APSA) was started to provide connections from Lime to neighboring countries in South America. eventually the airline expanded into North America with the addition of services to both Mexico City and Miami. In 1963, the airline took the bold step of acquiring a Convair 990 "Coronado" jets for its international services. When a second 990 was delivered the airline extended its reach and inaugurated services to Los Angeles in 1966, with a Lima-Acapulco-Los Angeles routing. (A second route was Lima-Guyaquil-Mexico City-Los Angeles). APSA become the second South American carrier to start international services into Los Angeles, the first being Varig Brasil. Due to financial impacts of expanded services to Europe and mounting debt, the airline ceased operations a few months later in May 1971. Rolling for takeoff on Runway 25 Left with the four General Electric CJ-805-23s "smoking" the runway is OB-R-728, a Convair CV-990-30A-6.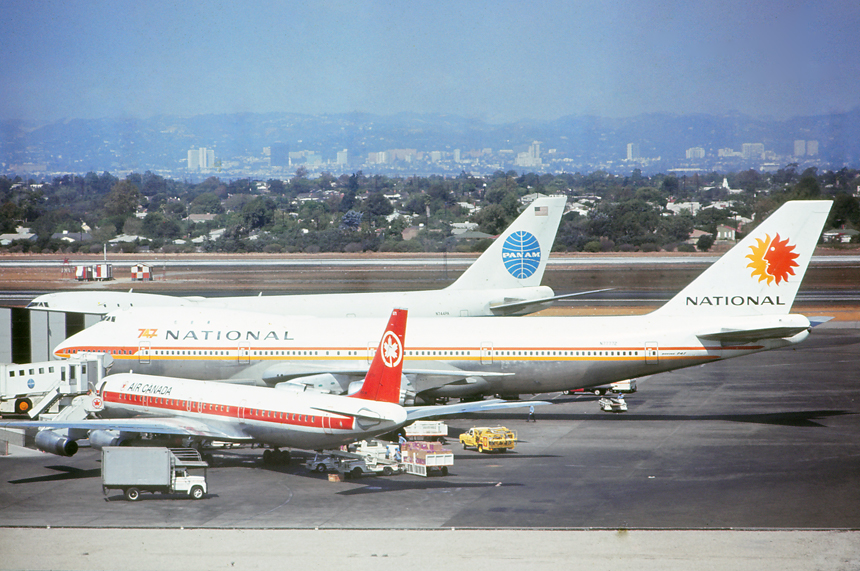 July 1971
By the early 1970s, Los Angeles was host to over fifteen different international airlines as well as all the major domestic carriers, with many providing services using their new Jumbo Jets. A typical summer scene at a busy Satellite Terminal 2 shows Pan Am N744PA, a Boeing 747-121, National Airlines N77773, a Boeing 747-135, having just pulled into the terminal and Air Canada CF-TIP, a Douglas DC-8-60.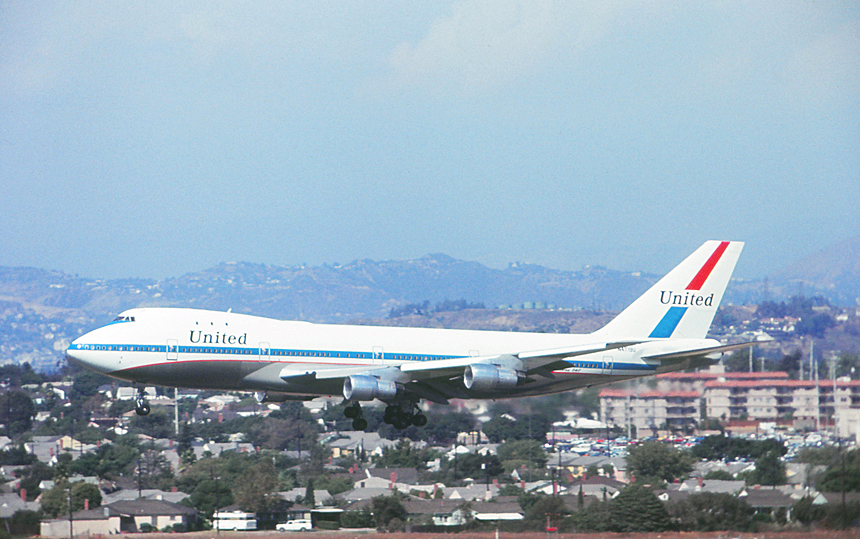 1971


United Airlines was one of the original operators of the Boeing 747. United took delivery of its first "Jumbo" in June 1970, and became the first airline to place the 342-passenger plane on the trans-Pacific service to Honolulu with non-stop flights from San Francisco. Los Angeles soon saw the United 747s a few months later, being placed on services to Chicago, Honolulu, New York-JFK, and Seattle. On final approach to the north runways with a view of the Baldwin Hills in the back is N4719U, a Boeing 747-122.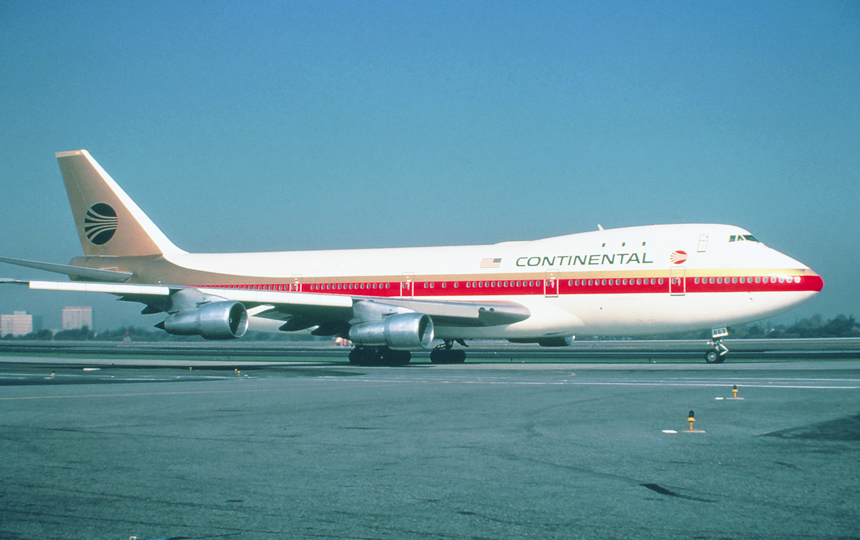 1972
Continental Airlines was one of the launch customers of the Boeing 747 Jumbo Jet and was the second airline to place the plane in domestic service on June 26, 1970. The airlines 747 was an example of luxurious flying at the time and was equipped with an upper deck first class lounge and a "Polynesian Pub" on the main deck. With a capacity of over 300 passengers, the 747 was placed on the popular Chicago-Denver-Los Angeles-Honolulu service. The plane proved quite popular, however due to the oil embargo, consolidation of fleet and the use of the better placed Douglas DC-10s, Continental removed the Boeing 747 from services in 1978. Taxiing out toward Runway 24 Left for a morning departure is N26863, a Boeing 747-124.
1972
Los Angeles based Flying Tigers Line was established in 1945 to provide contract freight service. More commonly known as Flying Tigers, the airline was the first to be awarded a commercial air cargo route in the United States by the Civil Aeronautics Board (CAB) in 1949. The early cargo routes were from both Los Angeles and San Francisco to Boston using Curtis C-46 cargo aircraft. As the cargo carrier grew, more destinations and aircraft were acquired. With the dawn of the jet-age, Douglas DC-8 Freighters were ordered and put into service providing more efficiency, capacity and speed with cargo deliveries. Rolling for take-off on Runway 25 Left is N796FT, a Douglas DC-8-63CF.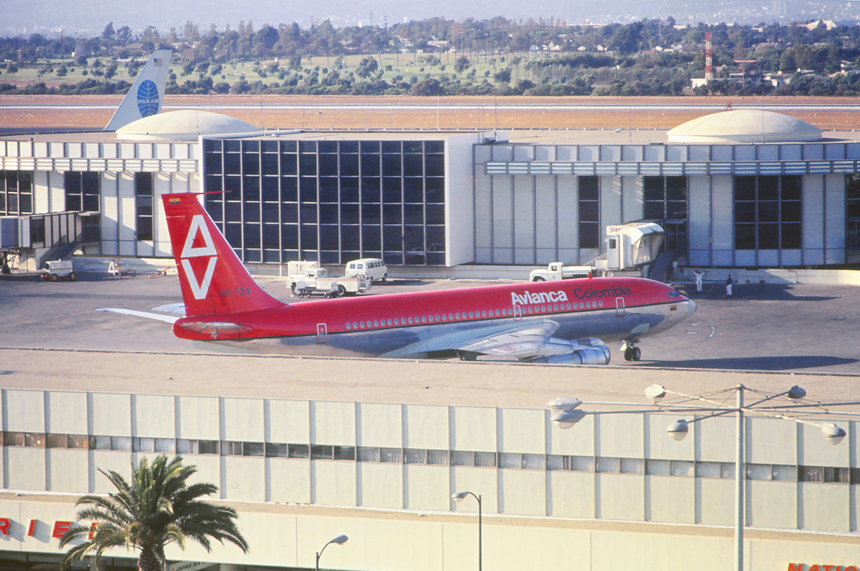 May 1972
During the late 1960s and early 1970s, Los Angeles continued to host new international carriers from countries both near and afar. Once such airline to start service was Avianca, the national airline of Colombia which started flights into Los Angeles as an extension of its Bogota-Panama City-Mexico City service in July 1969. Boeing 707 jets were used on the new service with the airline becoming the third South America airline to join the international ranks at Los Angeles. Taxiing in toward the gate for the International Arrivals at Terminal 2 is HK-724, a Boeing 720-059B.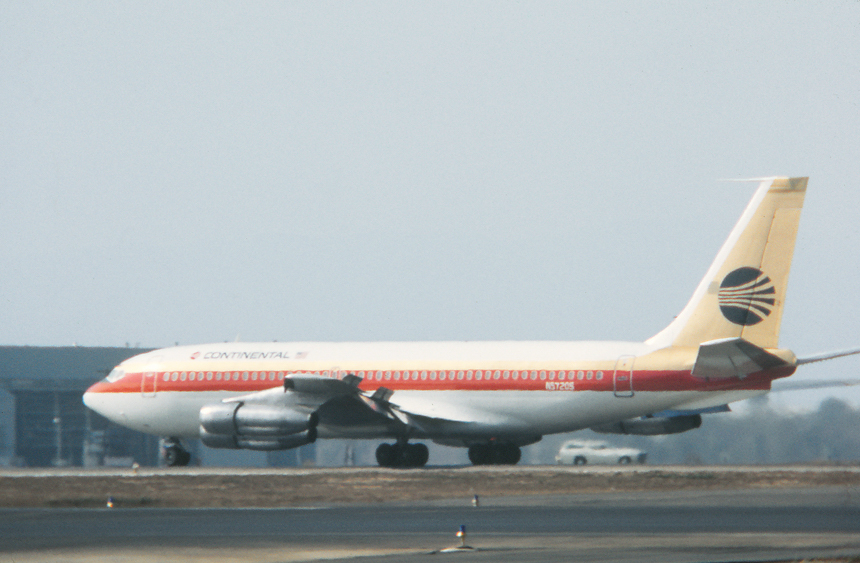 August 1972
Eager to be part of the new "Jet" club, Continental Airlines placed an order for four of the new Boeing 707 airplanes in 1955. Staring as Varney Speed Lines in 1934, with a single route between El Paso, Texas and Pueblo, New Mexico, the local carrier slowly grew and renamed itself Continental Airlines in 1937. Over the next twenty years, the airline continued its growth mainly in the Southwest United States and formed interline agreements with both Braniff Airways and American Airlines. When the airline placed its first Boeing 707 into service on June 8, 1959 between Los Angeles and Chicago, it rose to the ranks of the "majors" of which many still didn't have true jet service. The sleek, four-engine transport was painted in the carriers colors at the time; black and gold, and dubbed the new plane "Golden Jet." Pleased with the performance and characteristics of the Boeing 707, they deiced to order the "Hot Rod" version of the legendary plane; the Boeing 720. With an order for eight, the first was placed into service on June 3, 1962 and become a familiar site on the trunk routes of the carrier. Considering Los Angeles became home base for the carrier in the 1970s, the Boeing 720 was used on most of the domestic city pairings including Chicago, Colorado Springs, San Antonio, Phoenix, and Tucson. The Boeing 720 remained a significant portion of Continental's medium-haul fleet until they were removed from service and replaced with the Boeing 727 in the late 1970s (1976-1977). Seen rolling out on Runway 25 Left after landing is N57205, a Boeing 720-24B, delivered to Continental on May 11, 1963, and wearing the familiar Saul Bass color scheme.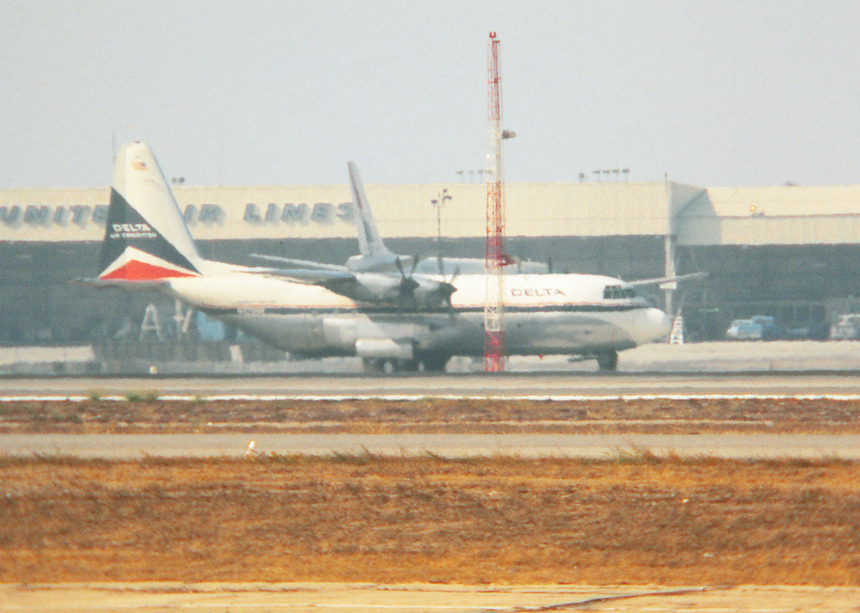 October 1972
Delta Airlines was similar to fellow major airlines in providing a cargo only type service. Early cargo only service utilized the Curtis C-46 to provide transport of air freight throughout the southeastern United States. To replace the aging C-46s, Delta placed an order for the high-wing, all-cargo, four-engined turboprop, the Lockheed L-100, for which it became one of the first commercial operators of the type. The first plane was delivered in August 1966, and Delta used the new freighters to mainly carry engines and spare parts throughout it's network. With the introduction of wide-body passenger aircraft such as the Boeing 747 and Douglas DC-10 which more spacious under floor cargo space, the need for cargo specific aircraft was diminished and Delta sold it L-100 fleet in 1973. Taxiing outbound for takeoff is N9259R, a Lockheed L-100-20 "Hercules," delivered new to Delta on September 17, 1966.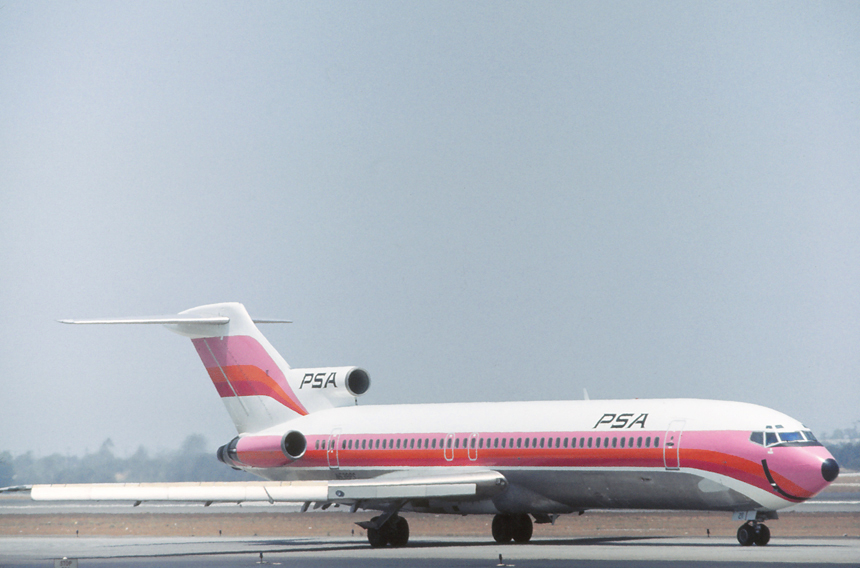 June 1973


San Diego based intra-state carrier Pacific Southwest Airlines (PSA) had made Los Angeles its hub of operations. With flights within the state only, the airline dominated the infamous Los Angeles-San Francisco corridor and was popular with business and pleasure travelers alike. With low fares, frequent flights and their characteristic in-flight services PSA was formidable presence at the airport. By 1973, PSA was serving six cities from Los Angeles with over fifty daily departures. Taxiing out to Runway 24 Left for a morning departure is N538PS, a Boeing 727-214

.
February 1974
Established Union de Transports Aeriens (UTA) become the largest, independently owned airline in France and was the result of the merger between UAT and TAI airlines in 1963. Los Angeles was an early destination for UTA having assumed the city from predecessor airline TAI on the Papeete, Tahiti-Los Angeles transpacific route. The airline introduced the Douglas DC-10 in 1973 for both transpacific and African services, eventually operating seven of the type. Los Angeles hosted the DC-10s on the airlines popular non-stop service to Tahiti. Taxiing to the western remote pads for holding for a flight later that evening is N54639, a Douglas DC-10-30, delivered a month earlier to the airline on January 18, 1974.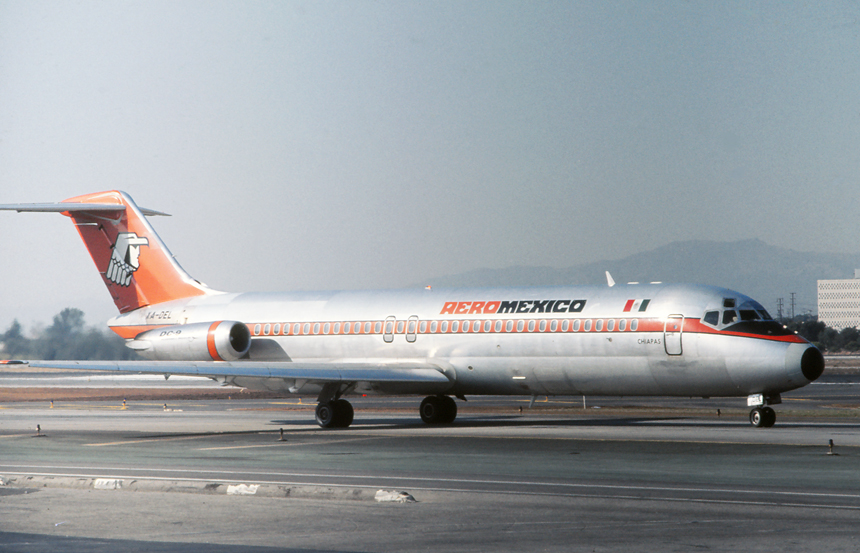 December 1974
The Douglas DC-9 had become the workhorse for both short and medium range services for Aeromexico in the 1970s. During the late 1960s, Aeromexico flew less popular routes to cross-border cities, not wanting to compete with other national carrier Mexicana which flew their dense trunk routes. The Douglas DC-9s were a perfect fit for flights from Los Angeles to the resort destinations of La Paz and San Jose del Cabo (Cabo San Lucas) both in Baja California, as well as to the industrial city of Monterrey located in northeastern Mexico. Shown taxiing along the outer ramp apron in the "new" Aeromexico color scheme adopted in early 1974, is XA-DEL "Chiapas," a Douglas DC-9-32.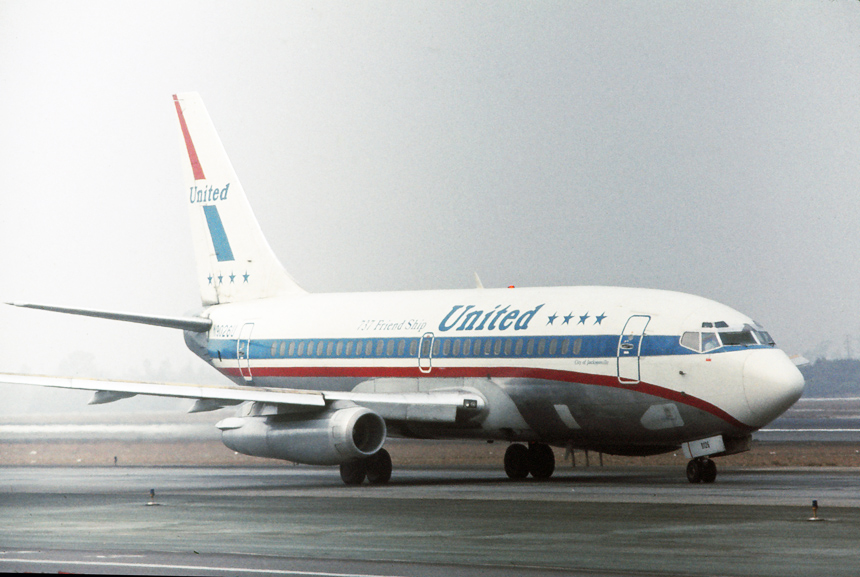 December 1974
United Airlines placed a substantial order for forty (40) Boeing 737 aircraft in 1965, to replace the aging Convair 340 and various Douglas piston airliners remaining in the fleet. United took delivery of its first 737 in December 1967 and these were quickly placed on short and medium range routes throughout the network. Los Angeles received the Boeings in 1969, to replace the Convair 340s on various regional routes within the state. By 1974, the Boeing 737 were being used on flights from Los Angeles to Bakersfield, Fresno, Monterey, and San Francisco. The "baby" Boeings would be a familiar sight at LAX well into the 1990s. Seen in the "Stars-and-Bars" colors introduced in 1971, and taxiing along Taxiway Foxtrot is N9026U "City of Jacksonville," a Boeing 737-222, delivered new to the airline on September 5, 1968.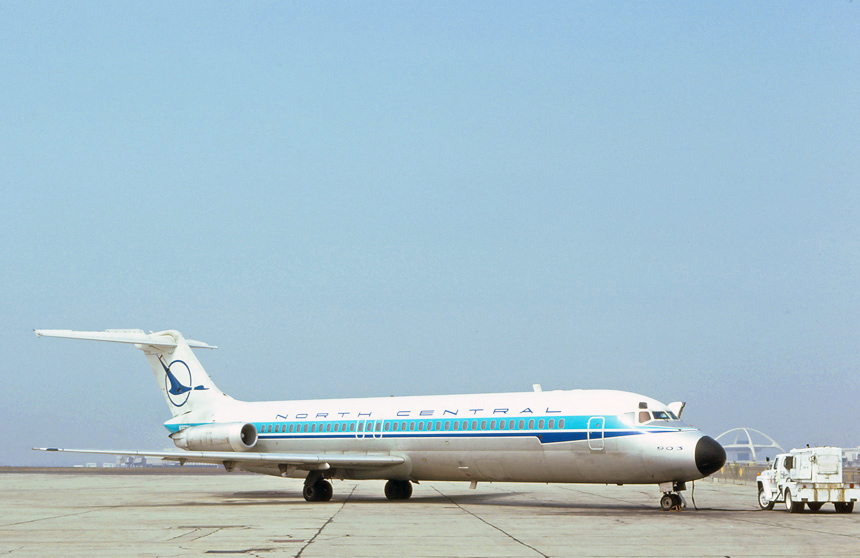 February 1975
A rather unique visitor to the Los Angeles International Airport was North Central Airlines, which had occasional tour group and sports charters to Los Angeles using it's Douglas DC-9s during the 1970s. The "Herman Duck" would again visit Los Angeles, this time as a scheduled carrier when Republic Airlines (which was the result of the merger of North Central and Southern Airlines in 1979) purchased Hughes Airwest in 1980. Parked on the ramp in front of the Imperial Terminal is N953N, a Douglas DC-9-31.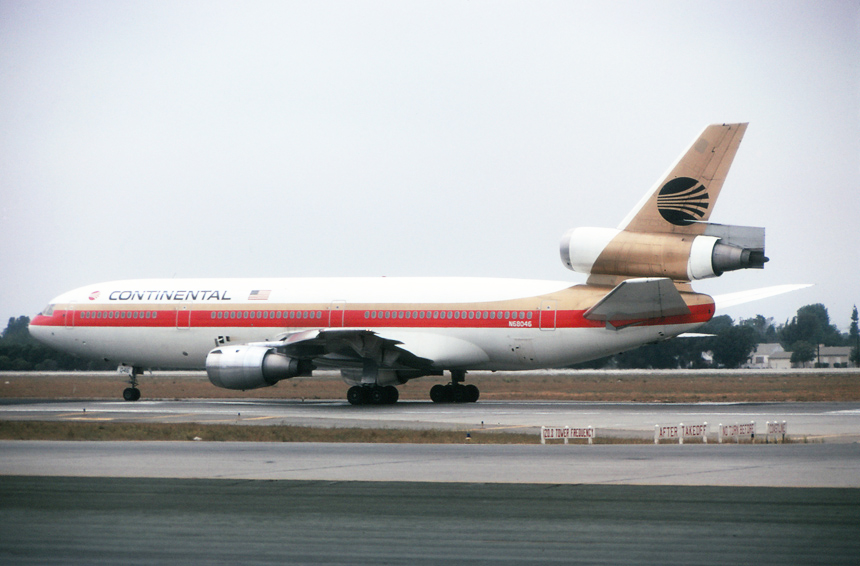 June 1975
Continental Airlines was the fourth airline to order the new Douglas DC-10 Tri-jet and eventually became the launch customer of the "Convertible Freighter" version ordering eight of the type. With deliveries of the DC-10 starting in 1974, Continental minimized its fleet by only operating two aircraft; the Boeing 727 and Douglas DC-10. The DC-10 was used on medium and long range sectors and the occasional short range-high density routes. Los Angeles was one of the first cities to host the DC-10 due to its high market status and saw the plane used on flight from LAX to Denver, Chicago, Houston, and Honolulu. Rolling for take-off on Runway 24 Left is N98046, a Douglas DC-10-10, delivered new to Continental Airlines on April 12, 1974.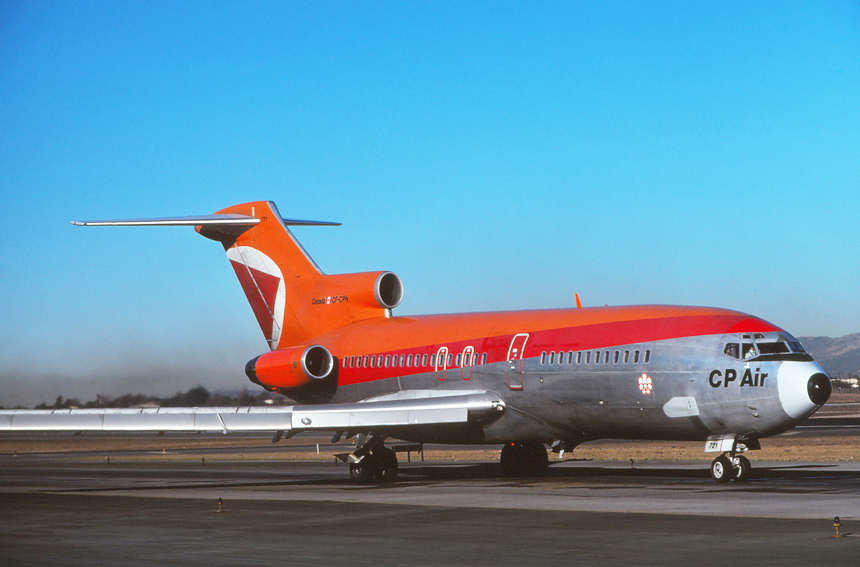 January 1976
Los Angeles was one of only two cities in the United States that Canadian airline, CP Air provided service to during its forty-five year history. The main reason was the Canadian Government favored national airline Air Canada, and CP Air initially was left to fly less than popular routes to overseas destinations, while Air Canada took priority on both domestic and trunk international routes. CP Air became a well respected carrier and established service to five continents before being merged with Pacific Western Airlines in 1987, forming Canadian Airlines. Los Angeles was added in April 1975, with non-stop flights to Vancouver, Canada using both the Douglas DC-8, Boeing 727, and later Boeing 737. The "Beautiful Orange" jets were popular with both business and tourist passengers on its one and only non-stop services to Vancouver. Taxiing toward Runway 24 Left for a morning departure to the north is CF-CPN, a Boeing 727-17. Note the logo just below the first passenger window advertising the 1976 Summer Olympic Games held in Montréal, Canada.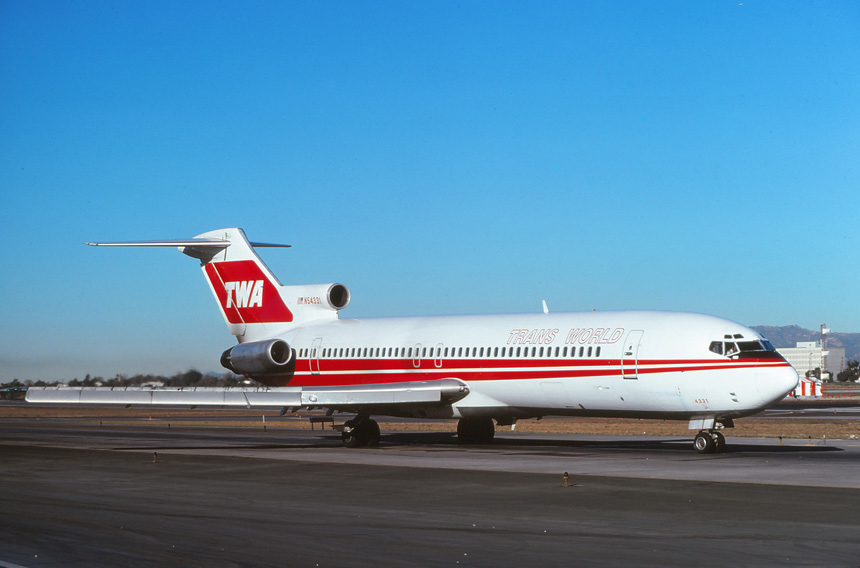 January 1976
Trans World Airlines (TWA) was an early operator into Los Angeles as Trans Continental & Western Airlines in 1930. TWA ordered the Boeing 727 airplane in 1963, to replace the aging Lockheed Constellations and supplement both the Convair 880 and Boeing 707s on short to medium range routes. TWA's first 727 went into service on June 1, 1964, between New York JFK, and Indianapolis, Indiana. Los Angeles hosted the airlines 727s from the late 1960s on, for flights to Albuquerque, Kansas City, Las Vegas, Oklahoma City, Phoenix, St. Louis, and San Francisco. TWA would operate a total of seventy-three Boeing 727's well into the 1990s. Taxiing out for takeoff on a bright winter day and wearing the "new" TWA colors is N54331, a Boeing 727-231, delivered new to TWA on March 20,1970.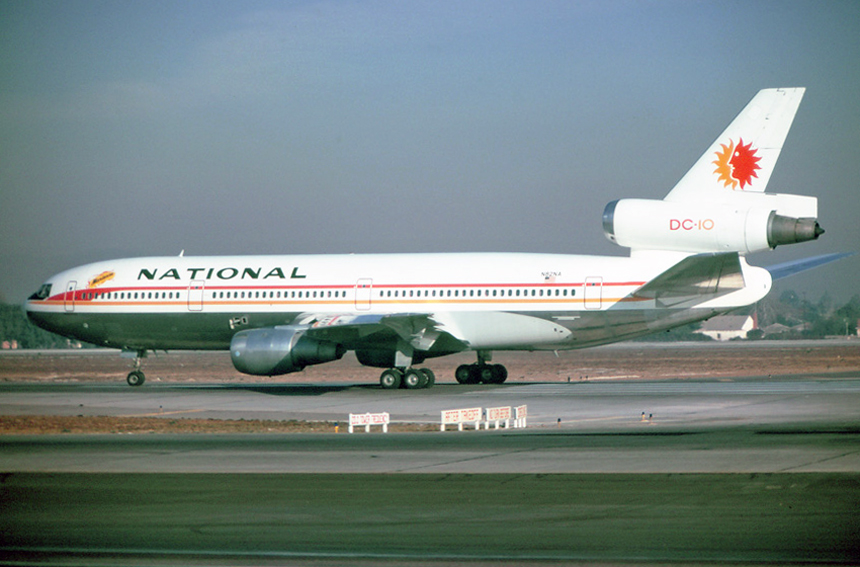 February 1976
National Airlines finally received rights to start coveted service to Los Angeles from the Civil Aeronautics Board (CAB) as part of the Southern Transcontinental Route case in 1961. National had served Los Angeles since 1951 as part of an Interline Agreement with both American and Delta Airlines. Douglas DC-8 jets were placed on new routes to Los Angeles from Houston, Tampa and San Diego providing "Jet Star Service." National was a familiar sight at Los Angeles until its purchase by Pan Am Airlines in 1979. Taking the active Runway 24 Left for a morning departure is N82NA "
Marianne,
" a Douglas DC-10-30 and the 200th DC-10 to be delivered by Douglas Aircraft.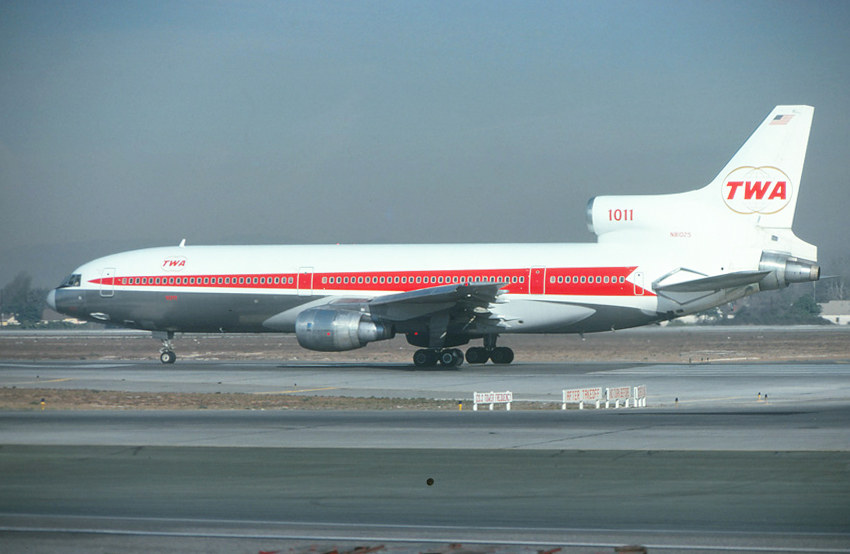 February 1976
TWA was one the launch customers for the technologically advanced Lockheed L-1011 airplane. Planning to use the wide body Tristar on trunk domestic routes, TWA ordered forty-four of the airplanes with the first plane being delivered in May 1972. TWA inaugural service with the L-1011 was from St. Louis to Los Angeles on June 25, 1972. During the 1970s the TWA's Tristars' were used on services from Los Angeles to St. Louis, Boston, Chicago, Indianapolis, New York-JFK, Philadelphia, Phoenix, Pittsburgh, and San Francisco. Lined up on Runway 24 Left and awaiting takeoff clearance is N81025, a Lockheed L-1011-385-1-15 Tristar 100.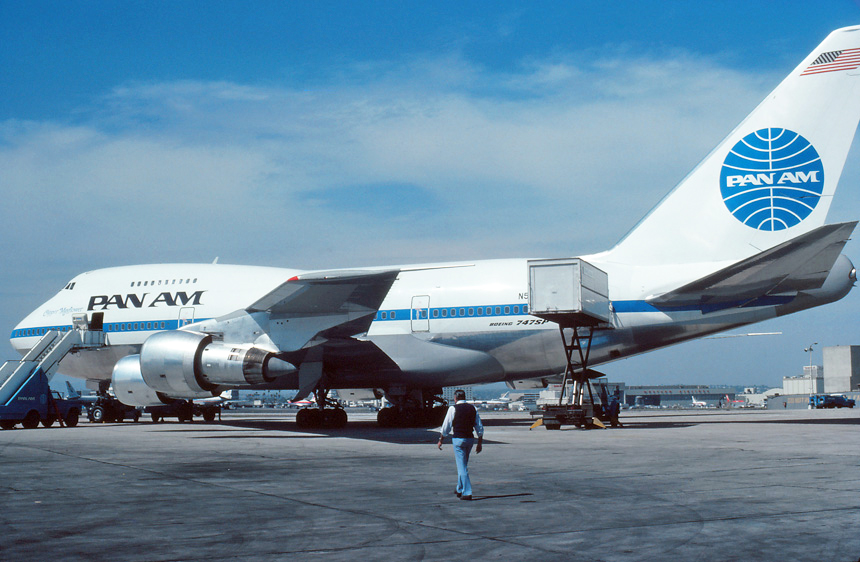 May 1976
Although Boeing undertook the super-long range Boeing 747 "Special Performance" development without any firm airline orders, Pan Am was an early participant and showed considerable interest in the airplane. Pan Am eventually ordered ten of Boeing's Special Performance, long range 747s in 1973, with an option for an additional fifteen. Pan Am received its first aircraft in early April 1976 and placed the SP on the New York-Tokyo route on April 25, 1976. With further deliveries Pan Am placed the plane on the Los Angeles-Auckland and Los Angeles-Tokyo services in 1977. Parked on the ramp at the Imperial Terminal on a turn-around for a familiarization flight is N530PA "

Clipper Mayflower

,"

a Boeing 747-SP21 newly delivered a month before.
May 1976
The first European airline to start service into Los Angeles was Scandinavian Airline System (SAS) in 1954 with an over-the-pole, multi-stop route using a Douglas DC-7C airplane. SAS became a loyal Douglas customer and eventually operated eleven Douglas DC-10s for use on international services to both North and South America, the Middle East and Africa. During the mid-1970s, DC-10 flights were started on a Los Angeles-Seattle-Copenhagen route twice a week. Parked at the Satellite Terminal 2 and being serviced for an evening flight to Copenhagen via Seattle is OY-KDA "

Grom Viking

,"

a Douglas DC-10-30. Note the CP Air Douglas DC-8 and Pan Am 747 in background.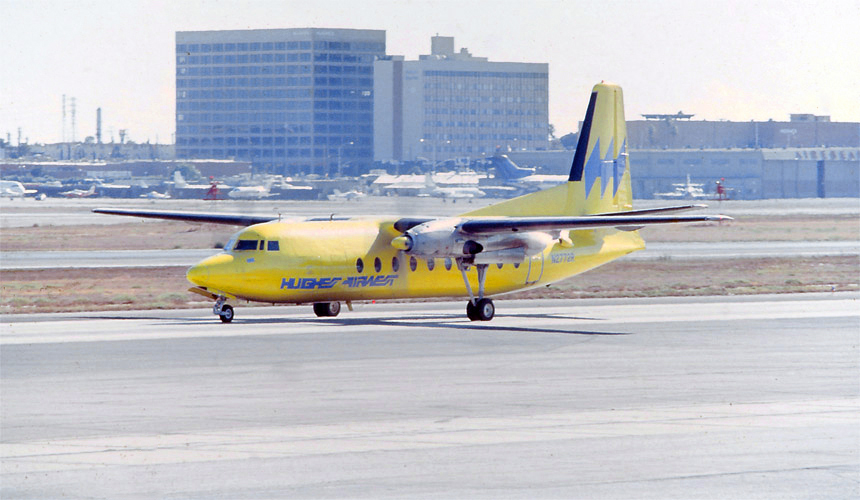 August 1976
The Fokker/Fairchild F-27 was a frequent sight at Los Angeles when service was introduced by both Pacific Airlines and Bonanza Airlines in the early 1960 for local and regional routes. After the mergers resulting in Airwest and the subsequent purchase by Hughes Corporation to become Hughes Airwest, the reliable turboprops continued to serve small local or regional "thin" routes. From Los Angeles, the F-27 served cities such as El Centro/Imperial, Palm Springs and Santa Maria. Taxiing out toward the south runways for a mid-day flight is N2772R, a Fairchild F-27A.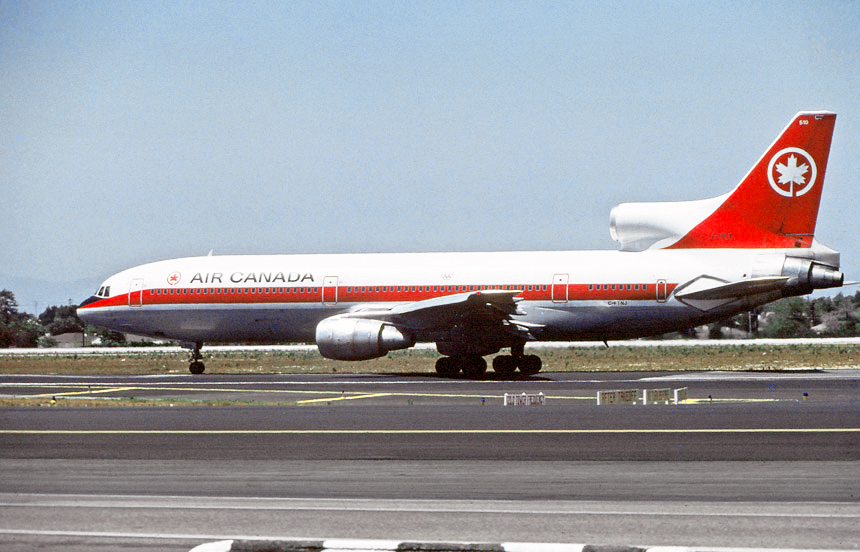 August 1976
The national airline of Canada, Air Canada, placed the Lockheed L-1011 into service during the summer of 1973, on a Toronto-Miami route. The new wide-body Tristar's were ordered to fill a gap on high density domestic services and medium-range international routes where the Boeing 747 was uneconomical. The Tristar was introduced on the popular Toronto-Los Angeles route in 1975 and continued to be used by the airline until the planes were retired from service in 1996. Having just taken the active Runway 24 Left for a mid-day departure is CF-TNJ, a Lockheed L-1011-385-1 Tristar.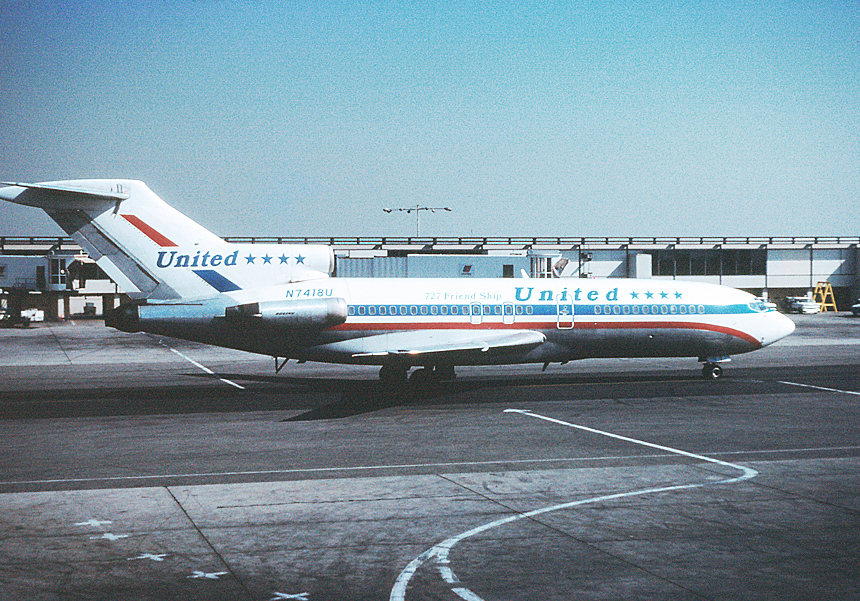 November 1976
By 1976, United Airlines had become the largest operator out of Los Angeles and was serving twenty-seven cities Nation-wide from the airport. The airline found the Boeing 727 a popular and logical choice on its short and medium ranged flights and no less than eighteen cities were being served from Los Angeles using the "Tri-Jet." Regional cities such as Bakersfield and Monterey, California to as far east as Birmingham, Alabama and Memphis, Tennessee were flown with the Boeing 727. Taxiing away from Terminal 7 for another flight and wearing the "Stars-and-Bars" color scheme is N7418U, a Boeing 727-22C, delivered new to United Airlines in March 1967.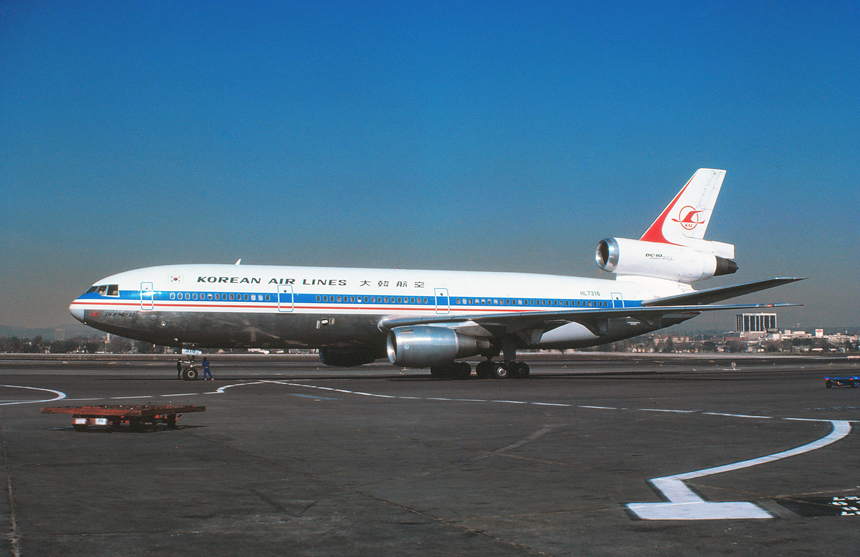 January 1977
The national airlines of South Korea, Korean Air Lines, started trans-Pacific passenger services into Los Angeles in April 1972, using Boeing 707 aircraft on the twice-weekly service. The airline ordered five Douglas DC-10 for higher capacity, long-haul services with the first being delivered in 1975. The new Tri-Jet was placed on the popular Seoul-Tokyo-Honolulu-Los Angeles trans-Pacific services increasing passenger capacity on the route. The DC-10s only saw a few years of service to Los Angeles as they were replaced with the Boeing 747. Having just been pushed back from Terminal 2 for an afternoon departure is HL7316, a Douglas DC-10-30 and the first example delivered new to the airline in February 1975.
February 1977
One of the many commuters established to cater to the recreational tourist market of the Sierra Nevada Mountains was Sierra Pacific Airlines. Originally started as Trans-Sierra Airlines, the airline focused on flights to the mountain resort community of Mammoth Lakes, located in the eastern Sierra Nevada Mountains. Scheduled passenger services to Mammoth from Burbank, Fresno, and Los Angeles started in 1975, using both a Convair 580 and small fleet of "new" Handley-Page Jetstream turboprops. The "commuter" service was quite popular especially during the winter ski seasons with the flights cutting traditional driving times down to an hour from the usual six hour drive. Parked at the Imperial Terminal and awaiting passengers for an evening departure is N17RJ, a Handley-Page HP.137 Jetstream, delivered new to Sierra Pacific in April 1976.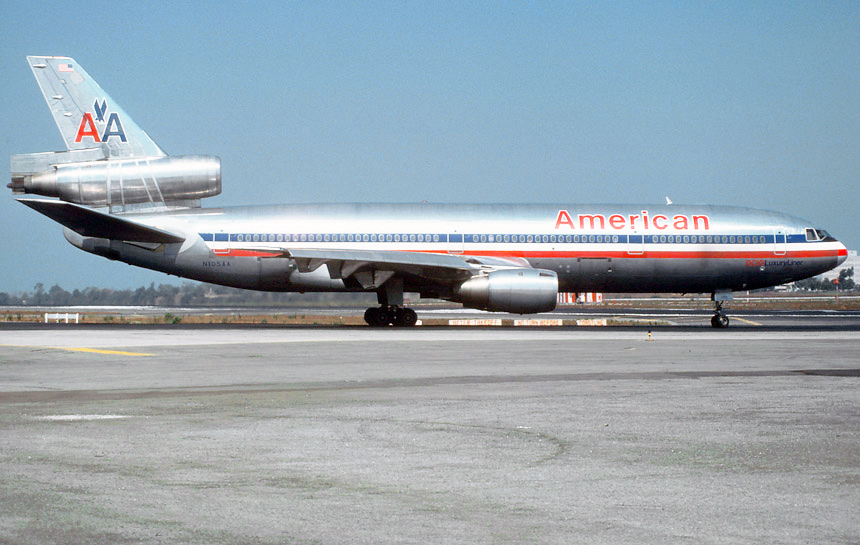 August 1977
American Airlines was the launch customer for the Douglas DC-10 and placed an order for twenty-five of the type with an option for an additional twenty-five more. American choose the new tri-jet for both medium domestic and long range international flights with a capacity for 250 passengers. American inaugurated service with the Douglas DC-10 on July 29, 1971, on a flight from Los Angeles to Chicago. From Los Angeles the DC-10 was soon placed on heavy trunk routes to Boston, Chicago, Dallas, Detroit, New York-JFK, and Washington Dulles. Holding short of Runway 24 Left is N105AA, a Douglas DC-10-10.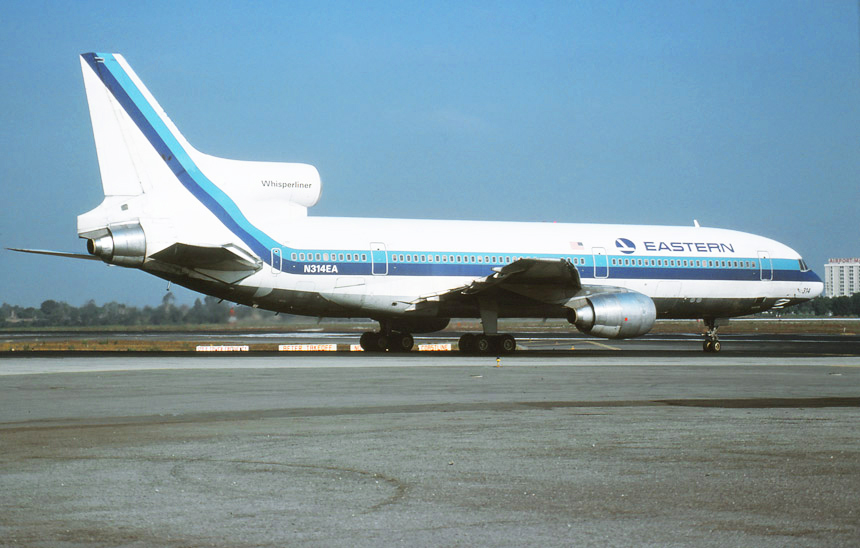 August 1977
Eastern Airlines was the second launch customer for the Lockheed L-1011 and ordered fifty of the aircraft. The first plane was delivered on April 6, 1972, and service was started a few weeks later between Miami and New York City with a stop in Atlanta. The L-1011s were used on high-density domestic and transcontinental services with Los Angeles receiving the Tristar in 1976, on non-stop flights to Atlanta. Approaching the active Runway 24 Left for a morning flight to Atlanta is N314EA, a Lockheed L-1011-385-1 Tristar 1, "
Whisperliner
."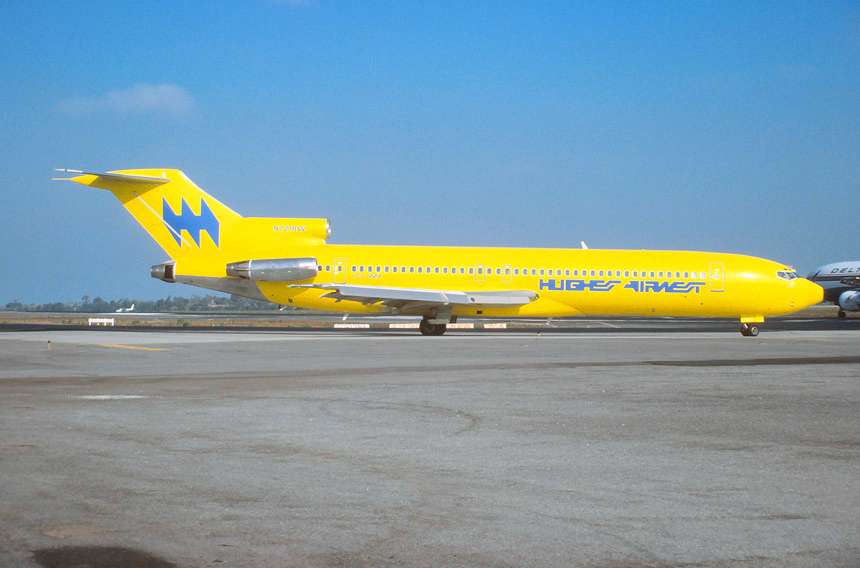 August 1977
A year after Howard Hughes purchased Airwest Airlines in 1970, a Douglas DC-9 was involved in a mid-air collision with a Douglas F-4B Phantom over Duarte, California (east of Los Angeles). It was considered that one of the contributing factors to the crash was the all-white fuselage of the existing Airwest color scheme. The company which was hired to re-brand the new Hughes Airwest, Mario Armond Zamparelli, designed a bold and eye-catching livery that became famous throughout the 1970s (and was hoped to prevent another mid-air disaster). The entire fuselage of the planes were bathed in "Sundance Yellow" while airline script and tail design were in "Universal Blue". The newly painted aircraft were quickly dubbed the "Flying Bananas", and Hughes Airwest used this to their advantage in advertising and promotions until the airline was purchased by Republic Airlines in 1980. Waiting at the hold short point for a departing heavy Delta Airlines L-1011 is N721RW,
"

Spirit of Gamma

," a Boeing 727-2M7.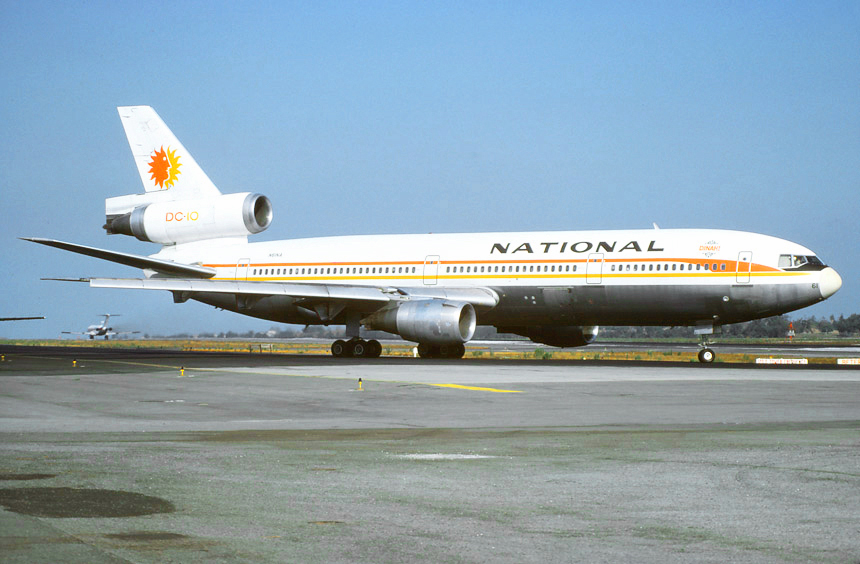 August 1977
National Airlines ordered nine Douglas DC-10 aircraft in 1969, with a capacity of 256-passengers. The new-wide body Douglas tri-jets would be used to phase out the Douglas DC-8 and provide both transcontinental and high-density flights along the popular New York-Florida corridor. National's first DC-10 was delivered on November 1, 1971, and placed into service six weeks later on the winter "Snow-Bird", New York-West Palm Beach, Florida run. On February 1, 1972, the DC-10 was placed on the lucrative Los Angeles-Miami route and was eventually placed on services from Los Angeles to both Houston and New Orleans. Taxiing up to the Runway 24 Left hold short line for a morning departure is N61NA "
Dinah,"
a Douglas DC-10-10.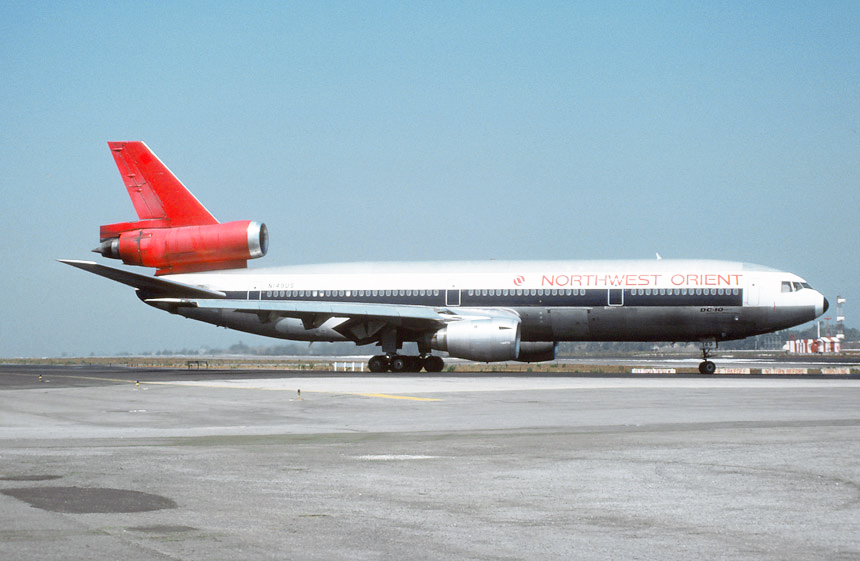 August 1977
Northwest Orient Airlines was the launch customer for the "intercontinental" version of Douglas DC-10 series 40, which had a range of 5,800 miles. Northwest originally ordered eight of the aircraft, the first being delivered in November 1972, with additional deliveries over the next two years. The airline eventually operated twenty-one of the series 40 on both heavy domestic and international flights. The planes were to be used on trans-Pacific routings between city pairs that were not economically viable with the Boeing 747. During 1976, the 342-passenger Douglas DC-10 was placed on flights from Los Angeles to Minneapolis-St. Paul and Seattle. Taxiing up to the hold short point for Runway 24 Left on a hazy morning is N149US, a Douglas DC-10-40.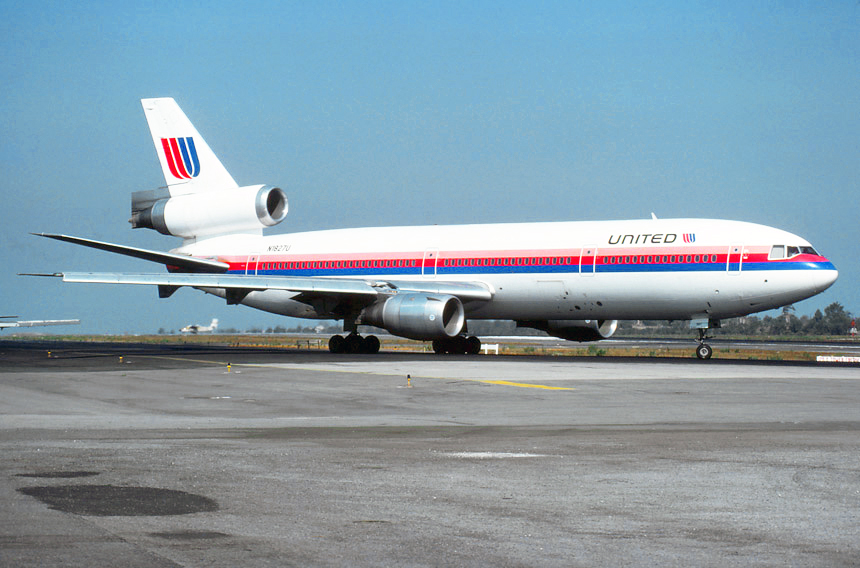 August 1977
United Airlines sought an aircraft that could provide transcontinental routings and "fit" between the large capacity Boing 747 and the smaller sized Douglas DC-8. After being courted by both Lockheed and Douglas, United choose the DC-10 prototype and ordered thirty of the aircraft in 1968. The first Douglas DC-10 was delivered to United Airlines in July 1971 and placed in service between San Francisco and Washington Dulles a few weeks later. The new DC-10 was soon placed on services from Los Angeles to Chicago, New York-JFK and Washington Dulles. Taxiing up toward Runway 24 Left for a mid-morning departure is N1827U, a Douglas DC-10-10, delivered new to United Airlines on April 25, 1975.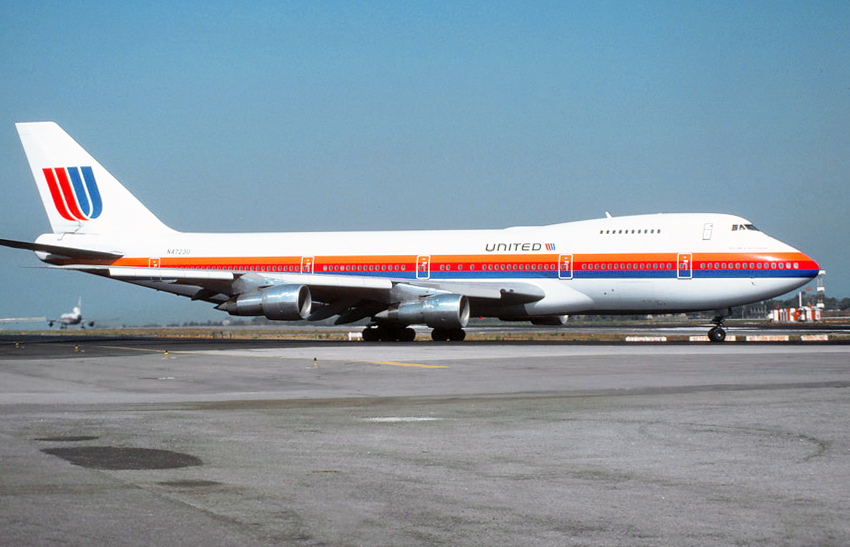 August 1977
During 1973, United Airlines embarked on a brand redesign and hired legendry graphic designer Saul Bass to lead the effort. His result was the infamous United "Tulip" which defined movement, winged flight, and the American Flag all in one logo. A new tri-color stripe would adorn the fuselage and replace the familiar light blue that had brought United into the jet-age. Over the next few years the arduous process of painting new and existing aircraft took place and the famous United logo, become one of the most recognized for the next twenty years. By 1977, United Airlines was operating eighteen of the Boeing 747 and the plane became a common sight at Los Angeles as it was used on daily flights to Chicago, Honolulu, Hilo, and New York-JFK. Holding short of Runway 24 Left and waiting for departing Lockheed L-1011 traffic is N4723U "
William A Patterson
,"
a Boeing 747-122, named after the United Airlines president between 1934 and 1966.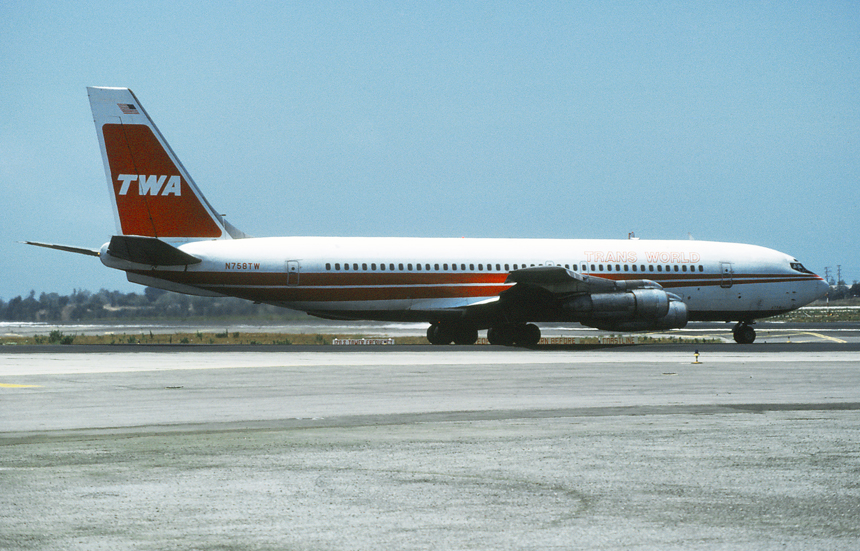 August 1977
By the late 1970s the Boeing 707 was starting to show its age a bit after some fifteen years in service and with competition form newer airframes. In 1977, Trans World Airlines (TWA) was still using its famed "Fan Jet" on services from Los Angeles to Chicago, Kansas City, St Louis, and Washington Dulles. Taxiing up to Runway 24 Left for a morning departure is N758TW, a Boeing 707-131B, delivered new to TWA on August 21, 1962.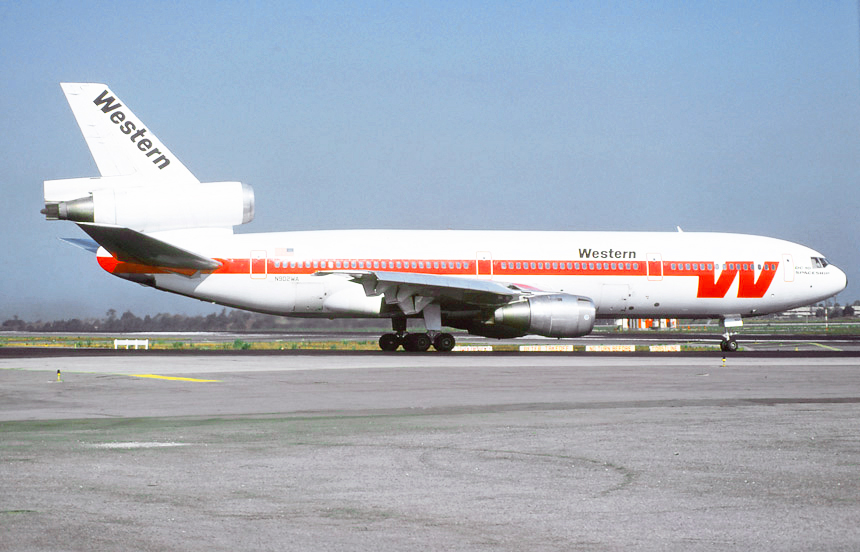 August 1977
Los Angeles based Western Airlines ordered nine Douglas DC-10s in 1972, to provide passenger capacity and increased range on some of its most popular routes. The first DC-10 was delivered to Western Airlines on April 19, 1973, and was marketed by the airline as the DC-10 "Spaceship" due to the "wide-body" comfort and spacious seating the new planes would provide. With a capacity of 254-passengers the new Douglas aircraft were placed on the Minneapolis-St. Paul-Los Angeles-Honolulu service in May 1973. As more DC-10s were delivered they were placed on the popular Los Angeles-Mexico City "Fiesta" and Los Angeles-Honolulu "Islander" flights. Awaiting takeoff clearance and wearing the simple yet elegant "Swizzle-Stick" color scheme is N902WA, a Douglas DC-10-10, the second aircraft to be delivered to the airline on June 12, 1973.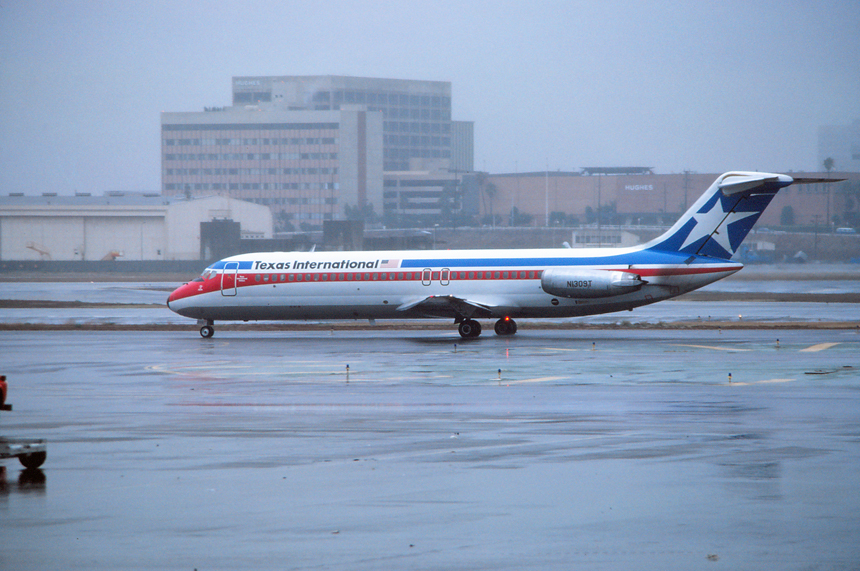 August 1977
Regional airline Texas International started operations in 1947 as Trans-Texas Airways. During the 1960s, the airline added the Douglas DC-9, its first "jet" aircraft and inaugurated service to Monterey, Mexico prompting a name change to Texas International. In 1970, the airline received approval to start service to Los Angeles from Dallas-Ft. Worth via Albuquerque, New Mexico. This was a significant step for the carrier as it was now competing with the "Big Boys" of Delta Airlines and American Airlines into Dallas, however the airline prevailed and continued its one-stop service into the 1980s. Taxiing outbound for takeoff during a rather rare summer rainstorm is N1309T "City of Austin," a Douglas DC-9-31, originally delivered new to Texas International in January 1969.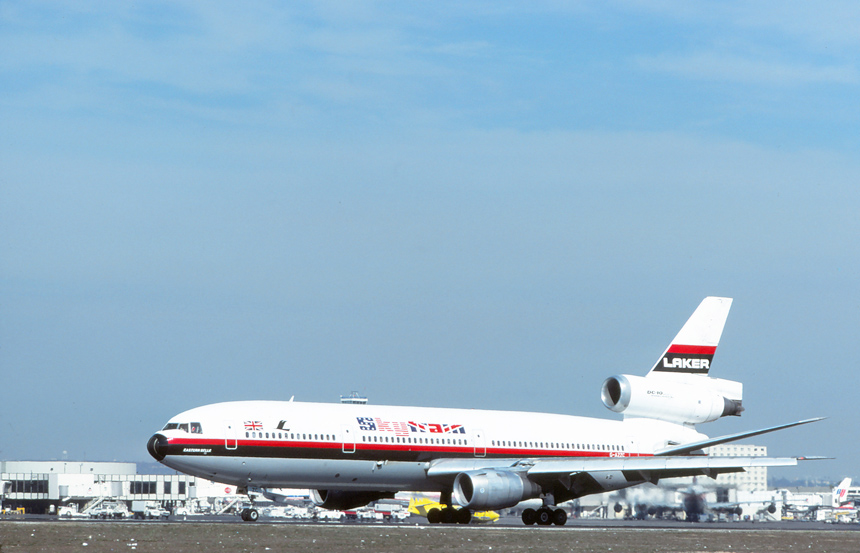 November 1977
Formed in 1966, by the aviation entrepreneur, Sir Freddie Laker, Laker Airways was a British charter airline based at London Gatwick Airport. With sights set on North America, Freddie Laker embarked on a series of battles to establish a low cost, "no frills" operation between the England and the United States. The airline acquired the Douglas DC-10 after a careful study of operating economics and soon introduced deeply discounted "Skytrain" services. Initial services were started between New York-London in September 1977, however services into Los Angeles had started in April 1977 to Manchester, England with a technical stop at Niagara, New York. Within a year, Laker was providing daily London Gatwick-Los Angeles service that remained popular until February 1982, when the airline filed for bankruptcy. Rolling out on Runway 25 Left after a trans-Atlantic flight via New York-JFK is G-AZZC "
Eastern Belle
," a Douglas DC-10-10.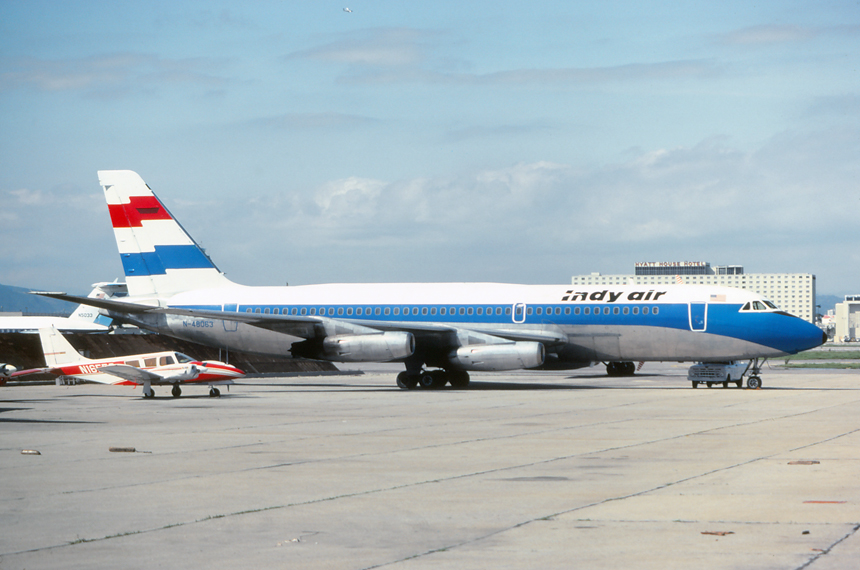 March 1978
During the 1970s numerous member based groups formed their own aircraft based "tour" airlines to cater to their membership. The cost of operating and maintaining an aircraft was typically very expensive and many of the groups would lease out the aircraft for various military or public charters. Indy Air, based in Indianapolis, Indiana was one such member based flying club which purchased a Convair 880 to fly members to various destinations in North America and Europe. As with many of the "clubs," aircraft operation become too taxing financially and the planes were sold off or in the extreme cases the club went bankrupt. Indy Air was only in operation for about a year before being dissolved. Parked and secured at the south general aviation ramp during a charter flight is N48063, a Convair 880M (22M-21)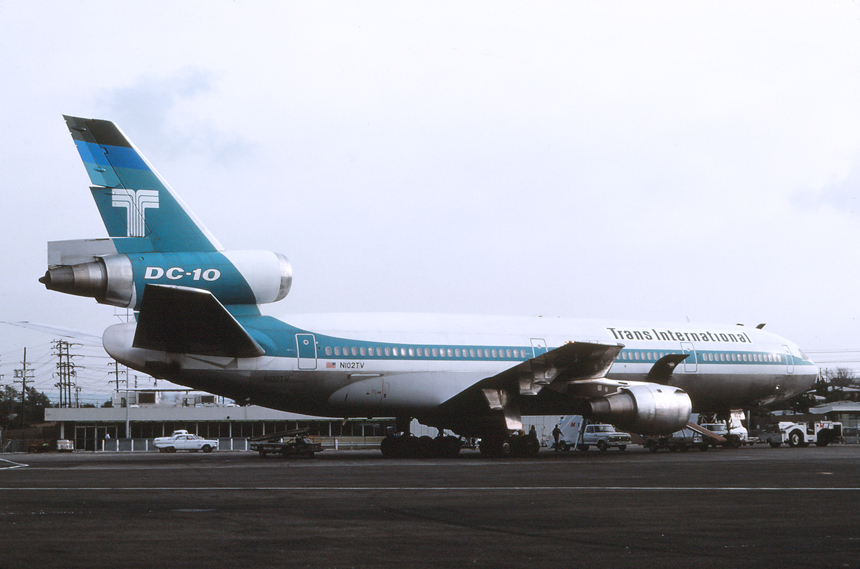 March 1978
Trans International was one of the largest supplemental carriers in the United States having been established as Los Angeles Air Service in 1948. Over the next thirty-years, Trans International grew with the operation of military charter flights being conducted world-wide. The airline also provided both passenger and cargo charters and most of the aircraft operated were able to be converted for either service. In 1976, Trans International purchased charter operator Saturn Airways and added even more charters, contracts and aircraft to its already extensive portfolio. To add more capacity and range, the airline ordered three convertible capable Douglas DC-10s with the first being delivered in 1973. Parked at the Imperial Terminal and being loaded for a charter flight is N102TV, a Douglas DC-10-30CF, delivered new to the Trans International on June 4, 1973.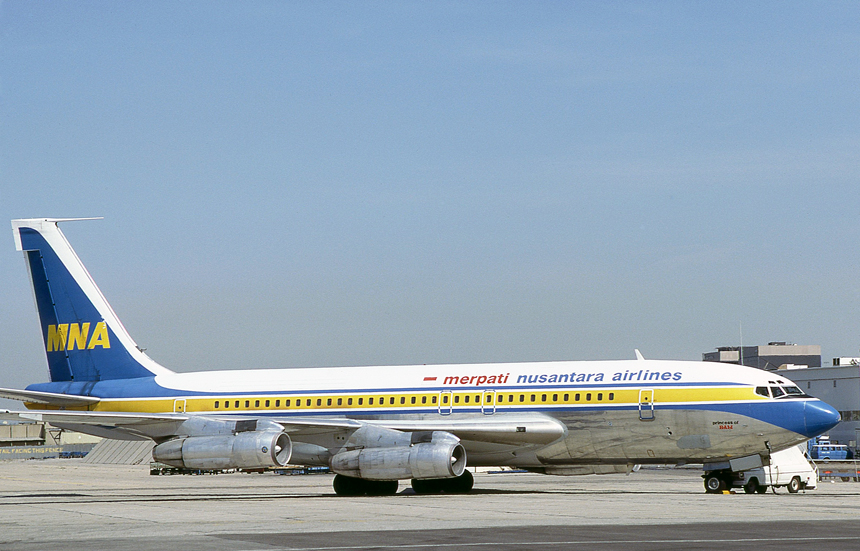 April 1978
Merpati Nusantara was the second largest regional airline in Indonesia and was established by the government in 1962, to fly domestic services. The airline remained domestic flying to hundreds of destinations within the extensive island chain of Indonesia until 1976, when a Boeing 707 was leased for international charter work. Initial charters were to Japan and Hong Kong before permission was granted for trans-Pacific services in 1977. In an effort to boost tourism weekly charter flights were started between Bali (Denpasar) and Los Angeles via Honolulu with the 707. The charters lasted until only until 1979, when low passenger numbers and escalated costs forced the airline to cancel charters. Parked at the Imperial Terminal during a charter flight is N107BN "Princess of Bali," a Boeing 707-138B, originally delivered to QANTAS airlines in 1964, and leased by Merpati Nusantara in July 1976.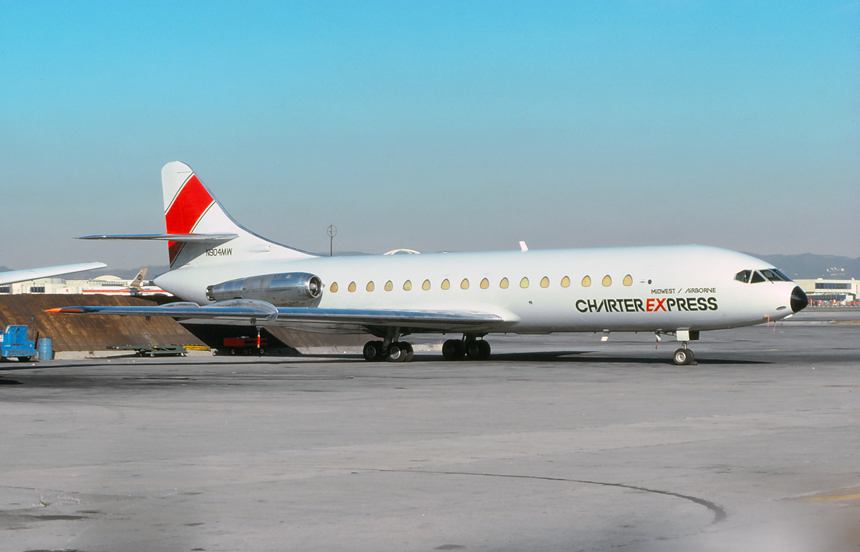 December 1978
Airborne Freight Corporation was started in 1968 as a regional air freight forwarder based in Seattle and using leased space on other carriers to operate. One of the larger carriers that Airborne leased was Midwest Air Charter based in Ohio. After the deregulation of the air cargo industry in 1978, Airbone Freight merged with Charter Express to become Airborne Express. Midwest Air charter had purchased six of the French built Sud Caravelle and converted them for all cargo service. The Caravelle was used on busier city routes, with Los Angeles being a major freight market. Parked at the south cargo ramp and wearing the initial Airborne colors is N904MW, a Sud SE-210 Caravelle VI-R.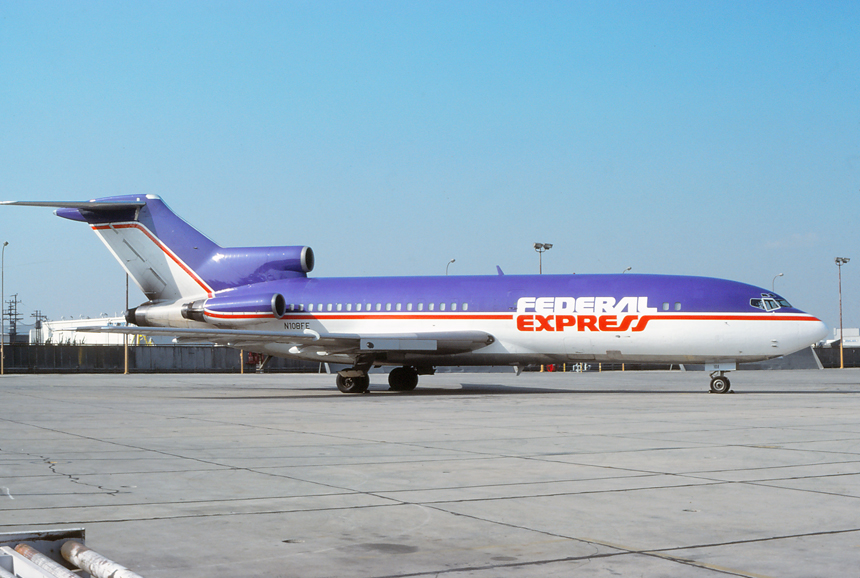 January 1979
Federal Express was started as an air freight company dedicated to time-sensitive shipments. In April 1973, the airline set out to conquer the overnight package market using a fleet of fourteen Dassault Falcon jets flying to twenty-five cities in the U.S. As Federal Express set a precedent for service and on-time shipping, the airline considered to grow considerably and with the deregulation of the air cargo industry in 1978, Boeing 727 and 737 aircraft were acquired for the growth. Los Angeles was one of the first airports to see the larger jets provide service in 1978. parked at the cargo ramp in the characteristic purple and red color scheme is N108FE, a Boeing 727-22C, originally delivered to United Airlines in 1967, and purchased and converted to freighter by Federal Express in September 1978.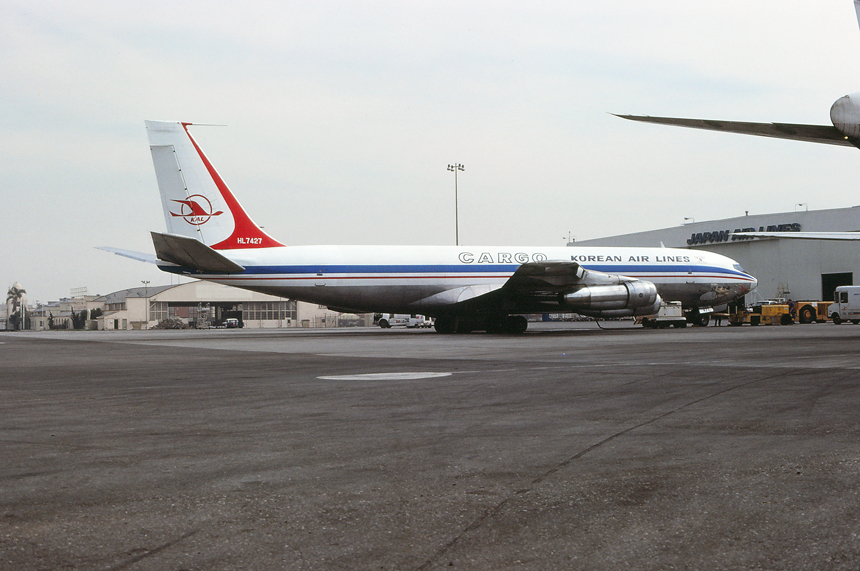 February 1979
Korean Air Lines founded the all-cargo division of the airline in 1971, and cargo flights started on a Seoul-Tokyo-Los Angeles routing using a Boeing 707. Cargo specific flights were so popular that the volume justified the introduction of the Boeing 747 Freighter on the trans-Pacific service in 1973. Both the 707 and 747 freighters would provide almost daily service into Los Angeles so much so, that Korean Air Lines Cargo opened their own dedicated cargo terminal at the airport in 1981. Parked at the south cargo ramp and waiting another load of cargo is HL7427, a Boeing 707-321C, originally delivered to Pan American Airlines in 1967, and leased by Korean Air Lines in February 1977.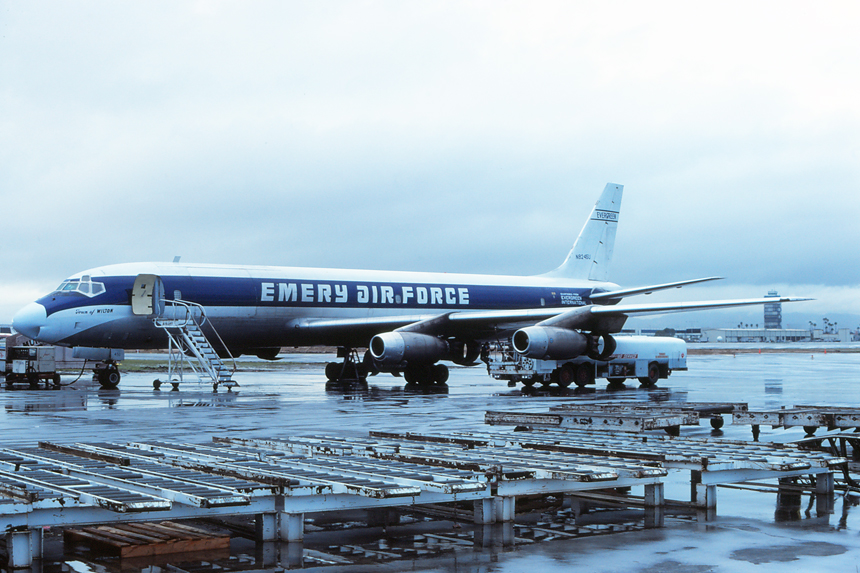 February 1979
Taking advantage of the deregulation of the air cargo industry in 1978, Emery sought to maintain its title as one of the world's largest freight forwarders by adding its own "air force" of aircraft to provide centralized air cargo service. In September 1976, Emery added fourteen aircraft to its fleet by leasing planes including the Douglas DC-8, Lockheed Electra, Convair 580 and various smaller piston engined types. Due to the freight volume, Los Angeles soon hosted the Douglas DC-8, which had a capacity of over 30 tons on its daily visits to the airport. Parked on the south cargo ramp during a rainy winter afternoon is N8245U "Town of Wilton," a Douglas DC-8-33, on lease to Emery and being operated by Evergreen International.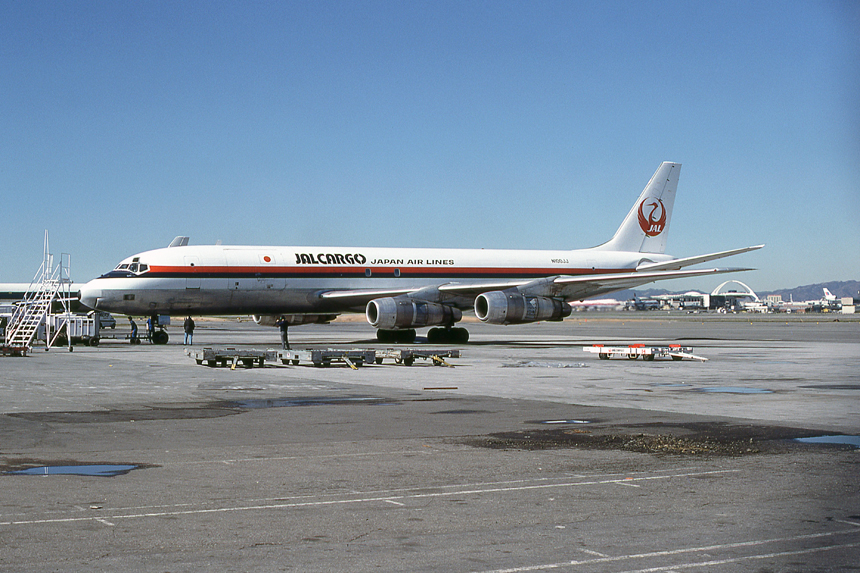 February 1979
One of the few airlines that has it's own all cargo division, Japan Airlines (JAL) started an cargo subsidiary of the airline in 1959. Early flights connected Japan to San Francisco using a converted Douglas DC-6. In an effort to increase range and capacity JAL placed into service the Douglas DC-8 "Jet Trader" which was the all-cargo version of the manufactures best selling DC-8 series. The new freighters could carry up to forty tons of freight and were placed into service in October 1967, on a Tokyo-San Francisco-New York route. Los Angeles received JAL's DC-8 freighters in the early 1970s providing a quicker route of goods transport between Southern California and Japan. Parked at the south cargo ramp during a winter layover is N100JJ, a Douglas DC-8-55, originally delivered to JAL in November 1965 as the passenger version and then converted to a freighter in 1977.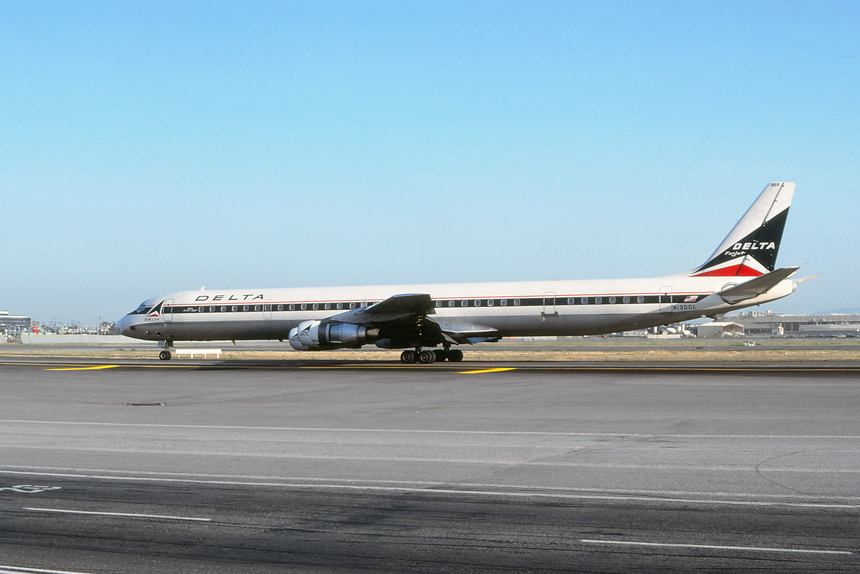 June 1979
As one of the major trunk carriers in the United States, Delta Airlines had aspirations to extend services to the West Coast, however the Civil Aeronautics Board (CAB) gave route authority to American Airlines. Delta did provide service west via inter-line route agreements, with other airlines aircraft and crews. In 1961, Delta was finally granted authority to start routes to the West Coast from both Atlanta, New Orleans, and Dallas. Flights into Los Angeles started on June 11, 1961 and when Delta introduced the Douglas DC-8 "Stretch" series-61 in 1967, the were immediately placed on the popular transcontinental services. Taxiing up to the hold short point for Runway 25 Right for an evening departure is N1300L, a Douglas DC-8-61, delivered new to Delta Airlines in August 1968.
Continue with Los Angeles-LAX 1980s
Back to: The Airports