THE AIRPORTS
FLORIDA
MIAMI INTERNATIONAL AIRPORT
MIA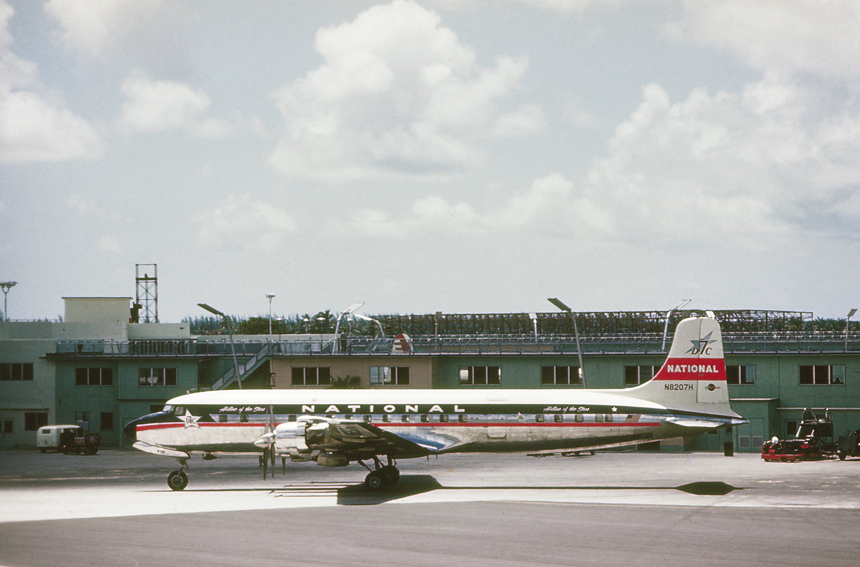 April 1956

*
National Airlines had a strong connection to the Miami area, and was the second airline to start scheduled passenger service to the airport in 1936 from it's home base at St. Petersburg. National Airlines would continue to grow and expand eventually making Miami its base of operations and introducing new multi-engine equipment. By 1956, National became a formidable carrier from Miami with flights to New York, Boston, Washington D.C., and Houston in the United States, and Havana, Cuba. Awaiting taxi clearance away from the terminal for a mid-day departure is N8207H, a Douglas DC-7B, delivered new to the airline in December 1953.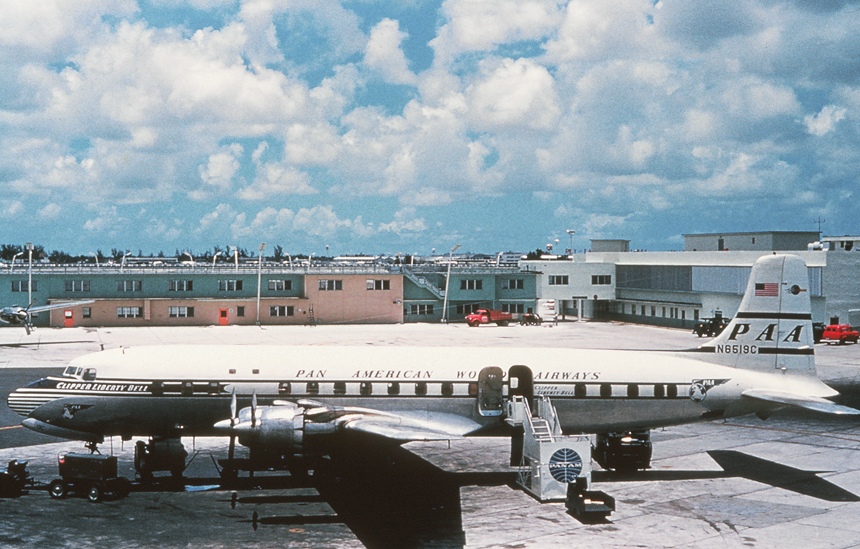 June 1959

*
Pan American Airways and Miami International Airport had an synonymous existence together for over sixty years, as it was Pan American whom originally moved their base of operations from Key West to Miami in 1928. The airline developed its own airport, yet by 1933 the airport became known as the 36th Street Airport and other carriers relocated there from the old Miami Municipal Airport. Over the next two decade Pan American grew to become a legendary international carrier, and kept Miami as its base of operations. By 1959, Pan American had numerous daily flights connecting Miami with New York, as well as no less then seven destinations in the Caribbean and Central America. parked at the terminal and awaiting its next load of passengers is N8519C "Clipper Liberty Bell," a Douglas DC-6B.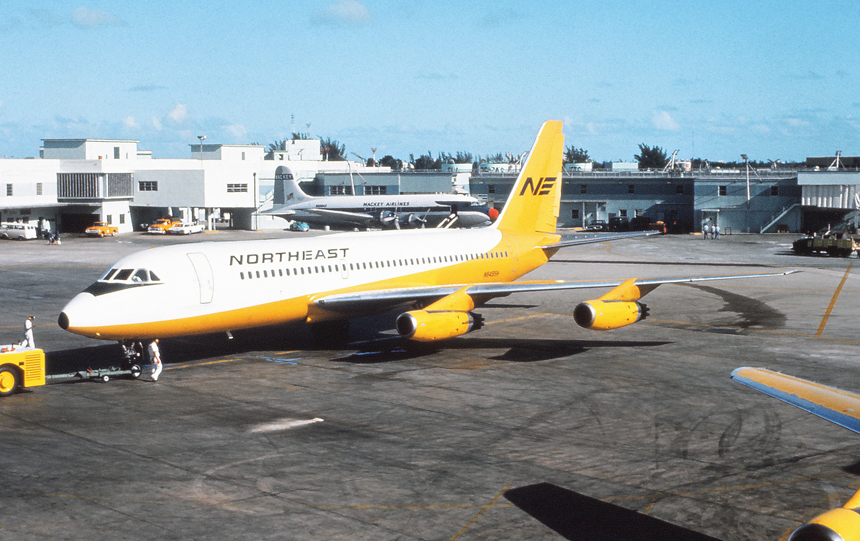 September 1966

*
As its name suggested, Northeast Airlines was based in Boston, Massachusetts and started operations under that name in 1940, with flights along the Eastern Seaboard. Northeast received permission to start services to Florida including Miami in 1957 with flights to Boston, via New York. This initial route, eventually expanded and gave Northeast a lucrative piece of the popular Northeastern region Florida market. Pure "jet" service was started in 1959 using a leased Boeing 707, and this was replaced by the airlines delivery of the sleek Convair CV-880 airplane in 1960. Seen being pushed back from the terminal for a northbound departure is N8495H, a Convair CV-880-22-1, delivered to the airline in December 1962.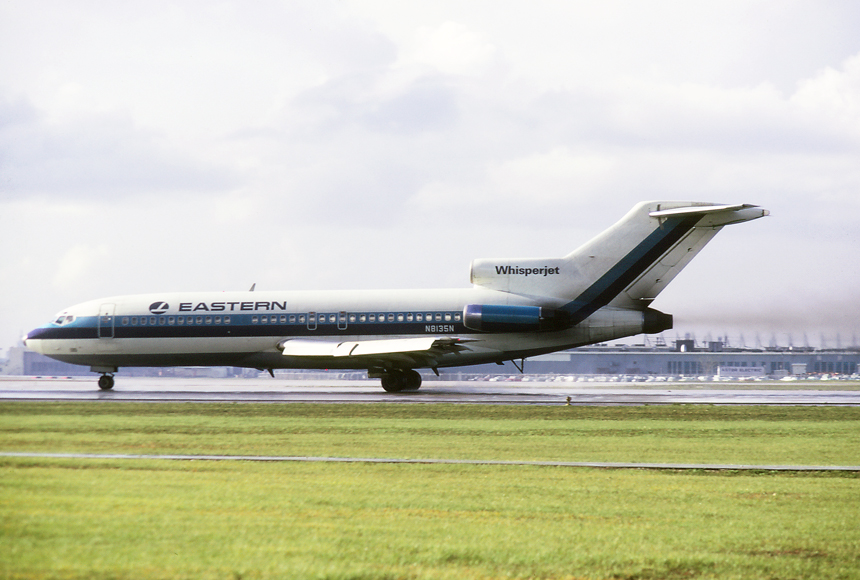 March 1967

*
Another airline that would eventually grow with the Miami airport, was Atlanta, Georgia based Eastern Airlines which started service to the airport in 1934, with flights to both New York and Atlanta. Eastern took the opportunity to expand at Miami, adding services to the Midwest and Puerto Rico by the 1960s. Jet service was introduced by the airline in 1960, which greatly expended the speed and comfort for Miami bound passengers. Seen taxiing back toward the terminal after having landed on Runway 27 Right during a soggy spring afternoon is N8135N, a Boeing 727-25, delivered new to the airline in September 1965.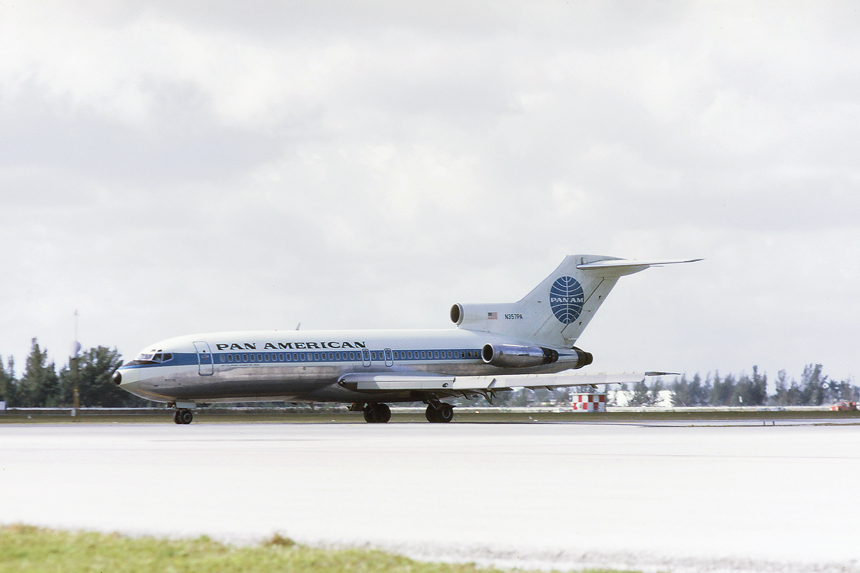 February 1968

*
Pan American started the Jet-Age of commercial aviation on October 26, 1958, when the carrier inaugurated trans-Atlantic service from New York to Paris using a Boeing 707. Although Pan American was well known for its far reaching international service using the Boeing 707 and 747, the airline sought a smaller airframe for its Caribbean and Latin America routes from Miami. The answer was the Boeing 727 for which the airline received its first in 1966, and placed it on services from Miami to Mexico City, Panama City, San Juan, and San Salvador. Taxiing outbound toward Runway 27 Left for a morning departure is N357PA "Jet Clipper Ponce de Leon," a Boeing 727-21, delivered new to the airline a year earlier in May 1967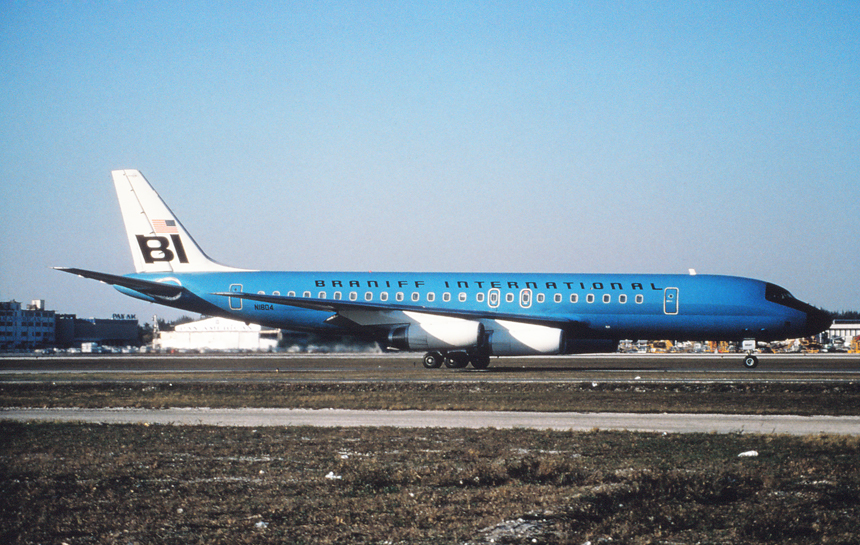 September 1968

*
Braniff International Airways received approval from the Civil Aeronautics Board (CAB) to start service into Miami in 1952, to Houston, Havana, and Panama City (Balboa) using a Douglas DC-6. After the purchase of Pan American-Grace Airways (PANAGRA) in 1967, Braniff became the largest U.S. carrier to serve South America. Miami saw Braniff take over routes to Bogotá, Guayaquil, Lima, and Santiago using Douglas DC-8s and Boeing 707s on the intercontinental services. Seen taxiing to the terminal after having landed is N1804, a Douglas DC-8-62, wearing the "Medium Blue" colors.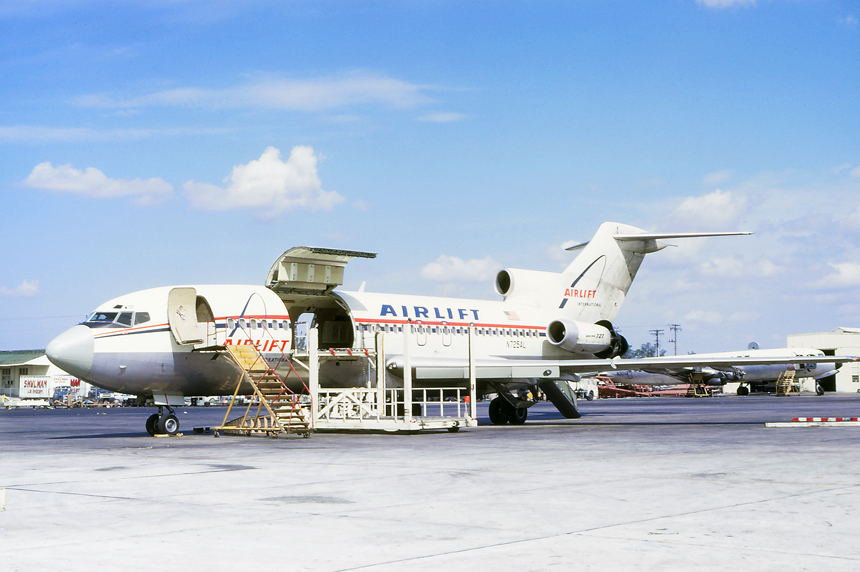 March 1969

*
Miami based Riddle Airlines changed its name to Airlift International in 1965. The all cargo airline continued to expand operations and purchased Slick Airways in 1968. Boeing 727 Freighters were added to supplement the Douglas DC-8, Boeing 707 and various second-hand prop-liners on cargo services to San Juan, Puerto Rico, New York, Chicago, and Detroit. Seen parked on the Airlift cargo ramp and awaiting its next load of freight is N725AL, a Boeing 727-172C, delivered new to Airlift in May 1968.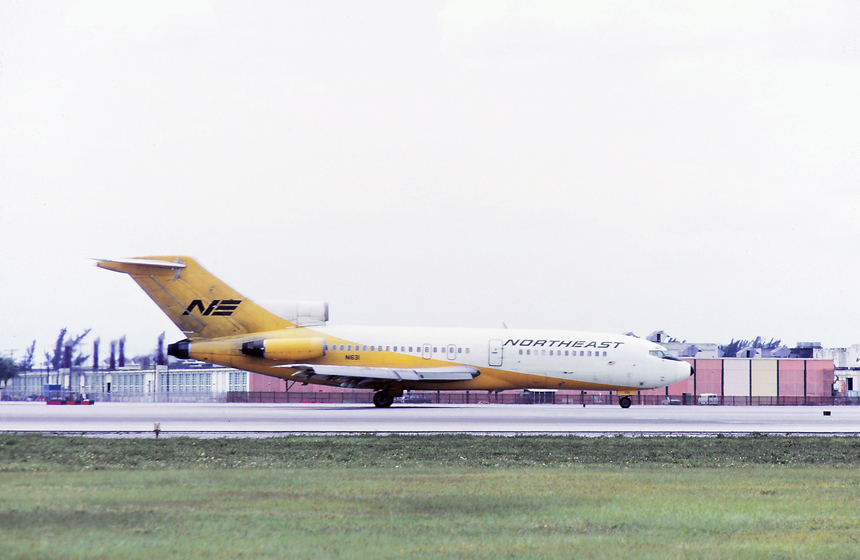 March 1969

*
By the 1960s, Northeast Airlines had become one of the more popular carriers flying between Florida and the Northeast. With a change in ownership in 1965, the airline introduced a new color scheme and corporate rebranding that would paint the planes in a sun drenched yellow. What became affectionately known as the "Yellowbirds," the rather plain, white and yellow colors giving southbound Florida passengers a hint of the "warmth" they would soon be experiencing. Seen taxiing out to Runway 9 Left for an afternoon departure is N1631, a Boeing 727-95, delivered new to the airline in October 1965.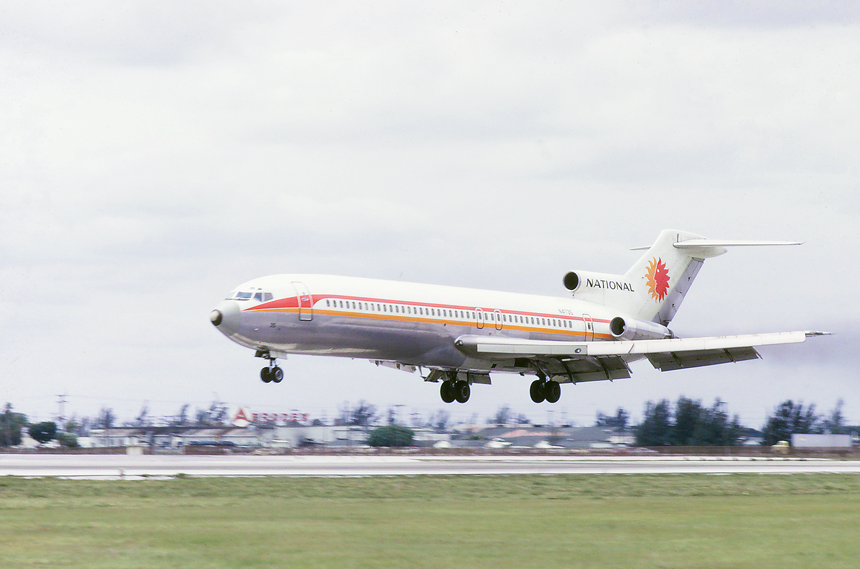 March 1969

*
National Airlines became the first U.S. domestic to start jet service when it operated a leased Pan American Boeing 707 on service between Miami and New York on December 10, 1958. National Airlines would eventually acquire Douglas DC-8s and Boeing 727s to make up its jet fleet, with the first Boeing 727 delivered in 1964. The Boeing 727s were to be used on short-to-medium haul regional routes with the aircraft being used on flights from Miami to Key West, Jacksonville, West Palm Beach, Fort Meyers, and Tampa. Seen just over-the-numbers for landing on Runway 9 Left is N4735, a Boeing 727-235, delivered new to the airline in January 1968.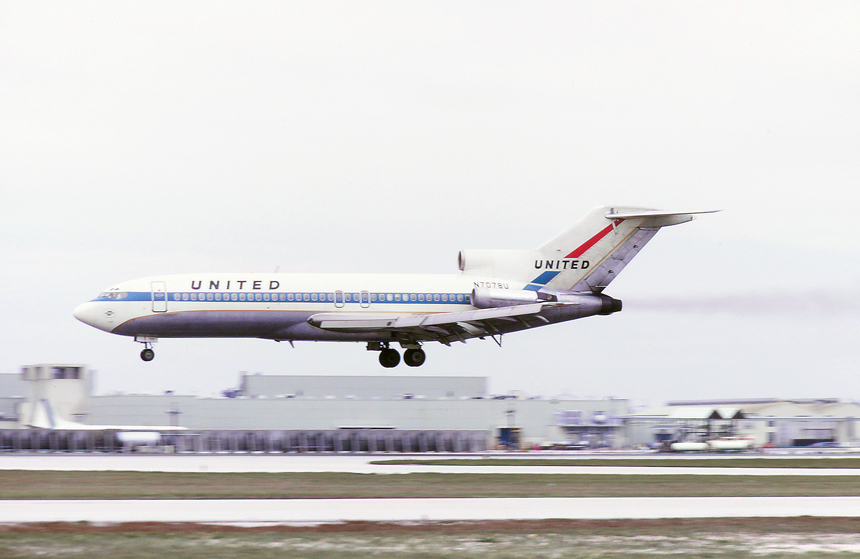 March 1969

*
United Air Lines had traditionally been awarded routes across the U.S. from the Central and Northeast regions to the West. The airline had sought unsuccessfully to extend its reach toward Florida and Southeast. The solution came in the form of a purchase, of Capital Airlines in June 1961. With the acquisition of Capital, United assumed operation of the airlines routes from Cleveland, Pittsburgh, and Buffalo to Miami, as well as routes into Atlanta, thereby placing United into a much desired market. Seen over-the-numbers for landing on Runway 9 Left is N7078U, a Boeing 727-22.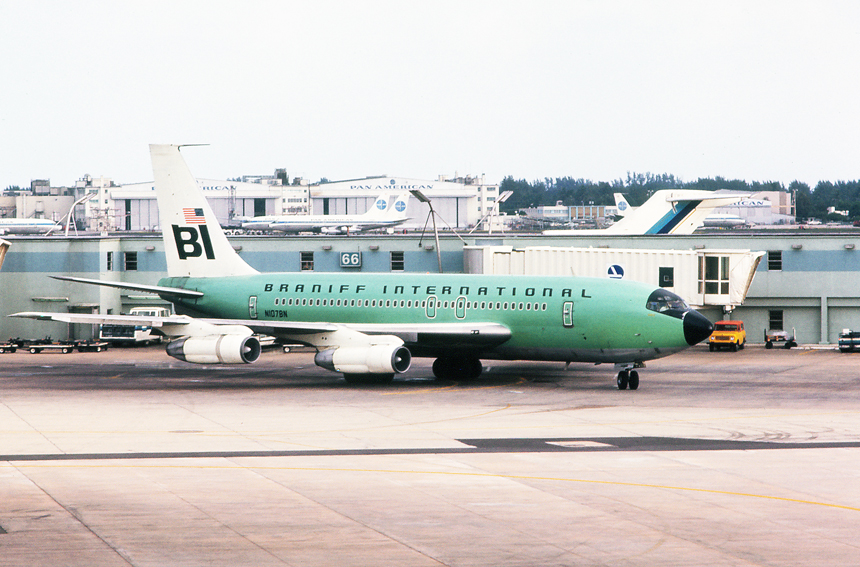 October 1970

*
Braniff International Airways received its first pure jet aircraft when its first Boeing 707 was delivered in December 1959. Braniff was the only airline to order the 707-220 series, dubbed the "Hot and High" version with more more powerful turbojet engines. Five aircraft were ordered, however one was lost in a crash during a test flight prior to delivery. Braniff went on to acquire both the Boeing 720 and Boeing 707-100s and 320C "Intercontinental Jets" in the early 1960s, for use on their extensive routes to South America. Seen taxiing away from the gate for another international service and wearing the light Panagra Green colors is N107BN, a Boeing 707-138B originally with QANTAS, and purchased by Braniff in June 1969.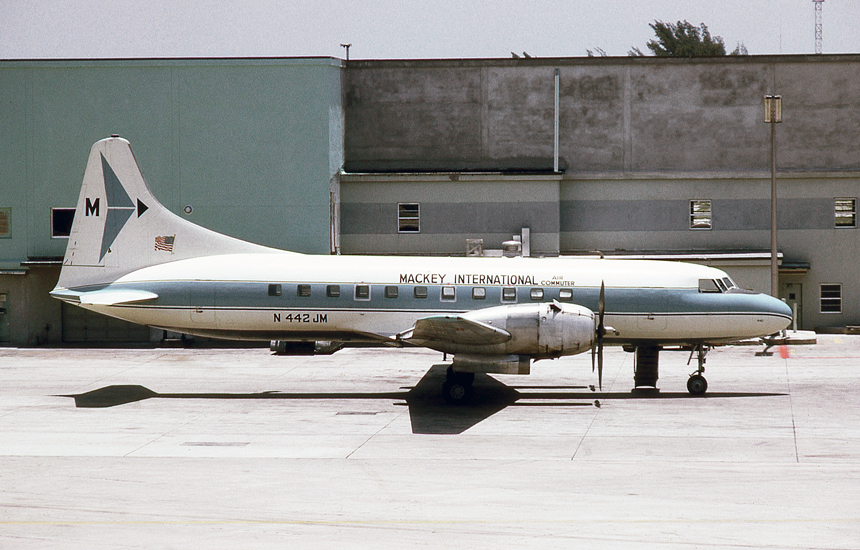 April 1971

*
Mackey International Airlines was a commuter created in 1969, to provide flights from southern Florida airports Miami, Fort Lauderdale, and West Palm Beach, to numerous destinations in the Bahamas and northern Caribbean Islands. Using a mixed fleet of both piston and turbine engined aircraft, including the Douglas DC-6, Mackey served now less then twenty island locations across the Bahamas, including Nassau, Marsh Harbour, Freeport, and Bimini. Parked at the terminal and awaiting its next load of passengers for an outbound flight is N442JM, a Convair CV-440-86, an ex-Eastern Airlines aircraft purchased by Mackey in December 1970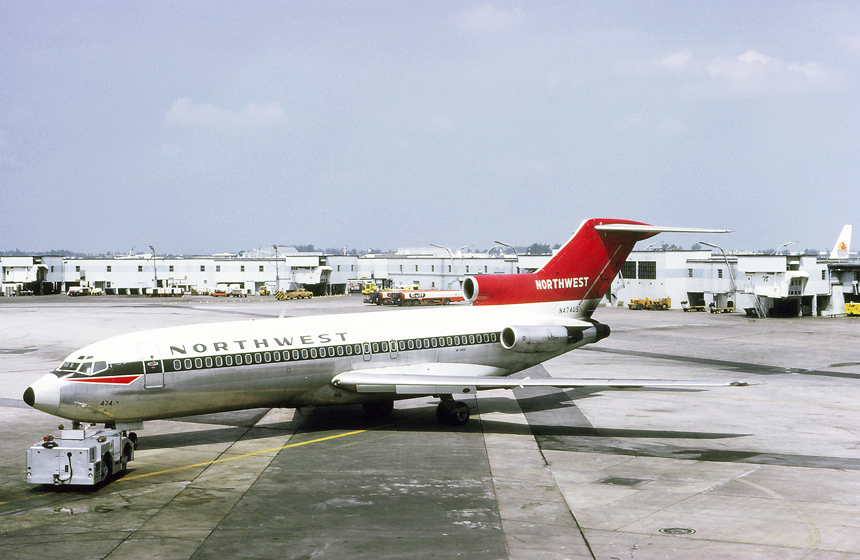 April 1971

*
Northwest Airlines received permission to start service to Miami from Minneapolis via Chicago-Atlanta-Ft Lauderdale with flights being inaugurated in September 1959. The Minneapolis, Minnesota based airline as its name suggested had all its flights located along the north and northwest portions of the United States, aside from its international service. The Florida service opened a new market for the airline, especially to the winter-weary travelers in the central states looking for warmth and sun. By 1971, Northwest had non-stop flights from Miami to Chicago, Ft. Lauderdale, and Tampa. Seen being pushed back from the gate for a northbound flight is N475US, a Boeing 727-51, delivered new to the airline in May 1966.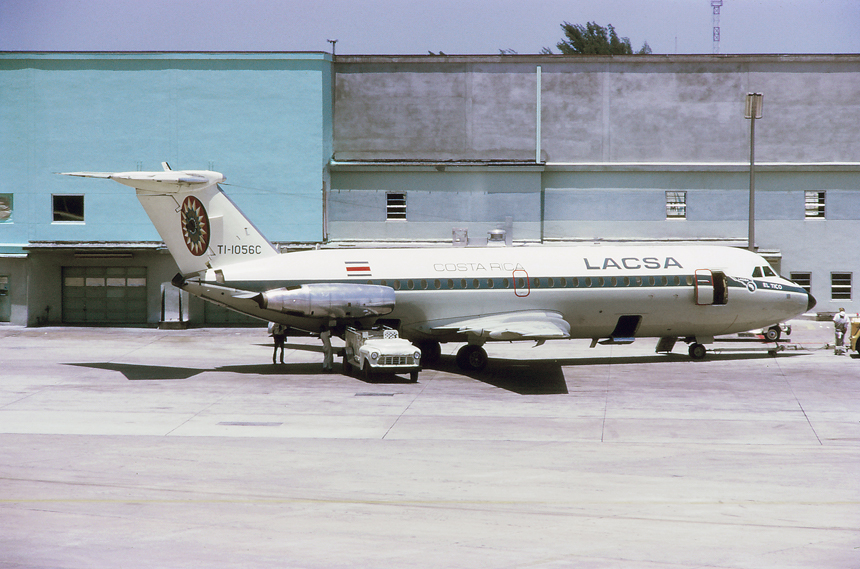 April 1971

*
One of the first international airlines to start service into Miami was Lineas Aereas Costarricenses S. A. (LACSA) was originally founded by Pan American Airways in 1945. In 1949, the airline was designated the national carrier for Costa Rica and a year later in 1950, services were started from San Jose, Costa Rica to Miami via Havana, Cuba using a Curtis C-45. In 1966, LACSA purchased its first jet, a British Aerospace BAC-1-11 "Twin-Jet" allowing increased capacity and speed on its flagship route; San Jose-Grand Cayman-Miami. Parked at the terminal and being loaded for another southwest bound flight is TI-1056C "El Tico," a British Aerospace BAC-1-11-409AY.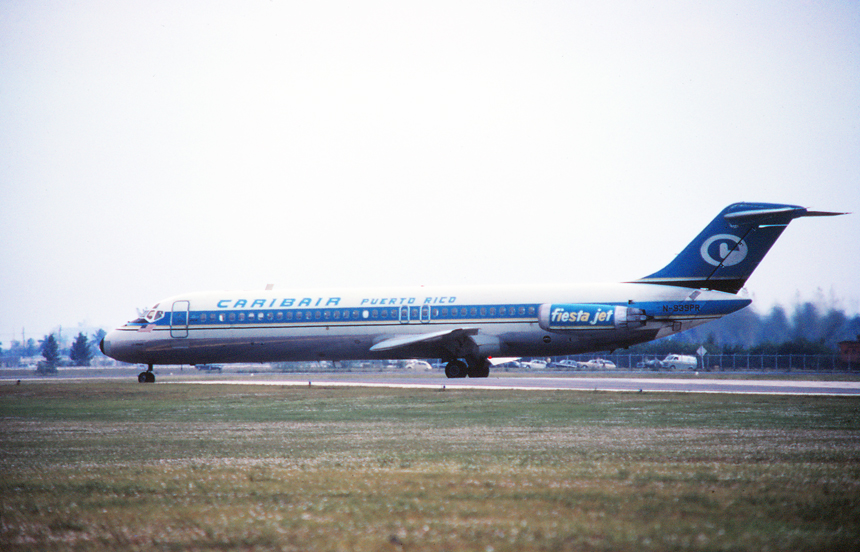 December 1971

*
Caribbean Atlantic Airlines was an airline based at San Juan, Puerto Rico, which started operations in 1939, and taking the name Caribair in 1950, providing service between San Juan and neighboring Caribbean islands. The airline purchased three Douglas DC-9s to provide "Fiesta Jet" service on routes competing with other local carriers. The first Douglas DC-9 was delivered in December of 1967, and was put in service on the San Juan-St. Thomas route on January 1, 1968. Approval was given to start service to Miami from San Juan in 1969 via Montego Bay-Kingston-Santo Domingo. Miami would be the only U.S. destination served by Caribair until its purchase by Eastern Airlines in 1973. Seen holding in position and awaiting takeoff clearance on Runway 9 Right is N939PR, a Douglas DC-9-31, delivered new in December 1967.
Back to: The Airports