THE AIRPORTS
NORTHERN CALIFORNIA
OAKLAND
OAK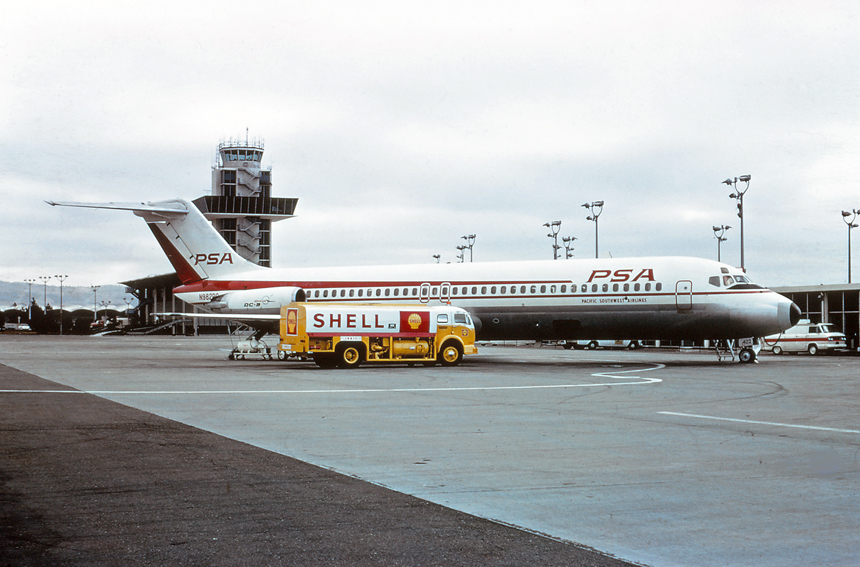 August 1968
Pacific Southwest Airlines placed an order for two Douglas DC-9-30 airplanes for delivery in 1968. The two DC-9's were to be used specifically for pilot "jet" training, however after the first was delivered in January 1968, it was placed into revenue passenger service due to rapid growth. The two DC-9s would supplement the existing aircraft until July 1969, when with delivery of additional Boeing 727's and overall lack of fleet commonality, resulted in the planes being removed from service and leased out to Ozark Airlines. Parked at the passenger terminal during a summer turnaround is N982PS, a Douglas DC-9-31.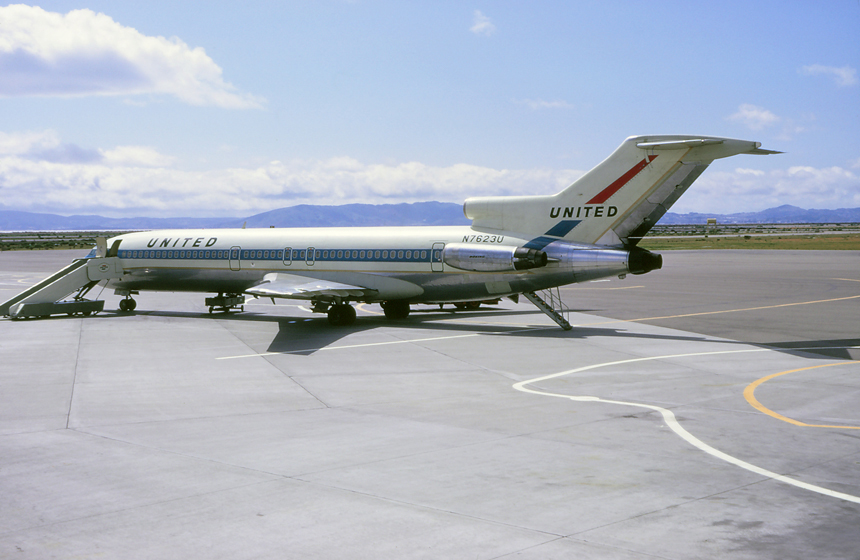 September 1968
United Airlines was one of the first airlines to provide commercial passenger service into Oakland, California when predecessor Boeing Air Transport started service into the airport in December 1927. Oakland was designated Oakland and "San Francisco" on schedules as the airlines terminus in the Bay Area was the Oakland Airport. Early flights used to the Boeing 247 which was replaced by the Douglas DC-3 Mainliners in the 1940s, on flights to Sacramento, Fresno and Red Bluff (intermediate stop on the way to Portland-Seattle). Boeing 727 "Jet" flights were introduced on non-stop service to Chicago, and on the San Francisco-Oakland-Los Angeles route. Parked on the ramp and awaiting passengers is N7623U, a brand new Boeing 727-222, having been delivered in June 1968. Note the additional "exit" door forward of the wing. These doors were a requirement from the FAA for passenger evacuation due to United's "new" Boeing 727-200s, of which ten of them were delivered for high-capacity service.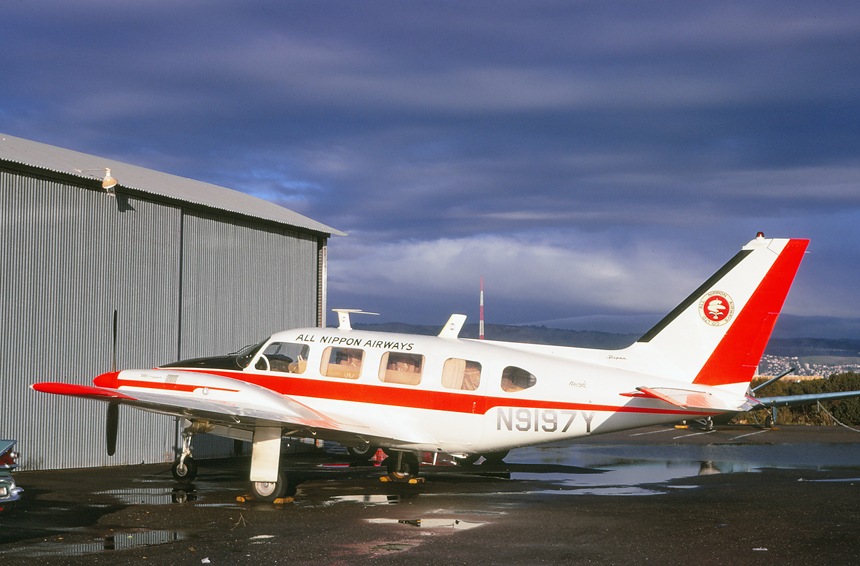 December 1968
Unlike their American counterparts, some Asian and European airlines hired their pilot resources directly into a training program run by the airline and took the candidates from little or no experience all the way into the first officers seat of an airliner. The philosophy is the airline can provide more consistent and realistic training increasing value and expectations of the pilot. Japan based All Nippon Airlines opened a pilot training center in Bakersfield, California during the late 1960s to increase it pilot base for the growing domestic airline. California was chosen due to its typically weather friendly flying conditions allowing year-round training. Beechcraft A-36 and the more complex Piper Navajo could be seen flying throughout central and northern California on both visual and instrument training flights of new pilots. Parked at the hanger area on a stop-over during a wet winter afternoon is N9197Y, a Piper PA-31 Navajo.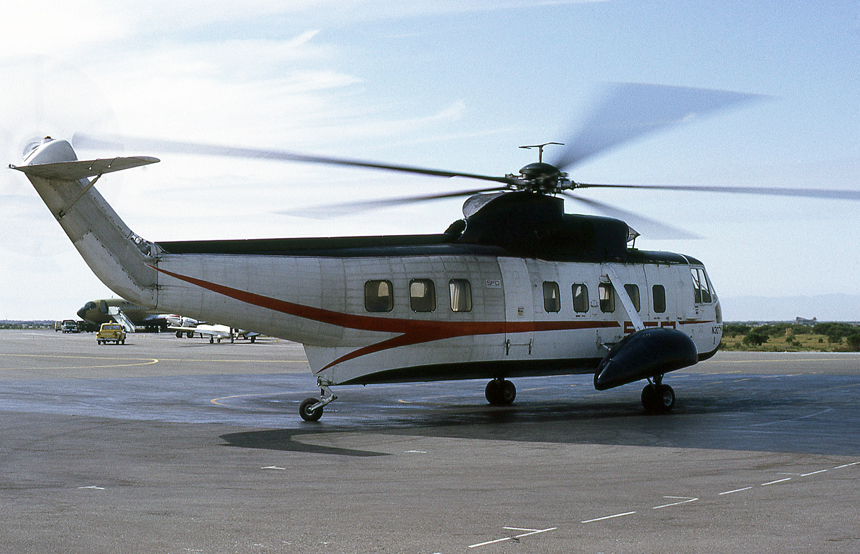 March 1971
The San Francisco Bay area is one of the few metropolitan regions nationwide that was able to support a regional helicopter commuter service. As a way to shuttle passengers from suburban areas as well as between the two busy airports of Oakland and San Francisco, SFO Helicopter was formed in 1961, using a small fleet of Sikorsky S-62 helicopters. During the early 1970s, SFO Helicopter, had no less then thirty daily flights from Oakland, including over twenty flights to San Francisco International Airport across the bay. Parked on the ramp and spooling up for another local flight is N302Y, a Sikorsky S-61N.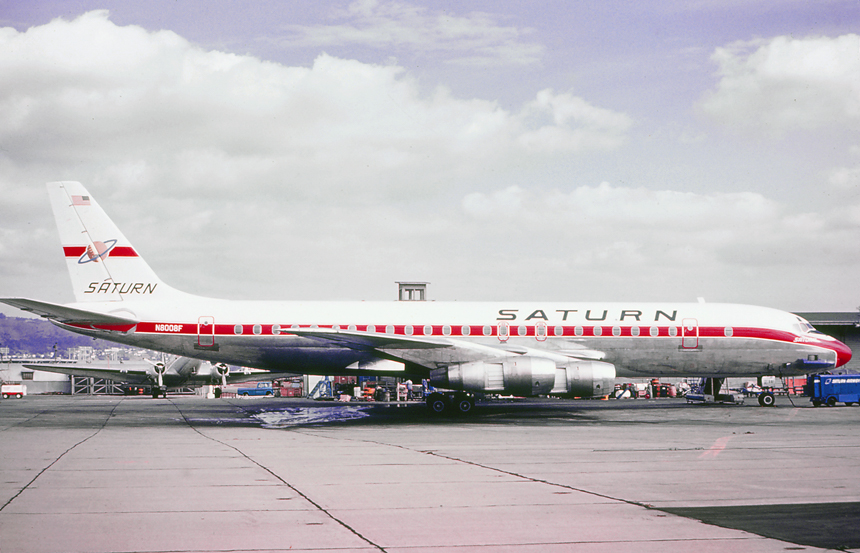 March 1971
Saturn Airways was established as a supplemental and charter airline in 1959, using Douglas DC-6 aircraft. based at Oakland International Airport, the carrier operated passenger charter and cargo flights, adding the Douglas DC-8 in December 1967 allowing non-stop transcontinental and trans-Atlantic services. The airline was used extensively by the U.S. Military especially on troop transports to and from the Vietnam conflict in the early 1970s. Parked on the Saturn ramp and being serviced is N8008F, a Douglas DC-8-54CF, purchased by Saturn Airways in October 1968.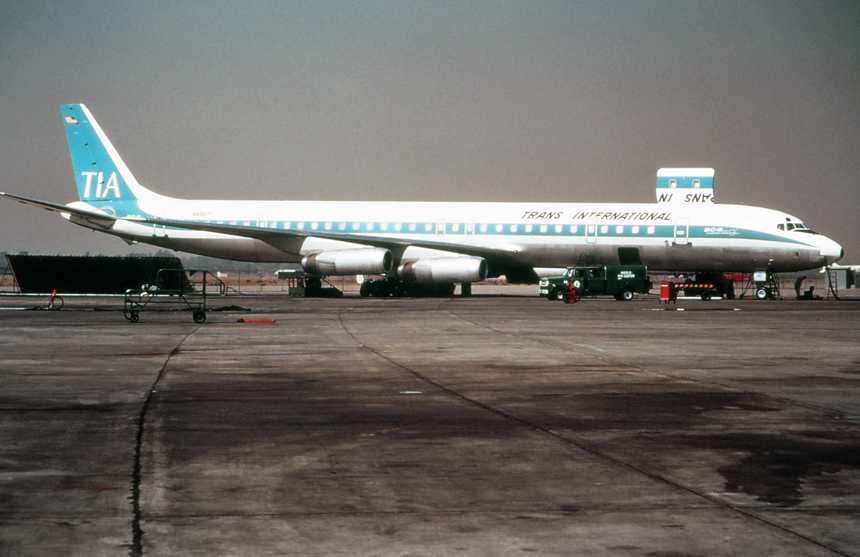 June 1972
Another Oakland based charter carrier was Trans International Airlines (TIA)which was established in 1947, by entertainment mogul Kirk Kerkorian. Starting as a small charter airline shuttling passengers from Los Angeles to Las Vegas, the airline grew quickly to become of the largest charter operators in the world. Realizing many of its charter contracts were military, the airline introduced "jet" Douglas DC-8 trans-Pacific service in 1965, becoming the first charter airline to operate jet aircraft. Parked on the ramp and being serviced is N4867T, a Douglas DC-8-63CF, delivered new to TIA on December 29, 1969.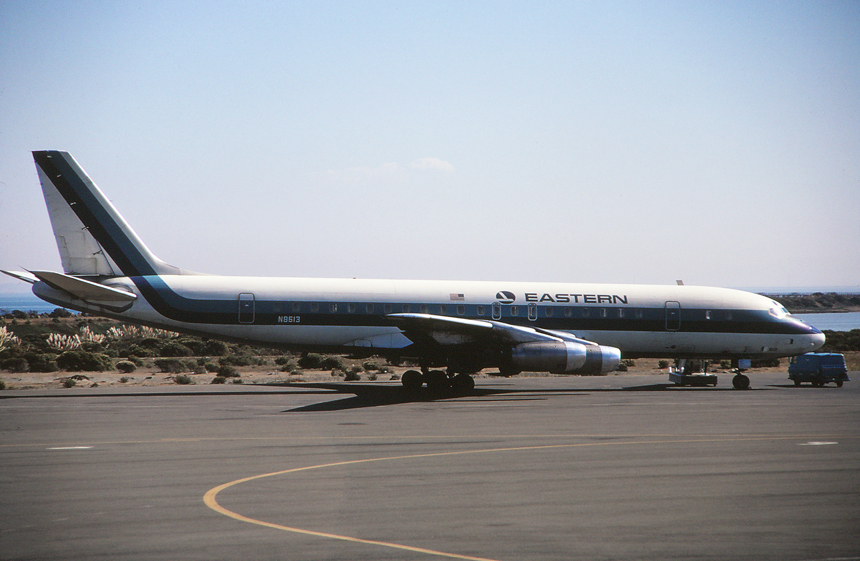 October 1972
United With the larger ramp space and less commercial traffic then its trans-bay neighbor San Francisco, Oakland International Airport was a frequent stop for military charters heading west on trans-Pacific flights. Numerous charter, supplemental and commercial Air Mobility Command (AMC) flights used Oakland as a refueling and stop for additional passengers or cargo. Seen on a stop-over during a military contract trans-Pacific flight is Eastern Airlines N8613, a Douglas DC-8-21.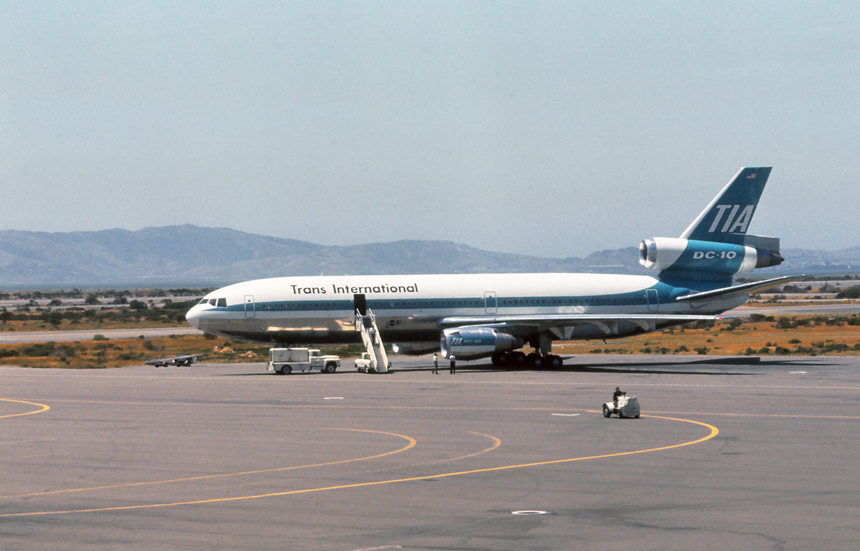 October 1973
Trans International Airlines (TIA) continued to grow its charter passenger and cargo business and saw an opportunity with the wide-body Douglas DC-10 in the early 1970s. The airline was the launch customer of the "Convertible Freighter" version of the DC-10 and placed an order for three aircraft in November 1968. The first aircraft was delivered to TIA on April 27, 1973 and with the all-cargo configuring, became the first airline to operate the first all-cargo flight of a Douglas DC-10. Parked on the north ramp and proudly displaying its "new" aircraft type on the engine nacelles is N102TV, a Douglas DC-10-30 delivered new to the airline in June 1973.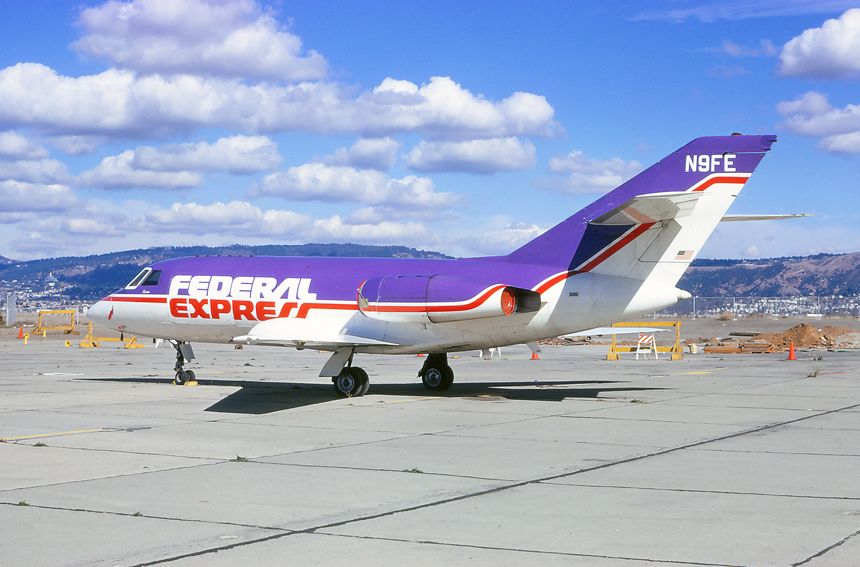 November 1973
New overnight package courier, Federal Express acquired a fleet of fourteen French made Dassault Falcon jets reconfigured into an all-cargo version. Awaiting cargo in the evening the purple and crimson painted planes would depart and descend on Memphis, Tennessee where package sorting would commence and flight would then depart arriving at destination airport by the early morning hours. Oakland was the first airport in the bay area to be served by the cargo airline due to minimal commercial traffic and available ramp space. Parked on the cargo ramp and awaiting its evening deliveries is N9FE "Laurie," a Dassault Falcon 20C.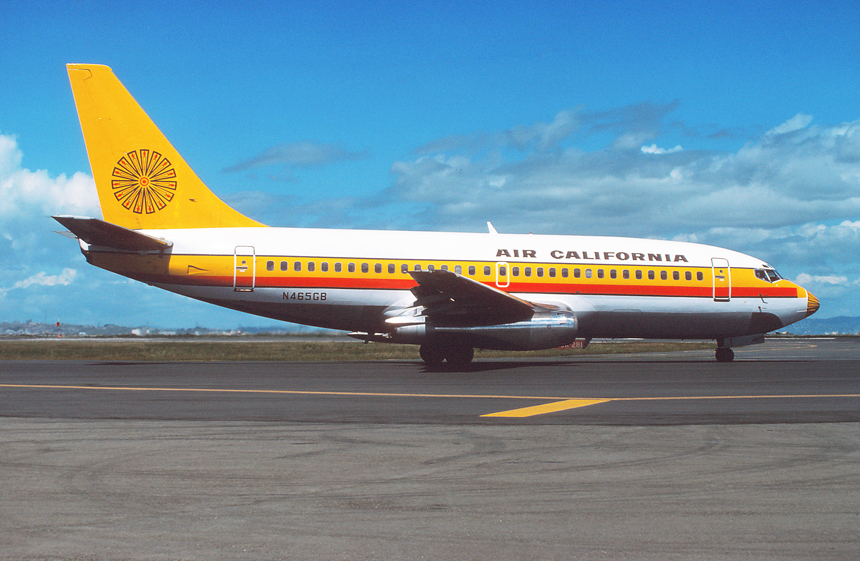 April 1978
Oakland was the second city intra-state carrier Air California added to its route map when flights were started to Santa Ana-Orange County in October 1967. Over the next ten years Oakland saw Air California increase flights and destinations from the airport and the airline adding a maintenance base as well. By 1978, the airline was flying to four California destinations and Reno, Nevada with nine daily flights. Taxiing outbound from the terminal for an afternoon departure is N465GB, a Boeing 737-293.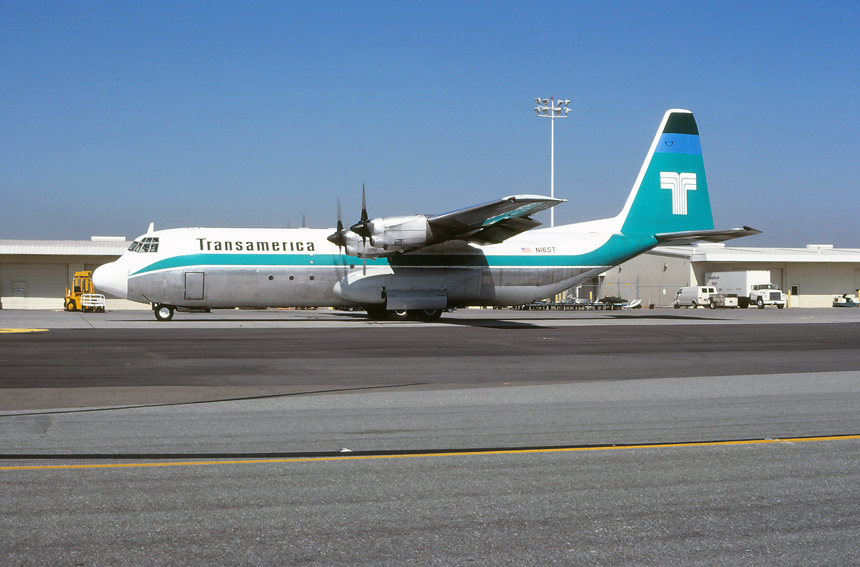 August 1980
In December 1976, Trans International Airlines (TIA) purchased Saturn Airways and merged operations into their own. TIA was owned by insurance company Transamerica Corporation whom changed the name of the combined airlines to Transamerica Airlines in November 1979. Upon the purchase of Saturn, eight Lockheed C-130 transports were acquired which were used for heavy cargo flights. Transamerica continued to operate the "Herks" on military cargo flights with a capacity of approximately 50,000 pounds. parked on the cargo ramp and starting its engines for another cargo flight is N16ST, a Lockheed L-100-30 Hercules, the civil version of the popular military transport.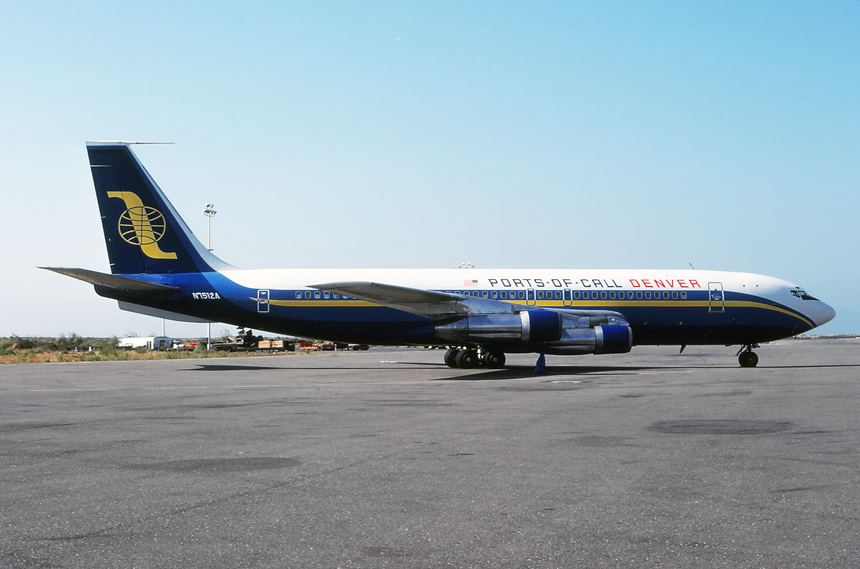 August 1980
Denver Ports-of-Call was a popular travel group based in Denver, Colorado and was established in 1966 as a private tour group operator. Various trips and tours were scheduled for the group and the Bay Area was considered a popular destination with multiple flights during the year. Oakland was a convenient airport, close to Bay Area locales and ample parking for the aircraft which could remain parked for days. Parked and secured on the ramp is N7512A, a Boeing 707-123, purchased by Port-of-Call just a month earlier in July 1980.
Back to: The Airports