THE AIRPORTS
SOUTHERN CALIFORNIA
ONTARIO INTERNATIONAL AIRPORT
ONT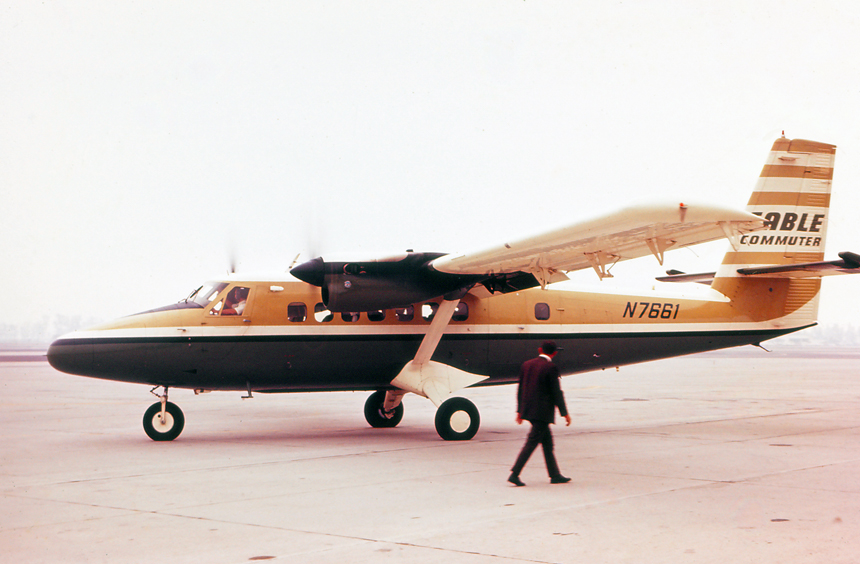 1968
Local commuter carrier, Cable Commuter was initially established in 1967, just north of Ontario Airport at local Cable Airport located in Upland, California. As the small commuter started to grow, it moved its base of operations to Ontario Airport in 1968, which had passenger terminal facilities to better serve its customer base. Although Los Angeles International Airport-LAX became the airlines "hub" of operations, the airline had no less then fifteen daily departures from Ontario to LAX. Cable Commuter continued to operate from Ontario using the de Havilland DHC-6 Twin Otter until 1969, when the airline was merged with Aero Commuter and Skymark Airlines to become Golden West Airlines. Preparing to depart the ramp for another departure to LAX is N7661, a de Havilland DHC-6-200 Twin Otter.
December 1968
Western Airlines was the first airline to provide passenger services into Ontario Airport in 1949, as a stop on its Los Angeles-Palm Springs-Las Vegas service using the Douglas DC-3. Over the next ten years the DC-3 was replaced with the Douglas DC-6 and in 1963, Lockheed Electra turbo-prop services were started with flights to San Francisco. Western started to fly pure jet aircraft into Ontario during 1968, when flights to both Los Angeles and San Francisco were provided by the Boeing 737. Taxiing away from the terminal for a afternoon flight is N4509W, a Boeing 737-247, delivered new to Western Airlines in September 1968.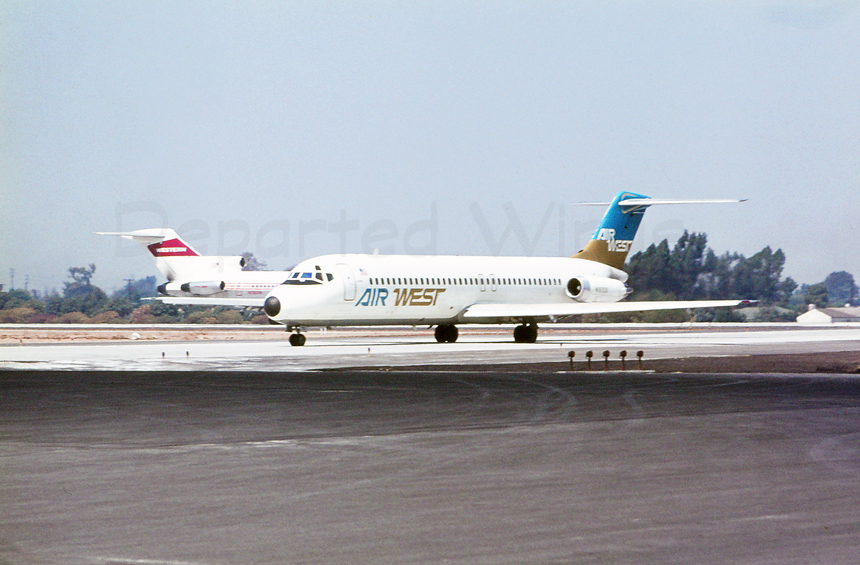 September 1969
One of AirWest Airlines predecessors Bonanza Air Lines was the second airline to start service into Ontario when flights were started in 1955 on a Phoenix-Blythe-Palm Springs-Ontario-Los Angeles route. In 1957, service was extended from Ontario to Apple Valley thence to Las Vegas. AirWest started Douglas DC-9 "jet" service in 1968 with flights between Ontario and Las Vegas. By 1969, non-stop service to both Las Vegas and Phoenix from Ontario were using the Douglas DC-9. Seen lining up on Runway 9 Right for an afternoon departure is N9331, a Douglas DC-9-31, delivered new to AirWest on June 4, 1968.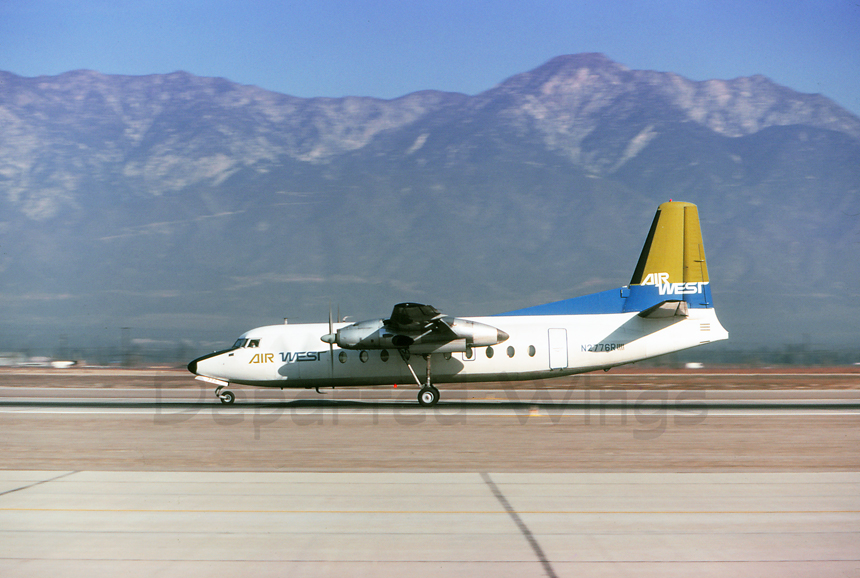 January 1970
Bonanza Air Lines started Fairchild F-27 "jet" turboprop service on flights to Ontario in 1958. AirWest continued to utilize the Fokker F-27 on flights into Ontario through 1970, on services to both Burbank and Phoenix, before eventually being replaced by the Douglas DC-9. Seen on its takeoff roll on Runway 9 Left on a bright winter morning is N2776R, a Fairchild F-27A, delivered new to Pacific Air Lines in March 1964.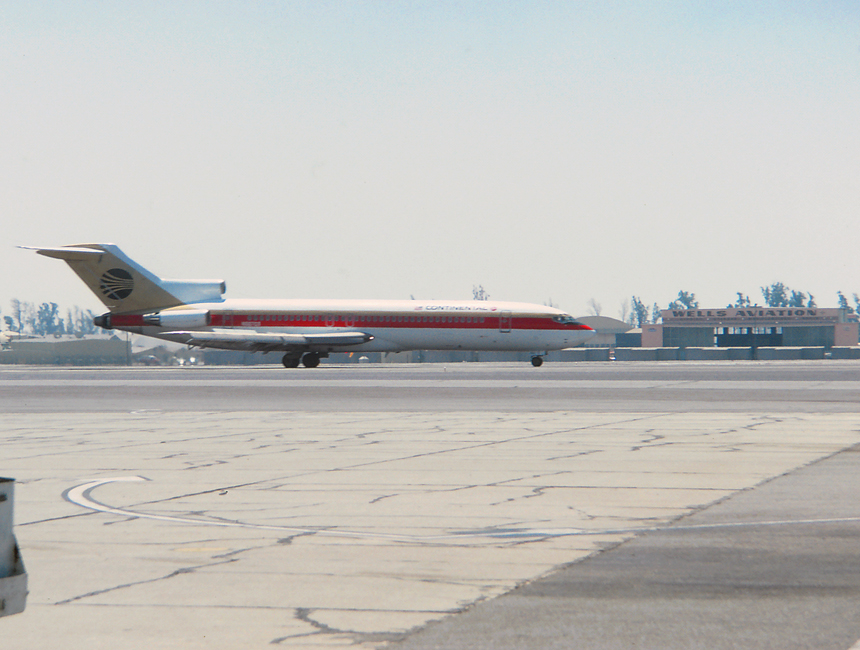 September 1977
During 1970, Continental Airlines was awarded routes between the Pacific Northwest and Southern California by the Civil Aeronautic Board (CAB). Specifically both Burbank and Ontario were assigned and Continental saw both these secondary airports as lucrative markets with growing passenger demand. Early flights connected Ontario to both Burbank and Portland with the Boeing 720, and within a few years non-stop flights to Denver were added using the Boeing 727. Continental would continue to serve Ontario with flights to both Denver and Houston until the mid-90s when the airline stopped services. Rolling out on Runway 25 after having landed is N93738, a Boeing 727-224, delivered new to Continental Airlines on September 8, 1975.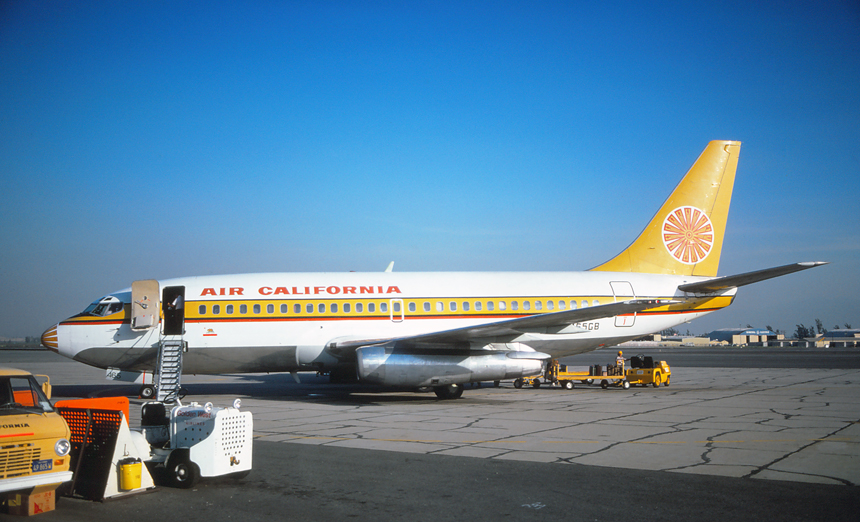 October 1977
Ontario Airport was one of the first destinations to be added by California intra-state carrier, Air California. The secondary market of Ontario was seen as a perfect opportunity to provide direct service to the Bay Area with the start-up airline. In October 1968, flights from Ontario to both San Jose and Oakland were started using the Boeing 737. Although Air California faced competition from similar intra-state carrier, Pacific Southwest Airlines (PSA) during the early 1970s, the airline was able to prevail at Ontario and by 1979, had become largest airline serving the airport with flights to eight California cities and both Reno and Las Vegas, Nevada. Parked on the ramp and preparing for another flight with the integral air-stairs deployed is N465GB, a Boeing 737-293, leased to Air California in October 1968.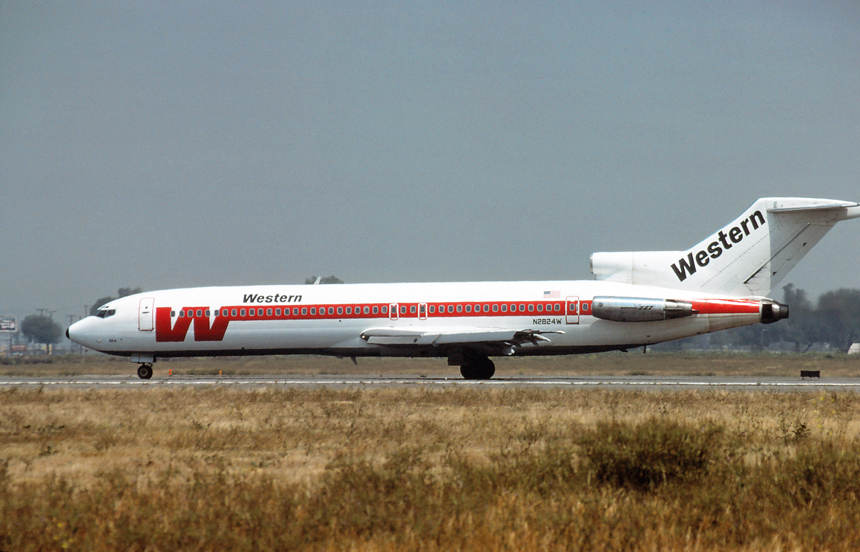 April 1979
By 1979, Western Airlines had six daily departures from Ontario to Sacramento, San Francisco, and Salt Lake City using both the Boeing 727 and 737. Taxiing outbound to Runway 25 for a morning departure is N2824W, a Boeing 727-247, delivered new to Western Airlines a few years earlier on March 29, 1977.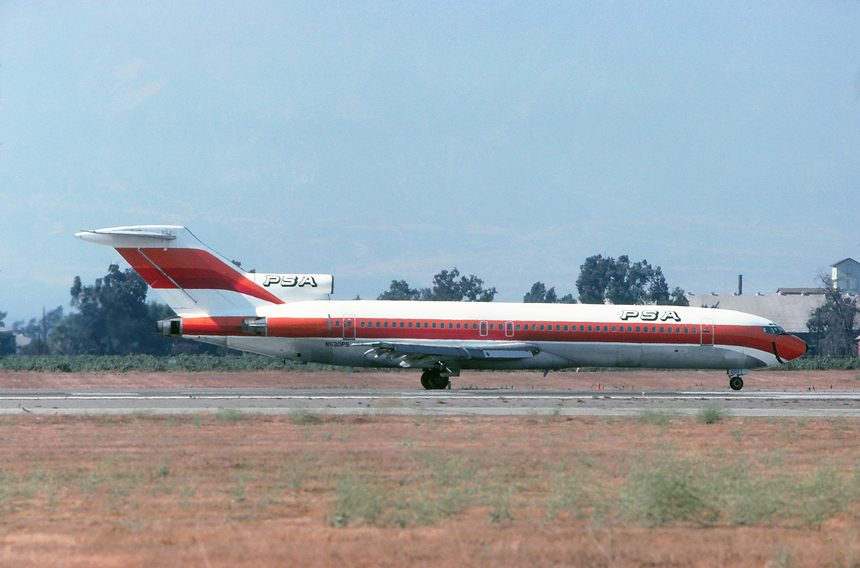 August 1979
Pacific Southwest Airlines PSA, was the second intra-state airline to start service into Ontario just a few months after competitor Air California in January 1969. Initial flights provided non-stop service to San Francisco using the Boeing 727. Within ten years, PSA had added Oakland and San Jose, along with its San Francisco flights providing a "complete" service to the Bay Area using both 727-100 and 727-200 airframes. Taxiing out toward Runway 25 for an afternoon departure is N530PS, a Boeing 727-214, delivered new to PSA in April 1968.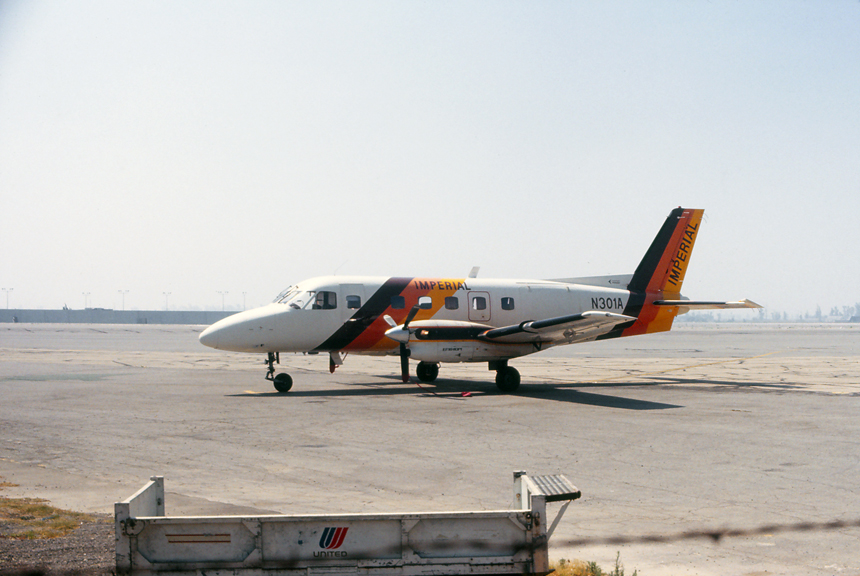 January 1981
During Carlsbad based Imperial Airlines started operations in 1964 to connect San Diego with El Centro, located in the Imperial Valley. After airline deregulation in 1978, Imperial Airlines expanded across Southern California adding the Embraer EMB-110 to establish a "commuter" market. Ontario was added as a destination in late 1980 with flights to Orange County and Los Angeles. The airline promoted over twenty daily flights to Los Angeles, feeding passengers in from the Inland Empire to connecting flights at LAX. Parked on the terminal ramp is N301A, a Embraer EMB-110P1 Banderirante.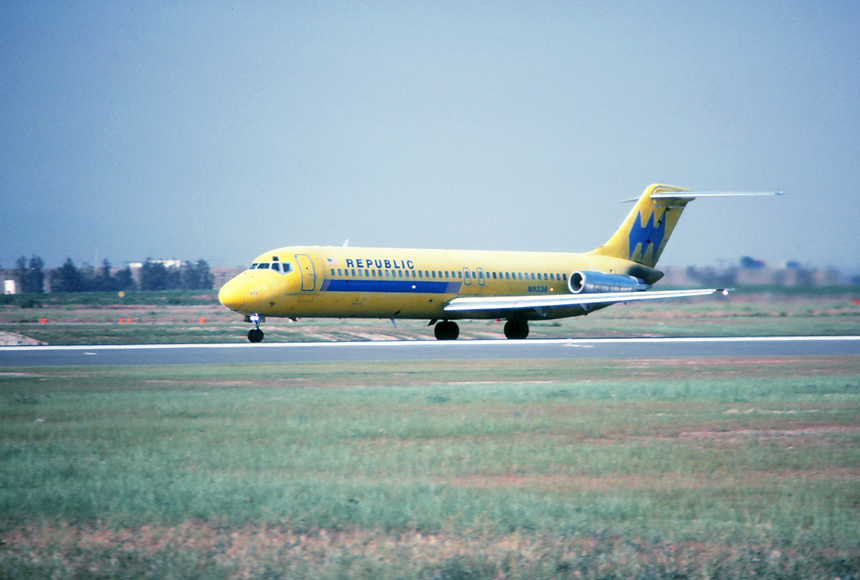 May 1981
Republic Airlines was the fourth in the lineage of carriers which had once started service at Ontario as Bonanza Air Lines in 1967. Bonanza Air Lines was merged with West Coast Airlines and Pacific Air Lines to form Air West and in 1970, Howard Hughes purchased Air West, rebranding the new airline, Hughes Airwest. When Republic Airlines bought Hughes Airwest in September of 1980, the airlines was providing jet service from Ontario to both Las Vegas and Phoenix, for which the new parent, Republic would continue to provide those services. Starting its takeoff rotation on Runway 25 and wearing a hybrid, post-merger color scheme is N9336, a Douglas DC-9-31, originally delivered to Air West in October 1968.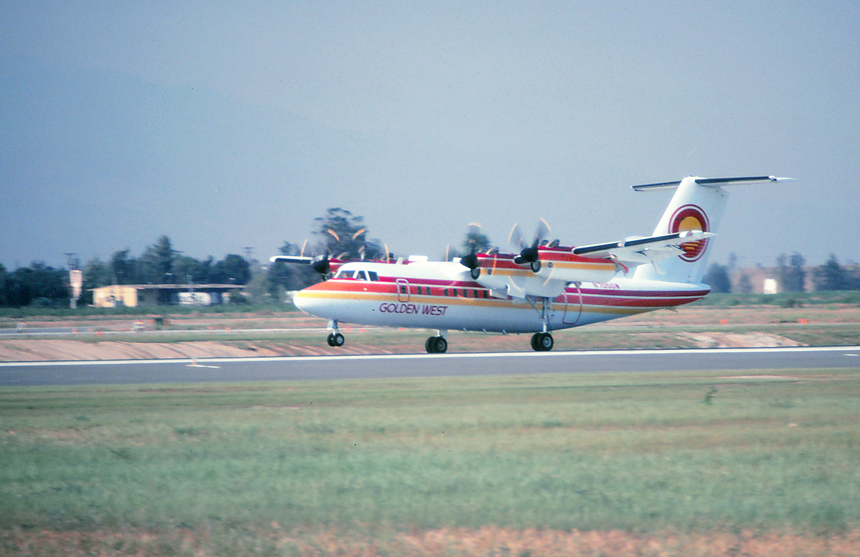 May 1981
Southern California commuter Golden West Airlines which was formed with the merger of three local commuter carriers in 1969, continued to serve Ontario as a focal point in its popular "shuttle" services to Los Angeles International Airport-LAX. The airlines de Havilland DHC-7 "Dash 7" turboprop, with a passenger capacity of 50 was used extensively on the short, thirteen-minute "hop" to LAX. Seen rotating for takeoff from Runway 25 and wearing the striking "California Sunset" colors of the airline is N705GW, a de Havilland DHC-7-102, delivered new to the airline just a month earlier on April 9, 1981.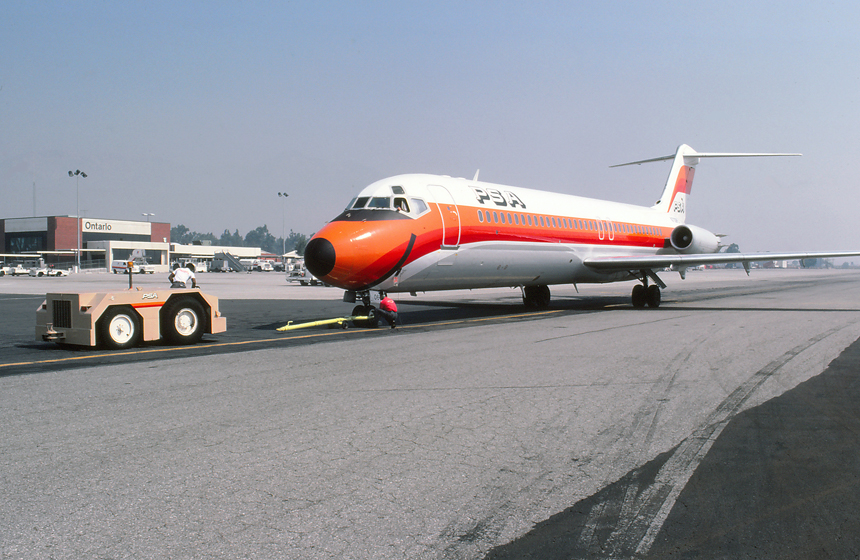 August 1983
After airline deregulation in 1978, many airlines sought new routes and new destinations in an effort to expand services. Ontario benefited from deregulation and no less then five new airlines started service into the satellite airport. Although PSA had an established presence at the airport, competition from AirCal, Alaska Airlines and United Airlines saw the intra-state carrier reduce service to only San Francisco with four daily departures. Having just been pushed back from the terminal and preparing for a mid-day departure is N706PS, a Douglas DC-9-32, originally with Air Canada and acquired by PSA in April 1983.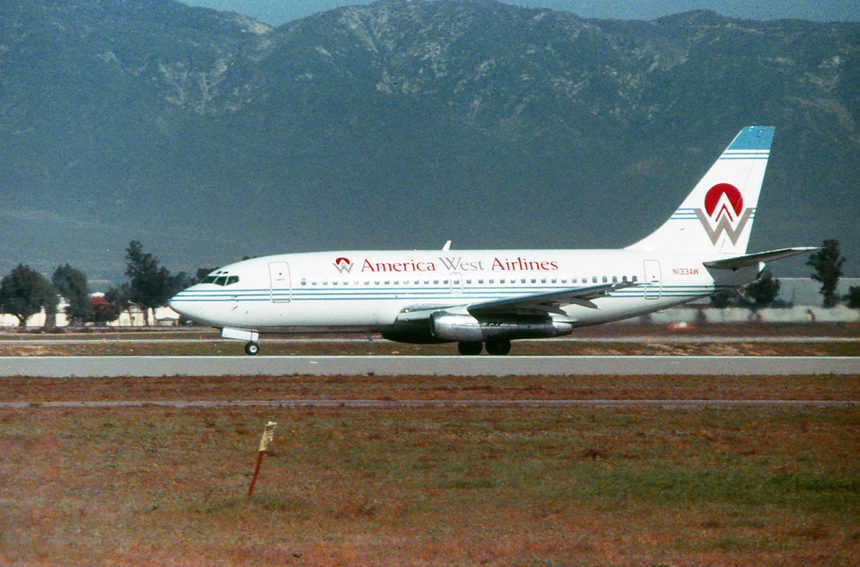 December 1983
One of the post deregulation successful airline start-ups was America West Airlines based in Phoenix, Arizona. Commencing operations in August 1983, using three leased Boeing 737s. Ontario was the second round of cities to be added by the new airline with non-stop flights to Phoenix starting in October 1983. Although America West was competing with both Republic Airlines and Continental Airlines in the Phoenix market, the "new guy" was able to win customers with signature service resulting in continued operations from Ontario throughout the 1980s. Rolling for takeoff on Runway 26 Right on a mid-morning departure to Phoenix is N133AW, a Boeing 737-2Q8, originally delivered to TEA-Trans European Airlines in 1979, and leased by America West Airlines in October 1983.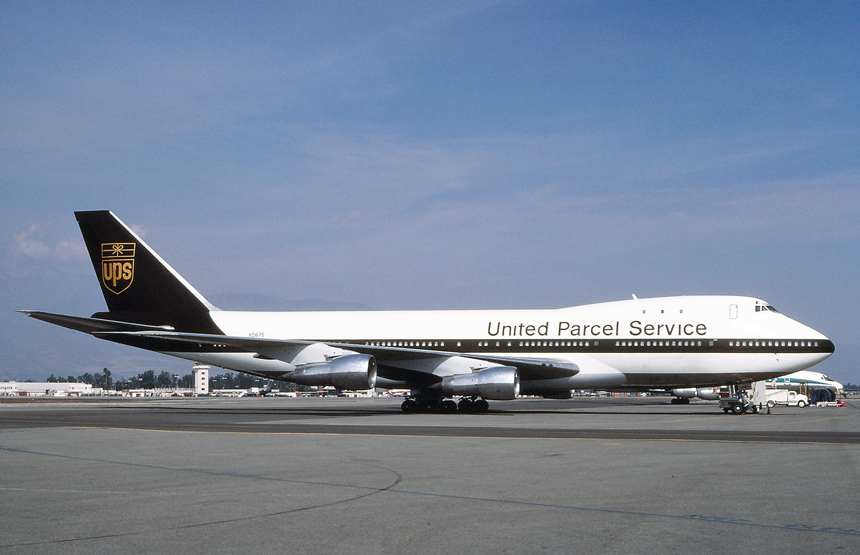 October 1984
After having been in operation since 1929, United Parcel Service UPS did not start air parcel delivery until after the deregulation of the air cargo industry in 1978. Initially UPS would lease out cargo space on with existing carriers such as Evergreen International, however with the growth of the air cargo industry, purchased its own aircraft in 1981. Ontario International Airport was selected as a West Coast hub and numerous flights were developed around a hub-and-spoke system flying cargo to various regional destinations. The Boeing 747 was used to "shuttle" air cargo between UPS base at Louisville, Kentucky and Ontario as well as being assigned "heavy" flights to Anchorage, Alaska. Parked on the UPS cargo ramp located at the south end of the airport is N9675, a Boeing 747-123, originally delivered to American Airlines in 1971, and purchased and converted to a freighter by UPS in September 1984.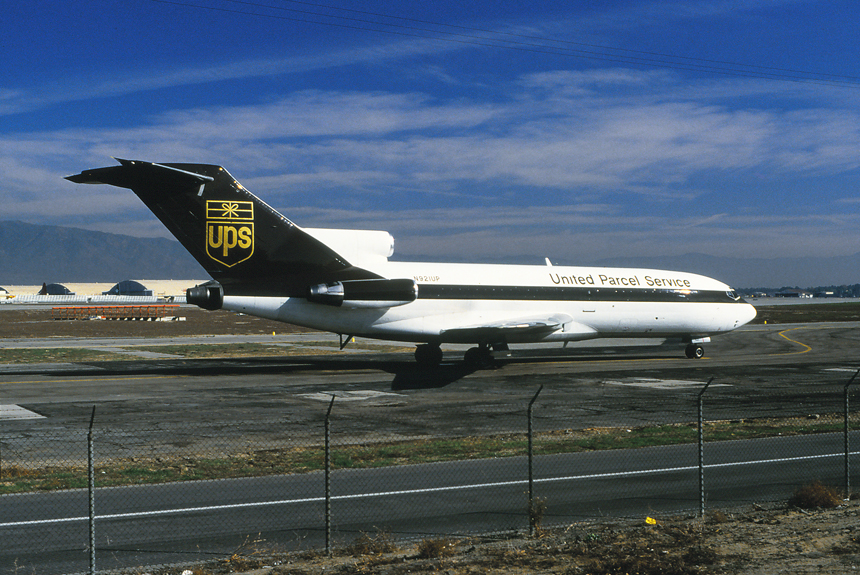 November 1984
United Parcel Service UPS, had acquired a significant amount of aircraft for their air cargo services. By 1984, UPS had twenty-five Boeing 727 pure freighter versions in operation. The 727 was used to fly nocturnal cargo flights from the Ontario Regional Sorting Center to various regional cities such as Phoenix, Las Vegas, and Oakland. Taxiing toward the south cargo ramp is N921UP, a Boeing 727-180C, originally delivered to Trans World Airlines TWA in 1968, and purchased then converted to a freighter by UPS in July 1982.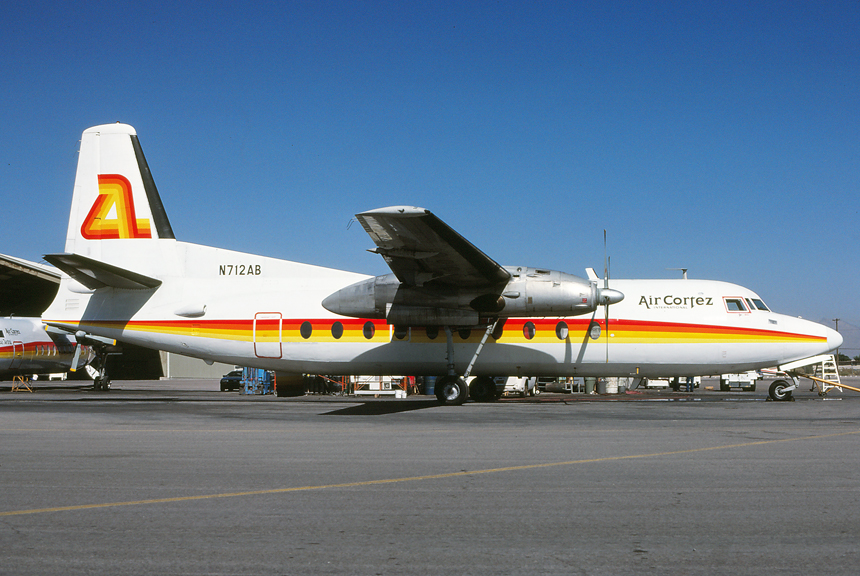 August 1985
Air Cortez was a regional commuter airline that was based at Ontario International Airport and provided charter passenger flights into Baja Mexico. In 1982, scheduled passenger services were started between Las Vegas and the Grand Canyon and eventually Fairchild F-27 turboprop aircraft were purchased to provide scheduled service to San Diego and Baja California. The airline halted passenger flights in late 1985 and focused on contract cargo work before finally suspending all operations in 1988. Parked at the carriers base of operations is N712AB, a Fairchild F-27A.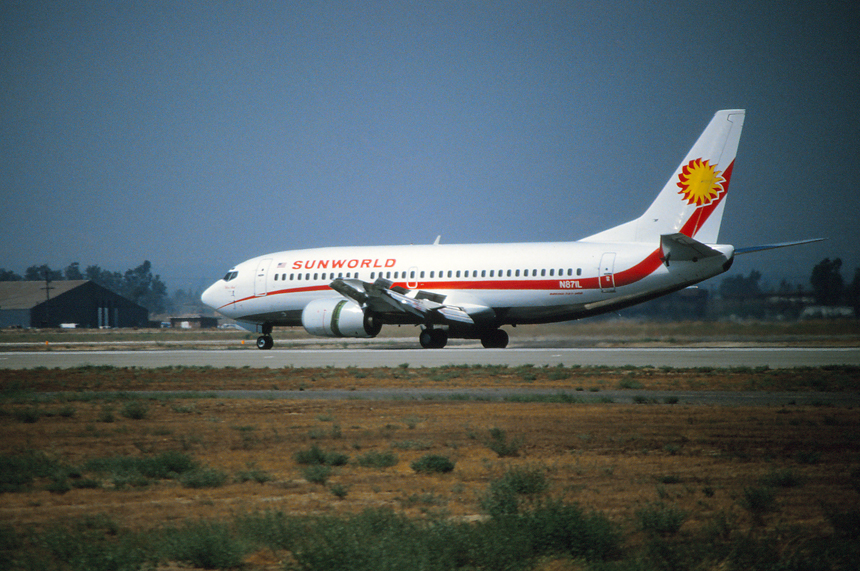 September 1985
Based at Las Vegas, Nevada, Sunworld International Airways started service in May 1983, as a scheduled carrier catering to gambling "tourist" flying to both Las Vegas and Reno, Nevada. Flights were flown to "secondary" cities across the west, not want to face competition in the larger, established markets such as Los Angeles. Douglas DC-9s were used to start, followed by the newer Boeing 737-300 series. Ontario was one of the first cities to be served by the airline in 1983 with non-stop flights to Las Vegas. Sunworld remained at Ontario until 1988, when financial issues forced the airline to suspend all scheduled services. Rolling out on Runway 26 Left after a short flight from Las Vegas is N871L, a Boeing 737-3Q8, leased new from ILFC in July 1985.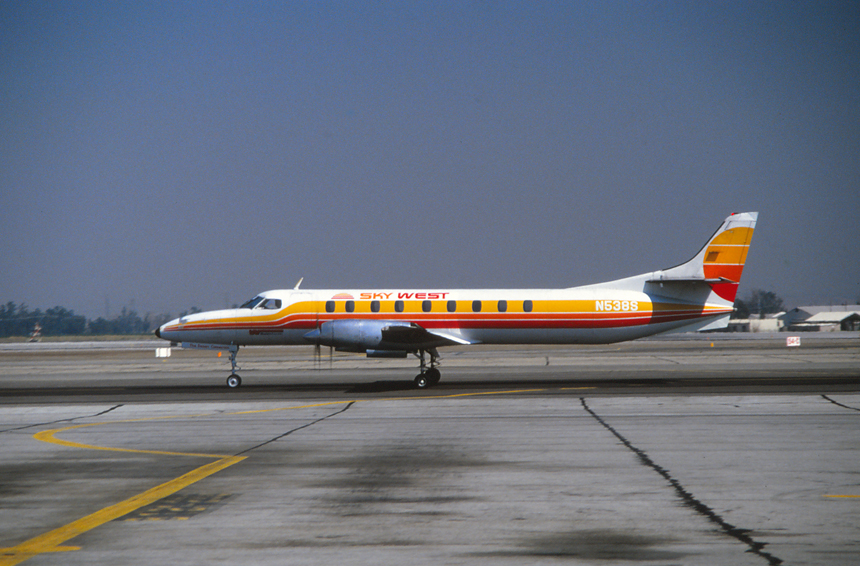 July 1986
Palm Springs based Sun Aire was the original operator in Ontario Airport, when flights were started in 1982. SkyWest Airlines purchased the airline in September 1984, in an effort to increase it Southern California presence. By 1986, flights from Ontario to Frenso, Burbank, and the popular Los Angeles route were being flown. Still wearing the Sun Aire colors with its new owners titles and taxiing out for takeoff is N538S, a Swearingen SA226-TC Metro II.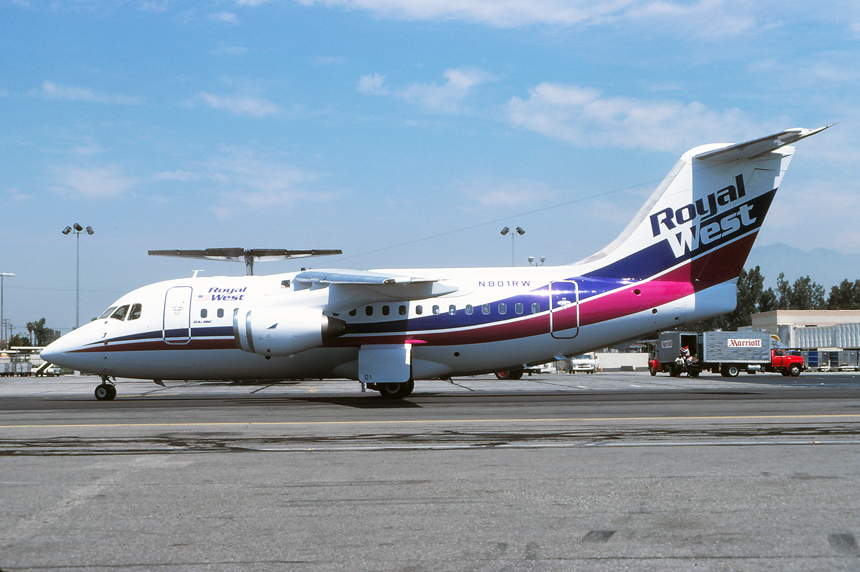 July 1986
Royal West Airlines was started in 1986 to provide flights to both Las Vegas and Reno, Nevada with a focus on casino patrons. Using brand new BAe 146 aircraft services were started to Los Angeles, Burbank and Ontario to Las Vegas. The airline soon ran into financial difficulty especially competing with America West Airlines on the Las Vegas route. Within a year the airline filed for bankruptcy and ceased operations in February 1987. Having just been pushed back from the terminal and awaiting taxi clearance in N801RW, a British Aerospace BAe 146-100, acquired in June 1986.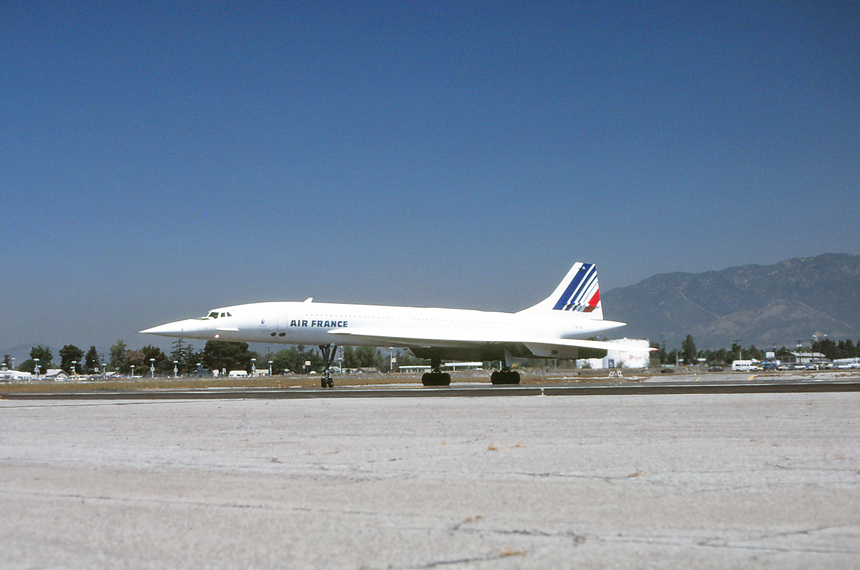 May 1987
Arguably one of the most recognized and graceful aircraft to ply the commercial aviation skies, the French built Concorde was a unusual sight at the Ontario airport. During the late 1980s, both Air France and British Airways hosted Round-the-World flights and Ontario was an occasional stop-over for the supersonic transport on its way to Hawaii. Even though the use of Ontario was rather rare for the Concorde, the Los Angeles Board of Airport Commissioner voted to ban the aircraft from further use of Ontario due to its noise signature in May 1987. Seen turning off Runway 26 Right after having just landed is F-BTSD, an Aerospatiale/BAC Concorde 101, delivered new to Air France in September 1978.
Back to: The Airports