THE AIRPORTS
SOUTHERN CALIFORNIA
ONTARIO INTERNATIONAL AIRPORT
ONT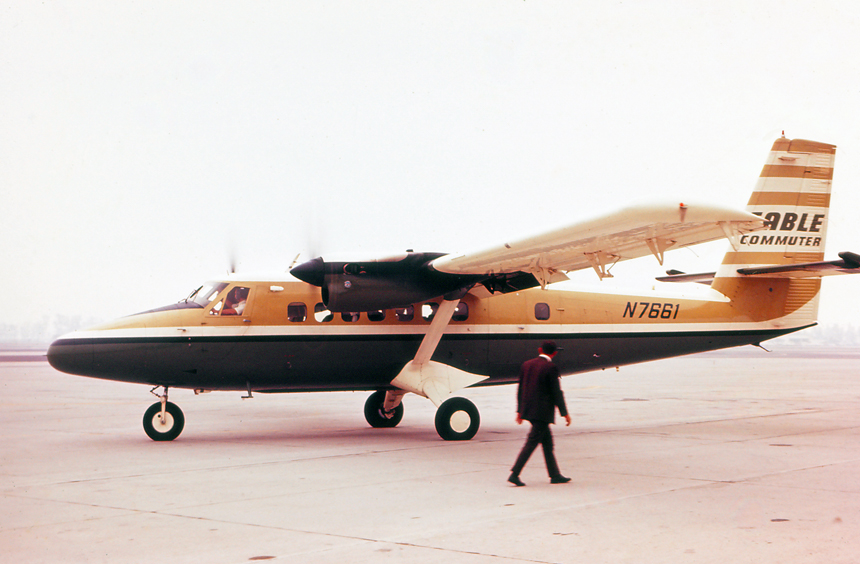 1968
Local commuter carrier, Cable Commuter was initially established in 1967, just north of Ontario Airport at local Cable Airport located in Upland, California. As the small commuter started to grow, it moved its base of operations to Ontario Airport in 1968, which had passenger terminal facilities to better serve its customer base. Although Los Angeles International Airport-LAX became the airlines "hub" of operations, the airline had no less then fifteen daily departures from Ontario to LAX. Cable Commuter continued to operate from Ontario using the de Havilland DHC-6 Twin Otter until 1969, when the airline was merged with Aero Commuter and Skymark Airlines to become Golden West Airlines. Preparing to depart the ramp for another departure to LAX is N7661, a de Havilland DHC-6-200 Twin Otter.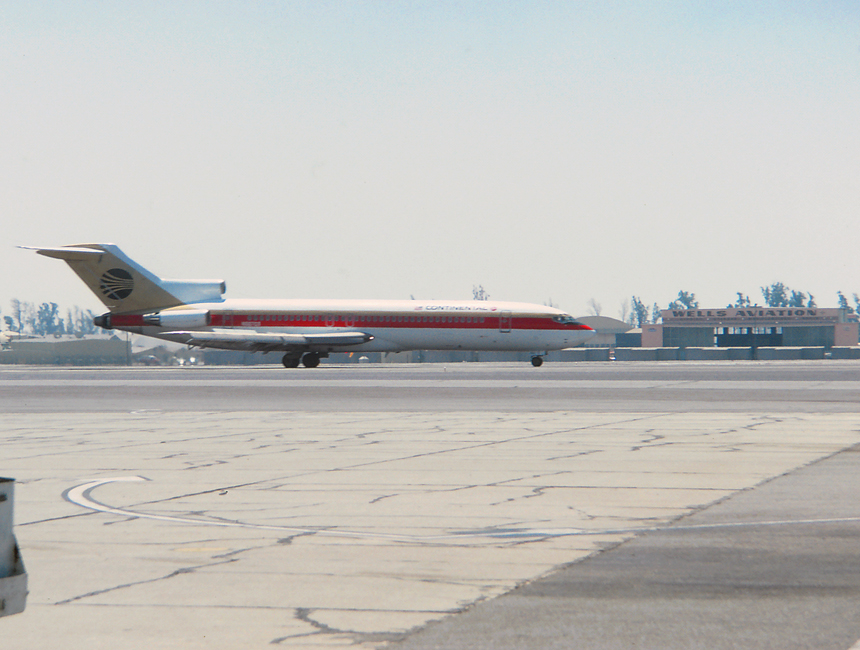 September 1977
During 1970, Continental Airlines was awarded routes between the Pacific Northwest and Southern California by the Civil Aeronautic Board (CAB). Specifically both Burbank and Ontario were assigned and Continental saw both these secondary airports as lucrative markets with growing passenger demand. Early flights connected Ontario to both Burbank and Portland with the Boeing 720, and within a few years non-stop flights to Denver were added using the Boeing 727. Continental would continue to serve Ontario with flights to both Denver and Houston until the mid-90s when the airline stopped services. Rolling out on Runway 25 after having landed is N93738, a Boeing 727-224, delivered new to Continental Airlines on September 8, 1975.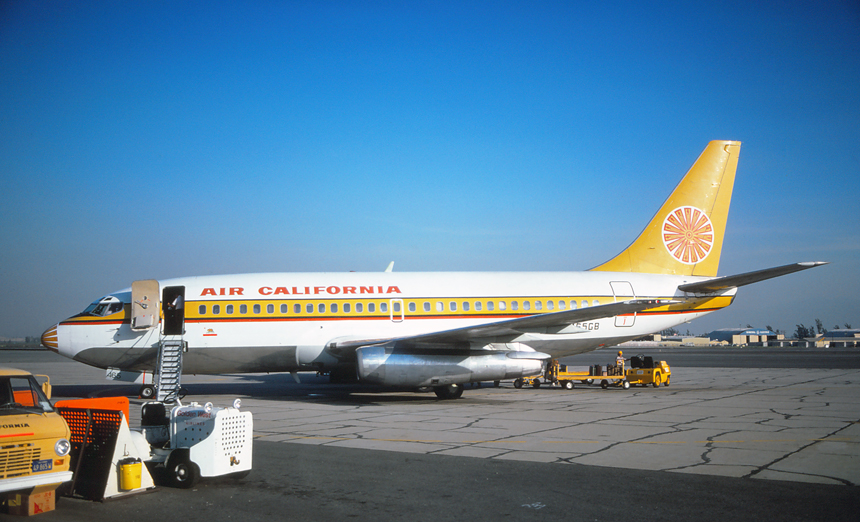 October 1977
Ontario Airport was one of the first destinations to be added by California intra-state carrier, Air California. The secondary market of Ontario was seen as a perfect opportunity to provide direct service to the Bay Area with the start-up airline. In October 1968, flights from Ontario to both San Jose and Oakland were started using the Boeing 737. Although Air California faced competition from similar intra-state carrier, Pacific Southwest Airlines (PSA) during the early 1970s, the airline was able to prevail at Ontario and by 1979, had become largest airline serving the airport with flights to eight California cities and both Reno and Las Vegas, Nevada. Parked on the ramp and preparing for another flight with the integral air-stairs deployed is N465GB, a Boeing 737-293, leased to Air California in October 1968.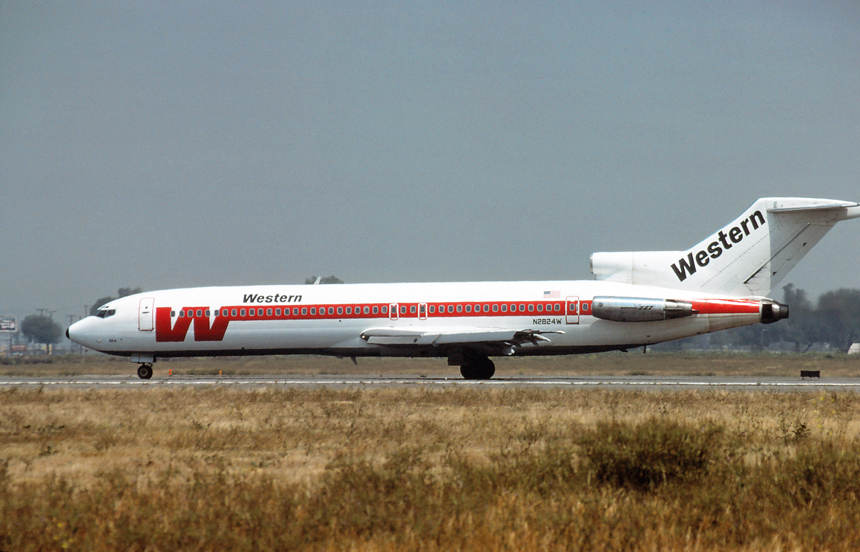 April 1979
Western Airlines was the first airline to provide passenger services into Ontario Airport in 1949, as a stop on its Los Angeles-Palm Springs-Las Vegas service using the Douglas DC-3. Over the next ten years the DC-3 was replaced with the Douglas DC-6 and in 1963, Lockheed Electra turbo-prop services were started with flights to San Francisco. Western started to fly pure jet aircraft into Ontario during 1968, when flights to both Los Angeles and San Francisco were provided by the Boeing 737. By 1979, Western Airlines had six daily departures from Ontario to Sacramento, San Francisco, and Salt Lake City using the Boeing 727. Taxiing outbound to Runway 25 for a morning departure is N2824W, a Boeing 727-247, delivered new to Western Airlines a few years earlier on March 29, 1977.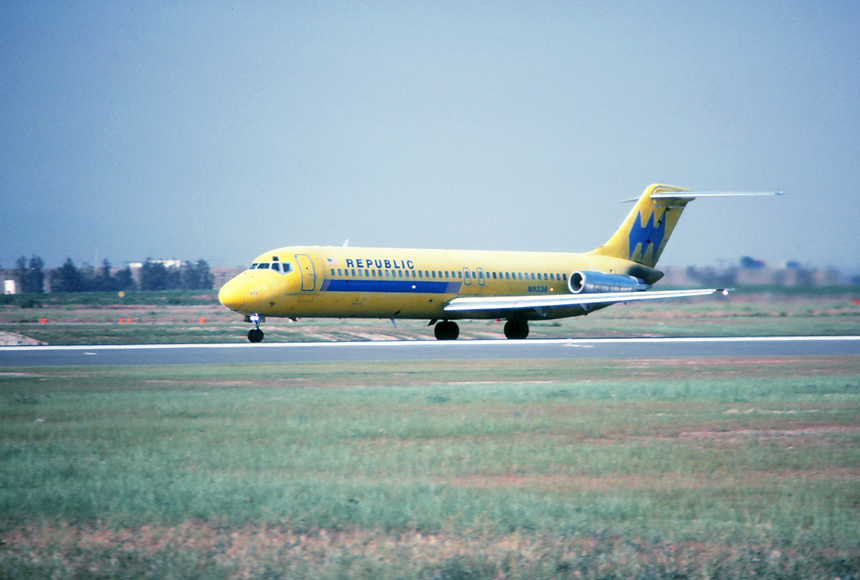 May 1981
Republic Airlines was the fourth in the lineage of carriers which had once started service at Ontario as Bonanza Air Lines in 1967. Bonanza Air Lines was merged with West Coast Airlines and Pacific Air Lines to form Air West and in 1970, Howard Hughes purchased Air West, rebranding the new airline, Hughes Airwest. When Republic Airlines bought Hughes Airwest in September of 1980, the airlines was providing jet service from Ontario to both Las Vegas and Phoenix, for which the new parent, Republic would continue to provide those services. Starting its takeoff rotation on Runway 25 and wearing a hybrid, post-merger color scheme is N9336, a Douglas DC-9-31, originally delivered to Air West in October 1968.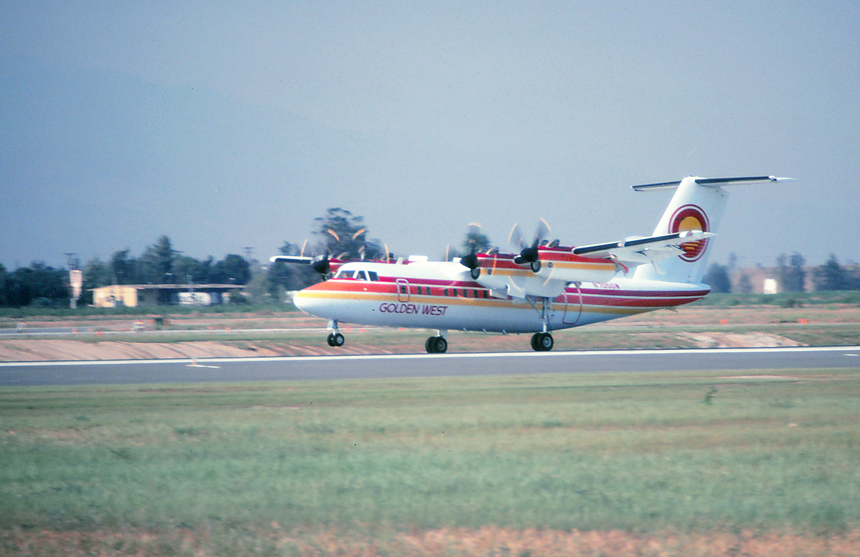 May 1981
Southern California commuter Golden West Airlines which was formed with the merger of three local commuter carriers in 1969, continued to serve Ontario as a focal point in its popular "shuttle" services to Los Angeles International Airport-LAX. The airlines de Havilland DHC-7 "Dash 7" turboprop, with a passenger capacity of 50 was used extensively on the short, thirteen-minute "hop" to LAX. Seen rotating for takeoff from Runway 25 and wearing the striking "California Sunset" colors of the airline is N705GW, a de Havilland DHC-7-102, delivered new to the airline just a month earlier on April 9, 1981.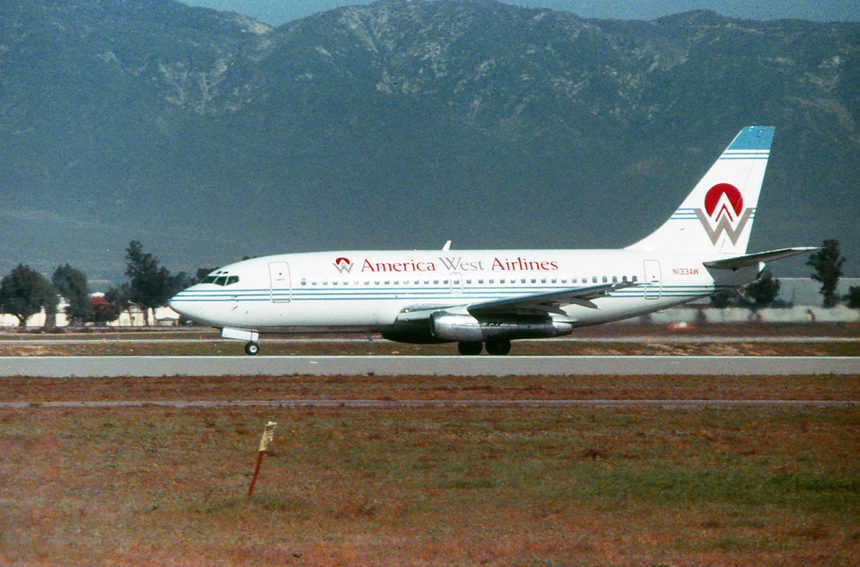 December 1983
One of the post deregulation successful airline start-ups was America West Airlines based in Phoenix, Arizona. Commencing operations in August 1983, using three leased Boeing 737s. Ontario was the second round of cities to be added by the new airline with non-stop flights to Phoenix starting in October 1983. Although America West was competing with both Republic Airlines and Continental Airlines in the Phoenix market, the "new guy" was able to win customers with signature service resulting in continued operations from Ontario throughout the 1980s. Rolling for takeoff on Runway 26 Right on a mid-morning departure to Phoenix is N133AW, a Boeing 737-2Q8, originally delivered to TEA-Trans European Airlines in 1979, and leased by America West Airlines in October 1983.
Back to: The Airports