THE AIRPORTS
SOUTHWEST
PHOENIX-SKY HARBOR AIRPORT
PHX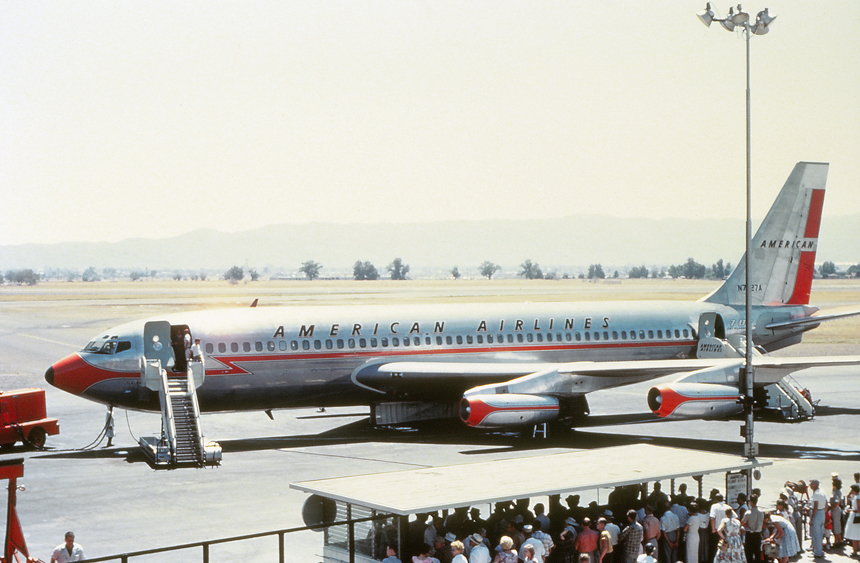 July 1963
American Airlines has a long history with Phoenix-Sky Harbor Airport and was the first airline to start airmail service into the airport in 1930. American was also the first airline to start "jet" service into Phoenix when the Boeing 720 was introduced on the Chicago-Phoenix route in September 1960. By 1963, American was using the Boeing 720 and 707 on flights from Phoenix to Los Angeles, Chicago, Dallas, and Tucson. Parked on a hot ramp at Terminal 1 with passengers awaiting boarding is N7527A, a Boeing 720-023, delivered new to American Airlines in July 1960.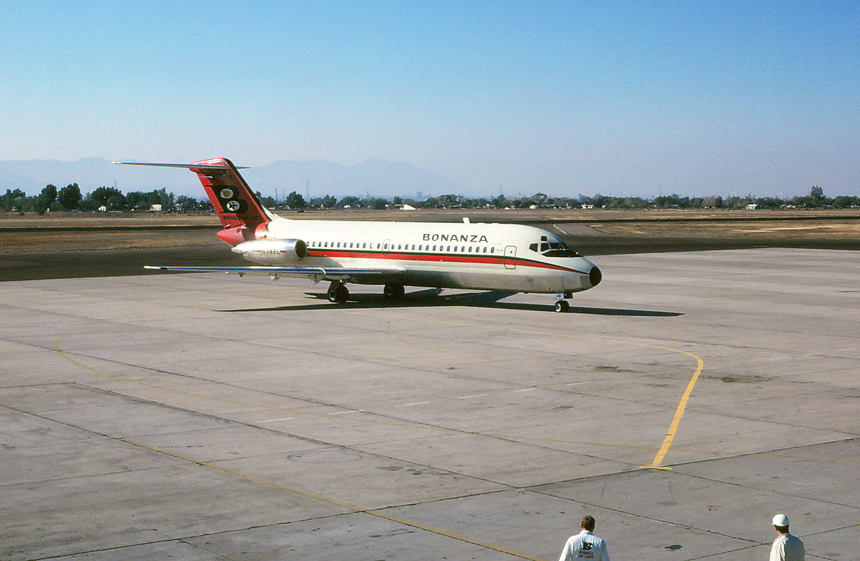 April 1966
Bonanza Air Lines was a local service carrier that started operations on December 19, 1949, on a multi-stop route between Reno, Nevada and Phoenix, Arizona using a Douglas DC-3. Routes continued to expand from Phoenix-Sky Harbor and eventually Fairchild F-27 "Jet-Prop" and Douglas DC-9 services were started. In June 1966, Bonanza moved their corporate headquarters and opened a new maintenance base at Phoenix, effectively calling the airport home. By 1966, the airline was flying to nine cities in the Southwest from Phoenix including "Fun-Jet" DC-9 service to both Las Vegas and Salt Lake City. Seen pulling into the gate area after a flight is N946L, a Douglas DC-9-11, delivered new to Bonanza Air Lines in January 1966.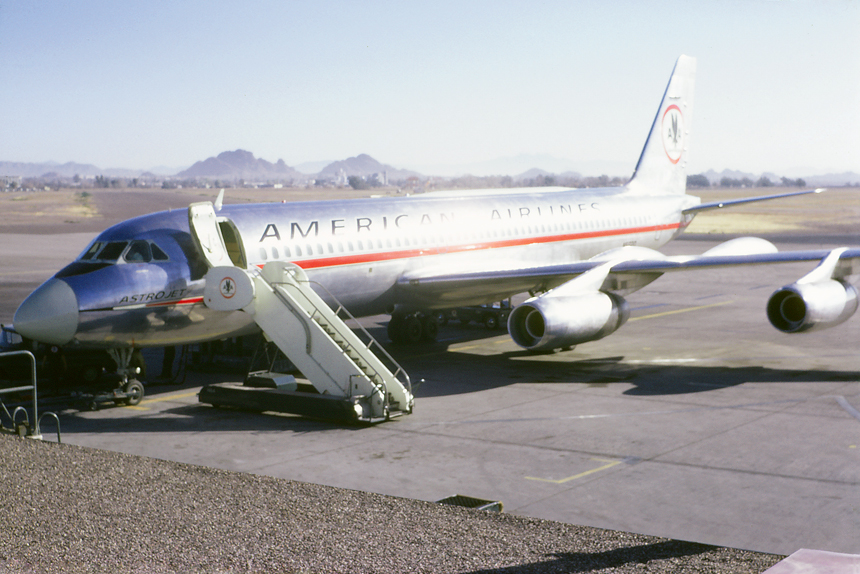 March 1967
American Airlines asked Convair to design an aircraft based on their 880 model that had transcontinental range (New York to Los Angeles) as well as a larger passenger capacity. Convair's answer was the redesigned and upgraded 880 dubbed the Conviar 990 Coronado. American took delivery of its first 990 in January 1962, however the plane fell short of design expectations, and the airline used the planes on medium-length routes such as Phoenix to Chicago, Dallas and Los Angeles. Parked at Terminal 1 and awaiting passengers for another flight is N5617, a Convair 990-30A-5.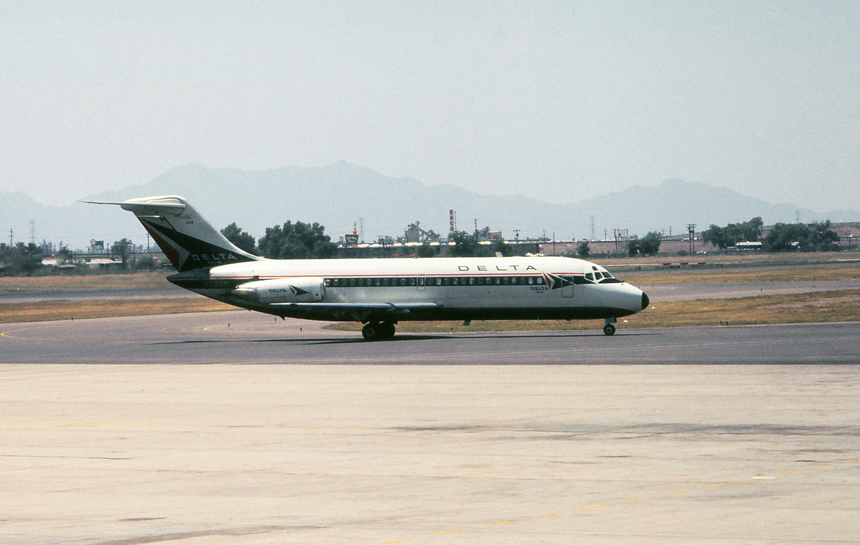 April 1970
During early 1970, Delta Airlines was awarded a route between Phoenix and Dallas Love Field, in direct competition with American Airlines. Early service initially used the Douglas DC-9, but as load factors increased the Douglas DC-8 supplemented the daily flights. Taxiing inbound toward Terminal 1 after having landed and wearing the early "sideways" Widget, is N3309L, a Douglas DC-9-14, delivered new to Delta Airlines in April 1966.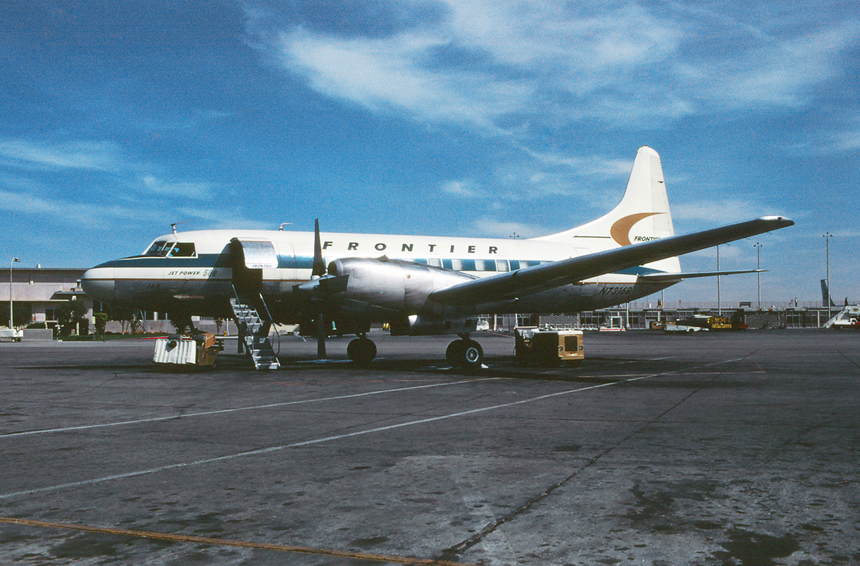 March 1972
Frontier Airlines was the result of the merger of three carriers in 1950; Arizona Airways, Challenger Airlines and Monarch Airlines. Arizona Airways was based at Phoenix and flying intra-state routes using a Douglas DC-3. Phoenix continued to be serviced on local flights to Tucson, Prescott, and Winslow. In 1959, Frontier introduced the Convair 340, followed by the turboprop Convair 580 in 1964. The new Allison driven 580s, were used at smaller stations where jet service was uneconomical or unpractical. Phoenix saw the Convair 580s used on service to both Flagstaff, Arizona and Farmington, New Mexico. Parked on the ramp at Terminal 1 during a turn-around is N73168, a Convair 580, delivered to Frontier in June 1968.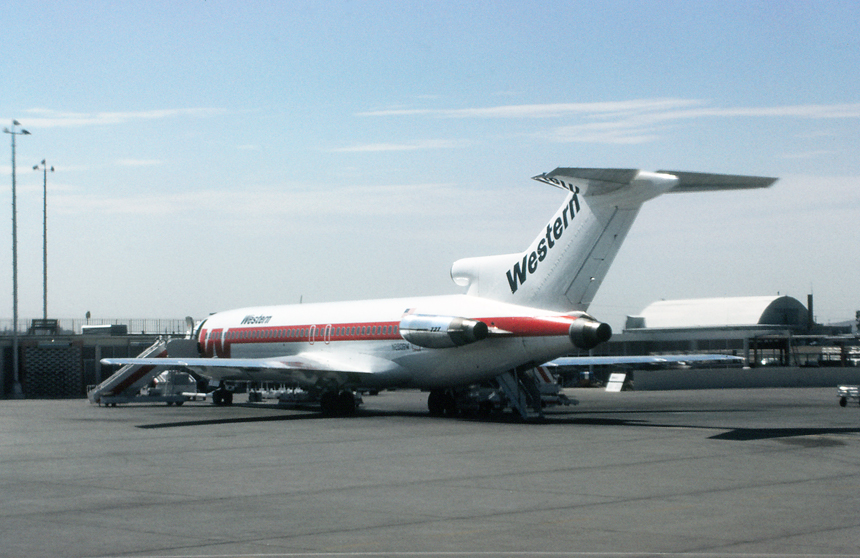 July 1972
Western Airlines started service into Phoenix in 1958, with flights to Los Angeles, San Diego, and Denver. Western 707 "Fan Jet" service was introduced in the mid-1960s, and eventually flights were operated with Boeing 737 and 727 aircraft. By 1972, Western had daily service from Phoenix to San Diego, Los Angeles, Denver, and Minneapolis-St. Paul. Parked at the gate at Terminal 1 and being serviced for another flight is N2809W, a Boeing 727-247, delivered new to Western just a month earlier in June 1972.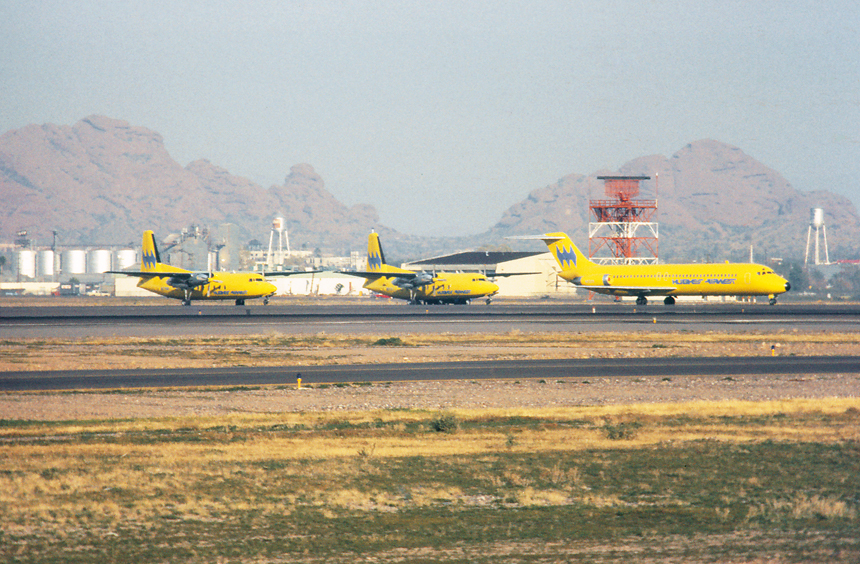 December 1974
When Bonanza Air Lines, West Coast Airlines, and Pacific Air Lines merged to form AirWest Airlines in 1968, the new airline lasted only a few years until 1970, when Howard Hughes and his Summa Corporation purchased the airline and renamed it Hughes Airwest. The new airline's corporate offices moved to San Francisco however one of the main maintenance bases remained in Phoenix, and it was not uncommon to see multiple "Flying Banana's" parked awaiting maintenance checks or overhauls. Parked on the ramp during a bright winter morning is a Douglas DC-9 and two Fairchild F-27 turboprops.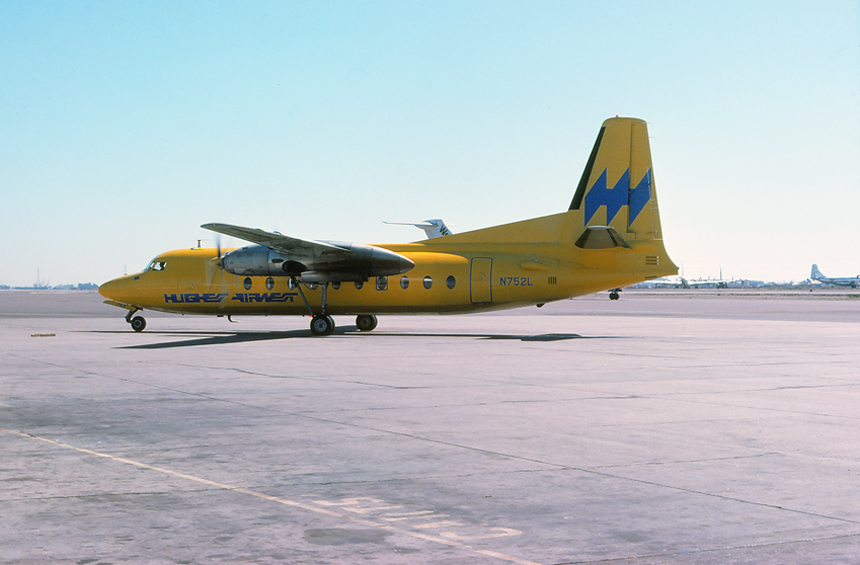 February 1975
When Howard Hughes purchased the assets of AirWest, the new airline acquired twenty-six of the Fairchild F-27s turboprops which were used on many of the routes to smaller cities throughout the network. Pleased with the performance and operating characteristics, Hughes Air West purchased an additional six F-27 airframes to be used from the various focus cities. Phoenix, being one of the larger "hub" cities saw the Fairchild F-27 on flights to Blythe, Grand Canyon, Kingman, and Yuma. Seen taxiing away from Terminal 1 for another regional flight is N752L, a Fairchild F-27A.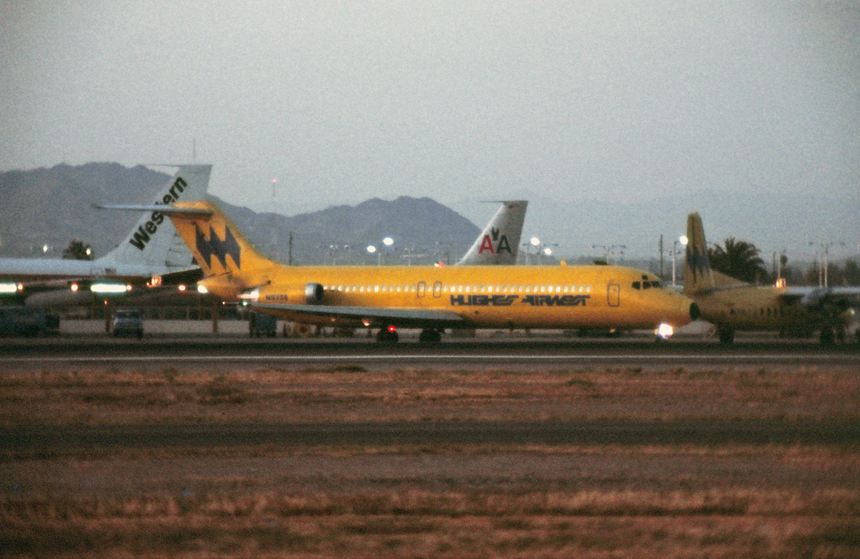 May 1975
By 1975, Hughes Air West was the largest carrier operating out of Phoenix with over thirty daily flights across the Southwest and Mexico. Douglas DC-9 service was provided to larger cities such as Las Vegas, Salt Lake City, Puerto Vallarta, and Santa Ana-Orange County, while the Fairchild F-27s served the secondary cities regionally. Caught taxiing away from Terminal 1 for an evening departure in the desert twilight is N9336, a Douglas DC-9-31, originally delivered to AirWest in November 1968.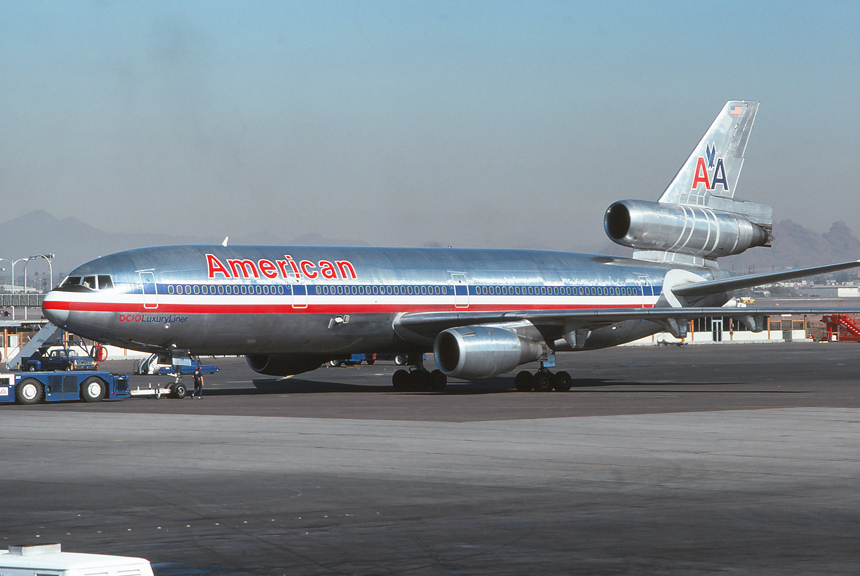 November 1975
American Airlines had established many "firsts" at Phoenix including being the first commercial airline to start service into the airport, as well as the first to start regular wide-body passenger service. In December 1970, American Airlines started seasonal Phoenix-Chicago service using their new Boeing 747 "Astrojets." Due to the demand of "Snow-Birds" flocking from the Midwest into the dry and warm winter climate of the Phoenix region, the 747 was a logical choice. As fuel costs rose steeply in the early 1970s, American scaled back the use of their 747 and introduced the Douglas DC-10 in 1973. By 1975, American's DC-10 were flying the longer, passenger intensive routes from Phoenix to Chicago, but also the continuation service between Phoenix and Palm Springs, California. Seen being pushed back from the East Terminal for another flight to the "Windy City" is N111AA, a Douglas DC-10-10, delivered new to American Airlines in March 1972.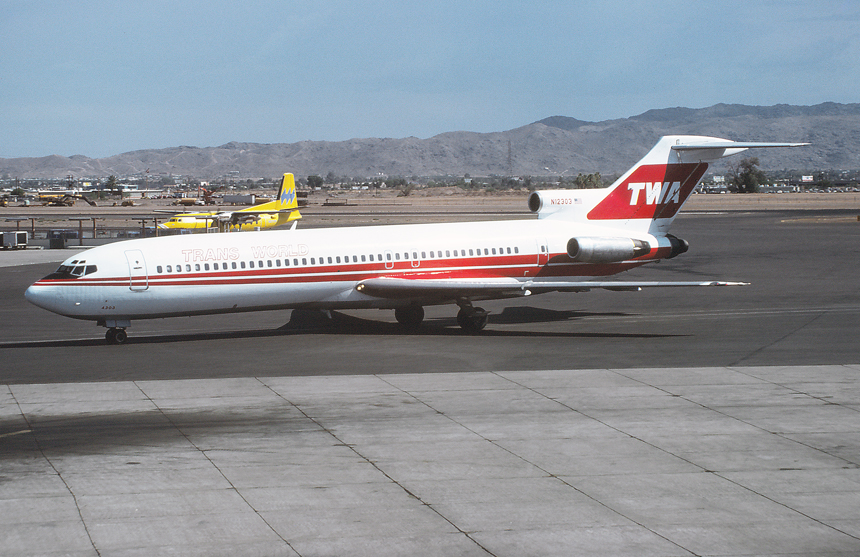 August 1977
Trans World Airlines (TWA) predecessor Transcontinental and Western Air started service into Phoenix in November 1938, becoming the second airline after American Airlines to provide passenger service into the airport. TWA's first flight was between Phoenix and San Francisco using a Douglas DC-2. TWA and American over the next forty years vied to become the dominant carrier from the airport. By 1977, TWA was flying over twenty-five daily departures to twelve cities from Phoenix including New York-JFK, Los Angeles, and St. Louis. Seen pulling into the gate area at the East Terminal during a hot summer day is N12303, a Boeing 727-231, delivered new to TWA in May 1968.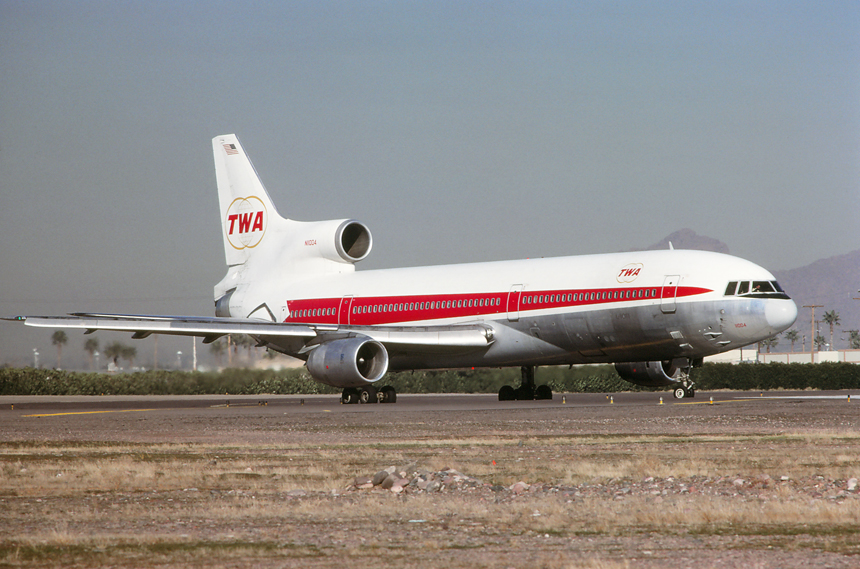 January 1979
Trans World Airlines (TWA), was one of the launch customers of the three-engined wide-body, placing a substantial order for forty-four of the type. TWA received its first L-1011 on May 9, 1972, and placed the plane in service a month later on flights between St. Louis and Los Angeles. As additional planes were delivered, the TriStar supplemented the Boeing 747 on trunk services between major city pairs and transcontinental routings in the TWA network. Although considered a secondary city, Phoenix, Arizona, saw in increase in passenger traffic during the winter months, as "Snowbirds" made the trip to the sunny Southwest from the cold environs of the north. During the late 1970s, TWA supplemented Boeing 727 and 707 flights to Chicago using the 220-passenger L-1011s, during the busy winter season. Phoenix would eventually host the L-1011, year-round throughout the 1980s and early 1990s on flights to New York and St. Louis. Taking Runway 08 Right for a mid-morning departure is, N11004, a Lockheed L-1011-385-1 TriStar, delivered new to the airline in August 1972.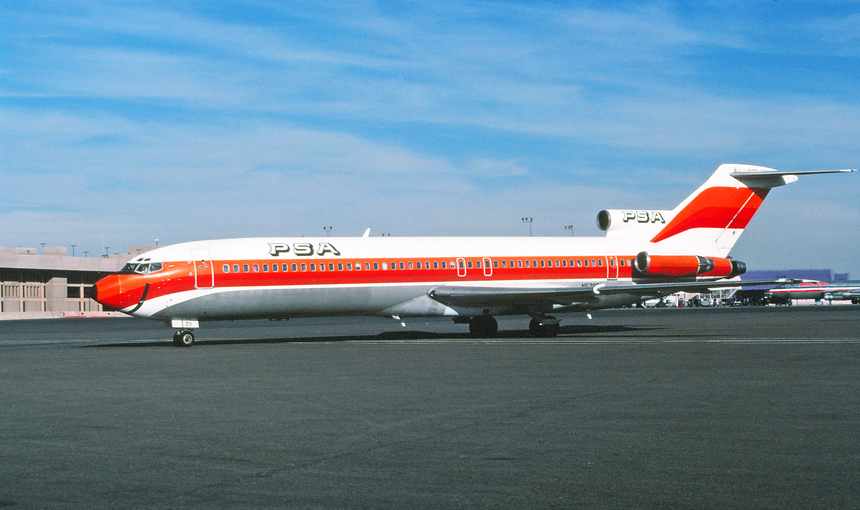 May 1979
On the heels of the Airline Deregulation Act of 1978, many airlines took the opportunity to start service into airports previously unavailable due to Civil Aeronautics Board (CAB) regulations. One such carrier, Pacific Southwest Airlines (PSA) a traditional intra-state airline based in San Diego, California took the opportunity to expand past its state borders. In March 1979, PSA started service from Phoenix to Burbank, Los Angeles, San Diego, and San Francisco, opening a new, low-fare option for passengers travelling between California and Arizona. Taxiing up to the East Terminal after a flight is N538PS, a Boeing 727-214, delivered new to PSA in May 1969.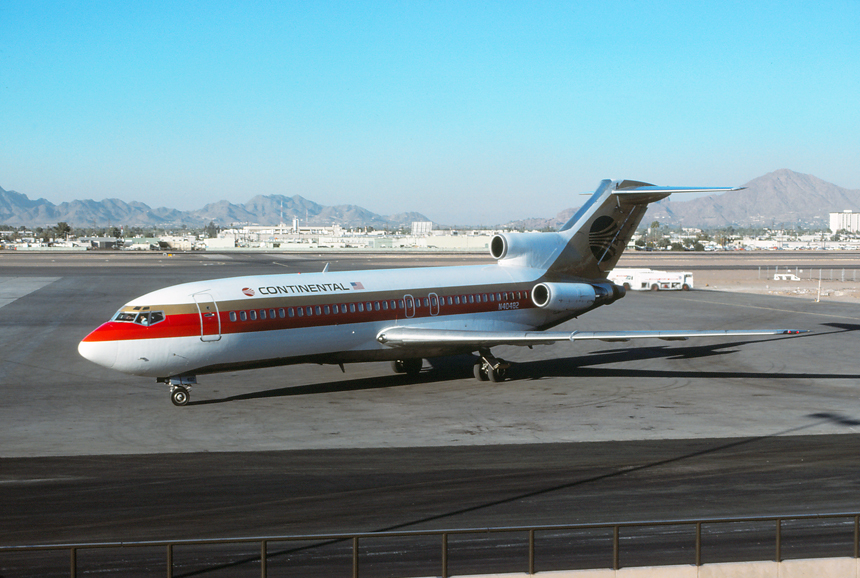 December 1979
Continental Airlines was the third national airline to start service into Phoenix in 1962, with flights to Los Angeles, El Paso, and Tucson. On the heels of the Airline Deregulation Legislation of 1978, Continental expanded services from Phoenix, adding Denver, San Antonio, Houston-Intercontinental, and Las Vegas from Sky Harbor using the Boeing 727. Pulling into Gate 15 at Terminal 3 during a bright winter day is N40482, a Boeing 727-22, delivered new to the airline in July 1978.
Back to: The Airports