THE AIRPORTS
SOUTHERN CALIFORNIA
PALM SPRINGS
PSP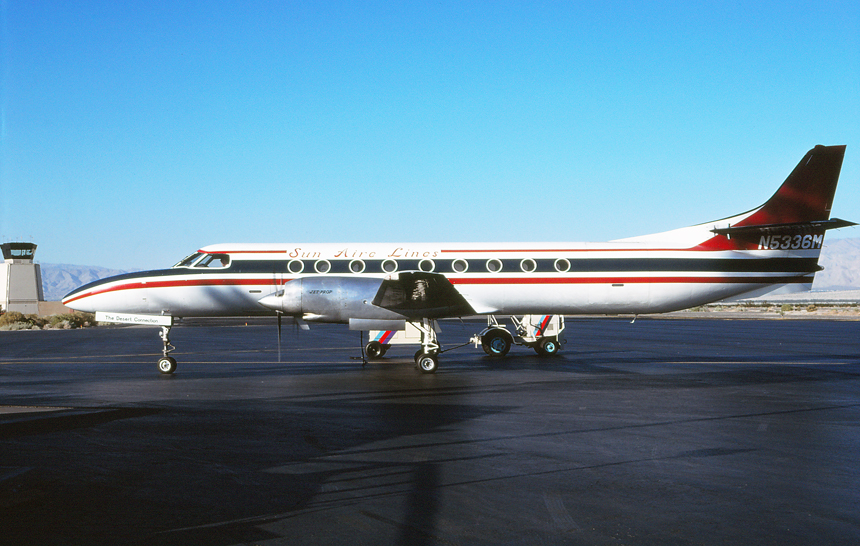 November 1977
Sun Aire started operations in December 1968, as Borrego Springs Airlines providing flights between the desert community of Borrego Springs, San Diego, and Palm Springs. The airline eventually moved operations to Palm Springs airport and developed a hub system across Southern California providing "The Desert Connection" with a fleet of Swearingen Metroliners. Parked on the ramp and awaiting engine start for another regional flights is N5336M, a Swearingen SA-226TC Metro II.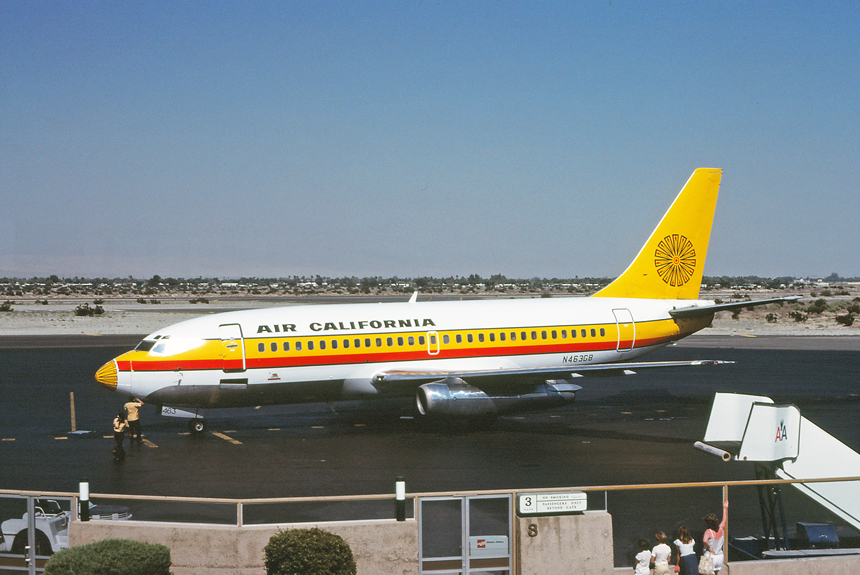 May 1978
Intra-state carrier Air California started service into Palm Springs in late 1969 with flights from Orange County and San Jose. The airline expanded services eventually providing non-stop flights from San Francisco and Oakland, in addition to existing Orange County and San Jose schedules. Air California would fly passengers into the desert resort of Palm Springs until just after its purchase by American Airlines in 1987, when service was discontinued. Having just pulled up to the tarmac at Gate 3 and preparing to unload passengers is N463GB, a Boeing 737-293, delivered new to Air California in October 1968.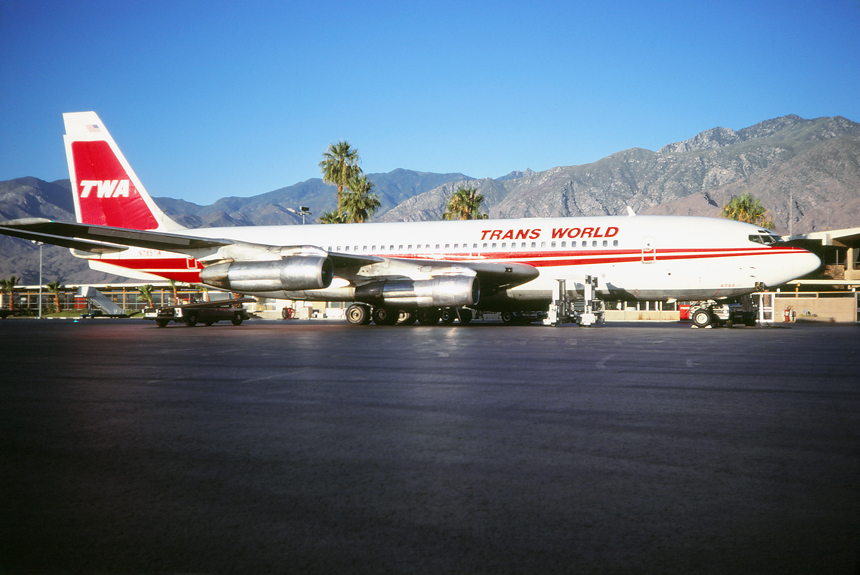 September 1980
Pan In the post deregulation environment many airlines added service to destinations they had been exempt from during regulation by the Civil Aeronautics Board (CAB). Trans World Airlines (TWA), started daily service into Palm Springs in 1979, with non-stop flights from Phoenix, Arizona. Boeing 707 or 727 aircraft were used on the relatively short "hop" with a scheduled flight time of forty minutes. Parked on the ramp and being serviced for another flight is N785TW, a Boeing 707-131B, delivered new to TWA on October 12, 1962.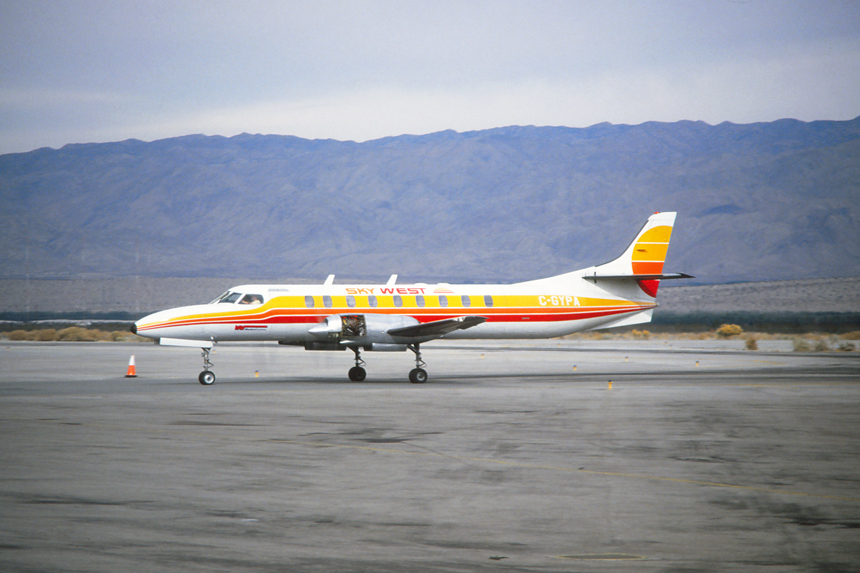 December 1986
Palm Springs based commuter airlines, Sun Aire had grown to large regional commuter serving twelve cities in both California and Arizona. Neighboring commuter SkyWest Airlines based in St. George, Utah saw an opportunity to enter the lucrative California market and purchased Sun Aire in September 1984. SkyWest would continue to maintain Palm Springs as a pilot and maintenance base for aircraft operations. Parked on the SkyWest maintenance stand and performing an engine run-up, is C-GYPA, a Swearingen SA-226TC Metro II, on lease from Canadian airline Perimeter Air.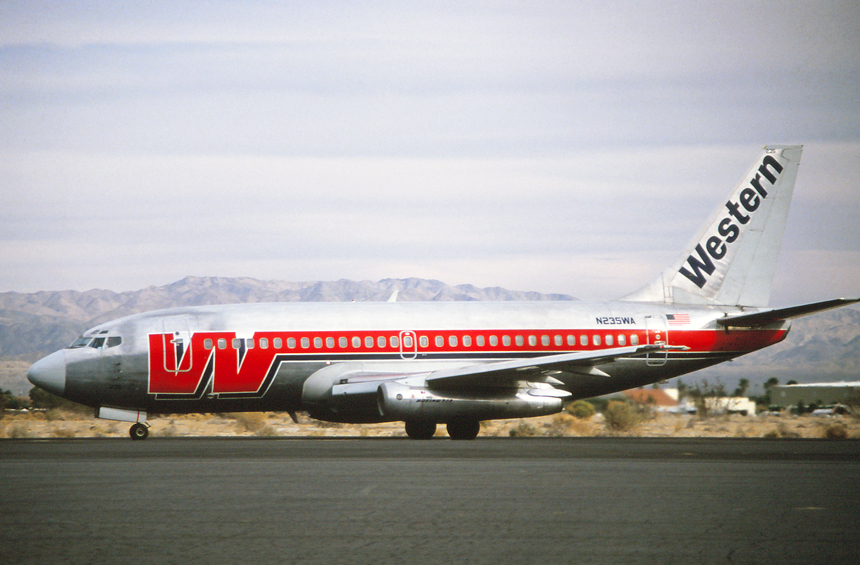 December 1986
Western Airlines was one of the first airlines to start service into palm Springs when flights commenced in 1945, to both Imperial Valley and San Diego. Over the next forty years, Western become the longest serving airline from Palm Springs and introduced jet operations in the late 1960s. By 1986, Western was flying two daily non-stop flights to San Francisco and Salt Lake City using both the Boeing 727 and 737 aircraft. Seen taxiing toward the terminal area and wearing the newer "Bud Lite" polished aluminum colors scheme is N235WA, a Boeing 737-2.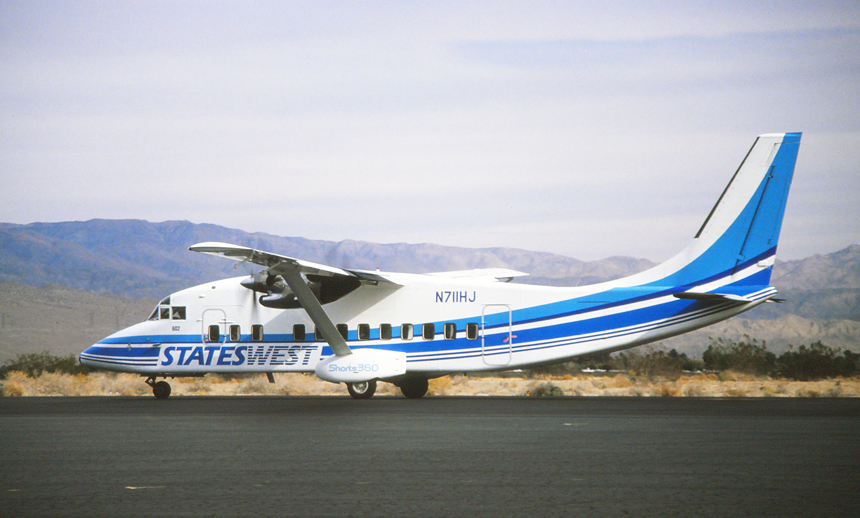 December 1986
Stateswest Airlines was started in 1986, to provide commuter flights across the Southwest U.S. from a Phoenix, Arizona base. Palm Springs was one of the first cities to be served by the new airline, as a stop between San Diego and Laughlin-Bullhead City. The service was short lived however lasting only six months, when the airline decided to focus its aircraft on new cities and routes. Taxiing outbound to Runway 13 Right for an afternoon departure is N711HJ, a Shorts 360-200, delivered new to the airline in July 1986.
Back to: The Airports