THE AIRPORTS
PACIFIC NORTHWEST
SEATTLE-TACOMA INTERNATIONAL AIRPORT
SEA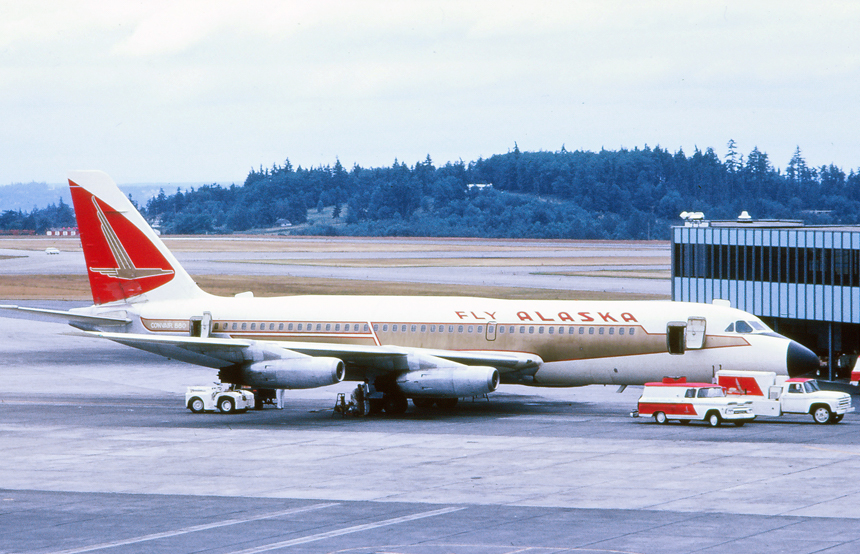 April 1962

*
Alaska Airlines had remained a rugged, intra-Alaska carrier until 1951, when permission was granted to start service from Anchorage and Fairbanks to both Portland, Oregon and Seattle, Washington using the Douglas DC-6. As competing airlines, Northwest and Pan American introduced "jet" aircraft on the Seattle-Alaska service, Alaska soon fell short using piston-engined aircraft on the multi-stop eight hour routing. In 1961, Alaska Airlines ordered a single Convair 880 which would become the first jet type for the airline. The new Convair 880 "Golden Nugget Jet" would reduce flying time down to three-hours on the lucrative Anchorage-Seattle service. Parked at the terminal and being serviced for another flight is N8477H, a Convair 880M.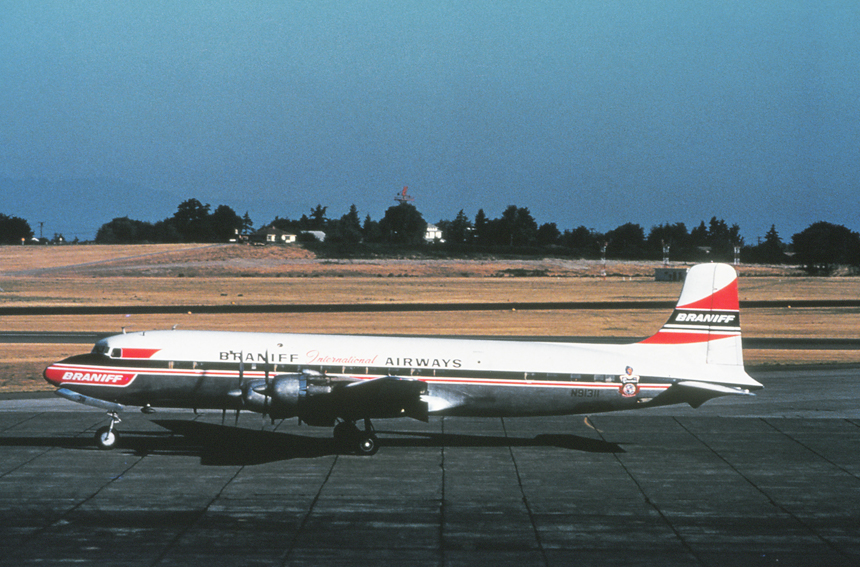 June 1962

*
Braniff International Airways and United Air Lines started an interchange service between Texas and the Pacific Northwest in September 1953. A Douglas DC-6 was used on the flight from Houston to Seattle, via Dallas, Oklahoma City, Denver, Salt Lake City, Boise, and Portland. Braniff crews flew from Houston to Denver, with the United crew flying the same plane from Denver on to Seattle. Eventually Boeing 720 jet flights replaced the Douglas DC-6 in January 1965, however the interchange service arrangement continued. Taxiing inbound toward the terminal is N91311, a Douglas DC-6B.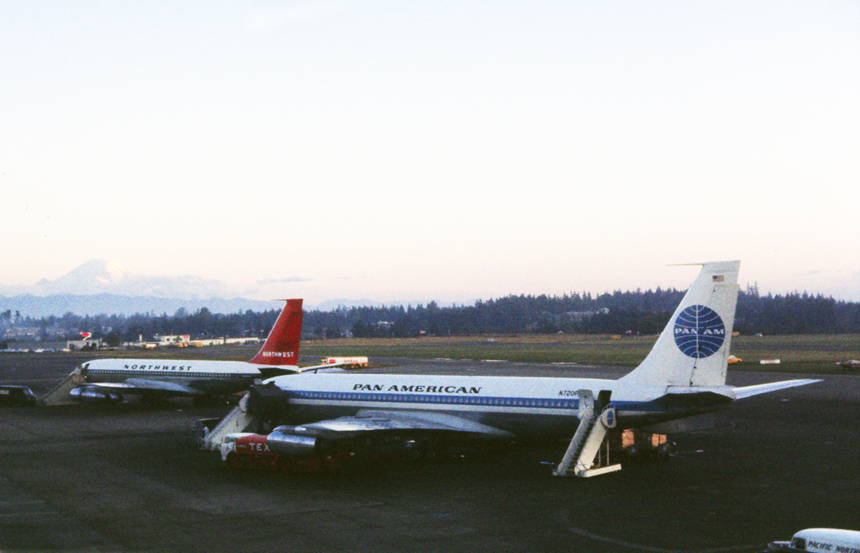 October 1962
Seattle-Tacoma (Seatac) was built by the Port of Seattle in 1944, when the military took over operations of the existing Boeing Field. The new airport was built just south of Boeing field on a bluff in an upland plain. The first scheduled service from the airport was both Northwest Airlines and Trans-Canada Airlines which moved operations from Boeing Field immediately after opening. Over the next few years, United Airlines, Western Airlines, and Pan American Airlines relocated operations to Seattle-Tacoma. By 1957, the airport was hosting over four-hundred flights a week, with United Airlines being the largest carrier from the airport with over 260 flights weekly. Pan American started the first non-stop Europe service, when flights were started to London, England in 1961. The airport became a major intermediate point with flights heading to Alaska and hosted hundreds of cargo and passenger flights weekly. During 1962, Northwest Airlines served six cities from Seattle including flights to Portland, Honolulu, Anchorage, Spokane, and Chicago. During the same year 1962, Pan American was serving four locations including Fairbanks and Honolulu as well as its non-stop London services. Seatac, would eventually flourish into the largest commercial airport serving the Pacific Northwest. Parked on the apron and framed by the towering Mount Rainer is Pan American Airline's N720PA "Clipper Fairwind," a Boeing 707-321, and behind it a Northwest Boeing 707-320B.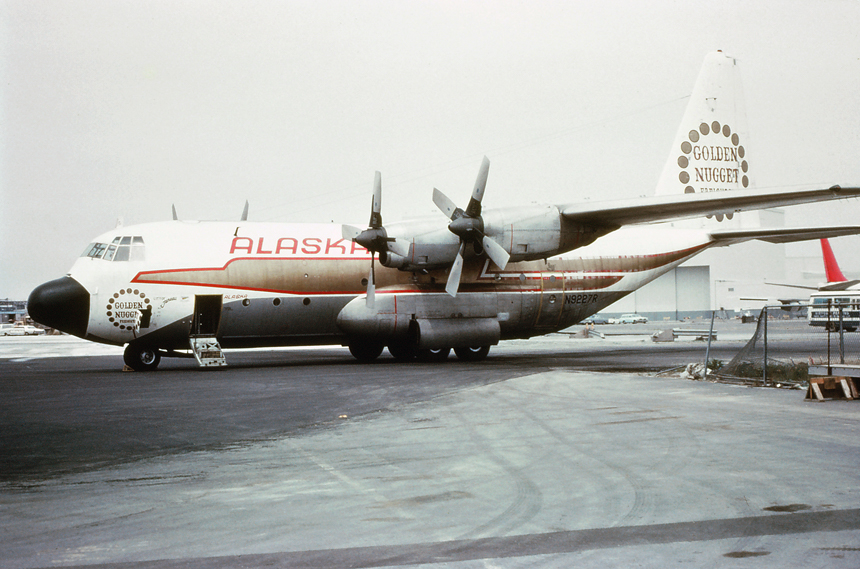 October 1971

*
Due to the state of Alaska's remote and rugged wilderness, Alaska Airlines purchased six of Lockheed's civilian version of the popular military C-130 freighter, becoming the first airline to operate the aircraft. The four-engined turboprop was well suited for operating from austere airstrips, especially in support of North Slope oil activities around Prudhoe Bay, Alaska. Alaska's first "Herk" was acquired in 1965, and were operated through 1971 when they were sold to Alaska International Air. Parked on the cargo ramp is N9227R,a Lockheed L-100-30 Hercules.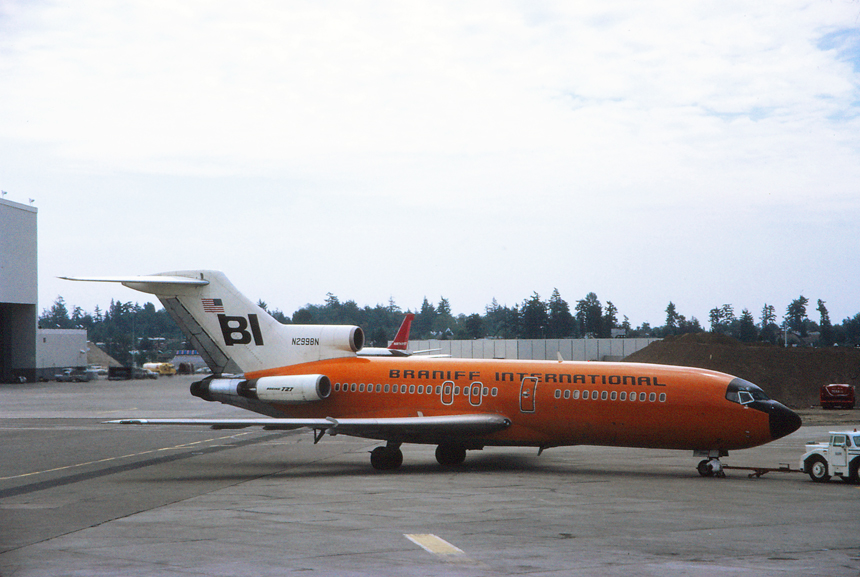 June 1971

*
Braniff International Airways had operated to Seattle under an interchange agreement with United Air Lines since 1953 and was finally granted authority to provide its own service on June 13, 1967. Braniff would operate non-stop service from Seattle to both San Antonio and Dallas using Boeing 727s. Having just been pushed back from the terminal for an afternoon flight and wearing the "pastel" orange colors is N299BN, a Boeing 727-191, delivered new to the airline on April 17, 1969.
September 1971

*
SAS Scandinavian Airlines was the first European airline to start international service to Seattle with non-stop flights to Bergen and Copenhagen in 1966. The Douglas DC-8 "Super-Fan" was used on the daily service which continued south to Los Angeles. Parked at the "new" Concourse A and being prepared for an afternoon departure is SE-DBK "Sigyn Viking," a Douglas DC-8-63.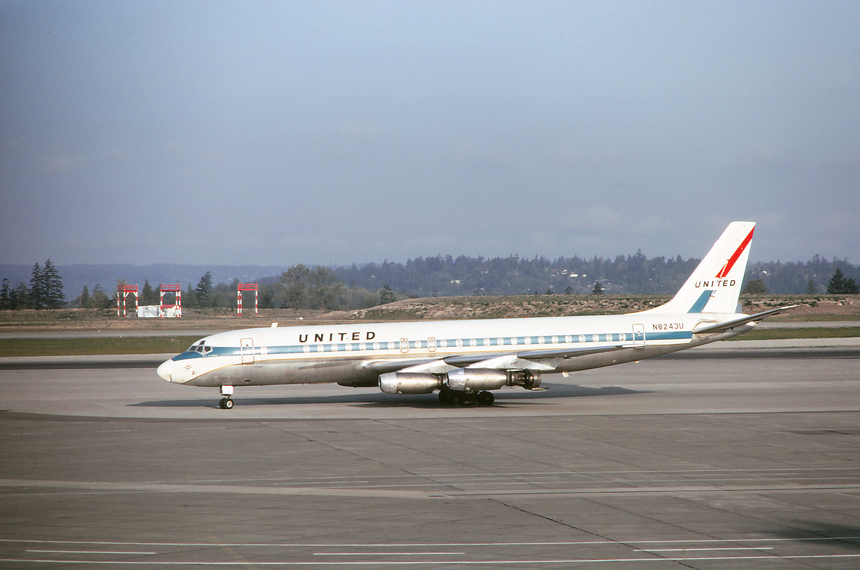 April 1972

*
United Air Lines was one of the first airlines to provide passenger service to the Seattle area when flights were started by predecessor Boeing Air Transport (BAT) in 1919. Pacific Air Transport started mail service between Los Angeles and Seattle in 1926 with the two carriers merging in 1931 to become United Air Lines. Passenger flights were soon started from Seattle to Portland, Oregon via Tacoma. United then was the largest airline operating from Seattle with twenty-four weekday departures. When "jet" service was introduced in 1959, United used the new Douglas DC-8 to replace the Douglas DC-7 and Douglas DC-6 on flights from Seattle to Chicago and New York-Idlewild. Seen taxiing inbound toward its gate is N8243U, a Douglas DC-8-33, purchased by United in September 1968.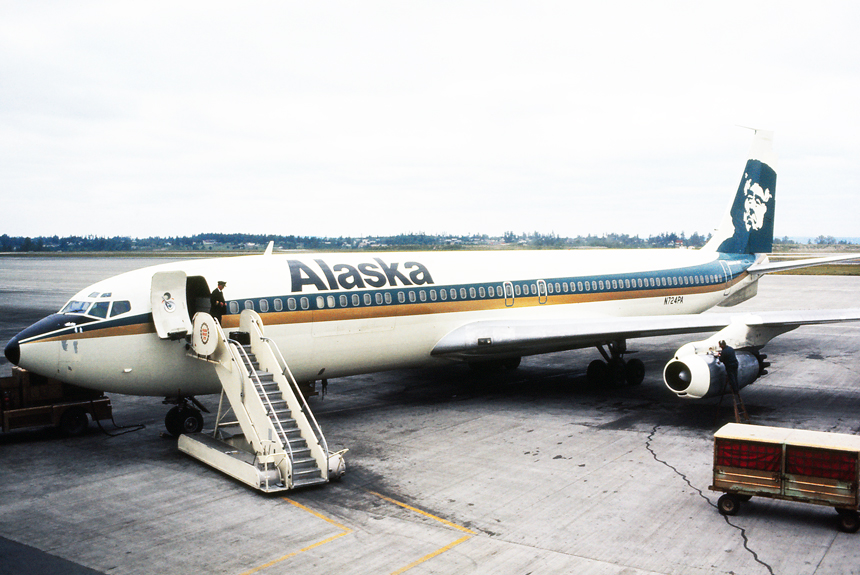 May 1972

*
During the early 1970s Alaska Airlines leased a total of four Boeing 707s for added capacity during the peak summer season as well as charter flights to Siberia Russia. One of the 707s, an ex-Pan Am aircraft wearing British tour operator Donaldson Airways colors was used to increase cargo capacity on the Seattle-Ketchikan-Juneau-Anchorage route during the summer months. As the Russian charters dwindled due to the poor economy and additional Boeing 727s were added, the need for the 707s concluded. Parked on the ramp and being serviced for another flight to the "Final Frontier," is N724PA, a Boeing 707-321, originally delivered to Pan American Airways in December 1959, and leased by Alaska Airlines in March 1972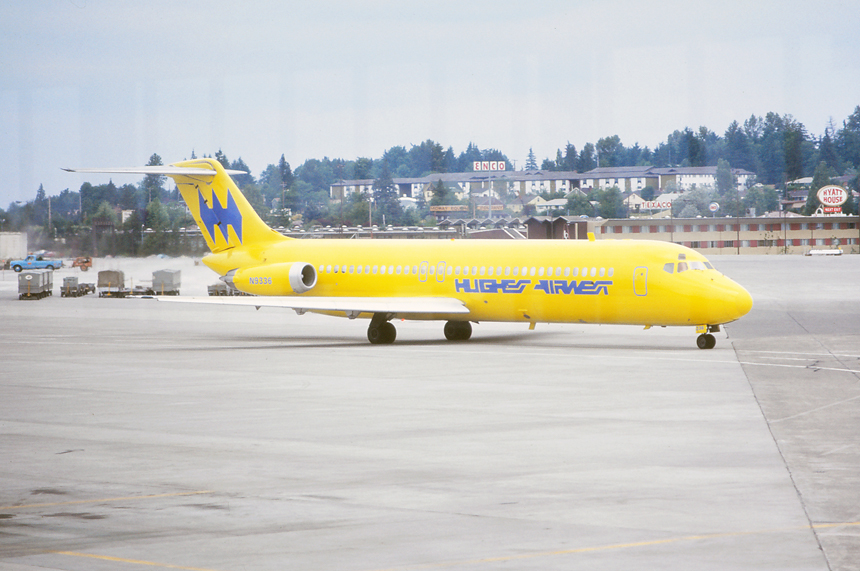 February 1972

*
Hughes Airwest's original predecessor West Coast Airlines was based at Seattle -Boeing Field and even after the merger of Bonanza Air Lines and Pacific Air Lines in 1968, continued to operate services from Boeing Field. It wasn't until 1971, that Hughes Airwest moved operations to Seattle-Tacoma International Airport, becoming the last scheduled airline to serve Boeing Field at the time. Hughes Airwest continued to provide flights from Seattle to regional locations including Portland, Spokane, Yakima, and Pasco using the Douglas DC-9. Seen pulling in toward the gate at Concourse C is N9336, a Douglas DC-9-31, originally delivered to AirWest in November 1968.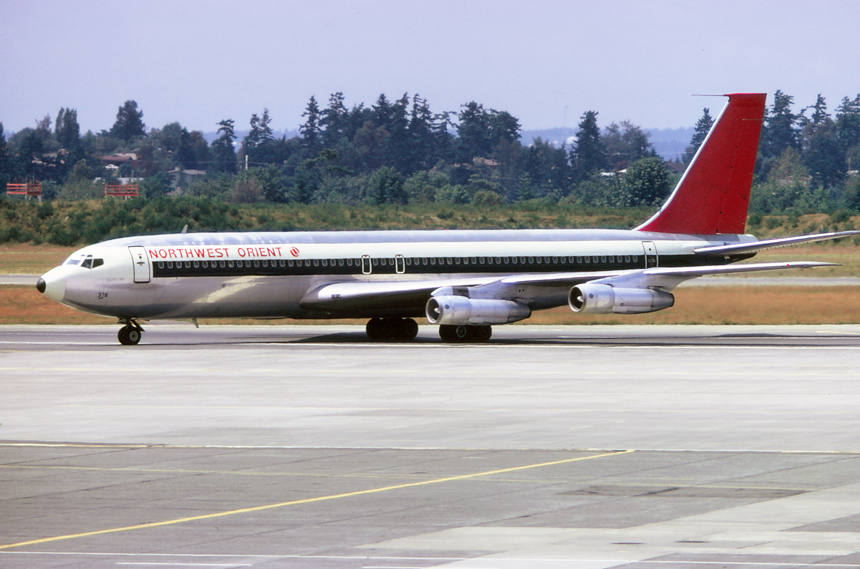 June 1973

*
Northwest Airlines had a long history with the Seattle area, as its name suggests, when passengers services were started on a multi-stop Minneapolis-Seattle route in 1928. The airline took a foothold during World War II in providing critical service to Alaska and through to the Far East and Orient. Northwest was one of the first airlines to relocate from Boeing Field to the new Seattle-Tacoma Airport in 1947. The airline continued to grow becoming the second busiest carrier at the airport in 1957 with 80 weekly flights. The Boeing 707 introduced by Northwest in 1963 was placed on both intercontinental and trans-Pacific services. By 1973, Northwest Orient was still using the 707 to provide flights from Seattle to both Spokane and Minneapolis. Seen taxiing toward the terminal after having landed is N378US, a Boeing 707-351C, delivered new to the airline on March 29, 1968.
Back to: The Airports