THE AIRPORTS
NORTHERN CALIFORNIA
LAKE TAHOE
TVL
One of the highest elevation airports in California, Lake Tahoe Airport stated from rather modest beginnings as a basic general aviation airport. In anticipation of the 1960 Winter Olympics in Squaw Valley, a new location and 5,900-foot runway was constructed in 1959, just south of Stateline, Nevada (south part of the lake). In 1963, a local carrier, Paradise Airlines started passenger flights into Lake Tahoe, but stopped within a year due to a fatal accident. Pacific Air Lines started F-27 flights in 1964, and a few years later Boeing 727 service was started between San Jose and Lake Tahoe, the first jet flights for the airport. Within a few years Lake Tahoe had a spurt of growth especially along the south shore where gambling casinos built up on the Nevada side and winter skiing activities became a popular destination. At this same time the city placed a ban on jet aircraft operating into the airport. During the 1970s, start-up Holiday Airlines commenced scheduled flights from various California cities and both Air California and Pacific Southwest Airlines (PSA) started scheduled flights using the Lockheed L-188 Electra. Numerous gambling charters filed the slots between the scheduled airlines. During the 1980s, many commuter airlines started service into the airport, as well as AirCal using new McDonnell Douglas MD-80s, after the city lifted the jet noise restriction. American Airlines assumed the routes of AirCal in 1988, yet replaced the jet service with American Eagle commuter before finally stopping all service. Reno Air provided scheduled flights in 1996, and short-lived flights by charter airlines Tahoe Air and Allegiant Air continued in the late 90s, however Lake Tahoe has now been without scheduled service for over fifteen years.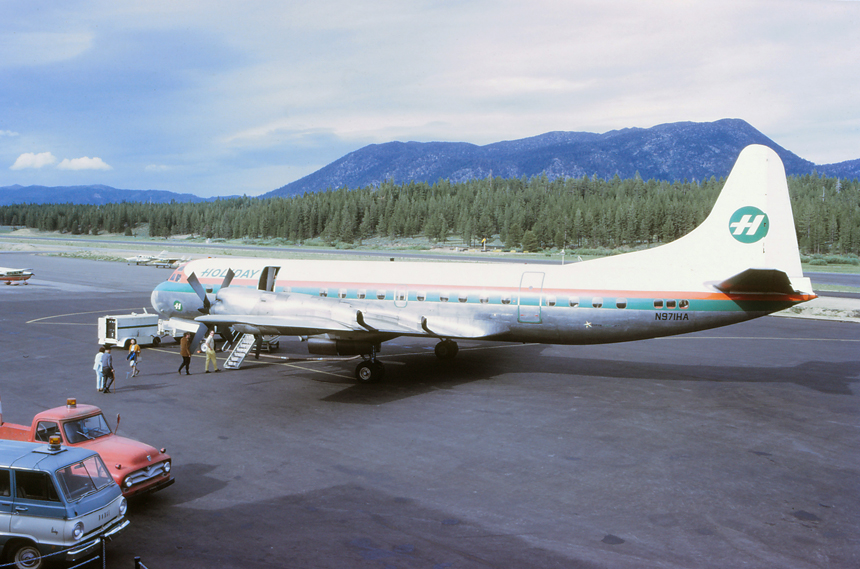 June 1971
Holiday Airlines was formed specifically to provide passenger flights into Lake Tahoe Airport. The airline started was a local taxi operator before purchasing three Lockheed Electra turboprops to provide convenient "holiday" service into the mountain resort of Lake Tahoe. Scheduled services started in November 1968 between Lake Tahoe and San Jose, Oakland, and Hollywood-Burbank, advertising the "Fastest Fun in the West" using the Super Electra "Jets." By the early 1970s, services had expanded to include flights from San Diego and Los Angeles. Although Holiday Airlines was providing a unique service with minimal competition (Hughes Airwest was the major competitor in the market), the airline suffered financial difficulties and eventually filed for bankruptcy in February 1975. Parked on the ramp and loading up passengers for another flight is N971HA, a Lockheed L-188-C Electra, originally delivered to Pacific Southwest Airlines (PSA) in November 1959.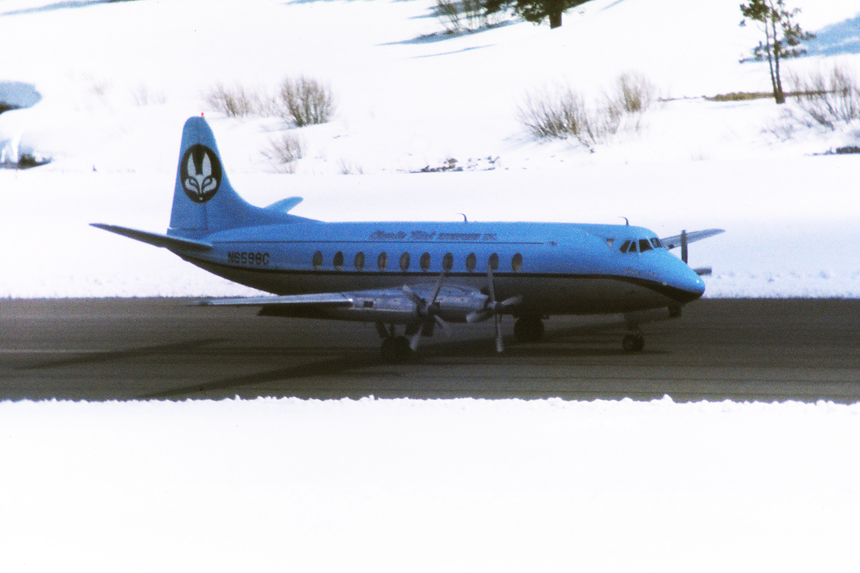 April 1975
Famous country music star Charlie Rich leased a Vickers Viscount turboprop airplane in April 1974, to provide transport for himself, family and band members. The plane was painted a baby blue color and appropriately named "Silver Fox I," after a common nickname given to Charlie Rich. The plane was used extensively for his music tour in 1975, and was used on flights throughout the United States including the occasional stop at Lake Tahoe to perform in one of the many casinos at Stateline. Rolling out on Runway 18 on a cold spring morning is N6598C, a Vickers Viscount V.798D, originally delivered to Northeast Airlines in January 1959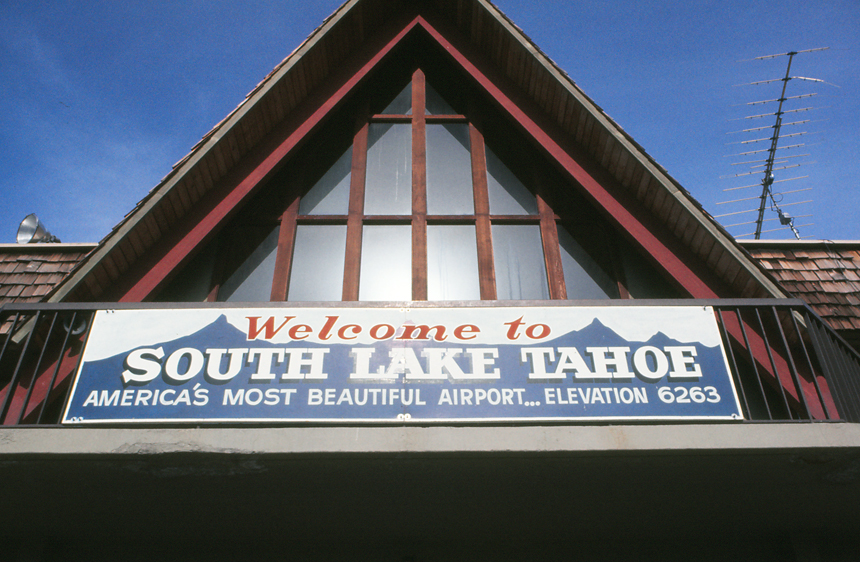 May 1975
One of the highest "airline" capable airports in the United States, Lake Tahoe's main passenger terminal building still holds that alpine charm as evidence from the A-framed construction and welcoming sign.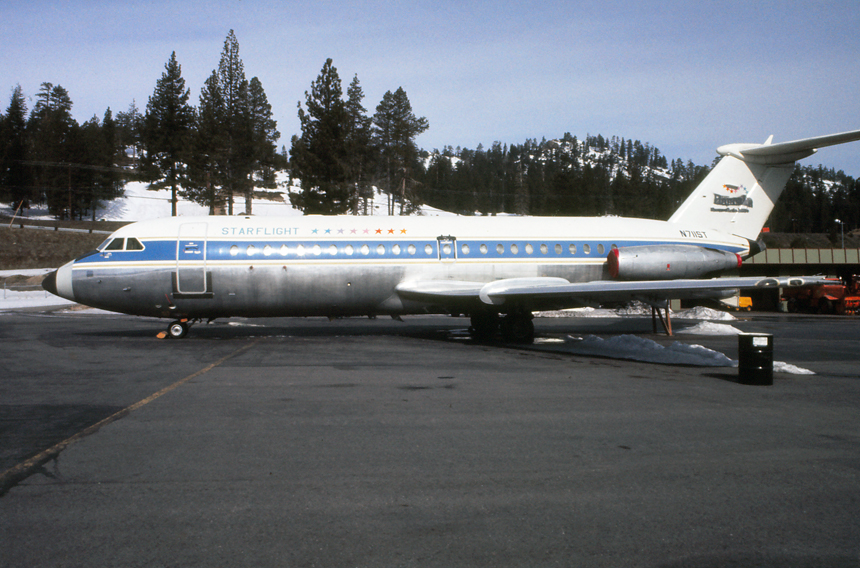 May 1975
During the 1970s many of the casinos located in Stateline, Nevada (just east of South Lake Tahoe) chartered various aircraft on tour packages to their hotels. One of the first Casinos to do this was the Sahara Tahoe Hotel which used charter company Starflight to fly British Aerospace BAC-1-11 flight from various western locations into Lake Tahoe. In 1973, the new Harrah's Casino and Hotel opened in Stateline, and the company sub-leased the BAC-1-11 and started its own gambling "junket" flights. These flights were quite popular and helped build the reputation of the mountain resort. One of the various hazards with operating flights into Lake Tahoe was extreme weather and on February 9, 1975, this aircraft operating a gambling charter flight to Denver struck a snow bank on takeoff and ran off the runway. The right wing and nose gear were torn off and the plane was declared a write off. Fortunately no injuries were reported. Seen parked on the ramp and awaiting final disposition is N711ST, a British Aerospace BAC-1-11-401AK, originally delivered to American Airlines in February 1966. Note the "Harrah's" Casino logo still on tail.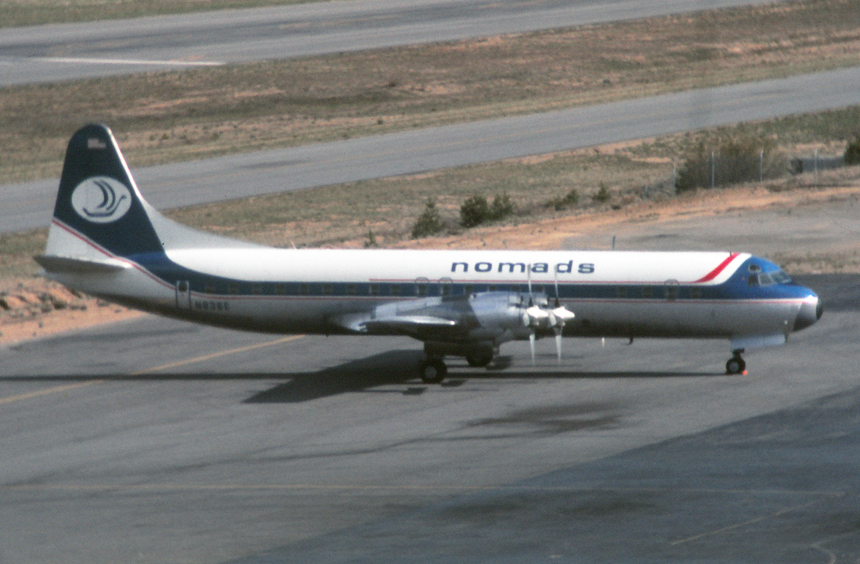 June 1975
Detroit, Michigan based private travel club "The Nomads" was formed in 1965, as an alternative to the high cost of general commercial air travel. Nomads was a member based organization and a variety of flights were flown catered to general interest, winter "snow-bird" routes or later, the famed 28-day, multi-stop "World Tour." The first "Flying Clubhouse" aircraft to be used by Nomads was a Douglas DC-7 followed by a 92-passenger Lockheed Electra in 1971. The venerable Electra could be seen around the country and within Mexico at a wide range of destinations and was the first aircraft to fly the "World Tour." Lake Tahoe became an occasional summer club destination with it's beautiful weather and lucrative casinos. Nomads eventually acquired a Boeing 727 and was a popular travel alternative to southern Michigan based members until its demise in 2011. Parked at the terminal ramp during a club planned trip is N836E, a Lockheed L-188-C Electra delivered to Nomads in April 1971, but originally delivered to QANTAS in December 1959, as VH-ECD.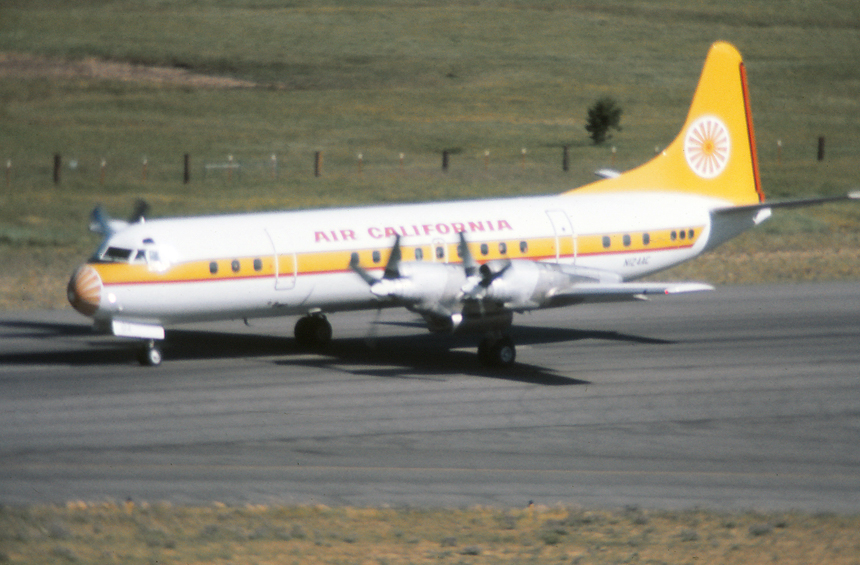 July 1975
Air California revived scheduled passenger services into South Lake Tahoe Airport in February 1975 hoping to tap into the winter and summer vacation demands. Because of the city's ban on continuous jet aircraft operations, Air California found use for the near obsolete Lockheed Electra's and quickly placed them on the Tahoe service. New service between Lake Tahoe and Oakland, San Francisco, San Jose and Orange County were started with daily flights in each market. Rolling out on Runway 36 after an afternoon flight is N124AC, a Lockheed L-188-A Electra, originally delivered to Braniff Airlines as N9709C in January 1960.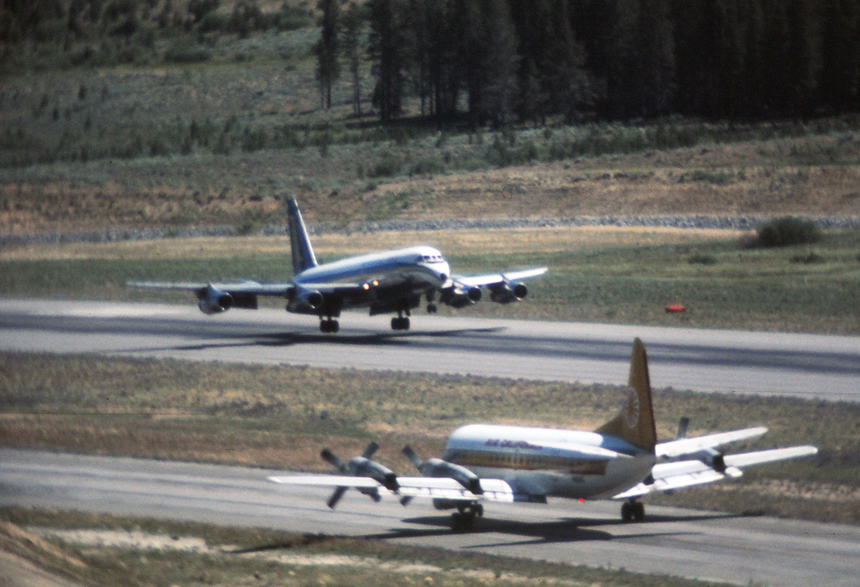 July 1975
Although the City of Lake Tahoe had placed a ban on jet aircraft operating into the airport, this restriction was specific to scheduled airlines. Charter flights, tour groups and private aircraft were exempt from the ban with certain restrictions. The airport hosted numerous "jet" aircraft being used on charter flights or gambling "junkets" from across the United States. One rare visitor to the airport was Denver based travel company Ports of Call. Gambling charter flights were occasionally hosted that brought the airlines Convair 990 airplane into the mountain airport. It was interesting to note that although the four-engine plane could land at the airport, it was not able to take off because of weight and altitude restrictions so the passengers had to be bused down to Reno, Nevada to catch their plane. Seen touching down on Runway 18, as a Air California Electra taxis out for take off is a Convair-990A Coronado (30-A) operated by Ports of Call Airlines.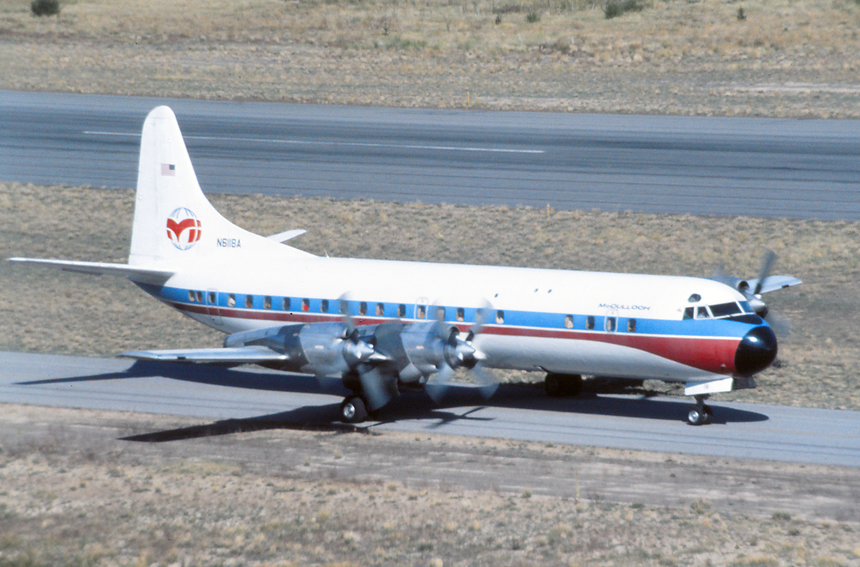 August 1975
McCulloch International Airlines was established when McCulloch Oil Company purchased the assets of air-taxi operator Vance International Airways in 1970. The new company, based from Long Beach, California used the Electra Turboprops to fly prospective land buyers to McCulloch properties in Lake Havasu City, Arizona (other properties as well including Pueblo West in Colorado and Fountain Hills in Arizona). On occasion the planes were flown up to Lake Tahoe as a weekend "getaway" for their customers and as a incentive for land purchase. Taxiing inbound to the terminal after having landed is N6118A, a Lockheed L-188 Electra A, purchased from American Airlines in May 1968.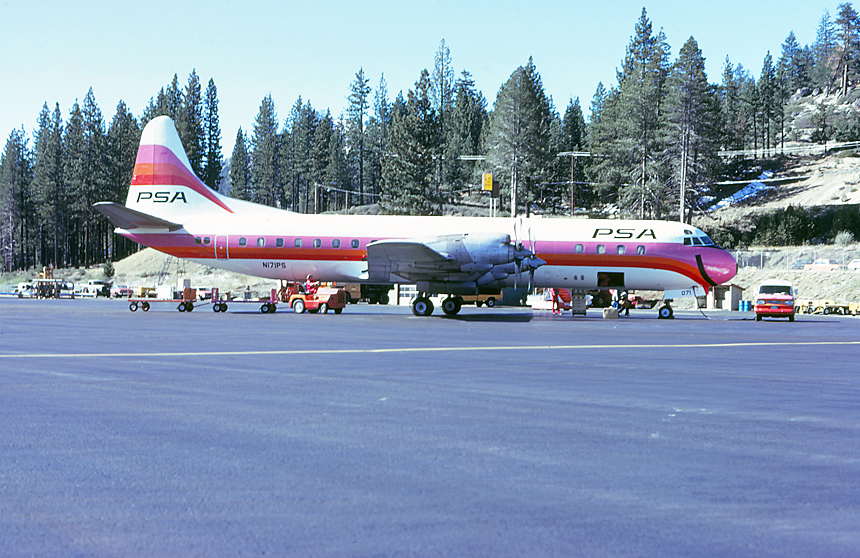 October 1975
Not to be outdone by intrastate competitor Air California, Pacific Southwest Airlines (PSA) applied for and received approval to add Lake Tahoe to its route map in 1975. Due to the ban on regular jet aircraft flights, PSA re-introduced the Lockheed Electra on flights to the alpine destination. With an initial fleet of two Electra's, PSA started non-stop service between Los Angeles and Lake Tahoe in April 1975, with a round trip fare of $30.00. At the time PSA was the only airline to provide regular passenger schedules between LAX and Tahoe and the flights quickly became popular with passengers seeking the summer time activities in the Sierras. Parked on the ramp and being serviced for its next departure is N171PS, a Lockheed L-188 Electra-C and originally delivered to PSA in November 1959, disposed of in 1963, and reacquired in August 1975, for Tahoe service.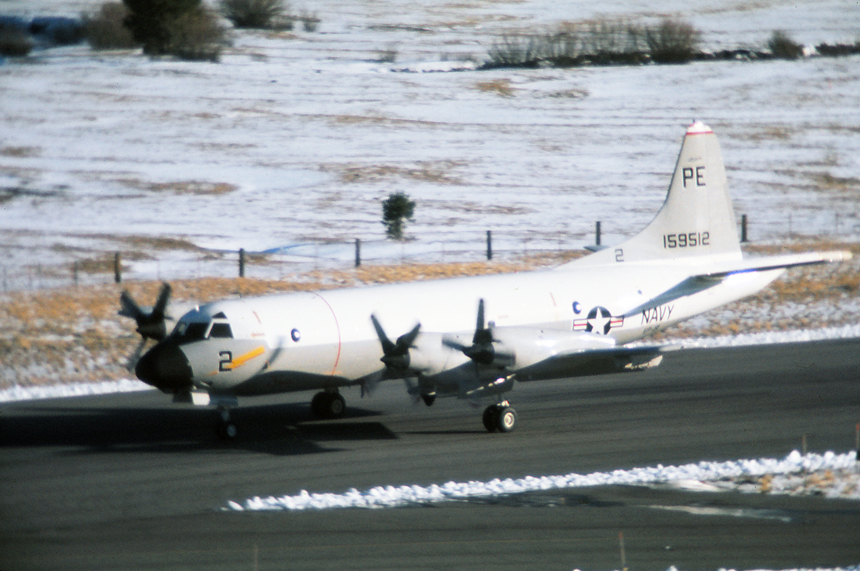 November 1975
Although Lake Tahoe Airport was specific to flights of both commercial and private aircraft, the airport was also host to the occasional military training flight. Numerous military facilities were located within one hundred miles of Lake Tahoe and the airport served as a viable "training" airport for various US Navy, US Air Force and US Coast Guard aircraft. One visitor to the mountain airport was the Lockheed P-3 Orion Anti-Submarine aircraft belonging to US Navy patrol squadron VP-19 "Big Red" based at Naval Air Station Moffett Field located at the south end of San Francisco Bay. Rolling out on Runway 36 during a training sortie is US Navy 159512, a Lockheed P-3C Orion.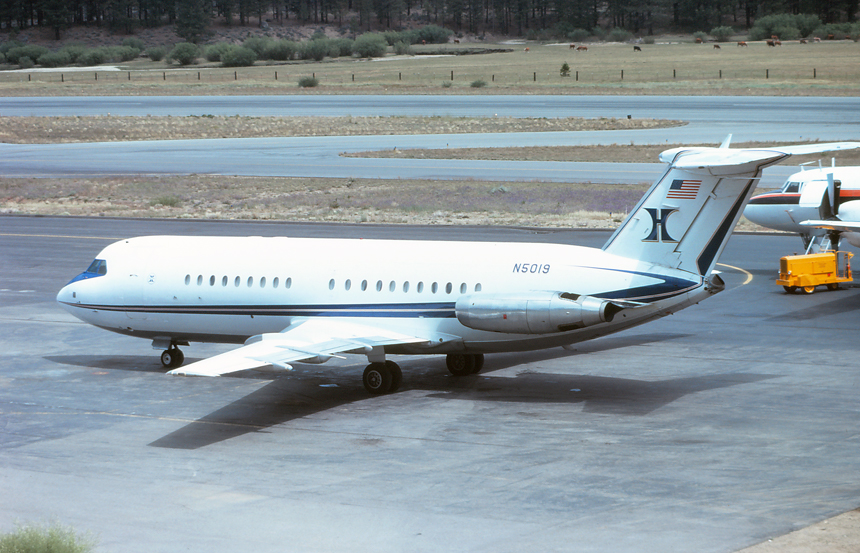 September 1976
One of the operators of a modified airliner used for corporate jet purposes was Barron Hilton's Hilton Hotels British Aerospace BAC-1-11 plane. The aircraft was used to transport Barron Hilton, Conrad Hilton and other of the hotel chain executives to various meetings, hotel openings and personal business throughout North America. Parked on the ramp during a visit to Lake Tahoe is N5019, a British Aerospace BAC-1-11-401AK, originally delivered to American Airlines in February 1966, and purchased by Hilton in January 1976.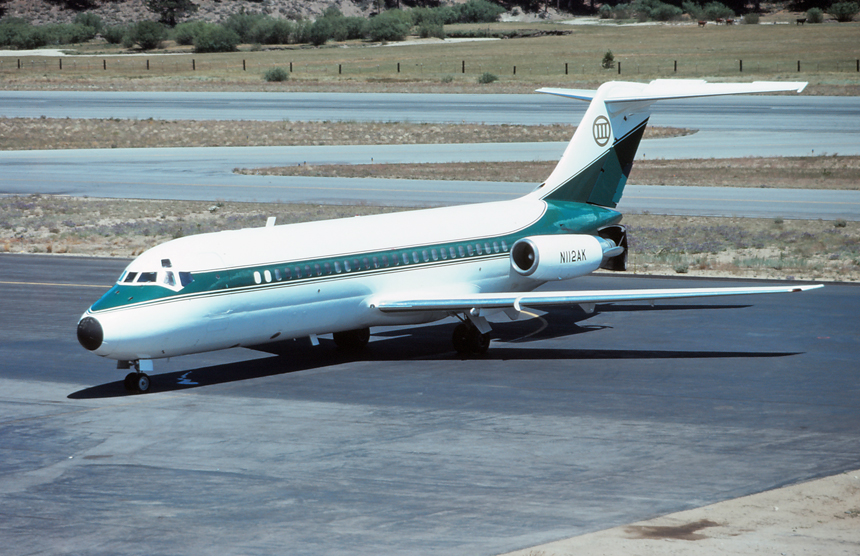 September 1976
Another occasional visitor to the Lake Tahoe region was the luxurious private Douglas DC-9 of Saudi Arabia businessman Adnan Khashoggi. Adnan was controversial in his role as a Middle East arms merchant and his involvement in the Iran-Contra affair, however had made billions in various deals and was once considered the richest men in the world. Adnan had a penchant for gambling and was known to spend upwards of "seven-figures" during his gambling sprees. Parked on the ramp during a layover is N112AK, a Douglas DC-9-15, originally delivered new in April 1968, as a corporate variant by investor Kirk Kerkorian and purchased by Khashoggi in 1972.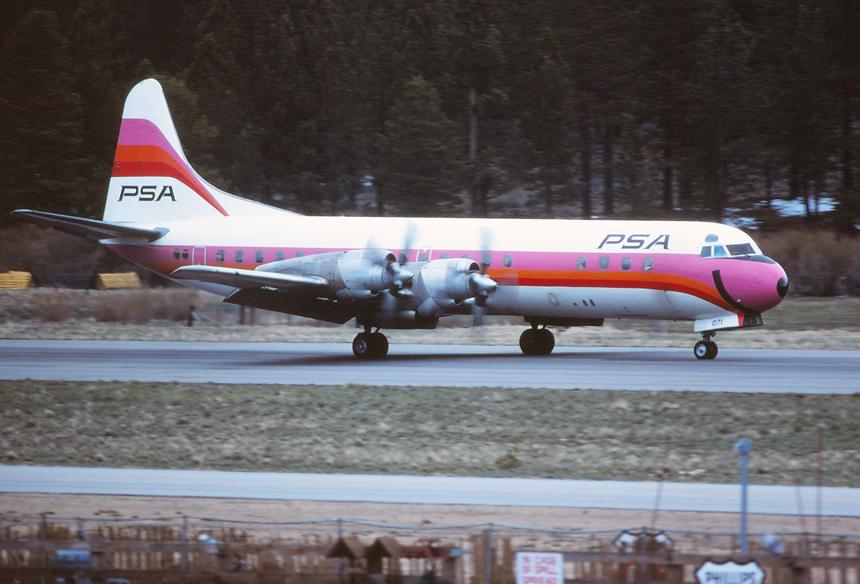 May 1977
By 1977, Pacific Southwest Airlines (PSA) had added non-stop service from both Hollywood-Burbank and San Francisco airport to South Lake Tahoe. Continuing to use the Electra's on the demanding high-elevation services, PSA flew no less then nine daily flights into the mountain based airport. Seen rolling out on Runway 18 is N171PS, a Lockheed L-188 Electra-C turboprop.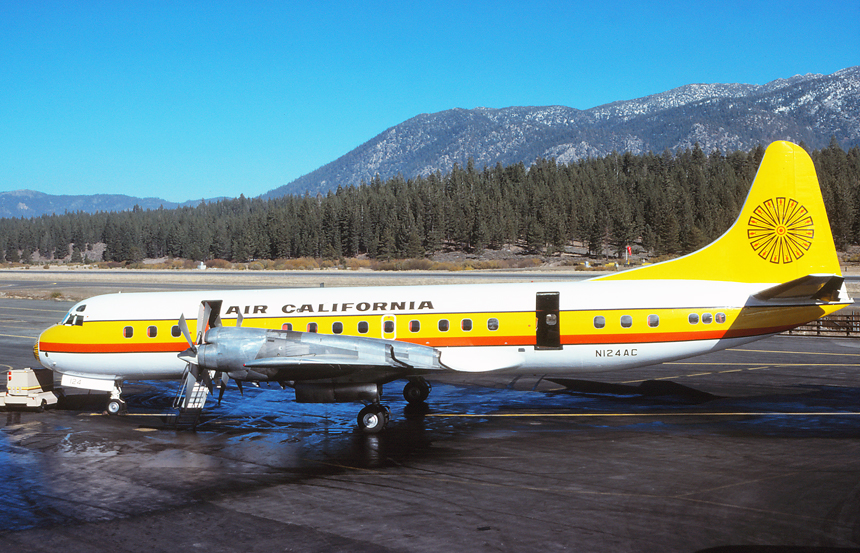 November 1978
Air California continued to be the major carrier flying into Lake Tahoe during the late 1970s. The airline had five daily flights, with services to five California cities using its fleet of three Electra Turboprops. The promotion of Lake Tahoe service year round by the airline kept seats filled and the mountain resort continued to be a popular destination for Californians. Wearing an updated color scheme and parked on the ramp being serviced for another flight is N124AC, a Lockheed L-188-A Electra.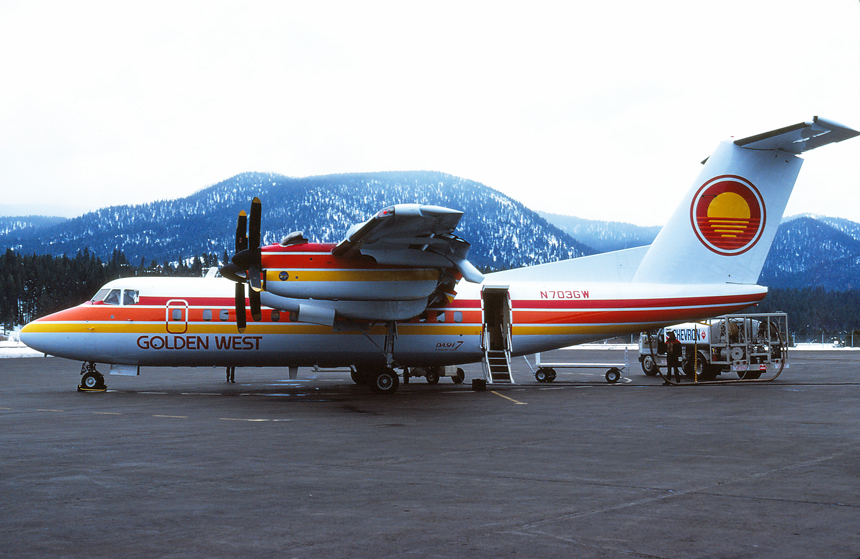 February 1981
Orange County based Golden West Airlines started service into Lake Tahoe in early 1981, after the delivery of their new de Havilland Canada DHC-7 "Dash 7" airplanes. The four-engined Short-Takeoff-Or-Landing (STOL) turboprops made the mountain based services quicker and safer. Golden West would initially provide year-round services from Lake Tahoe to Orange County, Ontario, Fresno, San Jose, Oakland, and San Francisco. Parked on the ramp during a cold winter afternoon is N703GW, a de Havilland Canada DHC-7-102, delivered new to Golden West Airlines just a month earlier in January 1981.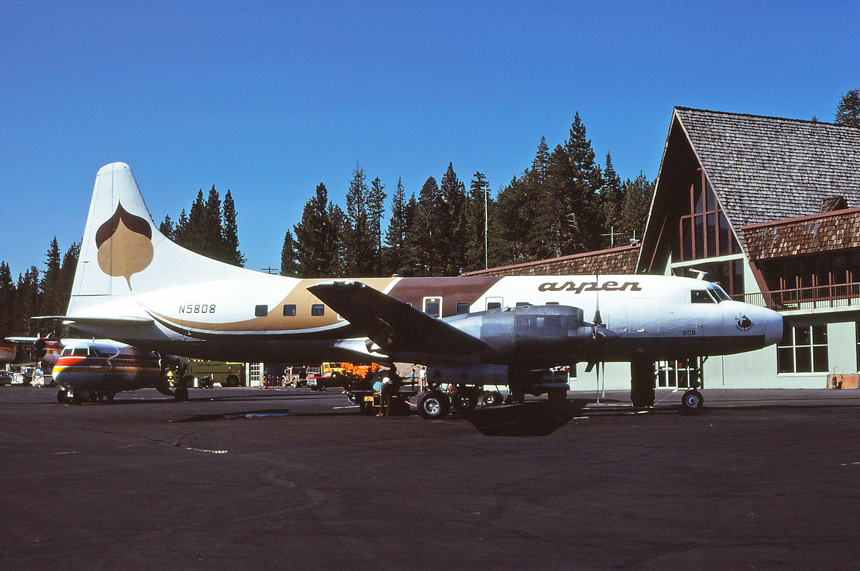 February 1981
After airline deregulation in 1978, Denver-based Aspen Airways sought new services in the west and being familiar with mountainous flying, focused on new services to Lake Tahoe. Flights started in November 1978, from San Francisco, San Jose, and Burbank to Lake Tahoe. The powerful Convair 580 turboprops handled the high-altitude flights with ease and continued the popularity of the services into the Lake Tahoe Airport. Parked on the ramp in front of the alpine design terminal building is N5808, a Convair 580, and originally converted to Allison Turboprop by Allegheny Airlines in 1968.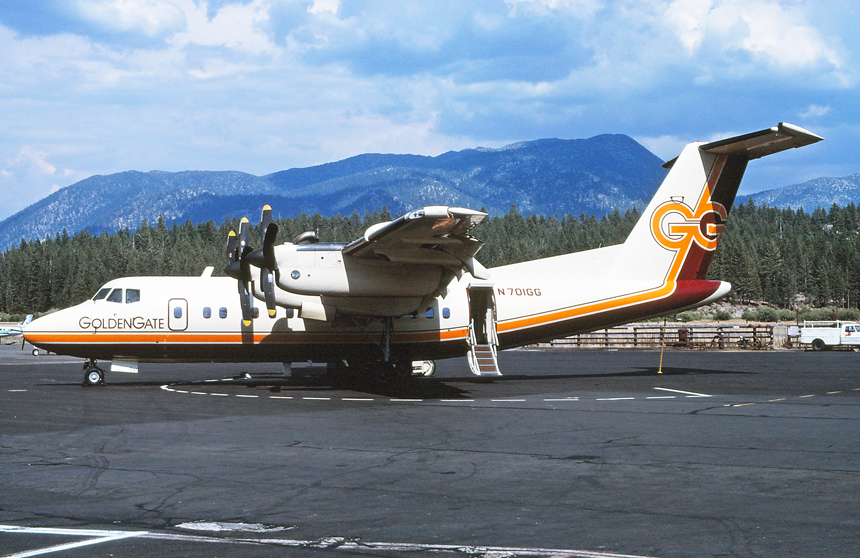 September 1981
Formed with the merger of Idaho based Gem State Airlines and San Francisco based Air Pacific in 1980, Golden Gate Airlines started Lake Tahoe services in October 1981 with flights to both Reno and San Francisco. Using the de Havilland "Dash 7" originally delivered to Air Pacific, the Lake Tahoe services were short lived however lasting only six months before they were stopped. Parked on the ramp during a turn-around is N701GG, a de Havilland Canada DHC-7-102, delivered new to Golden Gate in May 1981.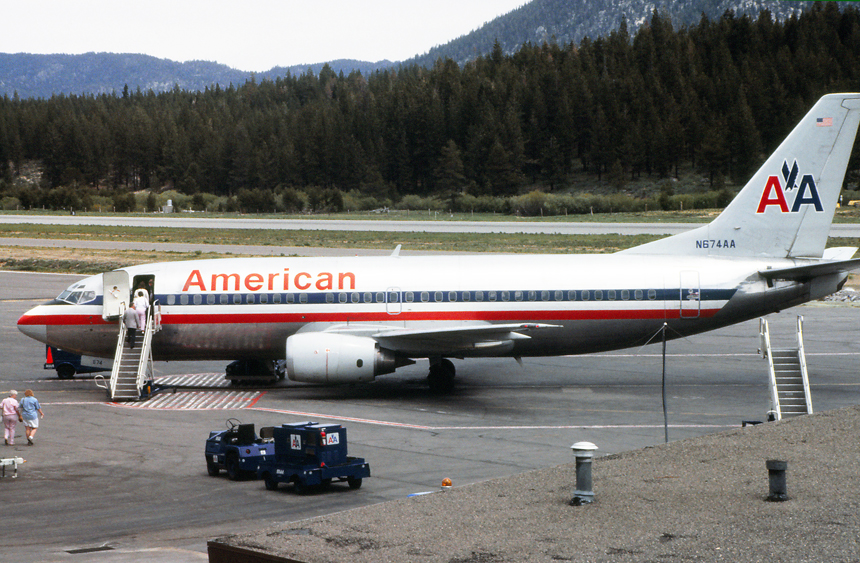 June 1989
Formed After the City of South Lake Tahoe lifted the ban on scheduled commercial jet airline flights, AirCal became the first carrier to reintroduce service to the airport with McDonnell Douglas MD-80s in 1983. When American Airlines purchased AirCal in 1987, jet flights continued into Lake Tahoe using Boeing 737-300 from Los Angeles, San Francisco, and San Jose. In 1991, American stopped service into Lake Tahoe effectively terminating all airline service into the mountain airport. Parked on the ramp and loading passengers for an afternoon departure is N674AA, a Boeing 737-3A4, originally delivered to AirCal in April 1985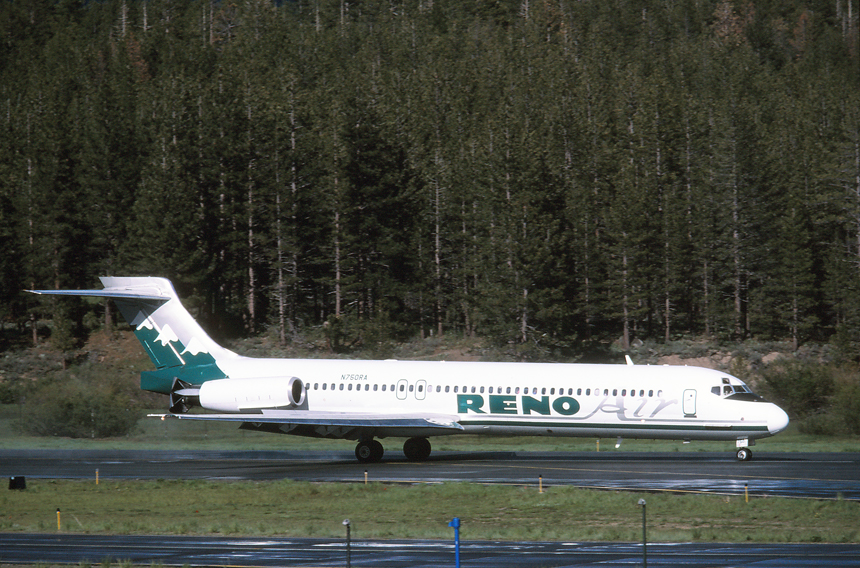 August 1995
Reno, Nevada based Reno Air started flying on July 1, 1992, from a home base at Reno to points within the western U.S. The new regional focused airline quickly expanded and by 1994 was flying to fourteen cities using a fleet of McDonnell Douglas MD-80 airplanes. One of the more unique destinations Reno Air added to its route map was starting service to South Lake Tahoe, California in December 1994. Non-stop flights to Los Angeles were started, and for the first time since 1991, brought jet service back to the popular resort destination. The airline used its "hotrod" MD-87 planes on the once-daily service into the mountainous airport. Although load factors were reasonable, Reno Air stopped flights into the airport on September 6, 1995, after only nine months of service. Rolling out on Runway 18 at South Lake Tahoe airport after a typical summer rainstorm is N750RA, a McDonnell Douglas MD-87, originally delivered to Midway Airlines in September 1989, and subsequently leased by Reno Air in November 1994.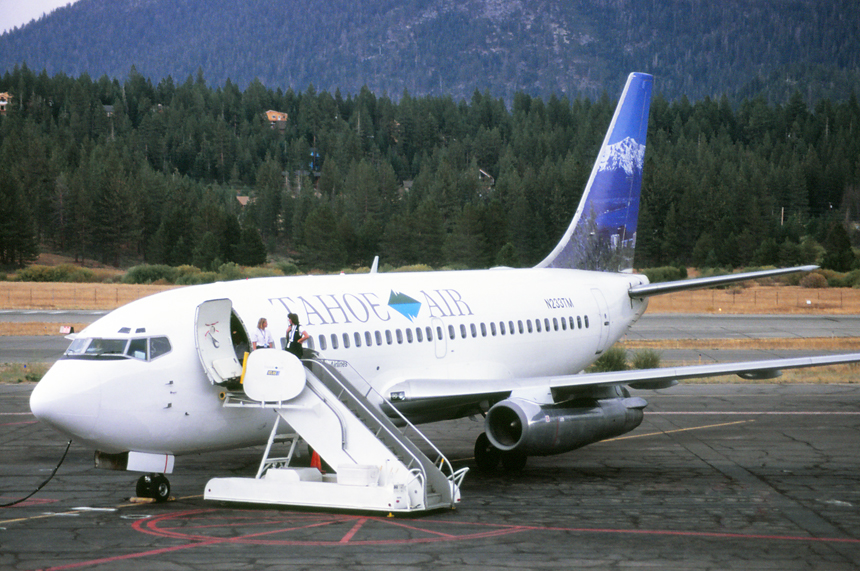 October 1999
Tahoe Air was a start up airline that was formed to reintroduce airline service into South Lake Tahoe after the departure of Reno Air in 1995. Using a leased Boeing 737 from Casino Express Airlines, Tahoe Air started service between Lake Tahoe and Los Angeles on June 25, 1999. San Jose was added a month later and the airline reported good load factors. Within a few months however, with the delay of delivery of the airlines own MD-80 as well as marginal profits, the airline ceased operations in October 1999. Parked on the ramp during a afternoon turn-around is N233TM, a Boeing 737-2-282.
Return to The Airports