TIMETABLES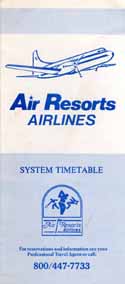 Fall 1983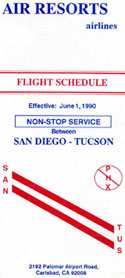 June 1990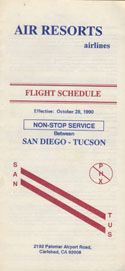 October 1990
Air Resorts (UZ) was originally started by Ted Vallas as a flight training and air-taxi operator in March 1975, based at Carlsbad-Palomar Airport, just north of San Diego, California. During the late 1970s Air Resorts acquired two Douglas DC-3 and a Convair 340 to provide charter service for the US Navy from San Diego to San Clemente Island, just offshore of northern San Diego County.
Seeing an opportunity to enter the scheduled passenger market after deregulation, Air Resorts started passenger service in December 15, 1982 from San Diego to Burbank, and Los Angeles to both Santa Barbara and Oxnard using a Convair 440. In late 1982, Air Resorts also purchased American Inter-Island Airways formally the commuter carrier owned by American Airlines and based in the Virgin Islands.
The airline continued to provide extensive charter services in the early 1980s by station aircraft at San Diego, Los Angeles and Las Vegas for on-demand flights.By 1984, Air Resorts had acquired a large fleet of aircraft including; nine Convair 440 Metropolitan's and two Convair 340s. Passenger services were cancelled on April 1, 1984, yet the charter services remained.
On December 16, 1984, an Air Resorts Convair 440 on a charter flight for the East Tennessee University basketball team, made an emergency landing in Jasper, Alabama after an inflight engine failure resulted in a fire and during the landing a partial gear collapse resulted in the plane veering off the runway into a ditch. All thirty-nine passenger escaped without serious injury. Upon investigation by the Federal Aviation Administration (FAA), the airline chose to voluntarily ground the fleet until the investigation was completed and possible maintenance issues resolved. On December 21, 1984, the FAA suspended Air Resorts operating certificate due to alleged safety violations. The certificate was reinstated in January 1985, allowing the airline to start service again.
With an acquired fleet of fourteen airplanes (Convair 340s, 440s, and 580s), intermittent charter service continued throughout the late 1980s, until the airline started scheduled passenger flights again on May 14, 1990. The new passenger service utilized Convair 580 turboprops between San Diego and Tucson with six daily flights. Air Resorts advertised these flights as the only connection to between San Diego and Tucson at the time. Due to low demand and high maintenance costs of the aging turboprops, the service lasted only about a year before being terminated. The airline then received authority to start service to Mexico including San Felipe, La Paz, and Loreto a few months later, however talks about a possible merger with neighboring commuter AirLA was under discussion. In December of 1990, Air Resorts was officially merged with AirLA.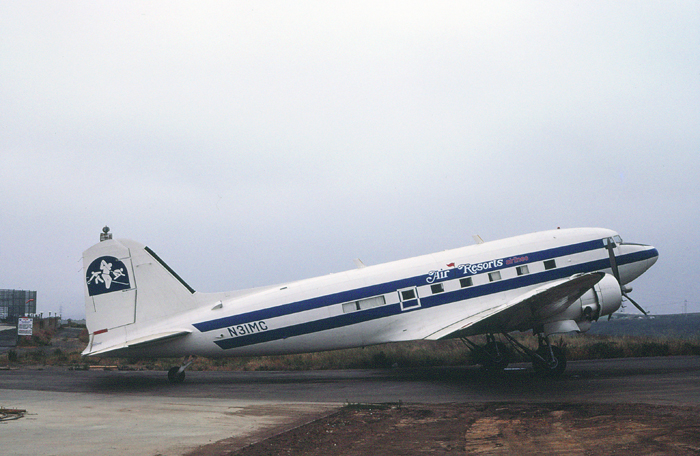 A pair of venerable Douglas DC-3 were two of the first aircraft to be used by Air Resorts to provide charter operations for the U.S. Navy. Parked at the Air Resorts ramp at Carlsbad-Palomar Airport in May 1983, is N31MC, a Douglas C-47 Skytrain (DC-3).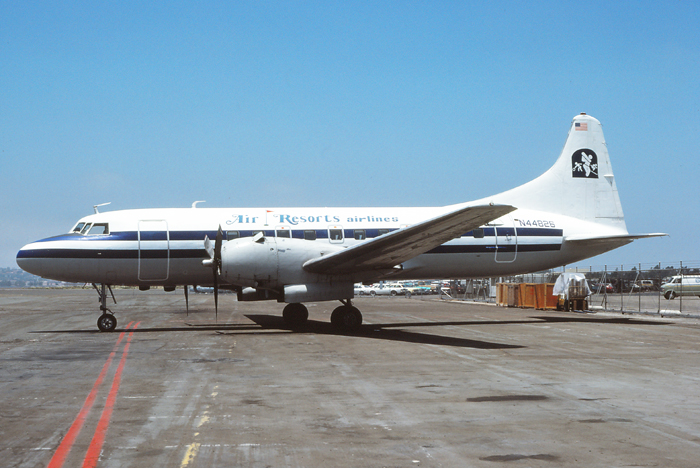 Parked at the general aviation ramp at San Diego-Lindbergh Field in July 1983, is N44826, a Convair 440-62 Metropolitan, originally constructed in 1956, and operated by VARIG Brasil and American Inter-Island Airways before wearing the Air Resorts colors.
Parked at the airlines home base of Carlsbad-Palomar Airport in northern San Diego County is N827AA, a Convair 440-49 Metropolitan, originally delivered to Garuda Indonesian in 1958, then migrating to various carriers until its purchase by American Inter-Island Airways 1978.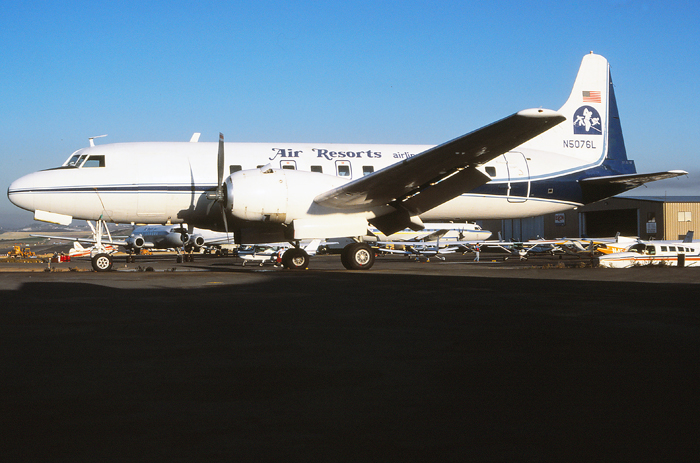 Basking in the evening sunlight at Carlsbad-Palomar Airport in November 1986, is N5076L, a Convair 340-37, originally built in 1953.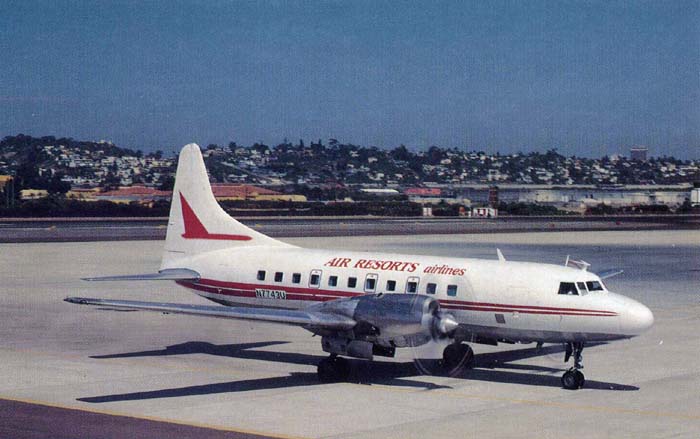 The second resurrection of passenger service utilized Convair 580s on a San Diego-Tucson service in 1990. Parked on the ramp at San Diego-Lindbergh Field is N7743U, a converted Convair 580. (Postcard)
Although at the time Air Resorts provided the only direct airline service between San Diego and Tucson, low demand forced the carrier to stop service about a year later. Seen holding short of Runway 21 for an arriving American Airlines MD-80 at Tucson International Airport in August 1990, is N7743U, a Convair 580 originally purchased by North Central Airlines.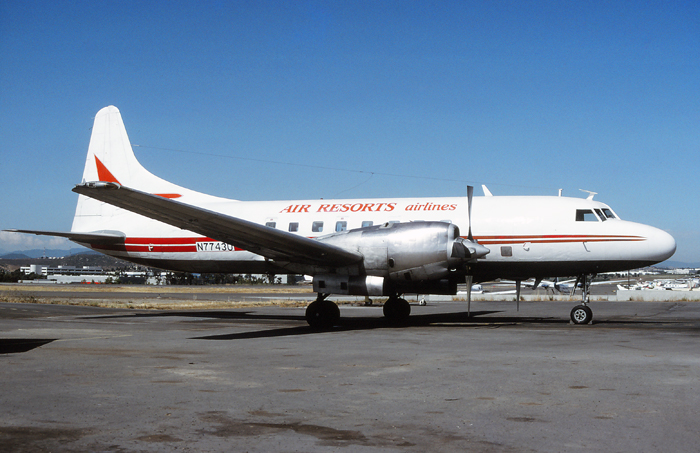 Having been withdrawn from services, and awaiting disposition at Carlsbad-Palomar Airport in June 1992, is N7743U, a Convair CV-580, originally built as a Convair CV-440-82 for Union Carbide Company in 1957 and converted to Allison turboprop in 1988.