TIMETABLES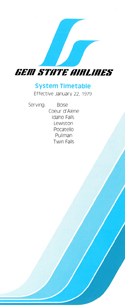 January 1979

May 1979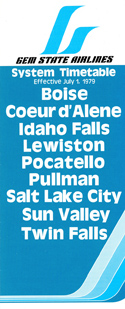 July 1979
Gem State Airlines (GS) was founded in August 1974, by two local Idahoans Tim Soumas Jr. and James Alexander to investigate the possibility of providing commuter level service to various Idaho locations. Idaho was traditionally served by local carrier West Coast Airlines which merged to from AirWest in 1968, followed by becoming Hughes Air West a few years later. Hughes Air West slowly dropped flights and cities in Idaho during the 1970s as the new airline focused on other markets. By 1978, with initial research completed and funds available for investment, Gem State Airlines established a base of operations at Coeur Dí Alene, Idaho and purchased three, 19-passenger Swearingen Metroliners for intra-state flights. Service finally started on December 1, 1978, on a Coeur Dí Alene-Pullman-Lewiston-Boise route.
Gem State was competing with Cascade Airlines and Hughes Airwest on some of its Idaho routes resulting in lower than anticipated passenger numbers. Even before starting service, Gem State was embroiled in controversy about its initial investors and the entrance of a new investment banker from New York, Justin Colin. Colin invested $8 million into the start-up with the assumption that more cash would help the airline achieve success. During 1979, the airline grew considerably adding four more destinations in Idaho, as well as flights to Salt Lake City, Spokane, Seattle, and Reno. The aircraft fleet had also expanded with Gem State Airlines adding three more Swearingen Metroliners for a total of six and three larger Convair CV-580 airplanes as well. Although the route map had grown, the airline continued to struggle financially and its largest competitor Hughes Airwest was driving down ticket prices and banking on its government subsidiaries in certain Idaho markets. As finances continued to be drained, Justin Colin the primary investor in the airline decided to stop investing in the Idaho based commuter and focus his efforts on moving the carrier to California to establish service there. After less than a year of operations, Gem State Airlines ceased service on November 11, 1979, and Justin Colin seeing opportunity in California, moved operations and aircraft west and eventually merged Gem State assets with Air Pacific airlines to form the new Golden Gate Airlines based in Monterey, California.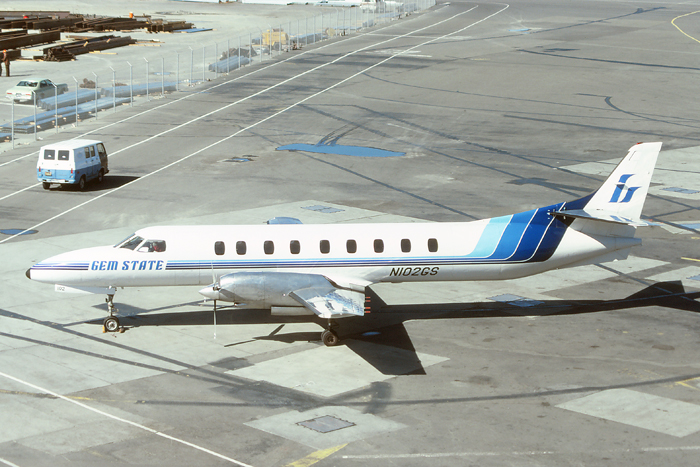 Gem State Airlines started operations in 1978, using the Swearingen Metroliner to points in Idaho. Seen after having moved to the West Coast and parked on the commuter ramp at San Francisco International Airport in April 1980, is N102GS, a Swearingen SA-226TC Metro II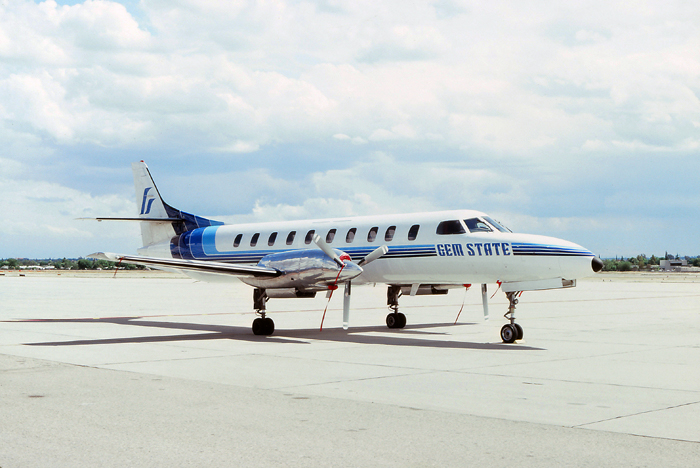 With Gem State Airlines moving west under the new name of Golden Gate Airlines most of the planes retained the Gem State colors for sometime prior to repainting, such as this example, N101GS, a Swearingen SA-226 Metro II parked on the ramp at Bakersfield-Meadows Field Airport in May 1980.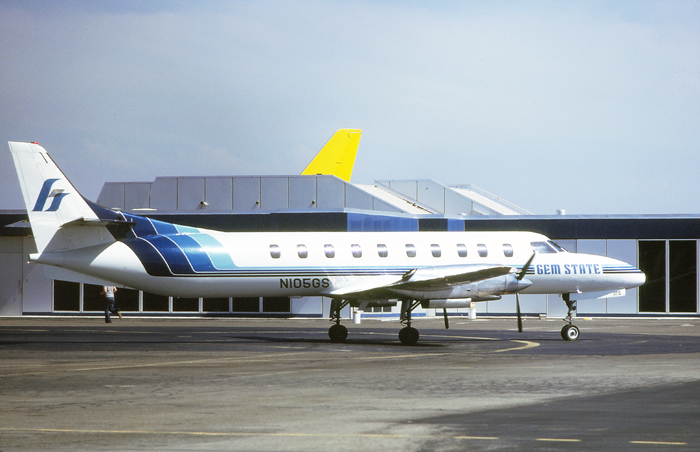 Another ex Gem State Airlines Swearingen SA-226TC Metro II, N105GS, flying the Golden Gate schedule but remaining in Gem State colors is seen on the ramp awaiting its next flight at Fresno Air Terminal in September 1980.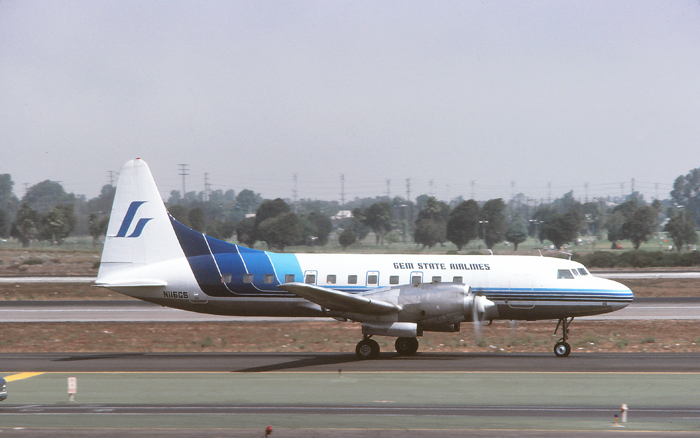 The three Convair CV-580s continued to be used by Golden Gate Airlines on "heavier" routes such as Los Angeles-Bakersfield and San Francisco-Monterey. Seen taxiing to the terminal after having landed at Los Angeles International Airport in January 1981, is N116GS, a Conavir CV-580.