TIMETABLES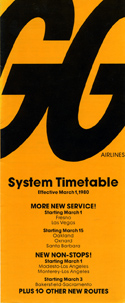 March 1980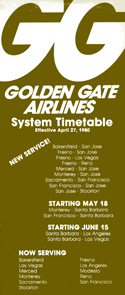 April 1980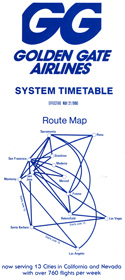 May 1980

August 1980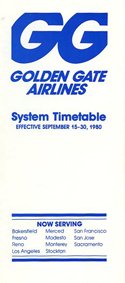 September 1980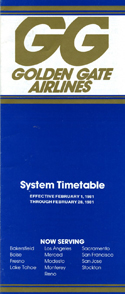 February 1981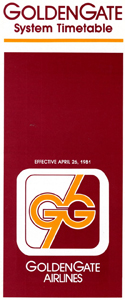 April 1981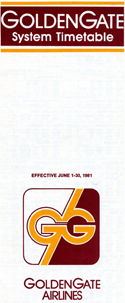 June 1981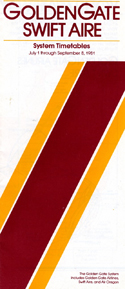 July 1981
Golden Gate Airlines (GG) was the brainchild of New York banking investor Justin Colin. Colin was the primary investor in Idaho based Gem State Airlines, which ceased operations in November 1979, and moved assets and aircraft to California in December 1979. Hoping to bank on deregulation and the popular California market, Colin established a base of operations in Monterey, California and started operations under the Golden Gate name using six Swearingen Metroliners, and three Convair 580 aircraft from Gem State on January 16, 1980. Monterey became an opportunity when airport officials were seeking another carrier when United Airlines announced they were cutting service amid the economic recession.
Vincent J Mulshine formally with both National Airlines and American Airlines was hired to run the new airline's operations. The airline established initial flights from Monterey to San Francisco, Sacramento, and Reno, as well as starting service between San Francisco and Las Vegas with a stop at Bakersfield. Within two months, Colin saw the opportunity to purchase ailing San Francisco based Air Pacific and merged the carrier into the Golden Gate operations on March 1, 1980, which added three de Havilland DHC-7 "Dash 7s" and three de Havilland DHC-6 Twin Otters, however the Twin Otters were phased out almost immediately.
The purchase of Air Pacific brought coveted gate space at San Francisco International Airport and would allow Golden Gate to expand into that specific market. By March 15, 1980, only three months after starting services, Golden Gate was flying to fourteen cities in California and Nevada with over 500 weekly flights. In order to maintain expansion and services, Golden Gate acquired another Convair 580 from Frontier Airlines and five additional Swearingen Metroliners were sought. With confidence that the California market would continue to grow the airline continued to take opportunities on markets that were left by other airlines due to deregulation.
During April 1980, Colin attempted to purchase Santa Barbara based Apollo Airways, however the deal fell through because of financing and pilot contractual issues. The airline continued to rapidly expand adding additional aircraft, mainly the de Havilland DHC-7 and growing to providing over one-thousand weekly flights. During late 1980, Justin Colin, continuing to look for opportunity to invest and expand his growing commuter empire, became a majority shareholder in Portland, Oregon based Air Oregon. Air Oregon expanded services from the Pacific Northwest to San Francisco and Sacramento to provide new connections into the Golden Gate route network.
In November 1980, Colin purchased an 80% interest in struggling San Luis Obispo based Swift Aire, hoping that an infusion of $1.7 million dollars would bolster operations and add another carrier to his airline portfolio. It was agreed, although Colin was now the primary owner, that Swift Aire would continue to operate separately from his Golden Gate Airlines. By April 1981, Golden Gate had become one of the fastest growing and largest commuter carriers in the United States. The airline was flying twenty one aircraft (Seven DHC-7, four Convair CV-580s, and ten Swearingen Metroliners) to twenty cities across five Western States with over 1300 flights a week.
During that same time, Golden Gate announced a new corporate image of burgundy, cream, and gold finally establishing a uniform color scheme for its aircraft, many of which continued to carry the livery of their former operator with "Golden Gate" titles applied. The airline also announced an order for twelve de Havilland Canada DHC-8 "Dash 8" turboprops, used to replace the aging Convair 580 and Metroliner fleet.
In July 1981, it was decided to merge the operations of Swift Aire into the Golden Gate system, thus adding another four cities to the route map and additional services from Los Angeles. Golden Gate Airlines had rapidly expanded, spent lots of cash on aircraft and was reeling from continued financial strain. It was only a matter of months before the expansions, schedule changes, and frequent cancellations led the company to file bankruptcy and cease all passenger service on August 21, 1981.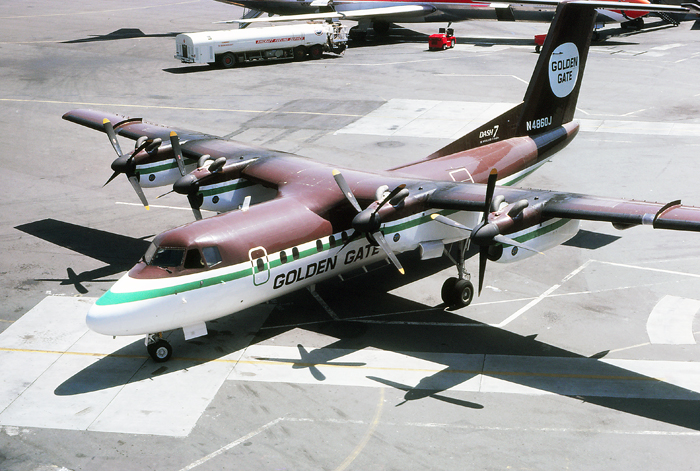 Originally destined for Portland, Oregon based Air Oregon and wearing full colors, the new Dash 7 was delivered new instead to Golden Gate on February 14, 1980. Seen in a hybrid color scheme with Golden Gate titles applied at San Francisco International Airport in June 1980, is N4860J, a de Havilland DHC-7-102.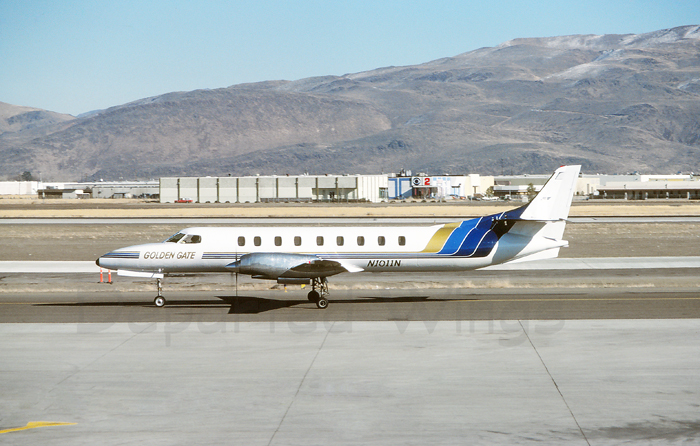 Wearing a modified ex Gem State color scheme with the first stripe in gold, is N1011N, a Swearingen SA-226TC Metro II, taxiing toward the terminal after having landed at Reno-Cannon International Airport in February 1981.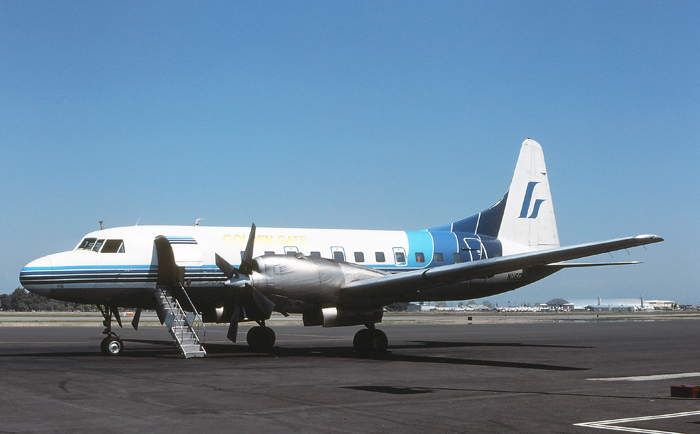 Still awaiting a new color scheme by its owner, "gold" Golden Gate titles let passengers know this ex-Gem State Convair CV-580, N116GS, parked at Fresno Air Terminal in April 1981, is really with Golden Gate Airlines.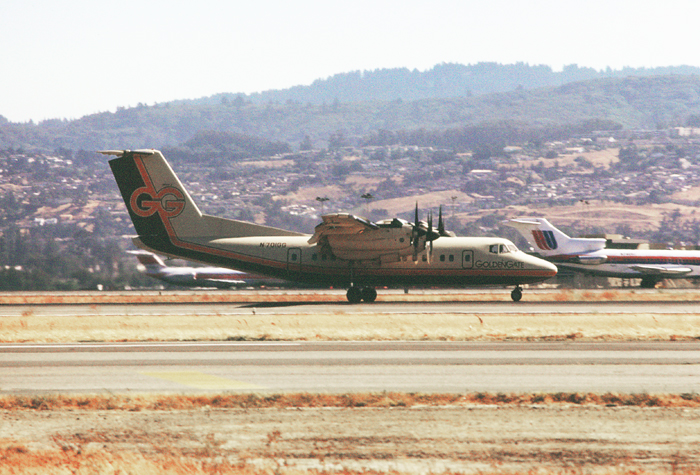 Wearing the new, striking colors of Golden Gate Airlines, N701GG, a de Havilland Canada DHC-7-102, is seen rolling for takeoff on Runway 28 Left at San Francisco International Airport in August 1981.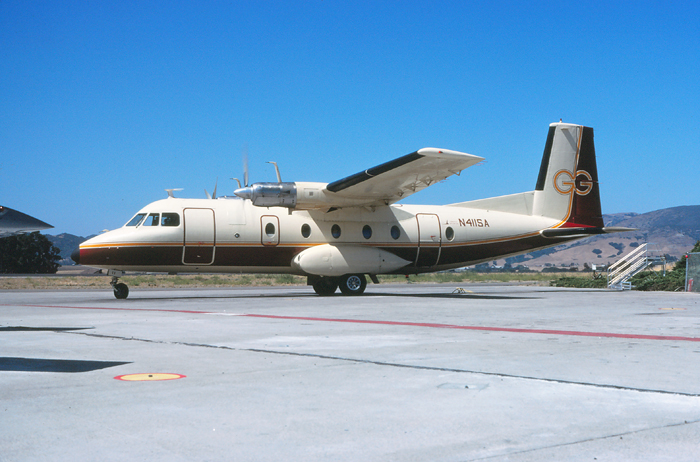 When Golden Gate purchased Swift Aire in November 1980, the existing fleet of Nord 262s was quickly repainted in the new owners colors, such as this example N411SA, a Nord 262A-12, seen preparing to taxi away from the terminal ramp at San Luis Obispo County Regional Airport in August 1981.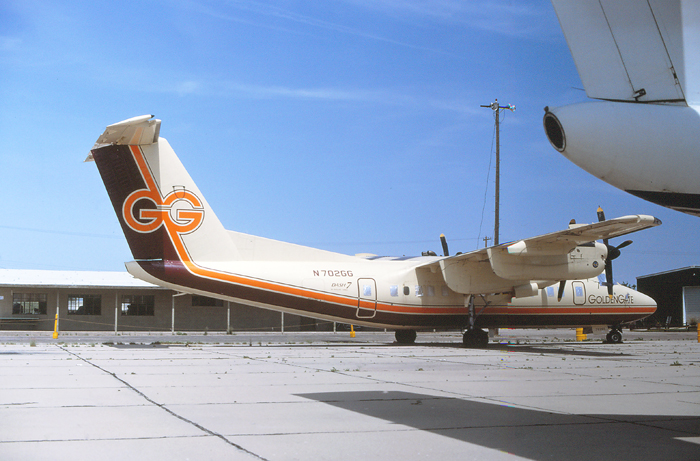 After the demise of Golden Gate Airlines in August 1981, the basically brand new Dash-7s were flown to the desert and stored pending a future buyer. Seen parked, and "sealed" at Marana Regional Airport in June 1982, is N702GG, a de Havilland DHC-7-102, delivered new to the airline on April 21, 1981.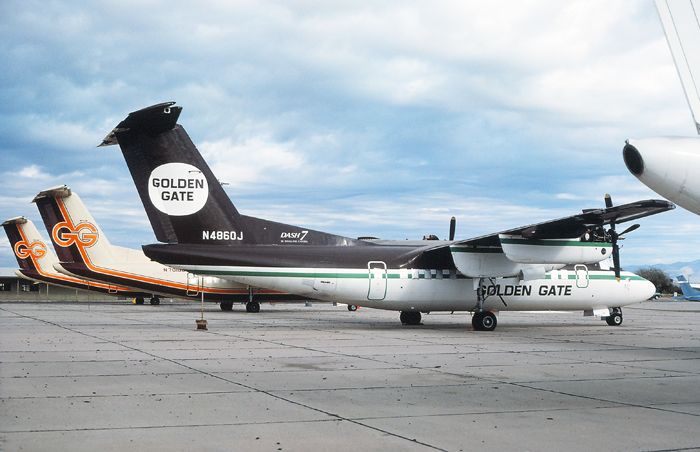 A quartet of the Golden Gate Airlines de Havilland Canada DHC-7-102s, including N4860J, N701GG, and N702GG are parked after the demise of the carrier and awaiting new owners at the Marana Regional Airport in June 1982.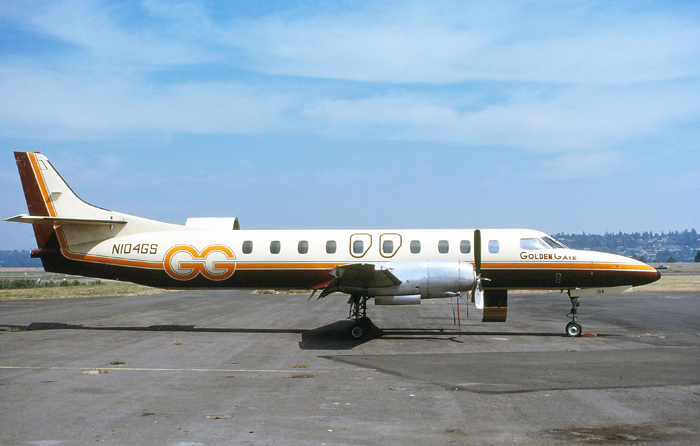 An ex Gem State airlines Metroliner, N104GS, a Swearingen SA-226TC Metro II, was one of the few to receive the new Golden Gate colors, and sits in storage at Portland International Airport in August 1982.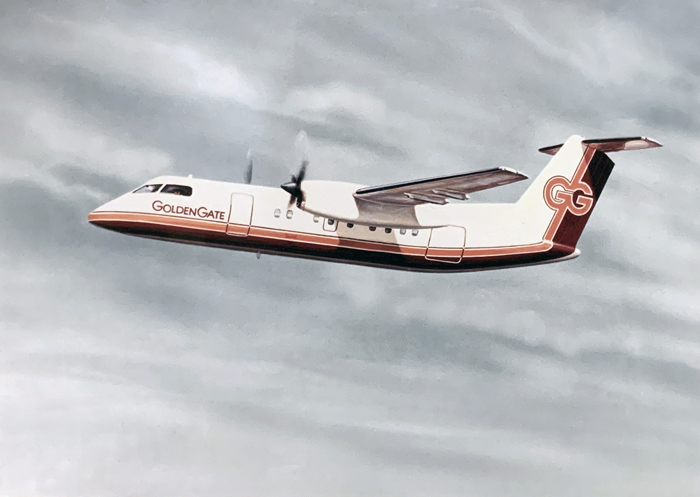 What might have been is this artist rendering of what one of the twelve ordered, de Havilland Canada DHC-8 "Dash 8" would have looked like in Golden Gate colors.
One of Golden Gate Airlines last route maps dated July 1981.